brooklyn's new domino park's playground referred to as sweetwater, is designed by renowned artist mark reigelman and presents a dynamic opportunity to introduce a new generation of new yorkers to the historic heritage that acted as a key catalyst for the williamsburg neighborhood to explode in the 20th century. the domino sugar factory at one point employed around 4,500 people and functioned as a melting pot for a wide range of backgrounds and ethnicities coming and working together in difficult conditions at the refinery, all in search of opportunity and prosperity.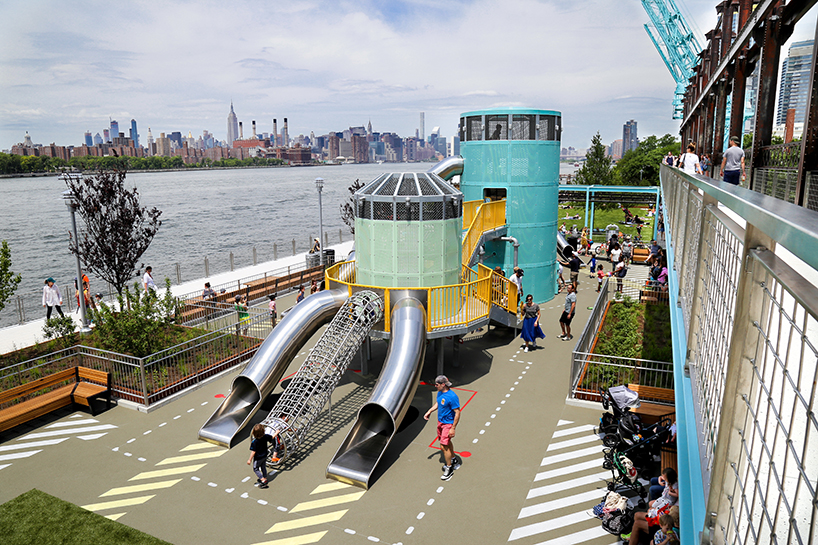 from the catwalk, new york city's skyline is visible with sweetwater park taking center stage
all images credited to mark reigelman II
thus, two trees' domino park celebrates the rich history of one of new york's most iconic industrial waterfront sites, with the playground utilizing infrastructure of the refinery and promoting physical activity and social engagement.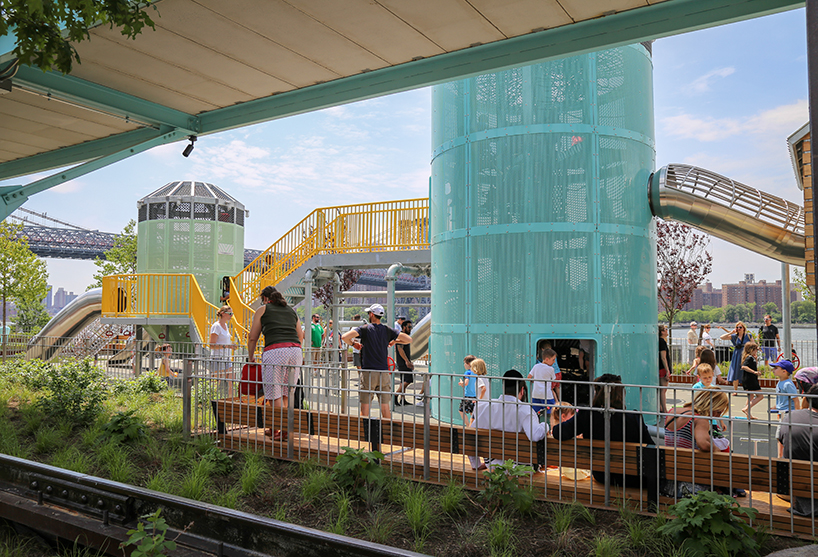 view from under the cat walk exposes the skeleton of the the sweetwater park
at the highest point of the park, users can experience unparalleled views of new york's skyline while also visualizing how sugarwater pays homage to the site historical setting. reigelman uses preserved industrial artifacts and elements that were originally featured in the domino sugar refinery, such as the color choices which reflect the original factory. additionally, there are pieces of wood taken from the factory floors on the facade of one of the cabins, next to valve wheels casts found throughout the area. 1 of the 3 primary structures features a silo and an industrial containers with stainless steel slides, climbers which combine to provide an nostalgic aspect to the architecture and infrastructure of the factory.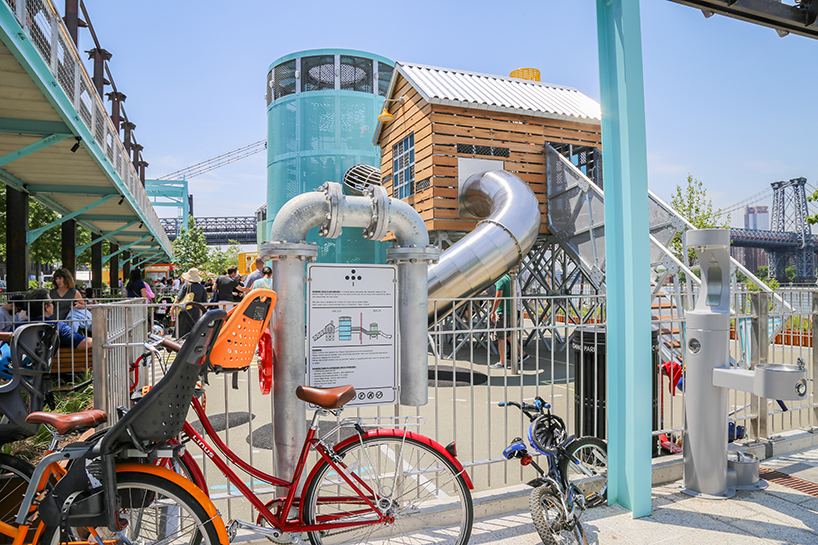 the park features reused materials from the domino factory
these 'colors, graphics, materials, and layout' all 'influenced by the domino sugar refinery to create a space for urban exploring and curiosity.'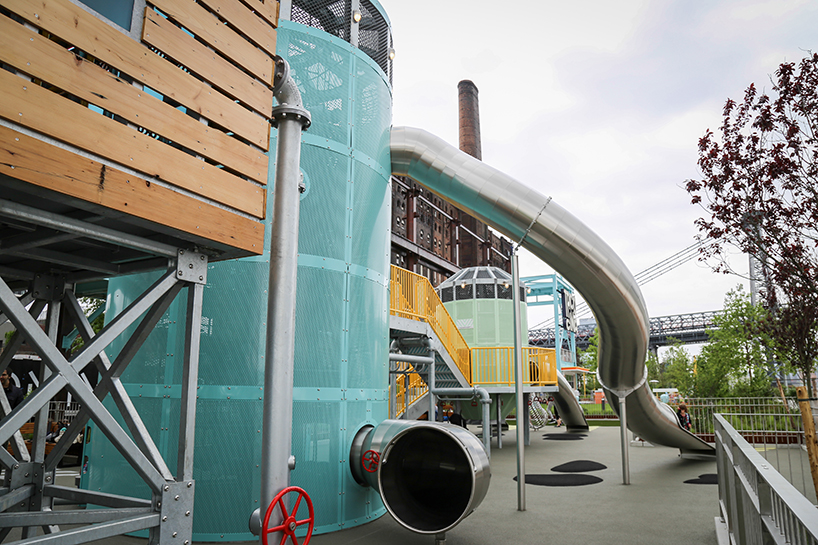 the silo has been repurposed for a slide
'embarking through three stages– sugarcane cabin, sweetwater silo and sugar cube centrifuge, kids will be chopped and discarded from an industrial cabin, filtered into sweet water syrup, and emerge as perfectly refined raw sugar.'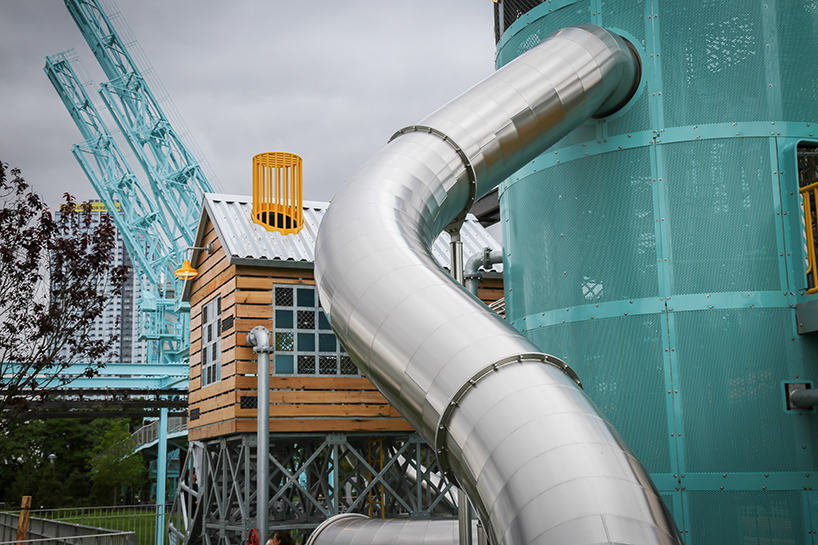 there are three main structures to the park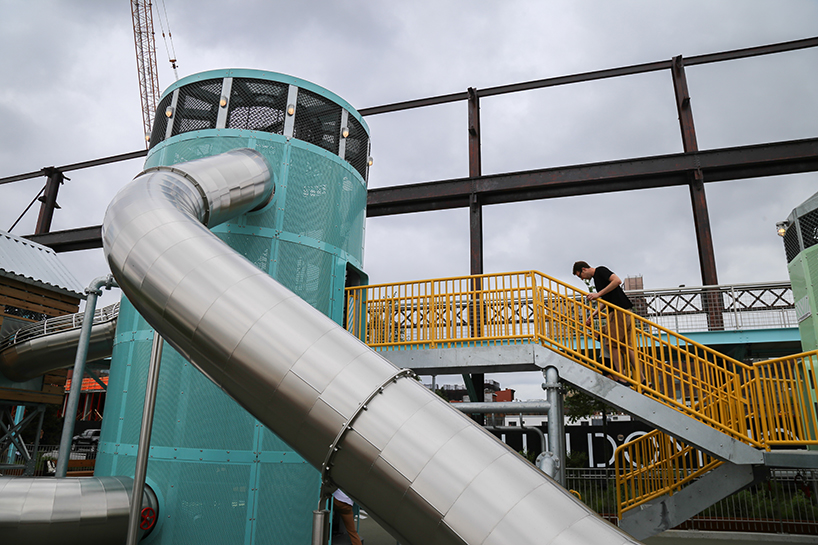 the three structures are connected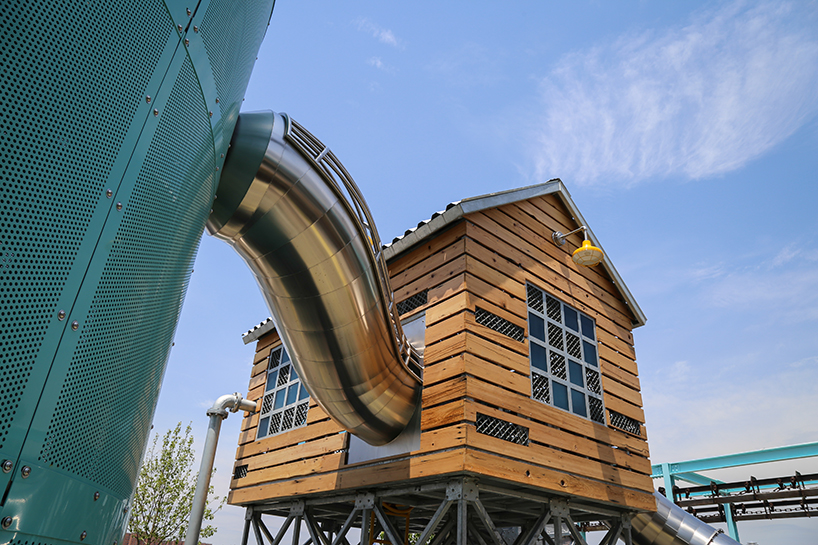 the northern structure is made out of reused wood from the factory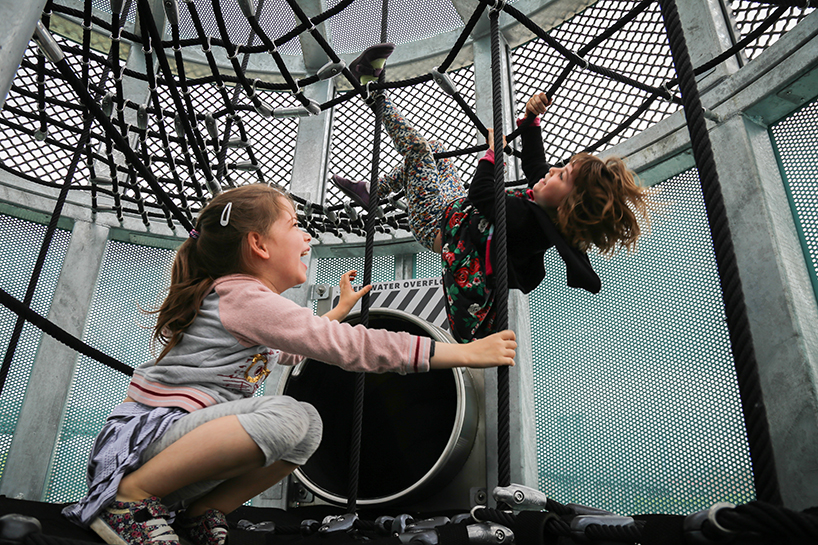 more elements, such as the slide entry to the silo is built from factory remains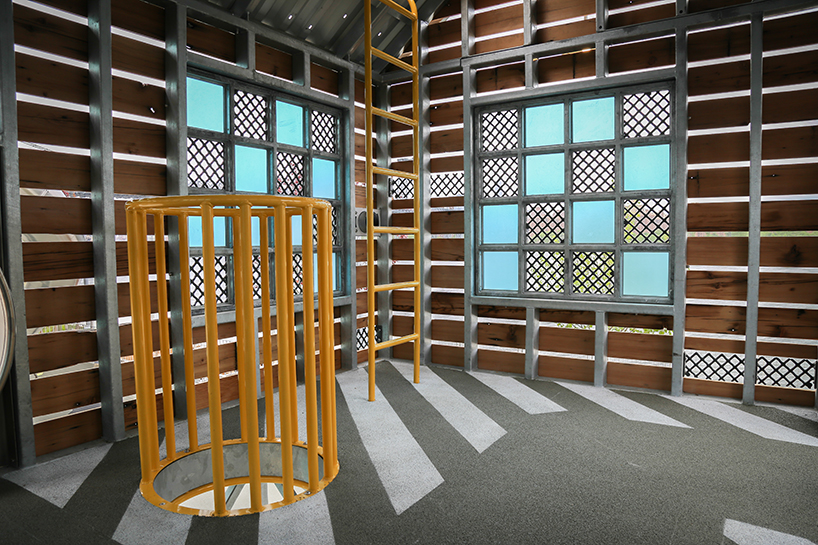 view from inside the northern structure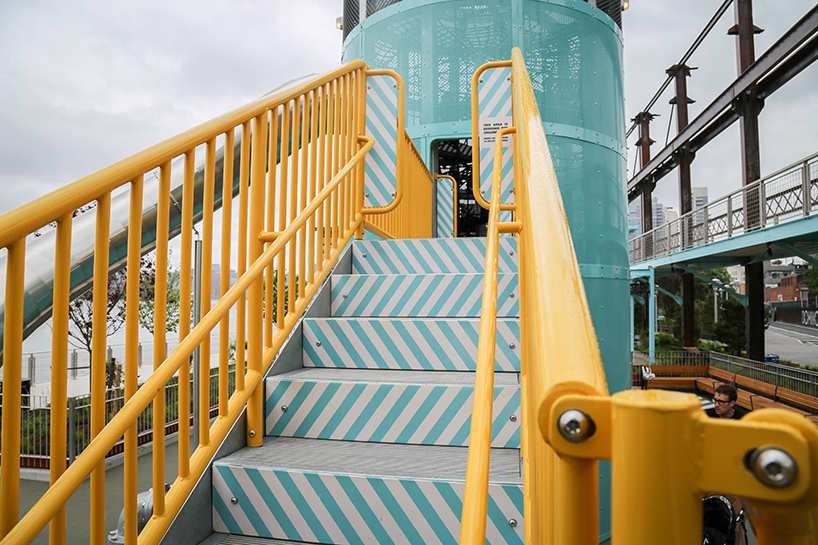 the colors used by mark reigelman are meant to be associated with the factory as well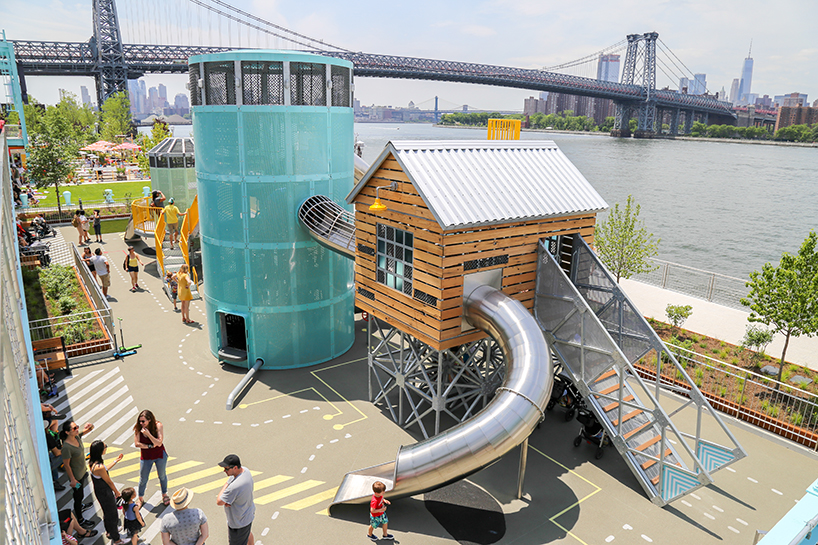 here all three structures and the parents' sitting area and skyline of nyc are visible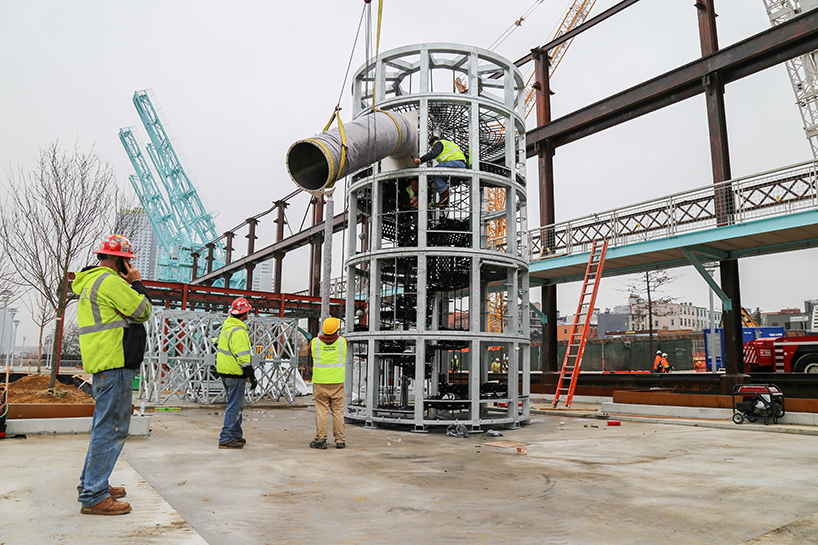 installation process reveals the domino sugar skeleton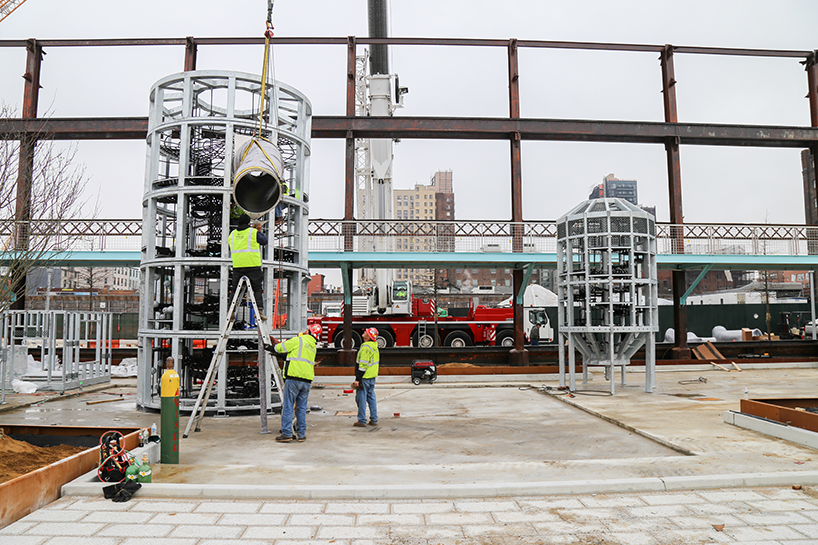 installation pt 2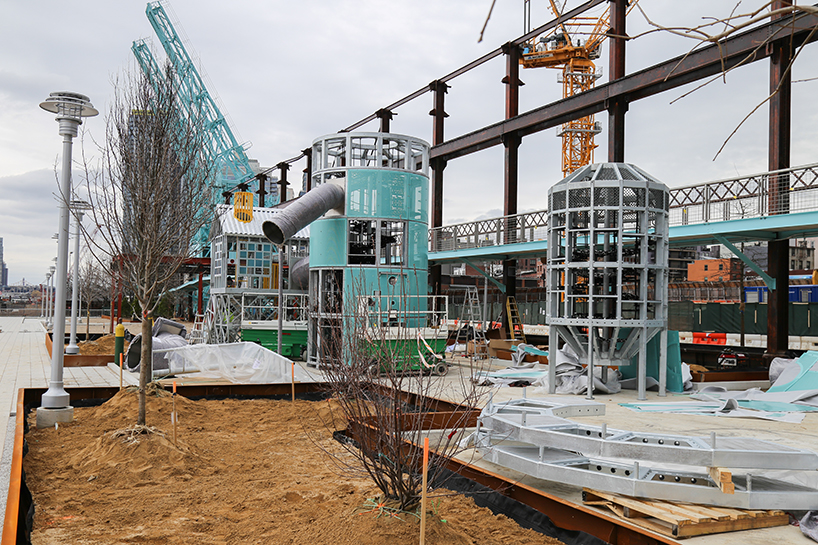 the three structures have a frame very similar to that of an industrial feel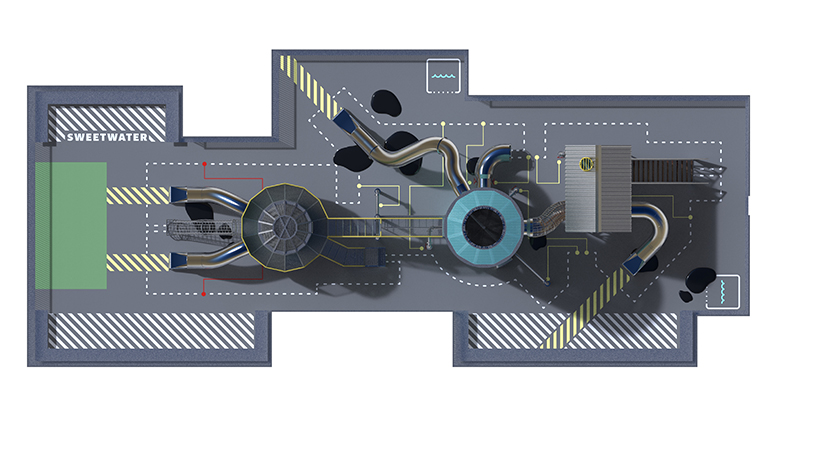 layout of the sweetwater park
playground run through
jul 09, 2020
jul 09, 2020
jun 26, 2020
jun 26, 2020
jun 24, 2020
jun 24, 2020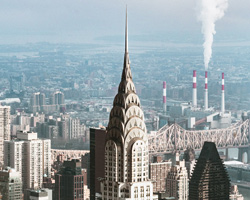 may 21, 2020
may 21, 2020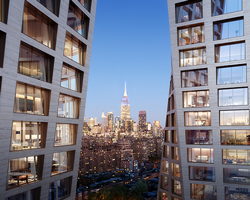 may 17, 2020
may 17, 2020
may 10, 2020
may 10, 2020
jun 21, 2020
jun 21, 2020
jun 06, 2020
jun 06, 2020
jun 02, 2020
jun 02, 2020
jan 01, 2020
jan 01, 2020
jun 07, 2018
jun 07, 2018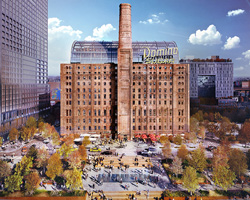 apr 06, 2018
apr 06, 2018
jul 25, 2017
jul 25, 2017
apr 25, 2016
apr 25, 2016
oct 25, 2015
oct 25, 2015
a diverse digital database that acts as a valuable guide in gaining insight and information about a product directly from the manufacturer, and serves as a rich reference point in developing a project or scheme.