protagonists in the field of architecture, art and design came together to celebrate the second edition of THE DESIGN PRIZE, milan's official award program kicking off the design week. guests were invited to the city's prestigious opera house -'teatro alla scala' to enjoy a star studded gala ceremony awarding the extraordinary achievements over the past 12 months.
jury members, nominees and winners attended and the list of notable industry figures present at the event included names such as doriana fuksas of fuksas architects (italy), stefano boeri (italy), ma yansong of MAD architects (china), andrea maffei (italy), fernando romero of free architects (mexico), curator aric chen of HK's M+ museum, maria cristina didero (italy), designers andrea trimarchi and simone farresin of formafantasma (NL/italy), carlo ratti of MIT (USA), richard hutten (NL), giulio iacchetti (italy), william sawaya and paolo moroni (italy/libanon), daniel arsham and alex mustonen of snarkitecture (USA) and many more.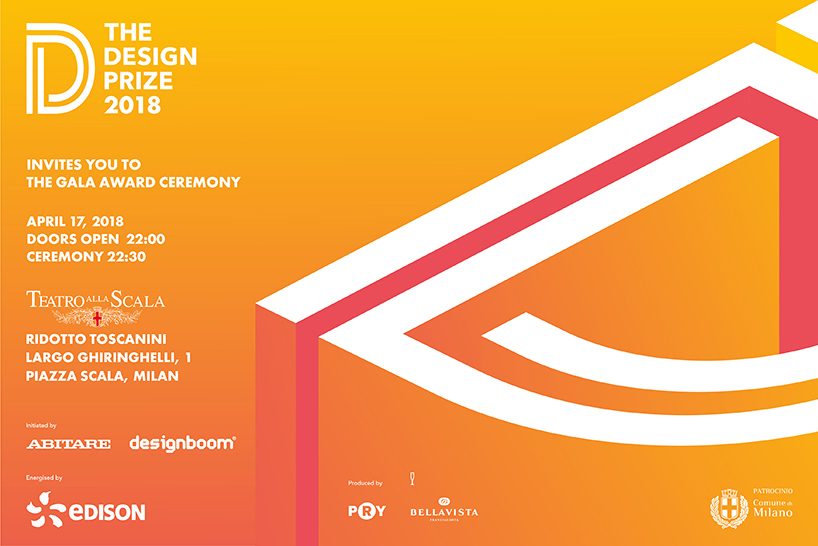 founded in 2017 by designboom and abitare magazine, THE DESIGN PRIZE distributes awards across 10 categories. both, the 2017 and 2018 gala events were energised by edison and produced by PRY.
THE DESIGN PRIZE categories include • LIFETIME ACHIEVEMENT • BEST DESIGNER • EXHIBITION • SOCIAL IMPACT • COMMUNICATION • DESIGN CURATOR AND DESIGN CRITIC • IN THE ARTISTIC REALM • EXPERIMENTATION • DISTRIBUTION • BEST DESIGN NEWCOMER
and the winners are…
LIFETIME ACHIEVEMENT
shortlisted:
• ROSS LOVEGROVE (UK)
designer and visionary who's work is considered to be at the very apex of stimulating an interesting change in the physicality of our three dimensional world – between sculpture and technology. ross lovegrove | website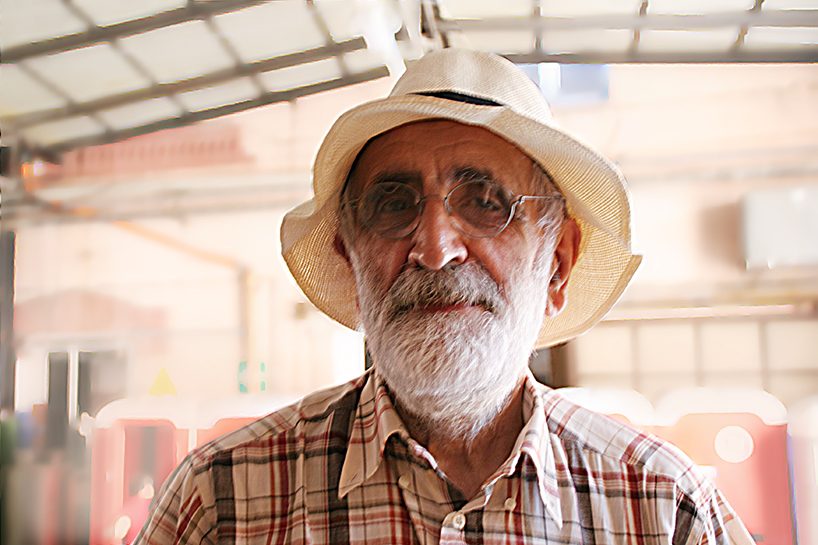 • EX-AEQUO winner: ENZO MARI (ITALY)
unable to attend personally, 10 days before his 85th birthday enzo mari received the honors for his internationally renowned projects and intrinsic philosophical and ethical aspects of his body of works: humanistic principles of design, combined with artistic fervour!
image © designboom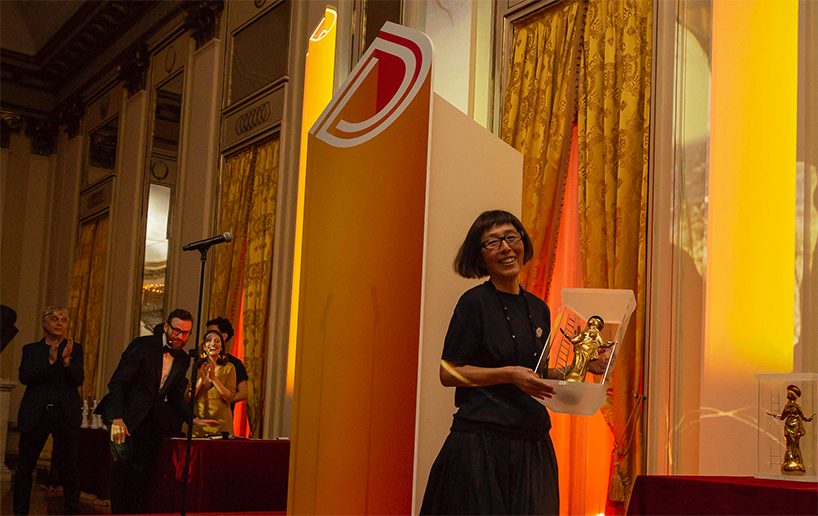 • EX-AEQUO winner: KAZUYO SEJIMA | SANAA (JAPAN)
architect of the school of toyo ito. pritzker prize winner in 2010, in 1995 co-founder with ryue nishizawa of japanese studio SANAA, currently extending the university campus bocconi in milan. kazuyo sejima | website
watch a video explaining nominations for the LIFETIME ACHIEVEMENT category here.
BEST DESIGNER
shortlisted:
• LUCA NICCHETTO (ITALY)
nominated for 'pluvia', 'canal' and 'murano' chairs for ethimo, moooi and offecct. luca nicchetto | website
• TOKUJIN YOSHIOKA (JAPAN)
nominated for a selection of his 2017 releases, like glass fountain for glas italia and S.F. _ senses of the future exhibition for LG. tokujin yoshioka | website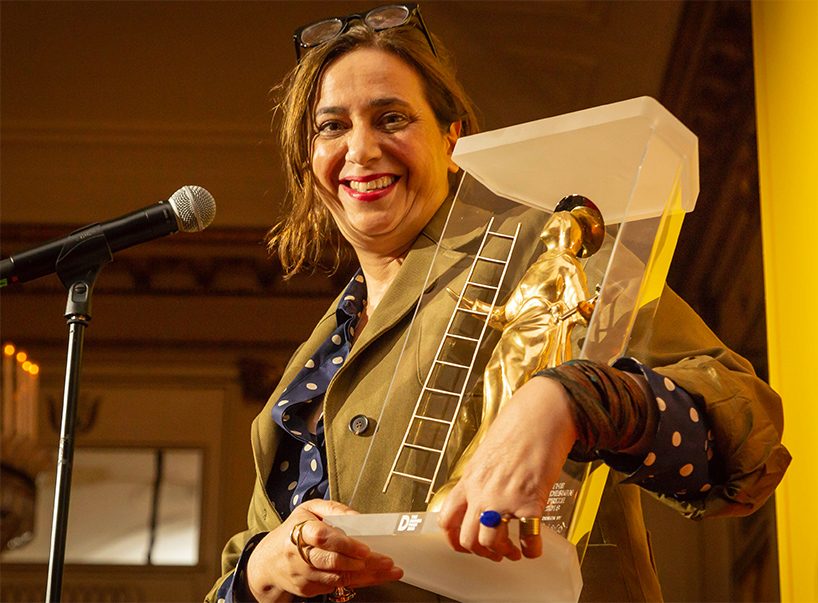 • winner: INDIA MAHDAVI (FRANCE)
nominated for her interior projects, mainly for 'ladurée beverly drive' in los angeles: marie-antoinette goes to hollywood, and stops over in a pop garden of delights 'à la française'. india mahdavi | website
watch a video explaining nominations for the BEST DESIGNER category here.
EXHIBITION
shortlisted:
• YVES SAINT LAURENT MUSEUM by studio KO (MARRAKECH)
the facade of the building appears as an intersection of cubes with a lace-like covering of bricks… the french architectural firm studio KO, founded and headed by karl fournier and olivier marty, injected the duality between curved and straight lines, comparable to loose and precise approaches to the cutting of fabric.
yves saint laurent museum | website
• LOUVRE ABU DHABI by jean nouvel
an urban promenade, a garden, a cool haven, a shelter from them light – its aesthetic is consistent with its role as a sanctuary for precious works of art. a huge silvery double dome, 180 meters in diameter, appears to float above the entire museum city. a complex geometric structure of 7,850 stars, repeated at various sizes and angles on 8 different layers. natural day light filters through the dome's perforations, providing a shade punctuated by bursts of sun. louvre abu dhabi | website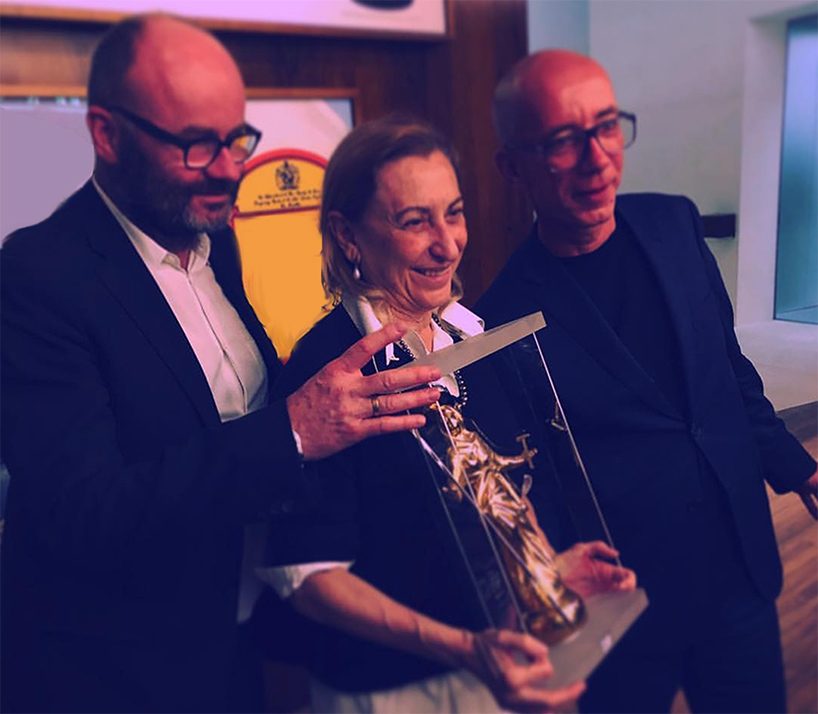 • winner: FONDAZIONE PRADA
for their 2017 shows 'the boat is leaking. the captain lied.' (VENICE) & 'the prada double club' (MIAMI)
fondazione prada | website
image © patricia urquiola
watch a video explaining nominations for the EXHIBITION category here.
SOCIAL IMPACT
shortlisted:
• SESC 24 DE MAIO SOCIAL CULTURAL CENTER in sao paulo (BRAZIL)
a solid cultural and educational project by paolo mendes da rocha & MMBB that brings social transformation to an audience of diverse ages and social strata by encouraging autonomy, contact and interaction whilst putting forth actions of permanent non-formal education. SESC 24 maio social cultural center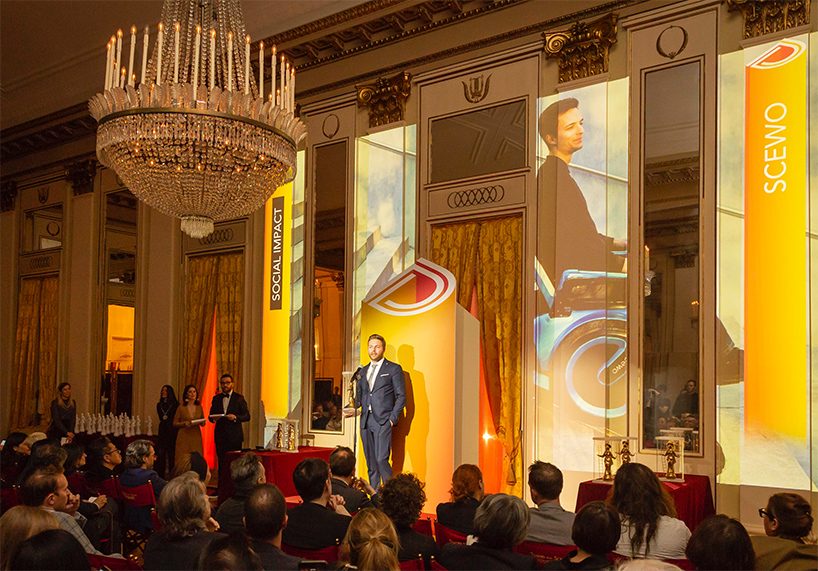 • winner: SCEWO (SWITZERLAND)
a wheelchair that can climb stairs
while technology has quickly progressed, the basic wheelchair design has remained the same. students from the swiss federal institute of technology and the university of the arts in zurich have elaborated a prototype that responds to today's basic mobility needs of electric wheelchair users. scewo | website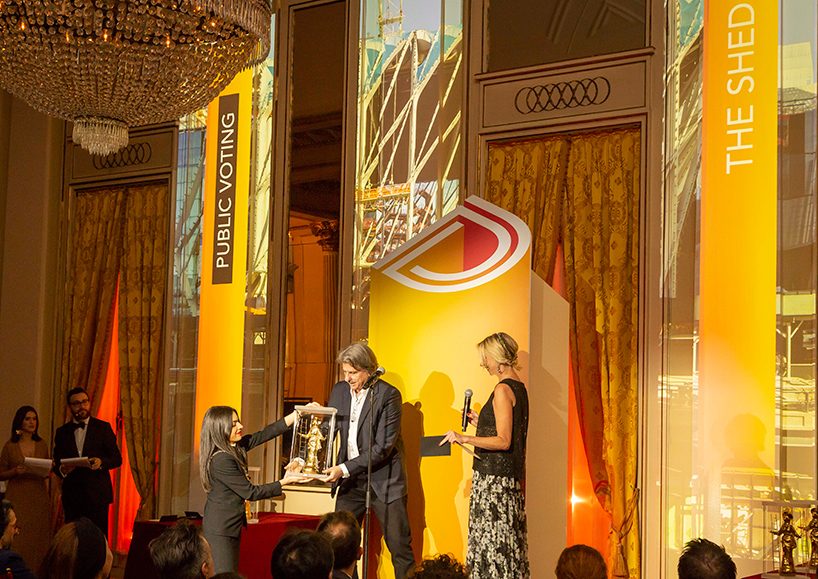 • public voting winner: THE SHED's telescoping structure (USA)
the project by diller scofidio & renfro and rockwell group NY is a smart, energy-saving 'architecture of infrastructure' that will be used only when needed. the shed | website
watch a video explaining nominations for the SOCIAL IMPACT category here.
COMMUNICATION
shortlisted:
• PIN UP magazine, founded by felix burrichter (USA)
the only biannual print magazine for architectural entertainment. PIN UP website
• BASE DESIGN communication agency (BELGIUM)
their 2017 work includes communication projects for fondation cartier, the new york times and art brussels.
base design website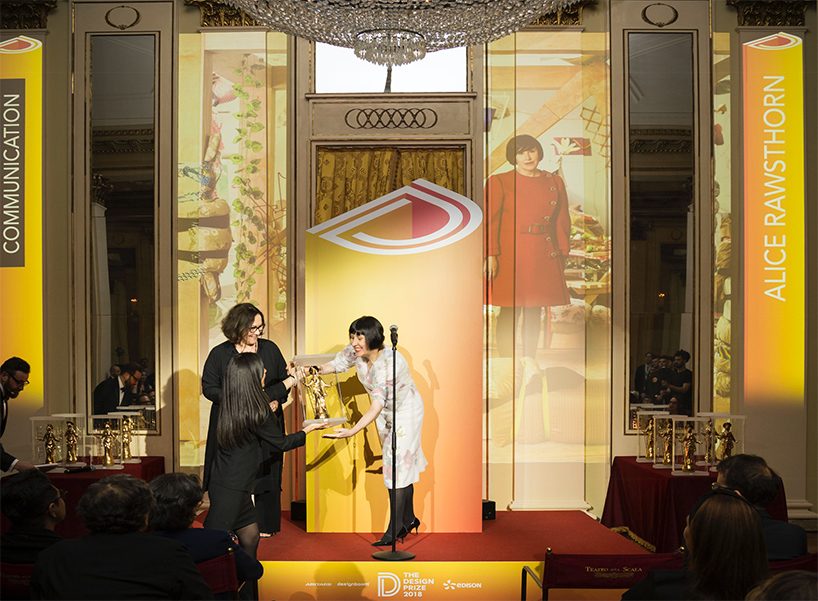 • winner: ALICE RAWSTHORN
'a brief history of design' on instagram
rawsthorn's next book, 'design as an attitude', is to be published in spring 2018. in the meantime, she enjoys the visual element of instagram and shows its versatility by adding fairly lengthy descriptions of themed explorations.
alice rawsthorn website
watch a video explaining nominations for the COMMUNICATION category here.
DESIGN CURATOR/DESIGN CRITIC
shortlisted:
• architecture studio URBANUS curates UABB /URBANISM AND URBANIZATION (CHINA)
the shenzhen biennale is in its 7th edition and under the theme 'cities grow in difference', liu xiaodu, presented expressions of contemporary visual culture and avant-garde dimensions as well as discourses of public interest.
• NGV TRIENNIAL melbourne (AUSTRALIA)
featuring the work of over 100 artists and designers from 32 countries, the ngv triennial surveys the world of art and design across cultures, scales, geographies and perspectives. NGV triennial website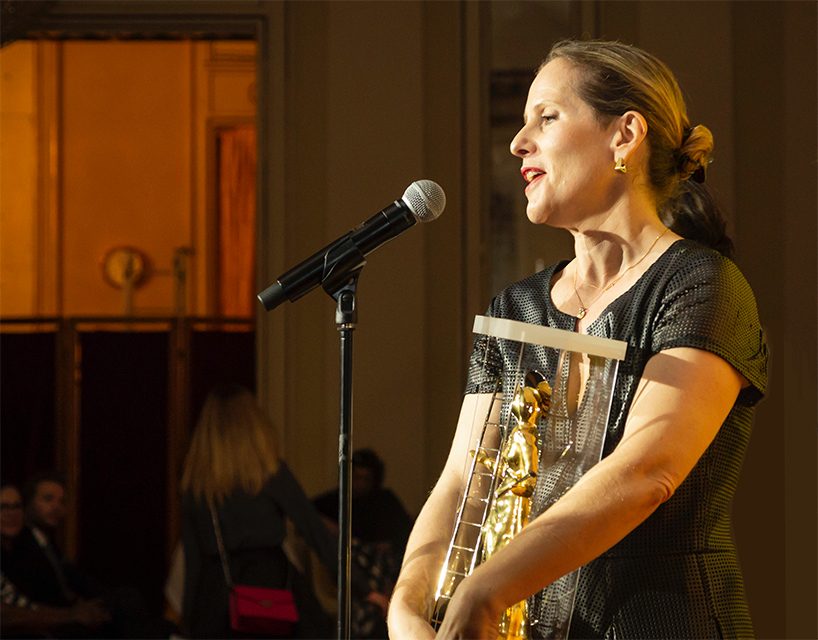 • winner: PAOLA ANTONELLI
'items: is fashion modern?' at MoMA (USA)
an exploration of the past, present, and future of 111 garments, accessories, and accoutrements that have had a strong impact on history and society over the 20th and 21st century. items: is fashion modern? website
watch a video explaining nominations for the DESIGN CURATOR/DESIGN CRITIC category here.
IN THE ARTISTIC REALM
shortlisted:
• RON GILAD (ISRAEL)
the new art director of the historical italian company danese milano has presented a collection merging art and design. ron gilad | website
• LEANDRO EHRLICH (ARGENTINA)
nominated for the pop-up exhibition 'sous le ciel' for bon marchè in paris. an installation that challenges perceptions of time and space while inviting visitors to alter the way they perceive reality. the famed escalator — designed by andrée putman in 1990 — has been placed at the centre of the project, transformed and tightened up in knots.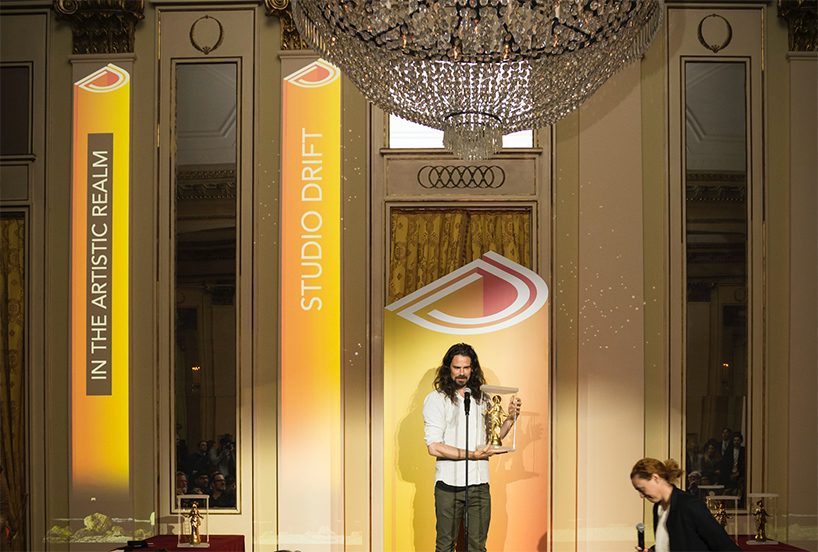 • winner: STUDIO DRIFT (NL)
choreographed 300 drones to mimic a swarm of birds in their 'franchise freedom' flying sculpture on miami beach, in collaboration with BMW. studio drift | website
watch a video explaining nominations for the IN THE ARTISTIC REALM category here.
EXPERIMENTATION
shortlisted:
• MISCHER'TRAXLER (AUSTRIA) 'countryside reload'
at BIO 25 – the biennial of design | MAO museum ljubljana, 2017. a group project that raises questions and challenges the romantic notion we have of the countryside. mischer'traxler | website
• NERI OXMAN (ISRAEL/USA)
the intimate relationship between design and biology suggests a shift from consuming nature as a geological resource to editing it as a biological one. this journey from mining to growing is accelerating. the architect and designer is associate professor of media arts and science/ mediated matter research group, at MIT media lab.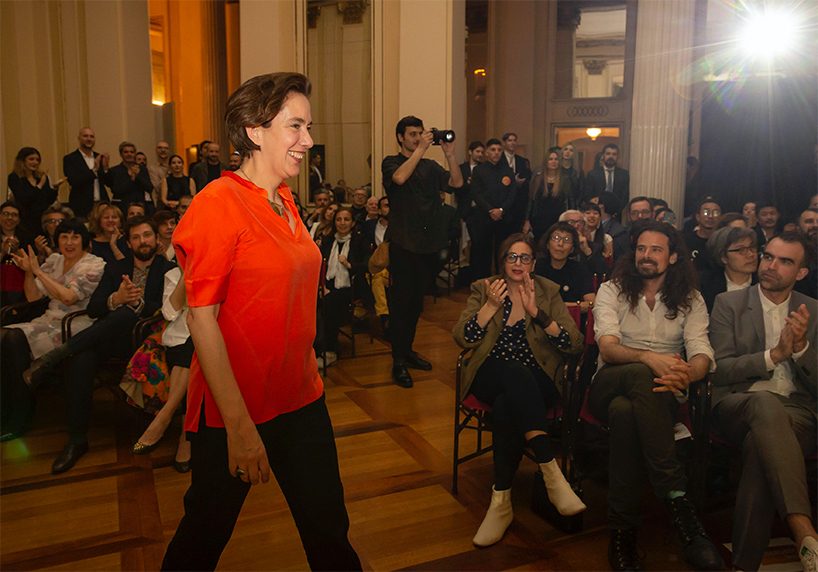 • winner: JANE WITHERS (UK) 'water futures' research program
'our reliance on the plastic bottle has developed a toxic drinking water culture that is poisoning the marine environment… ' in 2017, jane withers started a research program about water – responding to the urgent issues around the drinking water crisis such as scarcity and pollution… jane withers website
watch a video explaining nominations for the EXPERIMENTATION category here.
DISTRIBUTION
shortlisted:
• ACNE STUDIOS (SWEDEN)
the brands new flagship stores in san francisco and milan feature a 'cleanroom atmosphere', an almost aseptic look in stainless steel, which is emphasized by a lighting concept that bathes the spaces in bright light, almost erasing all shadows… acne studios | website
• MAISON KITSUNÉ (FRANCE)
for their new NY showroom, designer matthieu lehanneur has conceived a series of white, high-ceilinged rooms with mouldings and phantom windowpanes that recall the haussmannien architectural style of parisian apartments. snaking through these rooms is a curvilinear steel tube, a reminder of electrical and piping systems that are typically unconcealed in new york. maison kitsuné website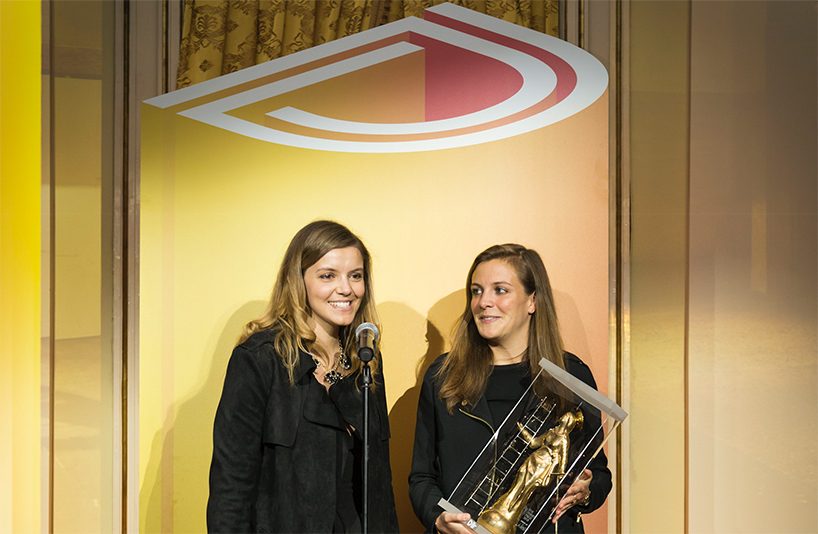 • winner: AESOP STORES (WORLDWIDE)
the brand's first concern is to work with what already exists. it is their intention to weave themselves into the fabric of the area and then add something of merit rather than imposing a discordant presence. aesop | website
watch a video explaining nominations for the DISTRIBUTION category here.
BEST DESIGN NEWCOMER
shortlisted:
• SABINE MARCELIS (NL)
material, installation and object designer, sabine marcelis runs a studio where she is 'forever in search of magical moments' that create unexpected experiences within material and manufacturing processes. among her clients: aesop, céline, repossi, isabel marant, eastpak. sabine marcelis | website
• STUDIO SWINE (UK)
for their 'new spring' installation for COS, studio swine (super wide interdisciplinary new explorers) is a collaboration between japanese architect azusa murakami and british artist alexander groves.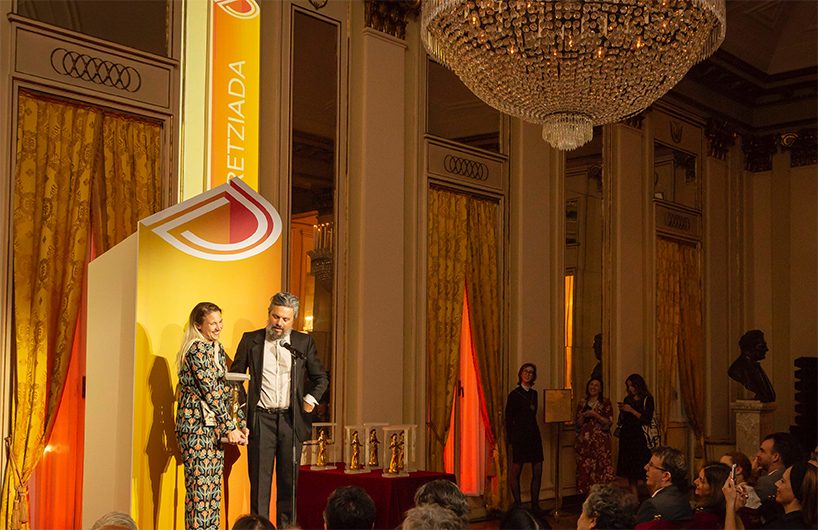 • winner: PRETZIADA (ITALY)
founded by a sardinia-based couple, american designer kyre chenven and italian artist ivano atzori, the interdisciplinary practice explores mediterranean cultural traditions and craftsmanship – an authenticity worth preserving in all its particularities. pretziada | website
watch a video explaining nominations for the BEST DESIGNER category here.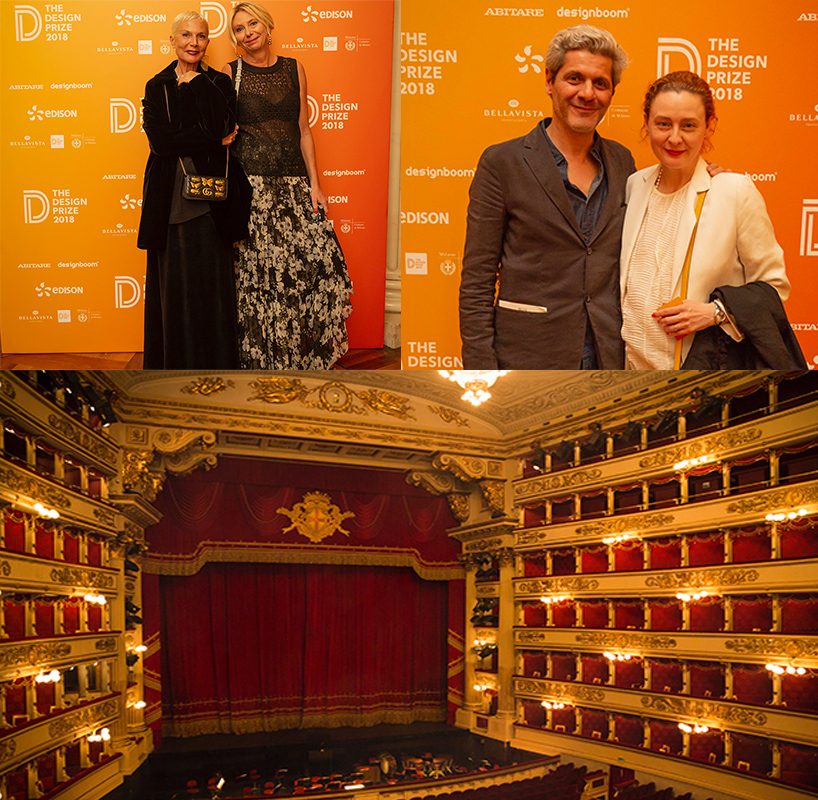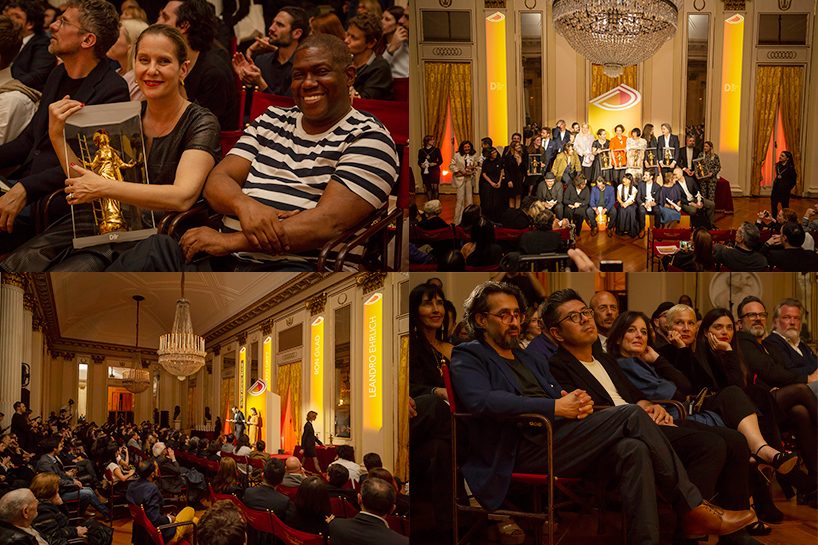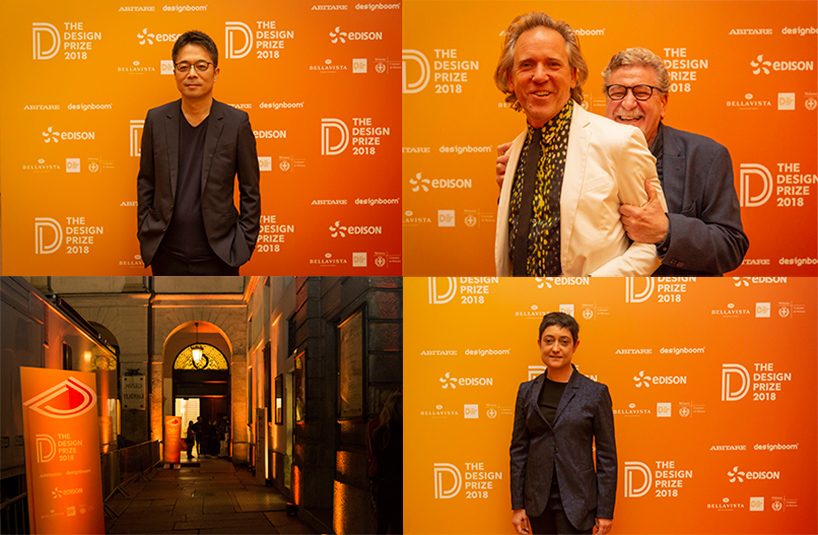 JURY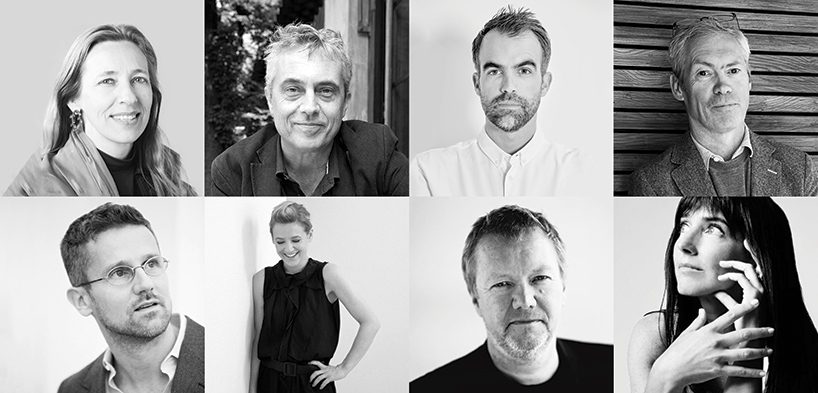 this year the esteemed panel of judges included architect, stefano boeri (italy); designer, jasper morrison (UK); co-founder and chair experimentadesign guta moura guedes (portugal); director of senseable city lab at MIT massachusetts institute of technology, carlo ratti (USA); design historian and curator, libby sellers (UK) ; architect of snarkitecture, alex mustonen (USA); architect of snøhetta, kjetil thorsen (norway); and industrial design curator of stedelijk museum, ingeborg de roode (NL).
backstage selection process
from backstage to centerstage, THE DESIGN PRIZE crowdsources its longlist of over 700 nominees by consulting an international network of more than 150 creative professionals. experts in their respective fields, these voices combine to create an essential litmus test of the industry at large by composing a 'who's who' list of the world of design.
GOLDEN MADONNINA STATUETTE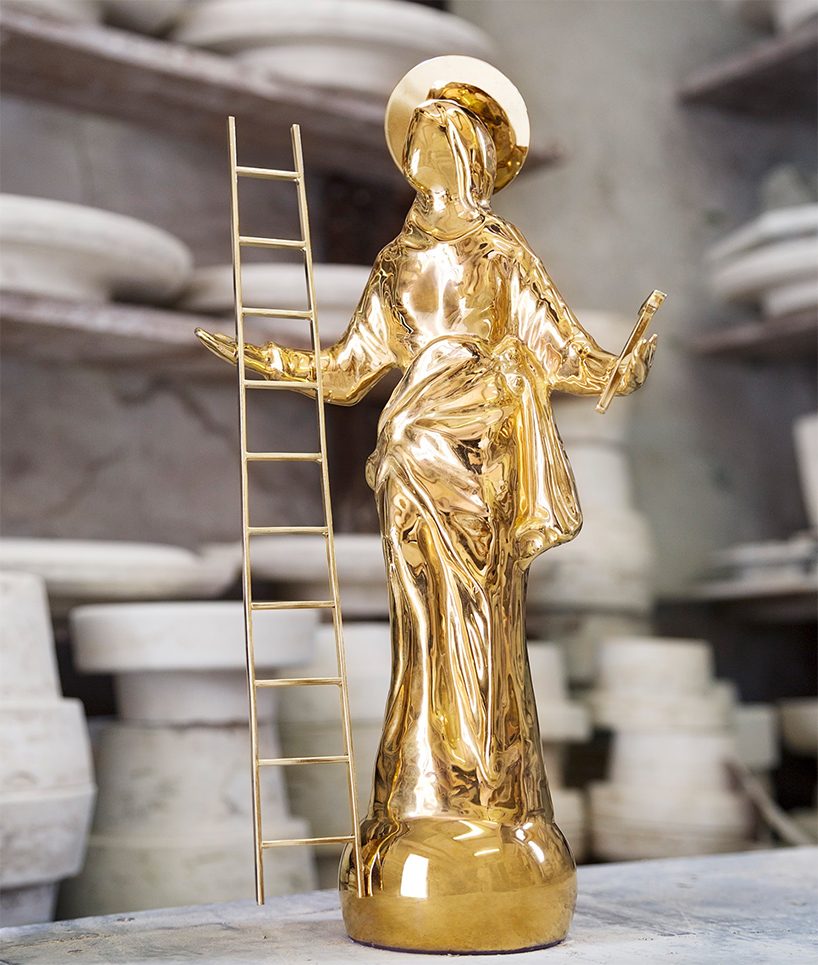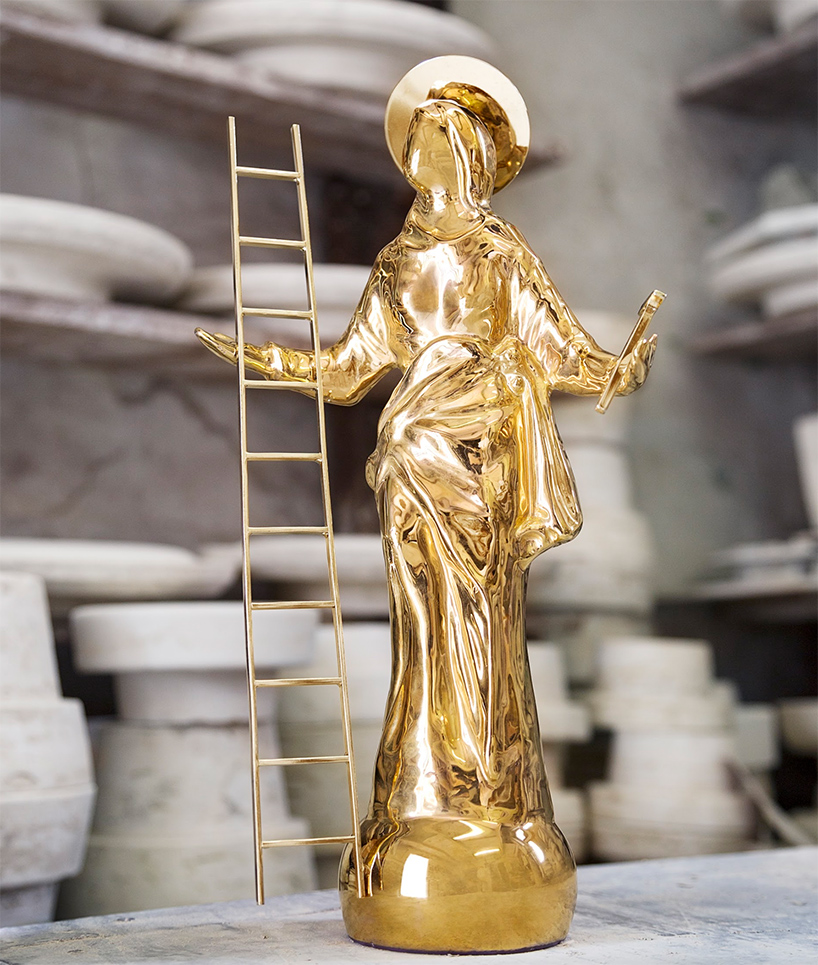 each year THE DESIGN PRIZE statuette takes on a new shape, with every subsequent version adding to an ongoing artistic embodiment of the city of milan. this year antonio aricò was chosen to reinterpret the statuette, seeing a madonnina dressed with symbols from the 'madonna degli artigiani' (the madonna of the craftsman), holding in her hands a stair and a hammer, underlining the importance of artisans and makers in the designer's world such as the team of artisans who realised antonio's vision – ceramiche puzzo.
PARTNERS
• the city of milan
continues to assert its prime position as the world epicenter of design, and the introduction of THE DESIGN PRIZE intends to celebrate excellence on a global scale.
• teatro alla scala
la scala
is a temple where artists give their best. the teatro alla scala was founded, under the auspices of the empress maria theresa of austria, to replace the royal ducal theatre, which was destroyed by fire on 26 february 1776 and had until then been the home of opera in milan.
EDISON ENERGIZES THE DESIGN PRIZE
• edison
the mission of one of the leading energy operators in italy, is to stand with its clients, providing intelligent, competitive and sustainable solutions, supplying electricity, gas and energy and environmental services to families and businesses. when it comes to the development and promotion of smart cities and homes, edison is an experienced and well-equipped partner – a perfect liaison to make THE DESIGN PRIZE an energetic success!
cristina parenti, head of
edison
's external relations and communication management, comments as follows:
'edison is proud to bring to the THE DESIGN PRIZE a unique experience of over 130 years of history in the energy sector. together with the best design professionals and architects, we aim to develop a horizontal approach to the creative fields, proposing smart solutions to increase people's comfort. this year we celebrated at the teatro alla scala, a milanese theatre powered by edison and which represents the great italian tradition of manufacture, CULTURE and the best of design'.
• bellavista
every premiere has a champagne dedicated to it.
thx to
bellavista
, a partner of the 'teatro alla scala', and a producer of 'wine of honor at all the première galas, for receiving our guests with the 'teatro alla scala brut'.
THE DESIGN PRIZE 2017
THE DESIGN PRIZE award ceremony was held at the gerolamo theater in milan. conceived in 1868, the 'teatro' was constructed with the intention of reproducing, on a smaller scale, the famous milanese scala theater. this jewel among the city's monuments closed in 1983 — and 33 years later — opened its doors again after a long refurbishment.
juliana neira
I designboom
apr 24, 2018
KEEP UP WITH OUR DAILY AND WEEKLY NEWSLETTERS
happening now! antoniolupi extends its expertise beyond the bathroom with the 'living' collection, a series of home furnishings that complement its esteemed collection of bathroom furniture and accessories.
a diverse digital database that acts as a valuable guide in gaining insight and information about a product directly from the manufacturer, and serves as a rich reference point in developing a project or scheme.
designboom will always be there for you
milan, new york, beijing, tokyo

,
since 1999