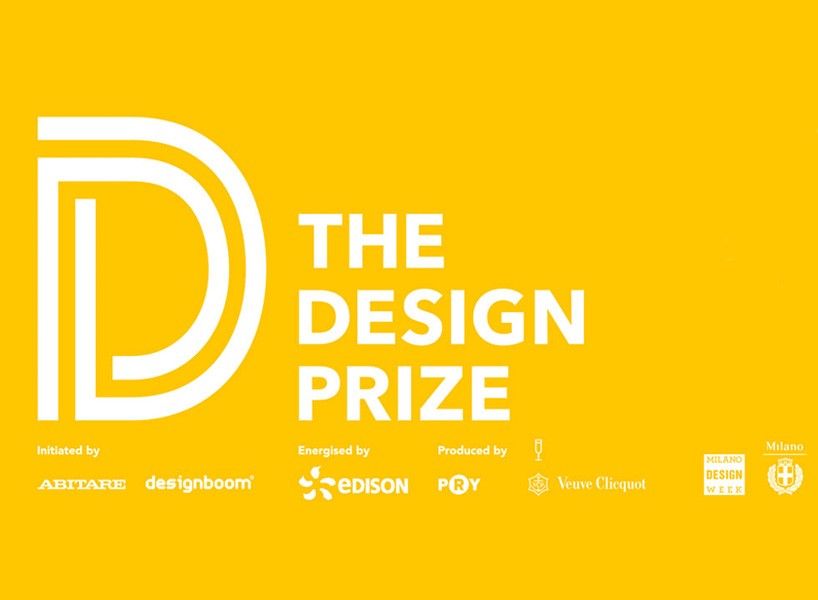 leaders in the fields of architecture, art, design and the creative industries came together under one roof at the start of this year's milan design week to celebrate THE DESIGN PRIZE's inaugural edition. attendees were invited by founders abitare magazine, designboom and the municipality of milan to the award ceremony on april 4th at the gerolamo theatre in the heart of the city. the list of notable industry figures present at the event included well known names such as ma yansong of MAD architects, naoto fukasawa, tom dixon, william sawaya & paolo moroni, richard hutten, didier faustino, issey miyake france, the australian brand aesop, bethan laura wood, jerszey seymour and the dirty art department, formafantasma, antonio arico and many more. the event has proven to be an essential new addition to the city's cultural calendar and yes, they were all there! attendees from all over the world partied at this high profile show… and they all took part in recognizing the most impactful projects and brilliant ideas of 2016 for THE DESIGN PRIZE 2017.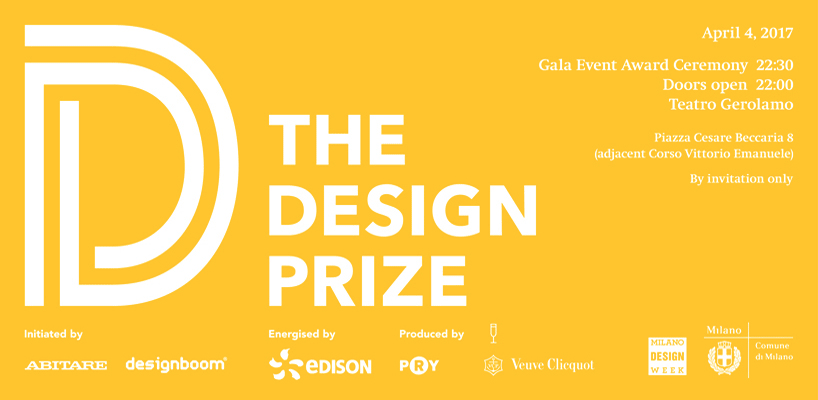 THE DESIGN PRIZE has been initiated by abitare magazine and designboom
you may be thinking, another design award?
yes… but this one has an unusual format, positioning itself as a contemporary and provocative alternative to the formalism of our times. from backstage to center stage, THE DESIGN PRIZE is created from the inside out. we went behind the scenes of the design community, and have consulted a creative network of 150 industry professionals for nominations of work that has had impact on the field in the past twelve months. the scientific committee includes architects, artists, designers, journalists, curators, critics, lecturers, scholars and institutional figures from across the globe. the advisors presented a 'longlist' of more than 750 nominations, with selections distributed across 10 award categories: SOCIAL IMPACT • DISTRIBUTION • COMMUNICATION • ARTISTIC REALM • EXHIBITION • EXPERIMENTATION • DESIGN CURATOR AND DESIGN CRITIC • BEST DESIGN NEWCOMER • BEST DESIGNER • LIFETIME ACHIEVEMENT.
this year, the esteemed panel of judges included alexandra cunningham cameron, design curator, design district miami (USA); ingeborg de roode, industrial design curator, stedelijk museum amsterdam (NL); maria cristina didero, independent design curator (ITALY); ensamble studio, land art/architecture (USA/SPAIN); ma yansong, MAD architects (CHINA); jeffrey schnapp, founder and director metalab harvard (USA); the DESIGN PRIZE founders silvia botti, editor-in-chief of abitare magazine and birgit lohmann, editor-in-chief of designboom and the councillor for labor policies, trade, fashion and design of the city of milan, cristina tajani.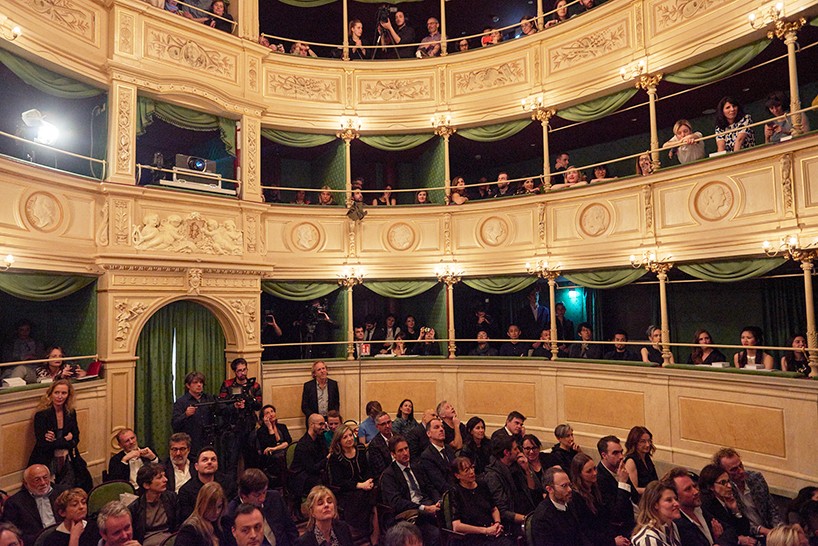 the ceremony, produced by PRY, has been presented by giacomo nicolella maschietti and holly mumford. bookended by a VEUVE CLICQUOT champagne reception and an evening of live music with special guest amp fiddler, songwriter and sound designer from detroit.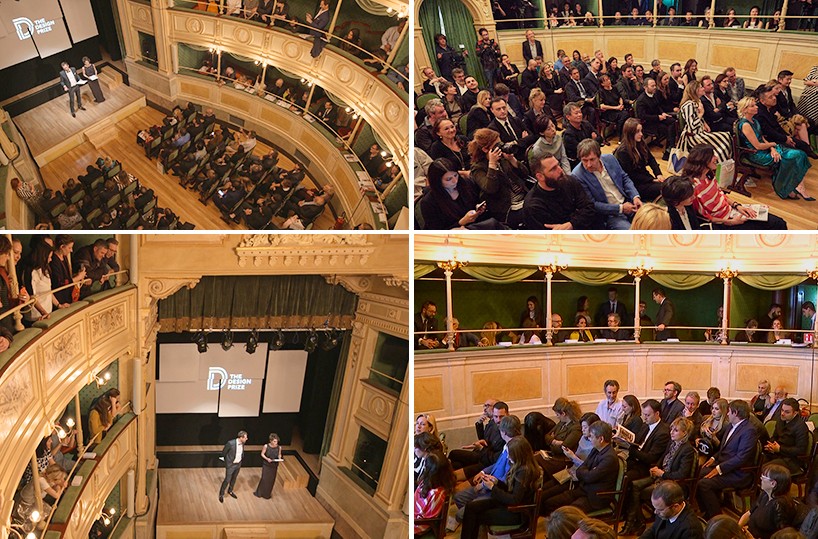 … and now it's time to take a look at the winners!
SOCIAL IMPACT improvements in the public realm, like public spaces, mobility, infrastructure
shortlisted:
paper partition system, earthquakes in 2016 in camerino and amatrice by shigeru ban architects
smithsonian national museum of african american history and culture by david adjaye associates
winner: floating piers by christo and jeanne claude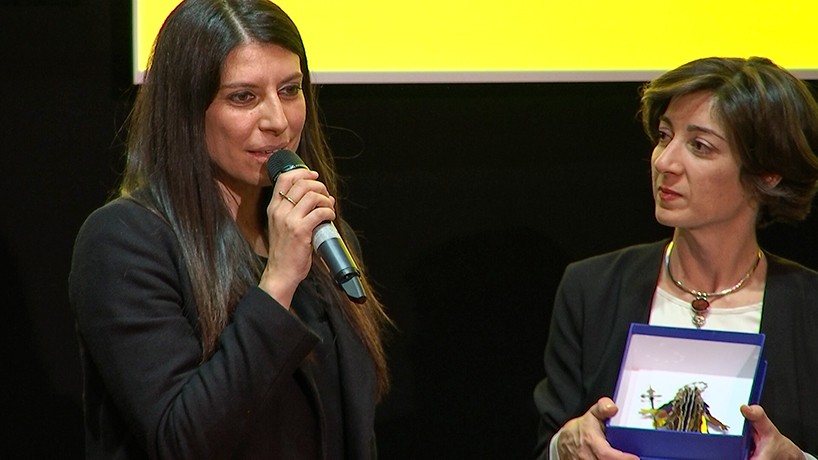 the social impact prize was received on the night by maria marcella ferrari, CEO of the floating piers, handled over by the councillor for labor policies, trade, fashion and design of the city of milan, cristina tajani.
bulgarian born christo and french born jeanne claude's 'floating piers' left a giant yellow stamp on our memory of 2016. like veins of gold travelling across the natural landscape, the project was first conceived in 1970 and finally realized in 2016, connecting land, sea and sky in a monumental intersection of art and earth. the 3km long walkway engaged with its huge audience (over 1.5 million visitors) in an original and daring way. modifying conventional perceptions of space and geography, the installation changed the way its visitors interacted with the world around them, physically altering the character and appearance of italy's lago iseo by decorating the lake and nearby towns with a walk-way of 100,000 square meters of saffron fabric. operations director vladimir yavachev, project manager wolfgang volz and curator josy kraft first began bringing the project to life in 2014, finally opening full 24 hours access last year over the course of 16 days.
DISTRIBUTION shop design and retail, packaging…
shortlisted:
aesop stores (worldwide)
RED valentino by india mahdavi
winner: VALEXTRA pop-up intervention flagship store milan by snarkitecture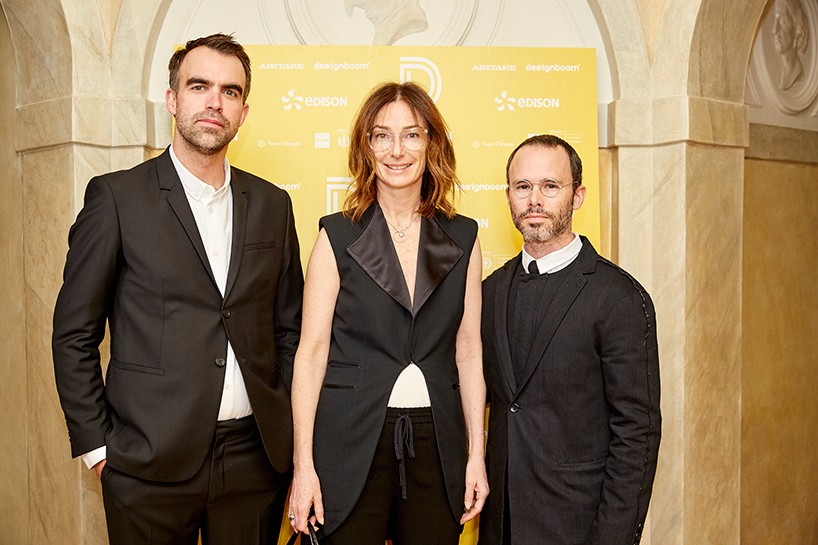 daniel arsham and alex mustonen of snarkitecture and sara ferrero, CEO of VALEXTRA
juxtaposing hard architectural surfaces with tenderly arranged billows of white mesh, US based snarkitecture's surreal pop-up intervention for VALEXTRA's milan flagship reduced and simplified the concept of a traditional retail environment. exploring the relationship between product, art and architecture, the design enveloped the space in a dynamic combination of textiles and materialities that blurred the line between one surface and the next, creating an immersive and filmic stage from which to showcase the brand's latest collection. fusing scenic design and visual identity, the floating embellishments stayed in place for the duration of the city's design week. snarkitecture's daniel arsham and alex mustonen took to THE DESIGN PRIZE stage to accept their award alongside leather-goods company VALEXTRA's CEO, sara ferrero.
COMMUNICATION incl. branding, advertising campaign, print & online magazines
shortlisted:
céline's spring/summer 2016 ad campaign by juergen teller
this category saw two ex-equo winners:
ravi naidoo for design indaba
and
the better shelter refugee project (a collaboration with UNHCR, funded by the IKEA foundation).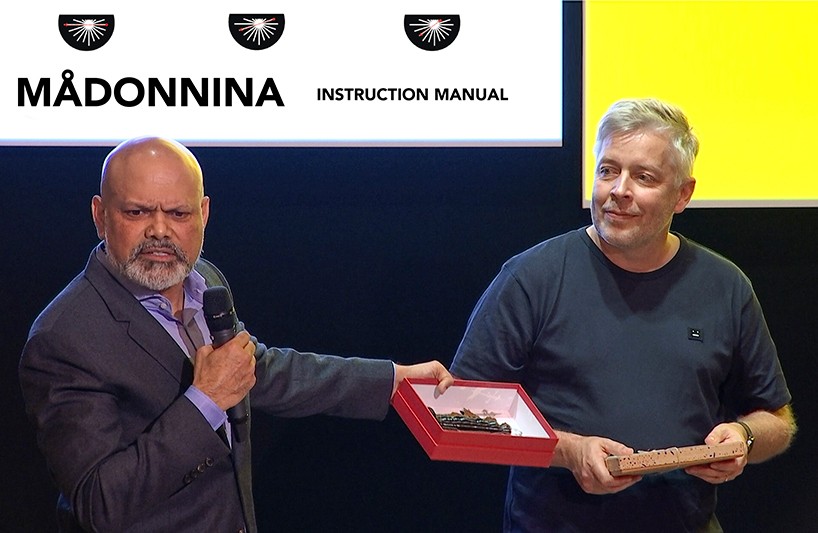 ravi naidoo compares his madonnina statue with the flat-pack version for the better shelter project, received by IKEA head of design marcus engman
it all started as one of the world's most interesting design conferences: the cape town-based annual 'design indaba' festival was created by ravi naidoo in 1995, with a focus on african and global creativity. still under the direction of naidoo, 2016 saw an external curator join the team, the senegalese fashion designer selly raby kane. a multitude of new exhibitions, features, lectures and round tables have been added to the event's robust and colorful 22 year history. design indaba also cultivates musical creativity, building a solid cultural bridge between african talents and worldwide players. naidoo's design indaba has, since its inception, changed the way we perceive design fairs and creative events, and has cemented in our minds the momentous significance of african art in the world today.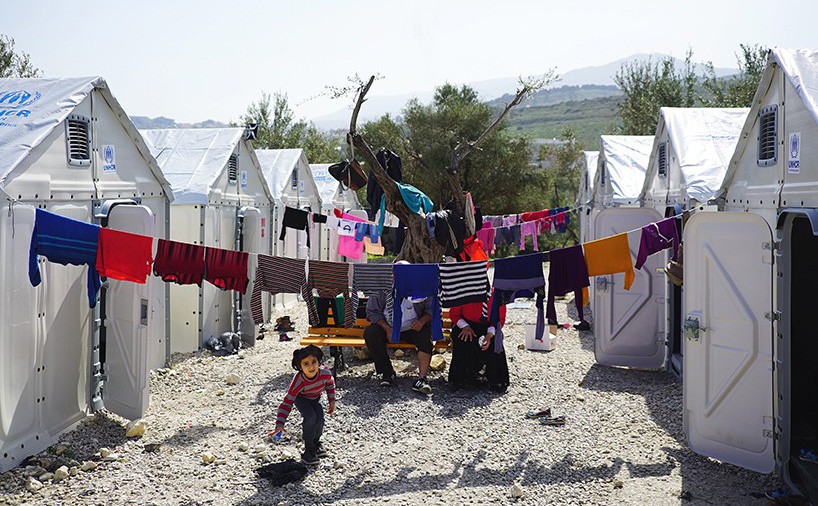 the better shelter refugee project was founded in hällefors, sweden in 2010. today, the project responds in an original and unhesitating way to the crisis of our time, by granting safe, comfortable and sustainable dwellings to the displaced. the flat-packed prefabs are assembled in only four hours and can last up to three years (six times longer than an typical emergency tent). the initiative started in 2013 and by 2016 thousands of shelters had been distributed worldwide. the project's outstanding design and partnership with UNHCR and the IKEA foundation is bringing new visibility to the plight of refugees around the world. the humanitarian, durable and change-driven design won the shelter the top spot alongside design indaba's director.
on stage to collect the prizes were ravi naidoo and on behalf of better shelter, IKEA head of design marcus engman — whose statuette was presented to him light heartedly in flat-pack form, complete with easy to follow instructions for swift reassembly, greeted by laughter from the audience.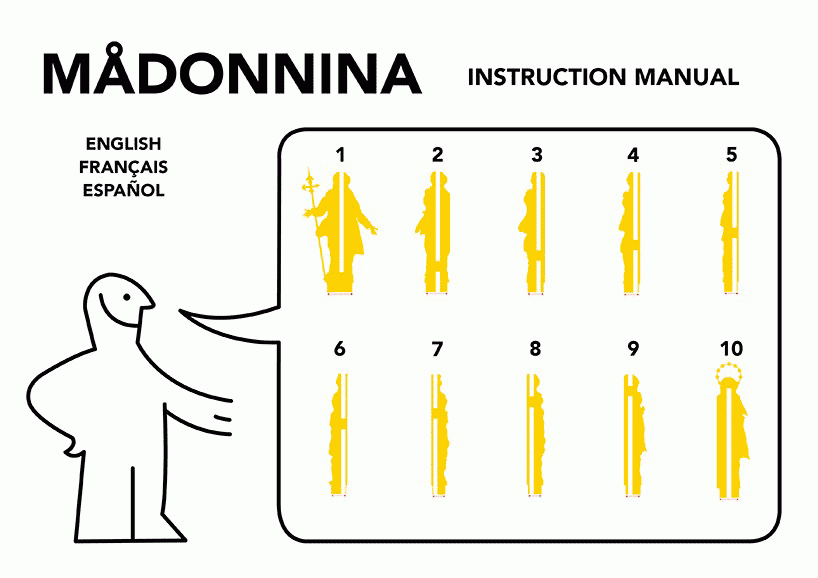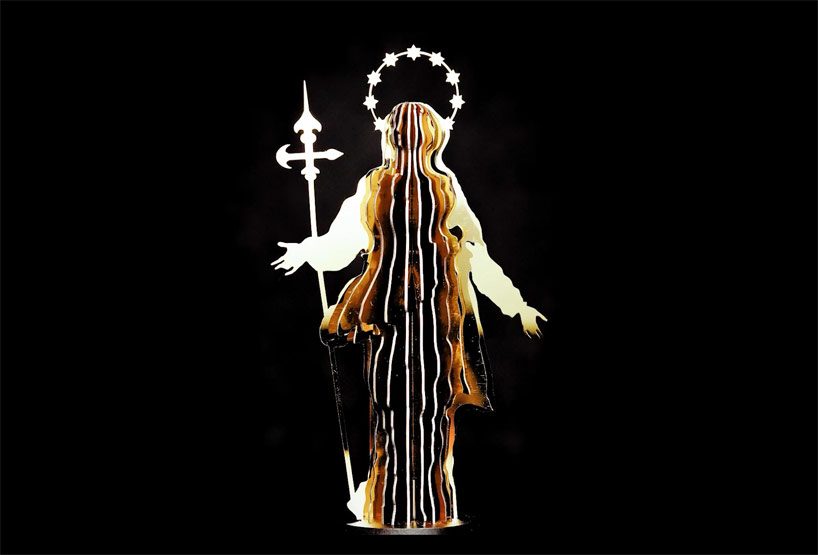 IN THE ARTISTIC REALM (limited) design/art editions
shortlisted:
bethan laura wood for her design/art craft projects
didier faustino with cosmogonie for hermès' haute bijouterie collection « HB-IV Continuum »
winner: philippe malouin for the speed of light at design district miami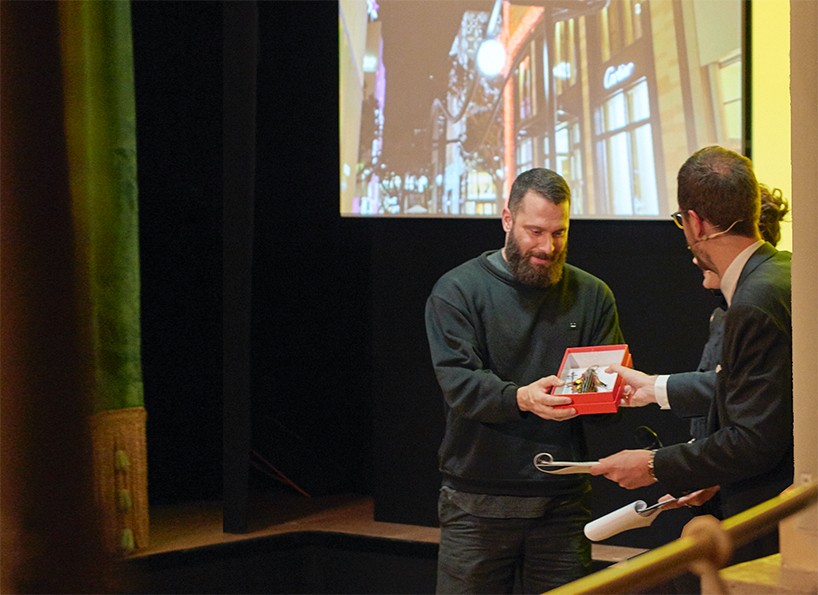 philippe malouin is the recipient of the 'in the artistic realm' prize
both kinetic and meditative, canadian-born philippe malouin's 'the speed of light' guides a glowing led orb along a meter high rail in the heart of miami's design district. malouin plays with our perceptions of conventional urban architecture, turning something as innocuous as the humble street light on its head and suggesting new ways of approaching designs thought for years to be unshakeable. like a 'rollercoaster light' two electric tracks form a closed circuit, operating like a toy car. when the light bulb reaches the top of the curve, it freewheels all the way down, releasing itself under the effect of gravity. blurring the line between function and form, performance and purpose, the installation represented the ongoing conversation between a city and its multitudinous moving parts. true to its name, the speed of this light is a constant. philippe malouin, present on the night to accept his award, refers to recent scientific researches that conclude 'even in vacuum conditions, light can move slower than its maximum speed depending on the structure of its pulses… so does his installation, engineered by johan king from JLKDS design studio based in london.
EXHIBITION concept and spatial design
shortlisted:
alejandro aravena, for the biennale venezia 'reporting from the front'
taku satoh, 21_21 design sight, tokyo for the 'design anatomy' exhibition
winner: AL_A architecture /amanda levete for the architecture of the MAAT lisbon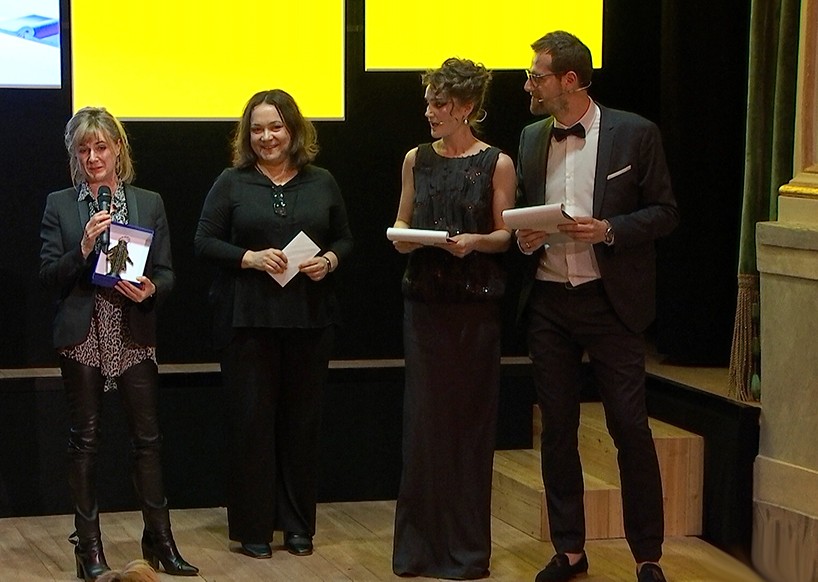 silvia botti of abitare magazine presents the prize to amanda levete
sitting on the banks of lisbon's tagus river, the MAAT (museum of art, architecture and technology) opened its doors in 2016 to become portugal's new home of contemporary culture. behind the design is london-based AL_A architecture and design studio — founded in 2009 by amanda levete (who was present to receive the award) and directors ho-yin ng, alice dietsch and maximiliano arrocet. clad in a dynamic tiled façade that reflects the surrounding landscape, its gently sloping form acts as a seamless continuation of the existing promenade and is set to play host to a range of exciting exhibitions over the coming years. at the heart of the MAAT is an expansive central exhibition space, organised in a huge elliptical shape without any supporting pillars. the central chamber features a fully technical ceiling, creating a truly adaptive exhibition space. changing the face of lisbon's skyline, the museum acts as a bridge between the country's rich traditional history and its rapidly growing future.
EXPERIMENTATION research, education, labs
shortlisted:
dirty art department education program for design and applied art, it seeks however to reject the kantian division between the pure and the applied arts
formafantasma, andrea trimarchi and simone farresin for objects and installations that exploit geometry, colour and shadow
winner: olafur eliasson for 'little sun' and 'little sun diamond'
olafur eliasson broadcasts his acceptance speech over to milan
founded in 2012 by danish-icelandic artist olafur eliasson and south african engineer frederik ottesen, the little sun project has, for over 5 years, been providing energy to communities without electricity worldwide — a figure which now comes to more than 1.1 billion people. originally founded to realize a solar powered lamp, the project has since expanded into a full range of solar products, each new idea experimenting with how sustainable energy can change people's lives now. for each unit sold in a market with electricity, one of little sun's partners sells a similar product in their part of the world at an locally affordable price. the project's most recent creation — completed in 2016 — is the 'little sun diamond', a crystalline lamp that can provide up to four hours of illumination. with both a directed reading light and a more ambient light setting, the diamond acts as a more mature iteration of its colorful predecessors. unfortunately unable to attend on the night, eliasson sent THE DESIGN PRIZE a short video of thanks stating how happy and proud he was to receive the award, and urging attendees to promote social change through this new product.
DESIGN CURATOR/DESIGN CRITIC exhibition / design event / design week
shortlisted:
alice rawsthorn
andreas angelidakis
winner: aric chen, design and architecture curator, M+ museum HK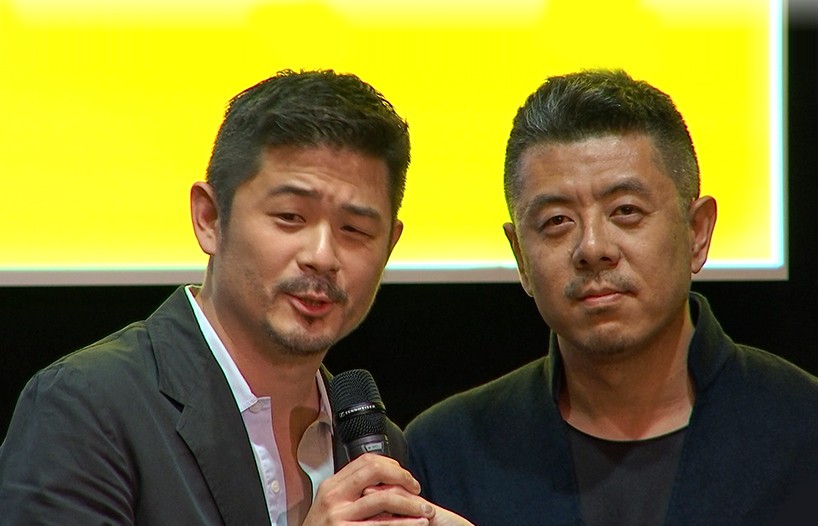 jury member ma yansong of MAD architects presents the prize to aric chen
'we're not promoting chinese identity or hong kong identity or asian identity per se — we're a museum about ideas (…) which often transcend borders,' says aric chen of hong kong's anticipated M+ museum, scheduled to open in 2019. once the creative director of beijing design week, chen has written for the new york times, monocle, wallpaper*, surface and PIN-UP, and was present on the night to receive his award. chen's inaugural design exhibition for M+ — 'shifting objectives' — took an involved look at the history of asian design within a global context, while simultaneously examining the state of the industry in 2016 and beyond. a 'constellations' room towards the end featured more than 40 collected works from a variety of fields presented side by side, allowing visitors to assemble their own interpretation of the exhibition, its objects, and the role of the museum in modern day china.
BEST DESIGN NEWCOMER
shortlisted:
zaven
faye toogood
winner: muller van severen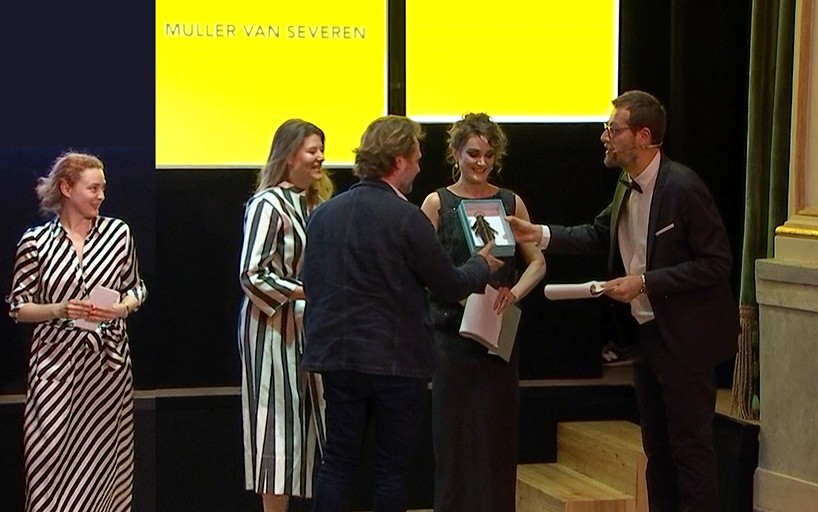 maria cristina didero awards muller van severen
muller van severen's offbeat approach to furniture involves employing primitive forms and basic materials, but activating them with original and contemporary functions. with backgrounds of sculpture and photography respectively, belgian husband and wife duo hannes van severen and fien muller gained international attention in 2016 with their material driven, minimalist furniture collections of sculptural wire displayed at the biennale interieur kortrijk. since then, the duo has continued to innovate with shape and purpose, creating linear, artful objects that transform the spaces around them. present at the event, the pair accepted their award which marked them out as the ones to watch.
BEST DESIGNER
shortlisted:
michael anastassiades
yves béhar
winner: ronan & erwan bouroullec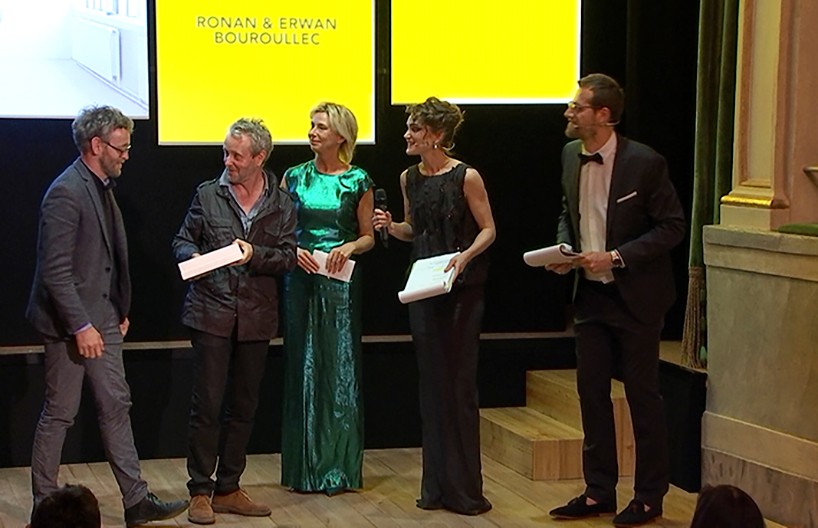 birgit lohmann of designboom honors the bouroullec brothers
needing no introduction, the bouroullec brothers were present at the gerolamo theatre to accept this year's DESIGN PRIZE for best designer. constantly interpreting and reinterpreting the world around them, the paris-based bouroullec brothers' much loved work has more than earned them this award. most notably, their 2016 installation 'rêveries urbaines/urban daydreaming' at the vitra fire station in weil am rhein, where they have been exploring better ways for nature and cities to interact. enamouring the public with their creations for the domestic space, ronan and erwan bouroullec never seem to lost the ability to play, to experiment and to find new and dazzling ways of reshaping the world around us.
LIFETIME ACHIEVEMENT
shortlisted:
naoto fukasawa
konstantin grcic
it is a long process, but you don't need to be over 65 to be considered a pioneer in your career. each year, THE DESIGN PRIZE recognises a creative contribution which has left a significant mark on the field, indicating new directions of innovation and paving the way for future generations to come. this year, the award went to sydney-born designer marc newson.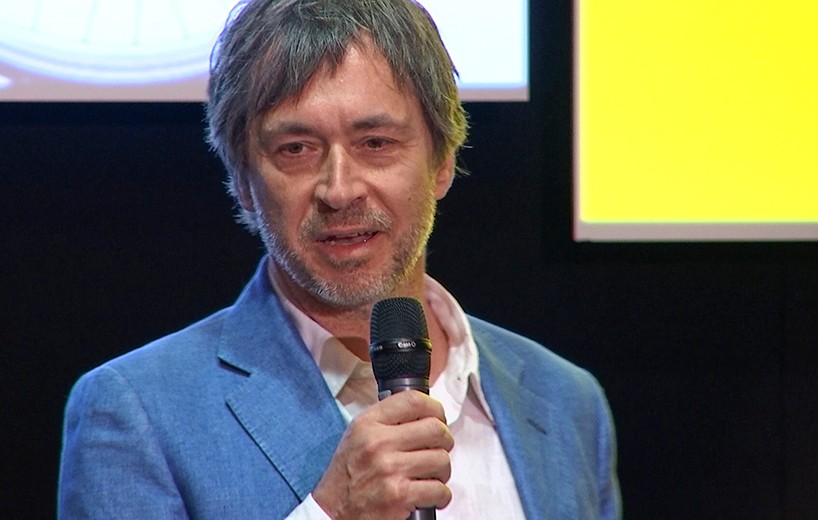 marc newson is the recipient of the lifetime achievement prize
marc newson approaches design as an experimental exercise in extreme structure and advanced technologies, combined with a highly tactile and exacting exploration of materials, processes, and skills. his reach is broad and hugely diverse. in the past, his work has included body jets, jets, aircraft interiors, cars, he re-designed the beretta woodbridge shotgun, photo cameras, watches, footwear, luggage, a boat for riva and a fountain pen for montblanc. the legendary designer joined apple as senior vice president of design under jonathan ive and has also produced beautifully crafted, limited-edition furniture, including the incredible lockhead lounge (1986). in a world where the distinction between art and design are becoming increasingly blurred, newson is a trailblazer, pursuing parallel activities in exclusive and mass production for more than twenty years. newson currently lives and works in london.
watch the full video that has been live streamed from the event!
THE DESIGN PRIZE award ceremony was held at the gerolamo theater in milan. conceived in 1868, the 'teatro' was constructed with the intention of reproducing, on a smaller scale, the famous milanese scala theater. this jewel among the city's monuments closed in 1983 and today — 33 years later — opened its doors again after a long refurbishment.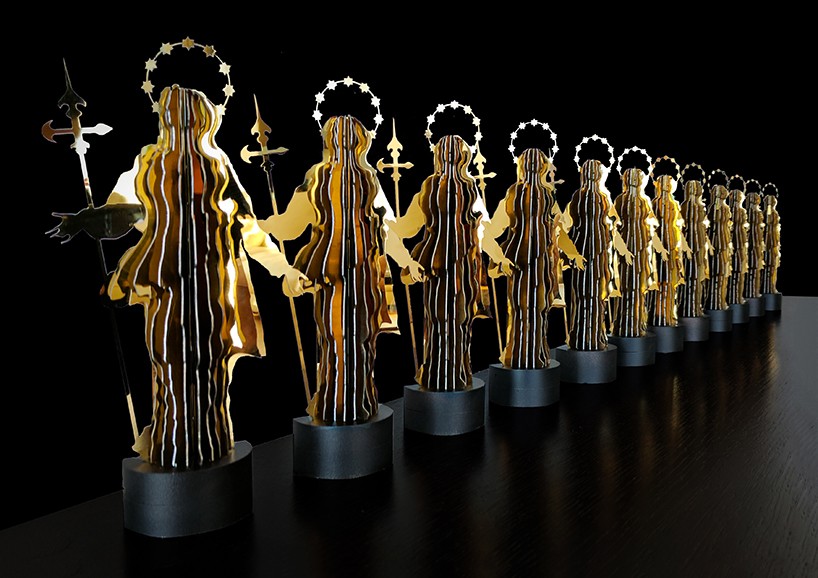 THE DESIGN PRIZE is inextricably linked to the city of milan
winners left with the striking DESIGN PRIZE statuette, a contemporary reinterpretation of milan's madonnina statue that sits atop the highest spire of the city's duomo. the golden figure was designed and built by giuseppe perego in 1774 and traditionally, no building in milan could rise higher than the statue. for THE DESIGN PRIZE 2017, the golden madonnina is symbolizing the pinnacle of excellence. designed and conceived by banker-turned-artist, vasily klyukin, the russian philanthropist has conceived a limited edition of 12 Фото мадонин stainless steel art pieces – a sequence of independent parts that intersect to create the three dimensional form. it is the first iteration of what is set to be a constantly evolving DESIGN PRIZE. each year, the statuette takes on a new shape, with subsequent versions adding to an ongoing artistic embodiment of the city of milan, that map out its vibrant history.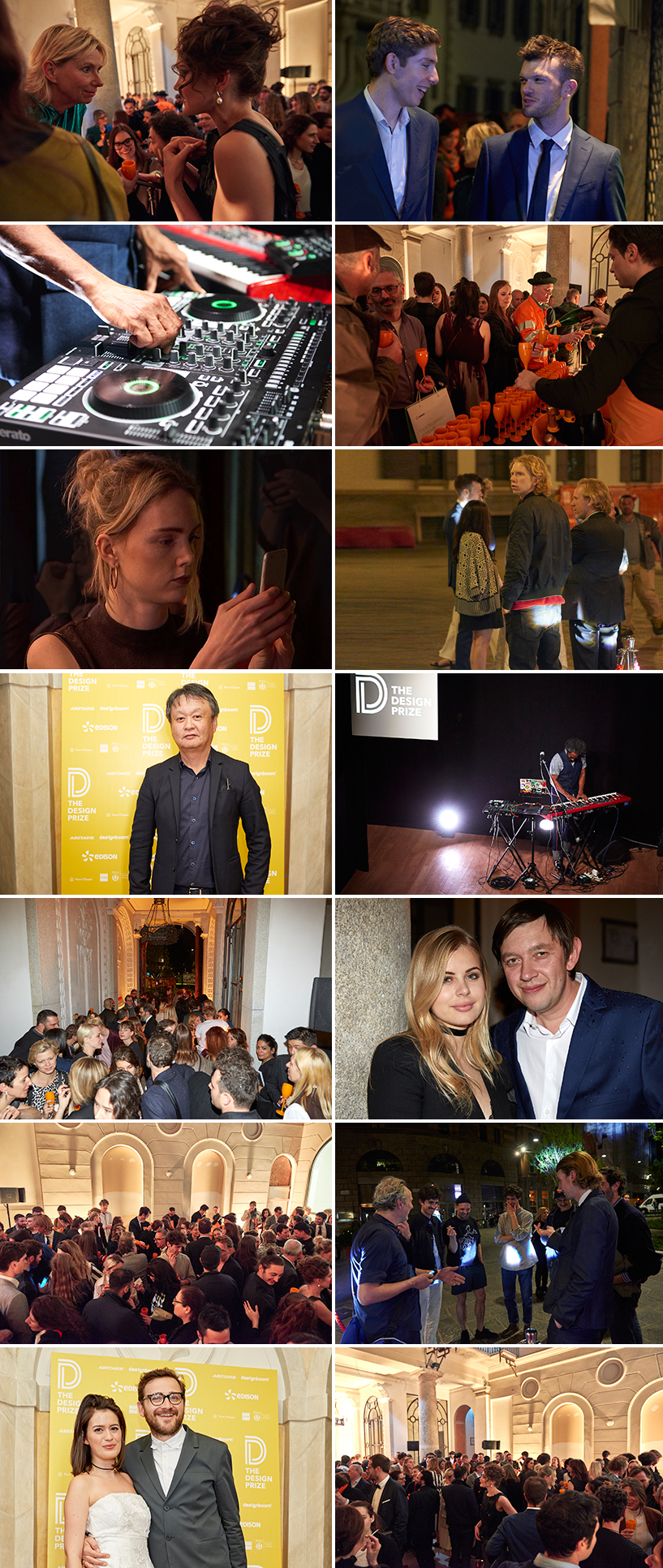 the city of milan continues to assert its prime position as the world epicenter of design, and the introduction of THE DESIGN PRIZE intends to celebrate this excellence on a global scale. each year, the initiative recognises both the extraordinary achievements and little sparks of beauty and delight that have emerged over the past 12 months. gathering together a global community for one night in italy's creative capital, THE DESIGN PRIZE is set to become one of milan's highest honors for the creative industry. the VIP event has been organized in collaboration with EDISON, one of the main energy providers in italy and europe, and the main partner of THE DESIGN PRIZE.

THE DESIGN PRIZE is energised by EDISON
when it comes to the development and promotion of smart cities and homes, EDISON is an experienced and well-equipped partner. the company employs its unique knowledge and know-how — developed over 130 years of activity in the energy sector — in collaborative projects with architects and designers that look to creating a sustainable future. the solutions, business models and technologies proposed by EDISON to its clients and partners are designed and developed in response to their specific needs, resulting in tailor-made energy systems that aim to improve and simplify the lives of people worldwide.
peter corboy
I designboom
apr 17, 2017
KEEP UP WITH OUR DAILY AND WEEKLY NEWSLETTERS
happening now! discover how effe perfect wellness merges tradition with modern design to bring the total relaxation experience of saunas and hammams into use in private homes.
a diverse digital database that acts as a valuable guide in gaining insight and information about a product directly from the manufacturer, and serves as a rich reference point in developing a project or scheme.
designboom will always be there for you
milan, new york, beijing, tokyo

,
since 1999