the genealogy of innovation – NIKE football from 1971-2014
part of NIKE phenomenal house
at the sorting office, 21-31 new oxford street, london
opening times
thursday 29 may: 10am – 11pm
friday 30 may: 7am – 11pm
saturday 31 may : 10am – 10pm
if you visit the sorting office on new oxford street, london over the next couple of days you'll find that NIKE has united the best of the capital's football culture, football equipment, music and more all under one roof.
'NIKE phenomenal house' opened this past monday allowing visitors the opportunity to play 5-a-side football, skateboard and customize sneakers however our personal highlight has to be the 'genealogy of innovation' exhibition, which documents NIKE football's heritage from the company's first boots produced in 1971 right up until their most recent designs, the magista and mercurial superfly 10.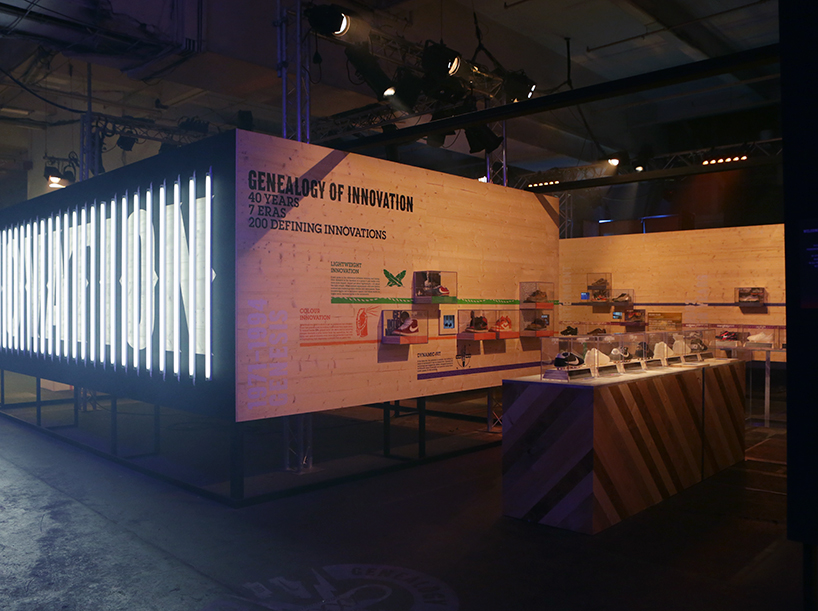 view of the NIKE genealogy of innovation exhibition
writer gary warnett, one of the curators of the genealogy of innovation exhibition told designboom more about the show…

designboom: what can visitors to the exhibition expect to discover?
gary warnett: the objective is to let visitors know that NIKE football stretches back to the earliest days of NIKE and, in subsequent years, that there's plenty of intersections where running, basketball, tennis, trail or training technologies cross over.
if you look at it all, you can see where a boot from 1971 — the first shoe to feature a swoosh was a boot made for football as well as other field sports — and much of what occurred afterwards across categories feeds into new designs like the magista and latest incarnation of the mercurial.
it's been twenty years since the world cup in the USA and that's where NIKE football really took shape with that year's tiempo premier boot — a style that actually debuted in 1992 and the tiempo's DNA goes back to 1984.
it's ripe for digression. football is the emphasis here but it's good to take a look at the lesser-known performance shoes that have had a hand in pushing things forward to make way for the next wave of design too.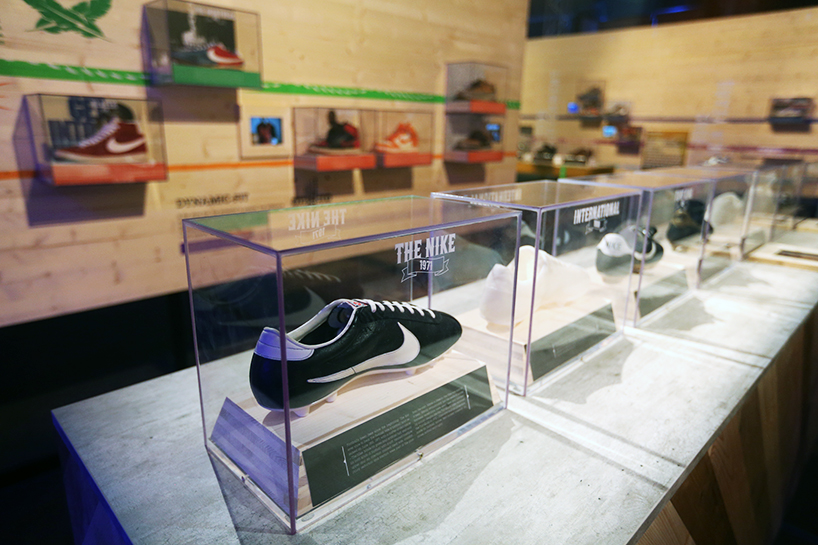 boot designs on show date from 1971 and are accompanied by other NIKE footwear that played a part in the history of NIKE football
DB: what was your vision for this show when you were putting it together?
GW: the credit for putting it together also goes to andy walker, colin, wai, saskia, amy, jimmy, magdi and the teams who put in the serious work to make this happen. I only worked on the timelines, shoe lists and the writing — there's also multiple teams in other territories who brought it all to life. this installation is actually one of several — the first was in paris's phenomenal house a couple of weeks back and there's one in the berlin phenomenal house right now with some shoes you won't see in london that looks incredible [the show also opens in brazil next month – details below].
as a long time fan of NIKE design the vision was to try to gather as many significant football shoes and innovative non-football together as possible and connect them authentically — look back but focus on forward too. there's nine timelines across seven eras. the thing about football, is that a football boot is an object of pure function — you can't wear boots with your jeans! but you can wear running shoes or basketball shoes casually. it is what it is, but the innovations within say, the magista obra — dynamic fit, the cushioning inside, the natural motion, the materials, the colour, the flyknit, the all conditions control treatment, the sense of speed… it all connects to a multitude of innovation genealogies.
there's significant parallels between NIKE football's output post-1997 and their work on track spikes too. and I'm not a fan of tenuous connections — a world cup season is ripe for that — so it all had to make sense. the london phenomenal house is a good cross section of the shoes on the multiple timelines and they conclude with 2014's offerings.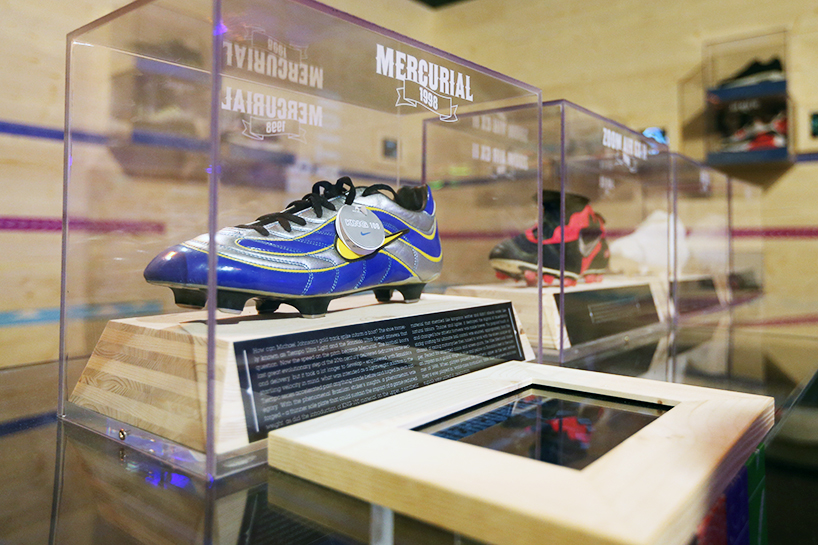 the original NIKE mercurial as worn by brazil's ronaldo in the 1998 world cup
DB: what criteria was used to select the various footwear on display?
GW: the shoes have to be significant in one way or another — the mercurial, mercurial vapor and air max are all a given in the innovation stakes, but we need to take a closer look and see the shoes that were influential like the elite runner or the air rio boot — the approach hiking boot was an important moment in weatherproofing NIKE shoes but it was also an influence on the air force 1 and that was an experiment in basketball cushioning that would instigate a brace of basketball innovations that would ultimately converge with football boots when technologies like hyperfuse played a role. many shoes belong in multiple categories! there are thousands of NIKE shoes that I'd like to see in one place and this project could have gone on and on and on. there was a filter process, but it needed to be visually appealing too.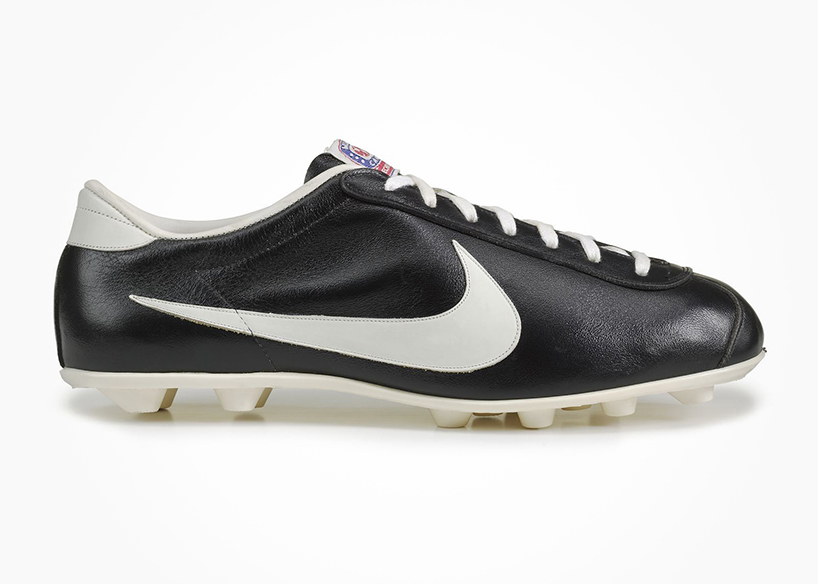 'the NIKE', 1971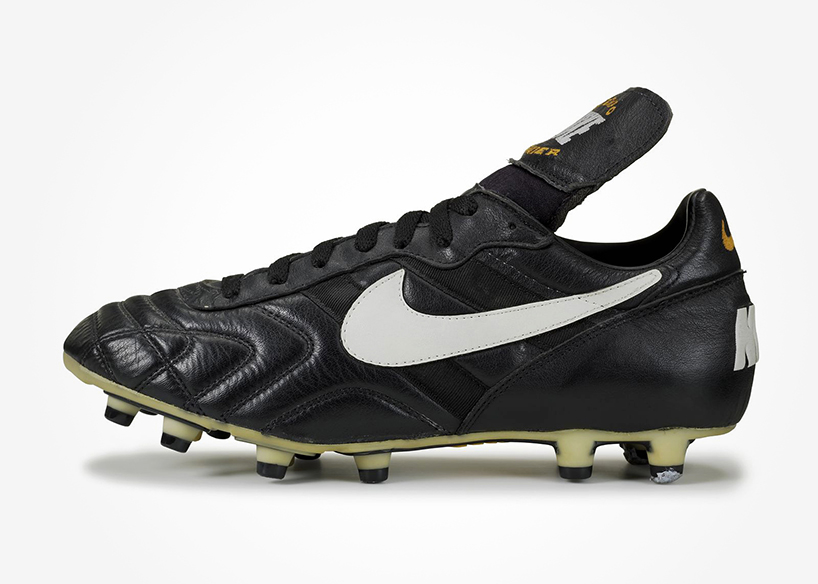 tiempo premier, 1994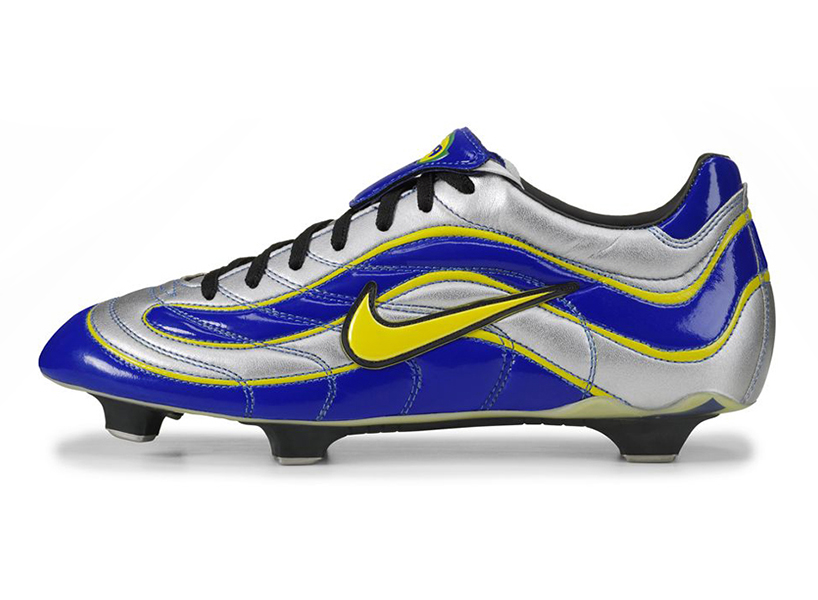 mercurial, 1998
'ultralight, so your legs can be as fast as your imagination'
DB: which of the boots on show have been the biggest 'game changers' and why?
GW: tough question. probably the mercurial from 1998. because we've been working on this project we're aware of what led up to the mercurial so there's some unsung heroes, like the GX boot that paved the way for it, but it's arguably the shoe that let NIKE do what it does best on the pitch.
prior to the mercurial there was a certain conservatism with the black kangaroo leather aesthetic of boots, but with the introduction of those colors, the use of a performance material rather than leather and the weight — it was a real statement of intent. and like all the best NIKE products, there was an athlete connected in the shape of the original ronaldo.
the boot would have been a hit based on good design alone, but the timing was perfect too. it's probably the first NIKE boot to influence other categories and its influence is colossal. even seeing the reaction from younger visitors to the exhibition you can tell this one really resonated. whereas my generation still associate football boots with black leather designs there's now an entire generation who grew up with that colorful, lightweight, speed-led aesthetic.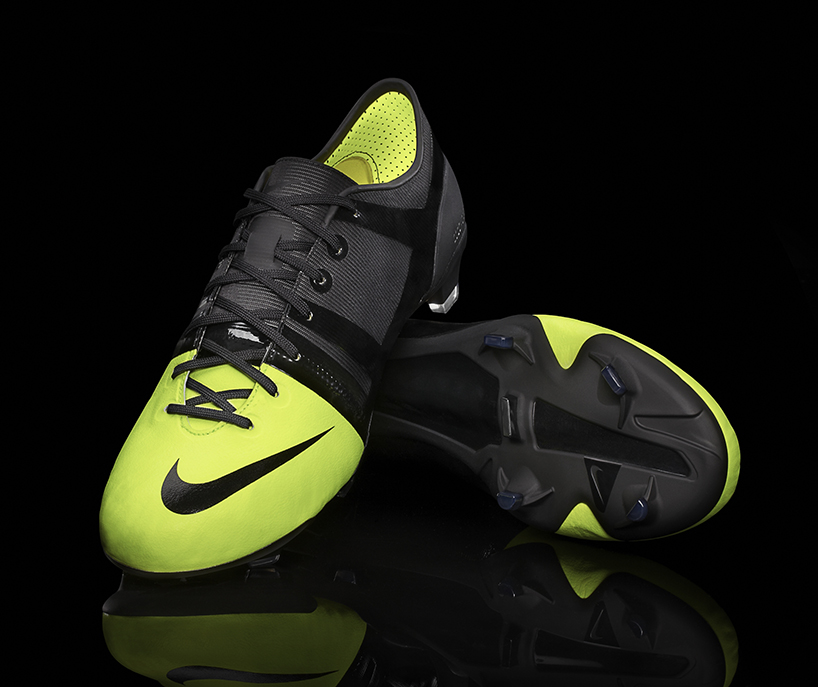 NIKE GS, 2012
see the design process of this boot »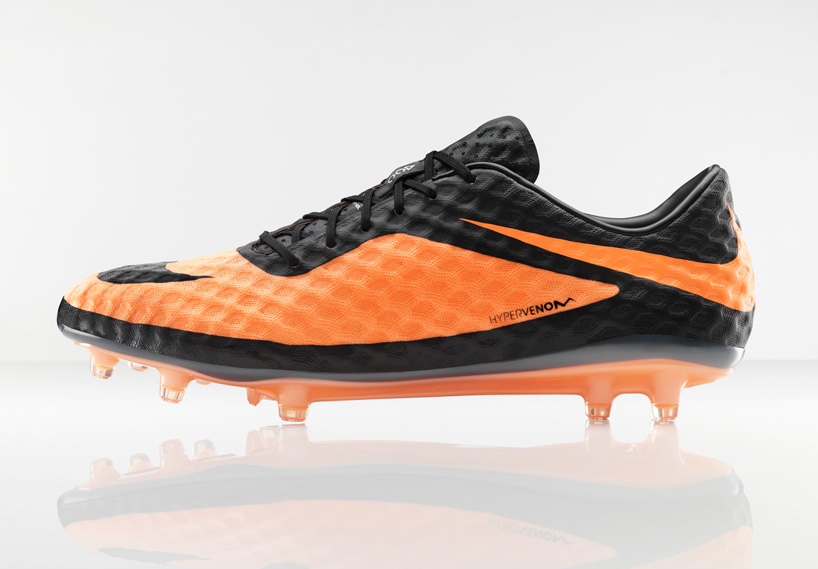 NIKE hypervenom, 2013
see our article on this boot »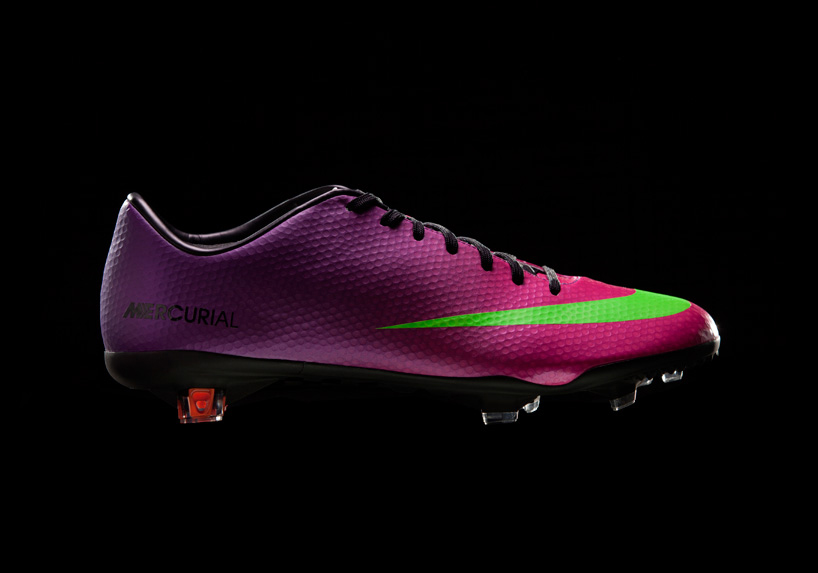 NIKE mercurial vapor 9, 2013
see our article on this boot »
DB: as curator what were some of the surprises you encountered along the way?
GW: a ton, but as a geek when it comes to NIKE, it's probably going to bore you!
the exhibition covers some stories people might not know such as NIKE football in the early 1980s – before they were a major player in football. during that time they did some great things that are rarely discussed now.
for instance, peter withe was wearing NIKE when he scored the winning goal for aston villa in the 1982 european cup final. apparently some of the villa players at that time weren't so keen on change and so rather than wear NIKE boots like the euro match they drew a white swoosh on their old boots in tippex [correction fluid].
but what NIKE were innovating between 1971 and 1991 in other fields would ultimately have a huge impact on football boot design and with the tiempo premier in 1992 they really made up for lost time.
the tiempo premier evolved through the 1990s becoming increasingly popular then the air rio appeared, then the GX dropped and then the mercurial and that's before we even get into discussing the 2000s, when the mercurial vapor and total 90 line debuted.
a lot of the lightweight boots from the last several years owe a lot to the work that went into designing michael johnson's gold shoe from the 1996 olympics – which is something else we highlight in the show.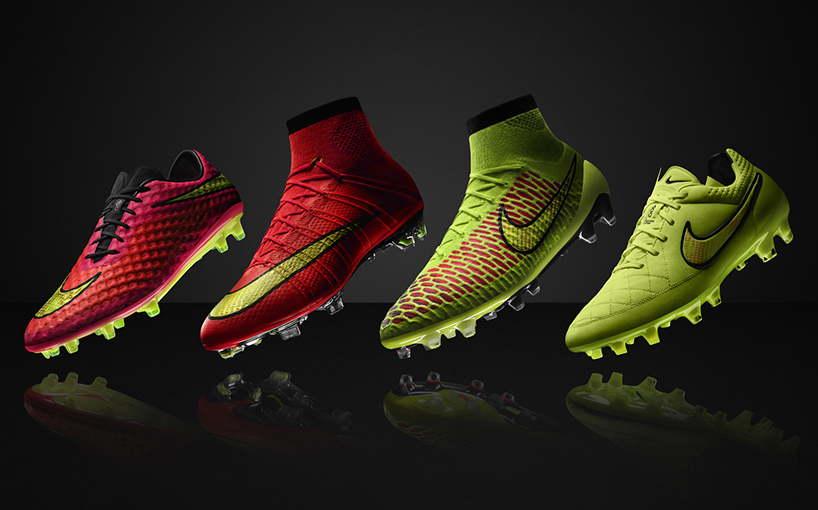 this june and july NIKE will unleash four of the most innovative pieces of performance footwear that the beautiful game has ever seen. from left to right – hypervenom, mercurial superfly, magista and tiempo V.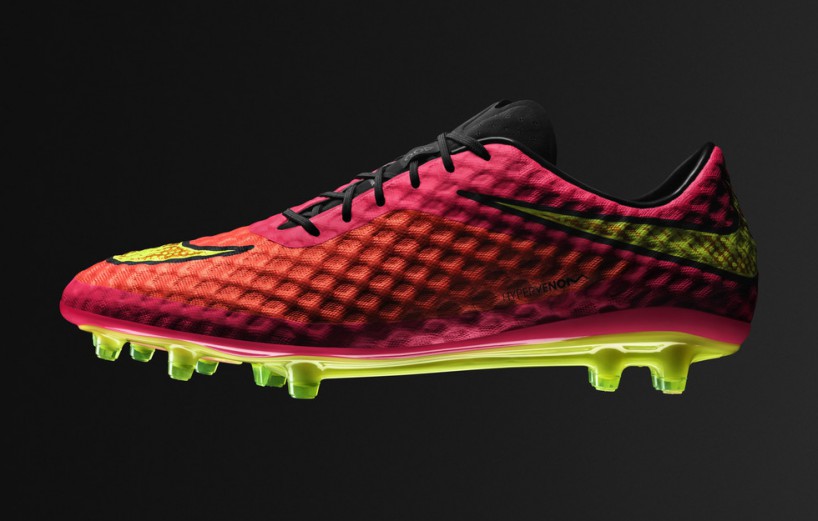 NIKE hyper venom, 2014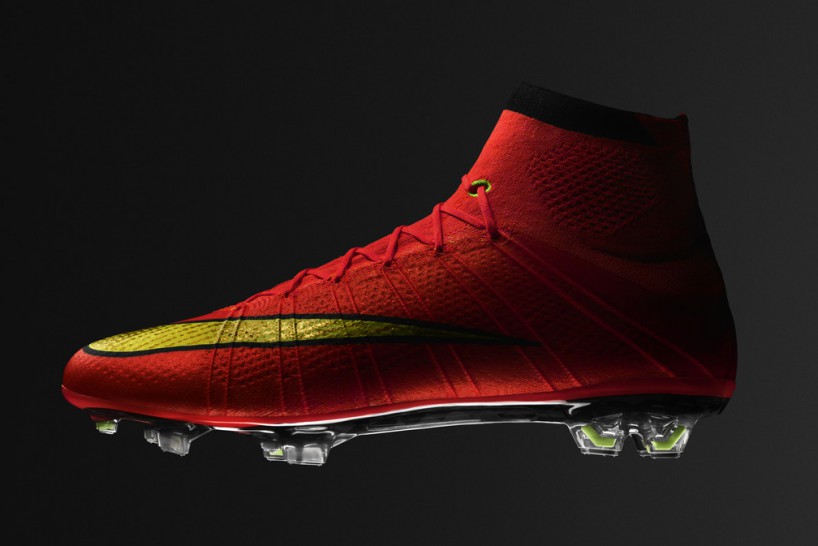 NIKE mercurial superfly 10
see design process of this boot »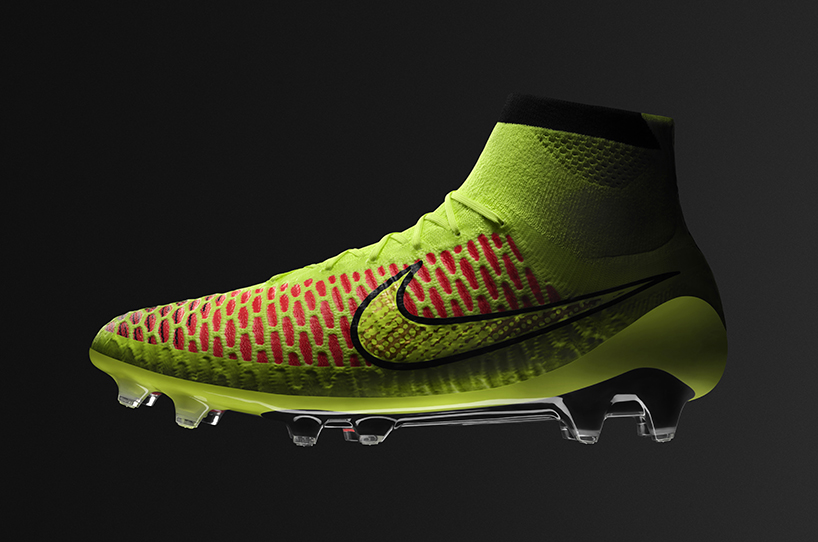 NIKE magista, 2014
see the design process of this boot »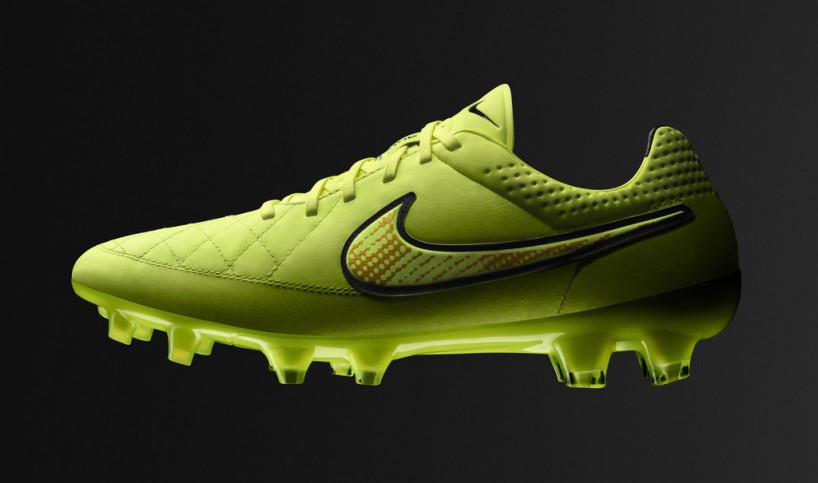 tiempo V, 2014
NIKE's genealogy of innovation exhibition runs until saturday may 31st, 9pm at the sorting office, 21-31 new oxford street, london. more info »
…and for those of you lucky enough to be in brazil for the world cup, 'NIKE's rio phenom house' (pictured below) opens it's doors on june 7th, 2014. it will also feature the genealogy of innovation exhibition along with numerous other events including the finals of the batalha das quadras, a NIKE-sponsored grassroots indoor football tournament. more info »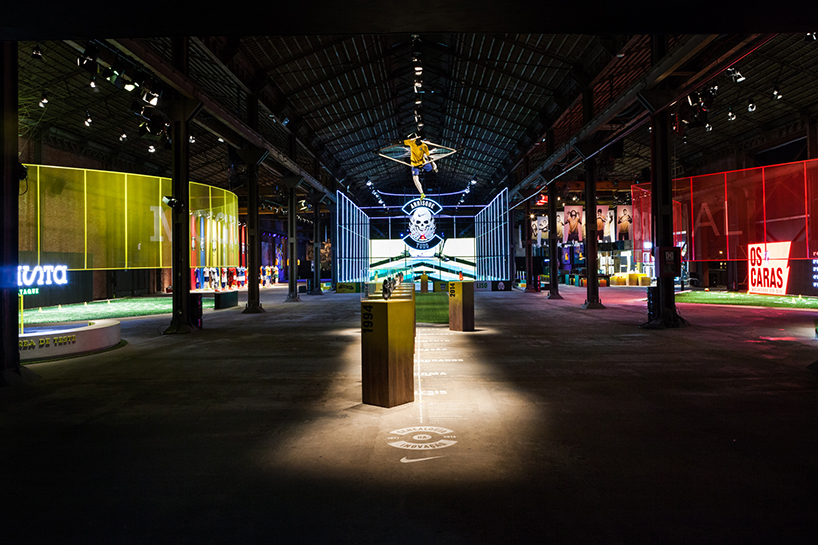 NIKE's 'rio phenom house' will open on june 7th, 2014
more
read our interview with martin lotti, creative director at NIKE football »
a diverse digital database that acts as a valuable guide in gaining insight and information about a product directly from the manufacturer, and serves as a rich reference point in developing a project or scheme.
designboom will always be there for you
milan, new york, beijing, tokyo

,
since 1999