american designer diane leclair bisson has created an eco-friendly urn that uses ice to slowly dissolve whilst releasing cremated remains after death. the patented design of the ice urn poses an immaterial alternative to traditional vases, featuring a sealed container of ice, shaped with a cavity that can hold a large volume of ashes.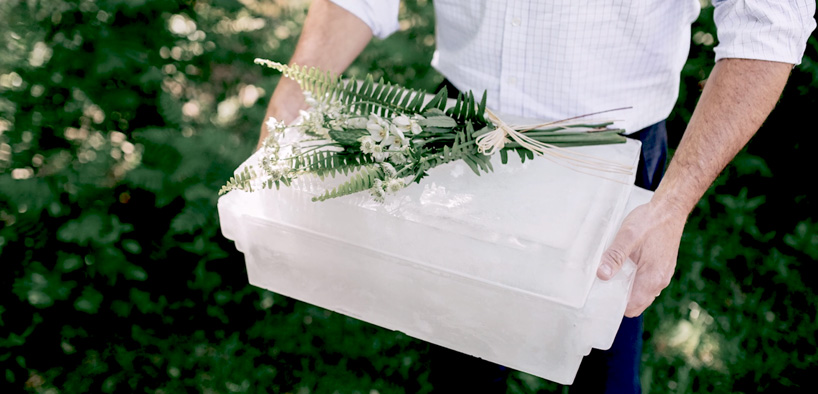 images courtesy of the living urn / diane leclair bisson
the ice urn minimizes the carbon footprint considerably by producing re-usable shaping moulds, and employing low-energy freezing methods. it is designed for the dispersion of cremated remains in a stream, lake, in the ocean – or even in soil.
'the ice urn is a deeply sustainable object in its essence,' says bisson. 'the concept of making a dissolvable memorial object through the transformation of water into a solid form of ice – while encapsulating cremation ashes within it – is truly innovative.'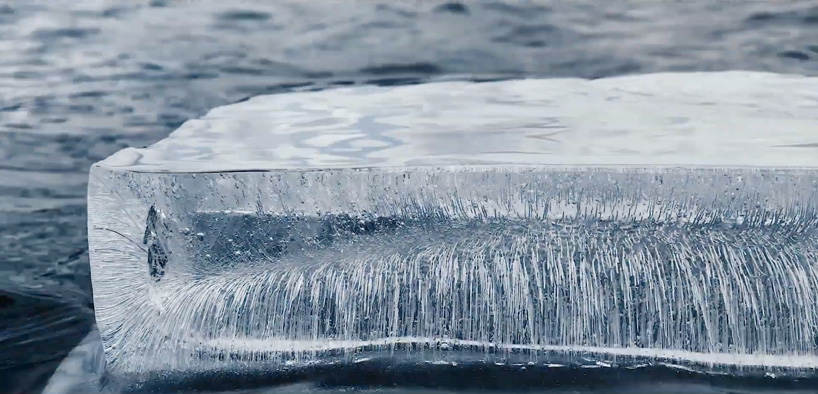 'it is the most immaterial urn ever created, and it inspires new types of water ceremonies as well as a completely new approach to the idea of burial itself – emphasizing new thinking about the return of the body to the natural environment, and of water back to its original source.'
the ice urn is conceived to embody a wide range of physical shapes whilst allowing for vastly personalized ceremonies. it recalls sheets of melting ice found floating in bodies of water with large flat surfaces that enable easy handling.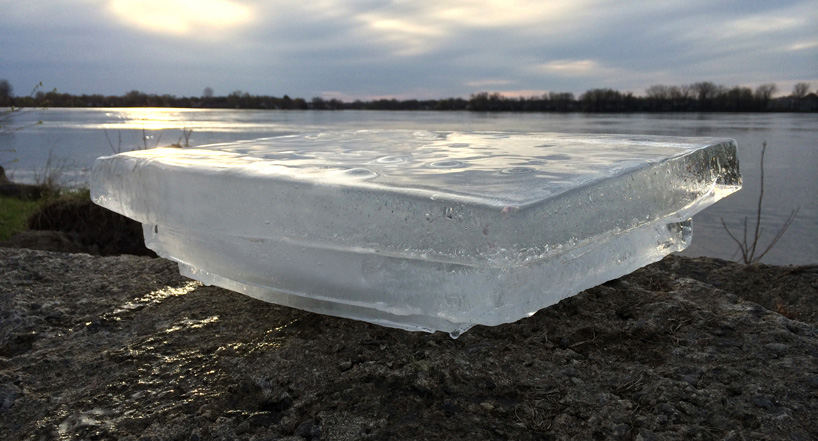 'many people have a special connection with bodies of water. some draw pleasure and energy from the beauty of oceans, lakes and rivers and for others these bodies of a water are a means of support for a livelihood and family,' bisson adds.
'it is different than virtually every other liquid and it is these very special properties that make life as we know it possible. when liquids change state from a liquid to a solid, they contract and become denser.'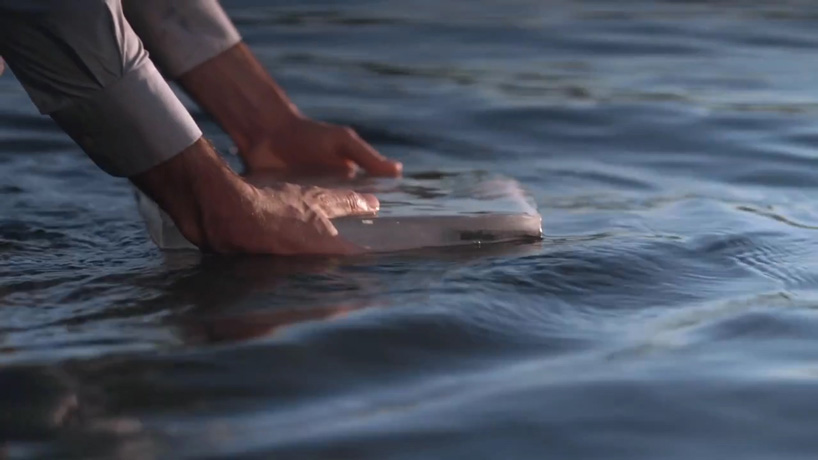 the ice urn comprises of two 4cm-wide parts that are assembled through freezing once ashes have been placed inside. the thickness of the ice walls and the inside volume of the two parts allow the urn to float. the ashes are placed in a loose or frozen form in the open cavity, and the urn is completed by adding and freezing a liquid into a final predetermined closed shape.
'water expands when it freezes making frozen water less dense than liquid water. this odd and critical difference to other liquids prevents oceans and lakes from freezing from the bottom up (and freezing completely) which allows for the continued existence and humans and other large organisms on our planet. this property is also the reason ice floats.'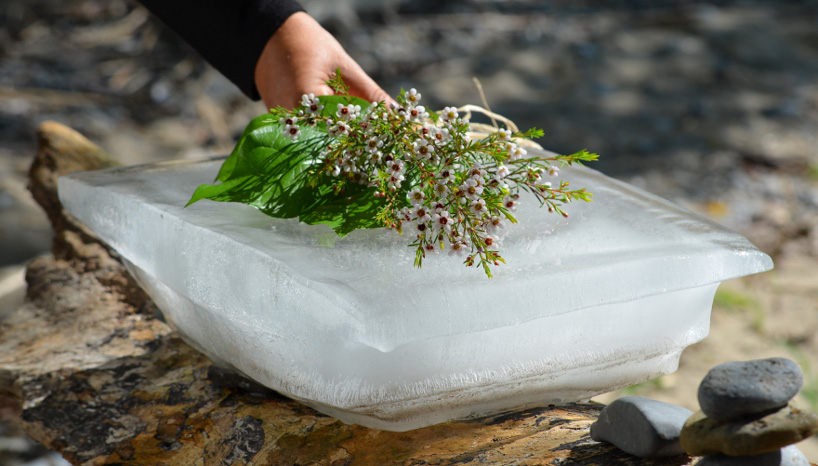 the flow was originally designed for memoria, a progressive funeral home group based in montreal. now biolife, LLC, the developer of other eco-focused urns, has obtained the exclusive license to produce and market the patented ice urn in the united states. the urn is available at funeral homes; you can see more information on the ice urn page at the living urn.
project info
designer: diane leclair bisson
companies involved: biolife, the living urn
jun 12, 2020
jun 12, 2020
nov 24, 2019
nov 24, 2019
mar 03, 2019
mar 03, 2019
feb 07, 2019
feb 07, 2019
apr 30, 2018
apr 30, 2018
aug 22, 2016
aug 22, 2016
a diverse digital database that acts as a valuable guide in gaining insight and information about a product directly from the manufacturer, and serves as a rich reference point in developing a project or scheme.