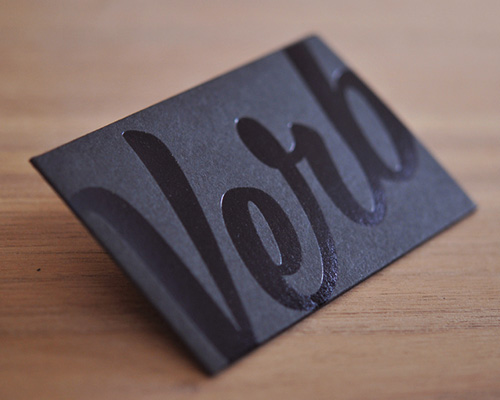 sep 08, 2014
GBH's branding for the verb hotel boston
GBH's branding for the verb hotel boston – the newly restored hotel by elkus manfredi architects
photo © adrian wilson
the verb hotel was recently restored both inside and out by elkus manfredi architects – the 94 room, mid-century modern howard johnson motel, built in 1959 is an iconic location in boston located in the city's historically cultural fenway neighborhood. GBH worked with local property developers samuels and associates on the branding for the hotel.
located at 1271 boylston street, the property will build on the legacy of the fenway motor hotel that first opened its doors in 1959, fully restoring its now iconic modernist architecture. with an unconventional, often irreverent attitude showcased through its interior décor, and rare music and pop-culture memorabilia from boston's heritage, supplied and curated by the boston phoenix archive, the concept seamlessly melds the best of boston's past, with the spirited culture of modern-day fenway. developed by samuels & associates in partnership with weiner ventures and spot-on ventures, the verb is managed by crescent hotels & resorts, the property will feature 94 guest rooms at an affordable luxe price point, along with an outdoor pool and signature restaurant and bar.
—
GBH told designboom more about how they went about branding the hotel.

'to get under the skin of the brief, GBH set up a 6 week pop up studio in the fenway neighbourhood, which allowed us to fully research the history of the area and get involved with the plans for interior and exterior details right from the get go. because of the close proximity of the famous fenway park baseball ground, home of the boston redsox (it's next door!) many brands in the area focus on baseball. however the neighborhood has also nurtured a vibrant music and counter culture scene since the 1960s, with nearby kenmore square and a multitude of iconic music clubs on lansdowne street being the focus. a spirit of free-thinking bohemianism was championed through a local alternative weekly newspaper, the boston phoenix, which was also home to the offices of iconic radio stations WFNX-FM and WBCN-FM.'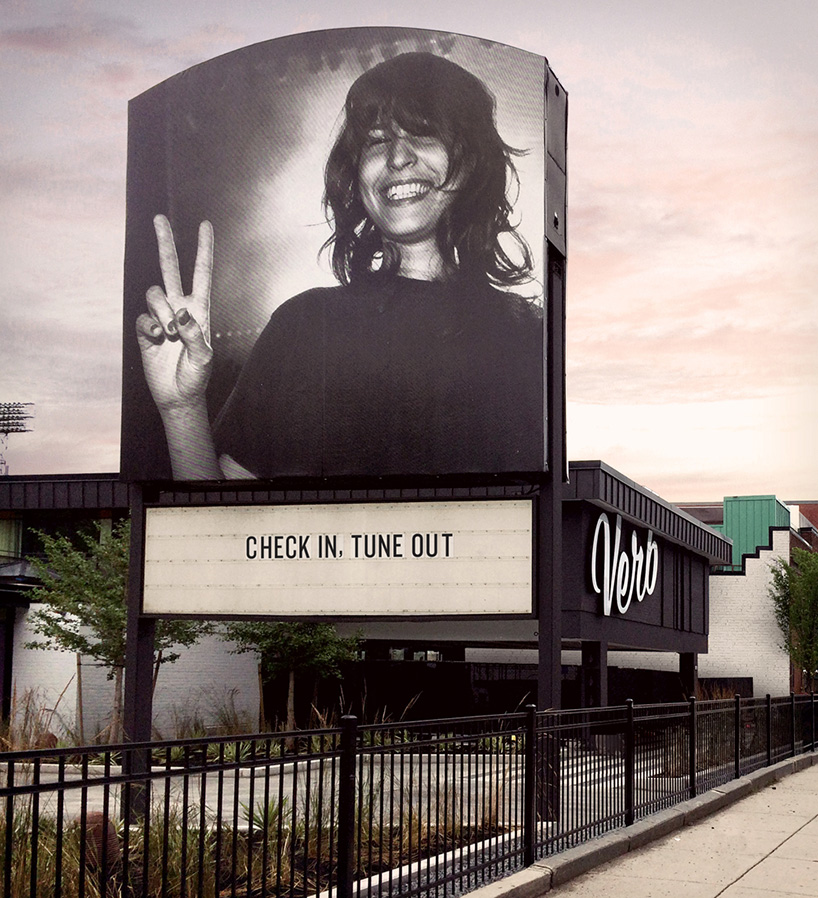 the newly restored hotel by elkus manfredi architects
photo © adrian wilson
'since the 60s, many iconic bands played the area – the velvet underground, ray charles, the rolling stones, aerosmith, the who, springsteen, nirvana – and we leaned that over the decades the hotel played host to many iconic, rock n roll moment, always being at the heart of the scene, like a cool local personality who's seen it all and has the characteristic looks to prove it! we wanted to buck the baseball trend and turn this iconic 'rock n roll' past into a unique, irreverent, and altogether alternative hotel experience.'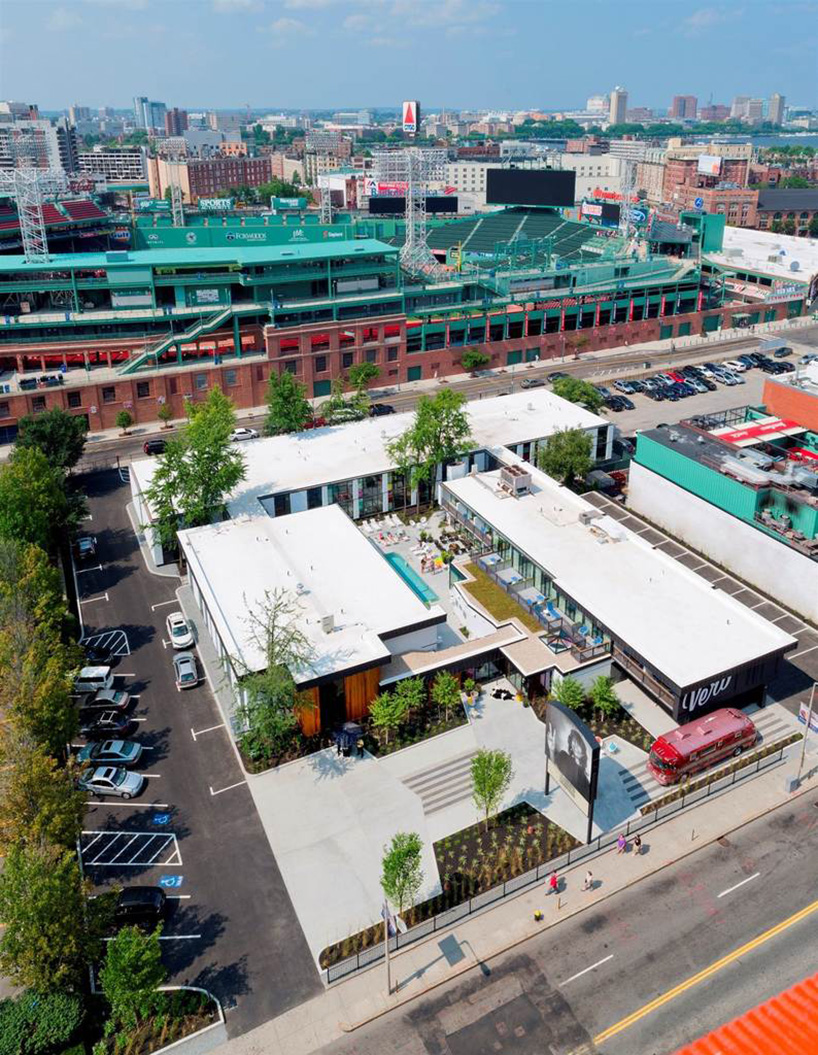 the newly restored hotel by elkus manfredi architects
photo © adrian wilson
'our ambition was to return the site to its rightful place as the home of fenway's legends and good times while injecting it with all the things our modern guests could want. enter the verb hotel. from a branding perspective, the hotel delivers in two areas. the visual look which is authentic, the original architecture restored, idiosyncratic touches and colorful references placed throughout. but there's also a story that's told through every touch point – references to music, an irreverent, counter culture spirit that reconnects the verb with its original cultural roots while creating an entirely new local experience.'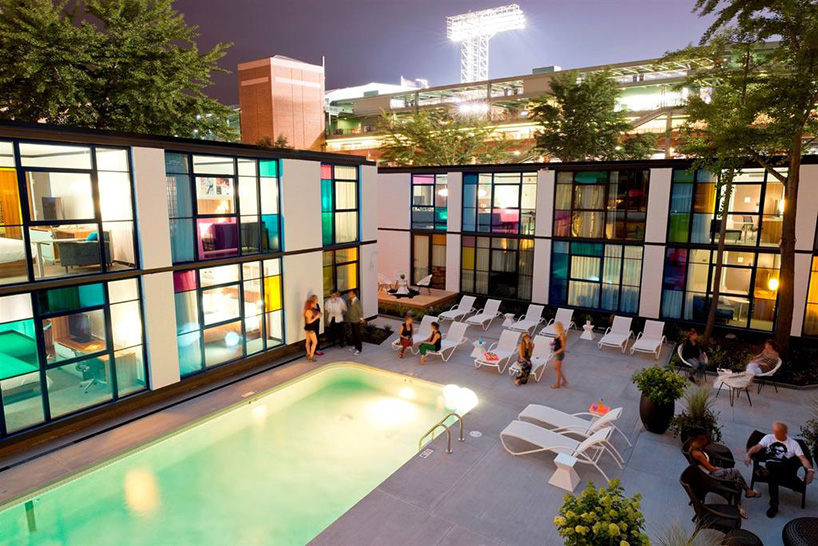 the newly restored hotel by elkus manfredi architects
photo © adrian wilson
'a big part of the visual language for the hotel centers around local characters giving a 'v sign' or 'verb sign' as we like to call it now, which we acquired by sending a local photographer round the streets of fenway. the concept immediately took of and formed part of the hotel's social media strategy. a curated 'exhibition' of rock n roll artifacts, images and collectibles, courtesy of the boston phoenix, also appears throughout the hotel, stacked light boxes (referencing old 50's gig venues) are re-imagined as the hotel's signage, while large typographic murals such as 'walk this way' (aerosmith) have been painted in stairwells.'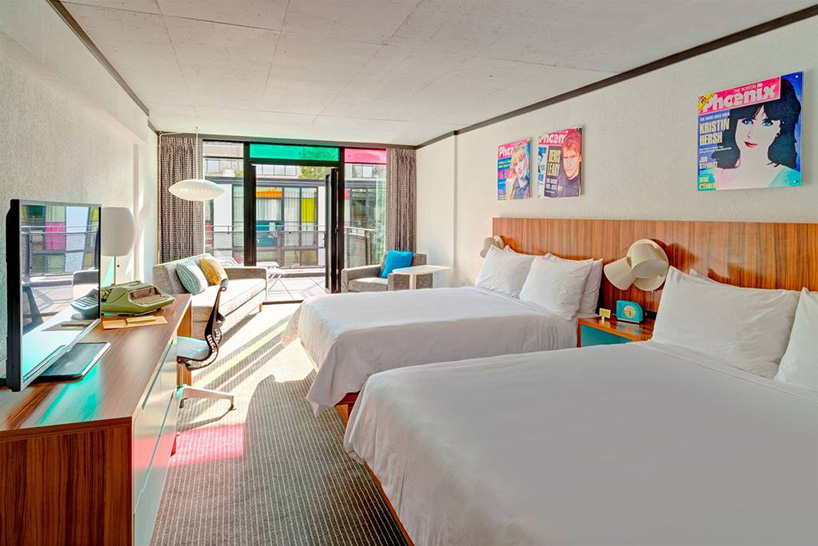 the newly restored hotel by elkus manfredi architects
photo © adrian wilson
'rooms are made to feel individual with the addition of irreverent quotes and touches – each room has its own reconditioned 60's typewriter, murals of screaming fans and paparazzi adorn bathrooms and in-room directories that take inspirations from lo-fi music zines and festival programs.'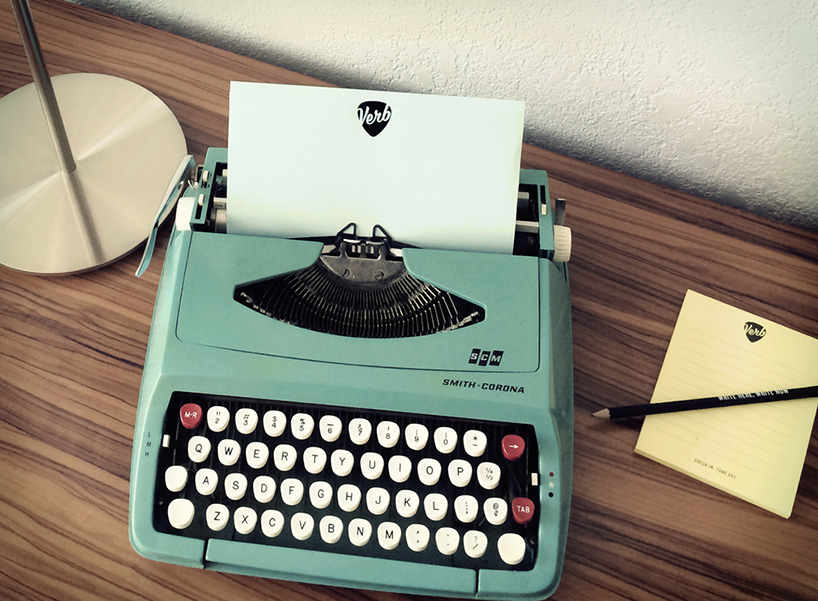 stationery designed by GBH
'oh, and why the name? well, if you want to get literary about it, 'verb' describes an action, and a state of being. but we like that it came from 'reverb'—a reminder of the music and attitude that is live and kicking in fenway.'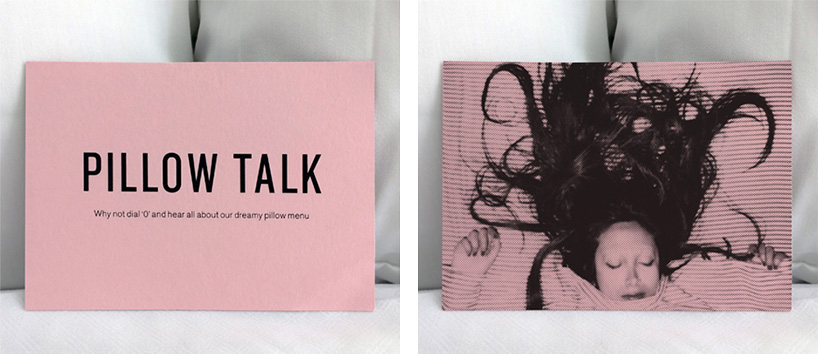 pillow card by GBH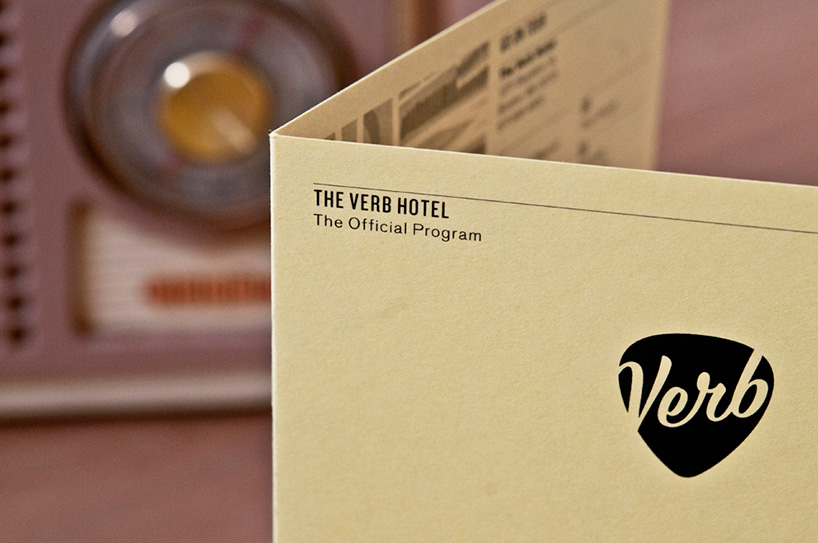 directory by GBH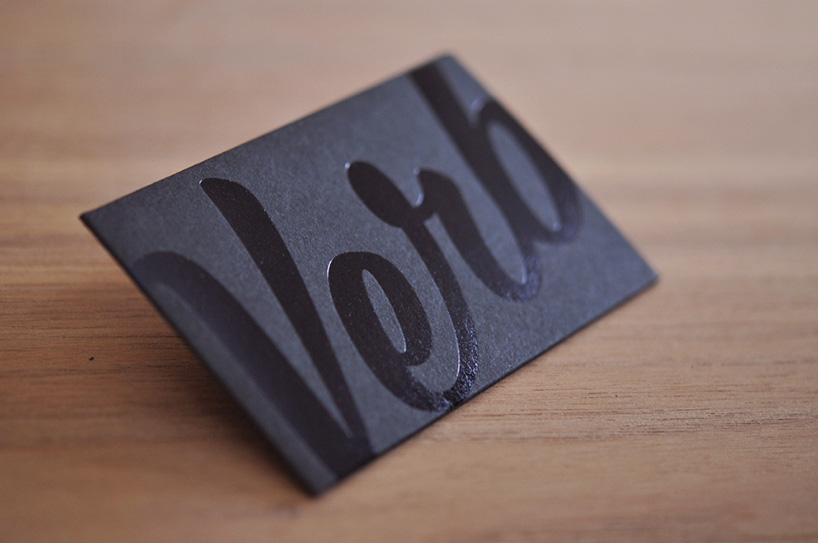 room card sleeve by GBH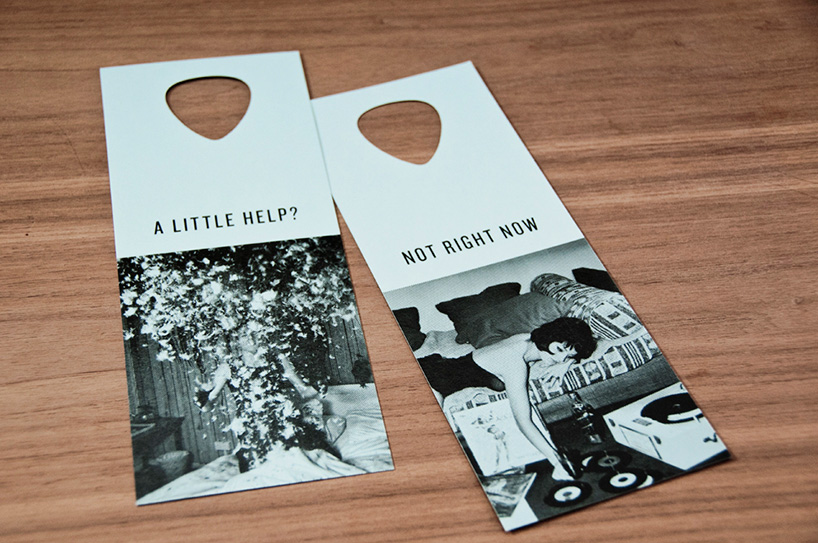 do not disturb door hanger by GBH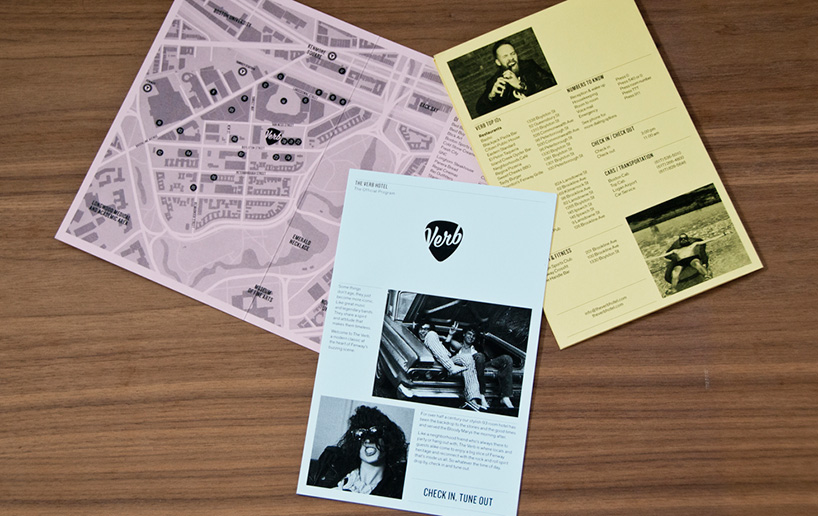 information for guests by GBH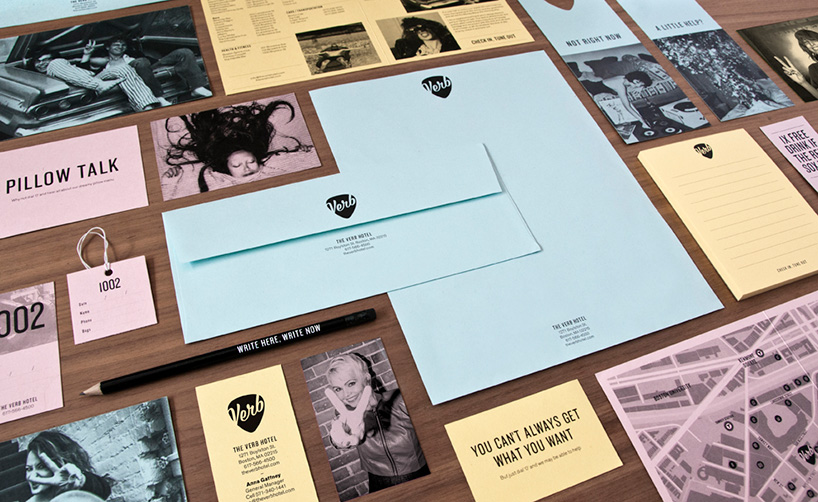 hotel collateral by GBH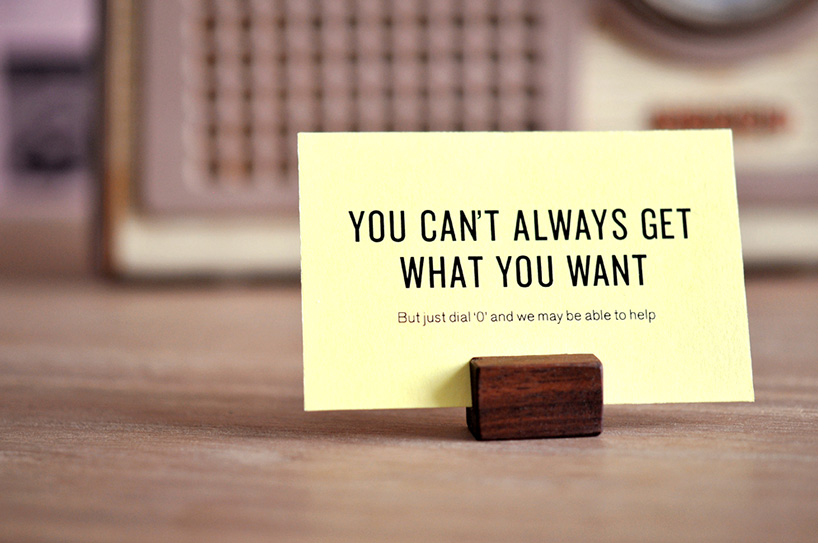 front desk card by GBH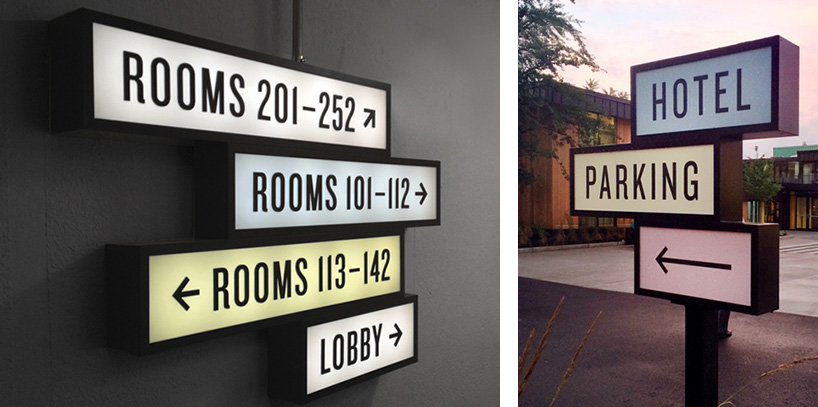 signage by GBH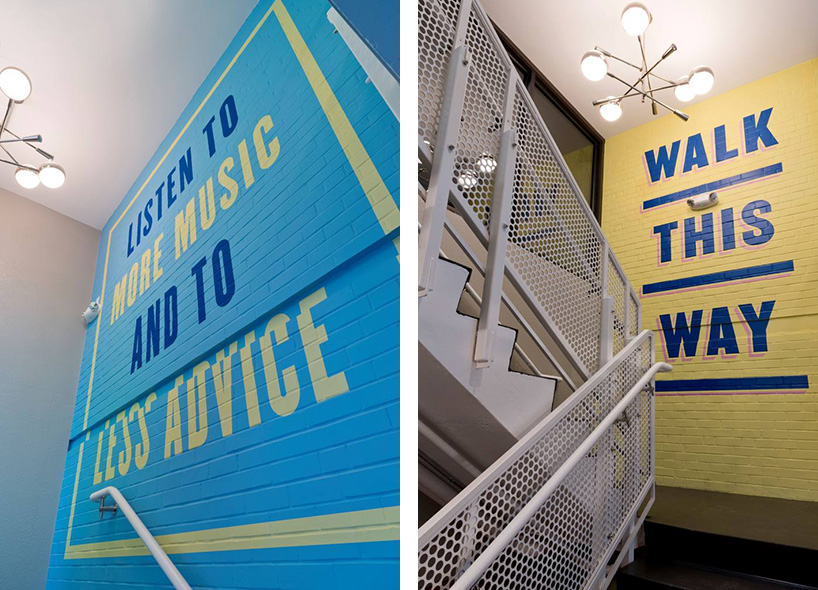 environmental graphics by GBH / interior by elkus manfredi architects
photo © elkus manfredi architects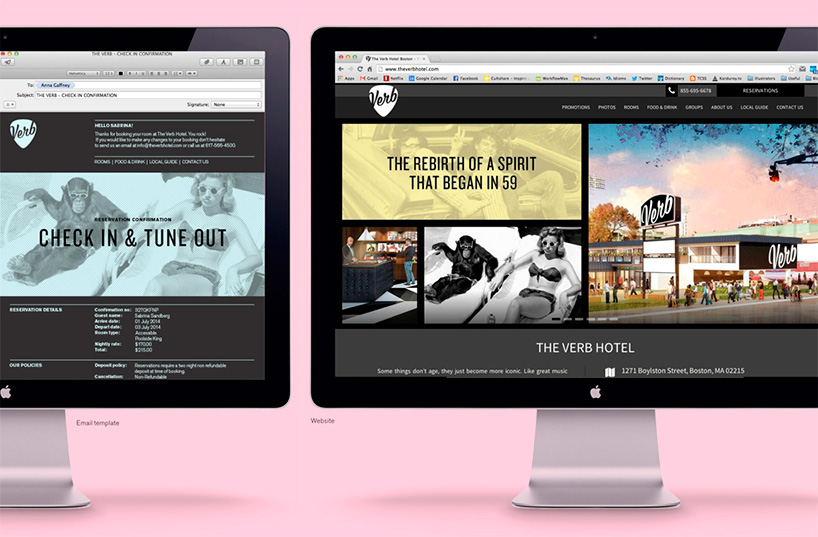 verb hotel website by GBH
more
read our interview with the GBH founders from last year »
GBH
(6 articles)
sep 18, 2013
sep 18, 2013
aug 09, 2013
aug 09, 2013
feb 21, 2013
feb 21, 2013
jun 28, 2012
jun 28, 2012
jun 26, 2012
jun 26, 2012
aug 08, 2020
aug 08, 2020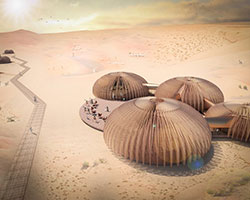 aug 06, 2020
aug 06, 2020
aug 04, 2020
aug 04, 2020
jul 23, 2020
jul 23, 2020
apr 25, 2020
apr 25, 2020
apr 10, 2020
apr 10, 2020
a diverse digital database that acts as a valuable guide in gaining insight and information about a product directly from the manufacturer, and serves as a rich reference point in developing a project or scheme.