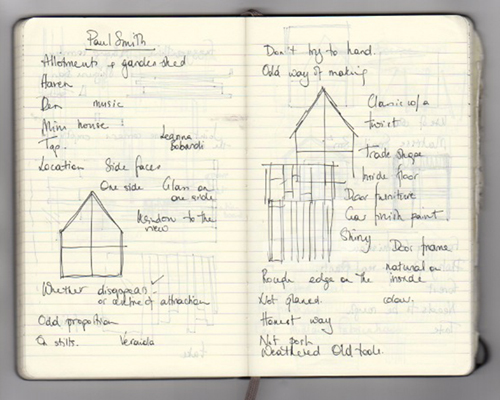 jul 06, 2014
the wish list: all zaha hadid, paul smith + john pawson ever wanted
the wish list: all zaha hadid, paul smith + john pawson ever wanted
'what have you always wanted in your home, but have never been able to find?' asked sir terence conran to his friends who are some of the most influential names in contemporary architecture and design. conran, the co-founder of benchmark furniture reached out to his creative companions who include: alex de rijke, alison brooks, allen jones amanda levete, john pawson, norman foster, paul smith, richard & ab rogers and zaha hadid and got them to divulge a single product (made specifically from timber) that they have longed for as part of his project 'the wish list'.
together with the american hardwood export council (AHEC), conran and benchmark co-founder sean sutcliffe invited the participating creatives to the company's berkshire workshops for a week during which they realized their dream objects with their commissioned craftsmen.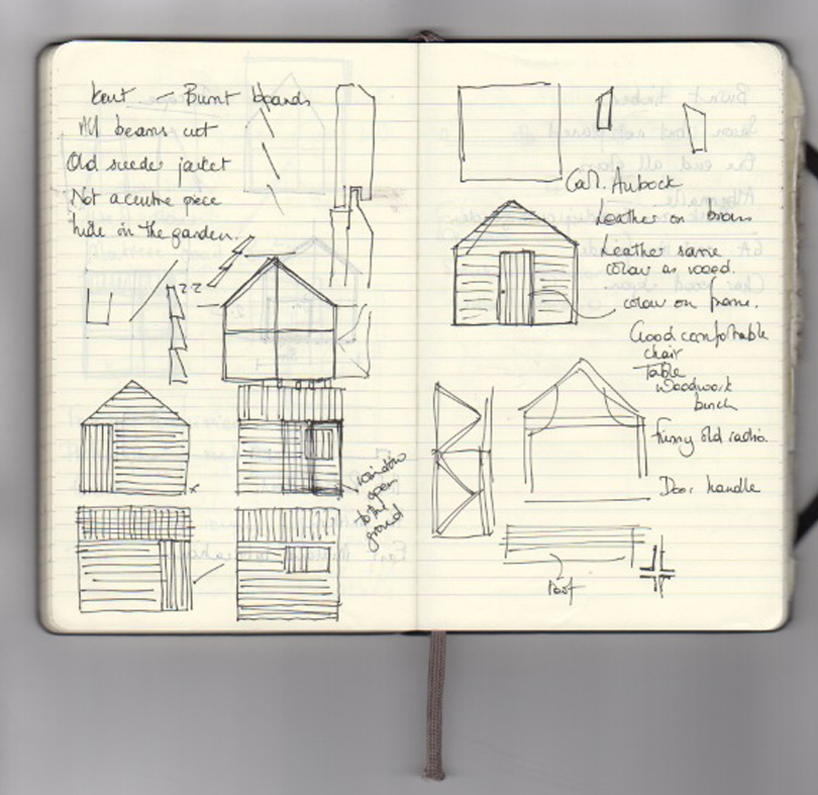 paul smith sketches out his dream shed
fashion designer paul smith commissioned nathalie de leval to bring his 'garden shed' to reality. 'really the inspiration behind the design was to create somewhere where you can go to switch off, somewhere to relax. in today's world where everyone is so busy, I think this is really important and very needed,' says smith. 'the shed is 3m by 3m, the same size as my first ever shop in nottingham,' he continues.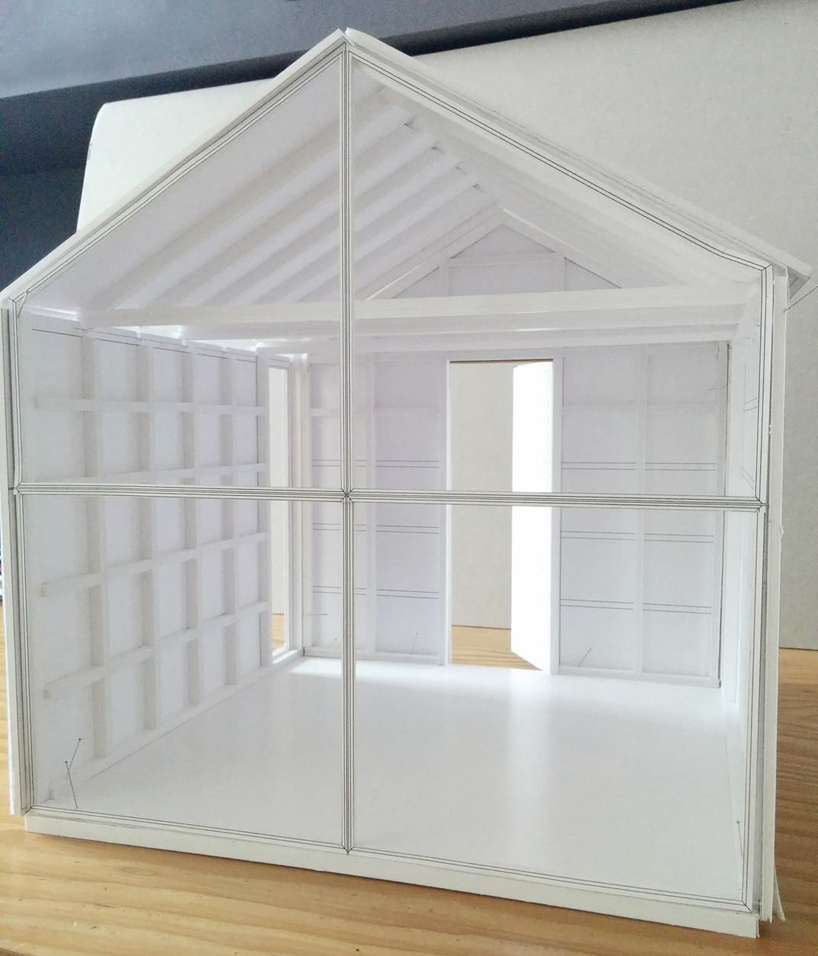 concept model of paul smith's 3m by 3m shed getaway
paul smith on why he chose to work with nathalie de leval: 'in this highly commercialized world it is so nice to discover someone who is so hands on, not only in terms of her design but also in the making of here furniture. nathalie's understanding of the materials she works with are really amazing, she combines this with fantastic craftsmanship to make something truly contemporary.'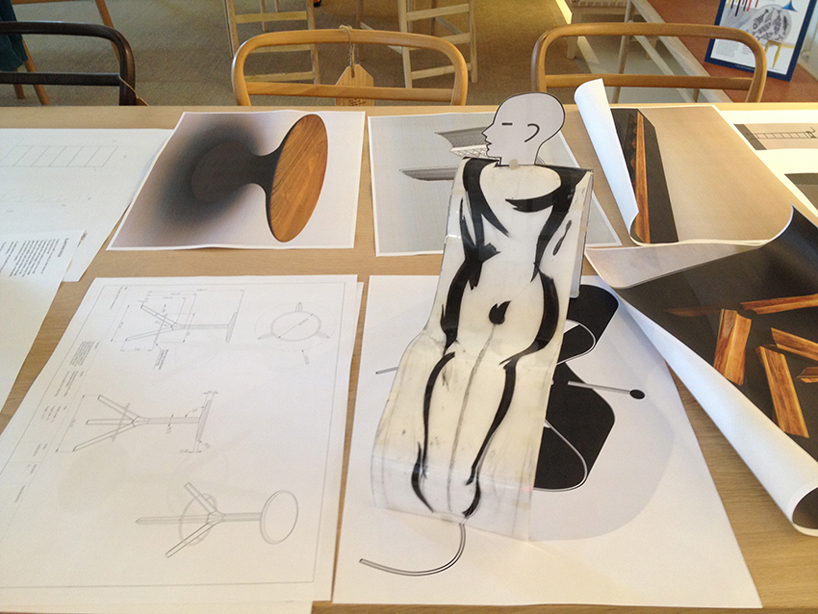 model of artist allen jones' chaise lounge
lola lely has been chosen by artist allen jones to bring his vision for a chaise lounge to life. originally conceived as a shelf, the design supposedly is derived from a story about peggy guggenheim who 'commissioned a sculpture of a horse for her museum in venice. the horse has a large organ which screws on and off. she often screwed it on when the nuns came by,' tells lola.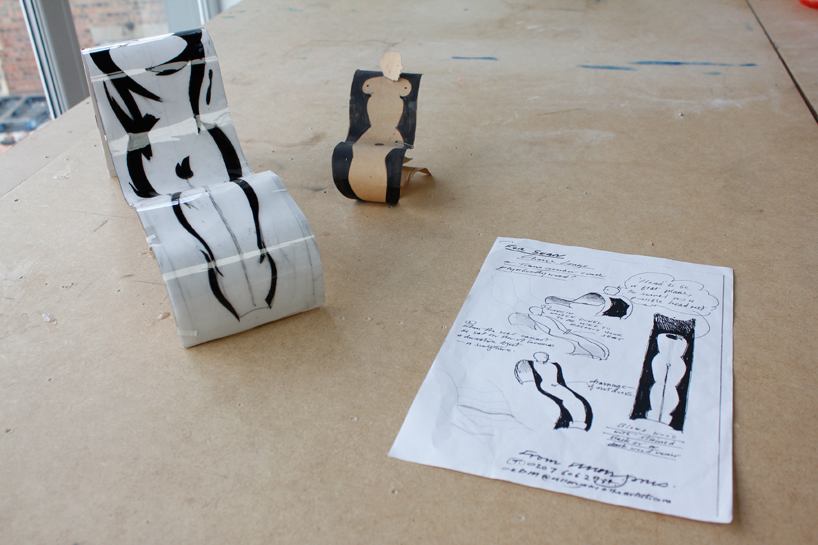 mock-ups of jone's curving seating piece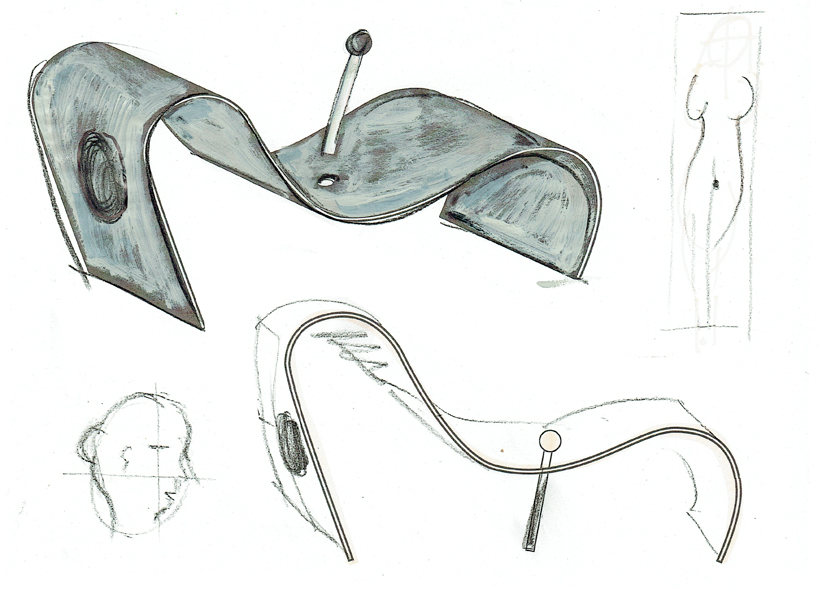 concept sketch by allen jones which shows the 'organ' that can be moved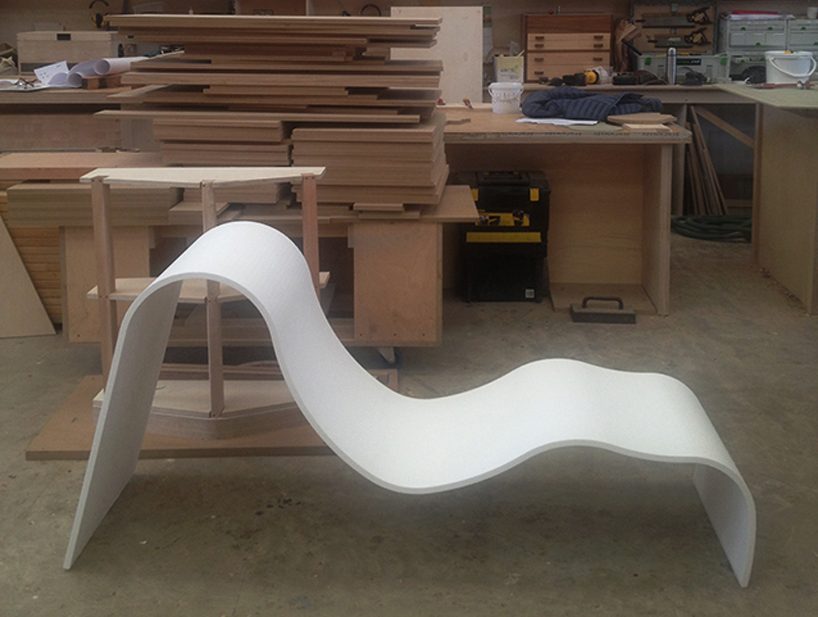 prototype of allen jone's sculptural design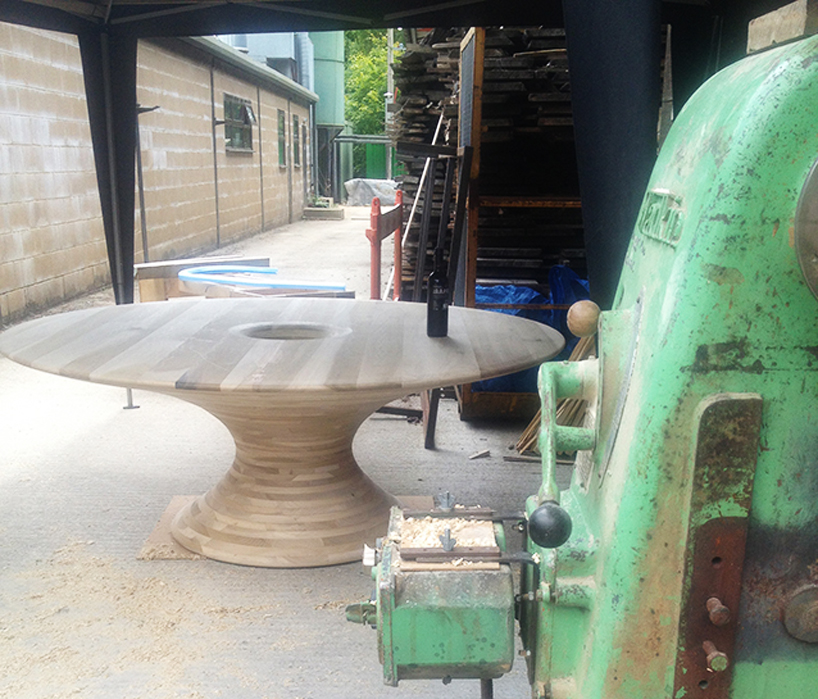 alex de rijke's dining table crafted by barnby & day
architecture firm dRMM's alex de rijke invited barnby & day to bring his desire for a large, round, laminated dining table to fruition. the resulting piece is made from american tulip wood and is turned hollow as de rijke has expressed that he wants his design to look very solid, but in actuality, be very light.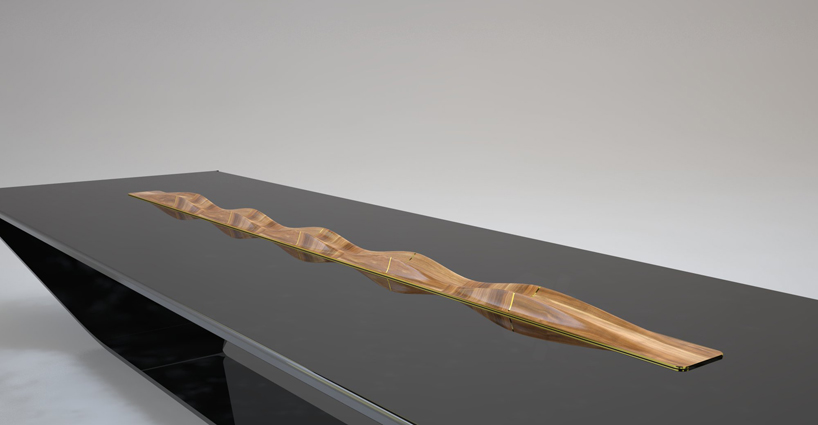 amanda levete wanted a long fruit bowl for feature on her dining room table
having mentored win assakul during his year off from school before returning to the AA to graduate in architecture, amanda levete asked him to collaborate on her wish list item – a reversible shallow fruit bowl which draws its formal influences from wooden african vessels. 'we often have dinners at home for 18 people. our table is 4.8m long and I have always wanted a long, shallow bowl to run almost the length of the table. but for smaller dinners of say 6 – 12 people, I don't want such a long bowl. by making it extendable we resolve this,' says amanda levete.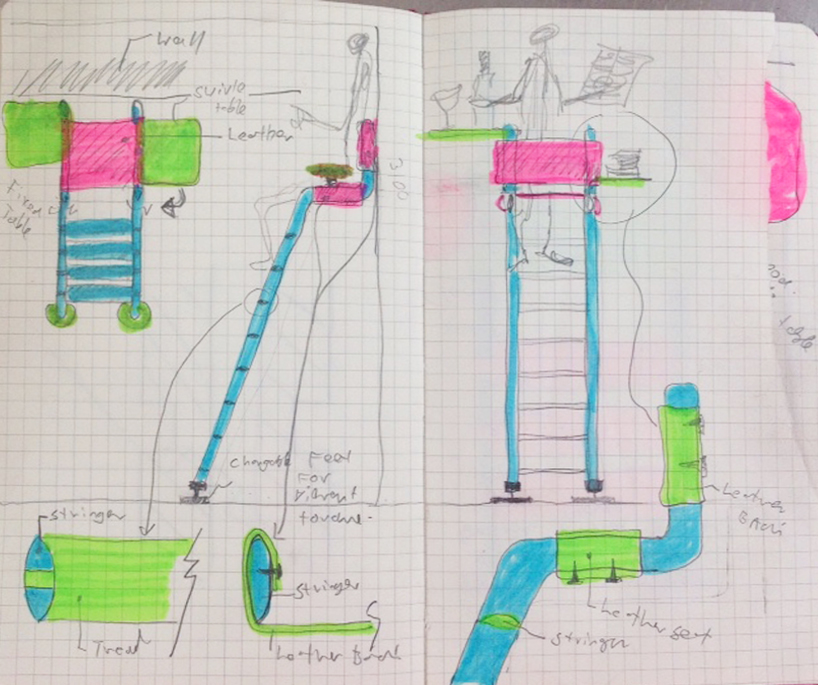 richard and ab rogers want to produce a ladder and have commissioned xenia moseley to realize it
richard rogers and ab rogers have commissioned xenia moseley to construct their ladder scheme that materialized from a saying by m. kundera: ' the absolute absence of a burden causes man to be lighter than air, to soar into the heights, take leave of the earth and his early being.' the father and son duo asked moseley to help them draft their design in a way that explores the lost corners of a room.
'I want to design a ladder because they are special in many ways and often overlooked as ordinary. they deserve to be elevated by thoughtful design. as an object, a ladder offers an exciting way to move; it helps you rise to a new place, to get somewhere you cannot otherwise reach and see a familiar space in a different light. it is a diagram of its structure, legible, able to read like a book. it is a sensitive object, able to borrow structure – leaning on the wall – and to expose it (the wall and mass of a structure).' – ab rogers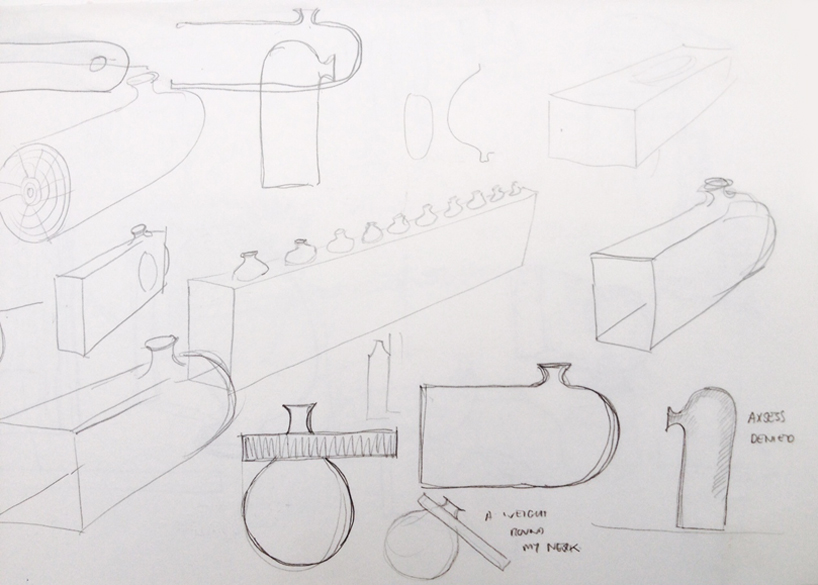 concept sketches of zaha hadid's wooden tableware who she has asked gareth neal to realize
gareth neal was asked by zaha hadid to fulfill her fancy for tableware made from wood. hadid gave neal an open brief who has conceived a series of pieces that play on the form of a carafe or water carrier, turning it into something more sculptural.
zaha hadid on her project: 'we have been experimenting in glass, metal and resin and it will be fascinating to explore the epossibilities of working in wood; applying contemporary techniques to a very traditional material. one of the most exciting aspects of designing products is the production process between idea and result is so much quicker than for architecture. this faster timeframe leads to greater opportunities for experimentation and it will be interesting to combine innovative methods and concepts with the natural properties of wood for the tableware collection.'
gareth neal comments: 'the debate between the subtleties of the handmade and digital fabrication is an age old debate. it is my view that the CNC is just an extension of the crafts man's hands. so when asked whether I would like to answer to zaha's brief to design some tableware, I thought it would be a great opportunity to use the architectural practice's advanced computer modelling software and push the envelope, benchmark's abilities, and my initial designs into a conversation between our two practices.
through using the traditional vessel form as a starting point and subverting its appearance to dramatic extremes, mimicking traditional carving technique I hope the pieces will embed the design with a sense of the handmade through the arm of a robot, questioning the viewer's perceptions of craft and the handmade.'
the final pieces of 'the wish list' are being exhibited at the victoria & albert museum during the 2014 london design festival from september 13-21.
mar 19, 2015
mar 19, 2015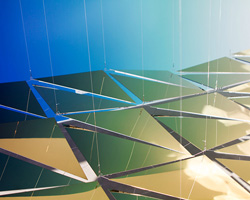 sep 27, 2014
sep 27, 2014
sep 21, 2014
sep 21, 2014
sep 21, 2014
sep 21, 2014
sep 20, 2014
sep 20, 2014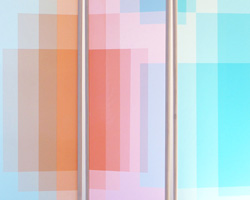 sep 20, 2014
sep 20, 2014
a diverse digital database that acts as a valuable guide in gaining insight and information about a product directly from the manufacturer, and serves as a rich reference point in developing a project or scheme.