jun 19, 2012
thibault penven: ar vag folding boat
'ar-vag' by thibault penven
fiberglass, heat-welded plastic tarpaulin
image by ECAL/nicolas gent
thibault penven, student of ecole cantonale d'art de lausanne (ECAL) in switzerland, has created 'ar-vag'. the design is a folding boat
for a short tour or a fishing trip. the feature of the vessel is that it is faster to assemble than an inflatable dinghy and less cumbersome
than a fixed attachment. the hull consists of a series of fiberglass sheets covered with heat-welded plastic tarpaulin.
to set sail, the user must unfold the thin, light body of the watercraft and make it rigid with the central bench, which functions as
the core, thereby giving it its final shape and making it comfortable. the project was shown as part of the beopen exhibition at the
design miami art basel 2012.

the boat is assembled easily and quickly
image stills video © ECAL

video demonstrating the assembly of the design
video © ECAL/jean-guillaume sonnier

exhibited at the beopen exhibition
image © designboom

the supporting strut
image © designboom

detail
image © designboom
sep 15, 2012
sep 15, 2012
jun 21, 2012
jun 21, 2012
jun 20, 2012
jun 20, 2012
jun 20, 2012
jun 20, 2012
jun 15, 2012
jun 15, 2012
jun 15, 2012
jun 15, 2012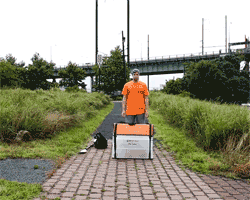 aug 04, 2017
aug 04, 2017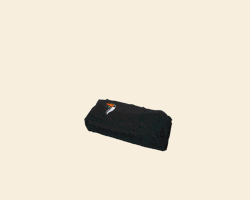 oct 23, 2016
oct 23, 2016
oct 17, 2014
oct 17, 2014