interview with THONET's managing director, thorsten muck
(above) '209' chair by gebrüder thonet, 1900
THONET was born out of the work of michael thonet (1796-1871) — a master carpenter who established the transition from manual furniture fabrication to industrial manufacturing. michael thonet succeeded this breakthrough in 1859 in vienna with 'chair no. 14', later known as the 'vienna coffee house chair', in which an innovative technique of bending solid beech wood was used. from this, the individual production steps were standardized and the division of labor concept was implemented for the first time in furniture production. this made the it easy to disassemble, and could be shipped in a space-saving way. it was the realization of 'chair no. 14' that paved the way for THONET to become a global enterprise, with numerous bentwood designs to follow.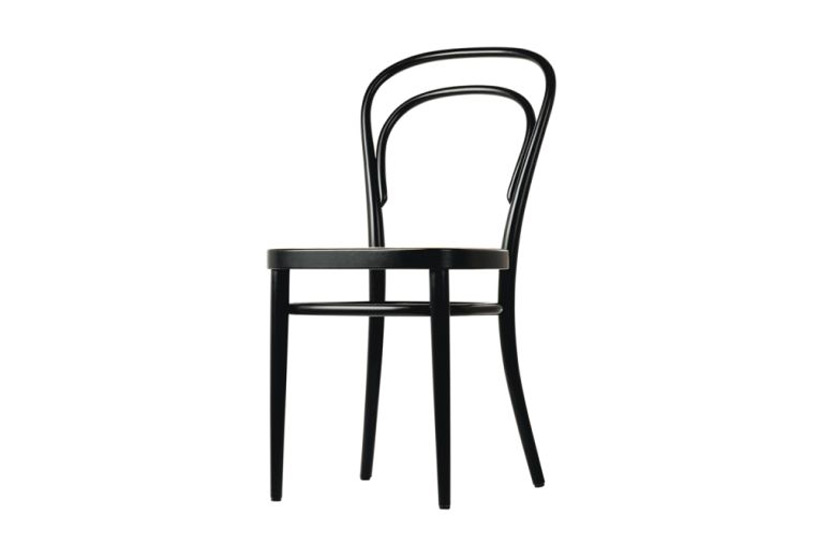 '214' change by michael thonet, 1859
later in the 1930s, THONET began developing tubular steel furniture for which it became the world's largest producer of its kind for these types of products; collaborating with some of the most famous architects of the time, including: marcel breuer, ludwig mies van der rohe and mart stam. today, the early tubular steel furniture of THONET are considered milestones in design history, with their concise, open and simple forms standing as an expression of a new attitude in everyday culture and architecture.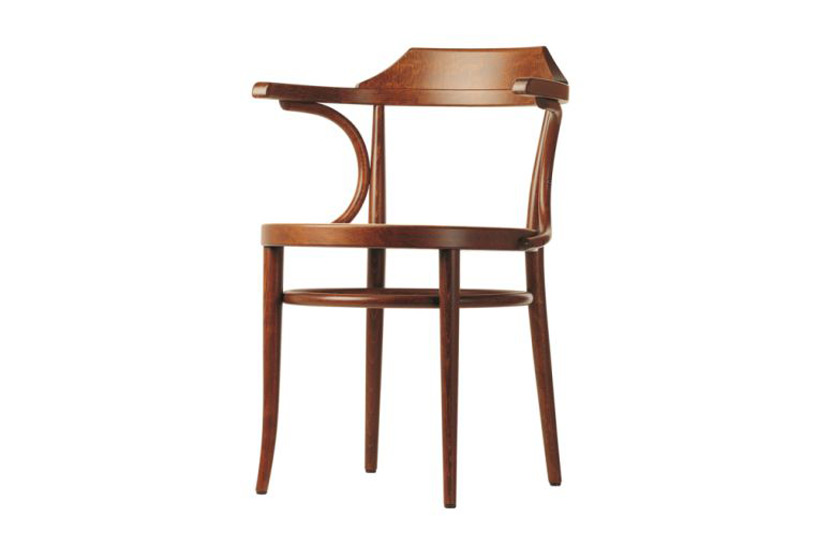 '233' chair by gebrüder thonet, 1895
today, the family company has its head offices in frankenberg, germany, where all of its bentwood and tubular steel classics, as well as its contemporary collections are produced with cutting-edge production equipment. at these facilities, THONET continues to develop innovative products that stand out for their quality materials and timeless formal language, always taking sustainability and durability into consideration.
at imm cologne 2016, designboom sat down with THONET's managing director, thorsten muck to discuss what he is doing to maintain the company's heritage while still being relevant today, and what direction he sees THONET moving in the future.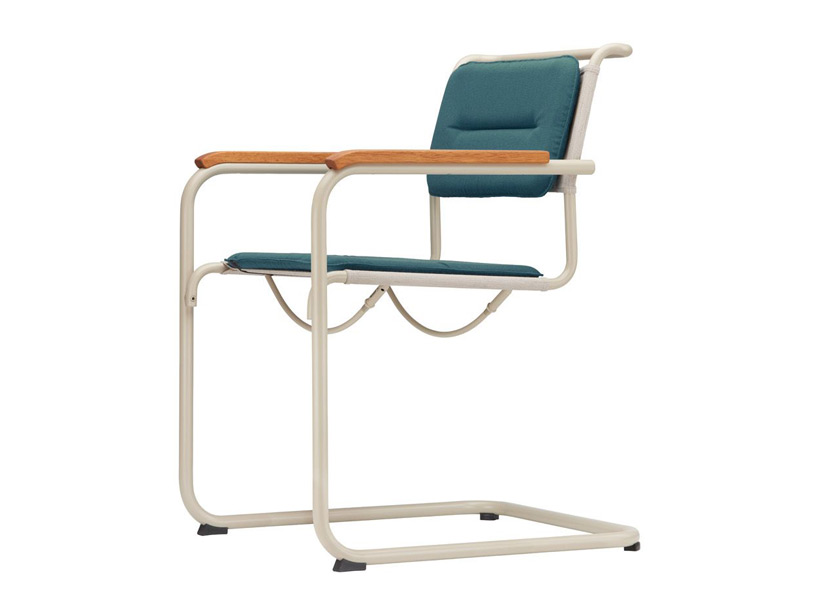 'S 34 N' THONET all seasons, 2016
DESIGNBOOM: THONET is a company with a deep history that has carried a strong narrative through the years. as managing director, how are you maintaining the company's heritage, while still remaining relevant in contemporary times?
THORSTEN MUCK: what we do is carefully read all the books, all the stories which are written about THONET, and from time to time, we take a deeper look into our own archive just to understand what the fundamentals of our company are. then, we try to filter out what's really important, and set the foundations to develop and push the company in the right direction. at the beginning of 2015, we started to develop our own design charter which comprises all of the things that we think are essential in developing the right products; and this design charter consists of three chapters: the first is form; the second is process; and the third is material. from this, we have figured out what the dependencies between all three parts of the book of the design charter are.
we always try to keep the balance between the things we have done in the past, but also focus on the things we would like to do in the future. so, at every fair you will find products which play a little bit with the heritage of THONET. for example, this year we have produced the 'all seasons' collection — an outdoor bent steel series of furniture — but, we also are showing brand new products. these brand new products should always have a link to our heritage, like the chair I am sitting in is like the bentwood chair, but it is a modern interpretation of the things we have done in the past. so, I think it's really important to like your history, to like your heritage… to love it, but also to be free and flexible to play a little bit with it.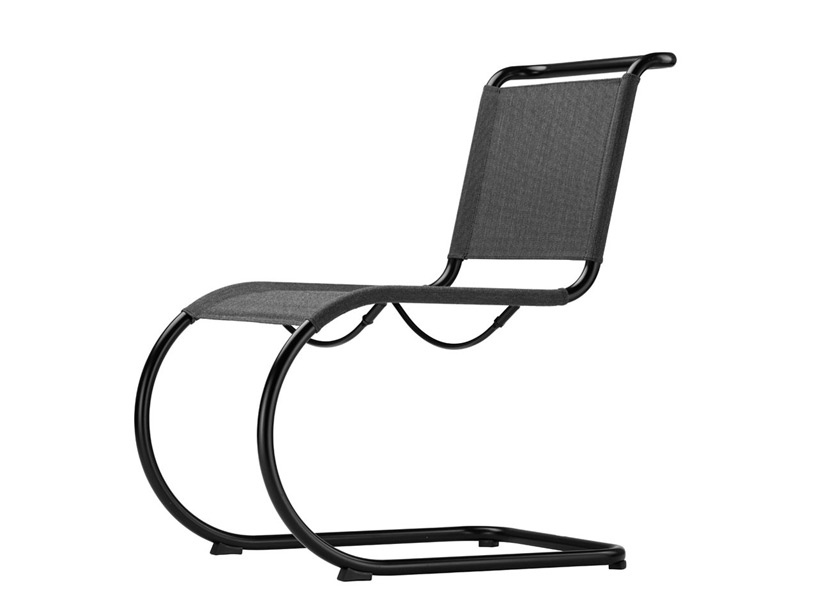 'S 533 N' THONET all seasons, 2016
DB: could you expand on what you feel are THONET's creative and technical strengths?
TM: I think we are famous for bending wood and we are still bending wood, but now we are focusing on three-dimensional bending. three-dimensional bending means that only human beings can do this, so it is not possible to do this by machine. you really need skilled and experienced workers who are able to bend the wood. that's one thing. the other thing that we are famous for is of course bending tubular steel. looking at THONET's past, these two material revolutions have only taken place because there was a need for a new design. so, for us it is not the process that comes before the design, but the process is followed by the design. I think our core competence is also to develop new designs which we believe still do not exist.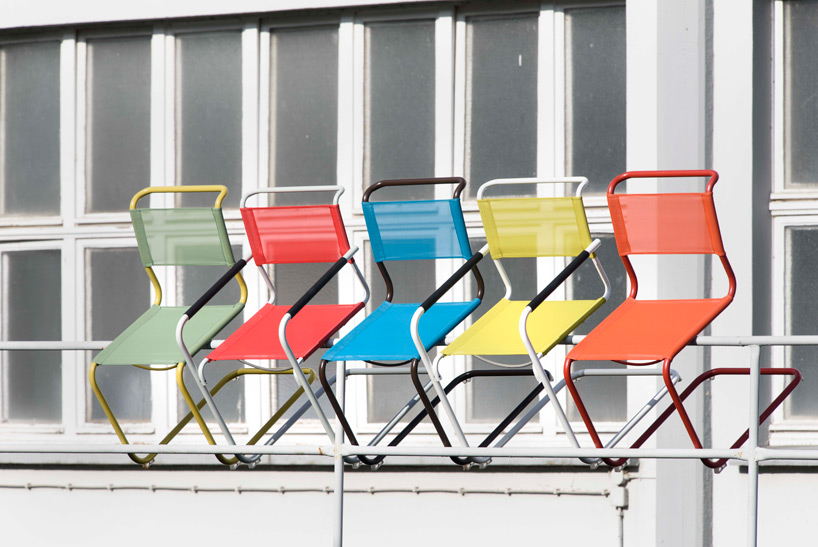 'S 33 N' and 'S 34 N' THONET all seasons, 2016
DB: during your time as managing director, what evolutions have you observed in the furniture industry? what sort of things have changed in terms of how you have been developing THONET's catalog of products?
TM: interestingly, our evolution towards the future is always to take a look back. that's quite interesting because for example, the colors we figured out for the tubular steel furniture, are tones you will also find were popular during the bauhaus time. or for example, the pure material bentwood pieces, we launched last year in january also looks back at THONET's past. we try to filter out what has been really important in terms of our history, and then we try to interpret this to make it suitable for the present.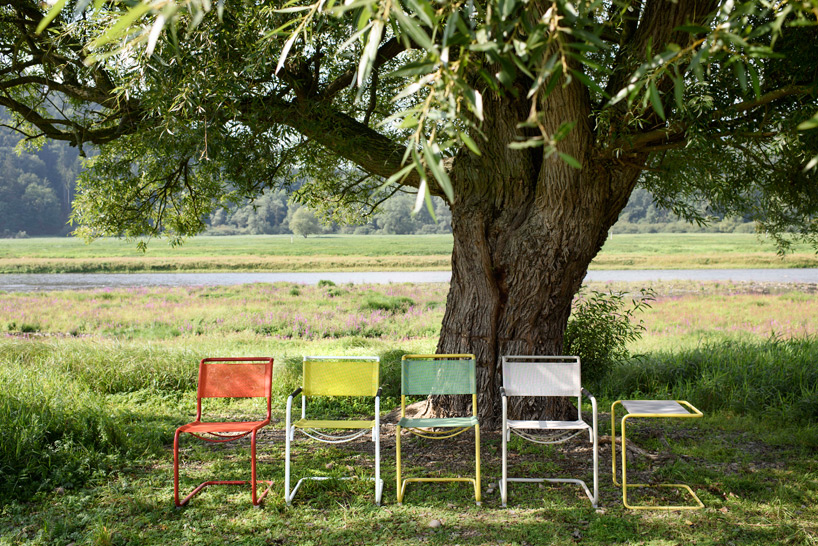 'S 33 N' and 'S 34 N' THONET all seasons, 2016
DB: THONET is working with quite a number of contemporary designers outside of the company. how do you go about selecting which creatives to work with?
TM: there are many different ways, but in the end, almost everyday we receive proposals by external designers and we check every single one that reaches our company. so, every fortnight, or every four weeks, we have a meeting together with the whole product development team, including myself, and then we check every single proposal. it's a three step process. we check for aesthetic qualities, functionality, and the strategic importance for our company. every designer receives feedback no matter if they are a student or a senior designer. it doesn't matter. when we have maybe 30-40 different proposals, we filter them out. at least 99% of them we can't take and make directly into a THONET product, but from time to time, we see that there are designers which have a signature which may fit to THONET, so we store them in our portfolio. then our product development team has a lot of meetings here at the fair for example, to talk to certain designers. they have a tour around, and also we have the feeling if they may fit to us or not. so, we fill our portfolio, and when we believe it is the right time to work with a designer, we invite them to our company and we make a tour. first we visit the museum, then we have a walk through the showroom, and then walk through the factory. then we have a meeting with the whole product development team, and a chat just to figure out if they have the same attitude towards things that we have. and, when we have the feeling that we are on the same wavelength, we will give them a briefing. usually our briefings are relatively open, especially concerning design language. so this is the way we try to filter out the right designers. from our point of view, we believe in young designers, and we believe that it is also our task to give a young talented designer a chance to grow with a brand.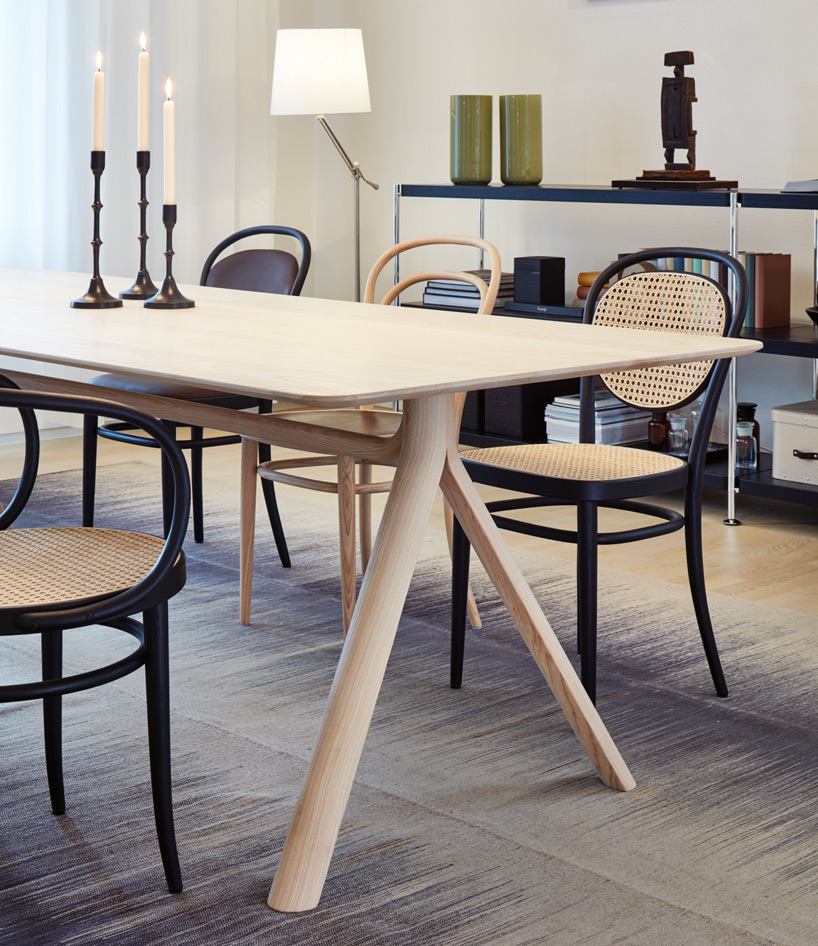 '1060' table by jorre van ast, 2016

DB: could you elaborate on the collaboration with jorre van ast and the 'table 1060' that you are presenting here today?

TM: we selected jorre van ast because we saw that he's really a skilled designer and we like his minimalistic approach, but his minimalistic approach is always filled with a little bit of a playful attitude. he's really able to bring it to the point, and this is what we really like. we also invited him to frankenberg and he received a very open briefing because we wanted him to have a look at our portfolio and to develop a table which fits — from his point of view — perfectly into the THONET brand. his first suggestions were not only the bentwood table, but also tables made with tubular steel. but, then we filtered them out, and he reworked them. at the end we really came to the point and that we wanted to make the bentwood table.


thorsten muck shares with designboom what he sees as important developments in the design industry today
video © designboom

DB: what do you think is of particular interest in the field of design today? I don't want to say trends, but important creative developments in the field?

TM: maybe it has something to do with the way we try to form the company. what I really appreciate is that I have the feeling that more and more designers are going deeper into stuff, researching, material exploration and production techniques. as a result, the projects they do are more thoughtful, and their overall approach becomes more holistic. so you're looking at your carbon footprint, you look for sustainability, you look for where something was made, who is doing what… and this is what we really like because, just looking at our booth here at the fair, nothing comes by accident. every single detail is really thought out well, deeply over a long period of time. therefore, we like people who share the same attitude as we have, and this is what I see with a lot of designers — that they try to be more and more holistic, and I like that. I think it helps to bring quality to the daily life of many people.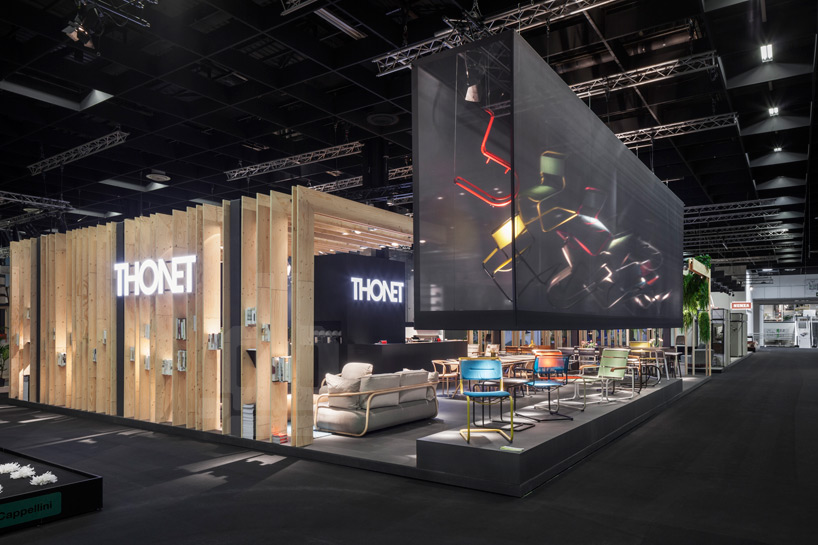 THONET's presentation at imm cologne 2016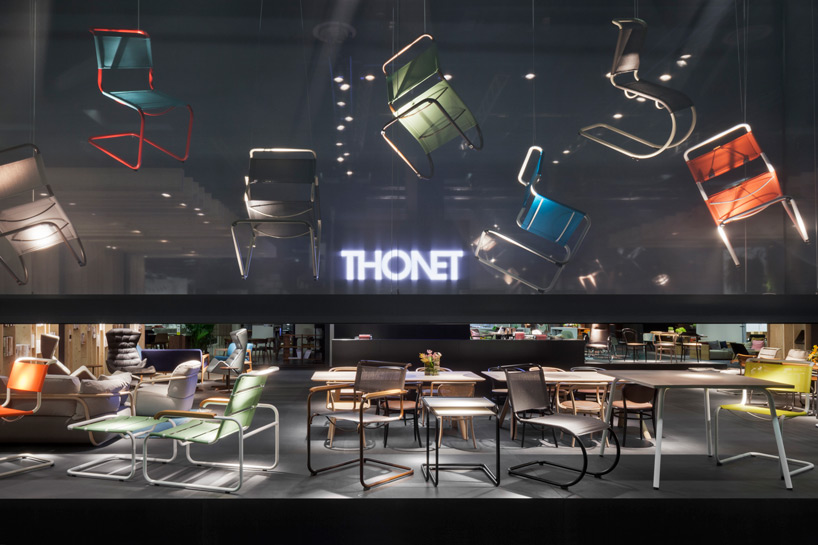 'all seasons' THONET collection on show at imm cologne
DB: what direction do you see THONET moving in for the future?
TM: what we do is we try to keep the balance in many ways. we try to keep the balance between our residential, and also our commercial business projects. we try to keep the equilibrium between internal and external design, and we also try to maintain the balance between things we take from our heritage, and things which are completely new from the brand. we also want to stay curious and self-aware. we always want to keep this approach of being a manufacturer, not an editor, because we love being a manufacturer, and what we also love to do is that we are able to produce personal furniture to each human being, because we produce most of our things by craftsmen in our workshops. it's really our aim to give people the opportunity to have their own piece of furniture, and not a standardized one which was produced wherever.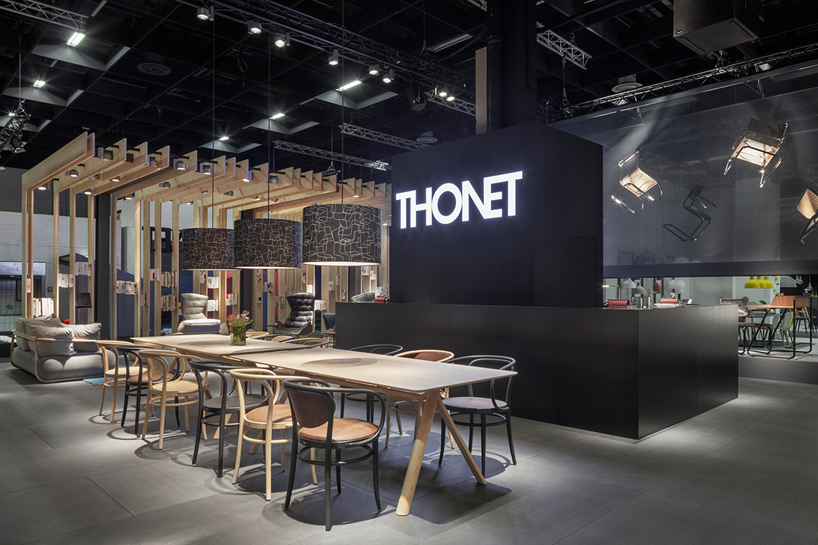 '1060' table by jorre van ast, and THONET classics on show at imm cologne 2016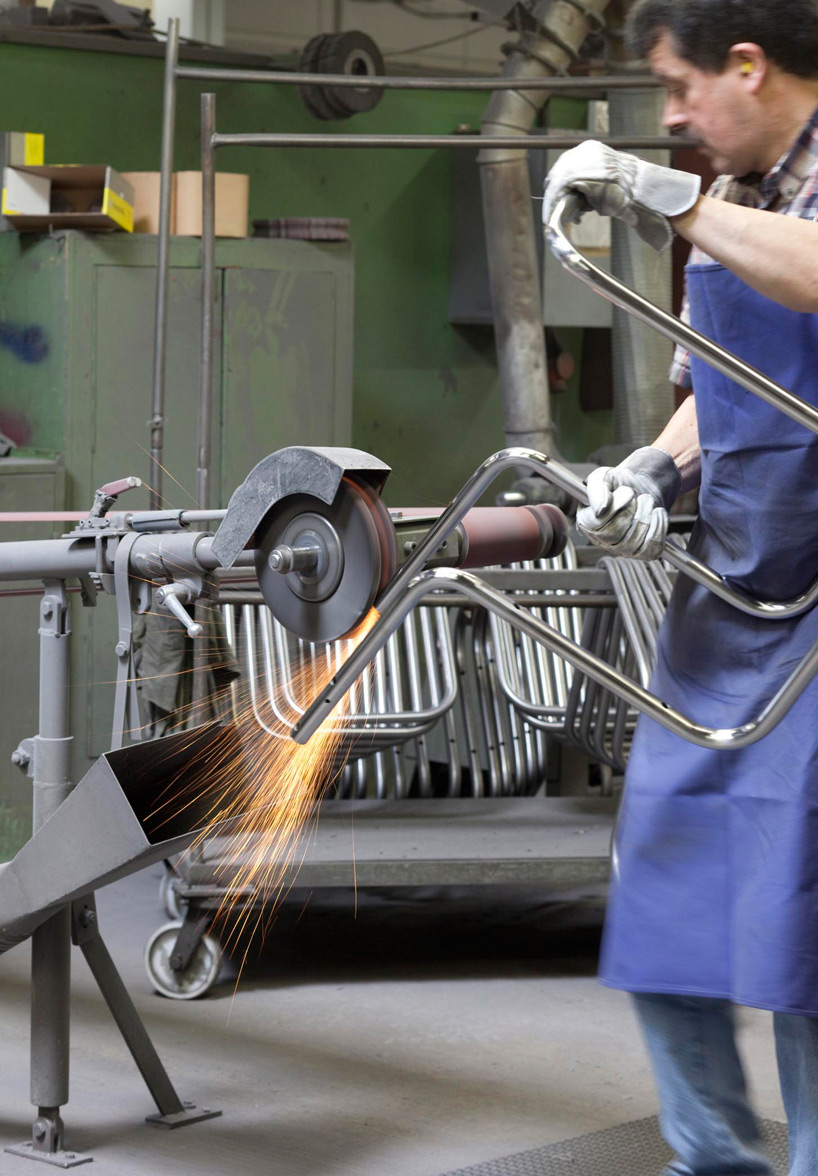 bent tubular steel production at THONET's production facilities in frankenberg, germany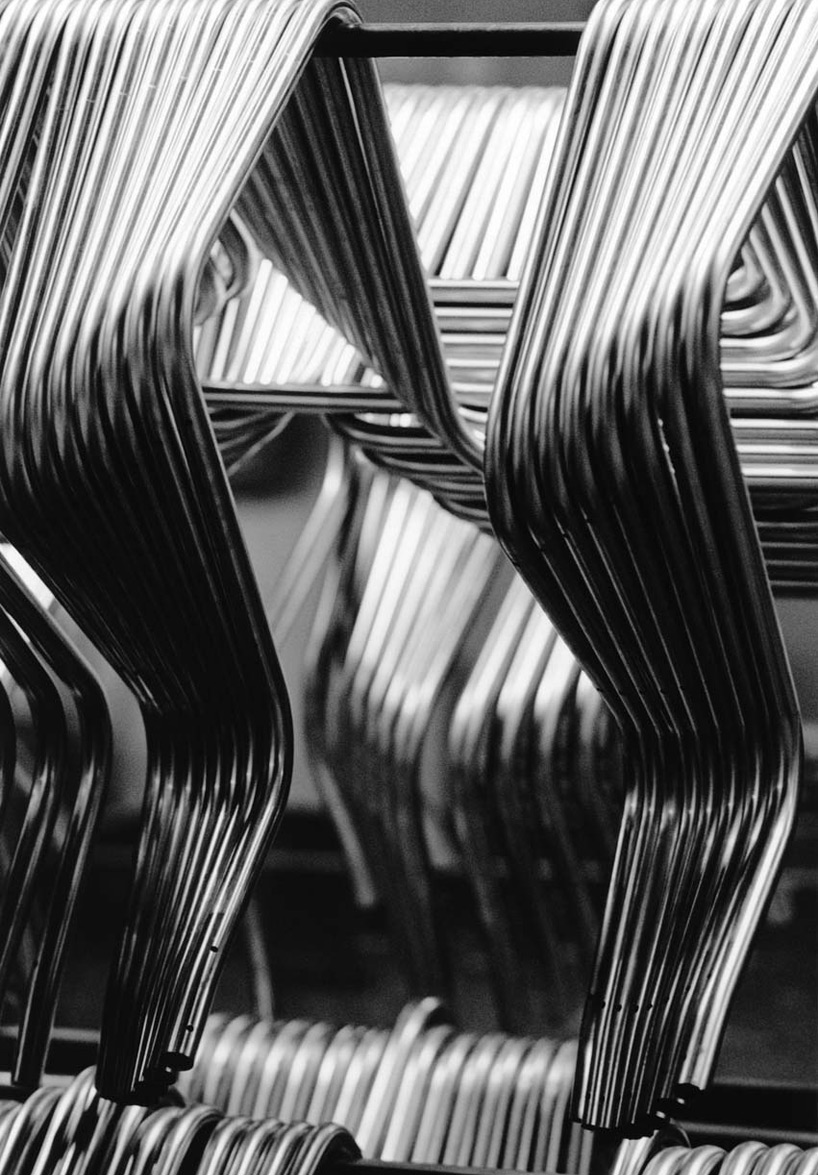 bent steel tubes ready for assembly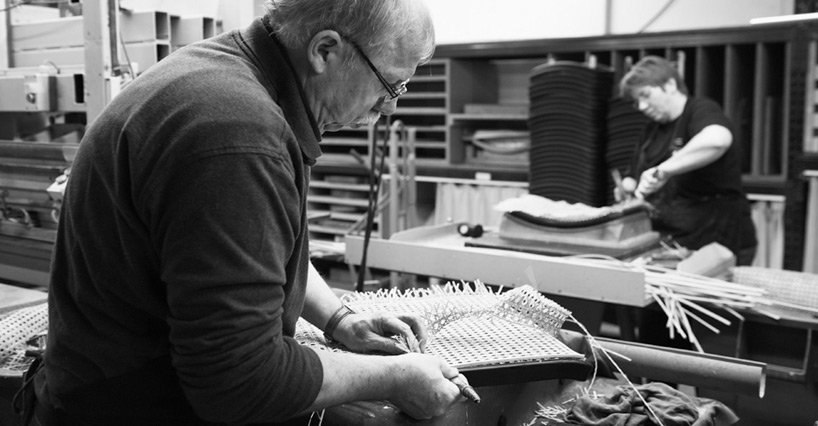 craftsmen hand producing the caning used in THONET's classic chairs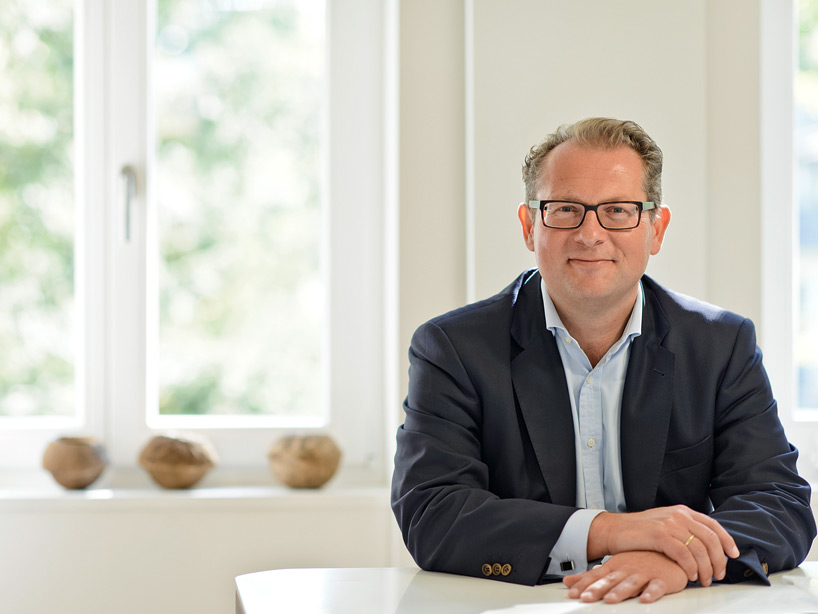 thorsten muck, managing director at THONET
a diverse digital database that acts as a valuable guide in gaining insight and information about a product directly from the manufacturer, and serves as a rich reference point in developing a project or scheme.
designboom will always be there for you
milan, new york, beijing, tokyo

,
since 1999