tokyo-based designer tokujin yoshioka has released a solid glass watch, the 16th model and latest addition to the issey miyake watch project. the timepiece boats a sleek and refined sculptural design, featuring a thick glass top on a stainless steel case.


the timepiece features a 39mm glass casing, images © tokujin yoshioka inc.
the latest watch by yoshioka – a long-time collaborator with the japanese fashion house – is designed for both men and women. the watch comes with the choice of a silver or black dial – both minimal in appearance enhanced by the markerless face. paired with a similarly simple black leather band, the 39mm glass casing has been perfectly sculpted to reflect the light from all angles.


it boasts a sleek sculptural design
yoshioka has collaborated with issey miyake for over 20 years. his previous watch designs for the brand include a the 'V' timepiece made from a continuous band of extruded rippled metal. the tokyo-based designer has also worked on a series of store interiors for the fashion brand, including flagship stores in milan and tokyo. the glass watch will be available november 10th at ISSEY MIYAKE shops worldwide and online at the ISSEY MIYAKE WATCH store.


it comes with the choice of a silver of black dial

the glass watch is the 16th edition in the issey miyake watch project

stainless steel casing and sculptural glass make up the design
apr 28, 2017
apr 28, 2017
oct 05, 2016
oct 05, 2016
mar 25, 2016
mar 25, 2016
feb 11, 2016
feb 11, 2016
jul 21, 2015
jul 21, 2015
apr 14, 2015
apr 14, 2015
oct 23, 2017
oct 23, 2017
oct 05, 2017
oct 05, 2017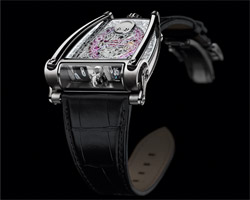 aug 10, 2017
aug 10, 2017
sep 03, 2017
sep 03, 2017
apr 28, 2017
apr 28, 2017
apr 24, 2017
apr 24, 2017