oct 26, 2014
tokyo designboom mart 2014
tokyo designboom mart 2014
bring a design souvenir back from tokyo!
once again designboom returns with its international market of fresh talents to participate at tokyo designers week (TDW) 2014. after the success of last year's biggest designboom mart exhibition to date, we again present 80 design professionals from all over the world that introduce their new products to the marketplace for the first time!

designboom mart in action
images © designboom
the tokyo designboom mart celebrates its 10th edition!
last year designboom reached a milestone, coming full circle to host the 30th edition of our designboom mart at the ICFF – international contemporary furniture fair new york, the same venue where the mart concept debuted in 2005! this year we celebrate the 10th edition of both – the ICFF designboom mart new york and the TDW tokyo designboom mart! in pioneering the marts, we brought new life to pop-up exhibition culture. now a fixture at major design festivals and seen throughout the largest cities in the world, these cultural exhibitions offer young designers a way to jump start their practice into a professional design career. after sydney, seoul, melbourne, stockholm, NYC, saint-etienne, valencia, copenhagen, … this unique formula now sees its 35th edition.

TV media interviewing isadora espinosa and pedro calle of soroche de los andes
image © designboom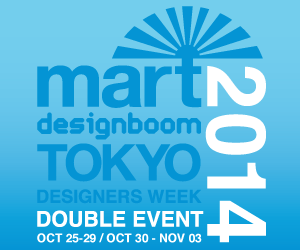 this mart is divided into two five-day editions:
mart session 1: october 25 – 29, 2014
mart session 2: october 30 – november 3, 2014

more than 200 designsouvenirs™ on show!
image © designboom
what are designboom marts?
the designboom mart is a unique interactive platform for emerging and established designers to test their new ideas. visitors are not only able to meet the young avant-garde designers and become familiar with their work but also buy self-produced or limited edition pieces directly from the creators themselves. over the intense days of exhibiting and socializing, the designers have the chance to discuss their work with other like-minded professionals, customers, manufacturers, distributors, press and museum curators – verifying their designs and their packaging credentials.

wild life at the mart (left: 'maska' by soroche de los andes from ecuador/NL, right: dog key chain by novofolk from china)
images © designboom

sake pot by ryosuke ando from japan
image © designboom
many talents who were discovered in the previous shows have gone on to become some of the biggest names in the industry. one of them is renowned designer oki sato/nendo – who participated in designboom's inaugural mart at new york's ICFF in 2005. in the video below, he recounts the moment when philippe starck bought one of his first products–a volcano shaped tissue dispenser–during his involvement in the mart.

oki sato on his participation in designboom mart
video © designboom
we have also had the pleasure of hosting designers such as hulger (winner of the design of the year 2012 award from the design museum london with their plumen light bulb), joe gebbia (founder of airbnb), georg baldele (the inventor of the floating candles in the harry potter movie), sam baron (director of the design department at FABRICA), david trubridge, nervous system, maxim velcovsky…
check out the video from our busy tokyo mart 2012.
video © john briscella and lana briscella of
aminimal
– the design duo have participated in the tokyo designboom mart 2012, 2013 and this year, session one!

participating designers of session one: october 25 – 29, 2014
 
the 2014 designboom mart tokyo participants from 20 different countries include:
a zillion ideas (japan/france); aaaaarmui & jiejie (hong kong/japan); alchemist creations (hong kong); aminimal (USA); ataica (indonesia); aztique (thailand); belltastudio (thailand); bring design studio (japan); comma (taiwan); conture indonesia (indonesia); cumulus project (canada); daddy's girl (thailand); daniel van dijck (NL); design studio labyrinth BCN (israel/spain); designmaster (korea); duncan shotton design studio (UK/japan); ey-products (china); EYL (japan); fabcessories (hong kong); fairytairyn (korea); foreverfineness (china); haniboi (taiwan); house of T (thailand); i3lab (korea); ideashow (china); la-jewellry (thailand); little factory (hong kong); mars & kent (france/madagascar); masakazu hori design (japan); mikke remikke (japan); min hye yoon (korea); minka inhouse (chile); noa design (japan/UK); novofolk (china); oneday (china); pilantha (thailand); re,play (korea); ryosuke ando (japan); shirin buttons (iran); snupped (singapore); soroche de los andes (ecuador/NL); stars & tart (hong kong); teppuanna NG (UK/hong kong); tjielp design (NL); we make love (india); qizhi studio (taiwan)

participating designers of session two: october 30 – november 3, 2014

tokyo designers week venue – main entry
location:
TDW – tokyo designers week 2014
central venue: inside the DESIGN NEXT tent
2-3 kasumigaoka, meiji-jingu, gaien, tokyo

the designboom mart is located at the main entry of the TDW tent
image © designboom
more
tokyo mart 2013 | tokyo mart 2012 | tokyo mart 2011 | tokyo mart 2010 | tokyo mart 2009
tokyo mart 2008 | tokyo mart 2007 | tokyo mart 2006 | tokyo mart 2005
designboom mart compilation 2005 – 2014
visit the homepage of TDW
dec 15, 2014
dec 15, 2014
nov 08, 2014
nov 08, 2014
nov 07, 2014
nov 07, 2014