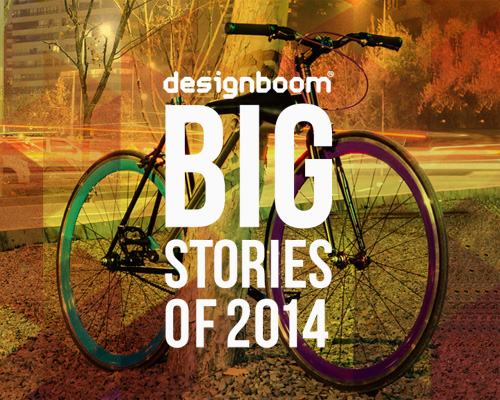 dec 16, 2014
TOP 10 bike designs of 2014
TOP 10 bike designs of 2014
in 2013, the idea of electric bicycles was just breaking ground but only in conceptual forms. however, the past 12 months have brought a wave of innovative bike designs where hybrid or full-electric systems have been realized and are racing the field's technology to new extents. staying with modern mechanical developments, the year has witness many projects focusing on rider safety, be it for protection whilst cycling or security for storage. continuing our annual review of the year's BIG stories, designboom rounds up the 10 bike designs which were the most popular with our readers.
fuoriserie electric bike by pininfarina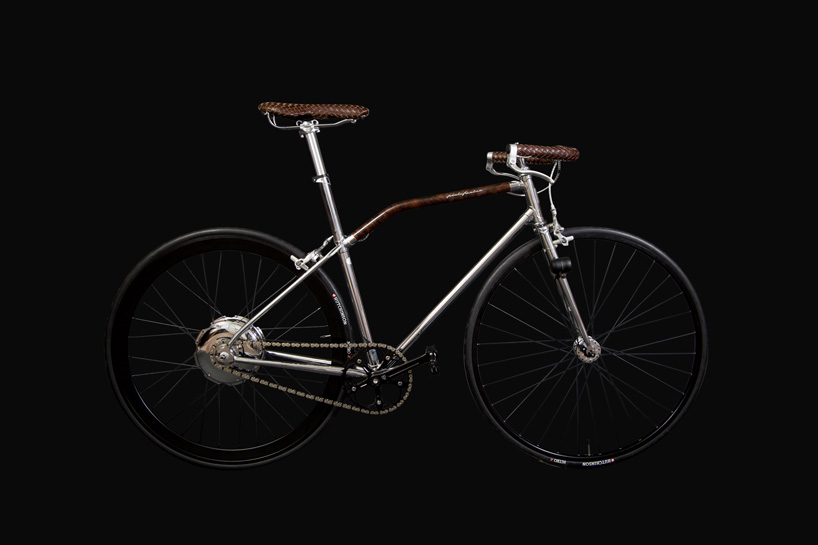 image courtesy of pininfarina
the limited edition pininfarina 'fuoriserie' electric bicycle styled by the tailor-made cars of the 1930s, creates an elegant blend of modern and classical materials. as its high-performance exclusive car-referring name would suggest, the 'fuoriserie' is a blend of tradition and innovation. the booster system bike+ exemplifies this as it optimizes the cyclist's energy through a miniaturized electric engine which enables them to cover longer distances. another advanced technology addition is the LED lighting and the 'connect the plug system' which recharges phones through the dynamo.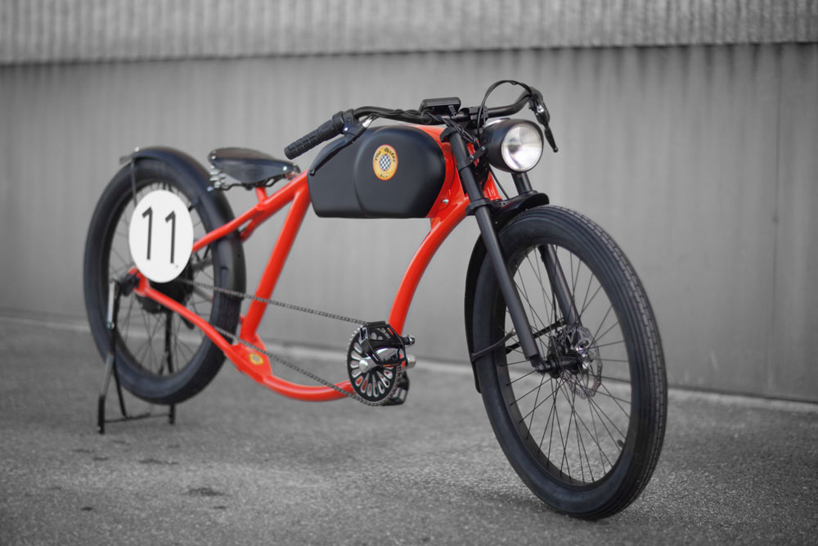 image courtesy of OTO cycle
barcelona-based artisanal bike studio OTO cycles took a page from mid-century 'craft bicycle' design to create a series of aluminum electric bikes. the retro two-wheelers are detailed with custom components such as leather saddles and grips, a side tank which houses the 250w electric motor and NCM batteries, and an LCD display with built in cycle computer. despite weighing 23 kgs, the bikes are capable of reaching speeds of up-to 65 km/h and boast a start-stop system which goes from 0-6 km/h without the need for pedaling.
viks anniveloversary commuter bike by velonia bicycles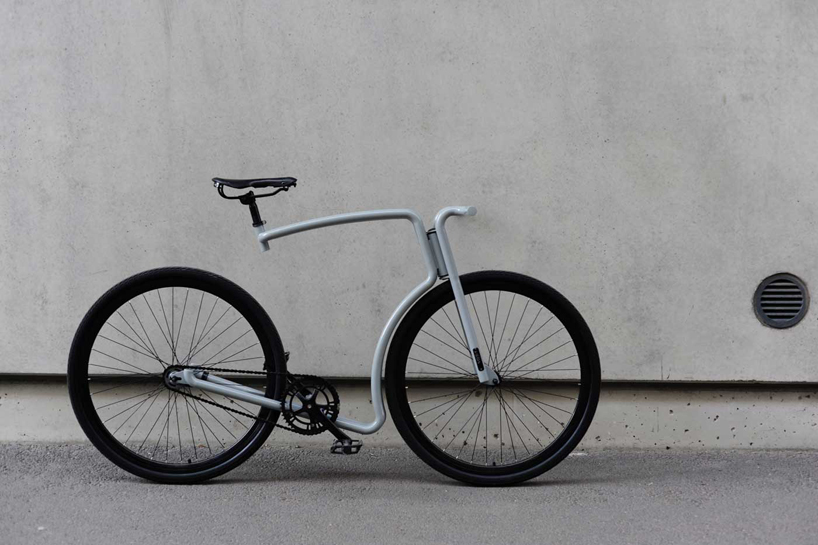 image courtesy of viks
the viks 'anniveloversary' edition by estonian engineer indrek narusk and owner of velonia bicycles, referrenced styling cues from cafe racer-style motorcycles and classic streamlined aesthetics. the iteration is made entirely from stainless steel tubes, featuring cantilevered seating built with a robust metal structure. the overall construction is joined at the head tube and bottom bracket, with the fork and handle bar coming together as a single piece. crowns, dropouts, and welds are also composed entirely of stainless steel tubes, which together, ensure a smooth ride over rugged terrain.
yerka bicycle by juan josé monsalve, andrés roi and cristóbal cabello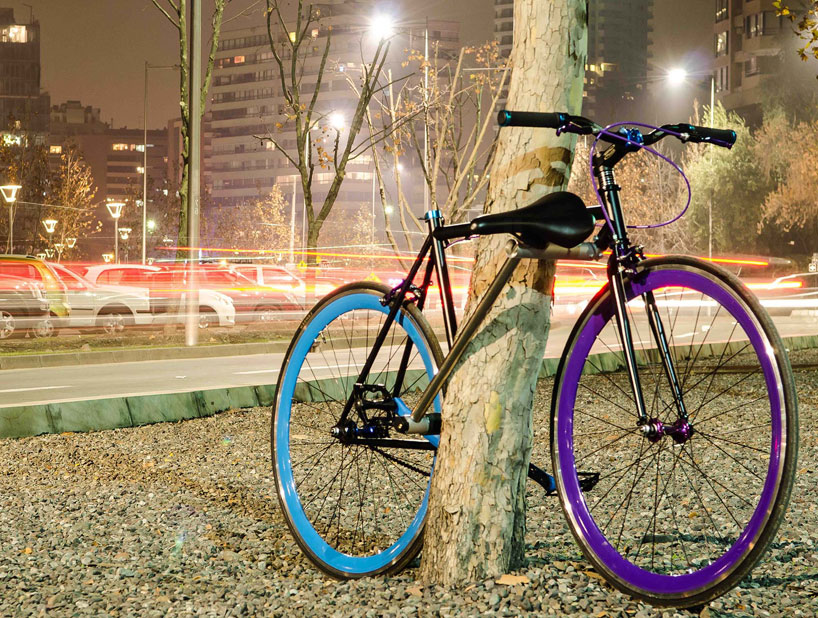 image courtesy of yerka project
developed by three chilean engineering students; juan josé monsalve, andrés roi and cristóbal cabello, the 'yerka' project maintains the design of an urban bike yet incorporates a closing frame device that improves security. to thieves, every lock can be broken whilst leaving the bicycle intact, however, this design utilizes the velocipede's frame to form a strong clamp. the result means that the only way to steal the bicycle is to break the lock and thus the two-wheeler completely. as well, the yerka tech removes the need to carry around a padlock as the bike's body is used as the securing measure – taking less than 20 seconds to set-up.
M.A.S.S. electric bikes by philippe starck + moustache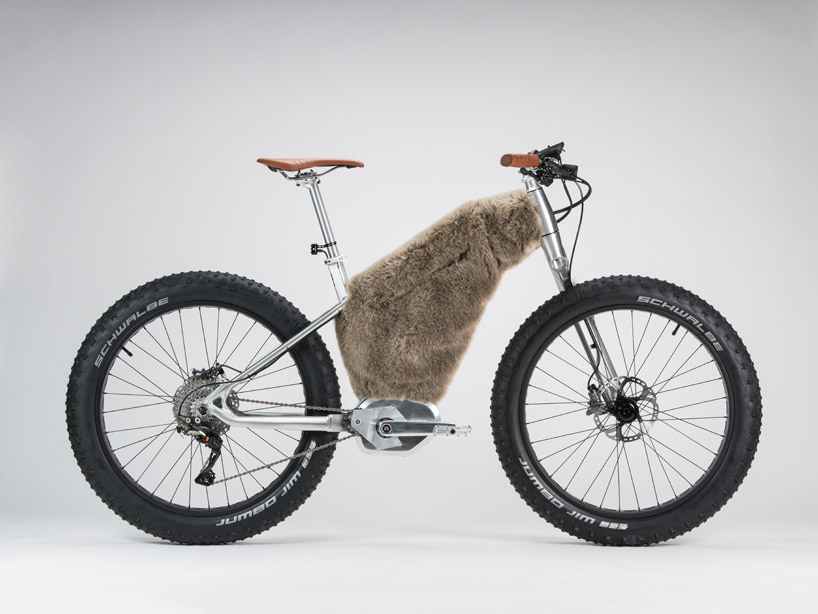 image courtesy of philippe starck
S+TARCKBIKE (philippe starck), together with manufacturer moustache bikes presented M.A.S.S. – 'mud', 'asphalt', 'sand', 'snow' – a collection of four electric two-wheelers at the eurobike 2014 in germany. each design has dedicated technological specifications that offer users the ultimate experience in the various riding conditions from which they are named.
impossible electric bicycle by impossible technology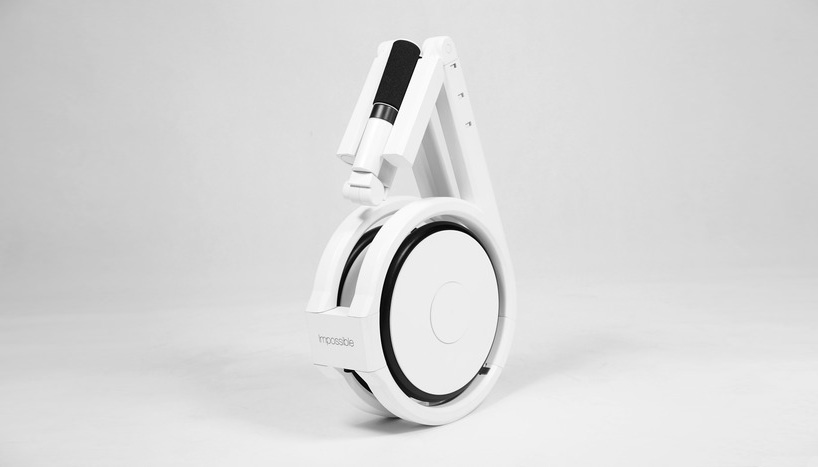 image courtesy of impossible technology
the 'impossible' by impossible technology, is a folding electric bike that can fit into a backpack and be carried around easily as it weighs less than 5kg. the design features a frame built around carbon fiber circles instead of a single horizontal girder to help equally spread the rider's weight across the structure. as the seat and handle bars are at similar heights, the front and rear wheels evenly bear the stress too.
denny by teague and sizemore bicycle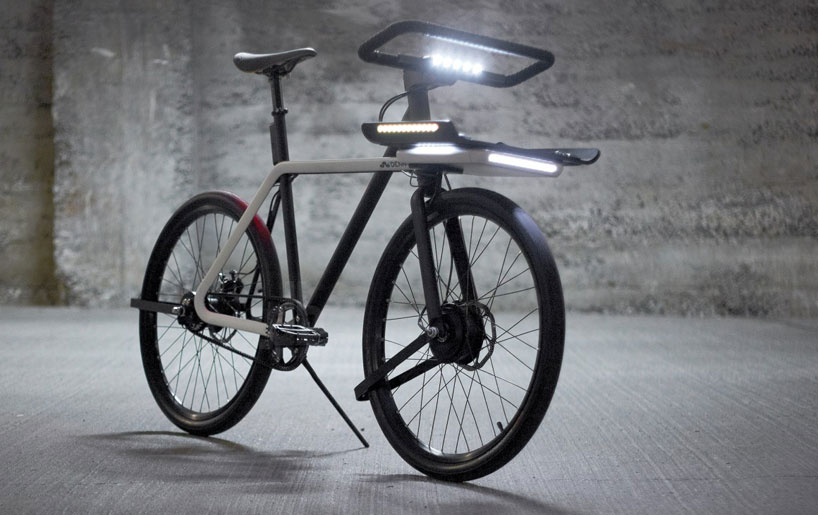 image courtesy of teague and sizemore bicycle
made by teague and sizemore bicycle, the 'denny' was voted winner of the 2014 oregon manifest bike design project as the best utility velocipede and will be built by fuji bikes. the two-wheeler has flexible storage and a detachable and quick stop handlebar lock, to aid its use in the city. as well, the user's safety is improved thanks to being fitted with a rechargeable battery, which powers the brake lights, indicators and the electric assisted pedal.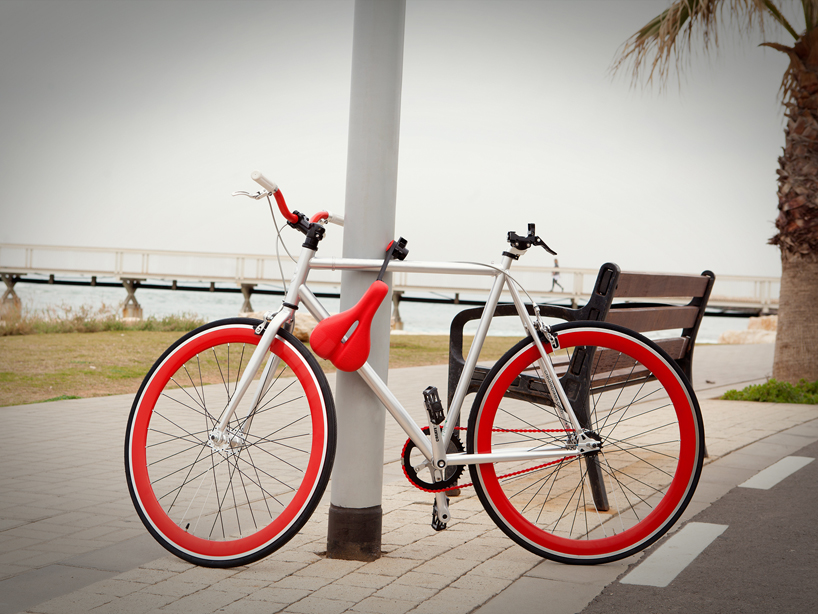 image courtesy of seatylock
the patent protected product, 'seatylock' transforms its saddle into a solid one meter lock and is fully compatible with any bicycle. it improves the rider's convenience as no longer do they need to carry a lock or worry about theft. it has been manufactured from top quality materials such as hardened steel links and covered in a plastic coating in order to protect the bicycle's frame from thieves and rust. the device is an integral part of your two-wheeler, so it will never be forgotten and works by fixing it to an immoveable object.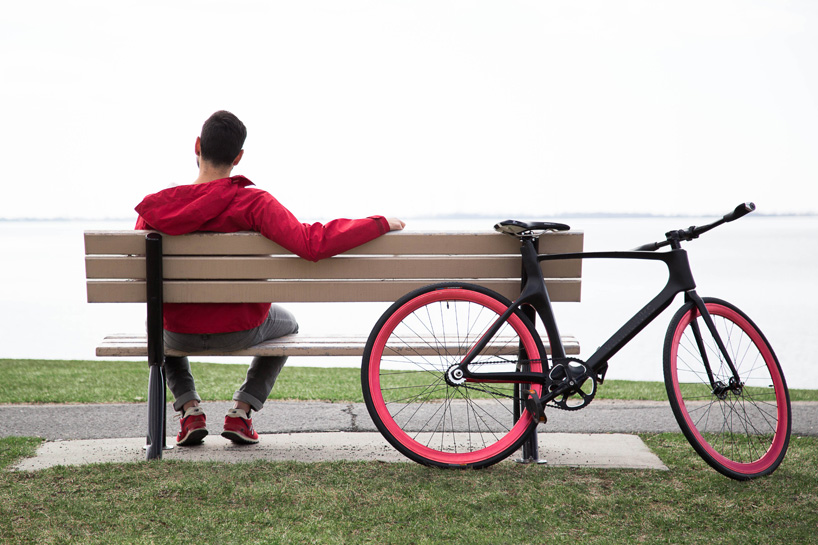 image courtesy vanhawks bicycles
toronto-based vanhawks bicycles announced the introduction of the world's first carbon fiber smart bike, the valour. hooked-up to iOS, android and pebble using bluetooth, the commuter bicycle is connected through a 'bike-2-bike' mesh–network which can be tracked if stolen, aiding in its recovery. onboard sensors monitor ride statistics in real-time and syncs the data – including route, distance, speed, and time – with the vanhawks app. the 'valour' is crafted with an emphasis on human ergonomics, designed to relieve pressure on back muscles, the spine and buttocks.
crocodile skin bike by watch life with curiosity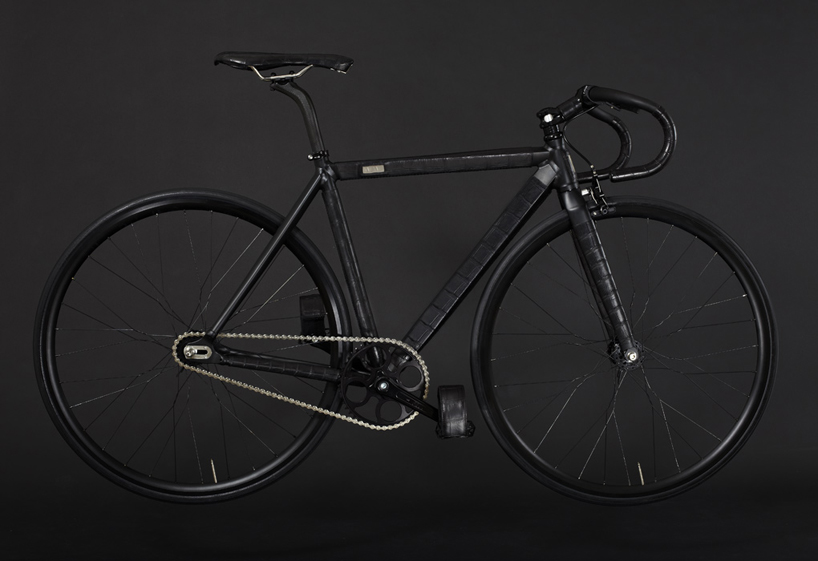 image courtesy watch life with curiosity
paris-based watch life with curiosity – otherwise known as WLWC – handcrafted a fixed gear bike using an unusual material selection for its cladding: four reclaimed crocodile skins. requiring over 90 hours to build, and priced at over 20,000 USD, recycled reptile scales wrap the facade of the lightweight aluminum frame, cinelli handlebars, carbon fiber saddle, hand machined titanium brakes and bespoke pedals.
see designboom's other big stories of 2014 here.
jun 17, 2020
jun 17, 2020
jun 11, 2020
jun 11, 2020
jun 07, 2020
jun 07, 2020
apr 25, 2020
apr 25, 2020
apr 07, 2020
apr 07, 2020
mar 31, 2020
mar 31, 2020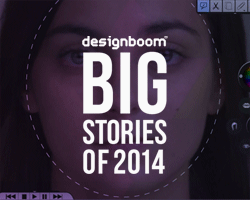 dec 31, 2014
dec 31, 2014
dec 30, 2014
dec 30, 2014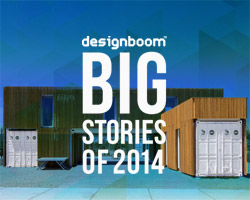 dec 29, 2014
dec 29, 2014
a diverse digital database that acts as a valuable guide in gaining insight and information about a product directly from the manufacturer, and serves as a rich reference point in developing a project or scheme.