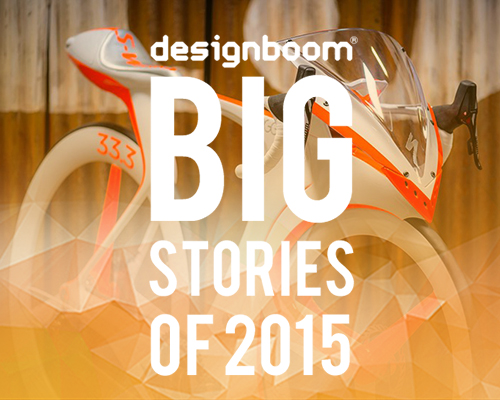 dec 22, 2015
TOP 10 bike designs of 2015
TOP 10 bike designs of 2015
the past 12 months has seen a wave of innovative bike designs using advanced materials and radical frames to drive the industry in new directions. urban areas have seen a major increase in bicycle usage, and designers have reacted with principal changes to functionality. as we continue our annual review of the year's BIG stories, designboom rounds up 10 bike designs which were popular with our readers in 2015.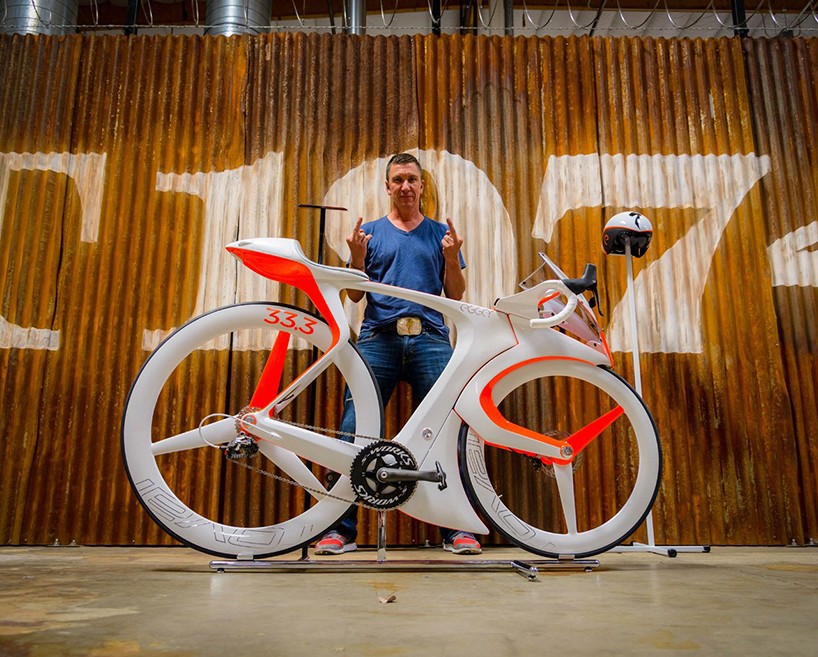 image courtesy of specialized
specialized creative director robert egger is feeling that burden, and needs to vent, creatively speaking. he's come up with a concept bike named 'eff you see eye' or 'fUCI'. it represents everything UCI (union cycliste internationle), the governing body of every major bike tour in the world, wants to keep regulated.
'the UCI really caters to a very small population, but there's so many other people out there who couldn't care less about the UCI,' describes creative director robert egger. 'they don't follow the racing and they don't even know all the limitations that are put on bikes for the UCI riders. so, my feeling was let's design a bike for someone who really just wants to go fast on a road bike.'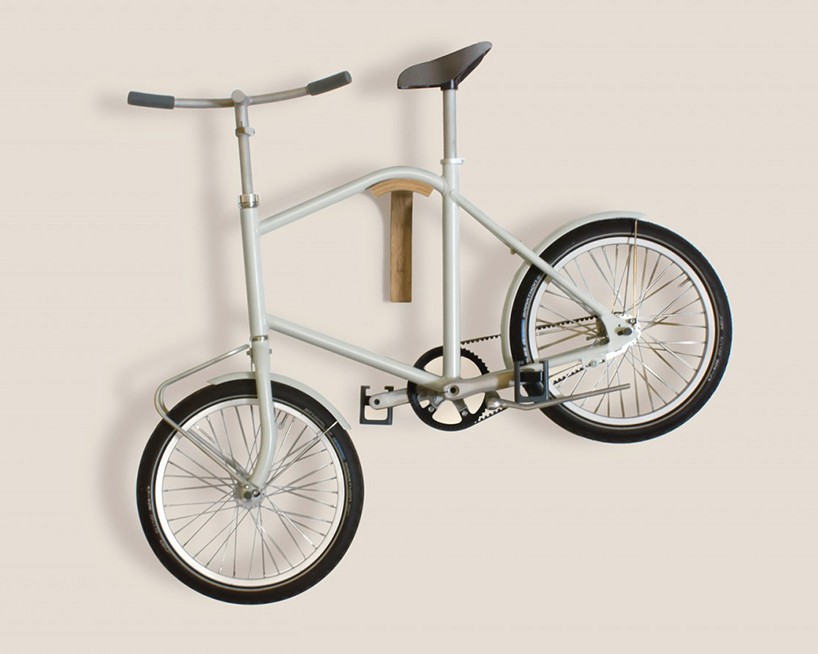 image courtesy of david roman
during 2015 dutch design week at the design academy eindhoven graduation show, david roman lieshoutexhibited his 'corridor bicycle'. the project concept has been designed to fit, like the name suggests, in a corridor and is meant for people constantly carrying their bikes into their homes. the compact, light weight aluminum frame can be easily carried and hung on the wall from a single hook.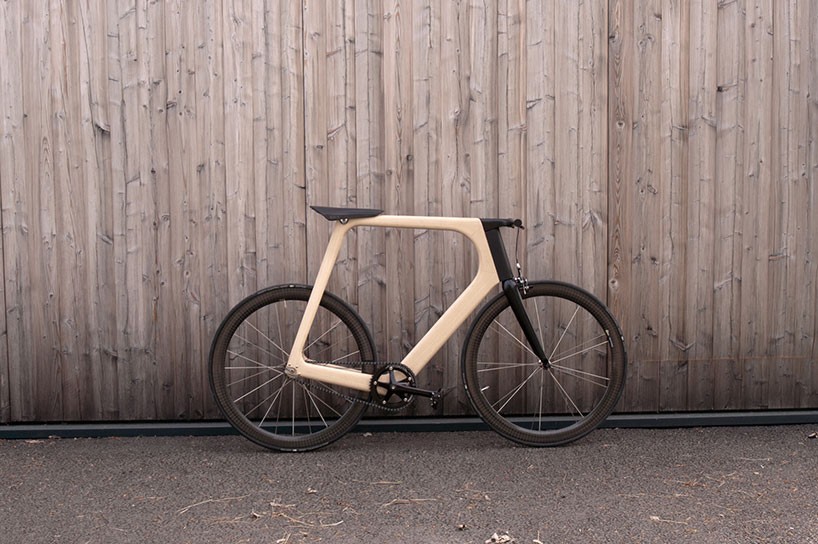 image courtesy of keim
named after the horse pulling the sun on its way across the sky in norse mythology, the 'arvak' by keim is a quest to construct a responsive cycle that echoes the themes of nature. to achieve a stiff and lightweight monocoque frame, the french company vacuum laminated up to 50 layers of white ash with a high modulus resin between each. to optimize the orientation of each layer to maximize strength, the team had to develop their own method from scratch. three coats of marine grade finish protect the wood layers from weather and dirt.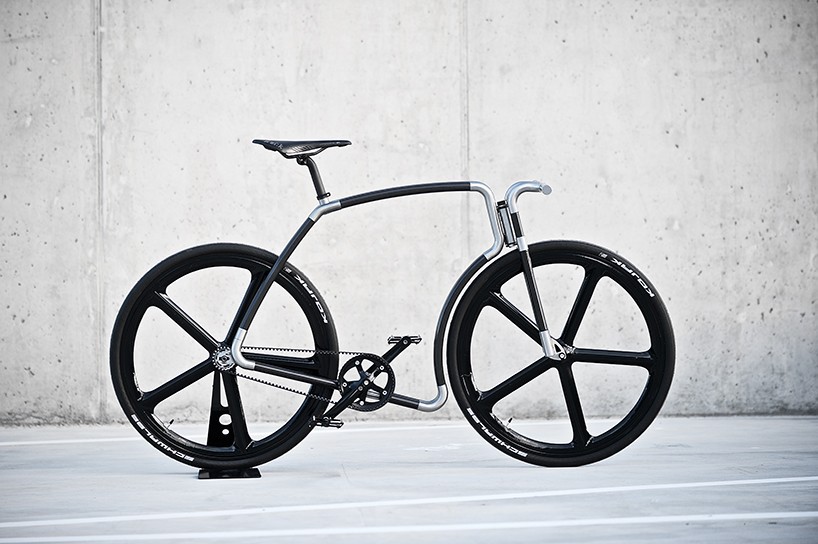 image courtesy of velonia bicycle
to celebrate its second year, velonia bicycles created the 'viks carbon', a much lighter version of the original. they built the carbon fiber frame with all riders in mind who are constantly looking for the latest and edgiest technologies. the frameset weighs four kilograms compared to the standard stainless steel seven kilograms. the 'viks carbon' in its complete configuration, equipped with gates carbon belt drive and aerospoke wheelset.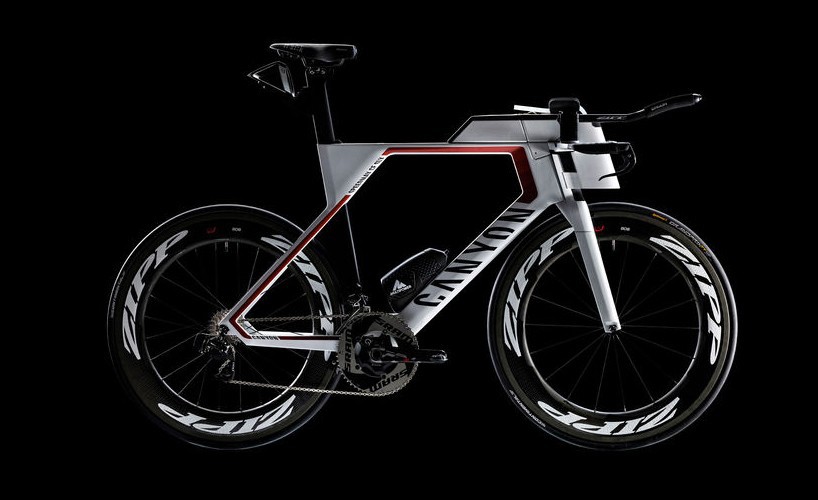 image courtesy of canyon
to enhance the aerodynamics, canyon took a different system to their computational fluid dynamics analysis and wind tunnel testing. the aim was to create the most efficient setup at 50 km/h, so the re-evaluated 'speedmax CF SLX' has a reconsidered geometry to further enhance its ride and handling performance. by optimizing the steering angle, they have further improved the bike's high-speed stability. thanks to the vast array of adjustments possible around the seat and cockpit, it is easier to achieve a more compact and efficient riding position. from the frame's tube profiles to the form of each individual component, every element has been shaped and sculpted in the pursuit of absolute aerodynamic efficiency.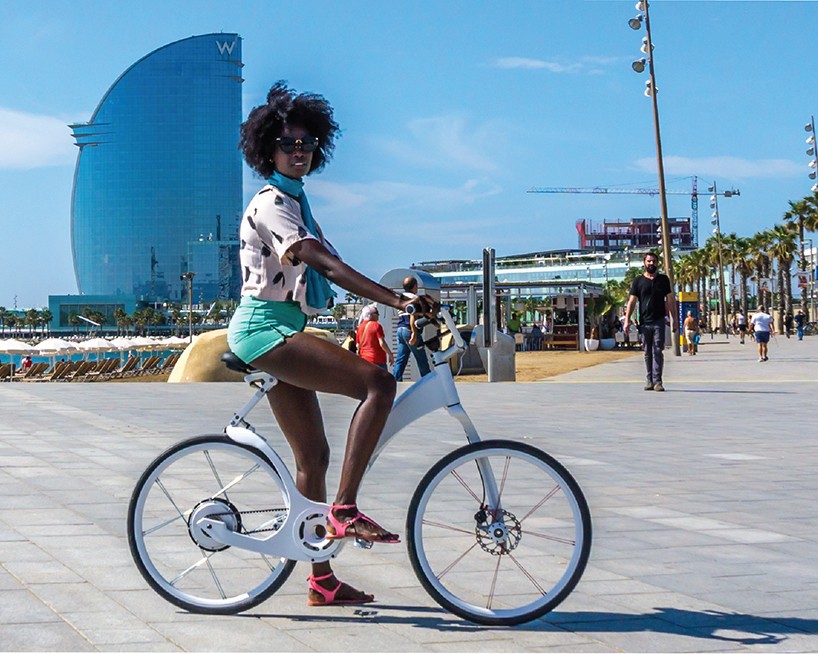 image courtesy of gi flybike
o transform urban commuting around the world, a trio of argentineans, lucas toledo, agustin agostinoy, and eric sevilla, created the gi 'flybike', a foldable electric bike ready for the future. lightweight and simple, the bike folds in one motion for seamless portability. after researching countless other means of transportation, the team realized that a mobile phone connected bike was still the best way to get around any city. with an equipped three speed assistance propelling motor, their mission was to challenge and improve every aspect of a traditional design. the electric motor helps riders up hills and manages to travel 64 kilometers on one charge. capable of syncing with both android and iOS, the bicycle has a GPS tracking system, a full-view navigation system, a smart-lock anti-theft system, and a USB charging port.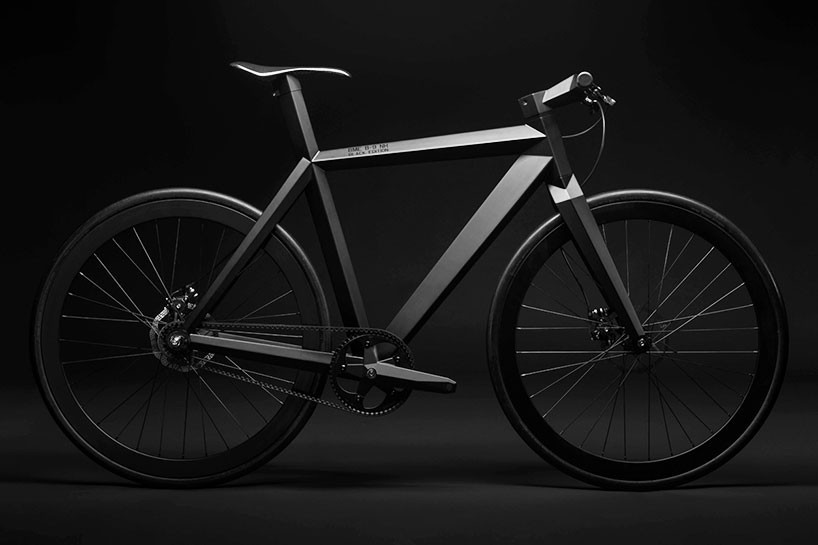 image courtesy of BME design
BME designs took a more minimalistic direction and created the 'b-9 nh black edition' with a stealth approach to resemble the classic 'F-117 nighthawk' aircraft. the bicycle features a carbon fibre frame and fork weighs 8.8 kilograms and is built to withstand the abuse of the ruthless urban environment.
a rare one piece carbon stem handlebar is a unique addition, which follows the same motifs of sharp angles and aerodynamic lines. the matte black paint also covers the CNC machined allow cranks and the BME's own carbon 's72' saddle with a single bolt setting customization.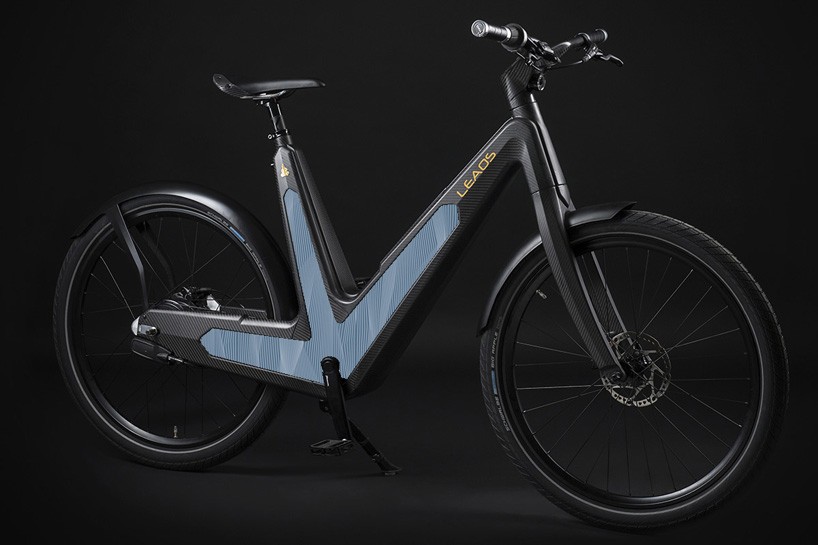 image courtesy leaos
with a set of fully integrated solar panels, the leaos 'solar electric' bike can self-sufficiently produce enough energy for usage of up to 30 km/day. this builds upon the previous '2.0' model which is capable of reaching speeds of 45 km/h but relies on a battery driven by plug-in power. however, when the energy levels are shown on the handlebar display as insufficient, the latest version can also re-energize via connection with conventional sources.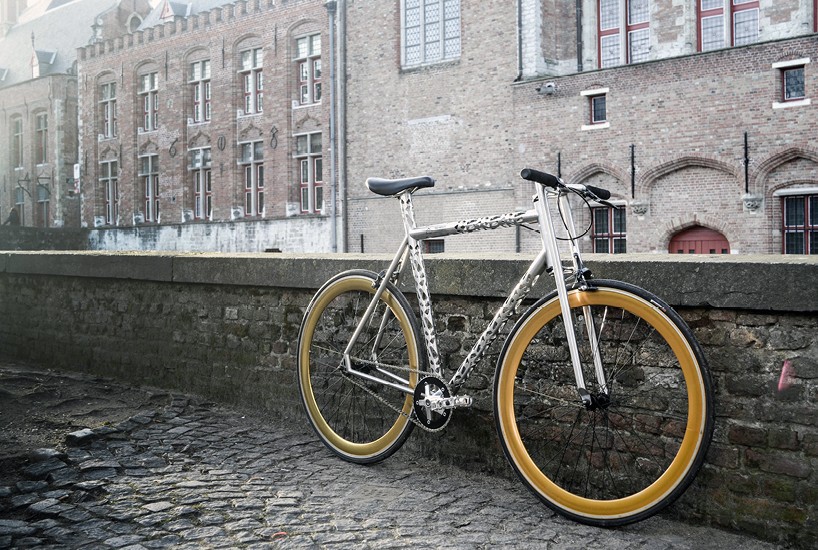 image courtesy of eleven twenty seven
noticing that the vast majority of bikes are mass produced and lack an identity, eleventwentyseven's 'erembald' bicycle solves this issue, using laser-cutting technology to meet the needs and desires of the rider. made from full stainless steel and stripped of all non-necessary features, the two-wheeler features an individual and organic pattern that is influenced by cellular structures. adding extra individuality, the owner's name can be engraved in between its integrated lock. this flexible manufacturing method enables small batch production and the creation of a limited number of 50 models, in bruges, belgium.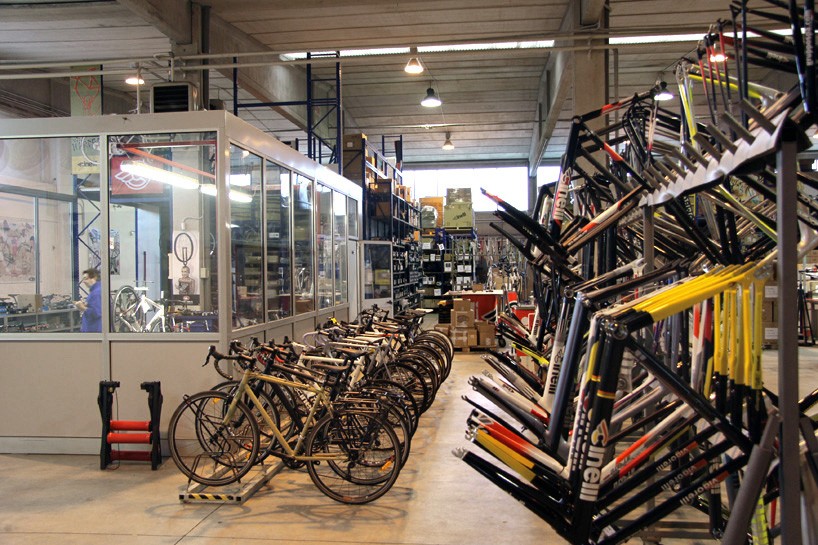 image © designboom
following the interviews with fabrizio aghito, the head engineer for the italian bicycle manufacturer, cinelli, and their chief art director, alessandra cusatelli, designboom concludes our three-part studio visit series with a tour of their milan-based office and the adjacent columbus tubing factory.
representing all that is renown for italian design, the cinelli brand reflects passion, high levels of craftsmanship and detailed composition in a fusion of art, style and professionalism. their products – most notably bicycles – are internationally acclaimed for creating a relationship with customers based on fun, technology and art. this creative focus has led to collaborations with well-known creators including; barry mcgee, keith haring and mike giant, which have all further enhanced this emotional connection that groups cinelli riders in a community.
jun 17, 2020
jun 17, 2020
jun 11, 2020
jun 11, 2020
jun 07, 2020
jun 07, 2020
apr 25, 2020
apr 25, 2020
apr 07, 2020
apr 07, 2020
mar 31, 2020
mar 31, 2020
dec 31, 2015
dec 31, 2015
dec 29, 2015
dec 29, 2015
dec 29, 2015
dec 29, 2015
a diverse digital database that acts as a valuable guide in gaining insight and information about a product directly from the manufacturer, and serves as a rich reference point in developing a project or scheme.