milan design week, that time of the year were all the international design community comes to italy to celebrate design, has come to an end with incredible results in both project quality and record assistance. throughout the week we saw a series of impressive, experimental and aesthetically pleasing installations that filled the city and its alluring outdoor spaces with structures that allowed visitors to reflect — sometimes even literally — on today's most crucial themes.
now that the craziness is over, we take the time to present you with our top 10 outdoor installations of milan design week 2019.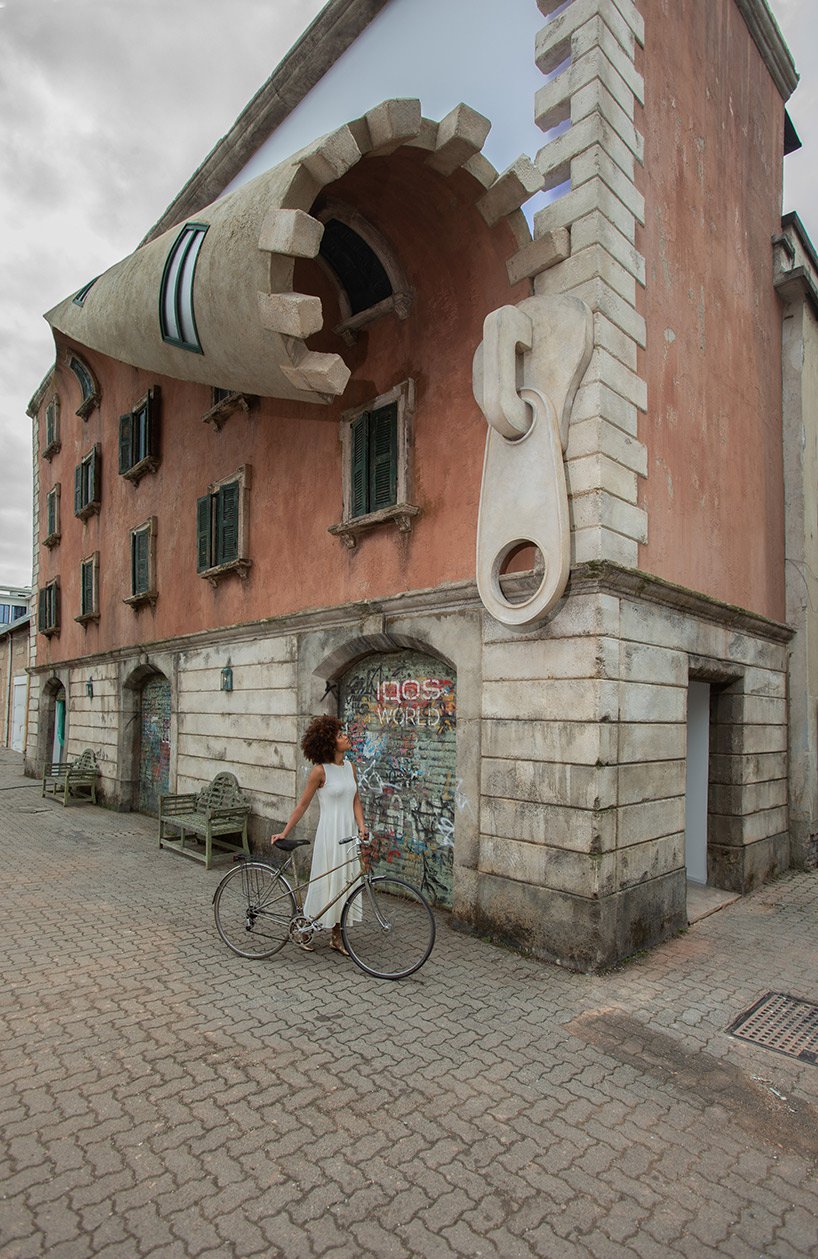 image by marc wilmot
british sculptor alex chinneck, known for inverting electricity pylons and tying grandfather clocks in knots, unzipped the façade of a building in milan as part of the city's design week festivities. to accomplisg the dramatic effect, chinneck created a totally new elevation in the style of traditional milanese architecture, which appears to open up to reveal the building's interior. serving as the project's distinctive feature, the zip is used as a device through which the artist gives way to a series of surreal crevices from which an ethereal and weightless light disseminates.
read more on this project on designboom here.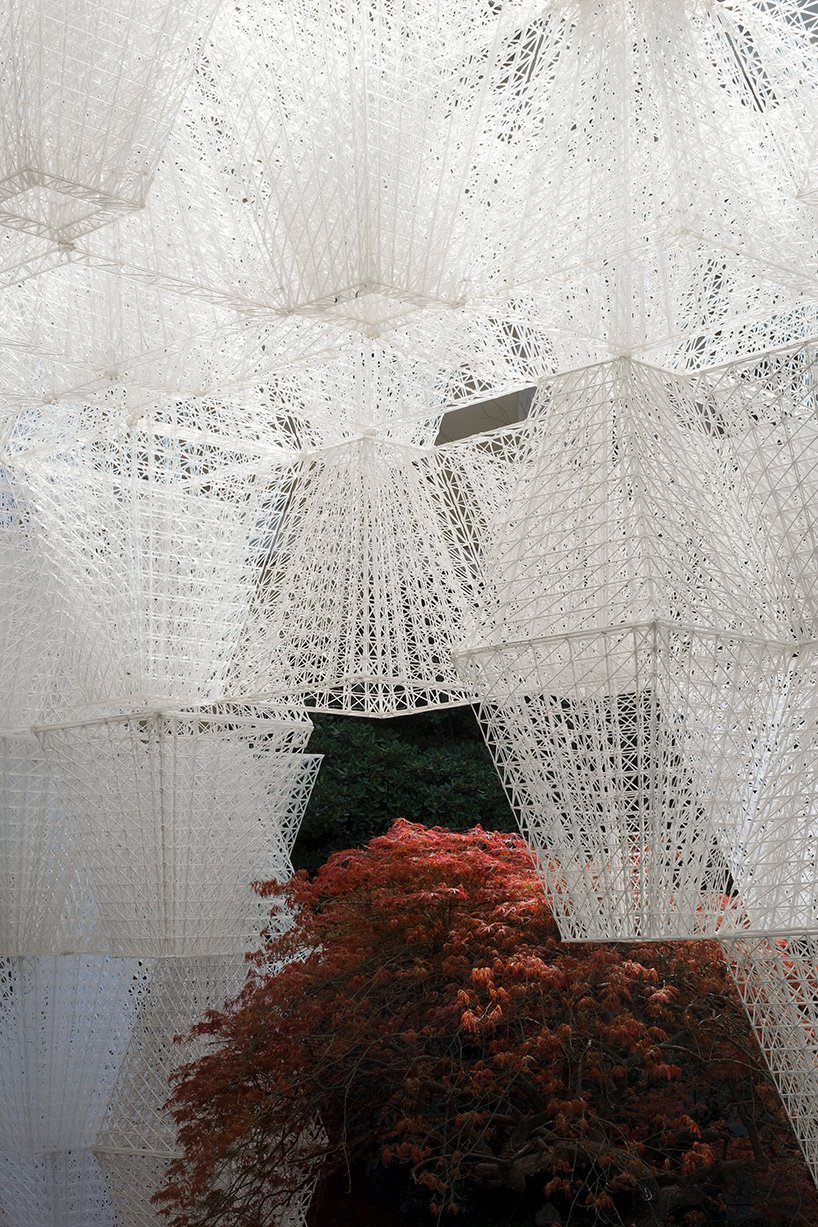 following collaborations with phillip k smith III, studio swine, and sou fujimoto, international fashion brand COS teamed up with arthur mamou-mani at this year's milan design week. as part of the event, the london-based french architect created a digitally fabricated pavilion that guided visitors through the courtyard and into the adjacent gardens of palazzo isimbardi, the 16th-century palace that hosted phillip k smith III's atmospheric 'open sky' sculpture last year. the structure has been created using open-source software that explores the potential of parametric design.
read our interview on the installation with arthur mamou-mani here.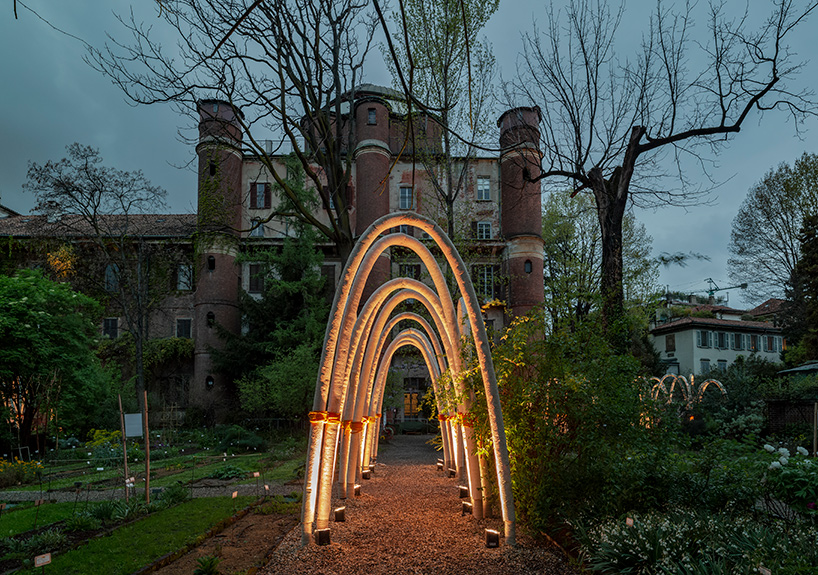 image by marco beck peccoz
carlo ratti associati unveiled a series of architectural structures made of mushrooms at milan's orto botanico de brera. the installation, called 'the circular garden,' was grown over the past six weeks — and will be returned to the soil at the end of the month. each of the four structures is composed of a sequence of arches, that together comprise one kilometer of mycelium. the project experimented with sustainable structures that can grow organically and then return to nature in a fully circular way.
read more on this project on designboom here.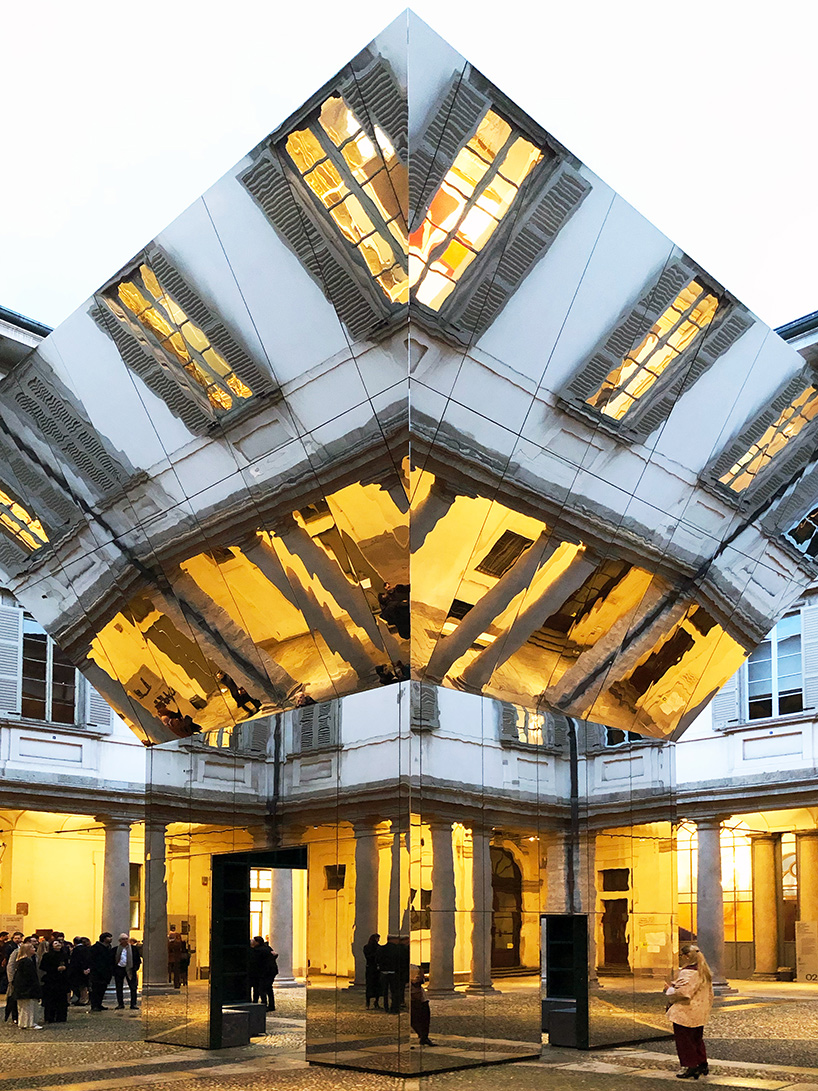 image © designboom
chilean architecture studio pezo von ellrichshausen created a pavilion within milan's baroque palazzo litta, described as a 'direct echo of its historical surroundings'. conceived for the 2019 edition of milan design week, the structure directly relates to the dimensions and proportions of its historic setting, which was completed in 1761. the enclosure, which remains open to the sky, repeats the square ratio of the courtyard with four entrance point providing access to a central room.
read more on this project on designboom here.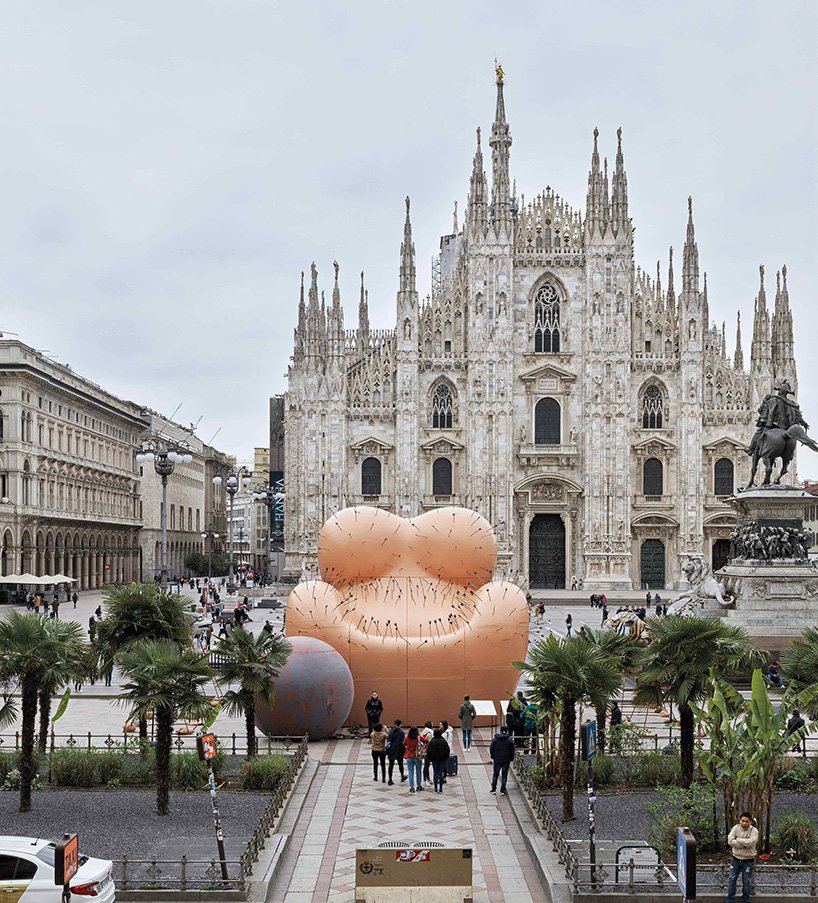 image by matteo piazza (also main image)
'maestà soffrente' by gaetano pesce was exhibited in milan's piazza duomo to celebrate the 50th anniversary of 'UP5&6' produced by B&B italia. the original work by the italian designer and architect highlighted the treatment of women and the disparity between the sexes. the famous object, which itself is reminiscent of the female form, was tied to a spherical footrest, embodying the image of a woman being a prisoner, tied to the prejudice of men. the original chair form featured the addition of countless arrows embedded into the surface, highlighting the issue of violence against women.
read more on this project on designboom here.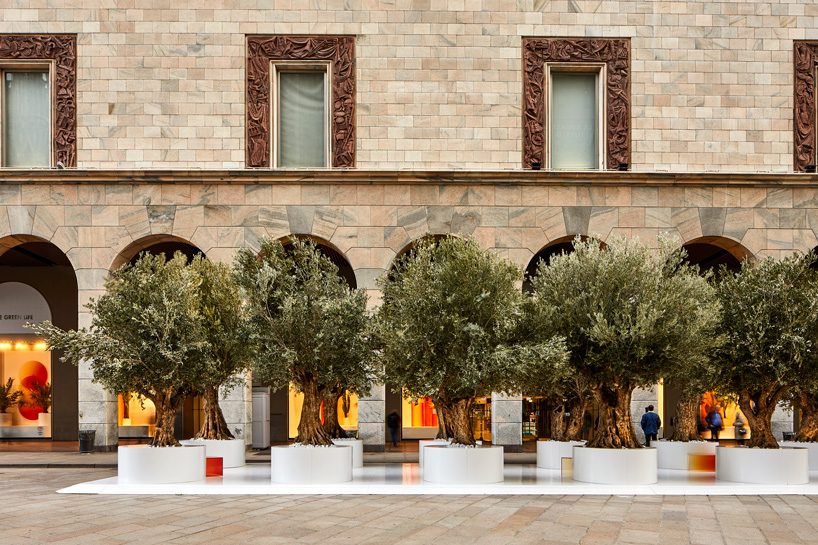 sabine marcelis decked milan's rinascente department store with a series of plexiglass and cast resin pieces intermingled with many kinds of plants and trees. part of the store's the green life, an event focused on design and its relation to nature, sustainability, and all things green, the installation took over the windows, inside, and outside areas of the flagship store in piazza duomo. complete with a series of marcelis' seats in various shades of orange, a boulevard of 16 huge century-old olive trees became a place for people to enjoy a peaceful moment of relaxation amidst the busy square.
read more on this project on designboom here.
THE MUSEUM BY SPACE ENCOUNTERS X CREATIVE HOLLAND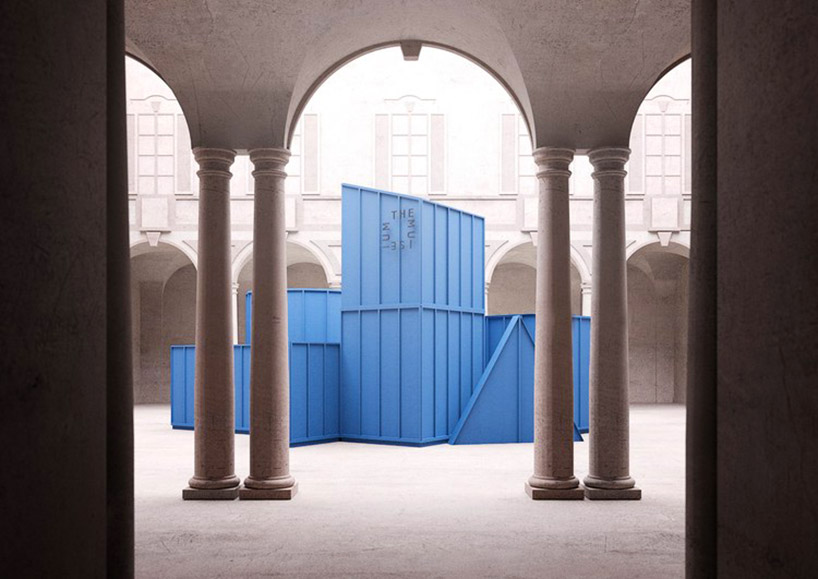 space encounters and creative holland presented 'the museum', an installation that offered ample room for art and design, with an overall atmosphere that promoted relaxation, contemplation and focus amidst the hectic pace of milan design week. located inside palazzo clerici, visitors were guided through a journey that showcased different faces of dutch creativity: architecture, photography, music, design, fashion, VR, film, and digital communication.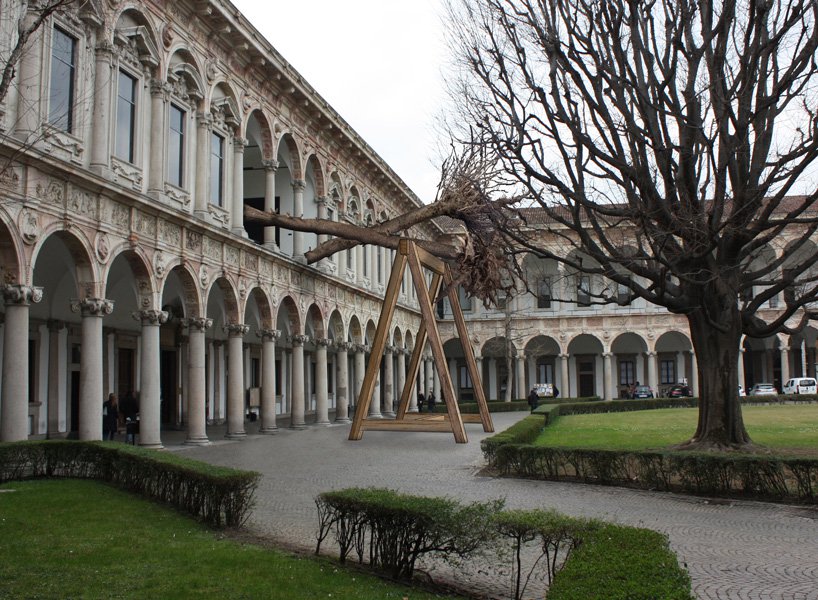 piuarch presented la foresta dei violini, an evocative installation that payed tribute to the millions of trees hit by a storm last year in the fiemme valley (trentino alto adige, italy). among these was the paneveggio forest, also known as stradivari's forest, renowned for the extraordinary features of the spruces that grow there, which have been used by many, including luthier stradivari, to make the best acoustic violin sound cases.
read more on this project on designboom here.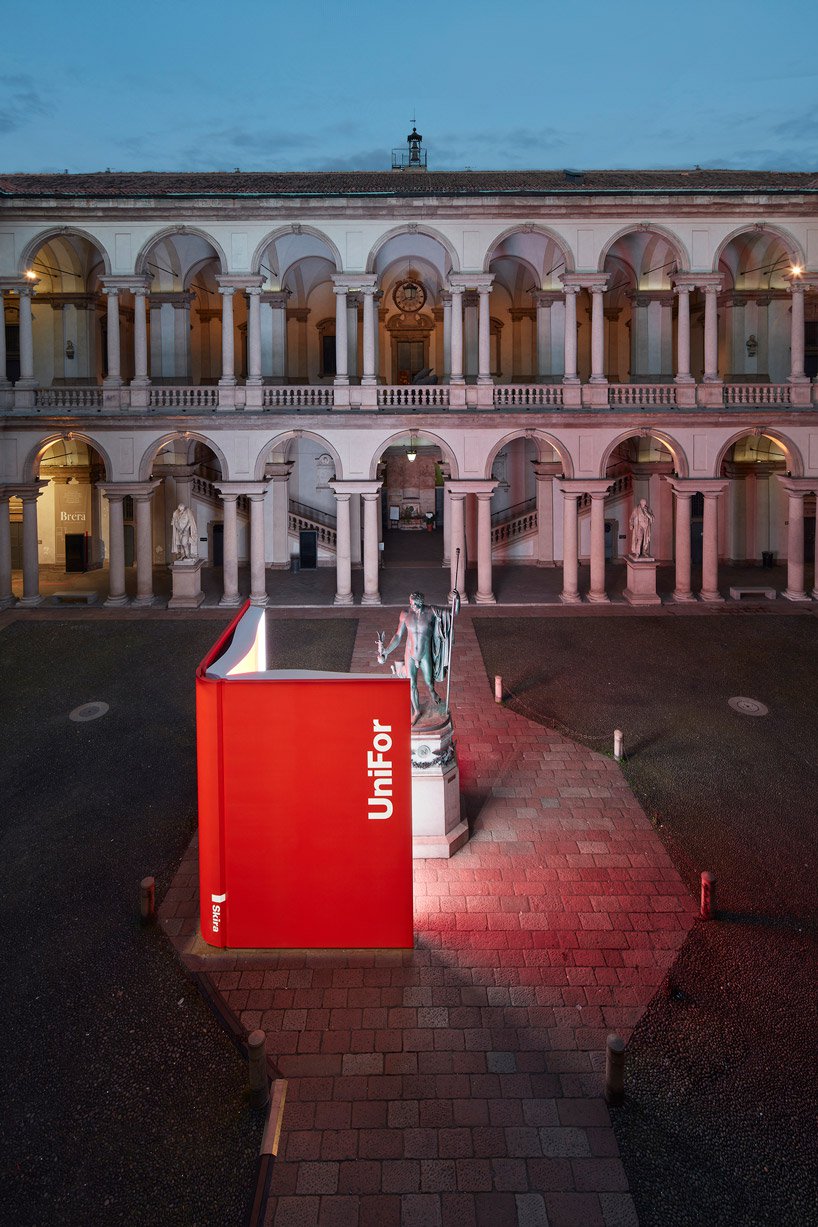 in celebration of their 50th anniversary, unifor unveiled a multimedia installation curated by ron gilad at palazzo di brera. the work saw three different pieces on show in the cultural venue, which are were designed to link unifor's industrial culture with the educational values of one of italy's oldest schools, the accademia di belle arti di brera and the art which is displayed inside. the installation was comprised of the giant book in the center of the palazzo, and both the 'last supper' and 'touch down' installation presented inside the building. the curator gilad noted, 'in this presentation I merge between three elements: education (brera academy), art (pinacoteca di brera) and industry (unifor). these values are symbolized by three installations, each of one contains all the elements.'
read more on this project on designboom here.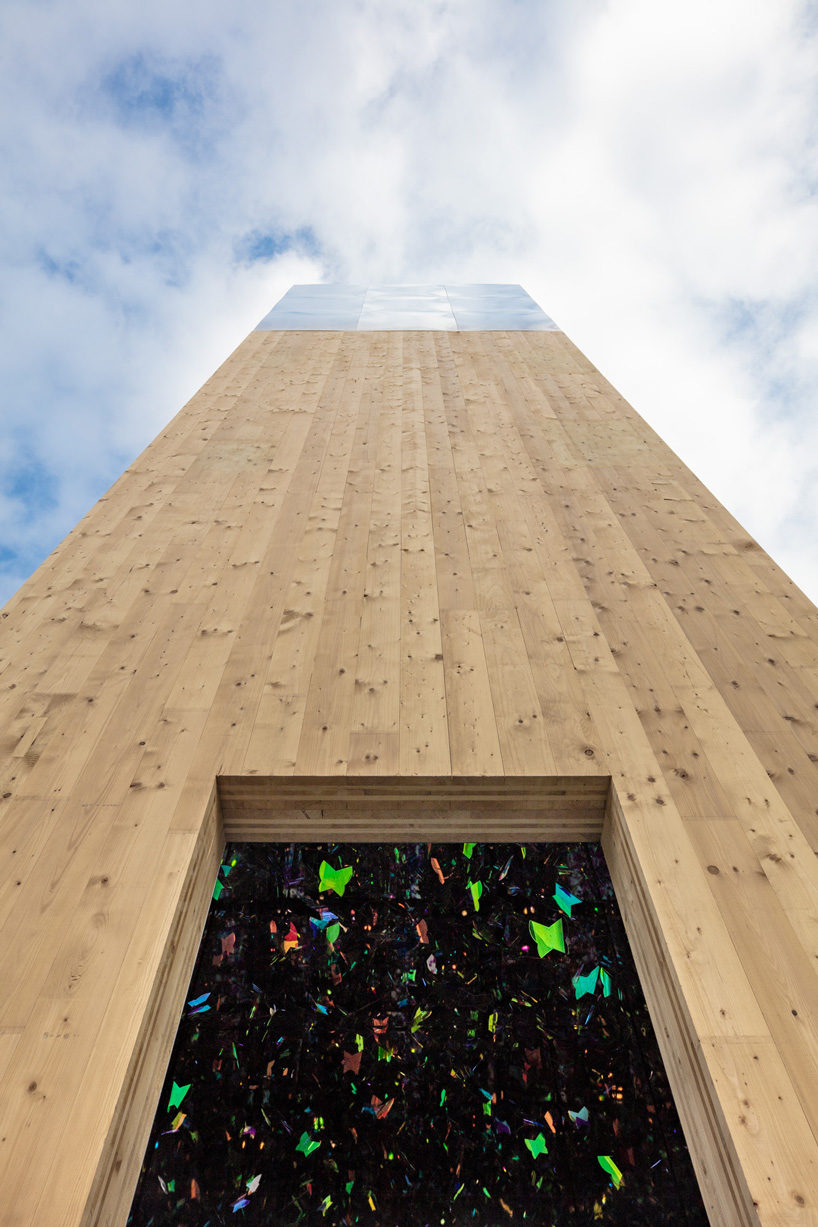 global innovation company 3M design partnered with matteo thun to create a pinnacle of reflection, a kaleidoscopic installation that celebrated nature and its influence on meaningful, sustainable solutions. the collaborative project comprised a 14-meter-high wooden tower, which seems to gradually fade into the sky, while on the inside, the structure invited visitors to step into a kaleidoscopic experience of more than 800 dichroic butterflies.
read more on this project on designboom here.
mar 27, 2020
mar 27, 2020
nov 28, 2019
nov 28, 2019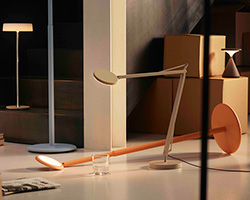 nov 20, 2019
nov 20, 2019
nov 10, 2019
nov 10, 2019
jun 18, 2019
jun 18, 2019
jun 04, 2019
jun 04, 2019
a diverse digital database that acts as a valuable guide in gaining insight and information about a product directly from the manufacturer, and serves as a rich reference point in developing a project or scheme.