see designboom's TOP 10 stories archive:



TOP 10 READER SUBMISSIONS OF 2016 PRODUCT DESIGN
from the chair you're currently sitting on, to the car you drive and the screen you're using to read this article, product design has probably had some influence on their development. designers not only impact the form and function of our world but also have the power to innovate and generate solutions. this year we received several thousand submissions from our readers, with designers, artists and architects from across the globe sending through a diverse range of works that we have shared with our audience over the last 12 months.
we believe that maintaining an open dialogue with creatives is extremely important, and we are happy to showcase the high level of original projects of our readership. from a diverse selection of chairs to portable tents, we highlight 10 product design projects from our reader submissions of 2016.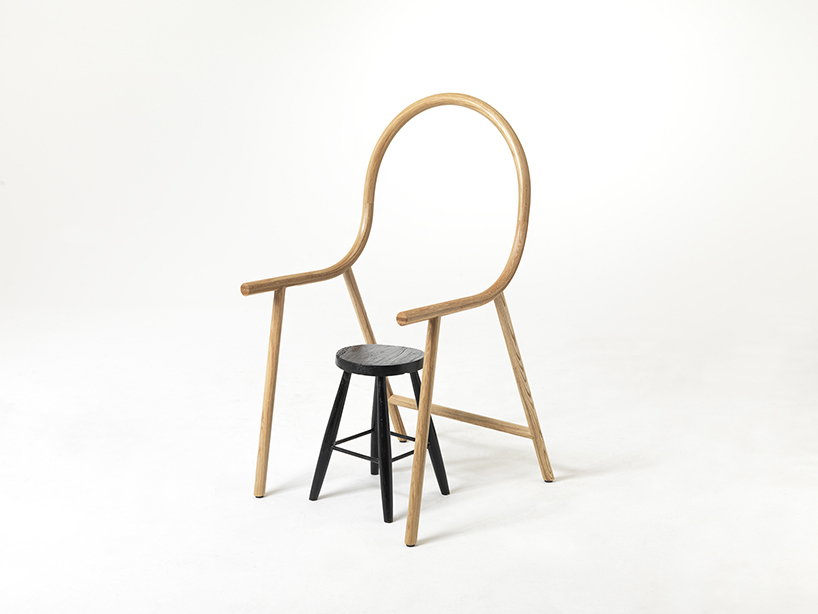 image courtesy of clark bardsley
chairs proliferate the portfolios of designers the world over. 'arm' chair is not another chair, it is an anti-chair. it celebrates nonsense, and gleefully breaks the chair design rule book. it is not comfortable; in fact, it cannot be sat on. it is the outline or symbol of a chair, produced in fine american oak. created by clark bardsley design, a practice based in auckland that produces process driven projects that emphasize on material quality and expression, the project began as an investigation of the constraints of wood bending, a process that is closely associated with the history of chair design.
read more about the project on designboom here.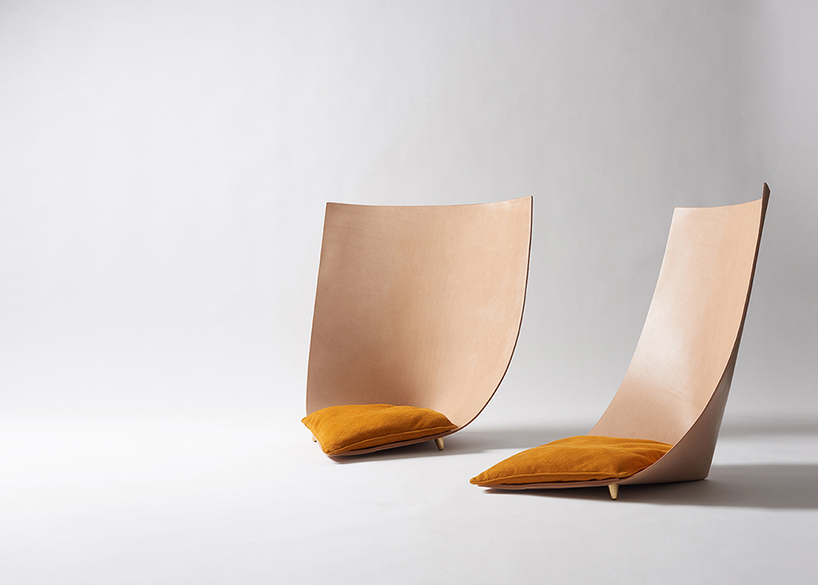 image courtesy of babu
barcelona-based design studio toru designed two unique chairs which were presented during dubai design week 2016. 'babu' and 'clop' both use a local leather from igualada, providing a distinct high-quality finish, which points towards the cultural roots of the city. 'babu' uses a 6mm leather section which folds back on itself to create the backrest and bottom. the chair which is positioned on the ground is supported by small brass feet that hold the structure together.
read more about the project on designboom here.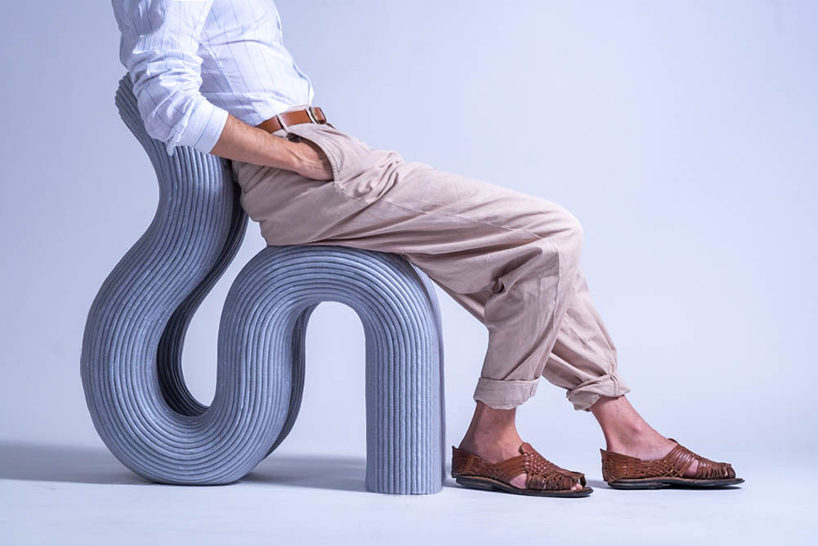 image by matthew tait
influenced by 3D interplays and post-industrialism, detroit/los angeles-based artist and designer ara levon thorose created the 7M chair as part of his model series 'tubular group 01'. the collection, composed of three distinct sculptural pieces, evokes a three-dimensional line drawing of a chair — created with a number of different movements. in fact, the project takes its particular name from the seven movements that created the design.
read more about the project on designboom here.
ULURU CONCRETE MODULAR BENCHES BY SHIRO STUDIO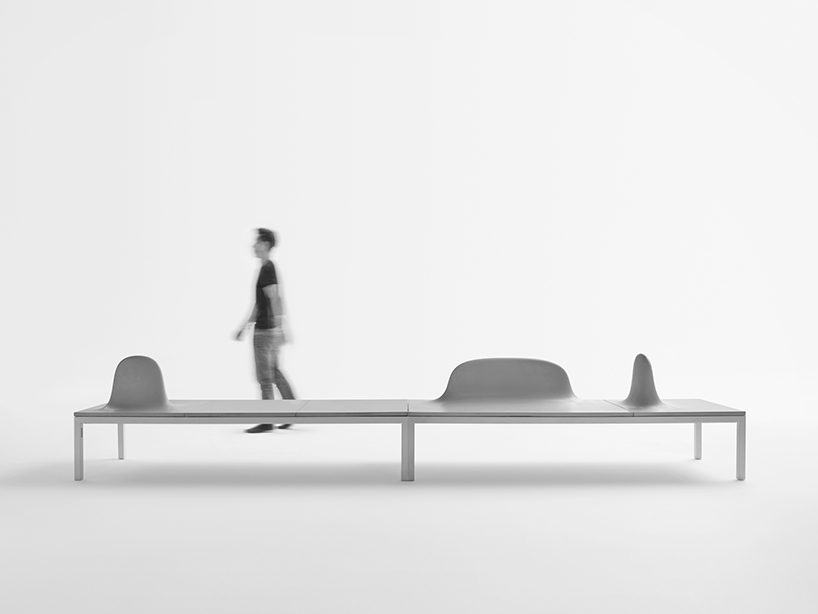 image by shiro studio
designed by london-based shiro studio for italian brand metalco, the 'uluru' collection was conceived as a modular and sculptural family of seating elements made of UHPC—ultra-high-performance concrete. the set was created to offer a playful experience in public spaces where each component is modular so when connected to each other they form a continuous, sculptural micro-landscape that can vary in size and configuration.
read more about the project on designboom here.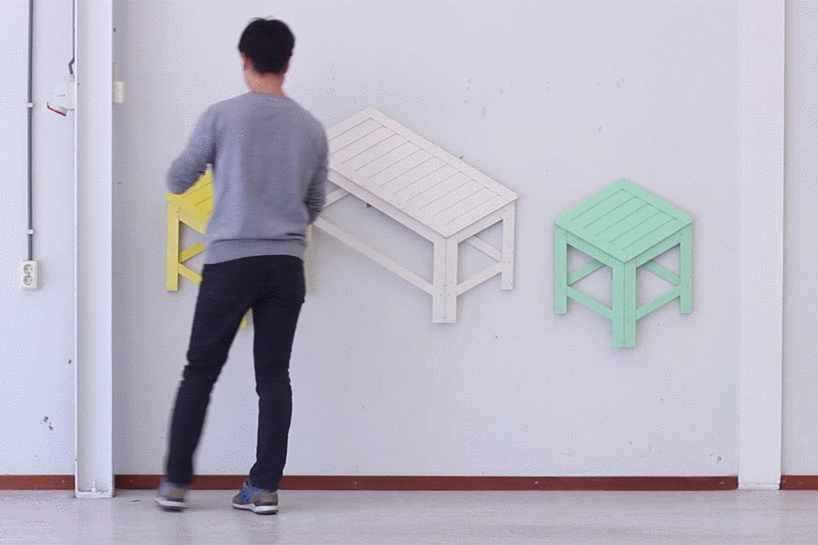 images by jongha choi / gif by designboom
eindhoven-based designer jongha choi created a collection of benches and stools called 'de-dimension' that can transform from a flat, two-dimensional view, to a three-dimension functional object. the project itself inquiries on the history of images and how this one has been aligned with the history of human race, having the later one being understood and depicted in various forms. unlike the past, we are not only seeing the image as a means of reproducing objects but also giving essential identity to the image itself.
read more about the project on designboom here.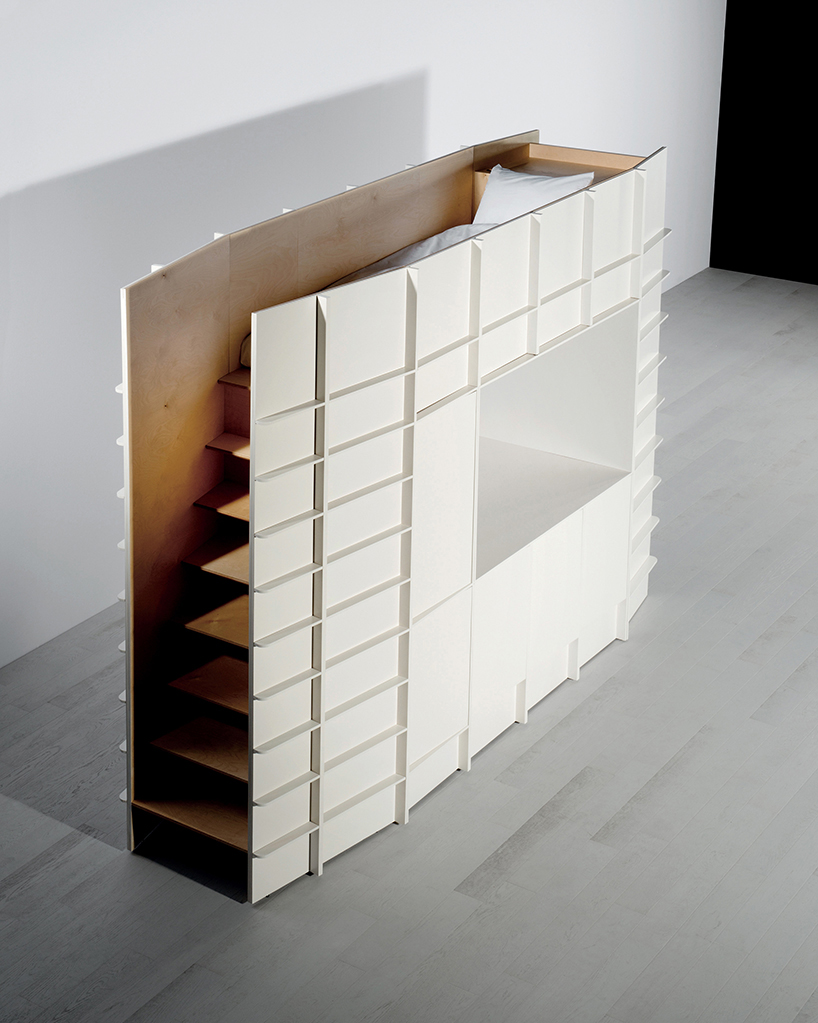 image by colombe clier
french designer gilles belley designed 'ROOMS', a furniture system that reconsiders the relationship between household appliances and the built environment — making living spaces out of furniture. the collection is composed of three different pieces: AREA, BLOCK, and WALL. each furniture system has a way to program space, either condensing it, splitting it, or delimiting it, and consists of a module assembly, adjustable to the constraints of the spatial organization of the habitat.
read more about the project on designboom here.
CLASSIC SHAVING RAZOR REDESIGN BY PATRICK SCHUUR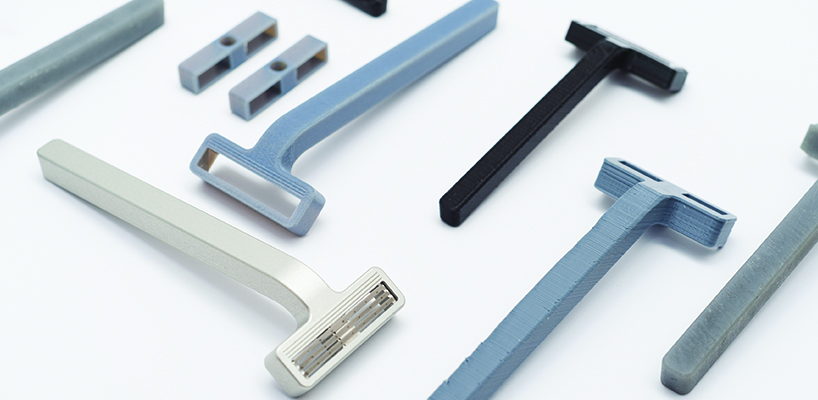 image by 3D hubs
dutch industrial designer patrick schuur put dieter ram's ten principles of good design into context when he set out to redesign the classic men's razor for a client who wanted to create a no-nonsense wet shaving system that merges rituals of the past with the comforts provided by today's manufacturing capabilities. starting with four main requirements for the finished product – comfort, sustainability, beauty and value – from RZR founders marco vermeer and remco smit, schuur dove head-first into bringing the next-generation razor concept to life with modern design and rapid prototyping processes.
read more about the project on designboom here.
TRANSLUCENT HIVEBOARD BY MANUEL CHICHORRO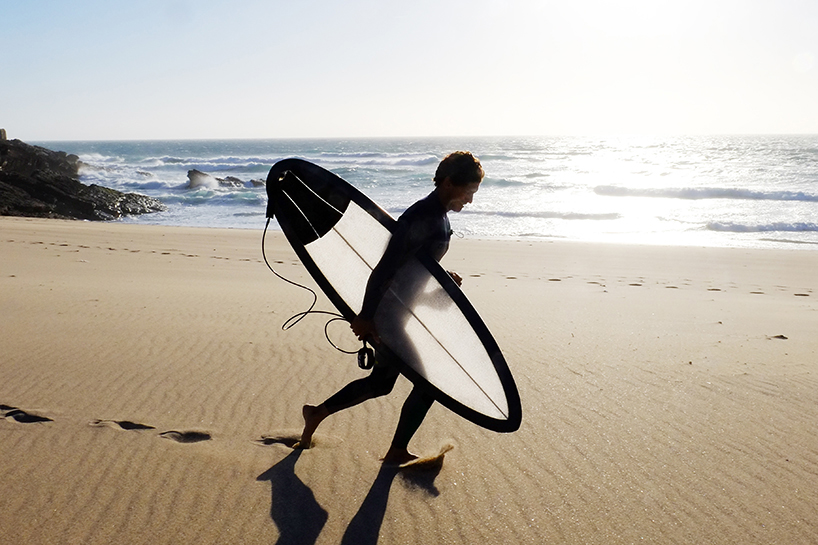 image courtesy of manuel chichorro
after an extensive research looking at alternative solutions for the construction of surfboards, manuel chichorro worked alongside koroyd — a product engineering company that introduced a plastic extruded material with high resistance to compression and great flexibility. thehiveboard is a durable product made out of a non soaking polymer that allows the user to fix the board when broken, with no damage to its core. in other words, the surfboard can easily be drained and glassed again.
read more about the project on designboom here.
UNIDENTIFIED FLOATING OBJECT BY JET CAPSULE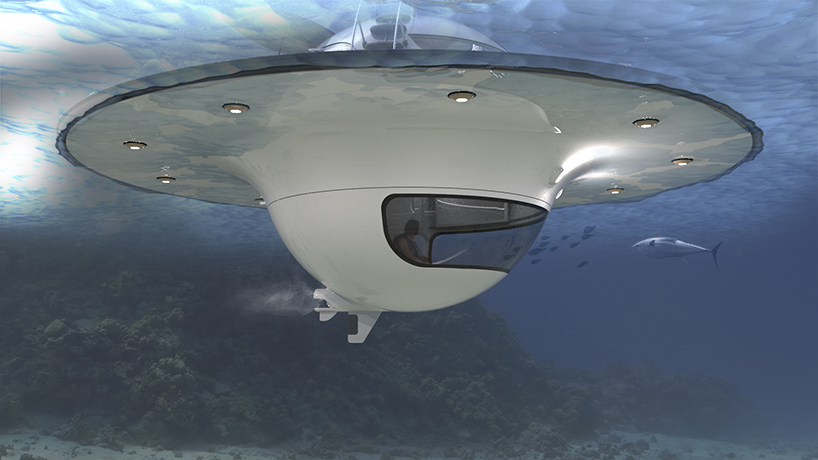 image courtesy of jet capsule
in 2016, italian water transportation company jet capsule unveiled the 'UFO', their latest seafaring concept. standing for unidentified floating object, the saucer-like unit is an energy autonomous vessel capable of estimated speeds of up to three knots (3.5mph). 'UFO' measures 12.5 meters in diameter, and uses various systems to take advantage of all natural elements. the floating object includes two habitable areas — other than the outer deck. a main level area houses the kitchen, and a floor access point connects to a sub-level bathroom and underwater viewing area.
read more about the project on designboom here.
DANCER BUS BY JSC 'VĖJO PROJEKTAI'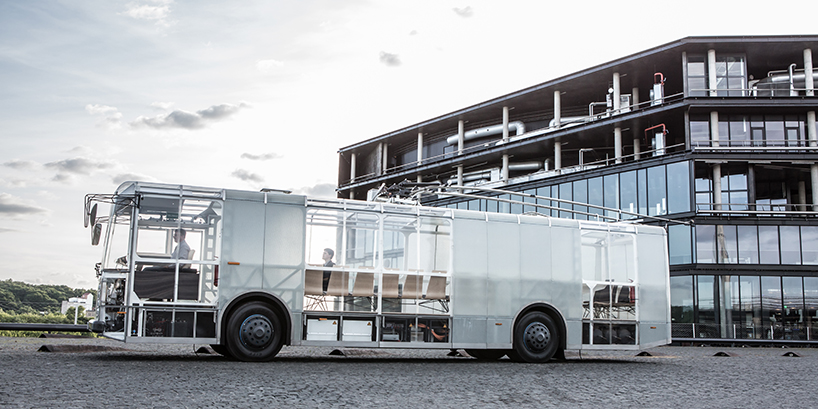 image courtesy of dancer bus / © eglė ščerbinskaitė
'dancer bus' is a project by JSC 'vėjo projektai' that aims to create a new generation of city buses. it is a visionary approach to the automotive industry that seeks to integrate into the public transportation sphere the original concepts used in bus design with new technological materials and wind power usage. 'dancer's' intention is to make public transportation an integral part of lithuanian cities. with this proposal, the creators mix technology, art, industry and society in order to improve the urban environment.
read more about the project on designboom here.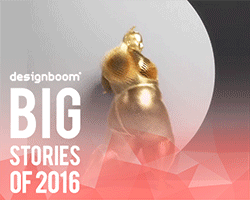 dec 22, 2016
dec 22, 2016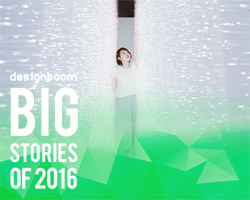 dec 22, 2016
dec 22, 2016
dec 21, 2016
dec 21, 2016
dec 20, 2016
dec 20, 2016
dec 19, 2016
dec 19, 2016
dec 19, 2016
dec 19, 2016
a diverse digital database that acts as a valuable guide in gaining insight and information about a product directly from the manufacturer, and serves as a rich reference point in developing a project or scheme.