empowering change through design
Over the last year, the world has seen the highs, lows and in-betweens of pressing social, political and environmental changes that pervade our societies. While the impacts of global issues such as climate change, protests for human rights, war and political instability, and the migrant worker crisis have been at the forefront, we have seen design communities rise to empower those affected and urge us towards building a more just world. Through designboom's readers portal, in 2022 we received thousands of projects that are dedicated to raising awareness of such issues, aiming to inspire change across the world.
From architects cultivating equal accessibility to education in underprivileged communities, to fashion designers posing social commentary on the USA's alarming amount of firearm fatalities through bulletproof loungewear, we highlight some of the most thought-provoking stories dedicated to social impact with our roundup of TOP 10 readers submissions of the year.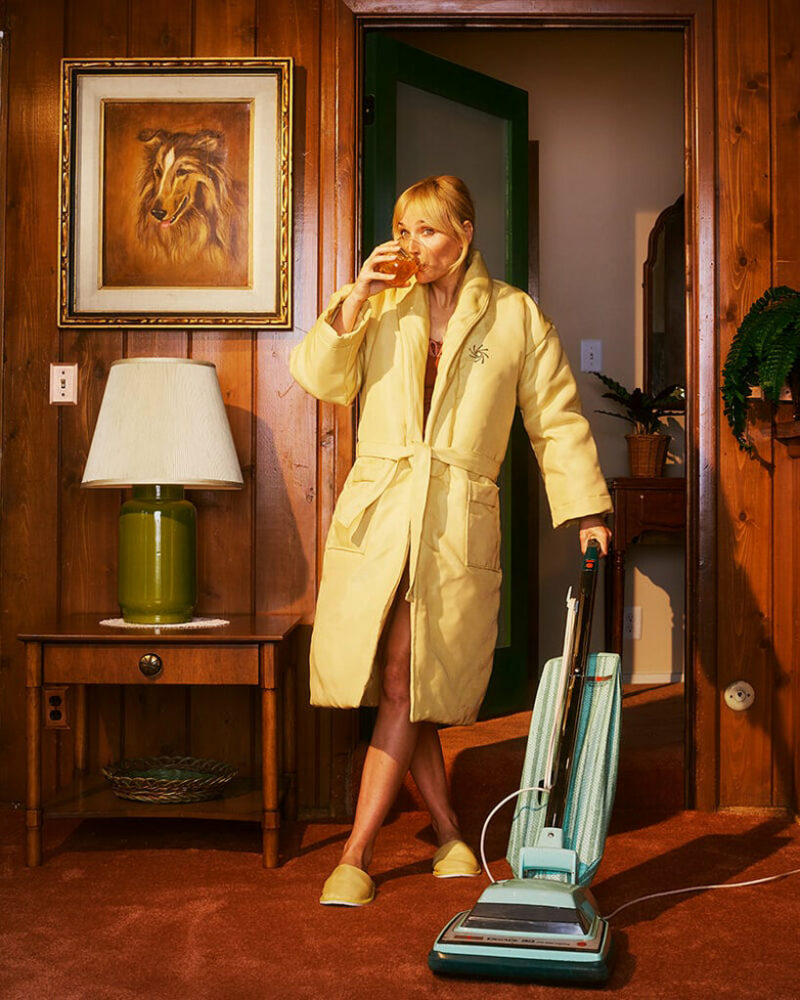 image © David López Osuna
Designer duo Tian Wang and Teague Miller have launched 'Kickback,' a full, upcoming line of bullet-resistant loungewear and amenities inspired by the United States' 100+ daily firearm fatalities. Hand-crafted from heavy duty kevlar, the 'Kickback' bathrobes are lined with bulletproof body plates, offering the protection and peace of mind needed in a country rocked by shootings anywhere and anytime. Meanwhile, the team created color and material-coordinating slippers that 'all but guarantee your feet and toes stay fashionably safe from self-inflicted incidents.'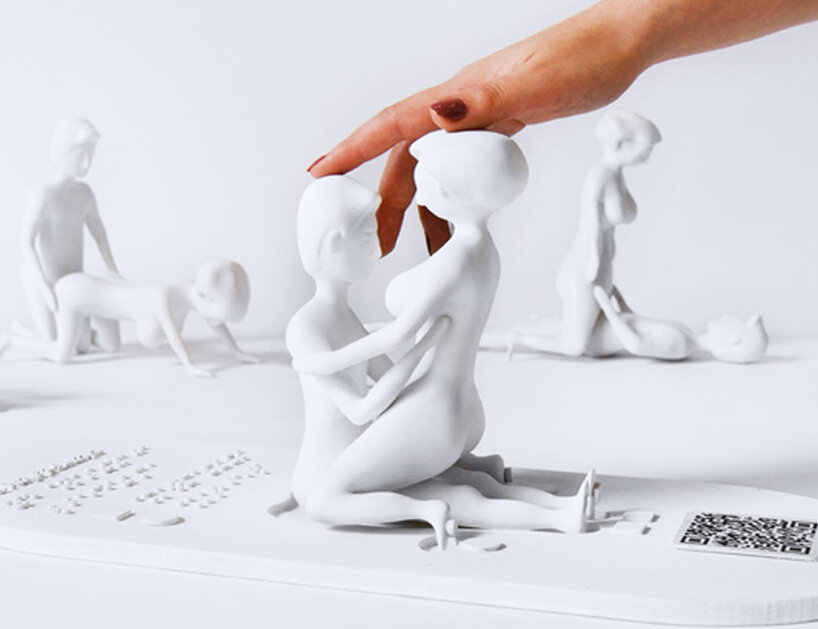 image © Karolina Kruszewska
'Pose' is an educational sex set for the blind created by Polish designer Karolina Kruszewska in collaboration with sex educator Dr. Dagną Kocur. Developed as part of Kruszewska's master's thesis at the Academy of Fine Arts in Katowice, the project offers extensive knowledge about sex positions and identifying anatomical features to help guide the visually impaired in intimate acts. This information is released as 13 audio films on YouTube and 3D-printed figurines depicting the five basic sex positions.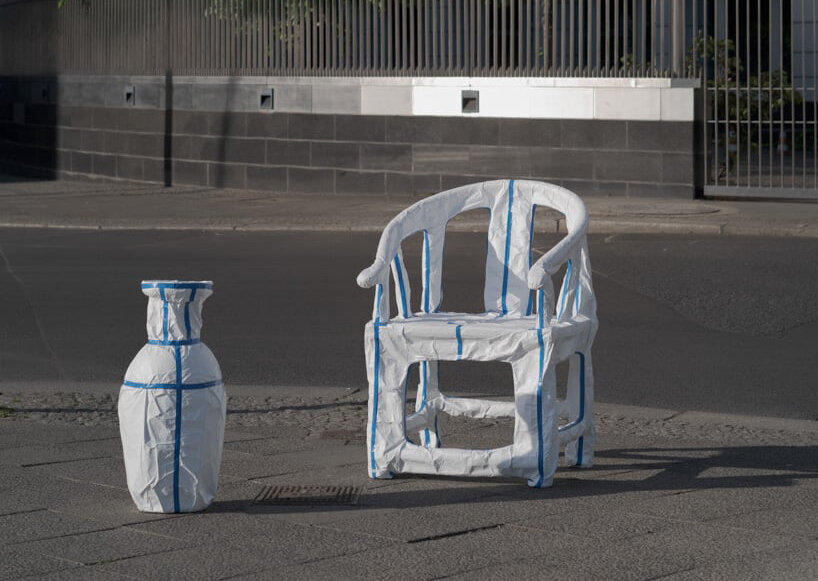 image © Joshua Jara
'Homesick' by design studio YUUE is a social commentary on China's extreme Covid-19 prevention strategies that led to an unnecessary humanitarian crisis, depriving citizens of their freedom. Since the outbreak, progressive antivirus measures known as the 'Zero-Covid Policy' have swept the whole country and invaded everyone's life: the ubiquitous use of health codes, exhaustive contact tracing, shutting down of borders, forced testing and quarantine, locking down cities and fencing up resident buildings.'Antivirus campaigns like these not only deprive citizens of freedom but also completely isolate the country from the rest of the world, leaving itself unrecognizable,' states the studio.
Responding to the dire situation, Weng Xinyu, founder of YUUE, has repurposed the white hazmat suit with blue ribbons using a chair and a vase — creating a vivid metaphor that silently comments on the country's absurd reality in the form of design.
In 2014, WEEK Architecture proposed a memorial monument dedicated to the migrant workers who have lost their lives while constructing Qatar's stadiums for the anticipated 2022 FIFA World Cup. The conceptual Qatar World Cup Memorial takes shape as an evolving, twisting megatall skyscraper composed of stacked concrete modules. Based on four modules per floor and two staircases per module, the project has a multitude of possible routes. Each of the blocks represents an individual deceased worker, and as the casualties increase, so does the height of the tower.
Today, just a few days before the World Cup is set to kick off and all work is complete, the tower stands at a soaring height of 4.4 km, commemorating 6,751 fallen laborers. The final height, and its corresponding death toll, is in fact three times more than predicted by the architects at the time of the project's conception.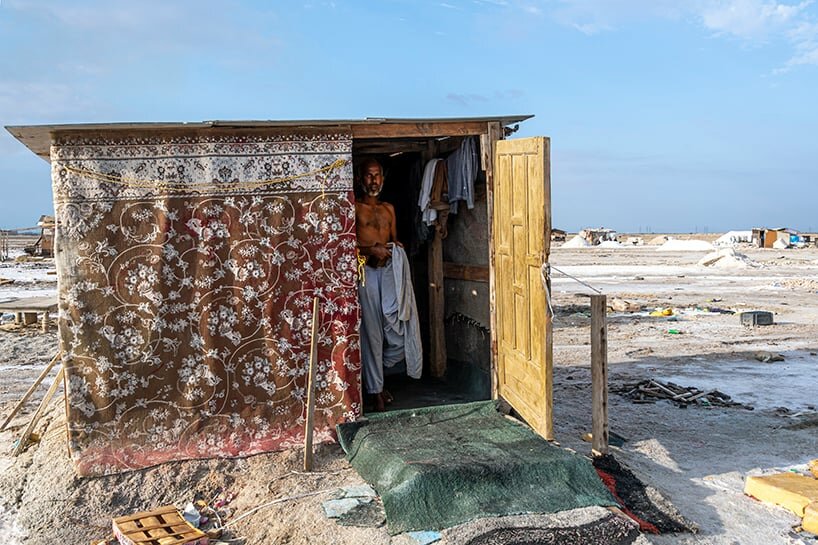 image © Aljohara Jeje
Jeddah-based photographer Aljohara Jeje captures primitive homes produced by illiterate sea salt harvesters in a Saudi Arabian village. Titled 'a Room with Seaview', the series is one of five shortlisted entries for the 2022 edition of the Archifoto competition exploring the theme of 'Architecture and Resources.' Through spotlighting this architecture, the photographs reflect a distinct culture while posing a cynical commentary on the geopolitical challenges of climate change, difficulties of immigrant labor, and methods of building with scarce materials. As such, the structures of 'a Room with Seaview' are made using recycled waste, construction products, and driftwood in unique compositions, expressing the sensibilities of their designers and resourceful innovation.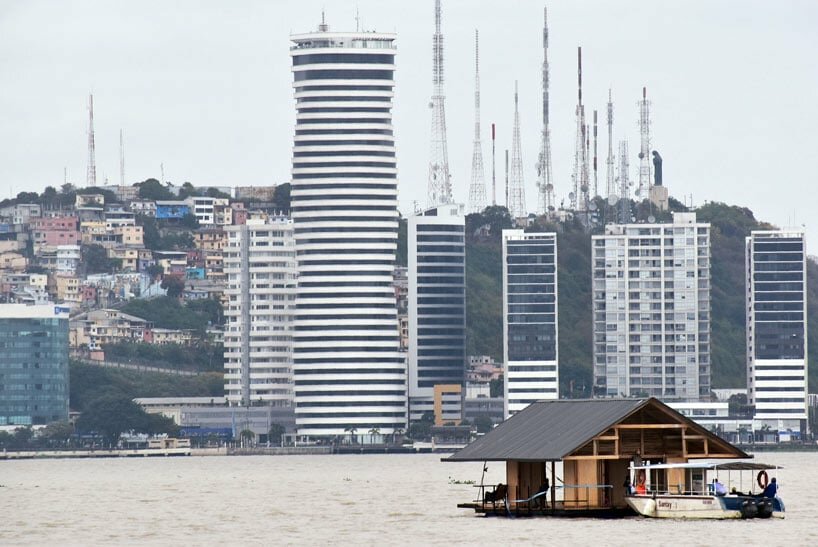 image © José Escandón, Juan Terreros, Jhonatan Andrade
Floating along the Guayas River and Santay Island in Ecuador, Natura Futura Arquitectura and Juan Carlos Bamba's 'Santay Observatory' is a breathable floating wooden platform that aims to become a cultural and educational hub for its community. The architects used the traditional artisanal construction technique implemented in rafts of Babahoyo, which is recognized by the National Institute of Cultural Heritage as a heritage asset of Ecuador.
The multifunctional floating platform is capable of adapting to various activities through folding doors made of prefabricated balsa wood panels that connect the interior space with an exterior gallery that looks towards the Guayas River and Santay Island. The wooden trusses constitute the structure of the gable roof that, in addition to generating habitable niches, provides sufficient height to generate ventilation and natural lighting from its permeable limits. Finally, wooden boards are used for the floor and the ceiling that extends outside the habitable limit to generate protection from the sun and rain.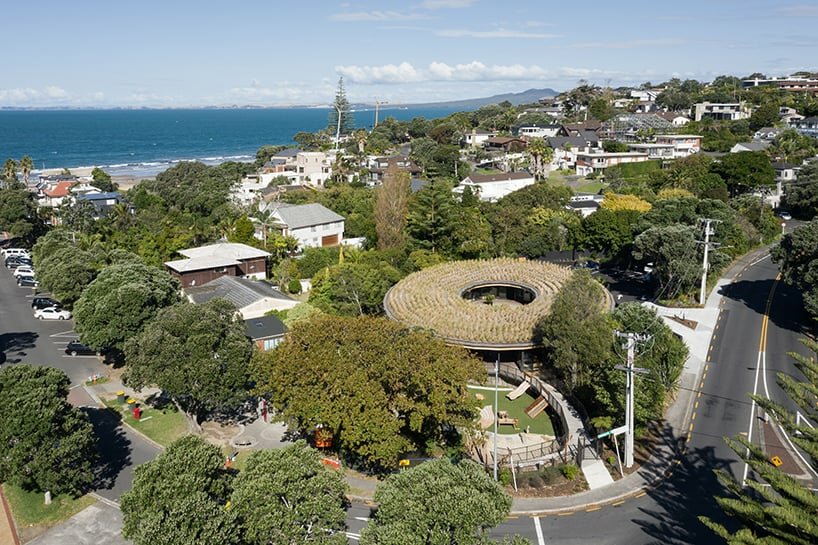 image © Mark Scowen
'Kakapo Creek' is an early learning center for up to 100 children in the heart of Mairangi Bay, Auckland, New Zealand. Led by Smith Architects, the project is founded on the Maorian concept of Nga Hau E Wha, the four winds symbolizing a meeting place for people from all backgrounds. CASA translated that notion into a circular building, punctured at the center to host an open-air playground with four primary classrooms organized around it. As with every other project, the practice pairs sustainability and wellbeing princples with architectural exploration to achieve holistic integrity.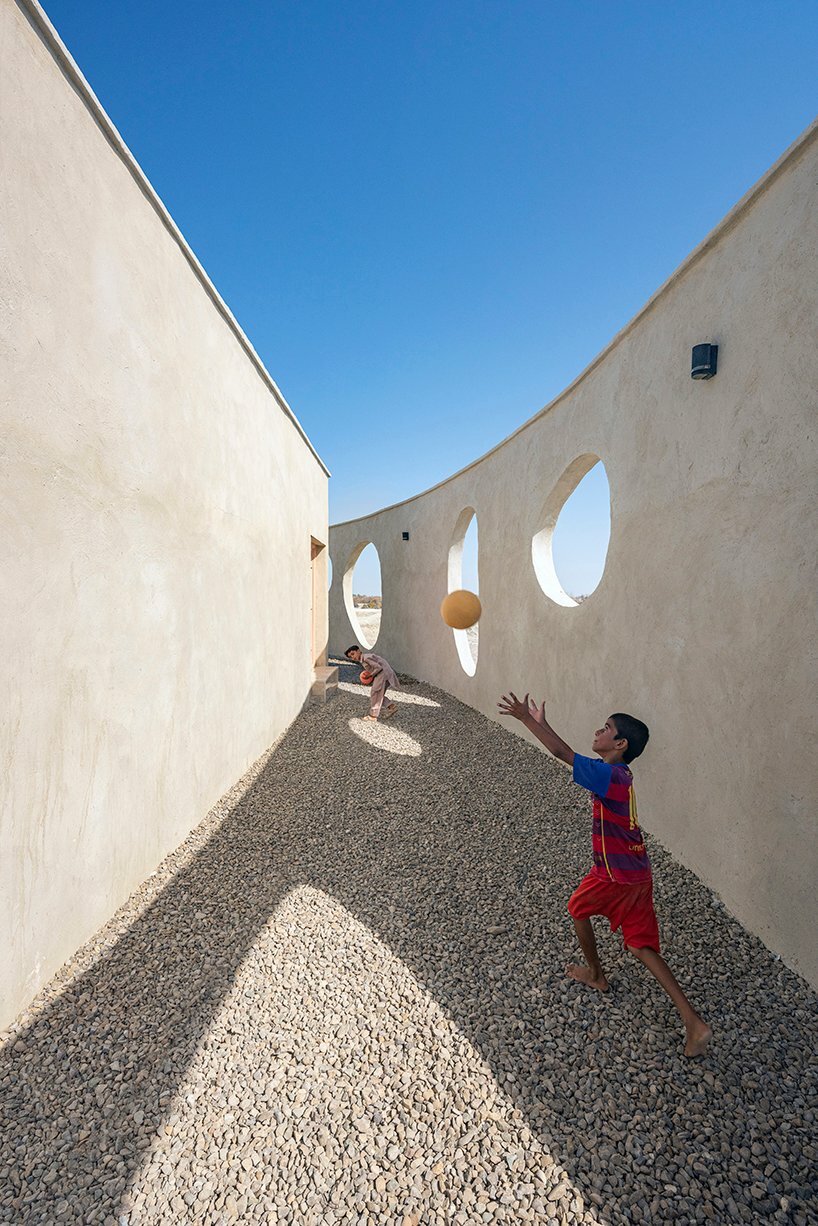 image © deed studio
Daaz Office has completed an elementary school with a circular arrangement for Seyed-Bar village in Iran. the project was commissioned by Iran-E Man, an NGO that constructs schools in disadvantaged areas of the country. The new single-story building is composed of seven volumes arrayed around a large central courtyard. The design also features a round periphery wall with random openings for children and villagers to enter and inhabit.
The depopulation of rural areas in Japan is progressing rapidly. Coupled with its super-ageing society, the country sees many of its marginal villages being left behind. After witnessing such a bleak reality, designer Takuto Ohta launched 'Common Neglect Material (CNM)', a project focused on repurposing disused objects found in vacant towns into unique public furniture, like chairs. 'I realized that it was necessary to actively cut through the emptiness and graft new ideas and values, such as illuminating places where the light was not intentionally directed,' he says.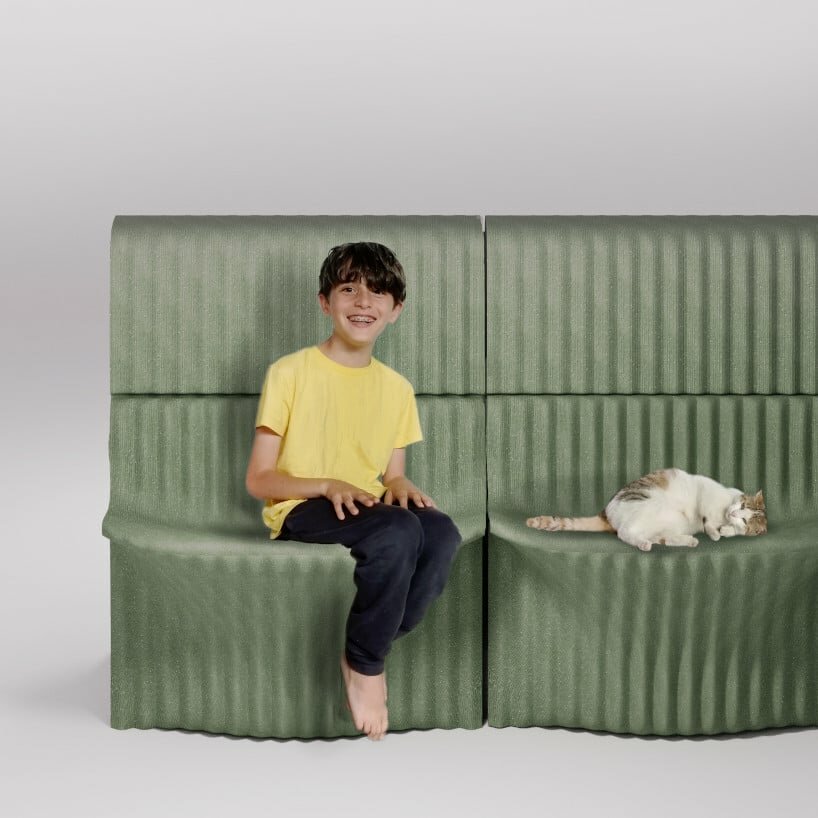 image © R3direct
'U.S.E. — Urban Safety Everyday' is an experimental furniture piece placed in the Italian town of Lucca on March 2022. Conceptualized by architect Giulia del Grande and produced by Studio R3direct, the 3D-printed design is made almost entirely from recycled plastic. It serves as a sort of 'second skin' for new jersey barriers, transforming them into pleasant and user-friendly objects in the city. Ultimately, the green installation is envisioned to become part of everyday life in Lucca while promoting eco-conscious design.
see designboom's TOP 10 stories archive:
a diverse digital database that acts as a valuable guide in gaining insight and information about a product directly from the manufacturer, and serves as a rich reference point in developing a project or scheme.
designboom will always be there for you
milan, new york, beijing, tokyo

,
since 1999