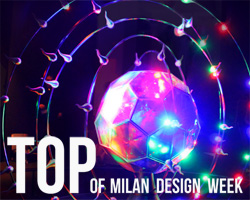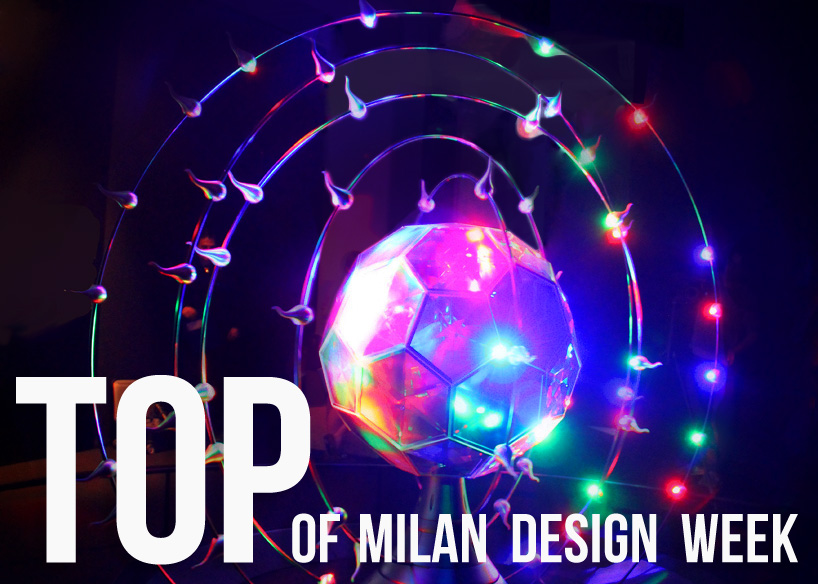 apr 15, 2014
TOP of milan design week 2014

TOP of milan design week 2014
(above) fabio novembre's 'we dance' sculpture for the LEXUS DESIGN AMAZING exhibition

'diatom' chairs hot off the press, design by ross lovegrove for moroso

the seating object is developed through pressed hydroforming in which a die-cast aluminium sheet is pressed into a three-dimensional shape – a marvel of structure devised from exploring the rules of mathematics that dictate the vegetative development of living organisms.

the emeco SU stool collection by nendo utilizes reclaimed oak from old barns and have been carved by amish craftsmen in pennsylvania. the furniture range features precise engineering and is made of reclaimed and recycled materials discovered through ongoing exploration of eco-conscious resources.
image © designboom

oki sato of nendo is posing among the stools. the concrete seats are made of green-concrete, an eco-concept that can replace the energy-consuming traditional material used in architecture; the seat consists of 50% recycled glass bottles and csa (calcium sulfoaluminate cement).
image © designboom
'cloud' by richard hutten for kvadrat, a chair made from layered kvadrat felt
image © designboom

the 'landi' chair, a swiss icon designed in 1938 by hans coray, is now being produced by VITRA
image © designboom

the first series of furniture pieces of belgian designer maarten van severen for lensvelt. the pieces of the collection are shown in a 3D environment designed by OMA architects.
image by j.w kaldenbach

OMA created a deceiving scenery where photography and graphics alternate – a decor that makes the visitor feel like walking in the former studio of maarten van severen (who died in 2005).
images by j.w kaldenbach

ingo maurer shows whimsical table lamps which are a nod to mickey mouse and disney.
image © designboom / adriano mauri

'mickey', the limited edition lamps have bulbs topped with disney-like mouse ears and come in lacquered black, white or plain brass.
image © designboom / adriano mauri

'melathron', pure structural engineering applied to lamp design by michele de lucchi for artemide. vertically connected by means of steel sheets.

there is no light bulb visible. the aluminium rings bear the side-emission strip LEDs.
image © designboom

baccarat, the epitome of french art de vivre, selected the church of san carpoforo to celebrate '250 years of light'. guests were immersed in different universes especially crafted to sublimate the crystal pieces.
image © designboom / adriano mauri

the exhibition highlighted the opulence of baccarat's crystals, within the austere character of the primitive stone backdrop of  the church.
image © designboom / adriano mauri

'alice' by petra krausova for lasvit. glass, as in nature, is organic and unpredictable, where each leaf and tree is unique. 'alice' (in wonderland) is a kinetic bloom, its traces to flowers equally fragile, original and unique.
also see 'frozen' lamp by maxim velčovský.


movement of 'alice' for lasvit, petra krausova's kinetic sculpture chandelier.
gif animation © designboom

konstantin grcic experiments with LAUFEN saphirkeramik
image © designboom

LAUFEN installation by konstantin grcic
image © designboom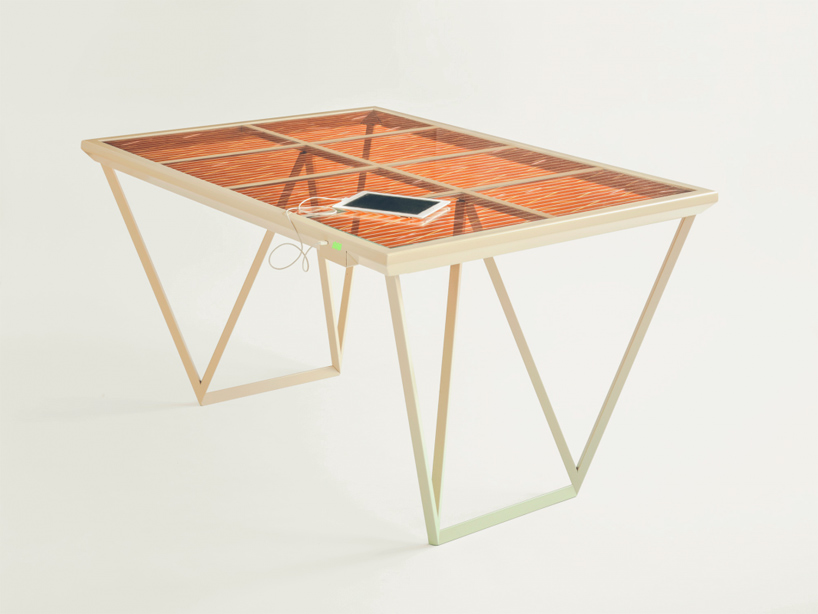 'current table' by marjan vanaubel is a piece of furniture that also functions as a source of energy. it gathers and harvests energy from daylight to charge your appliances, all within one room.
 
while you read a book or write emails, you can use your table to charge your appliances. the glass table surface contains a dye sensitized solar cell. based on photosynthesis it uses the properties of color to create an electrical current.

max lamb's room installation with his new terazzo (marble-in-resin) furniture collection for dzek, launched by the former phillips de pury retail director brent dzekciorius

marmoreal – engineered marble by max lamb for dzek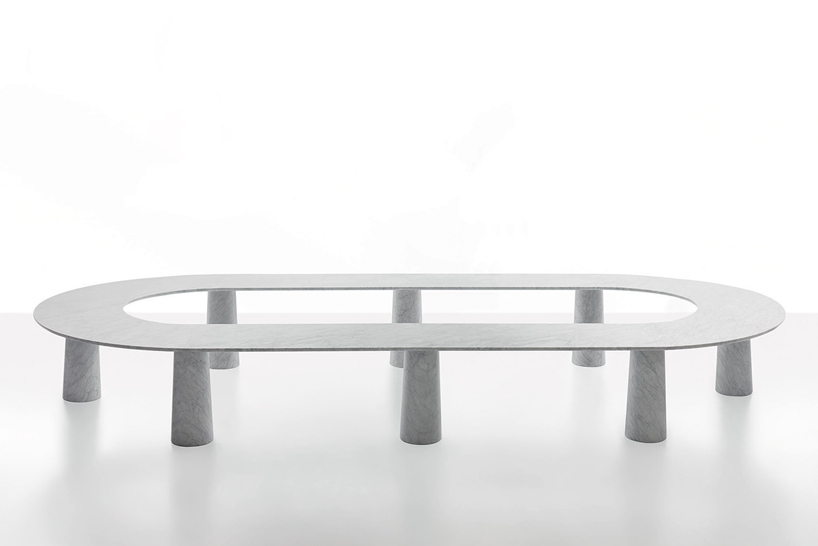 'arena' by jasper morrison. we've noticed a fundamental shift towards solid and lasting materials and the trend IS for marble. marsotto had once again a nice collection of home accessories…

… and at fornasetti nigel coates new modular sofas are upholstered with a malachite marble print textile.
image © designboom

jun murakoshi exhibited thread bowls 'bloom' at ventura lambrate venue

traditional japanese craft informs jo nagasaka's furniture for ichiro at spazio rossana orlandi
 
jo nagasaka employs 'take kago' – the use of bamboo in the the context of weaving; and 'shibari' – the means of tying something with string, in their conceptual form and aesthetic.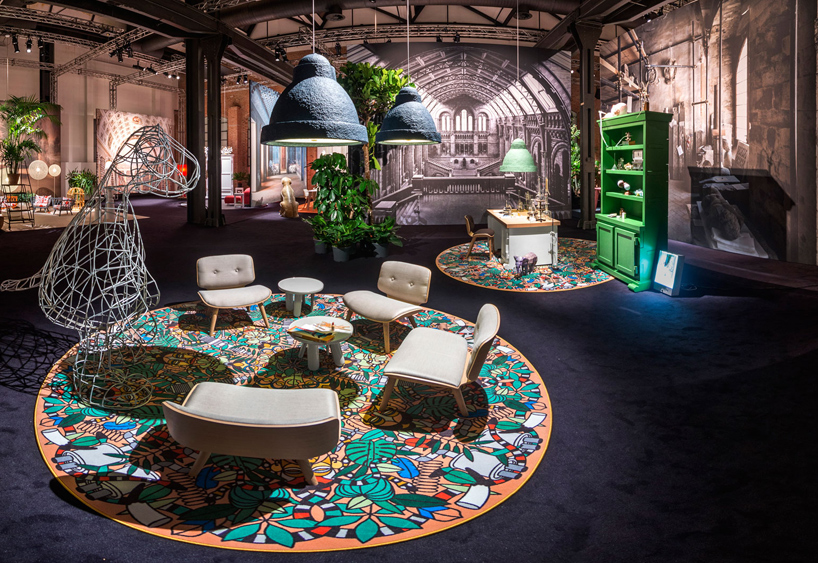 while dutch photographer erwin olaf's giant images provided the backdrop to moooi's 2013 milan exhibition 'unexpected welcome', this year the architectural imagery of italian photographer massimo listri adds a sense of grandeur and history to the event.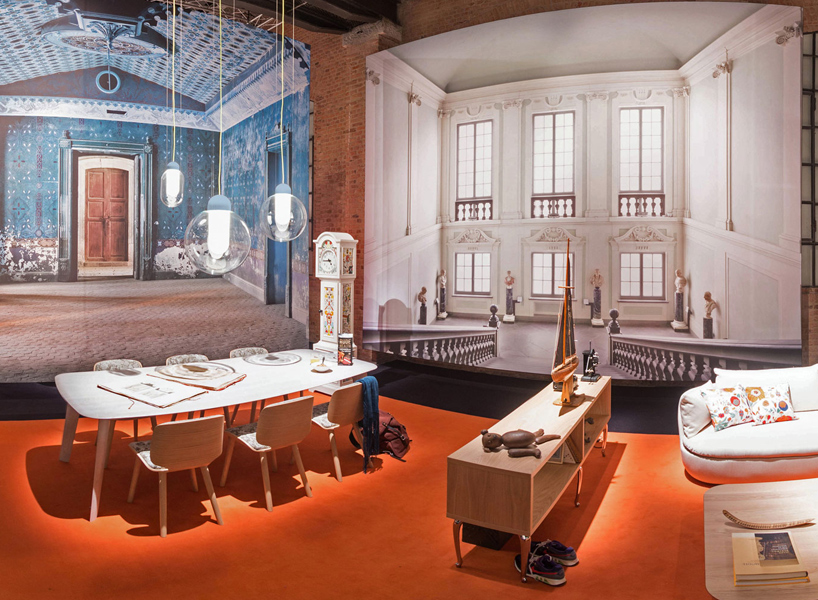 see the full collection of 2014  backdrops.

suspended 'wood land' installation by sou fujimoto for cassina's fairground presentation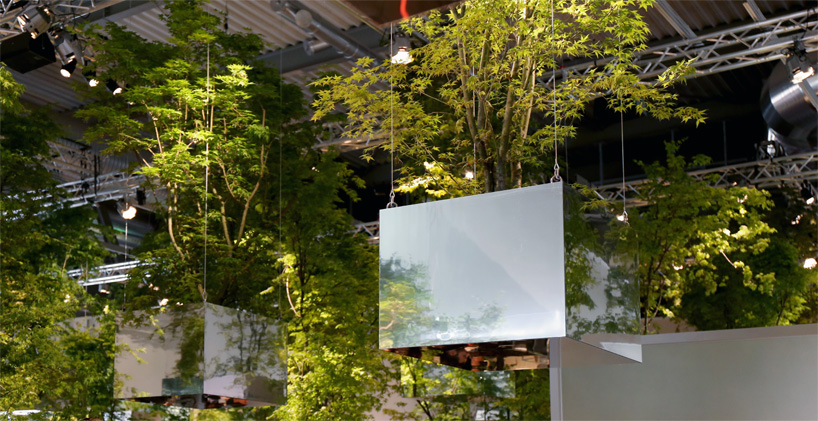 mirrored planters support the trees which are suspended from the ceiling
image © designboom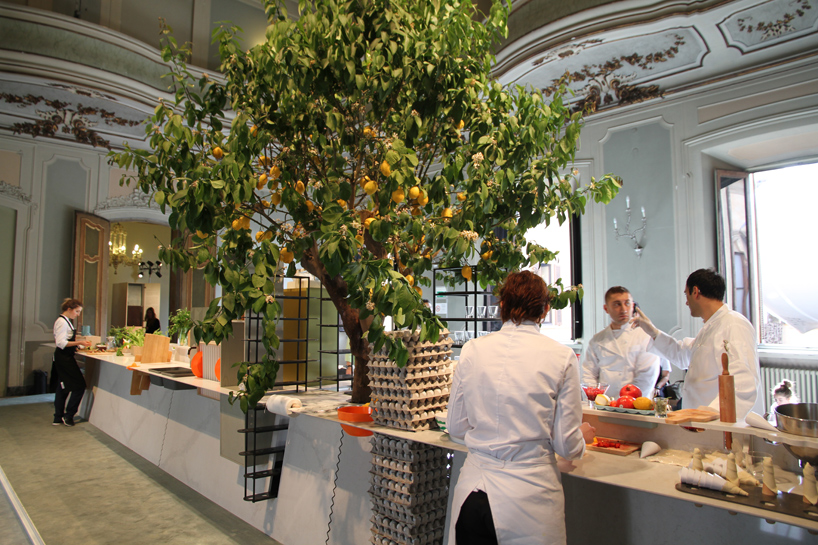 caesarstone is an engineered quartz stone ideal for virtually any interior surface including kitchen worktops and much more. caesarstone islands is a new kitchen concept – focusing on the celebration of food preparation.
image © designboom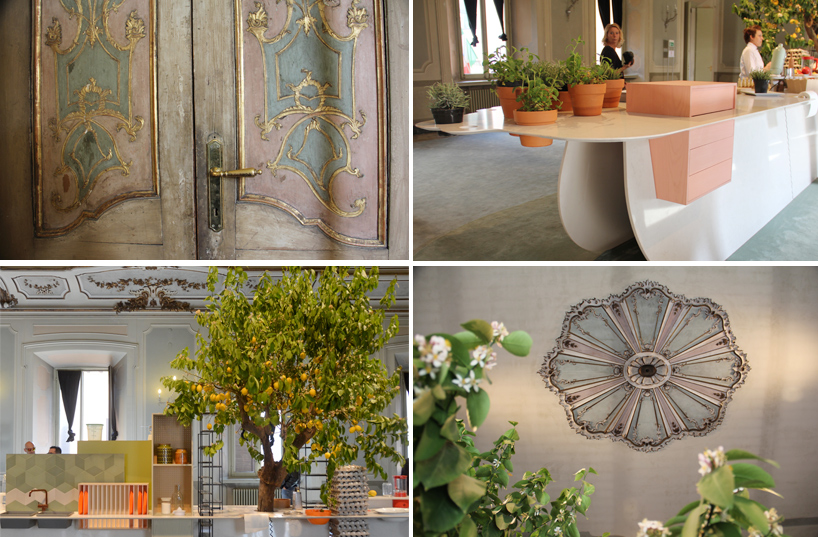 at palazzo clerici the company presented 'islands' by raw-edges design studio, an interactive installation focusing on food and dining within the domestic environment.
images © designboom

after antonio citterio, enzo mari and shigeru ban, this year during milan design week, hermès presented their latest collection 'nécessaire d'hermès' designed by philippe nigro.
image © designboom

inside the spectacular late 18th-century palazzo serbelloni. the fourth edition of their 'hermès en lumière' includes also lighting for the first time, designed by michele de lucchi.
images © designboom


'animal house' by marni, the collection of furniture and sculptural pieces are a continuation of the fashion brand's charitable initiatives, which they have collaborated with a group of colombian women to realize the handmade designs which are made from metal frameworks, each one unique, tailored by brightly colored PVC.
image © designboom

marni's 2014 project was entirely handcrafted by women in the south american country who gained independence and emancipation through their work.
image © designboom

jacopo foggini methacrilate chandelier installation at rossana orlandi's 'UNTOLD' exhibition, commissioned for vionnet's creative director goga ashkenazi, inside the bagatti valsecchi museum.
image © designboom

nao tamura (installation design) / aya nishina (sound design) / takeshi miyakawa (design engineering) installation at LEXUS DESIGN AMAZING exhibition. the individual elements move in response to the natural flow of air as visitors move through the space. light and shadow shift constantly as the elements move.
image © designboom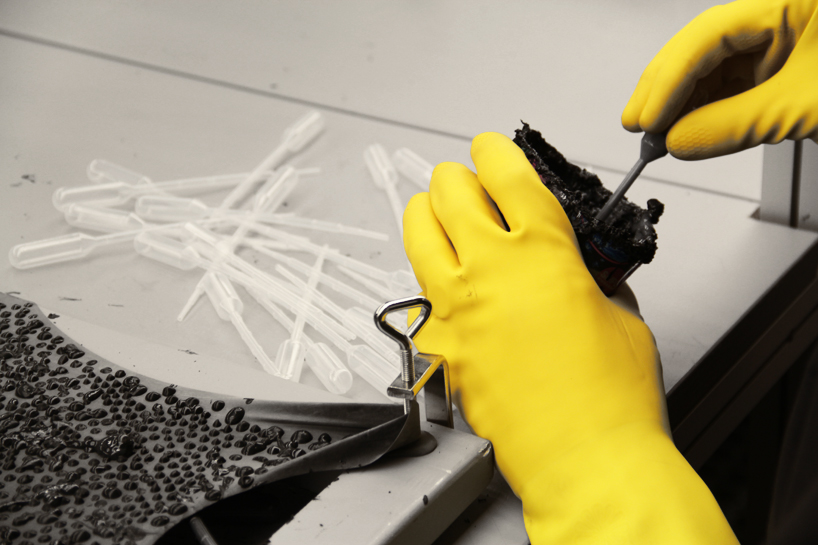 material manipulator bart hess presented 'work with me people' happening. the innovative format of the project offers insight into the production process of the couture textiles by hess and invites visitors to take part in making them.
image © designboom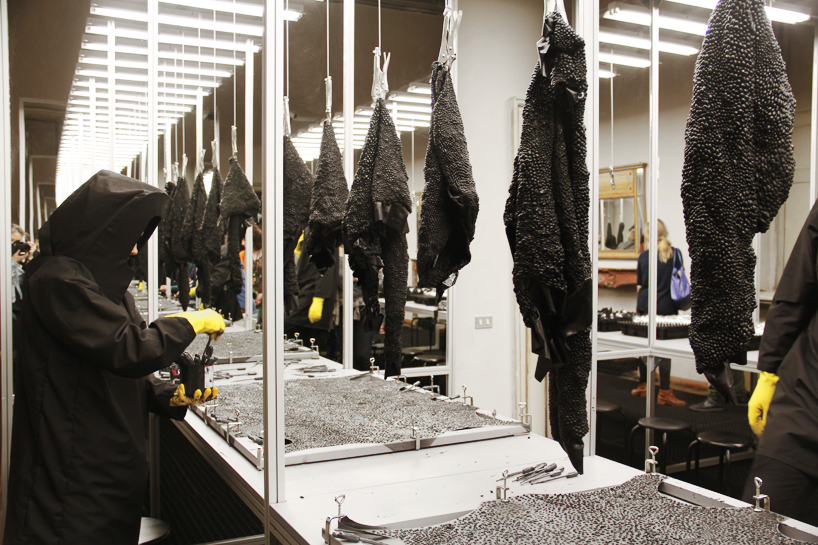 his projects have an unworldly, futuristic appearance owing to the use of materials that are actually not intended for clothing.
image © designboom
… and among the young talents on show at at the salone satellite, we loved:

italian upcoming design studio dossofiorito magnifies their love for plants with the phytophiler.
the 'phytophiler' is composed of hand-thrown terracotta pots that are polished with natural beeswax, accompanied by a variety of attachments in stainless steel and birch plywood that determine the movement and growth of vegetation.

water droplets move independently throughout the semi-sphere, both collecting in shallow pools and rapidly dispersing, forming delicate patterns and interpretive geometries. the installation by tokyo-based studio kappes is controlled by a hidden computer, which manipulates the pumping speed, pressure and undulation of the water-repellent material's surface. as water is sucked from a small embedded aperture on the pure white bowl, it circulates through a filter to be funnelled around the circular plane, and repeats automatically as the technological system redirects.

'bamboo forest' furniture by shikai tseng of poetic lab
poetic lab cultivated a 'bamboo forest' of furniture. the london-based studio has utilized the beauty of the wood to inform the collection of eight objects, which consist of coffee tables, a rectangular and a round dining table, shelving system and two pendant lights. see more about the project on designboom here.
sep 07, 2014
sep 07, 2014
aug 20, 2014
aug 20, 2014
jul 25, 2014
jul 25, 2014