we're building up to milan design week 2019 — the week in the calendar where the design world converges on the italian city. milan design week brings together 2,000-plus exhibitors from more than 165 countries, taking over the trendsetting city with a plethora of must-sees and not-to-be-misseds, setting design lovers the impossible task of seeing it all. curious about this year's highlights? designboom's insider guide rounds up the TOP events to satisfy your planning needs in the run up to the most exciting design event of the year.
this year, we will host the third edition of THE DESIGN PRIZE, the award recognizing design excellence on a global scale, and will announce the winner of the annual LEXUS DESIGN AWARD, co-organized by designboom.
keep an eye out, we will be updating this guide as we receive the latest news.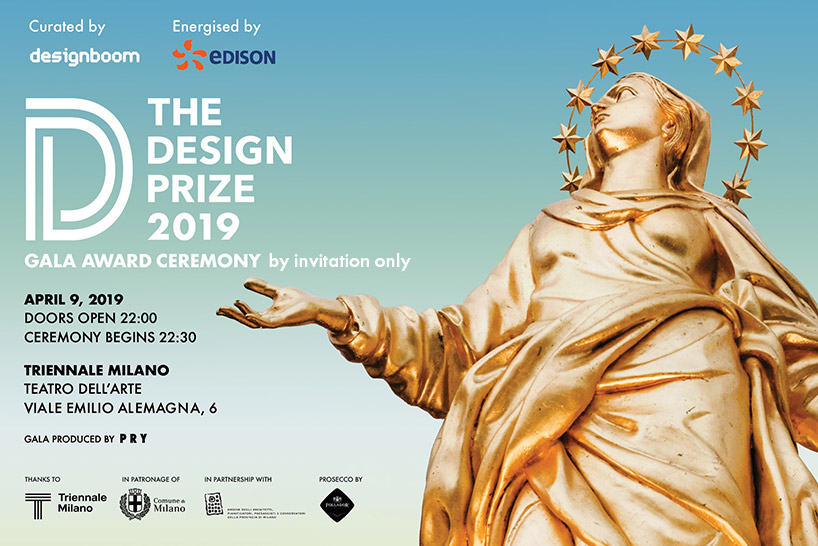 what: THE DESIGN PRIZE 2019
when: april 9 — doors open at 10PM, ceremony begins at 10:30PM *by invitation only
where: triennale milano, teatro dell'arte, viale emilio alemagna, 6
THE DESIGN PRIZE has become an institution of the city of milan. the third edition of the international award celebrating design excellence inaugurates milan design week 2019. the unique program, curated by designboom, recognizes both the extraordinary achievements and little sparks of beauty and delight that have emerged over the past 12 months. on april 9th, 2019, the award ceremony will be hosted at triennale milano, in partnership with the order of architects and under the patronage of the municipality of milan. the highly-anticipated event cements its status as a democratic, free and participatory design award, which calls on the international creative community for nominations. the evening will see the winners — including the result of the public voting in the 'social impact' category — presented with the iconic golden madonnina award — a ceramic statuette that has been designed for the occasion by antonio aricò. THE DESIGN PRIZE gala is produced by PRY. read more on designboom here.
SONY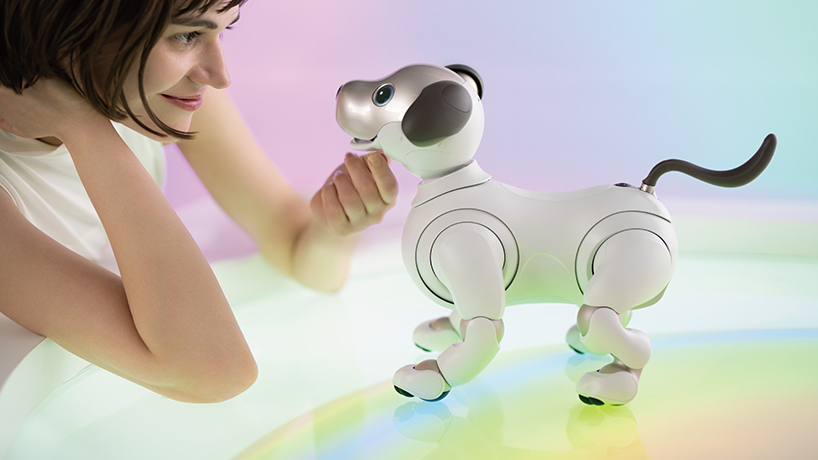 what: affinity in autonomy: a positive future with artificial intelligence
when: april 9 – 13, 10AM-8PM / april 14, 10AM-4PM
where: spazio zegna, via savona 56/A
'when robots have evolved so far that we feel like they're alive, then humans will begin to feel an affinity towards them,' says SONY. at milan design week 2019, the technology brand's immersive exhibition enables visitors to experience and interact with robotics. titled 'affinity in autonomy', it explores and proposes how technology can enrich our lifestyle by creating emotional bonds between ourselves and robotics. since setting up their own in-house creative studio in 1961, sony's designers have sought to do what has never been done before. they fill the world with emotion through the power of creativity and technology, transforming functional values into experiences with their products and services. as part of their 'perceptual experience project', these innovations enable entertainment and creates an enriched lifestyle for a new tomorrow. an emphasis is always placed not only on convenience, but also sensitivity and emotion – all of which is felt in their 'affinity in autonomy' exhibition.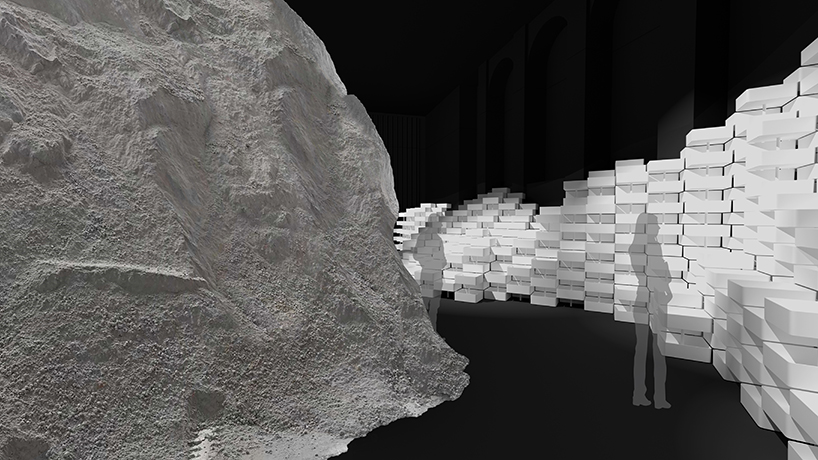 what: 'materialmessage' installation
when: april 9-13, 11AM-8PM / april 14, 11AM-5PM
where: teatro arsenale, via cesare correnti, 11

during milan design week 2019, snarkitecture will narrate the world of LAUFEN with a special installation of juxtaposition. titled 'materialmessage', the design takes visitors through the brand's 127 years of history and then onward towards the future. this will be with a focus on using the materials from the industrial ceramic production and connecting the experience with two precise points: the original (the material) and the arrival point (the finished product). read more on designboom here.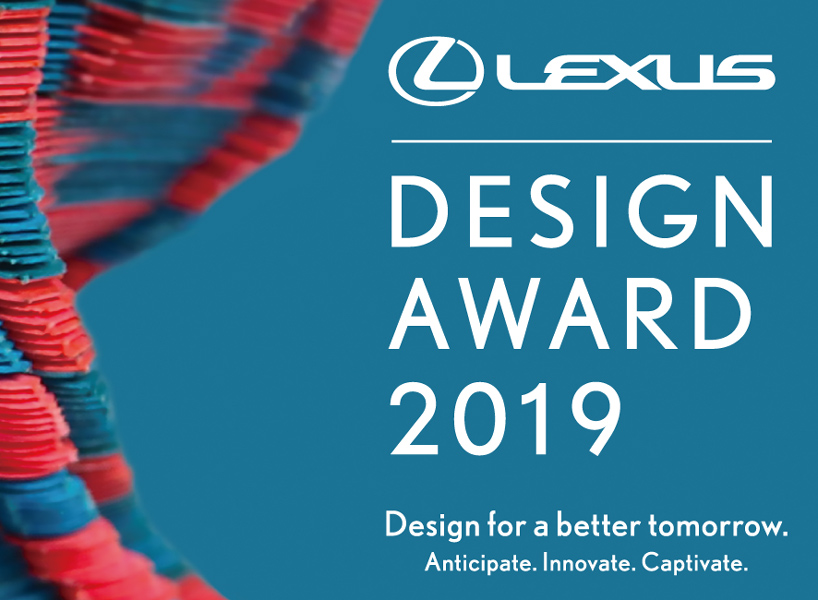 what: LEXUS DESIGN AWARD 2019
when: april 9-13, 10AM-9PM / april 14, 10AM-6PM
where: superstudio più (art point), via tortona, 27
for the seventh year in a row, designboom collaborates with LEXUS to present the LEXUS DESIGN AWARD 2019, an international design competition that targets up-and-coming creators from around the world. LEXUS created the LEXUS DESIGN AWARD to foster the growth of ideas that contribute to society by supporting designers and creators whose works can help to shape a better future. it provides a unique opportunity for six finalists to work with globally recognized designers as mentors to create prototypes of their designs, and then exhibit them at one of the design calendar's most important events — milan design week. read more on designboom here.
POLESTAR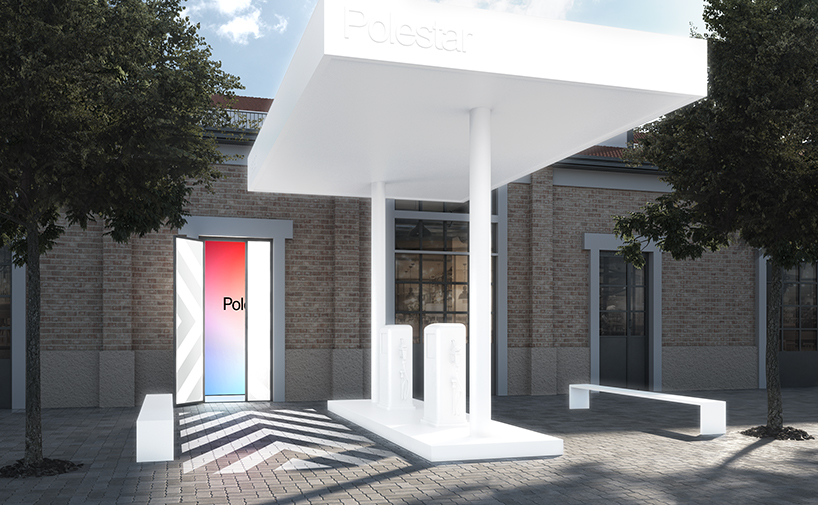 what: 'into the light' installation
when: april 9 – 14, 10AM-9PM
where: OPIFICIO 31, via tortona, 31

since starting its journey in 2017, the progressive and design-driven electric car brand polestar has not only been conceptualizing but also realizing a stimulating, pure and more beneficial future for mobility. they first introduced the electric hybrid polestar 1 in 2017 and then the all-electric polestar 2 in february 2019 at an online event – a signal for what to expect from all their models in the future. from electrification to design and even user and consumer experience, they think differently to the traditional conventions of automobile manufacturers not just to standout, but also in order to better the world one journey at a time. this uncompromising dedication to design has led to polestar showcasing at milan design week 2019.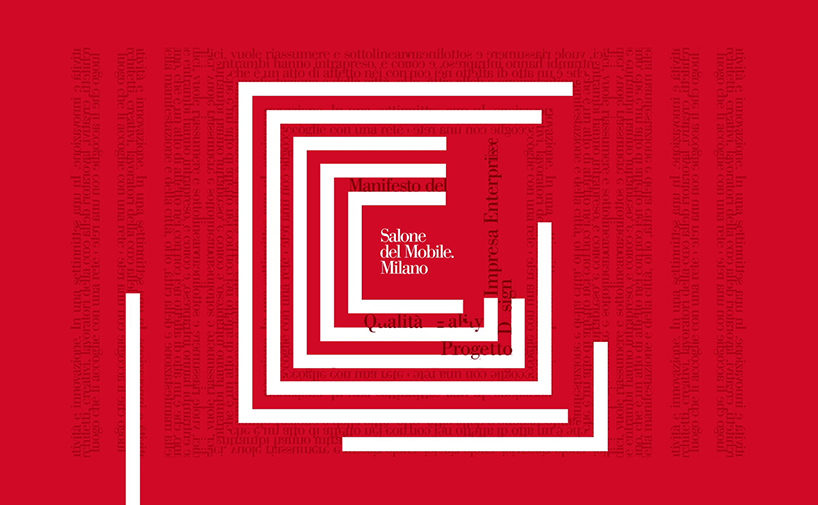 what: salone del mobile
when: april 9-14, 9:30AM – 6:30PM
where: milan fairgrounds, rho (milan)
salone del mobile.milano will bring more than 2000 exhibitors occupying over 10,000 square meters, showcasing the best the world of furnishing accessories has to offer in terms of typology – accessories, objects, ornaments and decorations, fabrics – and style – from classical to design. the over 300,000 visitors who flock to it each year will find the exhibition packed with everything that helps to bring character and originality to the domestic spaces.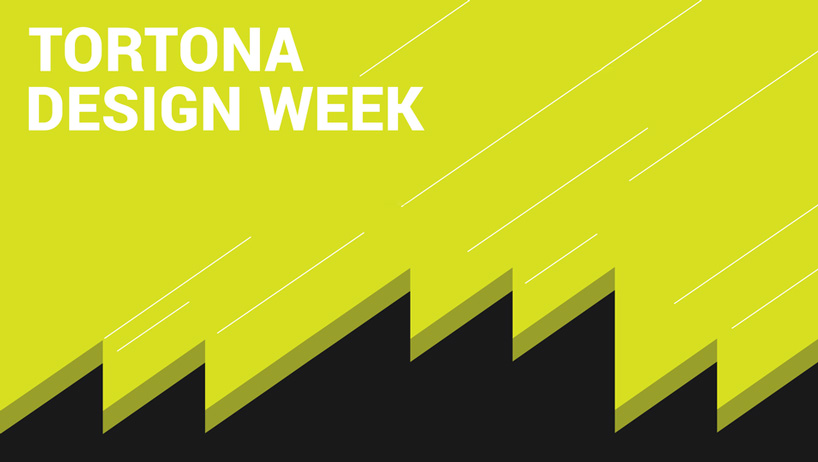 what: tortona design week
when: april 8-14
where: tortona district, milan

tortona design week 2019 promises to be an edition fueled by a mix of big names and new proposals, product and service innovation, technology and tradition. this network of exhibitors, events, locations and activities has always embodied the broadest sense of milan design week. always full of surprises and content, tortona design week 2019 is a magnifying glass focusing on contemporary life and the spirit of the times. the event is a reflection of reality, a narrative tool that offers the public an unprecedented perspective and interpretation of modem life. through their projects, companies and designers offer ideas for interpreting new needs and understanding the direction taken by today's trends in designing experiences, products and services. experiments, products and synergies will be presented in a series of events combining an international dimension and the local realities of this vibrant urban area of the city.


ANTONIO ARICÒ PRESENTS 'LE RADICI E LE ALI'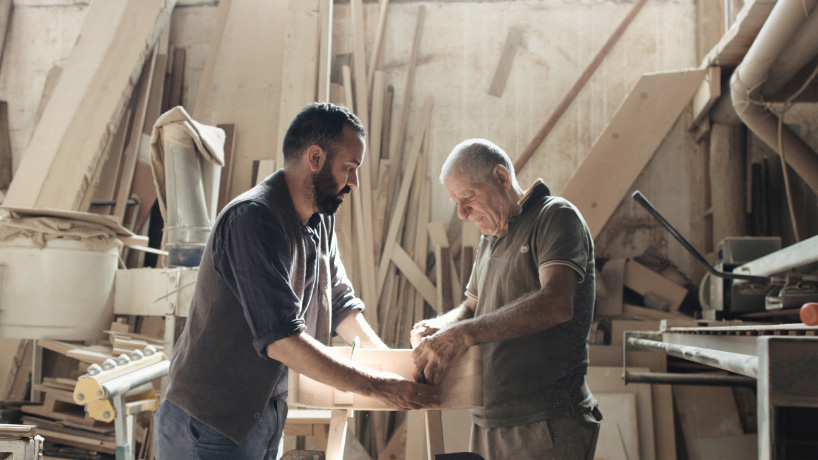 what: antonio aricò premieres 'le radici e le ali' documentary
when: april 8, 7PM
where: arci bellezza, via giovanni bellezza, 16/A
italian designer antonio aricò presents a poetic documentary that tells his fascinating story of art, craft, and collaboration. 'le radici e le ali' — meaning 'roots and wings' — focuses on the theme of identity that runs throughout many of his successful projects. the film was born out of a desire to capture and share the rich experience of collaboration between aricò and his grandfather. beginning with this personal story, the compelling documentary shifts from artisanal craft to contemporary industrial design. read more on designboom here.
TOMÁS SARACENO, 'WEAVING THE COSMOS'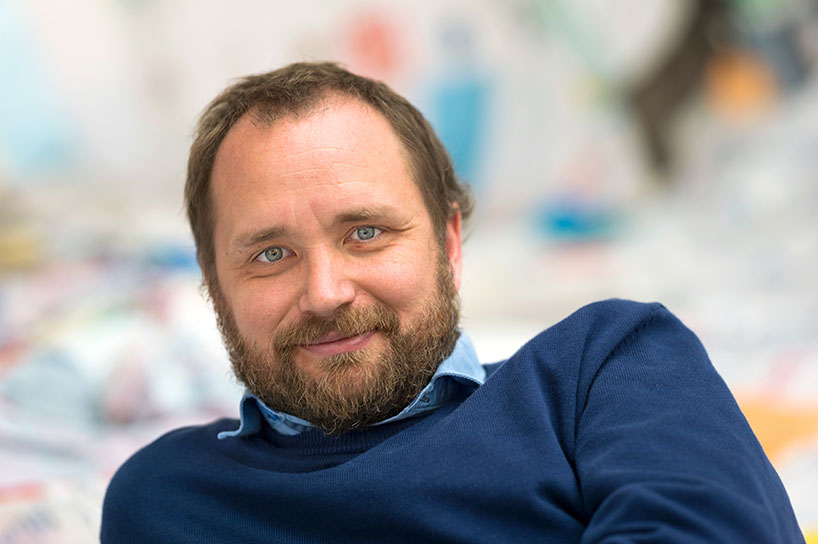 portrait of tomás saraceno © alfred weidinger, 2015
what: tomás saraceno, 'weaving the cosmos'
when: april 9 – 14
where: planetario ulrico hoepli, corso venezia, 57
bulgari has invited tomás saraceno to celebrate the 20th anniversary of the B.zero1 ring with 'weaving the cosmos', an installation that creates a dialogue with the ulrico hoepli planetarium in milan. next to it, at the indro montanelli park, a bulgari project linked to the evolution of the ring over the course of twenty years will be set up.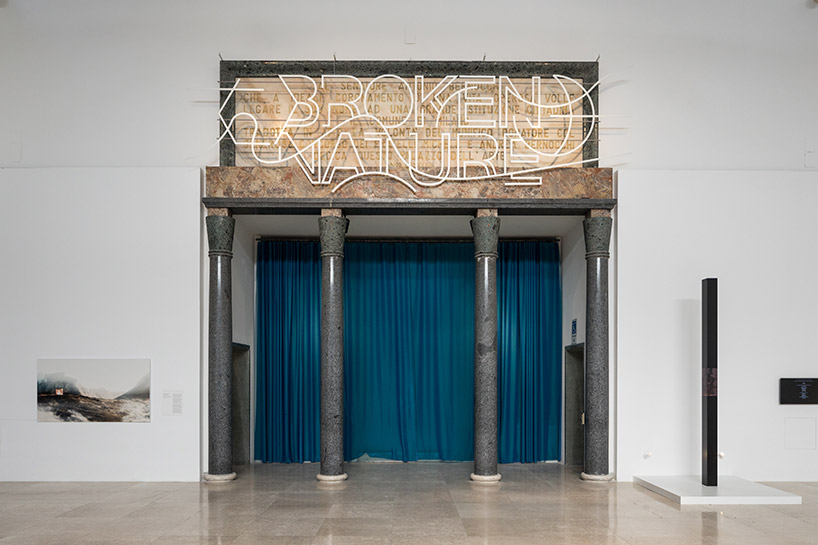 totems by neri oxman and the mediated matter group at MIT, 2019
image © la triennale di milano by gianluca di ioia
what: the thematic exhibition curated by paola antonelli
when: now through september 1, 2019
where: triennale milano, viale alemagna 6
the XXII triennale di milano unveils the thematic exhibition curated by paola antonelli entitled 'broken nature: design takes on human survival.' opening on friday march 1st until september 1st 2019, the installation explores the threads connecting humans to the natural environment that have been put in jeopardy over past years. by casting a wide net on architecture and design projects, the exhibition aims to underline the concept of restorative design by highlighting objects and concepts that reconsider our relationship with our environments – including both natural and social ecosystems. visitors will also be able to experience: an online platform for dynamic discourse and to unveil the curatorial process; public programming and symposia; a catalog with essays from scientists, scholars, designers, and critics, as well as a section devoted to the national participations. read more on designboom here.


HEAVY SOUVENIRS EXHIBITION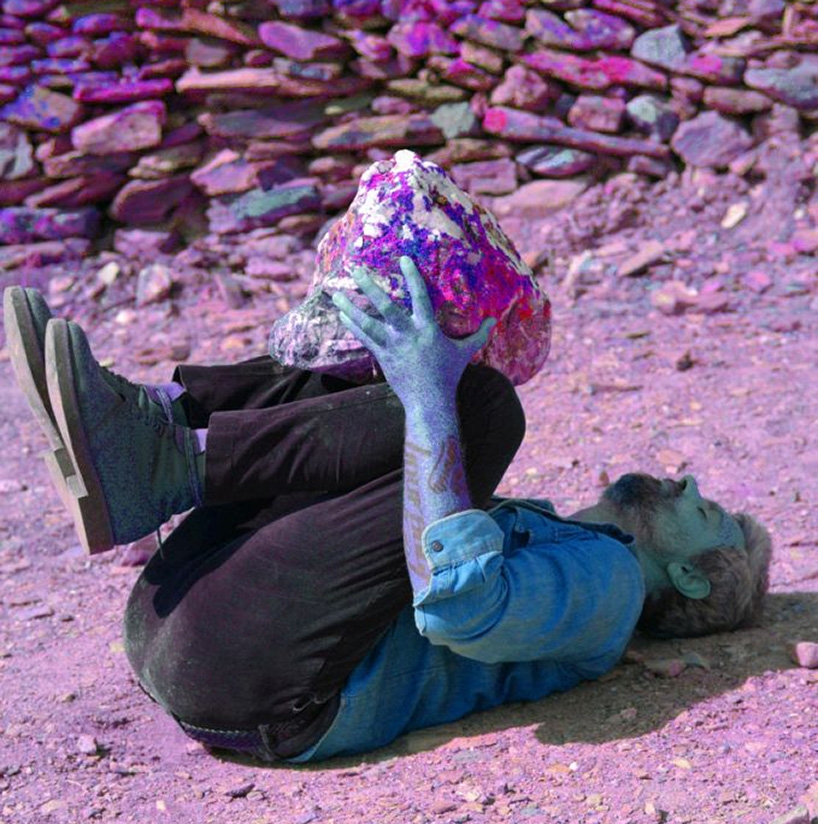 what: the presentation of the 2019 pretziada collection
when: april 9 – 14, 2019 @ 10:00 – 18:00
where: lucio vanotti haus | via dei valtorta, 9
pretziada presents 'heavy souvenirs', which refers to the idea of the object as representative of a place, an experience, a moment in time. as we get ever more used to trinkets, these objects become smaller, more commonplace – easy to purchase and easy to forget. we want our souvenirs to be heavy – in importance, in heritage, in meaning. the show will be held at lucio vanotti haus, the new, multifunctional exhibition space of the fashion brand lucio vanotti, located in a restored factory dating back to 1938 in the northern area of milan. this show, in the occasion of the salone del mobile 2019, will be the first in a series of events dedicated to the arts to be hosted by the space.
HUMAN CODE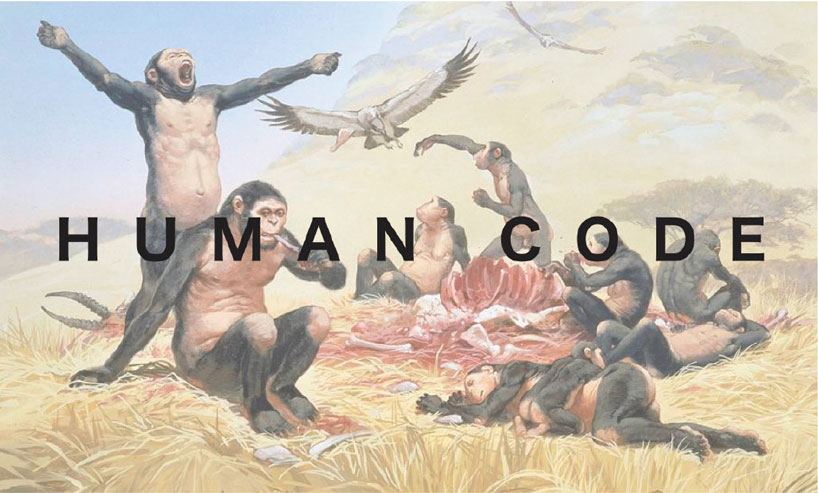 what: HUMAN CODE by roberto sironi, curated by annalisa rosso produced by 5VIE
when: april 6 – 14
where: SIAM, via santa marta 18
roberto sironi's solo show HUMAN CODE, presented in the underground spaces of SIAM, is the culmination of a reflection that has characterized the inquiry of the milanese designer from the outset. an autobiographical project that brings together anthropology, technology, data analysis, and experimentation with processes and materials, as well as memories of illuminating encounters and journeys of exploration. set in a parallel dimension with respect to the city streets, the exhibition traces the most important stages of human evolution. a series of pieces, exhibited here for the first time, fuse fragments of the past and present into a single human code, in a dense sedimentation that spans 300,000 years.
sironi's work seems to suggest that the anthropocene – the current geological age connoted by the impact of humankind on the planet, whose symbolic date is 16 july 1945 – actually begins with the earliest appearance of human beings, who have always had an antithetical relationship with nature. in the cellars of the SIAM building adjacent to the roman ruins on which the city of milan is built, the designer projects his gaze thousands of years forward. through this space-time passage, familiar objects of the present become mysterious and powerful archaeological artifacts, re-emerging in a distant future where the artificial and natural components are stratified together in an indissoluble way. a powerful suggestion that leads the viewer to question the condition of human existence.
CARPENTERS WORKSHOP GALLERY X VINCENZO DE COTIIS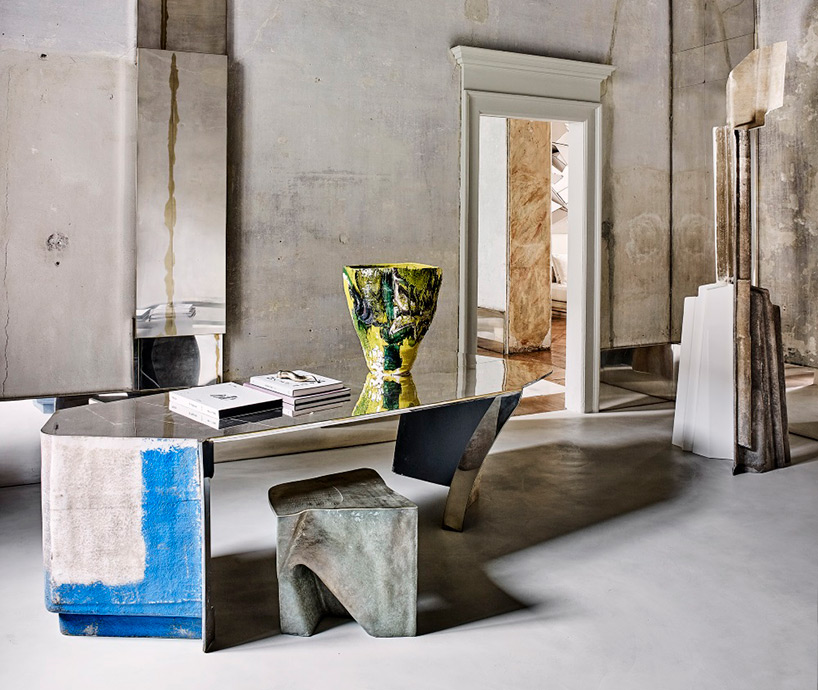 what: de cotiis x carpenters workshop gallery
when: april 8 – july 20, 11AM – 6PM
where: vincenzo de cotiis gallery, via carlo de cristoforis, 14
during milan design week 2019, vincenzo de cotiis' gallery will display pieces by carpenters workshop gallery designers. the exhibition, which will remain on view until july 20, will feature de cotiis' own pieces in dialogue with works by maarten baas, wendell castle, rick owens and many more.
ANTON ALVAREZ, L'ULTIMA CERA / 5VIE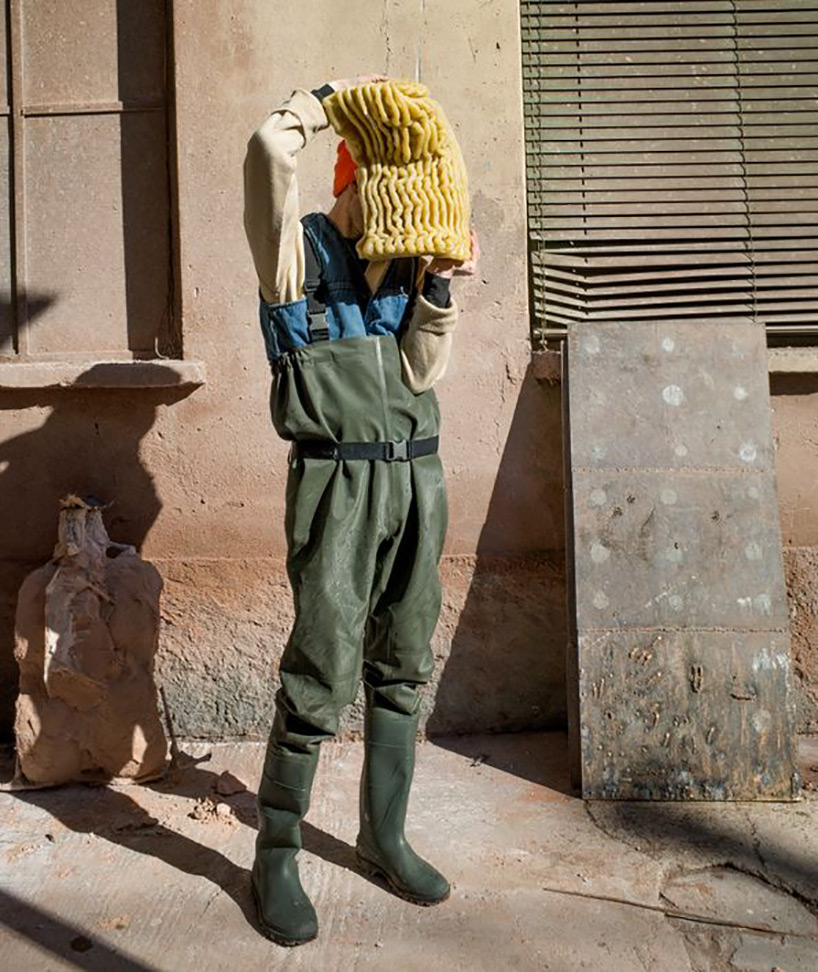 what: anton alvarez — l'ultima cera
when: april 7-13, 11AM to 7PM
where: church san bernardino alle monache, via lanzone, 13
anton alvarez explores a new material he never worked with before, bronze, in a unique and innovative manner. commissioned by curator nicolas bellavance-lecompte for fonderia artistica battaglia as part of their new residency program, alvarez adapts his self-built machine called the extruder. a large metal cylinder hanging with chains from the ceiling, the extruder uses an electric motor to exert more than six thousand pounds of pressure on wax, pushing it through different moulds and shapes. the wax is then flowing into a large cold swimming pool and into the hands of the artist who guides the extrusion and adjusts its final shape.
THE FISH AND THE CROWD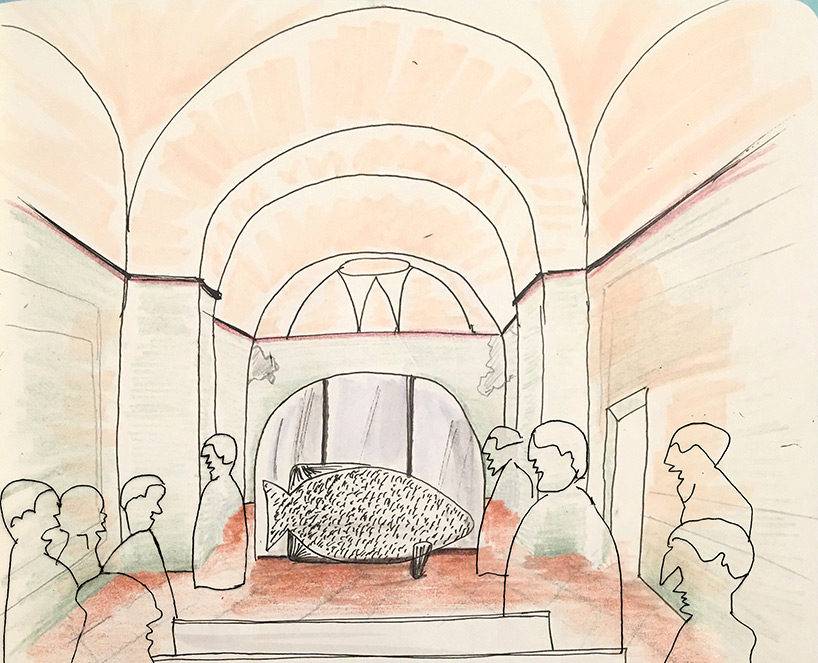 what: the fish and the crowd exhibition
when: april 7-14, 11AM-8PM
where: oratorio della passione, piazza sant'ambrogio, 23A
curated by maria cristina didero, 'the fish and the crowd' is the first solo exhibition by carlo massoud in italy and brings together a number of objects realized since the designer started his studio in beirut in 2013 until today, combined with a new production realized for the occasion. for milan design week 2019, massoud has reimagined the oratorio della passione through a new collaboration with his sister mary-lynn. for 'the fish and the crowd' carlo and mary-lynn massoud quote the classical icons of christianity and its liturgies to involve the viewers in an intense and ironical reflection suspended between the physicality of the objects and the spiritual tension of the context.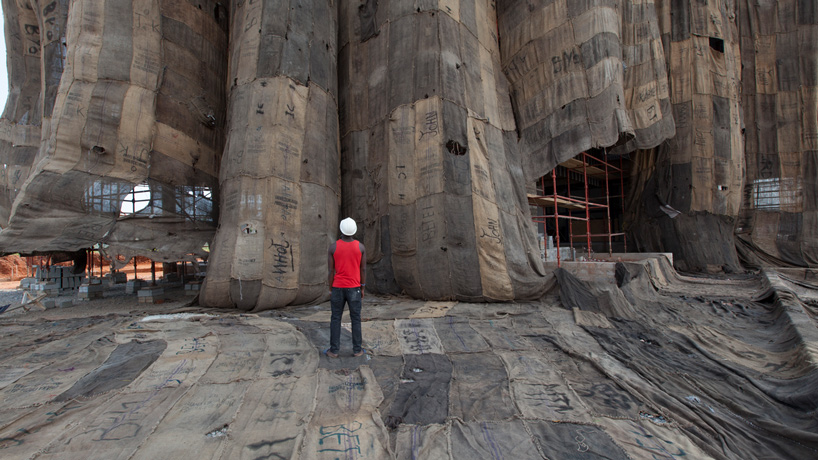 what: 'a friend' installation by ibrahim mahama
when: april 2–14 (installation open 24 hours)
where: caselli daziari, porta venezia – piazza guglielmo oberdan

from tuesday, april 2, to sunday, april 14, 2019, fondazione nicola trussardi presents 'a friend', a monumental installation specially conceived for the two neoclassical tollgates of porta venezia by the ghanaian artist ibrahim mahama (b. 1987, tamale, ghana), curated by massimiliano gioni. the site-specific installation is presented on the occasion of the milanese art week, and during the milan design week – salone del mobile.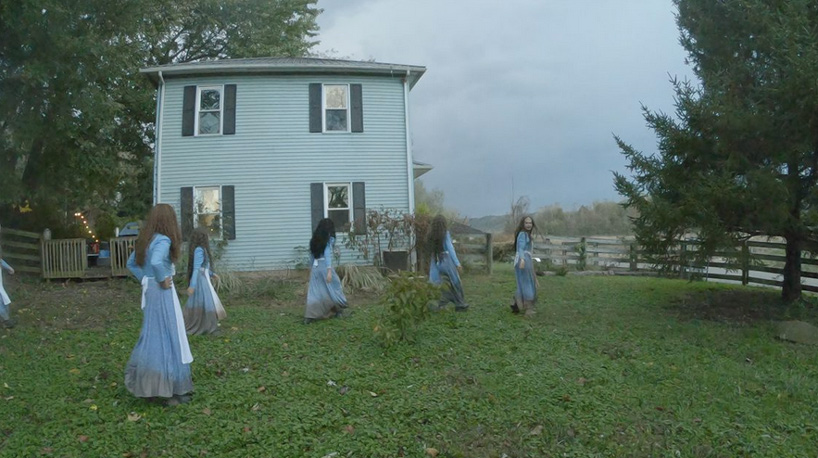 production still from work in progress. photo fitch trecartin studio
what: lizzie fitch | ryan trecartin: 'whether line' multimedia installation
when: april 6 – august 5 — mon/wed/thu, 10AM-7PM, fri/sat/sun, 10AM-8PM, closed on tuesdays
where: fondazione prada, largo isarco, 2

commissioned by fondazione prada for its milan venue, 'whether line', the large-scale multimedia installation, conceived by lizzie fitch and ryan trecartin represents the first output of a creative process begun in late 2016, investigating the perpetual promise of 'new' terrain and the inherent instability of territorial appropriation. taking the idealized rurality endemic to back-to-the-land ideologies as a conceptual starting point, the project represents both a return and an escape. the opening of the installation coincides with the start of milan design week.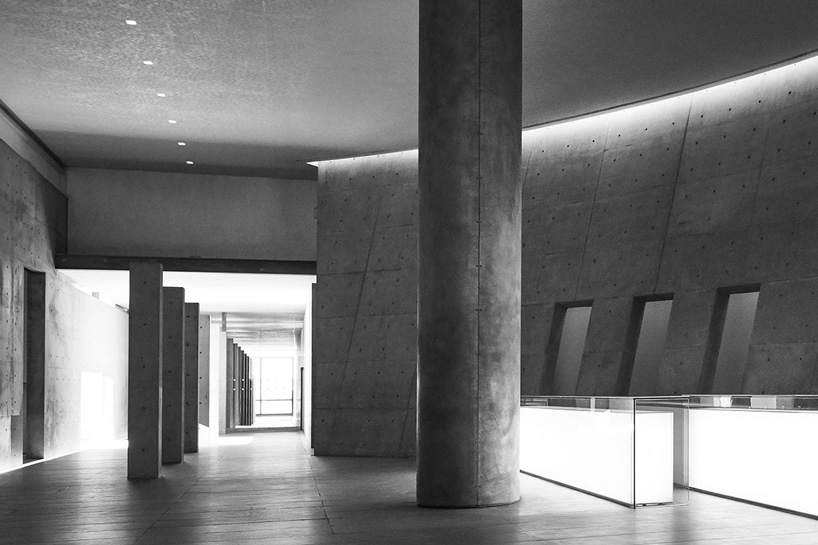 what: tadao ando exhibition at armani/silos
when: april 9 – july 28, wednesday – sunday 11AM-7PM
where: armani/silos, via bergognone, 40

'the challenge' is the first exhibition at armani/silos dedicated to architecture. the narrative joumey showcases the career of tadao ando through his most significant works, a retrospective that comprises over 50 projects and is structured around four major themes: primitive shapes of space, an urban challenge landscape genesis, and dialogues with history. the project, specially adapted for armani/silos, was designed by tadao ando in collaboration with centre pompidou.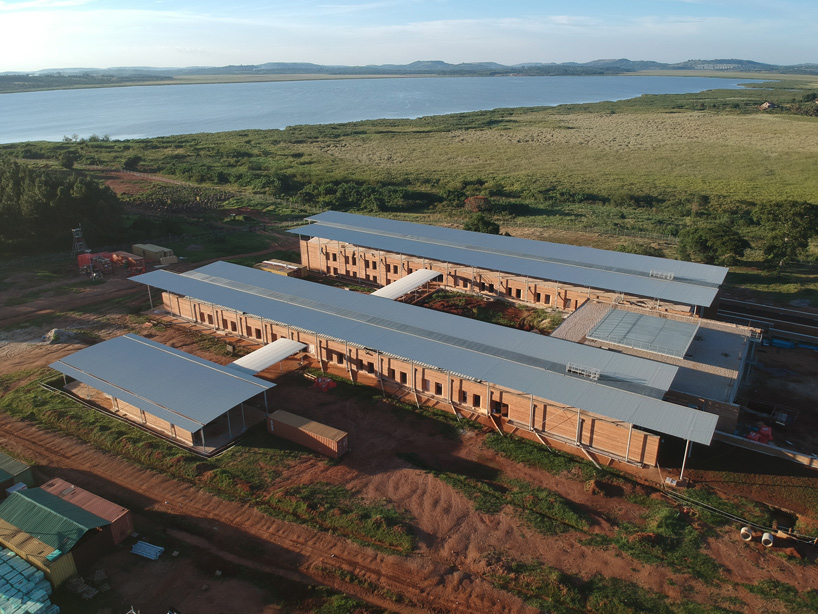 what: renzo piano building workshop in collaboration with TAMassociati presents design for the emergency children's surgery center
when: april 9-14, 9:30AM – 6:30PM
where: reception of pavilion 9-11, milan fairgrounds, rho

EMERGENCY is an independent and neutral italian organization founded in 1994 to provide free and high-quality medical and surgical care to victims of wars, anti-personnel mines and poverty. during the 2019 edition of salone del mobile, the organization will present its children's surgery center, currently under construction in uganda. designed by renzo piano building workshop, the hospital will offer free treatments and will be a reference center for ugandan patients and for children with surgical needs from all over africa. read more on designboom here.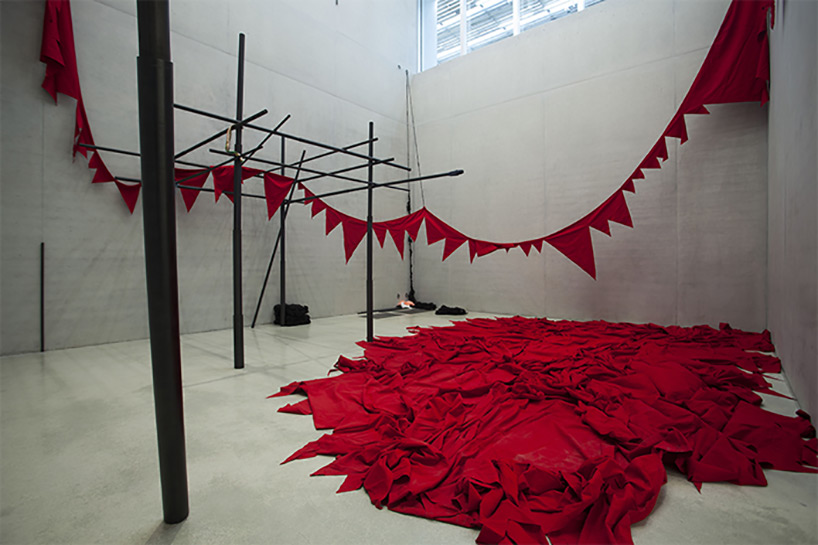 what: exhibition by indian artist sheela gowda
when: april 4 – september 15, thursday to sunday 10AM–10 PM
where: pirelli hangarbicocca, via chiese, 2
sheela gowda is one of the leading names in contemporary art in india. her work ranges from drawing, to sculpture, to large-scale installation, and involves the use of materials that often convey cultural values linked to the context they stem from. the artist's works, characterized by a strong spatial dimension, assume elements of modernism as a starting point, elaborated by the artist via production processes featuring strong ritualistic references. the emphasis on process can also be linked to local traditions of craft and the implicit role of labor in making art. this exhibition is sheela gowda's first solo show in italy and, in addition to a new production, it will present a wide selection of works she has made from 1996 to the present time, including watercolors, prints, and site-specific installations.
LOUIS VUITTON: OBJETS NOMADES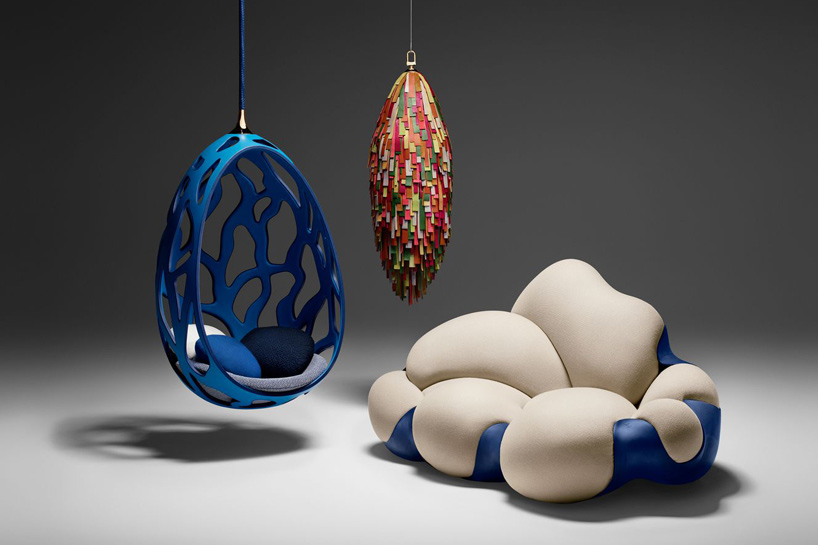 image © philippe lacombe
what: louis vuitton presents its latest 'objets nomades'
when: april 9-10, 11AM-8PM | april 11-14, 10AM-8PM
where: palazzo serbelloni, corso venezia 16

louis vuitton is exclusively presenting its latest 'objets nomades' at palazzo serbelloni, welcoming two new design studios: atelier biagetti and zanellato/bortotto. since its creation in 2012, the louis vuitton 'objets nomades' collection has invited renowned designers to imagine creative, functional and innovative furniture and objects, which are then elegantly crafted using louis vuitton's savoir-faire. the 45 experimental objects that make up the louis vuitton objets nomades collection pay homage to the house's special orders of the past – such as the iconic bed trunk produced in 1874 for french explorer pierre savorgnan de brazza – and add the defiantly contemporary visions of creative designers from around the world.
FUCINA PRESENTS THE SYMPOSIA COLLECTION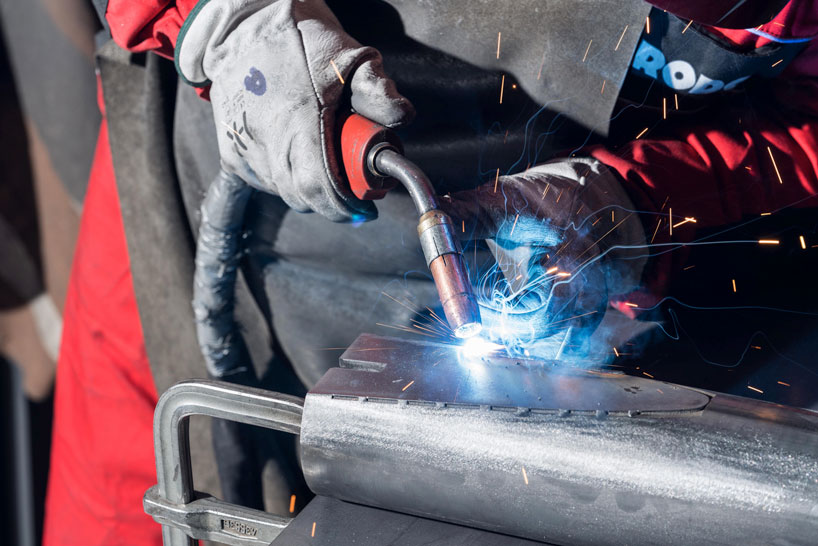 image © delfino sisto legnani
what: fucina — symposia collection
when: april 9-14, 10AM-7PM
where: via marsala 7

fucina presents the 'symposia collection', a range of metal accessories by cecilie manz, maddalena casadei, and jun yasumoto. responding to the theme of 'conviviality', the collection comprises a series of tables — some with four legs, some with two legs, and some with a central base. the three designers are from three different countries, and each approached the brief in a different way. however, all designs feature slender surfaces perched on top of more substantial bases.
NENDO'S 'BREEZE OF LIGHT' INSTALLATION FOR DAIKIN

what: daikin × nendo 'breeze of light' installation
when: april 10–14, 9AM-7PM
where: tenoha milano, via vigevano, 18

within tenoha milano, japanese air conditioning company daikin will present 'breeze of light' — an installation created by japanese studio nendo. although air is essential to human life, it is invisible in its natural state. the exhibit seeks to visualize the invisible, thus enriching visitors' experience and appreciation of the element. a virtual flower garden will be illuminated using 115 individually-controlled spotlights directing light on 17,000 flower-shaped polarizing films. changes in shadow intensity of the flowers produce the effect of a breeze passing through the garden. 'we wanted to create a space where you could strongly feel the existence of air that you are usually unaware of,' explains nendo's founder oki sato.
VITRA ACCESSORIES INSTALLATION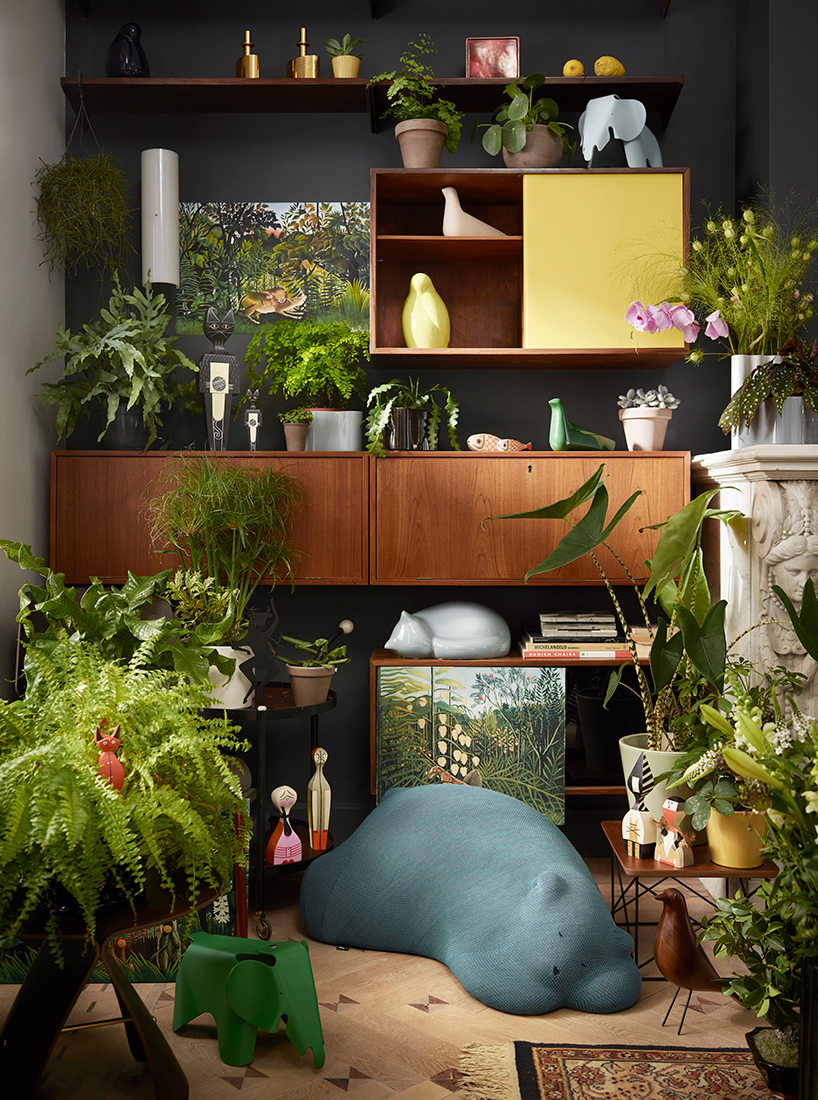 image © VITRA, creator: studio AKFB, photo: florian böhm / production design: erwin prib
what: VITRA accessories installation
when: april 8-14
where: via durini 24
on via durini, VITRA will construct an installation that showcases a selection of their latest and most renowned accessories. the theme of the temporary design will focus on animals and how the motifs of nature have influenced the brand's accessories collection over the years. including 'l'oiseau' by ronan & erwan bouroullec and the 'eames elephant' by charles & ray eames, the display will also feature the new 'resting animals' series by front, which consists of a bear, cat and two birds in different sizes. each member of their small family of animals will be able to purchase on the street, much like a 24-hour shop. passers-by will have the opportunity to order the displayed objects online using a QR code.
KONSTANTIN GRCIC'S NOCTAMBULE INSTALLATION FOR FLOS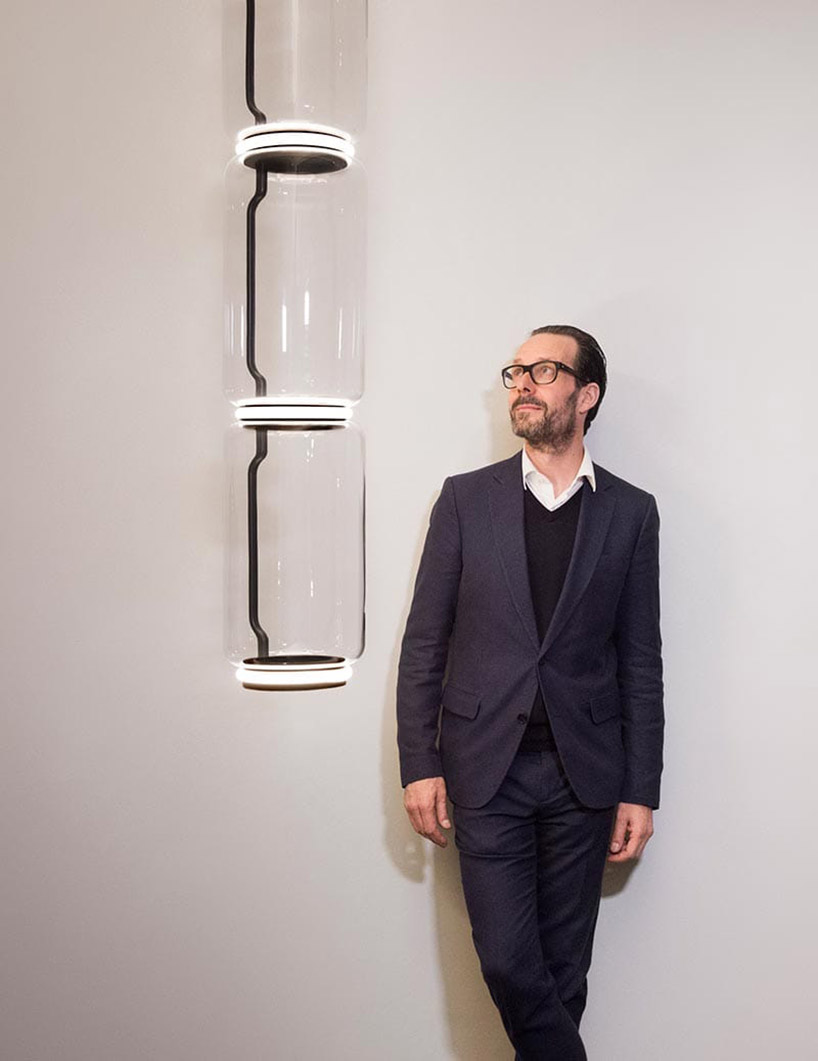 what: konstantin grcic's noctambule installation for flos
when: april 9-14
where: corso monforte 15
the cylindrical forms in transparent glass are the hallmark of 'noctambule', a project by konstantin grcic. the collection consists of beautiful modules in transparent glass that can be mounted one on top of the other to create floor lamps or pendant lamps, enriched by a glass dome or a cone-shaped head. the installation will showcase the wide variety of combinations of the lighting system.
HÄSTENS' NEW COLLECTIONS BY ILSE CRAWFORD & LARS NILSSON

what: hästens new collections
when: april 9-14
where: salone del mobile, rho fiera milano
fashion designer lars nilsson will launch the new 'iris' bedding collection, inspired by his travels around the english countryside: four colorful patterns reinterpret the iconic blue check. ilse crawford will present the new collection of 'being' accessories, and bernadotte & kylberg studio will showcase a collection of bedroom furniture.
VITRA DESIGN MUSEUM PRESENTS THE POLITICS OF DESIGN CONFERENCE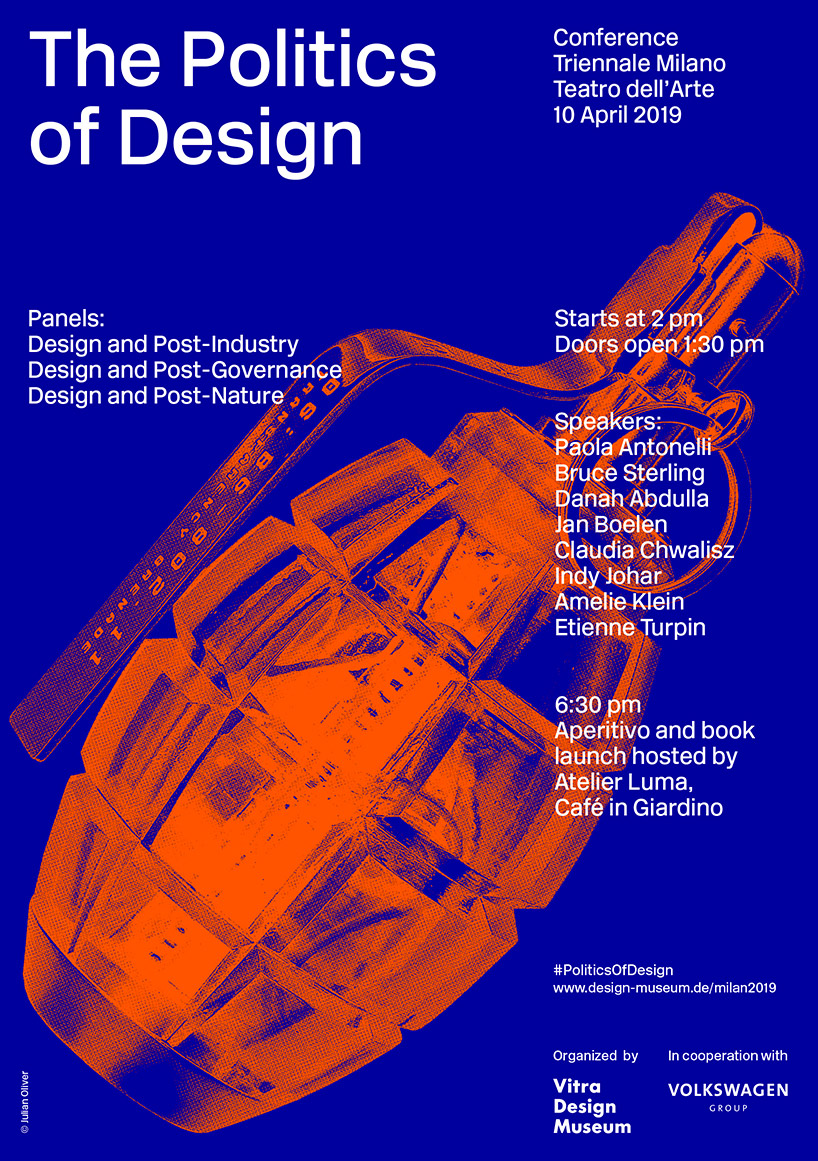 what: the politics of design conference
when: april 10th
where: triennale di milano
design is a political activity. every day, designers all over the world make decisions about complex social issues such as inclusion, identity, and sustainability. this makes design a powerful tool for social and political change, but does this have a real effect on things? in what ways can design truly contribute to solving the world's most pressing issues? what does this mean for the practice of design? in this moment of transition, as we leave old ideas, convictions, and strategies behind and move further into the 21st century, we must ask ourselves: how can design be part of the solution and not the problem?
free admission (no registration required), the conference will be held in english
MICHELE DE LUCCHI'S EARTH STATIONS MANY HANDS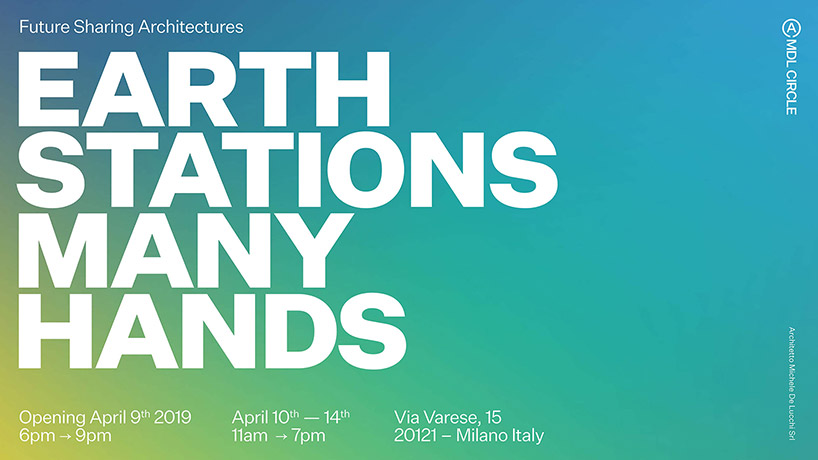 what: future sharing architectures: earth stations many hands
when: april 10-14
where: via varese 15
michele de lucchi's earth stations are active architectures that form networks which are easy to reach and are built in places that form or regenerate urban and infrastructural nodes. they respond to our evolving life styles where artificial intelligence increasingly frees man from bureaucratic and repetitive tasks, establishing an opportunity to create places that express personal freedom and harness the enormous potential of technology. they are designed to respect our environment and by definition everything that happens inside continues to impact their evolution and adaption. don't miss them out.
FORMAFANTASMA X DZEK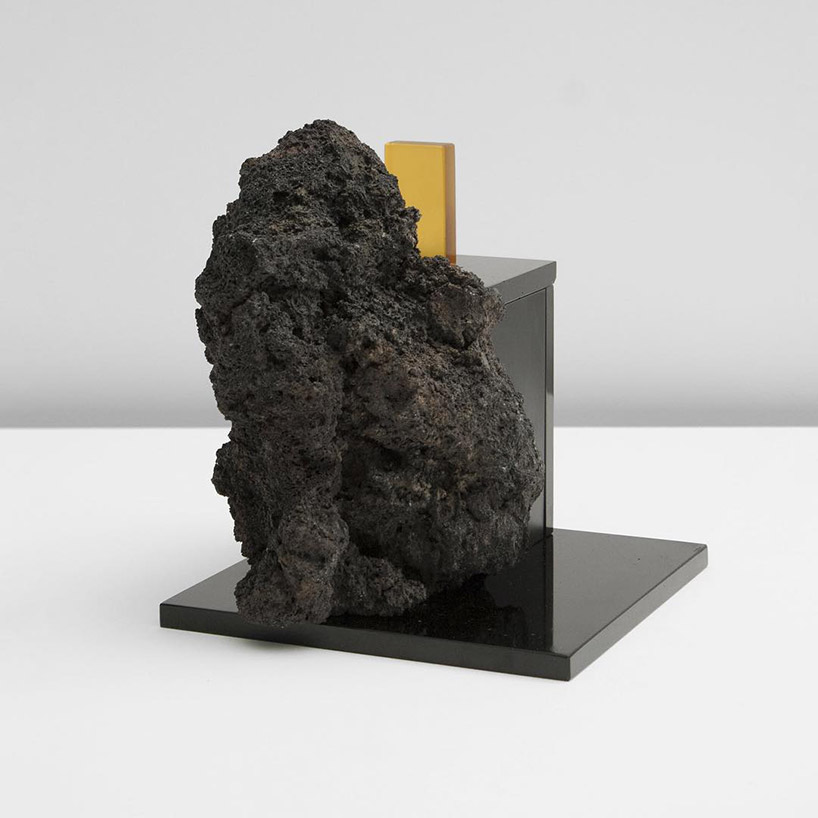 what: formafantasma x dzek – ex-cinere
when: april 9-14
where: via venini 85 milano (a satellite of alcova)
the result of more than three years of research and experimentation, excinere is a collection of refined volcanic-ash-glazed tiles suitable for both interior and exterior surfaces, from bathrooms to façade cladding. at this year's fuorisalone and as part of alcova, dzek and formafantasma will present this new collection in a landscape of tiled architectural elements. the installation will explore some of the many potential combinations and outcomes that the various formats and glazes allow.
GOOGLE'S A SPACE FOR BEING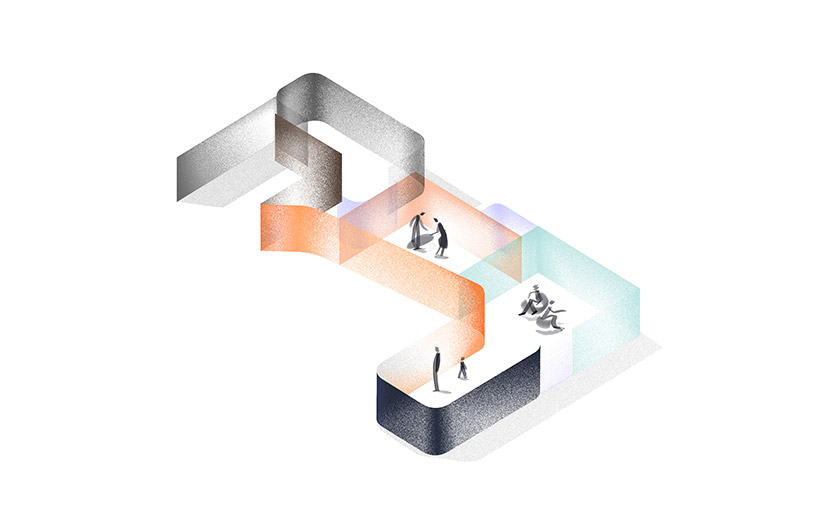 what: google presents a space for being
when: april 9-14
where: spazio maiocchi – via achille maiocchi 7
in a multiroom installation at spazio maiocchi, a space for being will explore the field of neuroaesthetics and how different aesthetic experiences have the potential to impact our biology and well-being. a google design studio exhibition in collaboration with muuto, reddymade architecture, and the international arts + mind lab at johns hopkins university.
JOURNEY OF A RAINDROP BY ISSEY MIYAKE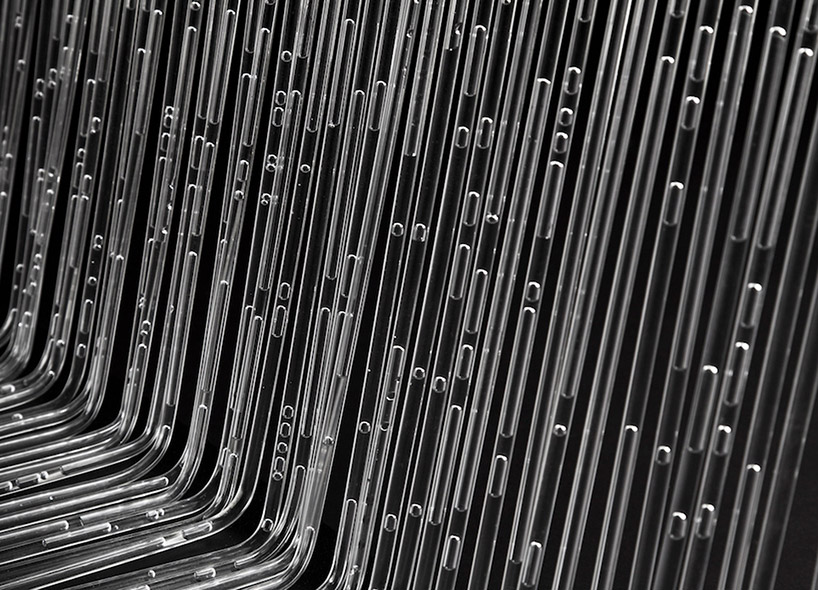 what: journey of a raindrop by issey miyake
when: april 9-14
where: via bagutta 12
since issey miyake opened in march 2017, every year during the week of salone del mobile it presents a project where it collaborates with designers, artists, or other creative professionals alike to celebrate the joy of creativity, and by doing so it intends to deliver an excitement that people of all ages can relate to.
this year from april 9th to14th, issey miyake in milan is pleased to invite dutch designer jólan van der wiel to present journey of a raindrop: the strange attraction of water.
van der wiel's work draws inspirations from nature like many other designers, and what sets him apart from the others is the way he incorporates nature as a tool into his design process. his research not only focuses on representing the forms and shapes found in nature but also goes beyond to explore ways to recreate the phenomena in nature that give rise to these forms and shapes. as he attempts to manipulate natural phenomena and make them work in his favor, the design he creates always seems to carry a sense of peculiar beauty.
NO_CODE SHELTER: STORIES OF CONTEMPORARY LIFE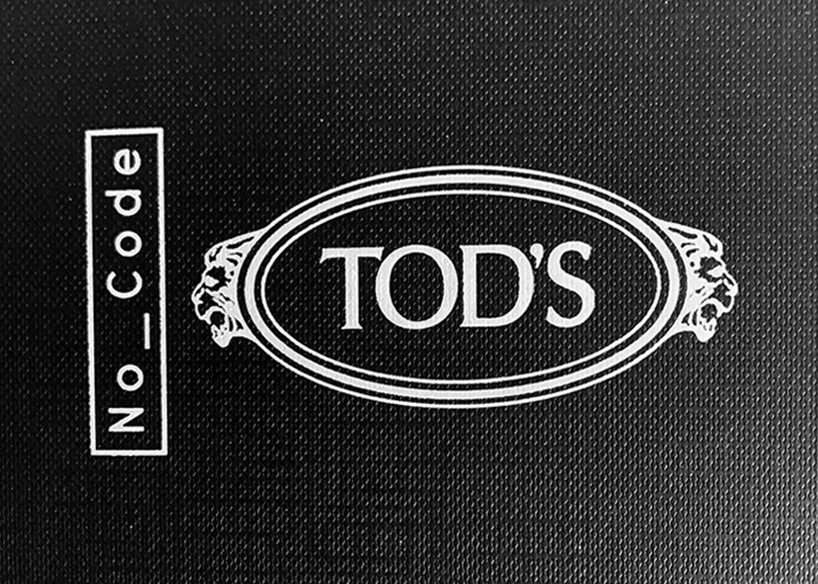 what: no_code shelter: stories of contemporary life
when: april 9-14
where: via olona 6 bis
we are living in a constantly changing world, where people's lifestyles are constantly evolving. tod's no_code explores these topics with an installation by studio andrea caputo, featuring: mai ikuzawa, formafantasma, chris bangle, olimpia zagnoli, petter neby, maurizio cheli, marcello gandini, yong bae seok and more.
JOHN PAWSON EXHIBITION AND DISCUSSION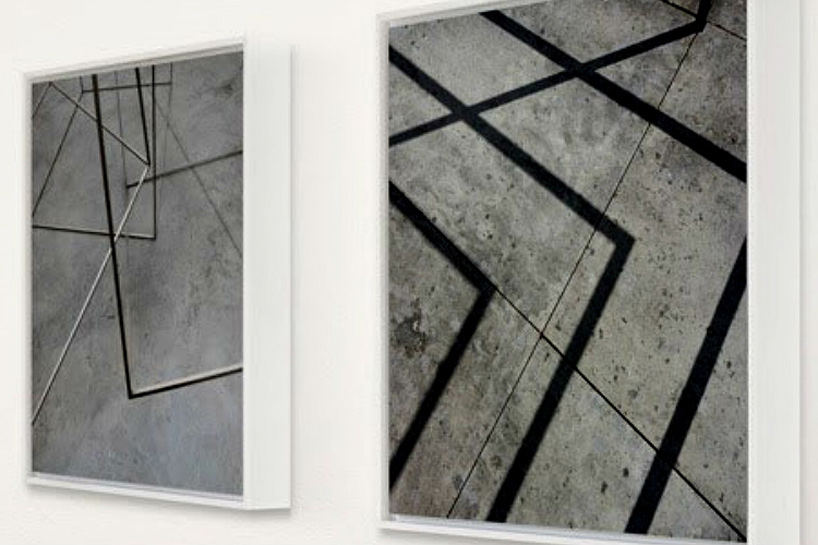 what: talk between john pawson and carrie scott
when: april 10, 7PM
where: fondazione sozzani bookstore — corso como, 10

on wednesday april 10, at 7pm the fondazione sozzani bookstore will host a discussion between british architectural designer john pawson and curator carrie scott. the duo will discuss the relationship between space and photography and will be followed by a signing of the book 'spectrum' published by phaidon. a selection of photographs by john pawson will also be on view at the fondazione sozzani bookstore.
nina azzarello
I designboom
apr 05, 2019
KEEP UP WITH OUR DAILY AND WEEKLY NEWSLETTERS
happening now! antoniolupi extends its expertise beyond the bathroom with the 'living' collection, a series of home furnishings that complement its esteemed collection of bathroom furniture and accessories.
a diverse digital database that acts as a valuable guide in gaining insight and information about a product directly from the manufacturer, and serves as a rich reference point in developing a project or scheme.
designboom will always be there for you
milan, new york, beijing, tokyo

,
since 1999