swedish activist greta thunberg criticized world leaders for stealing her childhood during an impassioned speech at the united nations on monday (september 23rd 2019). the 16-year-old sailed to new york in a carbon-neutral boat to attend the climate action summit, following the world's largest largest climate protest in history the friday before. here's the full transcript of thunberg's speech, beginning with her response to a question about the message she has for world leaders:
"my message is that we'll be watching you.

this is all wrong. I shouldn't be up here. I should be back in school, on the other side of the ocean. yet you all come to us young people for hope. how dare you? you have stolen my dreams, and my childhood, with your empty words. and yet I'm one of the lucky ones.

people are suffering. people are dying. entire ecosystems are collapsing. we are in the beginning of a mass extinction, and all you can talk about is money, and fairy tales of eternal economic growth. how dare you?

for more than 30 years, the science has been crystal clear. how dare you continue to look away, and come here saying that you're doing enough, when the politics and solutions needed are still nowhere in sight? you say you hear us and that you understand the urgency. but no matter how sad and angry I am, I do not want to believe that. because if you really understood the situation and still kept on failing to act, then you would be evil. and that I refuse to believe.

the popular idea of cutting our emissions in half in 10 years only gives us a 50 percent chance of staying below 1.5 degrees [celsius] and the risk of setting off irreversible chain reactions beyond human control. fifty percent may be acceptable to you. but those numbers do not include tipping points, most feedback loops, additional warming hidden by toxic air pollution, or the aspects of equity and climate justice. they also rely on my generation sucking hundreds of billions of tons of your co2 out of the air with technologies that barely exist.

so a 50 percent risk is simply not acceptable to us—we who have to live with the consequences. to have a 67 percent chance of staying below a 1.5 degree global temperature rise—the best odds given by the ipcc [intergovernmental panel on climate change]—the world had 420 gigatons of co2 left to emit back on jan. 1, 2018. today that figure is already down to less than 350 gigatons.

how dare you pretend that this can be solved with just "business as usual" and some technical solutions? with today's emissions levels, that remaining co2 budget will be entirely gone within less than 8½ years.

there will not be any solutions or plans presented in line with these figures here today, because these numbers are too uncomfortable. and you are still not mature enough to tell it like it is.

you are failing us. but the young people are starting to understand your betrayal. the eyes of all future generations are upon you. and if you choose to fail us, I say: we will never forgive you. we will not let you get away with this. right here, right now is where we draw the line. the world is waking up. and change is coming, whether you like it or not."
millions of people across 185 countries participated in the largest climate protest in history last friday. an estimated 4 million took to the streets of towns and cities around the world demanding urgent action from governments and drawing attention to the climate crisis ahead of the united nations climate action summit.
thunberg, whose one-person strikes in stockholm helped spark the global movement, joined the protest in new york city. 'right now we are the ones who are making a difference. if no one else will take action, then we will,' thunberg told demonstrators. 'we demand a safe future. is that really too much to ask?'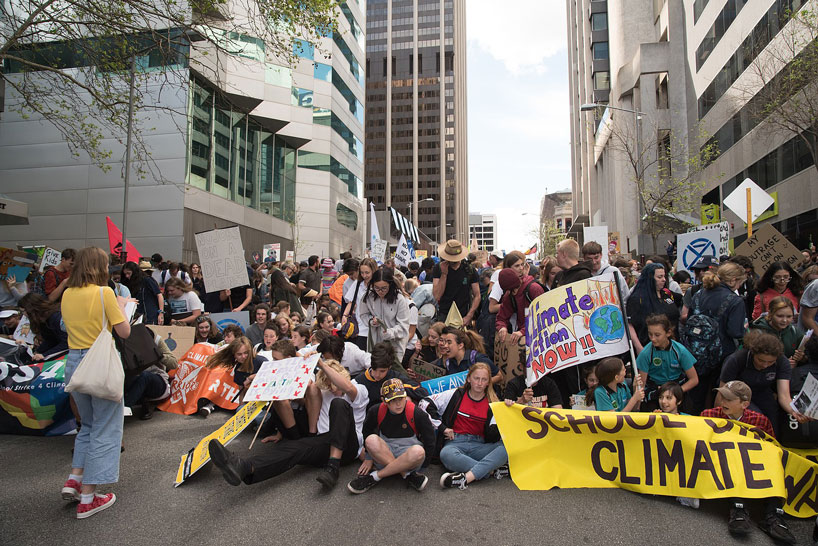 image © gnangarra
header image via un.org
following the protest, greta thunberg joined a panel of speakers at the first ever UN youth climate summit, which took place on saturday. she delivered a short statement before explaining that she would be addressing monday's UN summit on climate change. 'yesterday, millions of people across the globe marched and demanded real climate action, especially young people. we showed that we are united and that we, young people, are unstoppable,' thunberg said.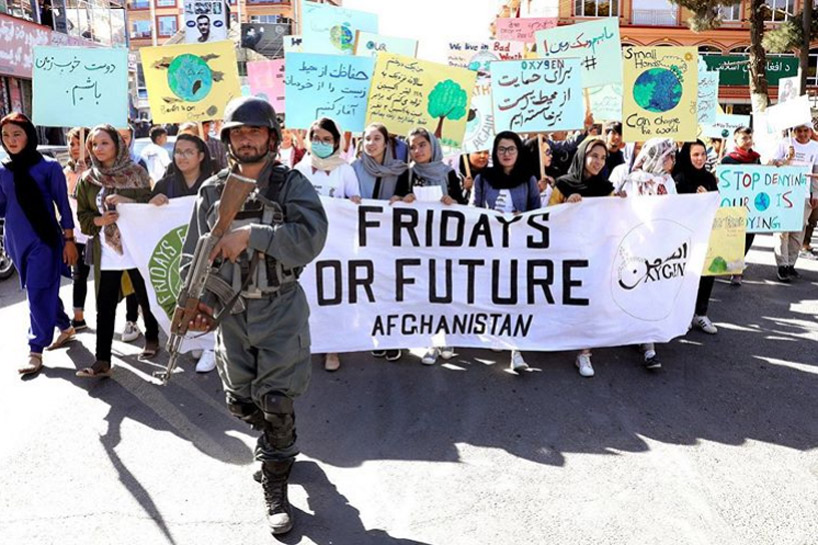 with leaders set to debate climate resiliency options, hopes are that friday's demonstrations and the weekend's revelations will inject a sense of urgency into proceedings. fresh off the youth climate summit, a UN report published on sunday showed that the five-year period ending at the close of the year (2015-2019) will likely be the hottest on record since 1850. based on data compiled by the UN's world meteorological organization, the period 'is currently estimated to be 1.1 degrees celsius [34f] above pre-industrial [1850-1900] times and 0.2 degrees celsius [32.4f] warmer than 2011-2015.'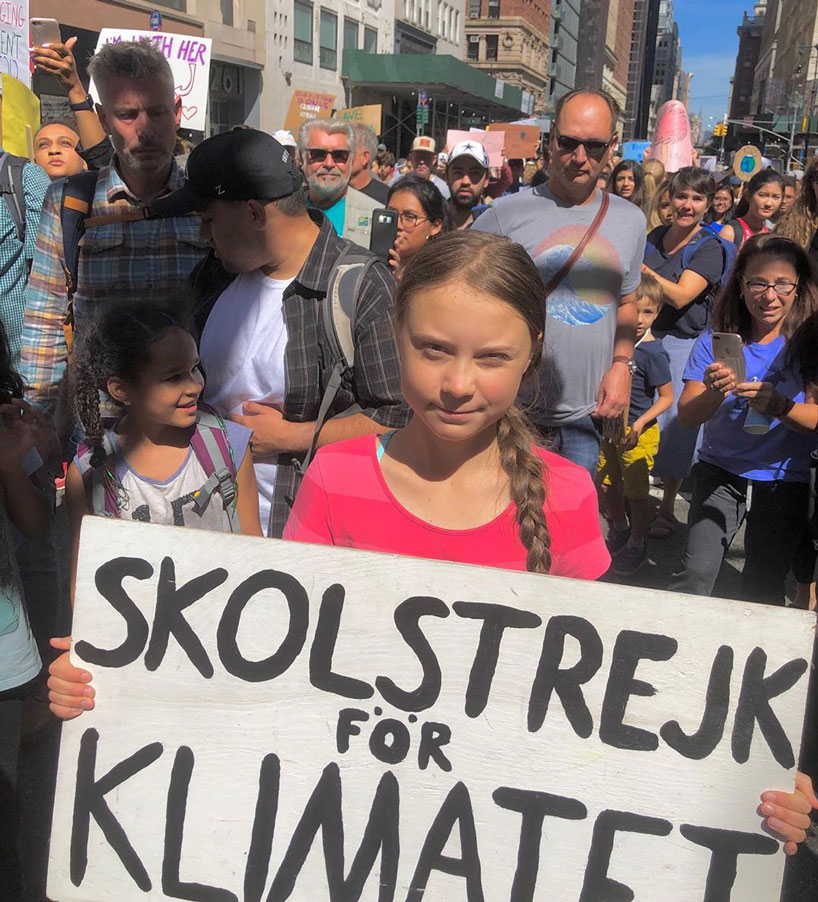 image courtesy of greta thunberg / @gretathunberg
observations also showed that that the global mean sea level rise was accelerating to an extent that there has been an overall increase of 26% in ocean acidity since the beginning of the industrial era. with the world on track to hit a 2-degree warming scenario by 2100, fears that the seas around new york city could rise as much as six feet could become a reality.
ahead of monday's summit, UN secretary general antónio guterres has urged world leaders to come not 'with fancy speeches, but with concrete commitments.' as they plan to gather in new york, the ellen macarthur foundation has launched a report that tells how a circular economy could help tackle the issue. it explains that moving to renewables only accounts for 55% of our current emissions and that meeting the climate goal of zero emissions by 2050 depends on a larger shift across the food, clothing, automotive, building, and other product industries.
greta thunberg speaking at the first ever UN youth climate summit
focusing on five areas — steel, plastic, aluminium, cement, and food — the paper demonstrates how adopting a circular economy framework can achieve a reduction totalling 9.3 billion tonnes of greenhouse gases in 2050, equivalent to eliminating current emissions from all forms of transport globally. it also recommends ways in which businesses can change their approach to support a circular economy, placing emphasis on the design process and the importance of making products easily repairable and upgradeable.
the report also stresses the importance of keeping materials in use and waste down to a minimum: 'the circular economy favours activities that preserve value in the form of energy, labour, and materials. this means designing for durability, reuse, remanufacturing, and recycling to keep products, components, and materials circulating in the economy,' it reads. '…by keeping products and materials in use, GHG emissions associated with new material production and end-of-life treatment are avoided.'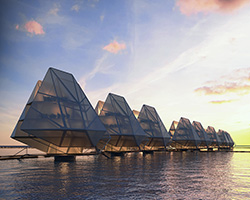 jun 22, 2020
jun 22, 2020
jun 06, 2020
jun 06, 2020
may 28, 2020
may 28, 2020
mar 31, 2020
mar 31, 2020
mar 29, 2020
mar 29, 2020
mar 27, 2020
mar 27, 2020
mar 31, 2020
mar 31, 2020
mar 29, 2020
mar 29, 2020
nov 12, 2019
nov 12, 2019
a diverse digital database that acts as a valuable guide in gaining insight and information about a product directly from the manufacturer, and serves as a rich reference point in developing a project or scheme.