the history of the humble pleat has unfolded across the ages — from ancient egyptians' decorative garments of the upper class, to the ever-elegant pleated skirt made famous by marylin monroe, and to today's haute couture interpretations of the technique. with their delicate detailing, exquisite folds and meticulous making-process, pleated garments exude a luxury and sensuality that has forever fascinated the world of fashion. the pleating process has evolved under many artisan's hands, and technology has taken little reign — human touch, tradition, curiosity, experience and entrusted knowledge is still very much at the heart of this painstaking and time-honored craft.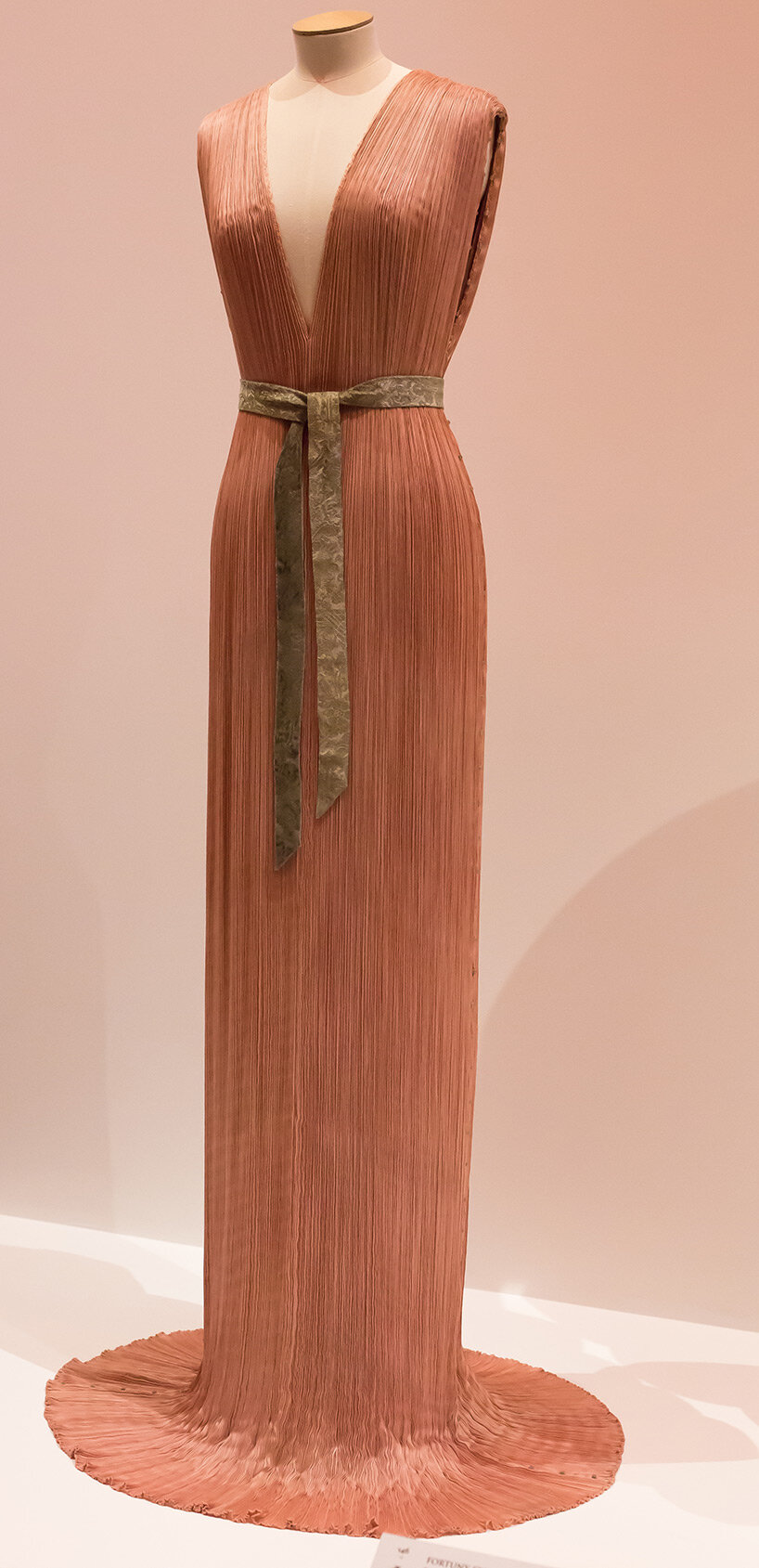 a reimagined delphos gown produced by fortuny in 2017 in the exhibition fortuny, a spaniard in venice at the palais galliera, paris | image by mickey riad, courtesy of fortuny
history first sees the introduction of the pleat in ancient egyptian garments to define the tunics of the upper class, where references suggest that the technique was imposed on natural fabrics, like linen. differences in class and status were demonstrated by the fineness of the cloth, with many garments laid out in the sun and 'bleached' white, before being enhanced with pleating. 'no one is quite sure how the ancient egyptians pleated linen,' writes the royal ontario museum on the topic, 'but two ways have been suggested: the cloth could simply be folded, accordion style, then tied, and wetted. when the cloth was dry and the ties taken off, the cloth would have had pleats. another possibility is that cloth was pressed onto wooden boards that had furrows in them, and a kind of glue, sizing, was painted on to the linen to make it hold the pleats.' such a lengthily and extensive process was reserved only for the clothing of the upper echelons, and thus began the basis of pleating as an exquisite and refined luxury. pleats went on to decorate the collars of 16th century royals as 'ruffs' — a fashion statement so delicate that they were preserved in special boxes. very often, they could be worn only once before losing their shape.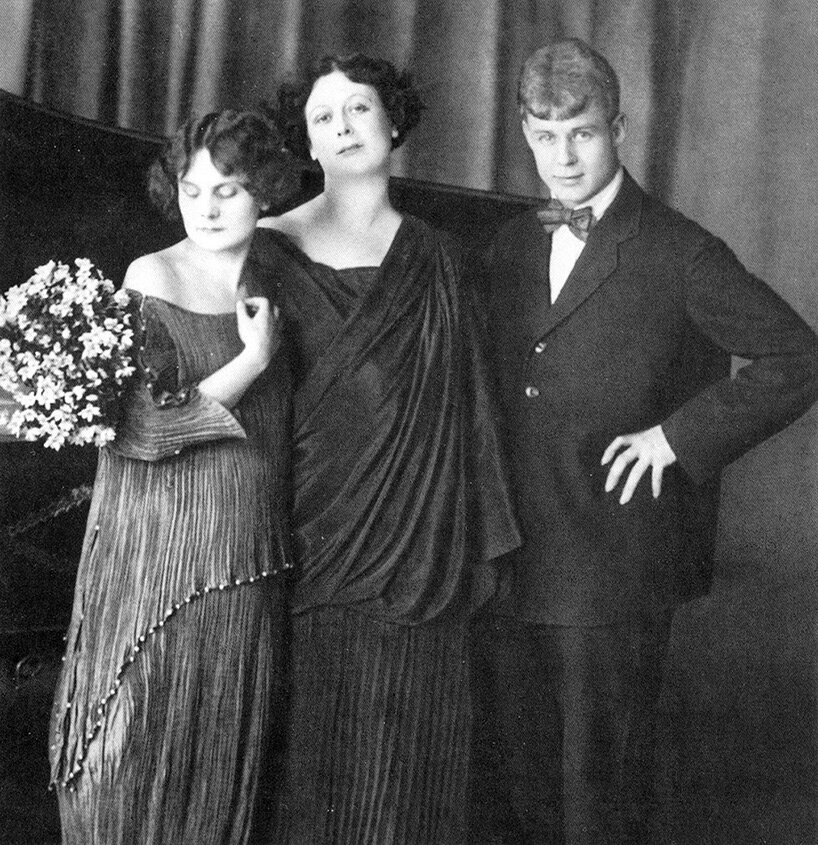 isador duncan, center, with her adopted daughter irma duncan in delphos gowns, c. 1922. | courtesy of fortuny

fast forward around 300 years and history brings a new innovator to the pleating panorama. in the early 1900s, spanish innovator, artist and fashion designer mariano fortuny invented a particular pleating technique, which he used to create the iconic 'delphos' dress from the fortuny headquarters in venice. made from fine silk, the exquisite garment echoed the form of an ancient greek column and showed off the natural curves of the female body. 'the delphos dress exemplifies fortuny's ability to transform historic source material into garments with a wholly modern sensibility,' writes the met, who holds the 'delphos' in its collections. 'ancient greek representations of the chiton, a tunic composed of rectangles of fabric, provided essential inspiration.'

the 'delphos' echoes the ancient greek garment's body-conforming drape, construction, and columnar silhouette. its name references the charioteer of delphi — the classical bronze statue of a standing charioteer wearing a chiton (long tunic). the charioteer influenced the shape and cut of fortuny's garment, and portrayals of tightly pleated chitons on archaic sculptural figures offered a model for his fine pleating. the unlined pleated silk of the 'delphos' conforms to each individual wearer, with tight pleats offering enough elasticity to cling or expand according to the body's contours, creating a modern relationship between clothing and the body.

see an appraisal and description of a fortuny delphos gown, ca. 1920

characterized by a very fine pleating done through a manual process, the 'delphos' consisted of four or five cloths of silk satin or taffeta, with which up to 450 folds for each cloth could be achieved. is was so finely pleated that it could be rolled up into a ball and still maintain its flowing lines when unrolled, yet so delicate that it could never be washed — otherwise the pleats would disappear. the neckline and sleeves were adjustable by means of a silk drawstring bejeweled by murano glass beads. although mariano fortuny is generally considered the designer of the dress, he acknowledged henriette negrin, his wife and muse, as the true creator of the 'delphos' gown, with an authentic side note written on the patent. the dress was worn by the most famous theater actresses and legendary women of the 1920s.

the exact technique patented by mariano fortuny had more or less remained undecipherable — no one was able to duplicate the process. however, as part of a 2018 exhibition at palais galliera in paris dedicated to revealing the full diversity of the designer's inspiration, fortuny showcased its first work that introduced the re-mastered art of the pleats. the re-imagined 'delphos' dress in navy donned lady mary in downton abbey's latest feature film.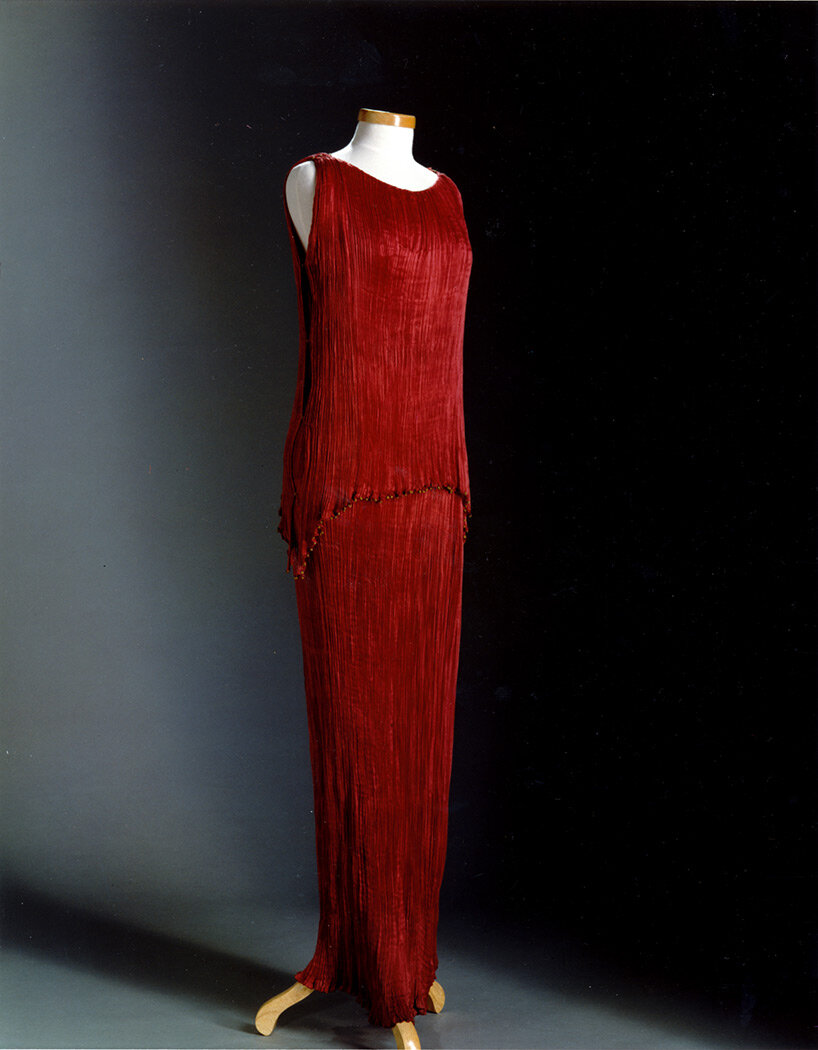 an original, red delphos gown | courtesy of the riad family collection
the lasting influence of fortuny's revolutionary pleating cannot be understated. pleating-masters across europe evolved the technique, with trained artisans developing new and now time-honored ways of pleating from their independent ateliers. one such workshop is the famous studio of gérard lognon — pleat makers for more than four generations. 'it is like sculpting clothing,' says leopoldine pataa, a pleat maker at the workshop, to fashion network. lognon's process involves placing fabric material between two intricately-constructed kraft paper molds. these constructions are then put in a steam oven for more than an hour, depending on the material, before being delicately removed from the mold in order to not damage the patterns. creating a sunburst pleat for example — perfect for a flared skirt — involves material being placed between a cardboard mold with two layers laid out on a table like a large, opened fan. 'gerard-george lognon often said he added a noble touch to fabric through pleating, an art much like origami, with each different fold creating different results,' writes fashion network. 'lognon invented a few of his own pleat styles, and the workshop has some 2,500 moulds used to make about 2,000 different kinds of pleats.'
see a video documenting the pleating process at atelier gérard lognon at the top of the page…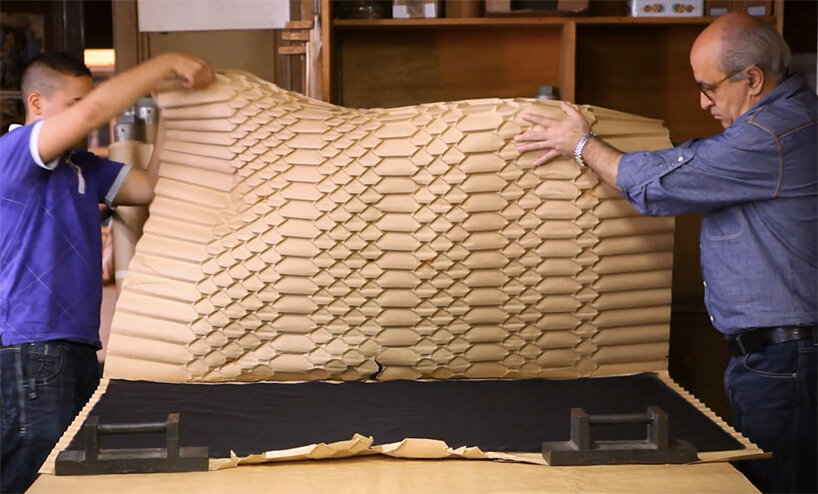 screenshot from atelier gerard lognon video by sure shot paris (video above)
as an art and knowledge passed on within families and across generations, this remarkable practice grows more and more rare — when gerard-george lognon retired without an heir to take over the workshop, it was purchased by chanel as a way to keep the atelier's traditional craft and skill alive. the specialist workshop remains independent under chanel's subsidiary paraffection, established in 1997 to preserve and promote the heritage, craft and manufacturing skills of fashion artisan workshops. as of 2015, paraffection had acquired twelve ateliers d'art, including milliners, glovemakers, and embroiderers.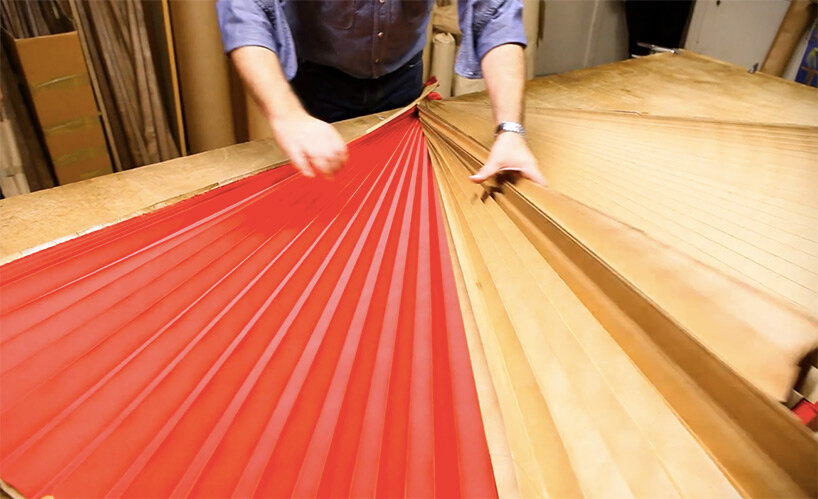 screenshot from atelier gerard lognon video by sure shot paris
pleating has become an exquisite element across contemporary haute-couture garments, with chanel and christian dior among the many that often integrate delicately pleated patterns. meanwhile, in the 1980s, japanese fashion designer issey miyake began an exploration of the body's motions and form. at this time, miyake began to experiment with pleating, with the intention of expanding the possibilities of the technique. when ballet choreographer william forsythe approached miyake about creating the clothing for a production 'the loss of small detail' for the frankfurt ballet, it inspired him to innovate a type of pleated clothing that could easily move with the dancers' bodies. he therefore used a new lightweight knitted material and introduced a technique called 'garment pleating. in this method, an oversized piece of cloth is cut and sewn in the shape of the garment, sandwiched between two layers of washi paper and finally fed into a heat-press. unlike its predecessors, these pleats are added after sewing the clothes into shape, where they remain permanently in the fabric's 'memory'.
these early experiments lead to further adjustments before the introduction of the line PLEATS PLEASE ISSEY MIYAKE. the label offered elegant and practical clothing that was easy to to wear, care for and to travel with, transitioning effortlessly from work to play. first launched in 1988, this pleats line grew until it finally became a brand of its own with the launch of the spring summer 1994 collection. today, the garments are light and wrinkle-proof, don't need to be dry-cleaned, and can be folded to a compact size for easy storage and carrying. PLEATS PLEASE has become deeply entrenched in the daily lives of modern women, and has become a brand that reflects issey miyake's fundamental concept — 'design is not for philosophy, but for life.'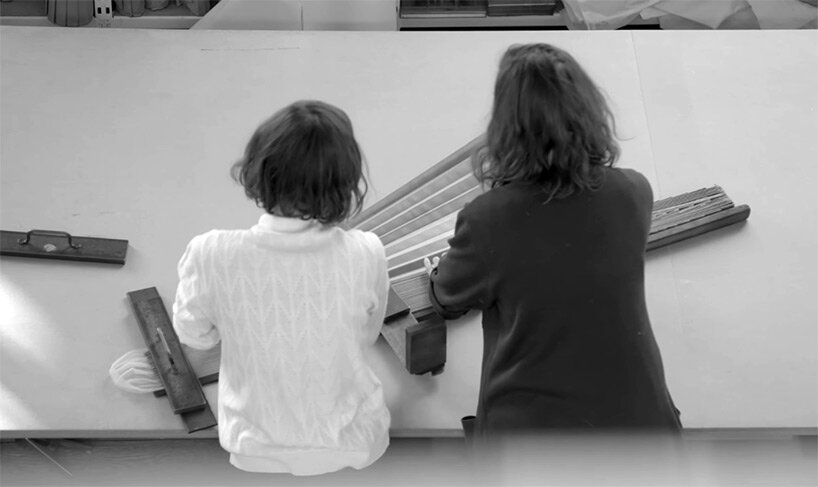 screenshot from haute couture savoir faire – pleating by maison lognon by christian dior
in 2019, HOMME PLISSÉ ISSEY MIYAKE's first flagship store opened its doors in minami-aoyama, tokyo designed by tokujin yoshioka. the shop features a pleating machine at the rear to show customers how the process is applied on a garment. on display to view is miyake's unique method called 'seihin pleats (product pleats)', by which pleats are made in fabric cut and sewn to 1.5 times normal size. miyake's placement of a pleating machine in store for all to view underscores the curiosity and passion pleats endure to this day — a timeless technique whose layered legacy will continue to unfold across the ages.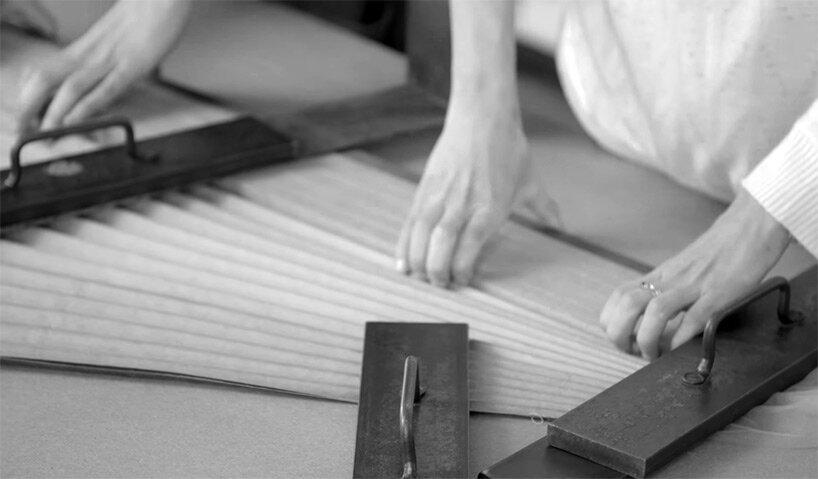 screenshot from haute couture savoir faire – pleating by maison lognon by christian dior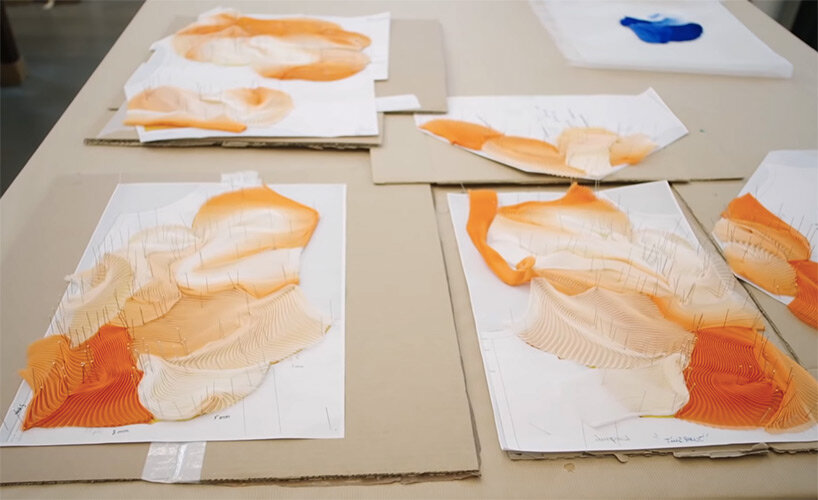 screenshot from men summer 2020 pleats savoir-faire by christian dior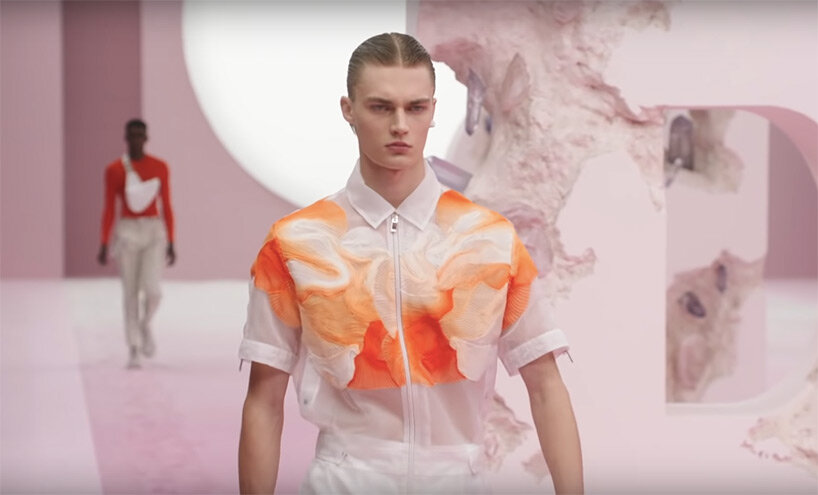 screenshot from men summer 2020 pleats savoir-faire by christian dior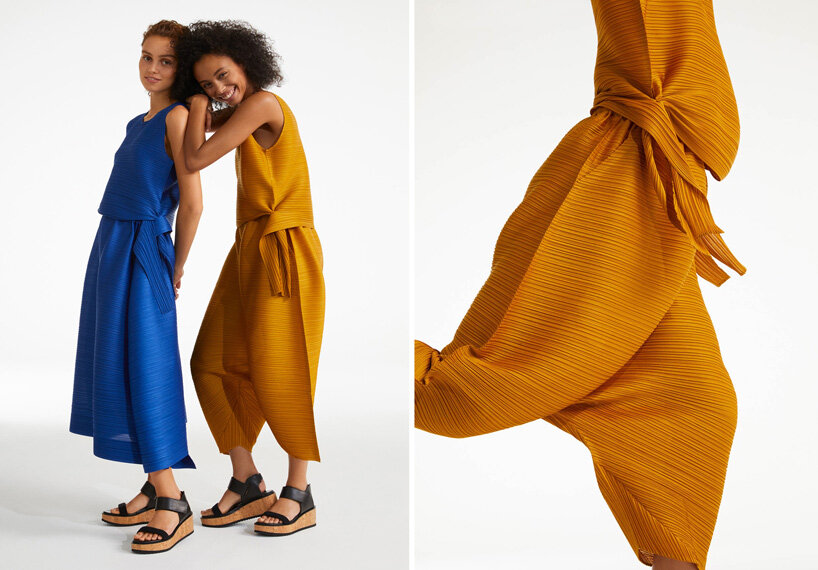 looks from PLEATS PLEASE ISSEY MIYAKE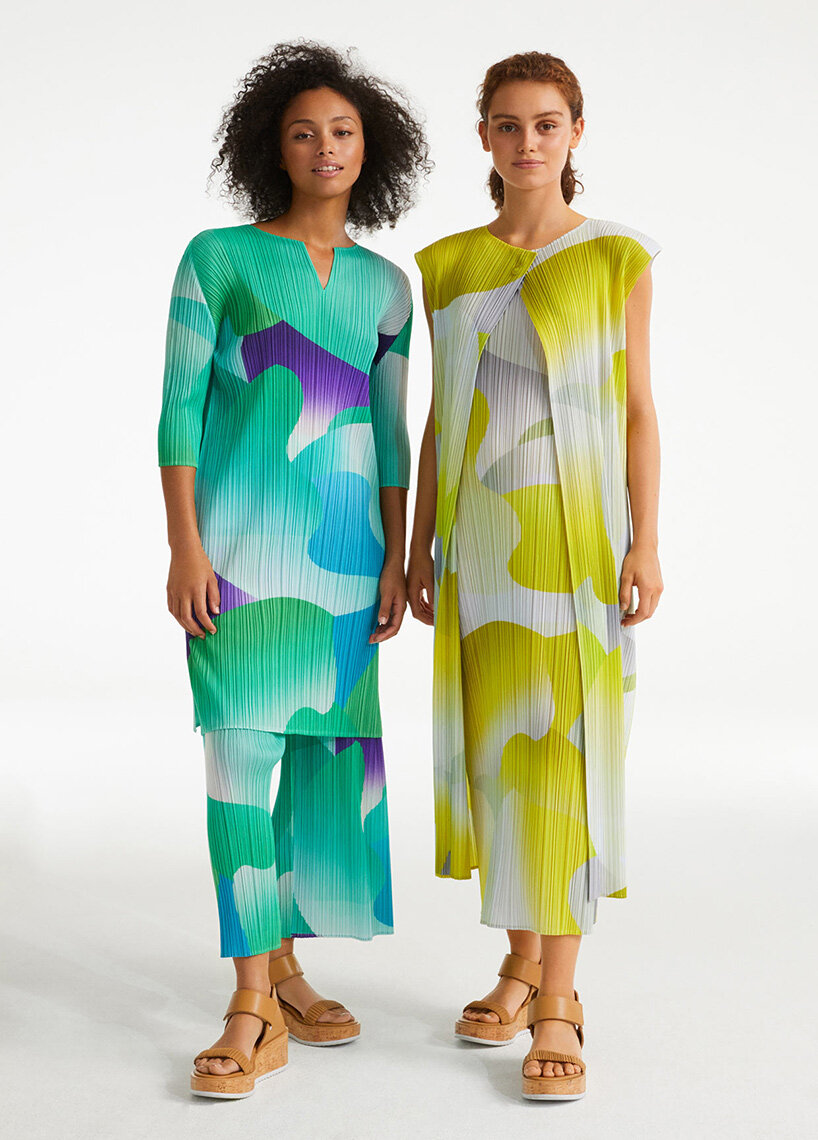 looks from PLEATS PLEASE ISSEY MIYAKE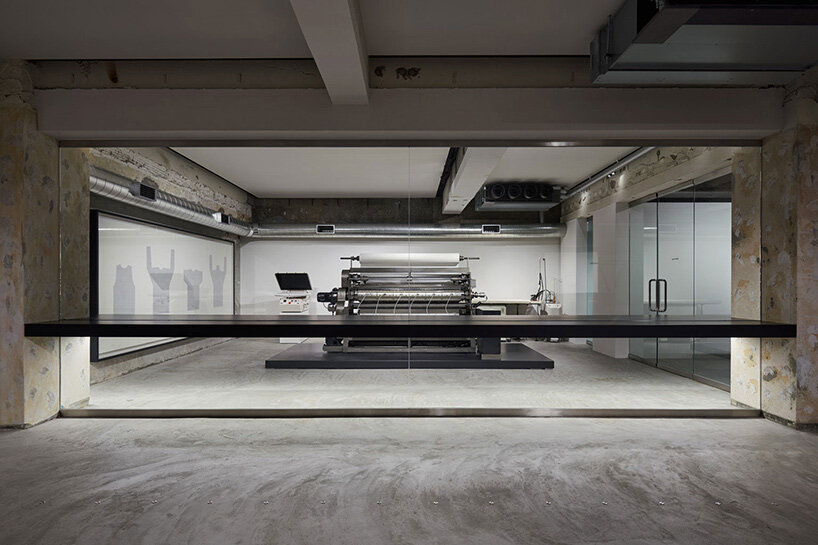 HOMME PLISSÉ ISSEY MIYAKE flagship store in minami-aoyama, tokyo features a pleating machine
image courtesy of issey miyake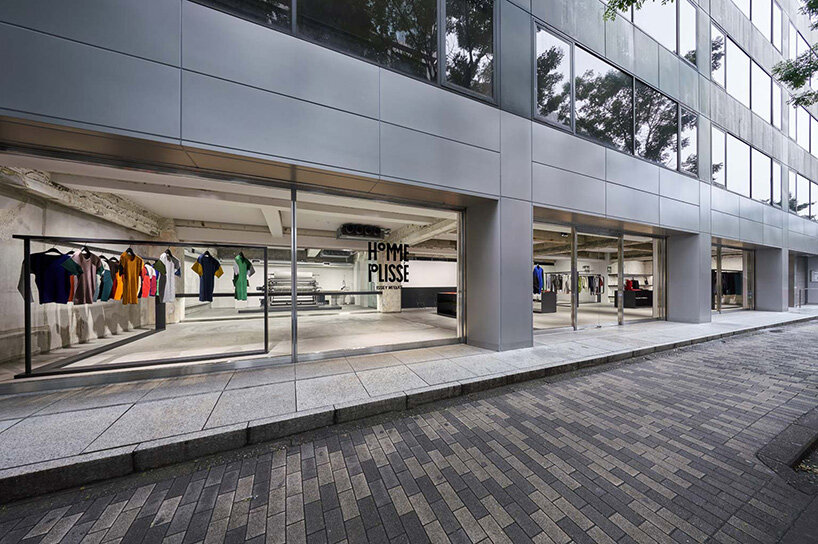 visitors can view miyake's unique method called 'seihin pleats (product pleats)'
image courtesy of issey miyake
nina azzarello
I designboom
may 09, 2021
a diverse digital database that acts as a valuable guide in gaining insight and information about a product directly from the manufacturer, and serves as a rich reference point in developing a project or scheme.
designboom will always be there for you
milan, new york, beijing, tokyo

,
since 1999