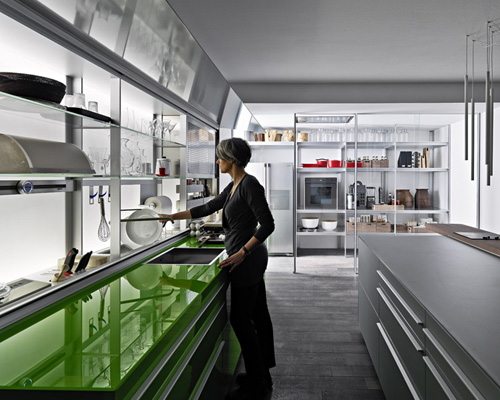 feb 20, 2014
Valcucine brings sustainability driven innovation to eurocucina 2014
Valcucine returns to eurocucina with sustainability driven innovation
innovation is a key objective for companies, as it marks development and signifies a particular standard and success. the specification of innovation in products and services is appreciated by customers who are more willing to invest in something that is branded in this way. today, much of the backing for why something is considered innovative is in the technology it employs, and alongside industrial and scientific developments, the notion of sustainability is quickly becoming an indicator of revolution as well. the problem is that the term and other related buzzwords such as environmentally-friendly and green, are deceiving as it is almost impossible to conceive a truly ecological product. this is due to the plain and simple fact that all types of manufacturing and human activity have some kind of impact on the environment.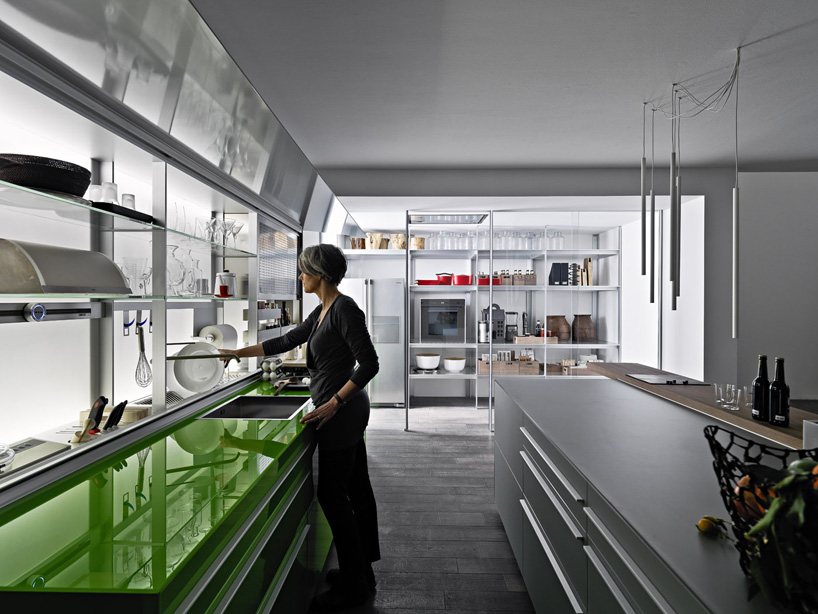 Valcucine's 'new logica system' features an expansive 'equipped back section' for storage
see more about this product on designboom here
Valcucine, whose innovation does come in the primary force of ethics, realizes the superficiality that can often be associated with sustainability — more often than not, a ploy for more money — and instead understands and expresses its meaning as a proposal of an improved way of life and ongoing betterment of the state of our environment. overtime, their awareness of other firms neglecting such essential details as quality, safety and the non-toxicity of products has pushed the italian brand to achieve a number of advancements that indicate how the necessity to 'increase' sustainability improves one's goods.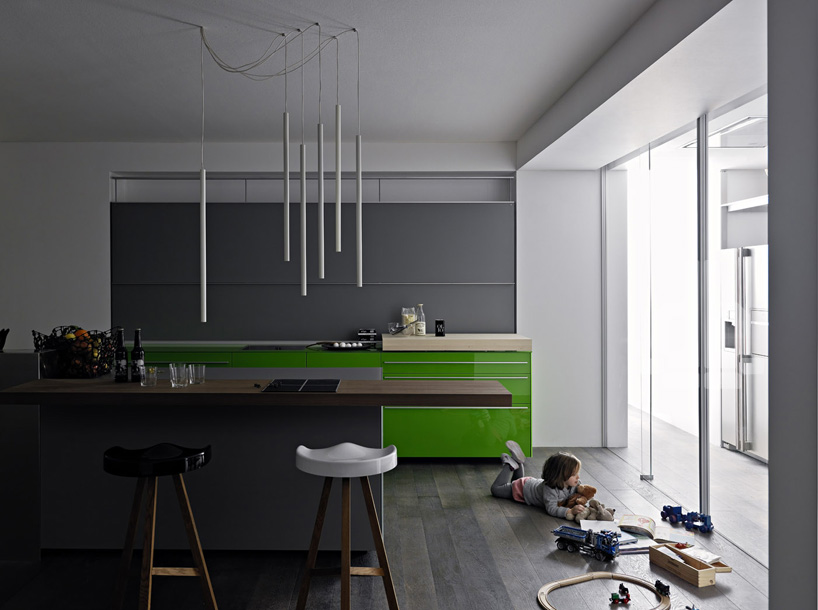 Valcucine 'new logica system' in green
working with the vision of 'we have a dream, a waste-free world', Valcucine has been concentrating on developing a product line that takes into consideration the key principles of eco-compatability, which include dematerialization, recycling and reusing, reducing toxic emissions; along with guaranteeing a long technical and aesthetic life, proving that smaller and multiple impacts are just as virtuous.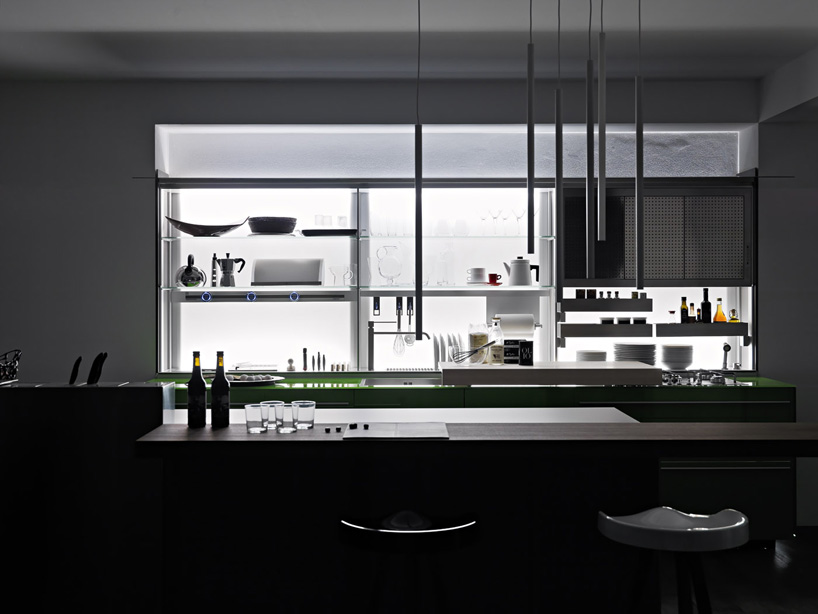 'new logica system'
this is evidenced first hand in 'artematica', a revolutionary concept which offers a 100% recyclable glass and aluminium kitchen door; and the world's first to have an aluminium frame sealed with an aesthetic panel of 5mm thick HL (high-pressure laminate) whereby any additional hinges and hardware are completely hidden. as innovation is about the improvement of existing ideas, Valcucine further worked on the 'artemetica' idea which progressed into an even slimmer door in the form of 'ricicla', reducing its predecessor's thickness to only 2mm. in its most recent development 'reciclantica', the design has been conceived as a single-material door, made from 100% aluminium, with a 2mm thick aesthetic panel.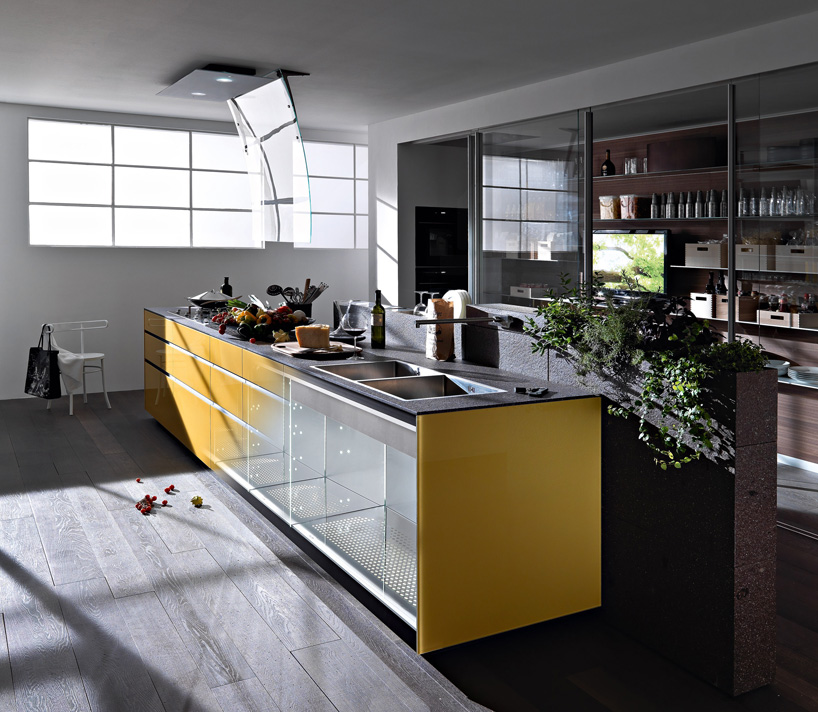 'artematica' kitchen system with glass 'invitrum' bases
in addition to its breakthroughs in functionality and aesthetics, Valcucine also strives to employ a conscious application of materials that minimize the use of chemicals and energy for production. a testament of their adherence to this is the 100% recyclable invitrum glass base units used in their kitchen systems which are completely devoid of formaldehyde emissions. they also do not use double sided panels and have been conceived for easy disassembly, and can be reused or recycled at the end of their life cycle.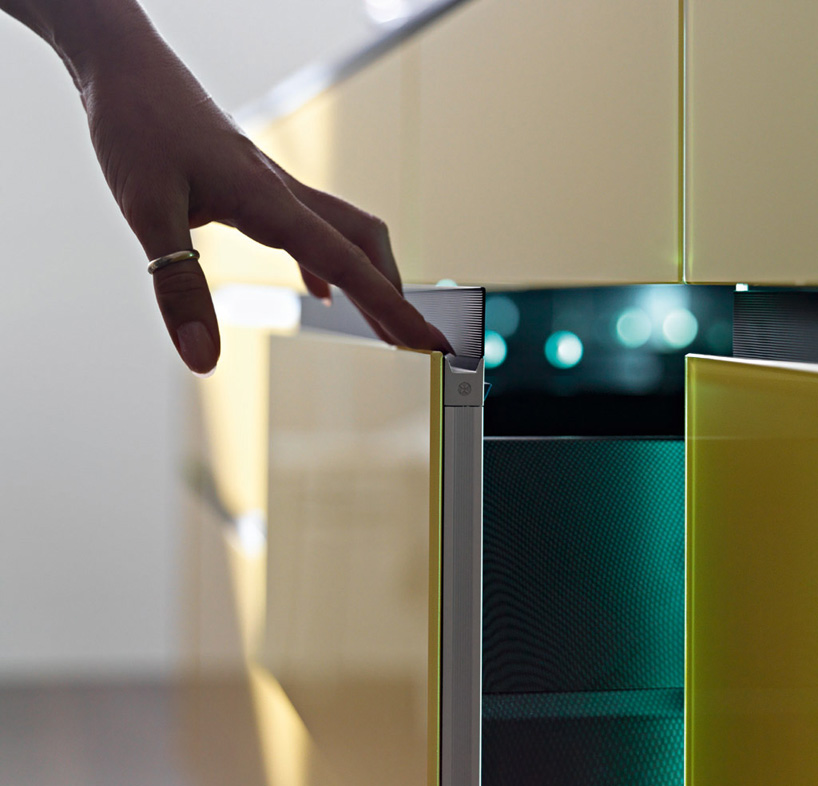 Valcucine's unique door system is made from 100% aluminium with an aesthetic panel
proving their full-hearted commitment to offer products that are while being extremely functional and aesthetically intriguing, also make clients feel as if they are making a positive contribution to the environment, Valcucine has been using only wood grown in responsibly managed forests since 2008. with the incorporation of FSC-certified timber components into its kitchens, it is Valcucine's ultimate goal to create kitchen models in which all wooden elements are derived from FSC forests.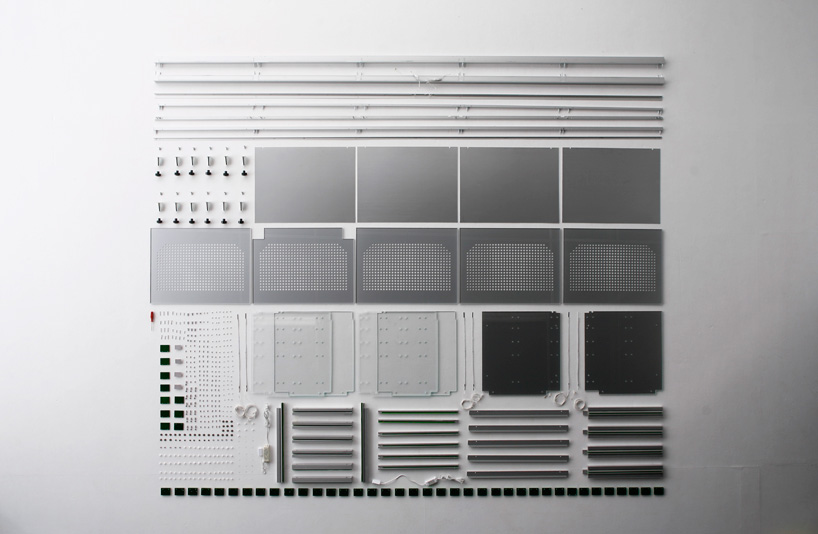 sustainability driven innovation: components of Valcucine's glass kitchen base 'invitrum' system, the first to be reusable and 100% recyclable
wanting to share their 'sustainability driven innovation' to the greater international trade, Valcucine returns to the eurocucina kitchen fair during salone del mobile in milan, after 12 years, offering deeper insight into the research and development, as well as design and manufacturing processes they employ in the development of their products. you can pre-register to attend the Valcucine presentation here.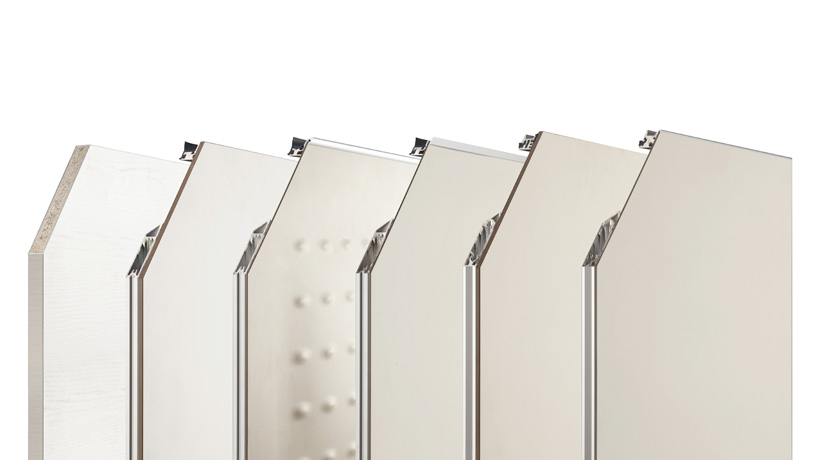 sustainability driven innovation: from a common door to the Valcucine's breakthrough system
mar 08, 2014
mar 08, 2014
jun 18, 2013
jun 18, 2013
oct 18, 2012
oct 18, 2012
sep 05, 2012
sep 05, 2012
jun 14, 2012
jun 14, 2012
apr 09, 2012
apr 09, 2012
a diverse digital database that acts as a valuable guide in gaining insight and information about a product directly from the manufacturer, and serves as a rich reference point in developing a project or scheme.