dec 11, 2010
valentin loellmann: m.&mme
the first three pieces to launch the collection: cabinet with door, cabinet with drawers, bench images courtesy of valentin loellmann
german designer valentin loellmann has revealed the first three pieces from 'm.&mme' his new collection based on the idea of family.
the bench, cabinet and drawers, made out of old bankirai wood reinforced with a polyester skin, are part of a much larger vision: similar to that of a family, the collection will grow and evolve over time. while their forms or characteristics change, a common element or 'mood' will always connect the new pieces to the original ones.
loellmann, looked to forms of traditional craftmanship when designing this collection where every piece is unique and intended to have a narrative that is both independent and interconnected to the rest of the pieces.
cabinet with drawers 125cm x 61cm x 56cm
cabinet with door 175cm x 50cm x 65cm
bench 33cm x 96cm x 33cm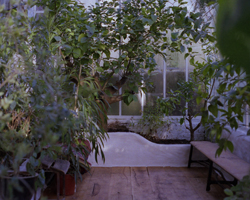 jan 11, 2013
jan 11, 2013
jul 02, 2012
jul 02, 2012
dec 20, 2011
dec 20, 2011