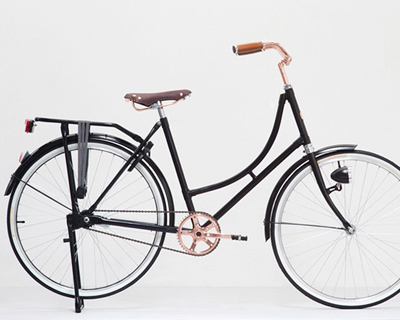 jun 06, 2013
vanguard bicycles are hand sculptured art objects
vanguard bicycles are hand sculptured art objects : 'U bicycle'

'U bicycle', a hand sculptured art object is made by singapore bikesmiths vanguard is available at tokyo-based CIBONE. produced for underscore magazine (with branding and design by HJGHER), it was first shown at designtide during the last tokyo designers' week. the 'U bicycle' evokes a nostalgic memory of the classic dutch style, with a black matte steel frame (made in japan) in combination with copper details and a leather saddle.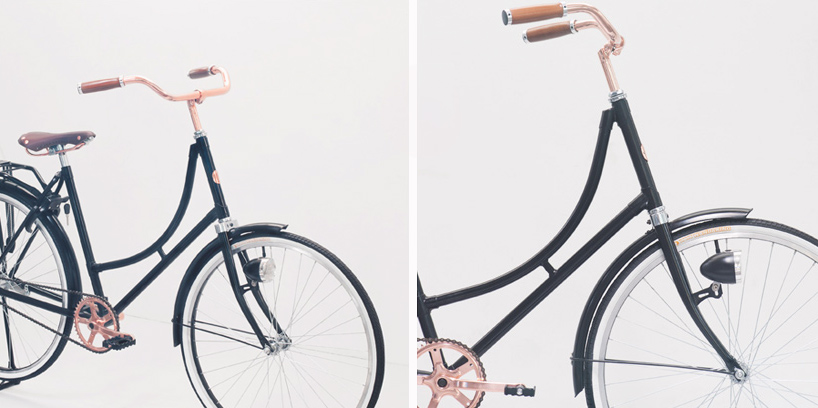 'U bicycle' by vanguard bicycles
a previous one-off limited edition series of four bicycles: 'cloud', 'mist', 'rain' and 'dew' was also hand-sculpted by vanguard in singapore. referring to the overlapping stages of precipitation and evaporation, elements of the hydrologic cycle were studied and distinguished to represent each bicycle, reinforcing notions of repetition, renewal, reflection and change.
for the construction of the bicycles, four extremely durable 1970s japanese-made ishiwata touring frames of high-grade vintage steel with fillet-brazed joinery and lugged construction were acquired as the canvases. these frames, which are no longer in production, are extremely durable, strong and flexible, with the ability to withstand extreme stress from the toughest urban riding conditions. in order to achieve the sleek lines of a track frame, the bosses and brackets that were once used for the brake cables and derailleurs were brazed and filed. new track dropouts were specially laser-cut and fitted onto the frames. to accommodate newer and sleeker 700-c tyres, the forks, seat and chain stays were shortened. each frame was sandblasted, galvanised and chrome-plated. all bikes were built as single-speed kinetic sculptures and fitted with coaster hub brakes. they are enjoyable rides that are easy to maintain.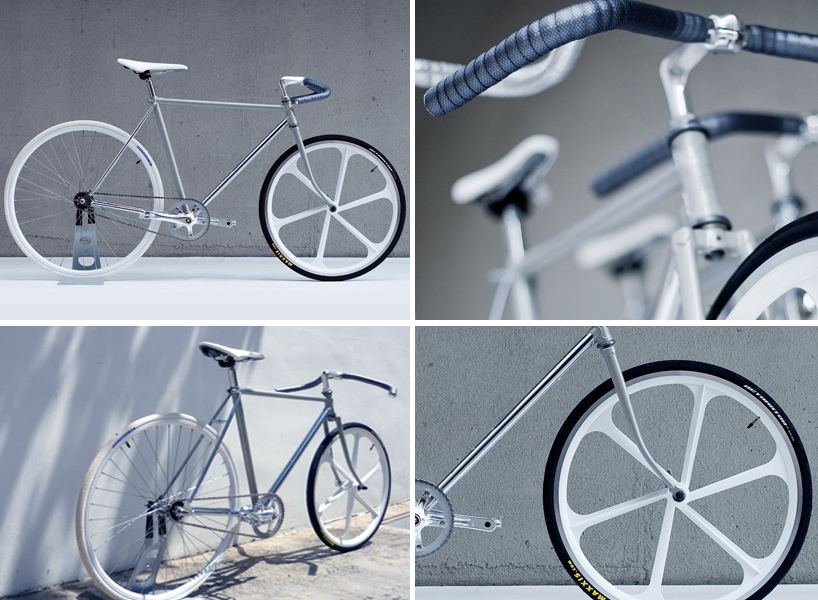 'cloud' messenger bike
the 'cloud' messenger bike dwells in the overlapping layers of cloud and sky. using the bicycle as a visual portal to express these two sublime layers –as if the bike is passing through these layers that are frozen in time – qualities of light and space that are transmitted through this interaction are captured. cloud is custom-fabricated and is designed as a sleek single speed ride that comes fitted with a coaster hub brake.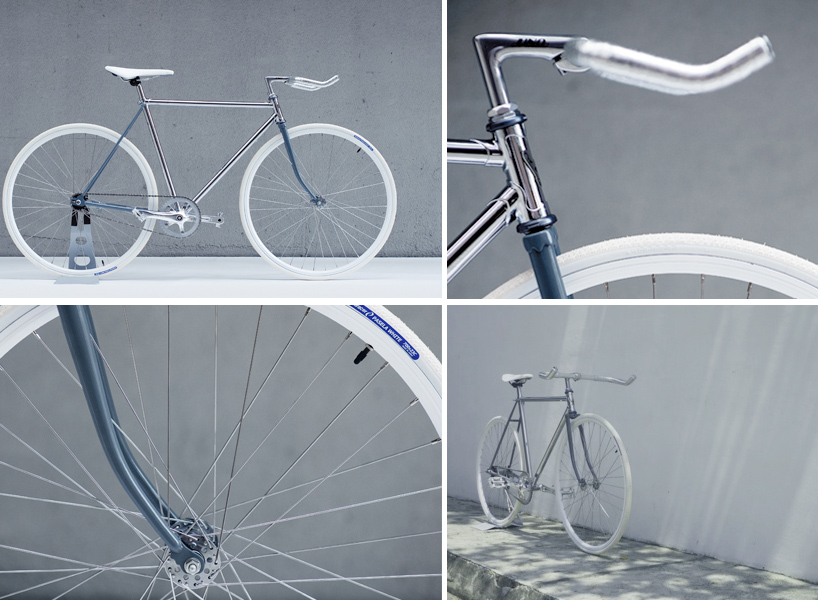 'mist' messenger bike
the 'mist' messenger bike is an expression of heavy mist precipitating at the break of dawn, glistening in half darkness through its reflection of a water droplet in light. specially restored and custom-built, mist comes fitted with a coaster hub brake, chrome finished handlebar grips as well as puncture resistant 700-C tyres.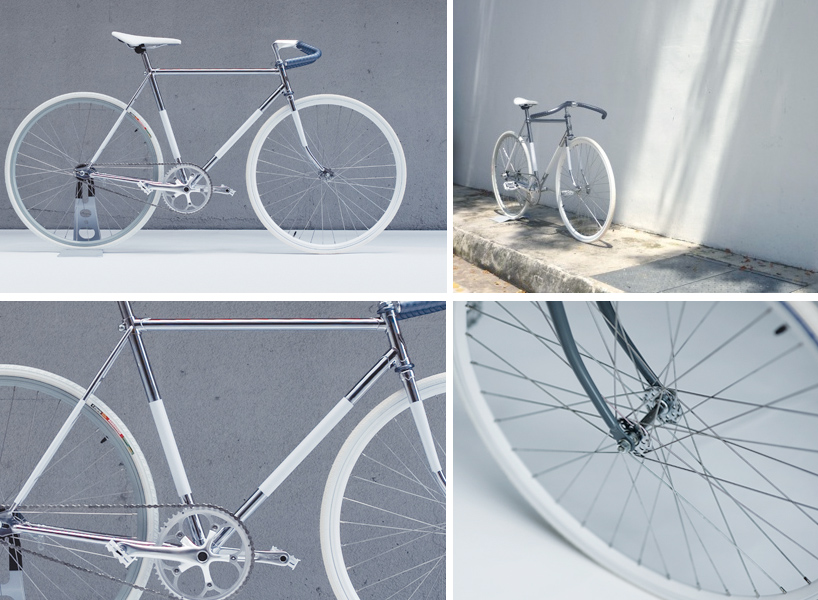 'rain' messenger bike
the 'rain' messenger bike expresses the moment when the bicycle slices through falling rain, seen through a sheet of rain that falls in horizontal lines. custom-fabricated, rain was brazed and re-proportioned, and built as an elegant single speed bike that comes fitted with a coaster hub brake.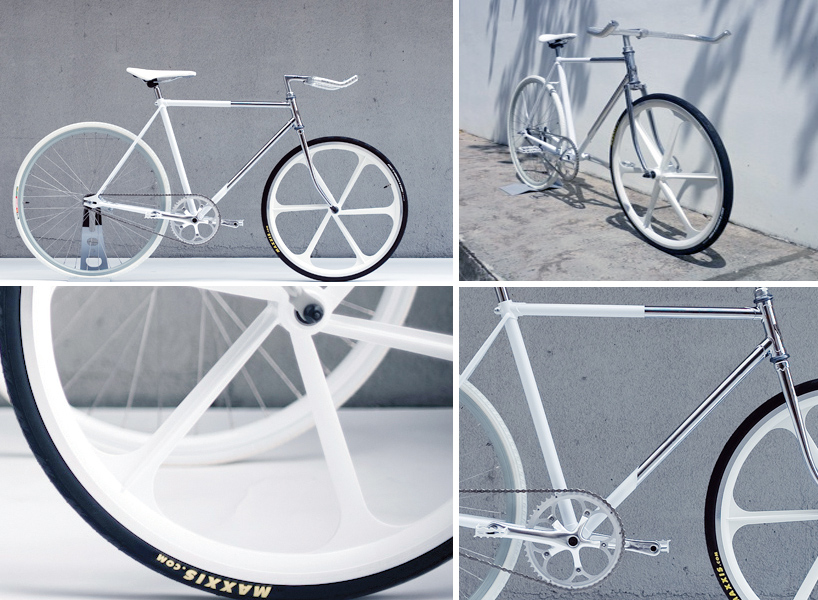 'dew' messenger bike
the 'dew' messenger bike expresses the changing densities of atmospheric moisture through condensation as the bicycle moves forward through time. dew is designed to capture the experience the first formation of water droplets, as if charting the precise moment when night transits into day. dew is meticulously restored, re-welded and fitted with a coaster hub brake and a magnesium alloy aero rim.
re-use, re-design and re-cycle
vanguard builds its own range of brand new bikes using recycled steel. with an attention to detail and a hands-on approach, vanguard works closely with its local community of the fine craftsmen and mechanics, encouraging a sustainable biking solution. vanguard specialises in the restoration and customisation of vintage european and japanese bikes – they are beautiful, durable and are built to last a lifetime. vanguard works on special commissioned projects in which the bike is built according to the user's riding preferences, geometry, fit, and aesthetic/design preferences. customised fabrication options are available.
jul 08, 2020
jul 08, 2020
jun 17, 2020
jun 17, 2020
jun 11, 2020
jun 11, 2020
jun 07, 2020
jun 07, 2020
apr 25, 2020
apr 25, 2020
apr 07, 2020
apr 07, 2020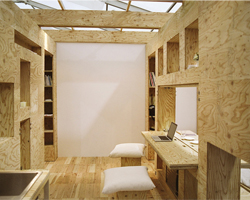 dec 13, 2012
dec 13, 2012
nov 27, 2012
nov 27, 2012
nov 24, 2012
nov 24, 2012
a diverse digital database that acts as a valuable guide in gaining insight and information about a product directly from the manufacturer, and serves as a rich reference point in developing a project or scheme.