aug 06, 2015
vasily klyukin envisions flying yacht concept for monaco 2050
vasily klyukin envisions flying yacht concept for monaco 2050
all images courtesy of vasily klyukin
designboom already introduced the 'monaco 2050' by vasily kluyki on may 21, 2015, but we just received a descriptive animation of the project and we couldn't wait to share it with our readers! this new video further details the possibilities of uniquely combining aircrafts and yachts together and how transportation technology could interact in the future.
video courtesy of vasily klyukin
in a constantly changing world, where new technologies rapidly devour the old ones, contemporary design changes with enormous speed. with exciting material and mechanical advancements in mind, vasily klyukin has envisioned the yacht of the future as a hybrid helicopter, that can take flight directly from the sea.
'monaco 2050' — named after the city and year klyukin foresees the design being realized in — comprises an upper deck that is simultaneously part of the yacht and an independent aircraft. screws embedded in the wings allow this autonomous unit to rise upwards, becoming a helicopter. after gaining the necessary altitude and speed, klyukin imagines jet engines will offer the opportunity to fly extreme distances overseas.

the yacht of the future is envisioned a hybrid helicopter that can take flight directly from the sea
'monaco 2050' is a continuation of klyukin's exploration of yacht design, previously featured on designboom here, which originally included six unique concepts for the bold and adventurous luxury traveler. this latest concept furthers the experience of yachting by including the element of flight, united together in a single vehicle.

screws embedded in the wings allow an autonomous unit to rise upwards, becoming a helicopter

the design unites a yacht and an aircraft into a single vehicle

the upper deck is connected to the yacht and acts as an independent aircraft

after gaining the necessary altitude and speed, klyukin imagines jet engines to turn on

'monaco 2050' is named after the city and year klyukin foresees the design being realized in

from above, the interconnectedness between the aircraft and boat can be seen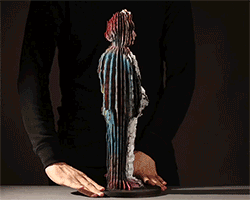 may 26, 2017
may 26, 2017
apr 17, 2017
apr 17, 2017
oct 22, 2016
oct 22, 2016