20 years of designboom: in our video footage from 2000, vico magistretti tells us that he doesn't have a great passion for 'fashionable' architects…
'I believe that ultimately, the two great geniuses of this century were frank lloyd wright and le corbusier. the others are extraordinarily good, but they are not the two of them! (corbusier, by the way, built very badly. except for ronchamp, which was built by someone else and is a prodigy of beauty.)'
'I dislike certain project titles – for example the school of 'A House for a Pianist on Lake Garda'. it's unparalleled silliness. I believe that architecture is always conditioned by reality. if it's is not conditioned it is no longer that work – it is fine but it's another job. that is to say that there is no excuse – no excuse at all – to make bad (not beautiful) things. our work is born to be conditioned. so a hypothetical work seems to me a thing of absolute stupidity…'
simplicity and essentialism are the main characteristics of magistretti's oeuvre:
'what I try to do, as far as I can, is to find the simplest solutions possible. and 'I've never loved going back to the projects I did. never. it is basically the process of: 'the culprit never goes to the scene of the crime.' I've always struggled, … I regret some things I did, but overall I have always made a lot of efforts.' vico magistretti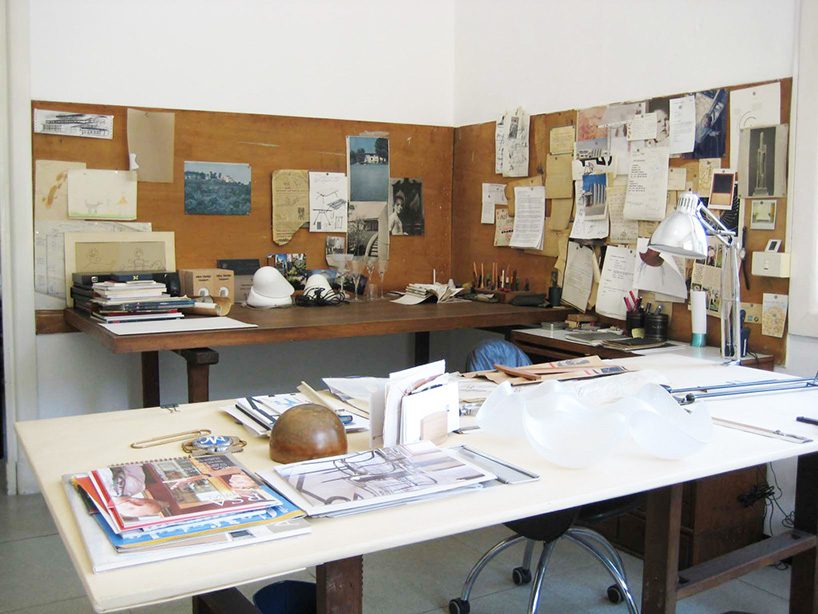 vico magistretti's working desk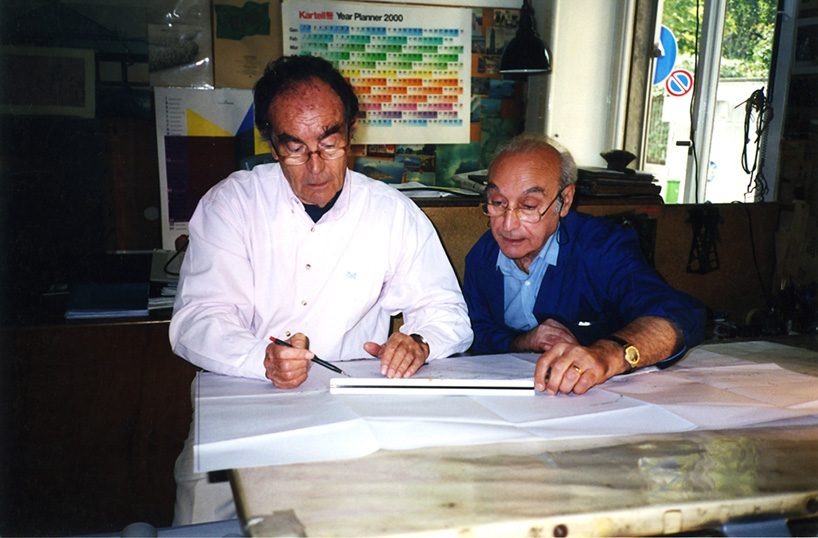 vico magistretti and franco montella
images courtesy fondazione studio museo vico magistretti
about vico magistretti (06.10.1920 – 19.09.2006)
ludovico magistretti was born in milan on october 6, 1920. he comes from a family of architects for many generations: from his great-grandfather gaetano besia, to his father, pier giulio magistretti. during the second world war, to avoid deportation to germany, he moved away from italy to switzerland where he was able to take some academic courses at the champ universitaire italien in lausanne. during his stay in the swiss city he met an architect from trieste, also a refugee in switzerland: ernesto nathan rogers, founder of the BBPR group, from whom he received intellectual and professional training. in 1945 he returned to milan. at that time it was a poor city but full of desire to be rebuild. he graduated in architecture at the polytechnic university the same year.
on the architecture front, I remember early projects he carried out:
'casa arosio' in arenzano (1956-59), the towers of piazzale aquileia (1961-64), the 'bassetti house' in azzate (1959-62), the 'cassina house' in carimate (1964-65), the house in via conservatorio in milan [(1963-66) where also his small studio was based, in which he worked throughout his life with the collaboration of a single extraordinary character, the surveyor franco montella.] followed by 'milan san felice' district in segrate (1966-69, with luigi caccia dominioni), and a residential building in piazza san marco (1970-73).
in the 1980s: there was the department of biology in milan (1978-81), the tanimoto house in tokyo (1985-86), and the cavagnari centre of the savings bank in parma (1982-85). in the 1990s: the famagosta depot for the milanese metro ATM (1989-2000) and the supermarket esselunga (1997-2001).
magistretti diversified his work in relation to the different companies with which he established a life-long collaboration that went beyond the design of a single object: from art director to principal designer. his first chair design dates back to 1960 — 'carimate', designed to furnish the golf club (also planned by him in the same year) and put into production by cassina (out of production now).
his 'selene' chair (for artemide, 1969) competes with the 'panton' chair by verner panton and the 'universal' chair by joe colombo for the world's first monobloc plastic chair.
his most significant design projects (in my opinion) were:
the lamp 'eclisse' (artemide, 1966)
the 'maralunga' sofa (for cassina, 1973)
the 'nuvola rossa' book shelf (for cassina, 1977)
the 'atollo' lamp (for oluce 1977),
the bed 'nathalie' (for flou, 1978)
and for the collection 'è de padova' he designed the 'marocca' chair (1987), the 'vidun' table (1987), the 'raffles' sofa (1988)…I have collaborated with magistretti from 1988 to 2004, as personal design assistant, art direction and product development (for de padova). I started with the development and drawings (not on computer, but drawing board) of the first chair using polipropilene (for seat and back) — the very successful 'silver' series (1989), the 'uragano' wicker chair (1992), 'shine' (1991) and 'blossom' tables (2002 – out of production now), and many more products.
magistretti held lectures and conferences in various faculties of architecture and design schools in italy and abroad, from new york to paris to london, a city which he was particularly attached to. in the late 1970s, magistretti began teaching at the RCA royal college of art.
his design works are on display at the permanent collection of MoMA, the victoria & albert museum in london, die neue sammlung in munich and at numerous other museum institutions worldwide. following his death in september 2006, the studio, home to the vico magistretti foundation, was converted into a museum, dedicated to the study and dissemination of his work.
—

watch our unreleased videos with ettore sottsass, milton glaser and achille castiglioni from 2000 and stay tuned as we continue to deliver you a host of treasures on tape: from the designboom archives.
—
as we celebrate this landmark anniversary marking 20 years of designboom, we present to you: treasures on tape, from the designboom archives — a series of 'retro' videos filmed by designboom in its first years. with japanese mini-dvd technique we conducted video interviews and filmed live discussions with the world's leading protagonists in the creative fields, where they reflect on the state of contemporary society, the evolution of their work over the years, and their forecast for the future.

for twenty years designboom has united and promoted creatives from around the world, excited by the ideas of small practices, independent makers, enthusiastic students, and the biggest names in business. driven by curiosity, passion, research, expertise and hard work, designboom embraces a broad definition of art, architecture, technology, publishing the latest and most relevant projects in these fields to a global audience of 3.5 million readers. online since 1999, designboom is the first and most popular digital architecture, art and technology magazine (english and mandarin), with offices in milan, new york, beijing, and tokyo.
readers are an active and essential part of our editorial calendar, through designboom's reader submissions, creatives and makers — regardless of place, position or prestige; religion, nationality, or gender — are invited to communicate their work to a huge, international audience (180,000 active contributors). this horizontal distribution of information means that cultural conversations are developed directly by our readers, and do not follow any fixed hierarchical systems or chains of command. 490k newsletter subscriptions – see also instagram (2.6 M followers), facebook (1.2M) and twitter (1.2 M).
apr 27, 2020
apr 27, 2020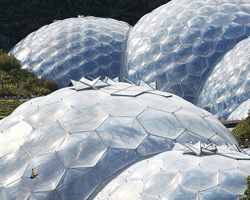 feb 04, 2020
feb 04, 2020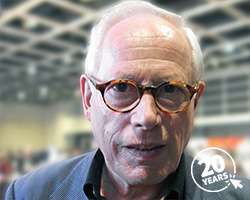 jan 29, 2020
jan 29, 2020
nov 29, 2019
nov 29, 2019
sep 11, 2019
sep 11, 2019
aug 24, 2019
aug 24, 2019
mar 08, 2010
mar 08, 2010
oct 02, 2007
oct 02, 2007
jul 06, 2007
jul 06, 2007
a diverse digital database that acts as a valuable guide in gaining insight and information about a product directly from the manufacturer, and serves as a rich reference point in developing a project or scheme.