inspired by videos of freezing soap bubbles that went viral due to the incredible 'snow-globe' effect that occurred, a group of researchers from virginia tech set out to discover the science behind the magical formations. in case you missed it, the phenomenon was captured when soap bubbles freeze at a certain temperature on ice or snow. unlike other liquids, the bubbles transform into a hardened shell of ice by a pattern of tiny flakes that develop and multiply across the frozen orb. to explain exactly why this happens, a team led by mechanical engineering assistant professor dr. boreyko, has recently published a paper in nature communications detailing the findings from their research.
video courtesy of virginia tech mechanical engineering
main images courtesy of ZALUSKArt
to begin their study, the researchers took to the lab to observe the reaction of the bubbles in carefully controlled situations using high speed cameras to see the freezing dynamics. at room temperature on a frozen substrate, the bubbles freeze from the bottom up without the breaking off of smaller crystals. however, when they deposited a bubble in a -20C (-4F) freezer, a marangoni current (when fluids flow from hot to cold at an interface) is caused by the freeze-front hitting the bottom of the bubble. due to this effect, small ice crystals are then ripped from the substrate to flow around the sphere, allowing for faster freezing.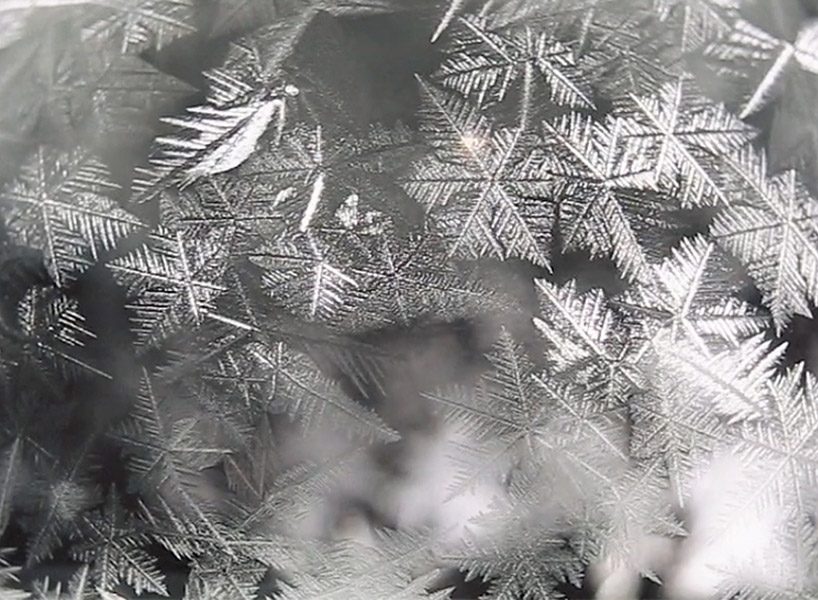 as opposed to a puddle of water freezing outside in a uniform fashion, this 'heat by freezing' allows tiny shapes to move around the sphere and cause the 'snow-globe' freezing effect. then after about 10 seconds of swirling and multiplying, the bubble freezes over completely to become a hardened shell of ice. the complete research can be read on nature communications' website and if you happen to live in a cold climate you can also experiment to see this dynamic freezing phenomenon in action.
project info:
paper: 'how soap bubbles freeze'
research team: s. farzad ahmadi, saurabh nath, christian m. kingett, pengtao yue & jonathan b. boreyko
a diverse digital database that acts as a valuable guide in gaining insight and information about a product directly from the manufacturer, and serves as a rich reference point in developing a project or scheme.