may 31, 2012
todd bracher + 3M feature virtual LED technology with 'lightfalls' architectural lighting
todd bracher + 3M feature virtual LED technology with 'lightfalls' architectural lighting image © designboom
working together with 3M architectural markets, new york designer todd bracher has conceived 'lightfalls', an experimental iteration of the american company's modular architectural lighting system utilizing the 'virtual LED' that is enabled by 3M technology. the 'virtual LED' is a nice attempt at reducing energy costs. in the 'lightfalls' installation pictured below, only 12 LED bulbs have been utilized in order to illuminate the wall's expansive surface.  the remaining light is generated simply through the bulbs' luminosity casting back from the reflectors which are in place. the overall network demonstrates the simple and ecological possibilities of this new lighting design opportunity. 
full installation view of 'lightfalls' during new york design week 2012 image © designboom
capitalizing on the laws of physics, distributing light from a single LED source over a large space, the key to facilitating the framework is through using 98% reflective proprietary 3M film which efficiently steers and distributes the brightness of a single LED from one module to another. the resulting effect is an image which gives the illusion of an arrangement of multiple bulbs, when in reality only one is used. the strategic placement of the LED amongst the ordered positioning of the 'virtual LED' – whether in a circular or linear formation – and reflectors, allows a flood of light to fill the space in which the system is installed.
the strategic positioning of a single LED amongst an arrangement of reflectors results in a flood of light image © designboom
'lightfalls is the result of physics meeting design. I share a fascination with 3M's applied sciences and find the opportunity to exercise concepts that are only achievable in collaboration with 3M as the cornerstone of our relationship. I believe that design should be driven by reason and function, so when I saw 3M's true technical clout, engineering skills and materials expertise, it was the perfect opportunity. it is also exciting to be working with such an iconic american technology manufacturer, and I believe collaborations like this are a must within our industry if we are to continue to evolve both commercially and ideologically.' – todd bracher
the 'lightfalls' installation was presented during new york design week 2012 at wanteddesign, a creative platform which facilitates the interchange of unique and innovative ideas.
alternative view image © designboom
todd bracher portrait © designboom
diagram depicting a possible arrangement
linear arrangement of reflectors and how the light from a single LED would be distributed accordingly
individual components
rendering of possible arrangement
linear diagonal arrangement
horizontal placement of reflectors
production of the 'virtual LED'
discussing the possibilities of the 'virtual LED'
apr 05, 2017
apr 05, 2017
jul 30, 2016
jul 30, 2016
apr 17, 2016
apr 17, 2016
LED
(99 articles)
feb 17, 2017
feb 17, 2017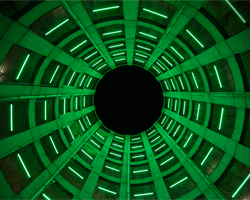 sep 02, 2016
sep 02, 2016
jun 23, 2016
jun 23, 2016
jul 07, 2012
jul 07, 2012
jun 12, 2012
jun 12, 2012
jun 07, 2012
jun 07, 2012
may 09, 2017
may 09, 2017
jan 18, 2017
jan 18, 2017
apr 30, 2011
apr 30, 2011