orgatac: at the orgatec 2016, designer alberto meda presents the VITRA 'AM' chair as part of the furniture brand's 'work' project. the task chair is a result of engineering skill, quality design and many years of experience, uniting ergonomic functionality with technical elegance. its appearance is characterized by its dynamic armrests and a height-adjustable back, which features a slender plastic frame and translucent mesh cover that provides a sense of lightness.
at VITRA's stand at the 2016 orgatec furniture fair, we sat down with italian designer alberto meda, who discussed the evolutionary design process of the 'AM' chair, the important support it gives, and how it fits into the flexible environment of today's workspaces.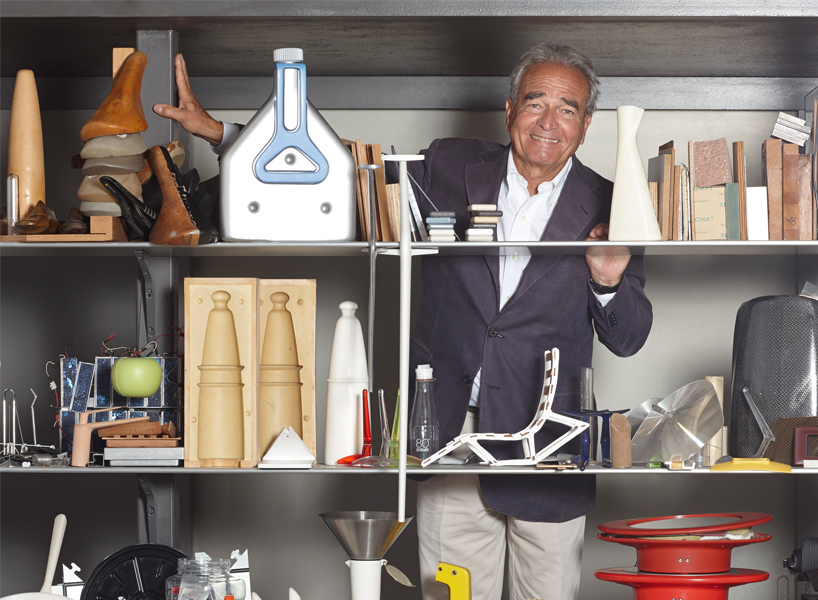 image © alberto meda
as a tool for offices, the VITRA 'AM' chair provides a supportive and enhancing mechanism. this piece of engineering can automatically synchronize with the respective user's weight, enabling optimum comfort without any prior adjustments. unlike many task chairs in the market, its design can be managed using simple intuitive controls in case any alterations do need to be made. a key feature of the furniture, the height-adjustable backrest, offers both stability and flexibility, and ensures a healthy seating position through its ergonomic contours.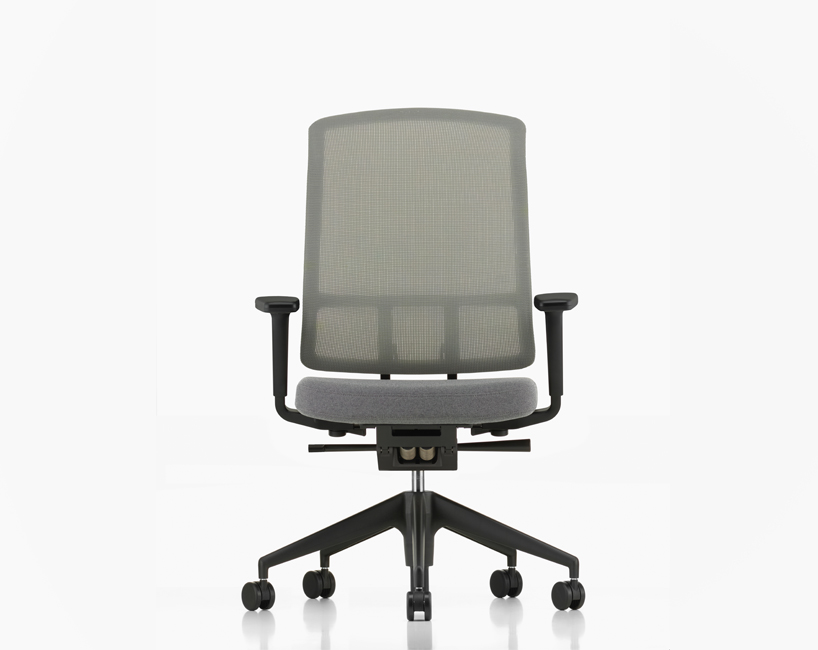 the first edition of the 'AM' chair features a mesh covered back
images courtesy of VITRA
designboom (DB): could you start off by talking more about the 'AM' chair that you designed for VITRA, and explaining what some of the key ideas behind the design are?
alberto meda (AM): the idea behind the project was quite difficult. that is because I have done so many different chairs with VITRA, and so it was hard to find… another idea. of course, to legitimate our work as designers, we have to add something different….that makes sense. We have to find some opportunities, needs or desires to improve the product , an idea to solve a specific need. one feature of task chairs, which has not really been solved, is the ability to move the lumbar support in an easy way. it is a very important part of a chair as it gives the user comfort. therefore, I thought that this was a very interesting topic that was possible to further investigate and improve. for this reason, I started to imagine how two elements, coming from the springs, could hold the back and could be easily adjustable. normally, you have the chair's back attached to the moving mechanism, which enables it to change angles, but inside the back, you have the lumbar support which is movable.
overall, you need around 7cm to go up and down, in order to accommodate for different heights of people. finally, we found a right balance in the 'AM' chair. on the back of the chair, you can feel the handle, with whom you can easily move the back up and down. this changes your backrest suitably, and I think that it is a small improvement, but it is worth it. the user can really feel the benefits. it is an evolutionary design, not a revolutionary one.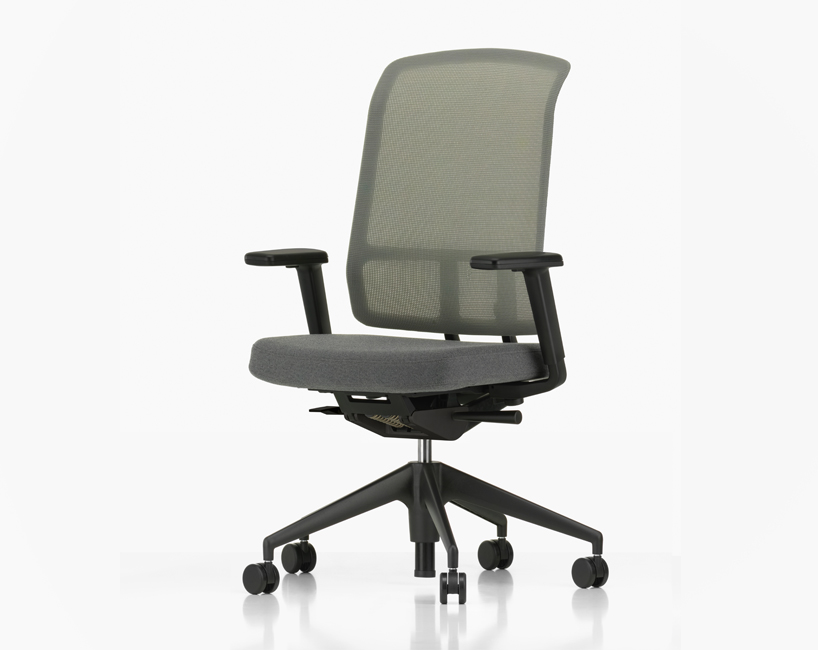 the furniture piece is available in many different color options
DB: how long did the process of designing the chair and its mechanisms take?
AM: the design process was around two years. from the beginning to the presentation at VITRA's orgatec stand today. it is a quite short time in a way. by experiencing the previous chairs that I have created, I knew what not to do for this one. our past designs are very useful.
DB: when it comes to developing a new product for VITRA, how does the process start? do they contact you with a strict brief or does the project grow from an opportunity that you noticed?
AM: at the start, they wanted me to make an evolution of the 'meda pal', which was a task chair from a few years ago. they asked me to follow the spirit of this previous work chair, and afterwards, I decided to investigate into the possibility of moving the wall back and creating an adjustable lumbar support. it was my idea to do something a little bit different for this project.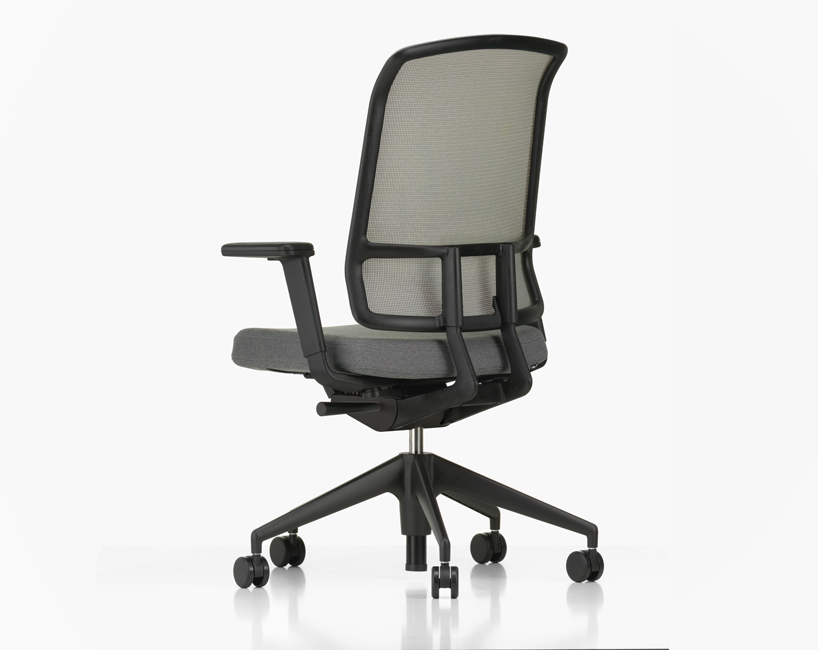 its simple form makes the chair easy for users to adjust
DB: the chair combines many different materials such as the mesh back and cushioned bottom, what was the reasoning for using a large variety of materials?
AM: well firstly, VITRA asked me to first do an entry level chair, a version of the chair with a mesh net back and so that is why there is a large mixture of materials. the mesh is durable and is very comfortable because it lets you be a little bit free, especially when compared to fabric. this is due to how it acts with air. at the same time, we also made a second version, which is not being presented today because we are saving it for the future. it will be coming soon, and will be a nice surprise.
DB: do you see the project developing any further, or will the chair just be available in these two editions?
AM: no, I think that there are some other versions coming out. however, it is very difficult to say, especially at the presentation of the first edition. I think that it might be possible to make some other typologies of the 'AM' chair but yes, it is too early to say.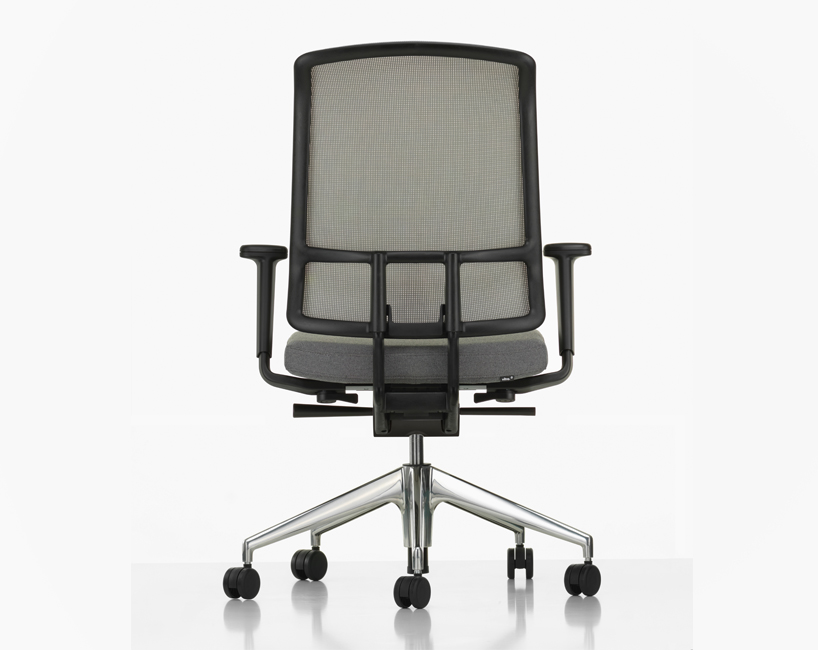 DB: the chair adheres to a very strict functionality, why is this and why did you feel that it was needed to remove superfluous elements?
AM: the first mechanism we used, which came from a supplier, was visually quite complicated. this is why I tried to make it much simpler. I think it is very important to make products as clean as possible. this is because, if you see the 'AM' chair from the side, you discover that there is some attention to an elegant composition of the elements of the mechanism. we put a lot of time and effort into reducing its visual complexity, and to make it simple and light. as well, we wanted to make it more adjustable and capable for fine-tuning. the chair's mechanism has the capability to measure your weight, and adjust the spring force accordingly. then, the users are able to fine tune the spring's force in order to increase the comfort of their back.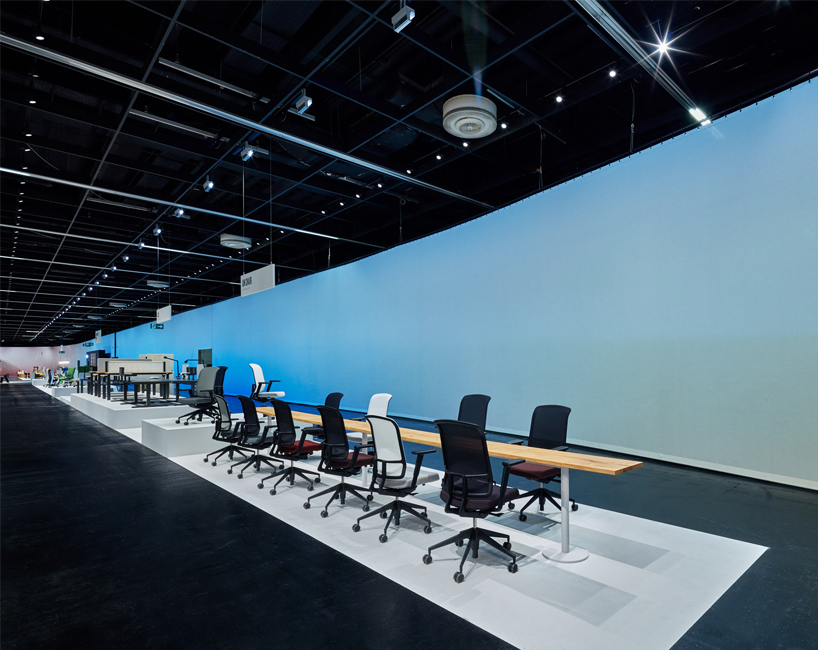 the VITRA 'AM' chair at the orgatec 2016
DB: the chair offers large flexibility to the user, can you explain the importance of adjusting task furniture and how it is very relevant in today's workplaces?
AM: this is very true. as a task chair today, needs a lot of different adjustments; from the back to the armrests. the intrinsic flexibility of this chair's structure is blessed. users can move on the chair and it doesn't try to resist the movement. this is related to the behavior of its plastic materials. I think that it is very important to be seated in a way that provides the user with a large degree of freedom. it helps make a more comfortable working environment.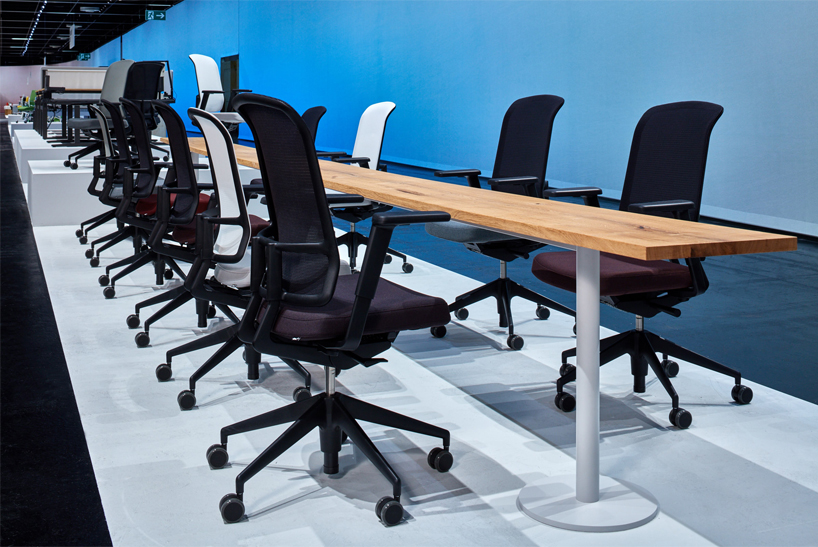 its flexible use makes the chair suitable for today's dynamic office environments
DB: what other projects are you working on that our readers should look forward to?
AM: I am trying to design a very new chair system for disabled people, which is based on the gyroscopic technology that is similar to a segway. this project is very interesting and involves many different ventures. we made a non-profit company just for this. it is a chair for disabled people that is not excessive in price, and although, there are options on the market at present, they are very expensive. we would like to make something more affordable, more compact and less in weight. this reduction in volume would allow it to be used in an easily movable and friendly way. 'friendly' is the name of the company as well.
we have started to make some prototypes, and have now moved on to our third generation of them. their features are much improved but we are not able to show the final results yet. it is a very complex project, especially with its gyroscope elements and electronics. one important aspect is that the paraplegic people need to be able to get into the chair in a very easy, friendly, and comfortable way, but this is not easy.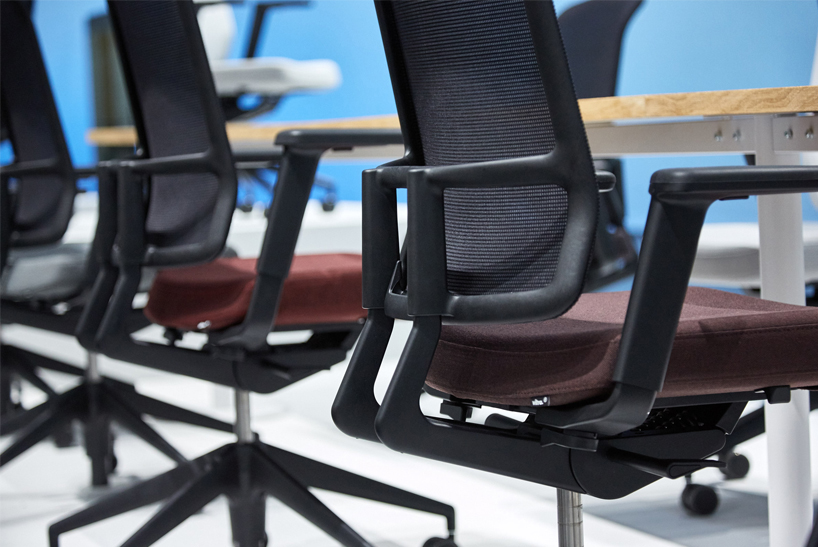 a close-up of the chair's back mechanism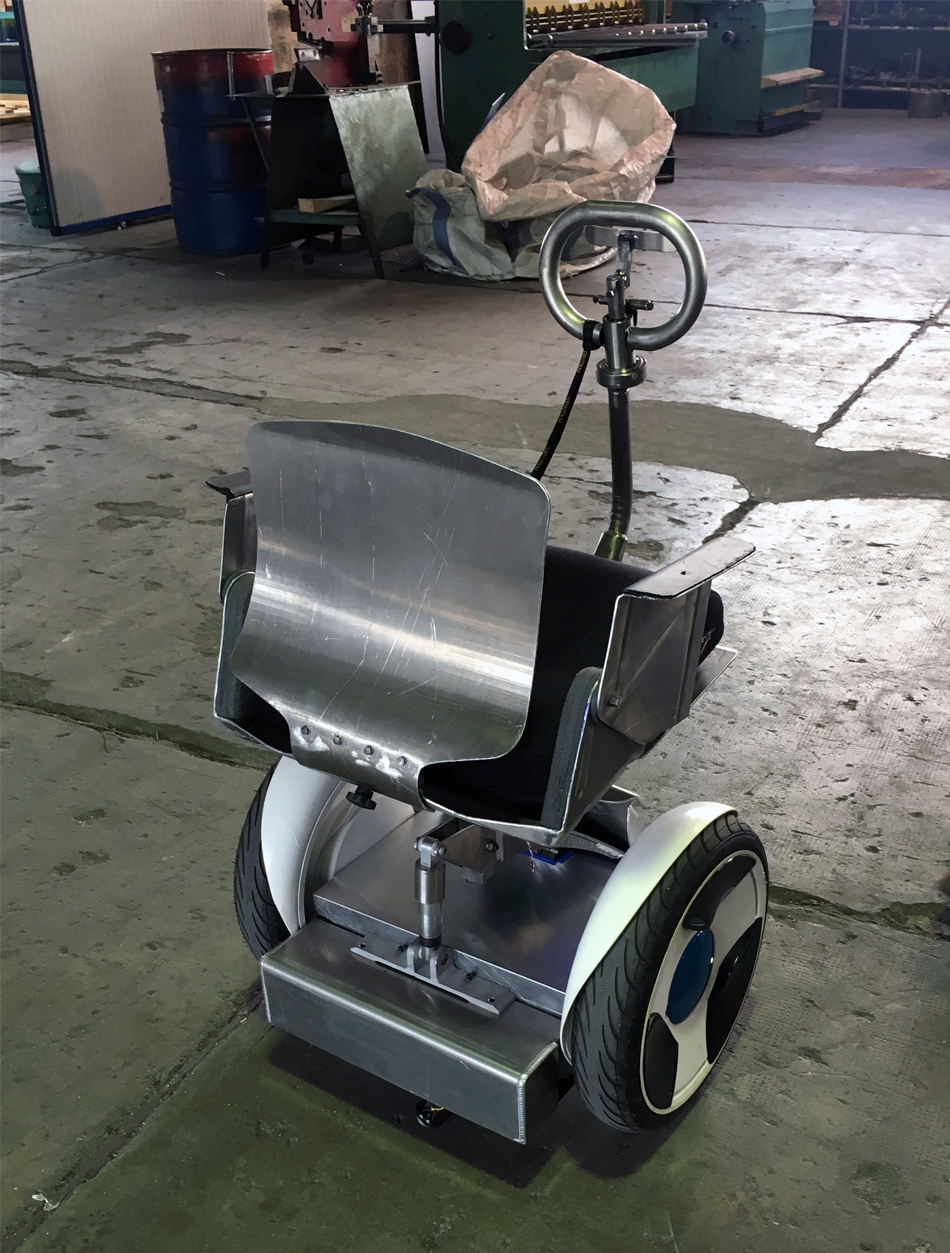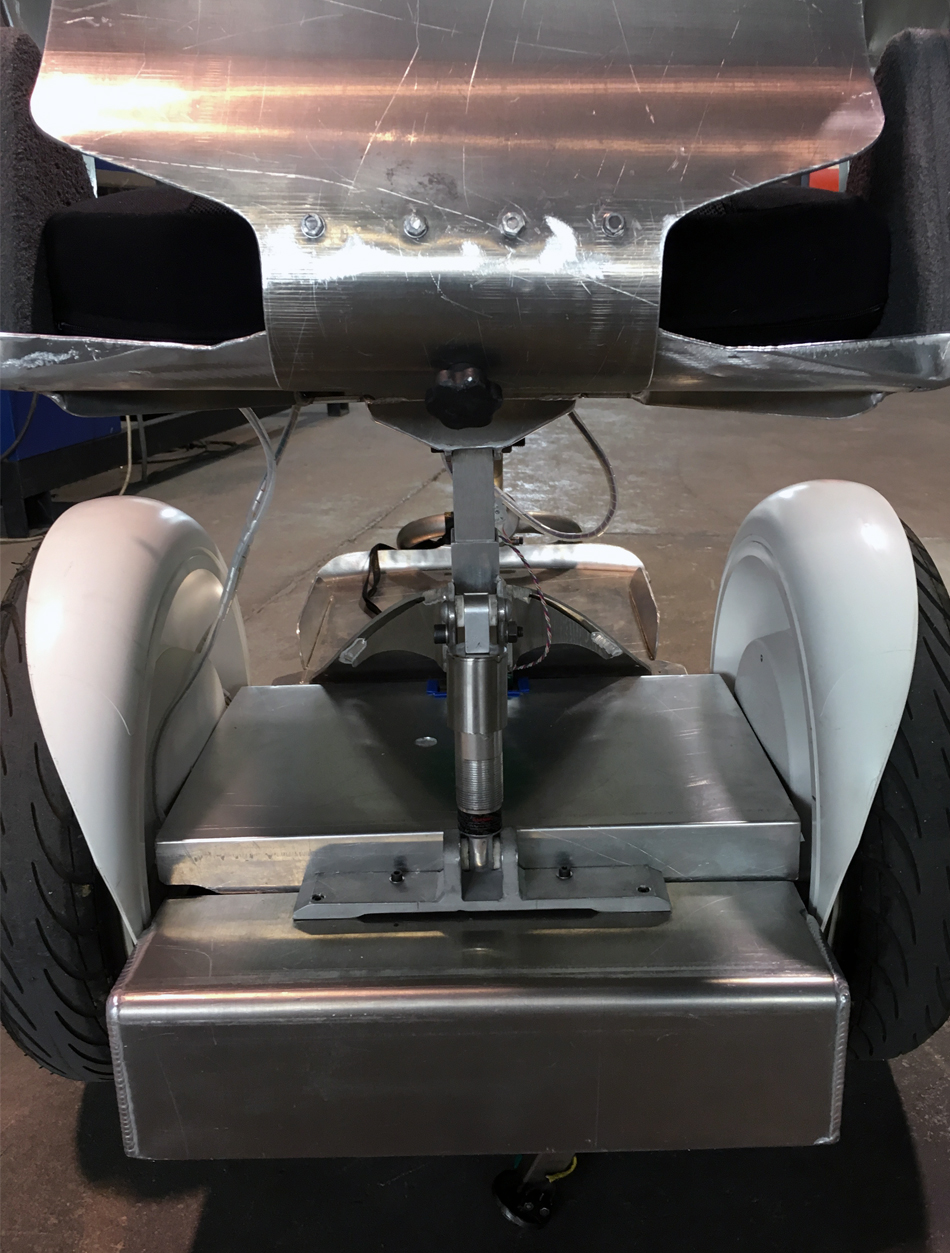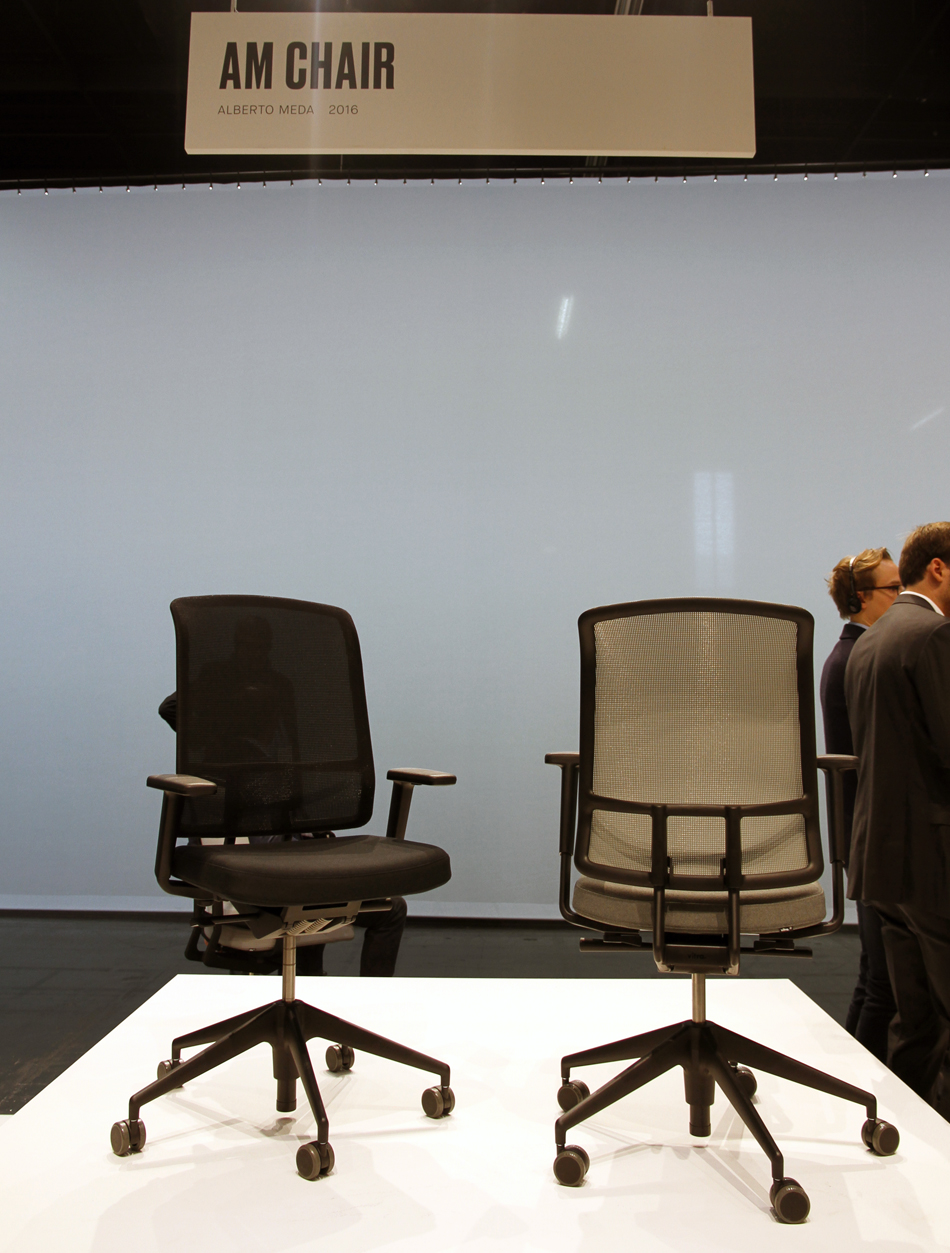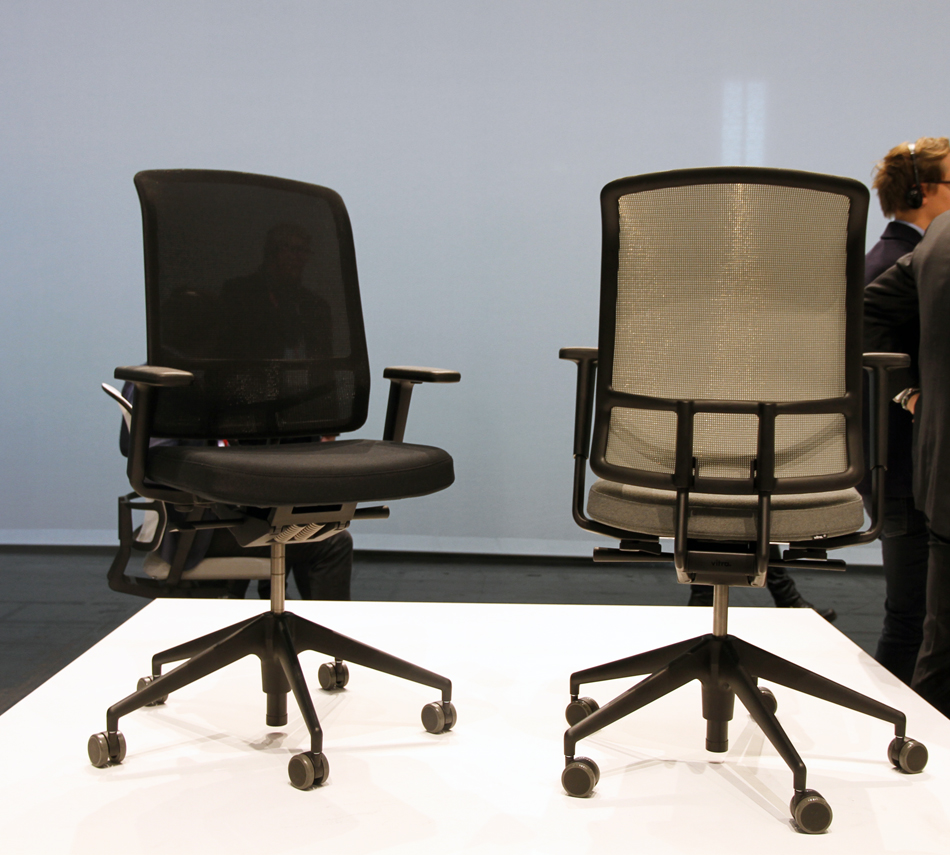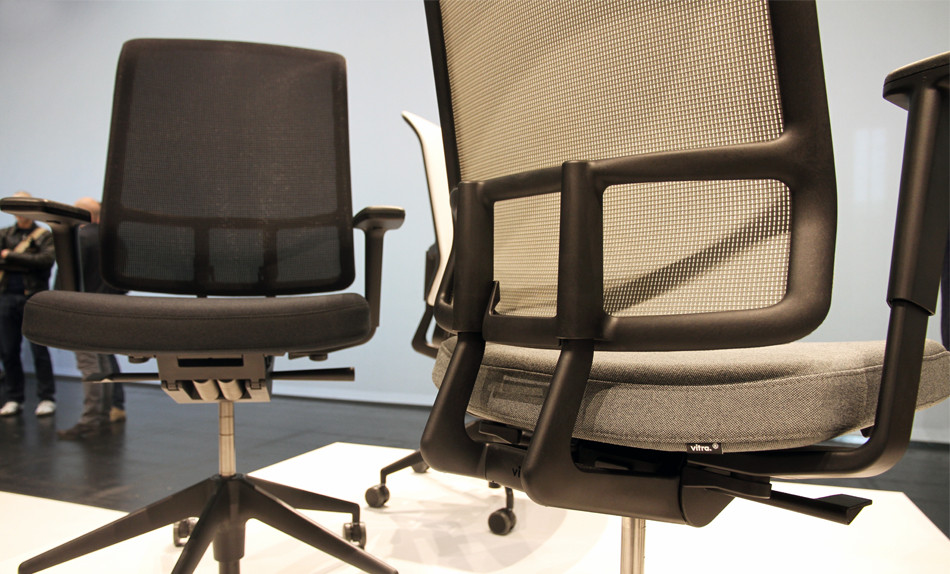 a diverse digital database that acts as a valuable guide in gaining insight and information about a product directly from the manufacturer, and serves as a rich reference point in developing a project or scheme.
designboom will always be there for you
milan, new york, beijing, tokyo

,
since 1999