more than 70 years after it was first designed, VITRA has joined the eames office to revive the unproduced and unpublished eames radio from 1946. the design followed charles & ray eames successful exploration of a method for molding plywood, where this know-how was then used to create many of their wide ranging, famed products, most specifically including plywood cases for radios. by 1952, the duo fabricated roughly 200,000 radio cases for a range of different companies. however, one design – their personal favorite – never went into production as the designated client wanted a 'normal design'.
at maison et objet 2018 in september, charles & ray eames' dream of increasing the acceptance of smaller, more modern devices has finally been achieved. with the design's revival – limited to 999 editions – designboom interviewed eames demetrios, grandson of the eameses and director of the eames office.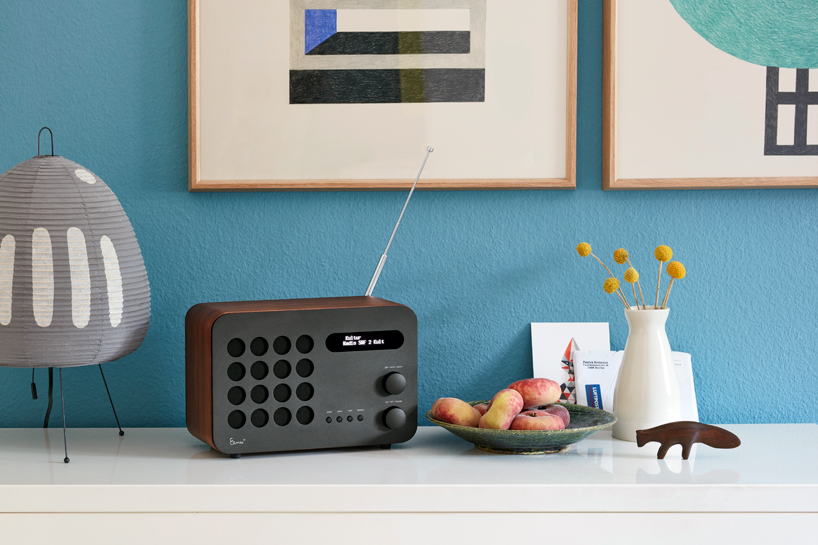 all images courtesy of VITRA
the eames radio from VITRA rekindles the compact shape and austere, relaunching its once considered unusual technical look into the modern age. the design is wrapped in an elegant walnut casing with a contrasting black façade. internally, it has been equipped with up-to-date technology by the british manufacturer REVO. together, the radio realizes charles & ray eames' unwavering belief in progress.
designboom (DB): firstly, as one of charles & ray eames' grandchildren, how do you actively help continue their design legacy?
eames demetrios (ED): well, I am the director of the eames office, which communicates, preserves and extends the work of charles & ray eames. myself and my four siblings (carla, byron, lucia and llisa) each have our own roles, in addition to those of our wonderful staff. my passions center around the interplay of the ideas of the eameses and the physicality of their expression. on a day to day basis this entails working closely with our partners to be sure the furniture and other works are made as they should be. research is never finished — the eames well is so deep. personally I have explored in archives around the globe and done hundreds of hours of interviews with charles & ray's friends and colleagues. the purpose of this work to challenge and equip ourselves to be ever better stewards of the eames legacy.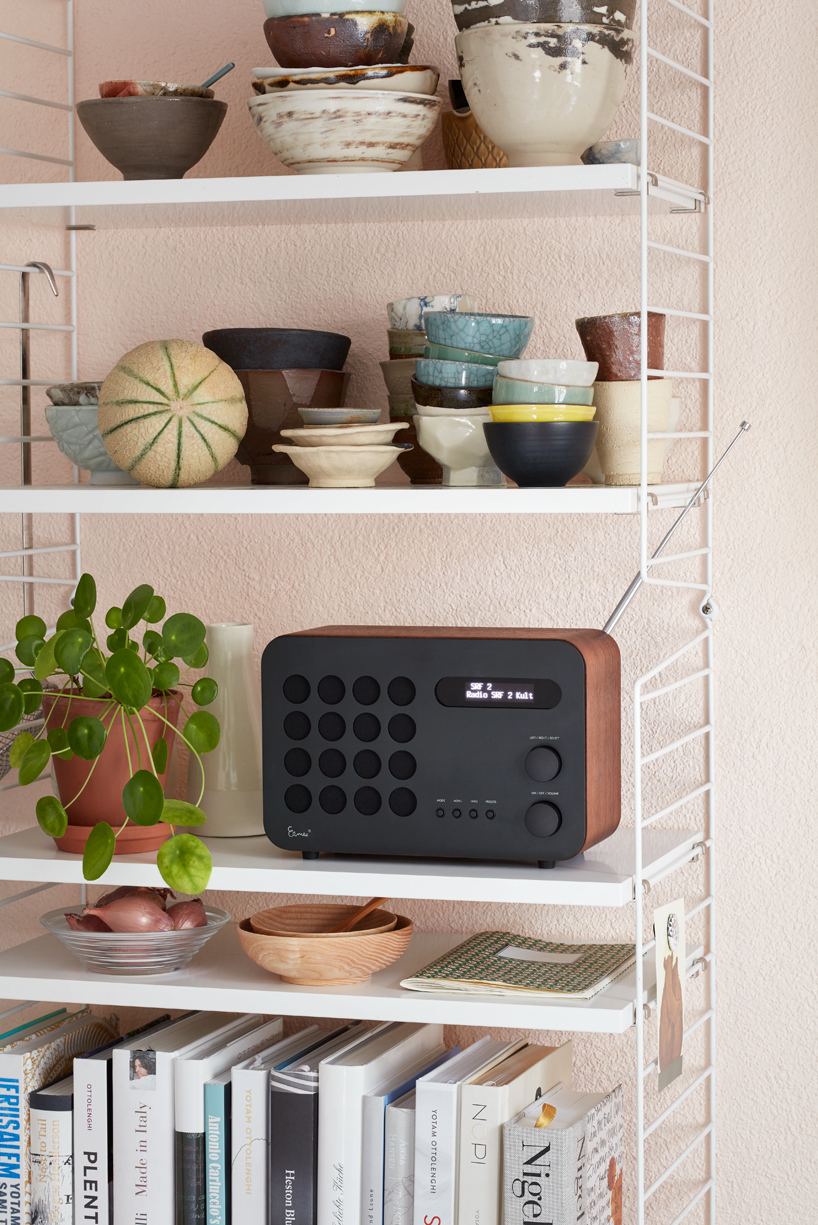 DB: what are the challenges in ensuring continuations, updates and re-editions are still authentic eames designs?
ED: the first thing I would say is that charles & ray asked the family to take on this role. what role? the role of ensuring that the eames name and the eames logo signify authentic originals made as the eameses intended. one big challenge is that most people, even designers, bring a fine art idea of authenticity to design. meaning: when you see rembrandt's the night watch at the rijksmuseum in amsterdam, that is the only place you can see it. and when you stand in front of it, in relationship to the canvas, you are standing exactly where rembrandt himself stood. and it is fantastic, but that notion of the one unique object fighting its way through history is in many ways the opposite of design authenticity.
multiplicity is inherent in design. obviously there are exceptions—landscape designs are usually unique, buildings too. and many designers even design one of a kind objects. but design as charles & ray practiced it was not about fetishizing one by product, it was about creating a system that would give people the same guest/host experience again and again. the chair that charles & ray were designing is the chair that VITRA makes TOMORROW.
in addition, charles & ray were always trying to improve their designs and products and we continue that. now we are actually quite conservative. where we offer improvement is not so often in form, but in materials. more eco-friendly glues and practices. responding to changes in standards. people often say to me, 'well, we don't know what charles & ray would have done' — actually we do. they did it. they asked the family to make these choices and empowered us fully to do so.
design is a matter of surrendering to the journey — and the journey continues as long as the pieces are relevant.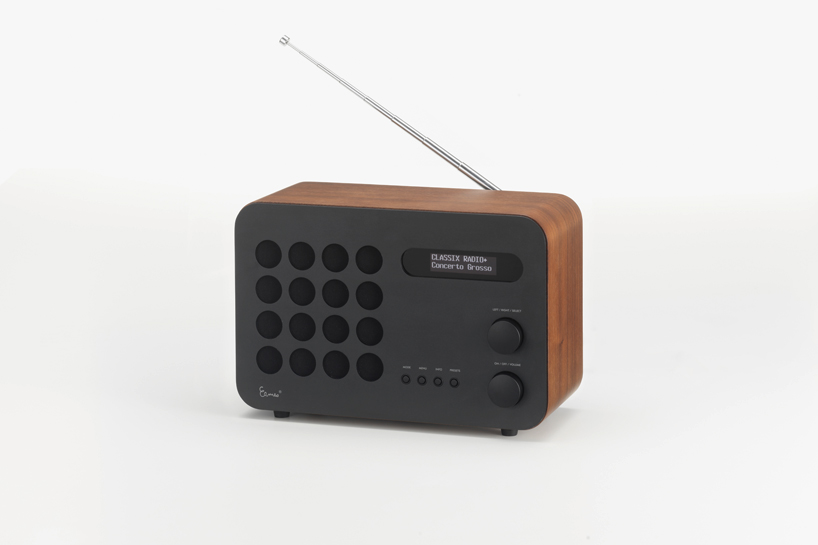 DB: what are the benefits of continuing to work with VITRA?
ED: one of the great benefits is that our family has worked with VITRA and the fehlbaum family for 60 years and that history is woven into the people and systems of all of us. for my 30 years of that work, it feels like one long conversation with nora fehlbaum (CEO of VITRA) and rolf fehlbaum (chairman emeritus of VITRA) and eckart maise (chief design officer of VITRA), some results happening quickly, other 15 years in the making — like the eames elephants. and of course the conversation I have been privileged to be part of is itself a continuation of the one between charles & ray eames and willi fehlbaum and then rolf fehlbaum. conversation means the development of knowledge too — for example, learning about polypropylene as a material, comparing it with prototypes of similar plastics that charles & ray had explored. the knowledge of veneer. their archives. our archives. we work well together.
DB: reflecting on your many previous collaborations with the brand, what inspired you both to revive the eames radio from 1946?
ED: it is just so beautiful and elegant.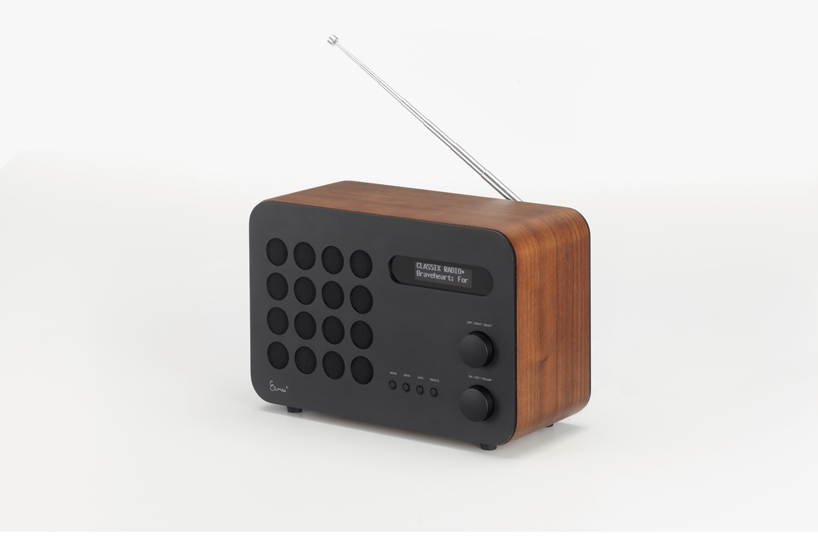 DB: how and why do you think the design, which never went into production over 70 years ago, is now ready for the market?
ED: as I said, we are engaged in an ongoing conversation with VITRA. the radios have always been something we were drawn to, but we also wanted it to be sure that whatever we made had value. specifically, the radio hasn't been on your desk for a while — basically supplanted by headphones and earbuds for a couple of decades. but lately desktop speakers have appeared in that same real estate in your personal space. as music delivery systems evolved it seemed like, ironically, the radio itself was a perfect vessel for some of this new technology to augment the radio dial.
DB: what makes the radio such a favorite for charles & ray eames?
ED: I think it has to do with the moment in time. it is important to note that they manufactured many radio enclosures for other companies. indeed it was the last time they manufactured something they did not design (they were using the veneer techniques developed for the furniture). in doing that, they made over 200,000 radios for and charles & ray saw there were better radios to be made with this same technology — so they designed them and published them to get the word out!
I think it has to do with the moment in time. even before the US entered world war II the eameses experimented with wood veneer, becoming experts in producing furniture and objects with the technique by war's end. the late 40s were very transitional—even companies that planned eventually to make plastic radios didn't have access to sufficient raw materials. the eames office offered a mature technology. and, thanks to this expertise, other companies asked them to manufacture radio enclosures (over 200,000 is the best estimate). so when I speak of a moment in time, I mean this was the last time charles & ray eames produced something they did not design. that was an important step forward (and, though they were grateful for the experience, I have to believe it was a satisfying feeling!!!).
indeed, soon after they began partnerships with herman miller and VITRA, where they could develop production techniques and then collaborate on further improvement as production went on—a process that never really ended. and it is a role the eames office relishes to this day. I have no doubt charles & ray improved enclosure designs they were given in order to optimize the technique, a process that showed them there were much better and technology-appropriate radios to be made with this same technique. and so, naturally, they designed such things (including what we have done now) and published them to get the ideas out into the world!
DB: also, what are your favorite elements of the design?
ED: actually, it is not so easily or readily deconstructed. for me it is a nice example of what the eameses called 'way-it-should-be-ness.' it's the idea that if something is really well designed, then the idea of it having been designed won't come up at all. in that way, the radio has the honest grace of the LTR.
and, even though it is not part of the design per se, the interesting historical moment it represents is quite important.
DB: limited to just 999 models, do you hope that the eames radio will inspire further re-editions and interest in your grandparent's work, or simply showcase how their belief in progress is still alive today?
ED: mostly, I hope it makes people happy – whatever happiness means to them. I do hope it serves a purpose in their lives (as charles said, 'who would say that pleasure isn't useful?') and, yes, I do hope it is successful enough that other versions become possible to release.
beyond that, I hope the radio becomes a way into the eames work for some who have not yet encountered it. a personal mission of mine has been to help people see the breadth of the eames work—and also see that this wholistic vision of design that the eameses lived by could express itself in so many ways. the reason that it is important is that we seem as a species these days to put ourselves in silos, fighting connection, and the eameses offer this tangible proof that there is a another way — as long as we are willing to give of ourselves.
a diverse digital database that acts as a valuable guide in gaining insight and information about a product directly from the manufacturer, and serves as a rich reference point in developing a project or scheme.
designboom will always be there for you
milan, new york, beijing, tokyo

,
since 1999