returning to orgatec 2018 to further their ideas on the future of work, VITRA debuts the 'soft work' sofa system by barber & osgerby. it explores how hotel lobbies, cafes, airports and even parks are becoming areas of work, whilst, in reverse, offices are becoming more public. with employees not tied to specific locations as much before, places and objects that were once considered as unsuitable workstations are now the preferred choice. and the 'soft work' sofa exemplifies this radical transition away from the desk archetype.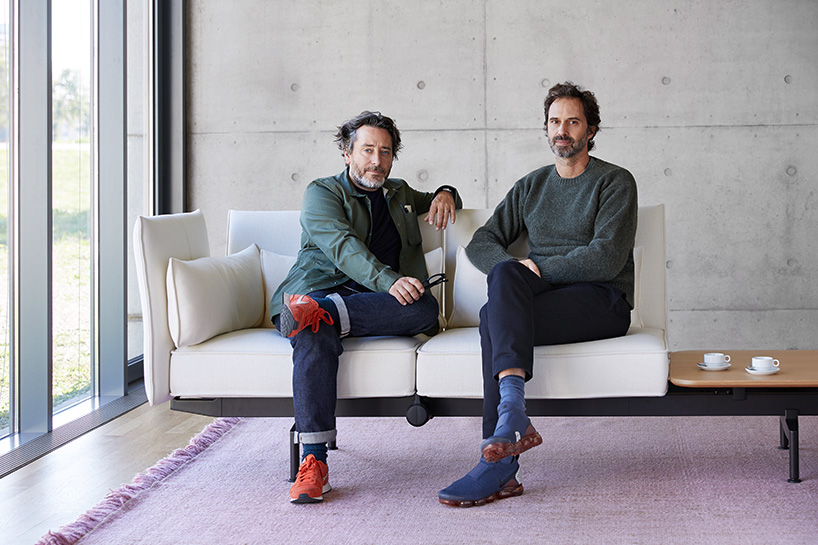 image © VITRA, creator: lorenz cugini
(main image also)
instead of creating a working environment centered around desks with peripheral sofas, VITRA 'soft work' by barber & osgerby focuses tables around the seats. the new system continues the designers' renowned style with intricate and technical components seamlessly integrated within an elegant form of gentle linear lines. practical table surfaces, power outlets and charging stations can be added to support flexible work, whereas its ergonomic design – padded seat cushions, backrest and increase seating height – ensure users can sit comfortable for extended periods of time.

image © VITRA, creator: lorenz cugini
the modular concept enables architects to structure internal spaces inside offices, lobbies and even restaurants. extra seats can be easily added or reversed to create diverse linear or curved configurations. its accessories are also as flexible: the arm-mounted desks are movable; power sockets are located between the seat cushions and can be pivoted upwards; and even panels can be fitted to create acoustic or visual dividers.
catered for formal and informal work settings, and for individuals or groups, designboom sat down with edward barber to discuss the 'soft work' sofa they developed with VITRA.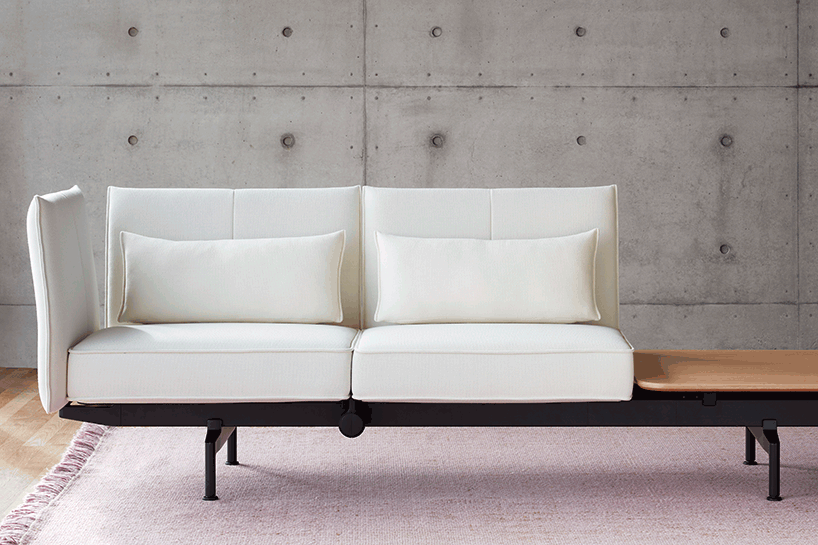 image © VITRA, creator: lorenz cugini
designboom (DB): first of all, what was the inspiration behind soft work?
edward barber (EB): the idea for the project was a combination of a number of factors that all came together at once a couple of years ago. the first factor was that, as we are all aware, technology has become much more mobile. people are predominately working from laptops, tablets and even from their smartphones. big desks are not necessarily what people use now, let alone what is actually needed.
the second factor was the increase in co-working spaces. more people are now either independently working or working remotely for businesses. this could be from home or from anywhere else – cafes, hotel lobbies etc – where they feel comfortable.
the final factor was that, after we launched the 'pacific' chair at orgatec 2016, apple decided to equip their new campus with the design. we visited their offices and noticed that every single floor also had large areas of basic soft seating to encourage more informal workstations.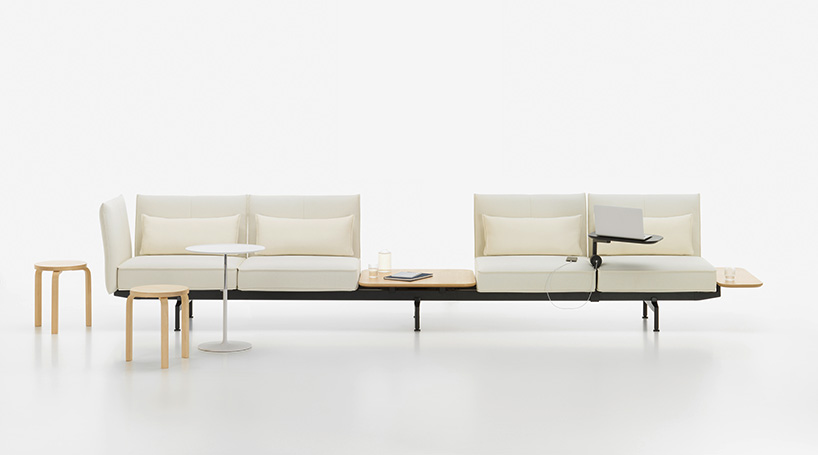 image © VITRA
DB: as the ideas for the project began to translate towards a design that was not a conventional piece of office furniture, were VITRA happy to embrace the proposal?
EB: we all understood that technology has enabled people to work from anywhere and everywhere – especially including soft seating – and yet people still want to work in places with others. this formed a more serious proposal where we wanted to design a sofa that is meant to be worked on and is much more ergonomic, has a work surface, and offers ultimate flexibility. we approached VITRA with this concept; they were already thinking along the same conclusions as every office that they fit out nowadays includes an area of soft seating.
DB: how important is the design's structure in order facilitate modularity?
EB: it is incredibly modular – the seats can be used single-sided or back-to-back. the sofa can be shaped with curves or fully linear. this gives a very architectural approach as it is very structured and can be used to divide areas of large open space. the design itself is composed of a cast aluminum foot, a beam that run from front to back, and then two more substantial beams that runs the length of the configurations, whether that is a two-seater or longer. from those beams, people can attach the upholstery and all the other accessories they may or may not need.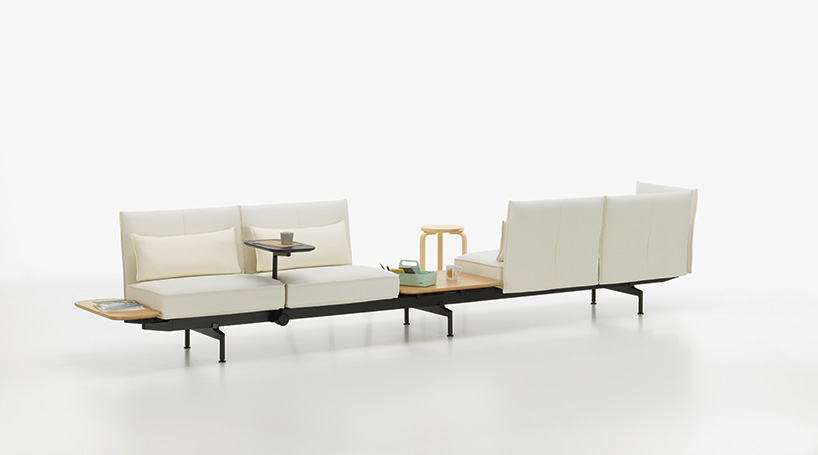 image © VITRA
DB: how will the new design and effectively its services, be shown at orgatec 2018?
EB: we are showcasing the core of soft work, which is its incredible modularity. the sofa will feature many configurations at the fair, but the main two are the full circle and horseshoe-shape. the standard accessories will be there, but also we will be visualizing placeholders of other components that are being developed and could be offered in the future.
DB: although sofas are great to work on in a relaxed environment for a little while, they can be quite uncomfortable in the long term. how does this design change that with versatility and its ergonomics?
EB: the sofa has been designed to be worked on so it is the same height as an office chair. this means people can pull up a table or more chairs, and work with people on soft work. there would then not be an odd hierarchy that occurs if someone tries to work together on a chair and typical sofa. our design does not accommodate every working scenario with its upholstery, but it does suggest the possibility of adding more pieces of furniture and a new way of working.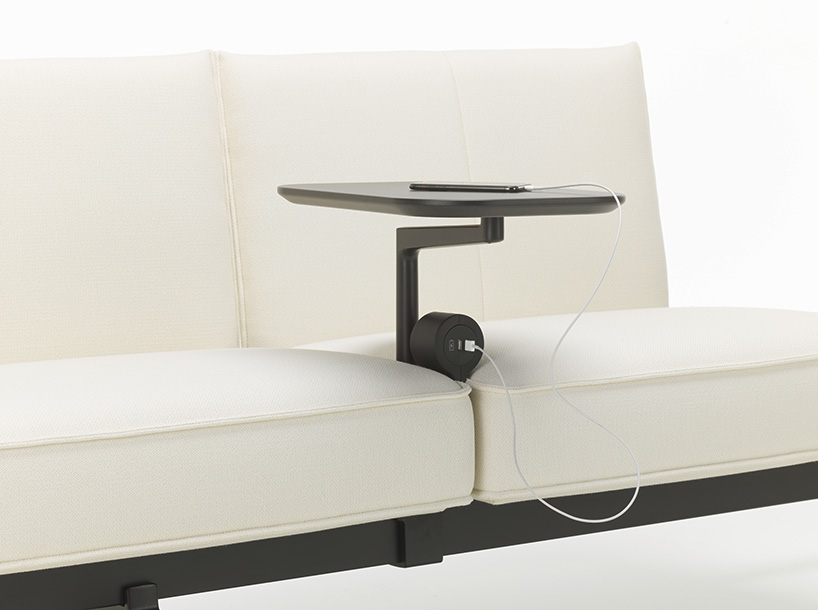 image © VITRA
DB: what accessories can be fitted to the sofa and how do they improve the way people work?
EB: as well as the work surfaces, there are power sockets that are almost hidden under the upholstery. they are not in the user's face all the time. for short periods of use, people do not need to charge anything. they can simply pull it up when needed, or even plug something in and then slide it back to be out of the way again.
there are also fabric screens, which, again, can be added immediately or later on. these fit between the cushions on the fixings. thin textile partitions act as both acoustic and visual screens. they are semi-opaque so that, when occupied, people can see a shadow behind the screen but not specifically who. this is important for public spaces where surprises are not wanted.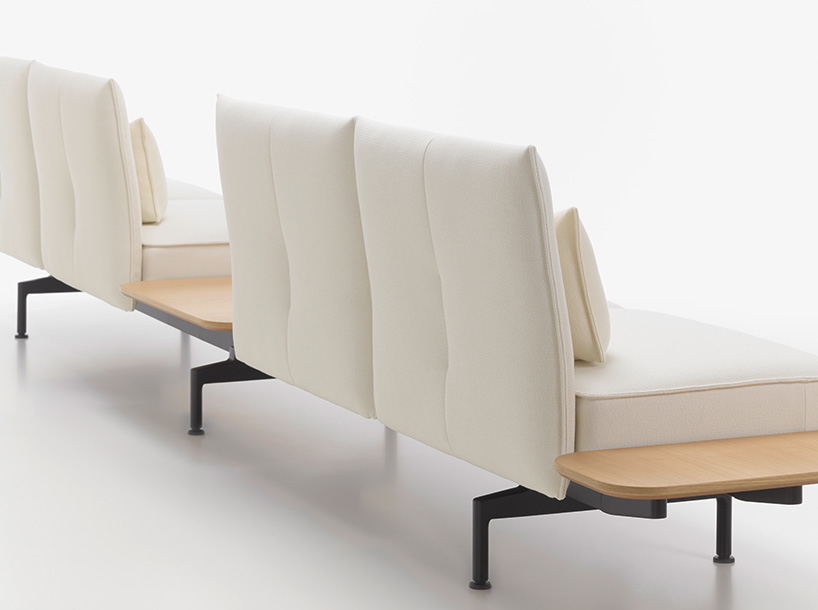 image © VITRA
DB: in contrast to how many manufacturers are redefining the workstation by adding comfortable seating around desks, why did you move against this trend and, in some ways, redefine the sofa?
EB: we believe that the work desk is dead. we truly believe that the real trend is to have a number of typologies for workspaces. the percentage of the number of desks to soft seats will be flipped around quite quickly, but it will not happen overnight.
oct 04, 2018
oct 04, 2018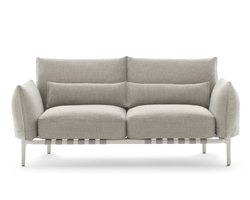 apr 21, 2018
apr 21, 2018
apr 22, 2017
apr 22, 2017
feb 02, 2017
feb 02, 2017
oct 26, 2016
oct 26, 2016
sep 14, 2016
sep 14, 2016
nov 28, 2018
nov 28, 2018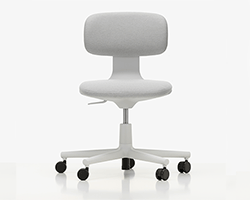 nov 06, 2018
nov 06, 2018
oct 26, 2018
oct 26, 2018
vitra
(78 articles)
may 07, 2020
may 07, 2020
apr 29, 2020
apr 29, 2020
sep 18, 2019
sep 18, 2019
a diverse digital database that acts as a valuable guide in gaining insight and information about a product directly from the manufacturer, and serves as a rich reference point in developing a project or scheme.