'without context, without a story, there is a lacking of richness and texture to the building,' explains luke mclaren, co-founder of london-based architecture and interiors practice mclaren.excell. this alludes to their belief that through the subtly of design and the understanding of context, seemingly minimal structures can actually both appear and feel monumental. as the fourth short film as part of VOLA on design, the series explores how history can be sustained in modern design.

all images courtesy of VOLA
in VOLA on design 'a sustained history – mclaren.excell', the short film focuses on mclaren.excell's renovated lower mill. the grade II listed, late 18th century building is located in a small english village amongst the chalk hills on 'the ridgeway', britain's oldest road. despite many alternations over the decades, it has retained attributes of the original water mill including the victorian milling machinery. the architects went about preserving as much as possible of the original features, compelling a new life out of the historic building, and transforming it from a mill into a home.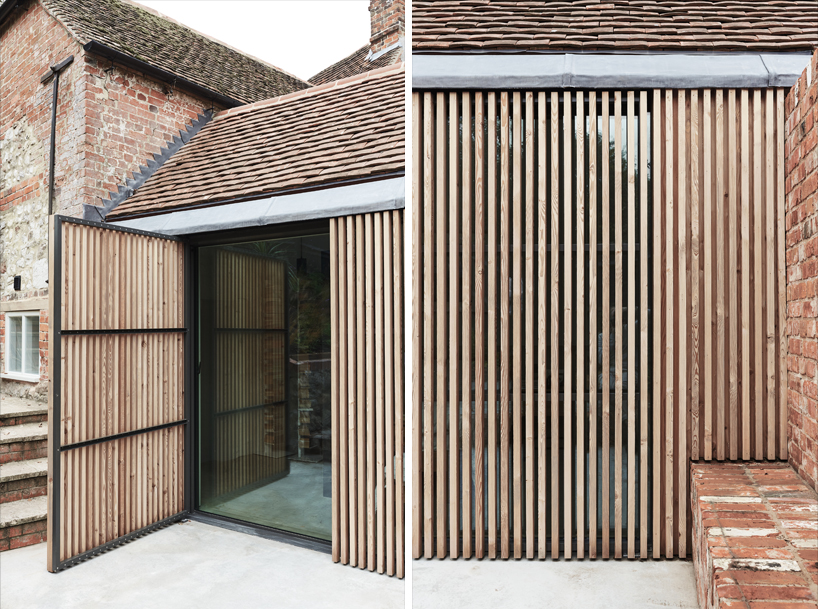 'there's nothing that will date about the quality of a space – that is a timeless thing. there's nothing that's going to date about the quality of light that you've managed to achieve in a building, that is also timeless. but how you detail, how you choose materials in an appropriate way, how the building feels for want of a better word, those things can age, and it's on that level that you need to be really careful that what you're doing will stand up to time and will endure,' adds luke mclaren.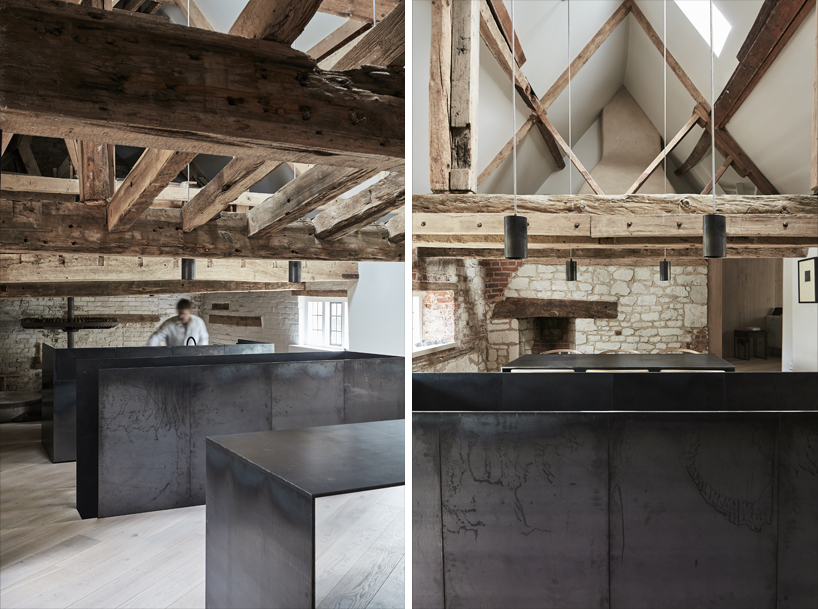 'no building is an island because it is very uninteresting, not just to us but I think to other people,' continues mclaren. 'I think that becomes a very legible and obvious thing. people like stories, people like histories, people like a narrative that they can understand. I think there is a vicarious enjoyment of seeing something go through a process.' by demonstrating their purity of craft and their mastery of the fundamentals of architecture, mclaren.excell enriched the history of the mill. their minimal contribution was actually emphatic as they blended the fabric – the old and new – of the building.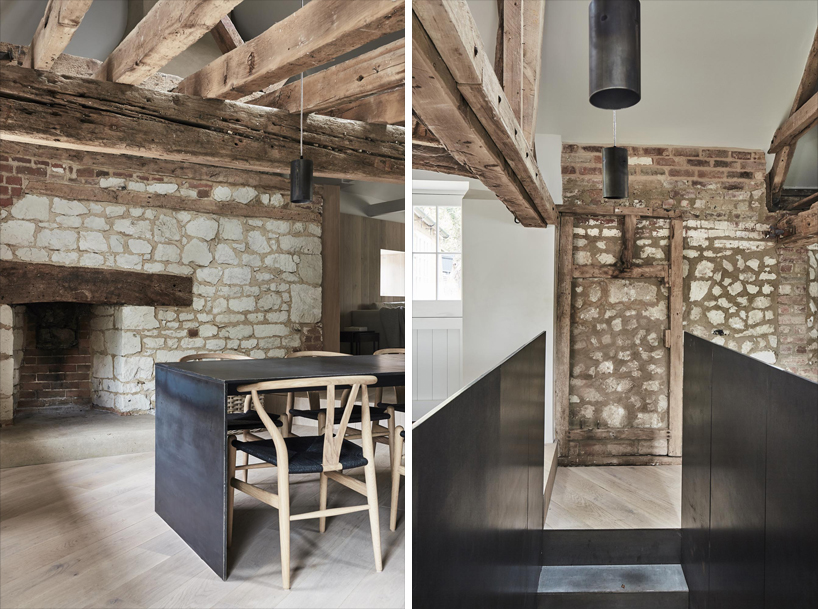 throughout the design process, the building's industrial origins were key. the mill machinery reflected the simple, functional and honest work of 18 century, and so raw plate steel was chosen as the primary material. this honesty continued through the selections of mclaren.excell. they were distinctive but not indulgent. instead, a palette of painted surfaces, stone, concrete, timber and metal were used in surprising ways. for example, there's a stark contrast of the three steel elements in the main living area – dining table, staircase and kitchen – and light textured oak clads the floors and walls to maximize natural daylight through the small windows.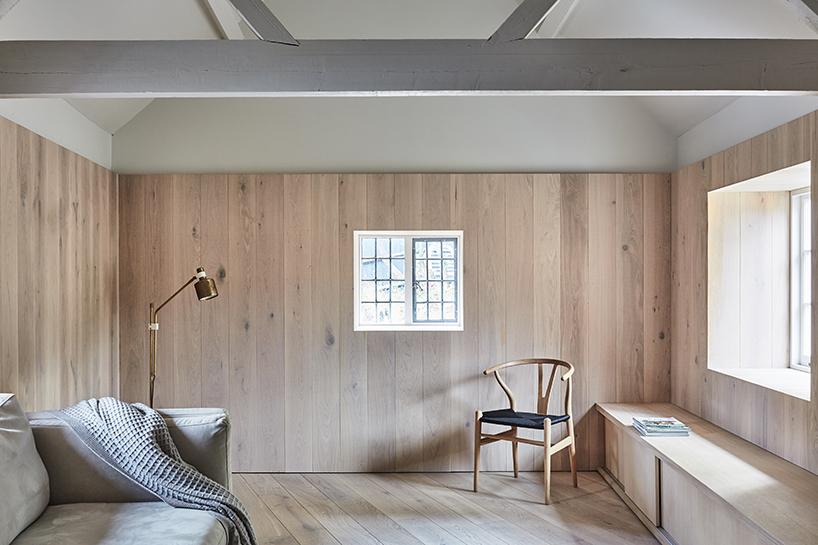 'we always want there to be a richness in terms of material and the context that it can age, whether it is wood, steel, concrete – it can gather history in itself. because you are part of the broader story, you are sort of history in the making for that story, and so, what we do, has to be considered in that light and how the building continues to thrive and exist,' states robert excell, co-founder of mclaren.excell.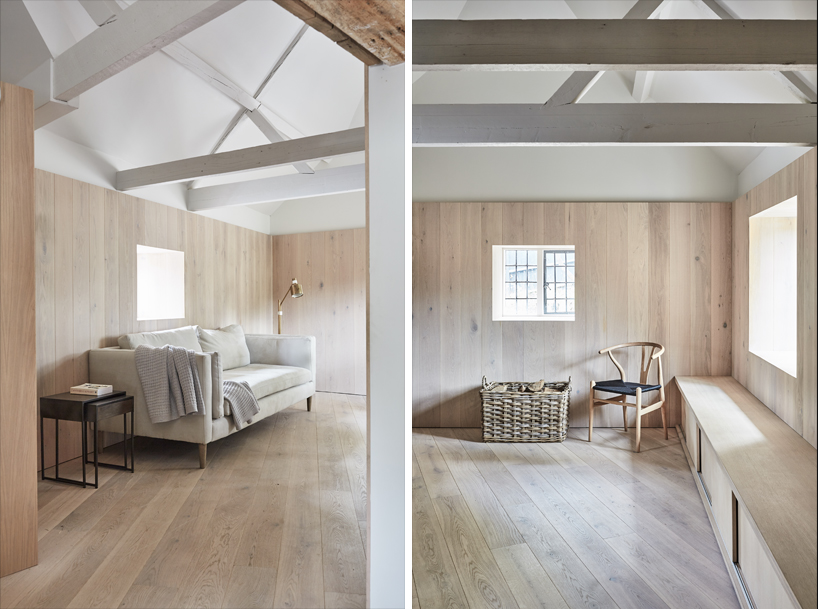 it is their complete understanding of the nuances of architecture that enables them to design with such historical, contextual richness. the material, light, surface, composition and the sense of interaction are subtly considered and blended into their designs, as exemplified by the lower mill.
'there's a real quietness to the spaces we create, and our building don't need to shout. but that doesn't mean that the spaces we are creating aren't bold. there is a great smithson quote – the smithsons were iconic architects in britain in the 60s and 70s – and they said, 'there's heroism to the ordinary'. I think they meant that a building can be monumental, heroic and beautifully composed without being brash and loud. that is where a lot of calmness and a lot of subtlety comes from, sort of embracing something that is very pared back and ordinary in one sense but at the same time have a very heroic and significant quality to it. I think simplicity comes out of that,' concludes luke mclaren.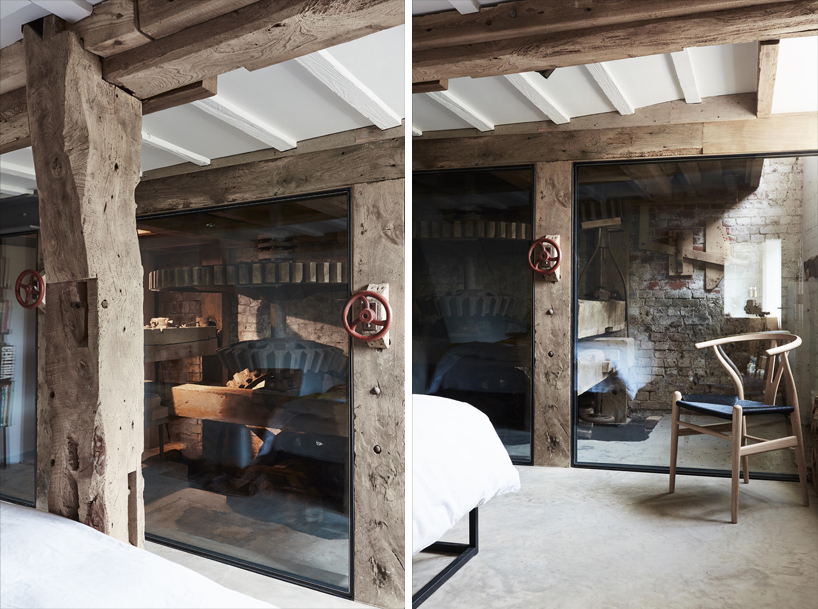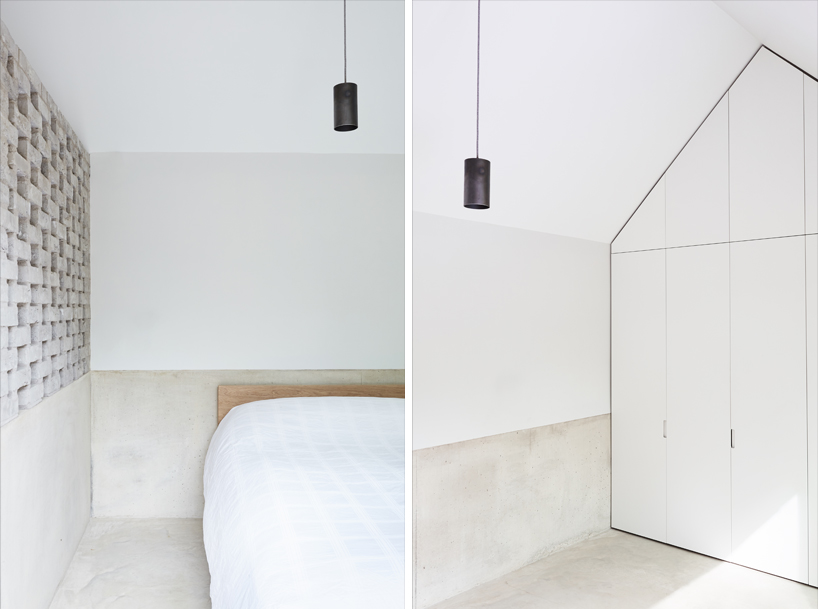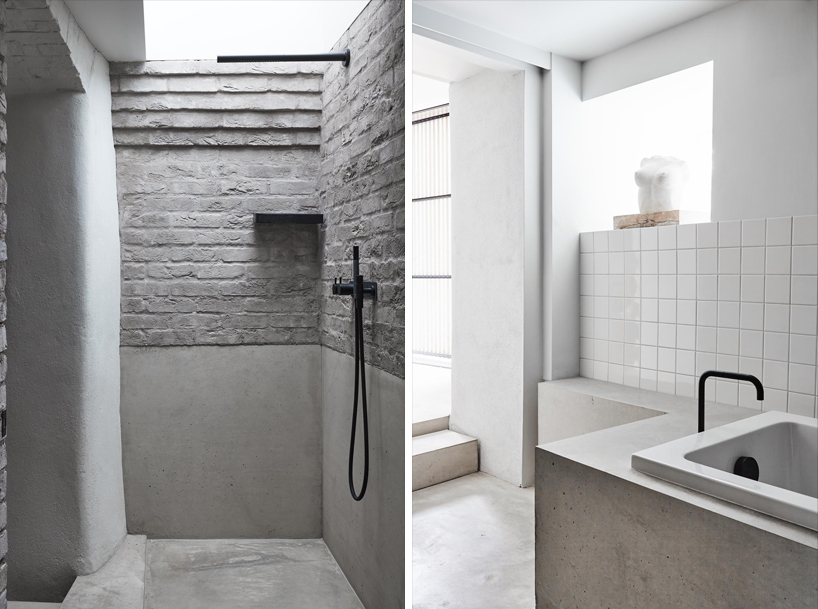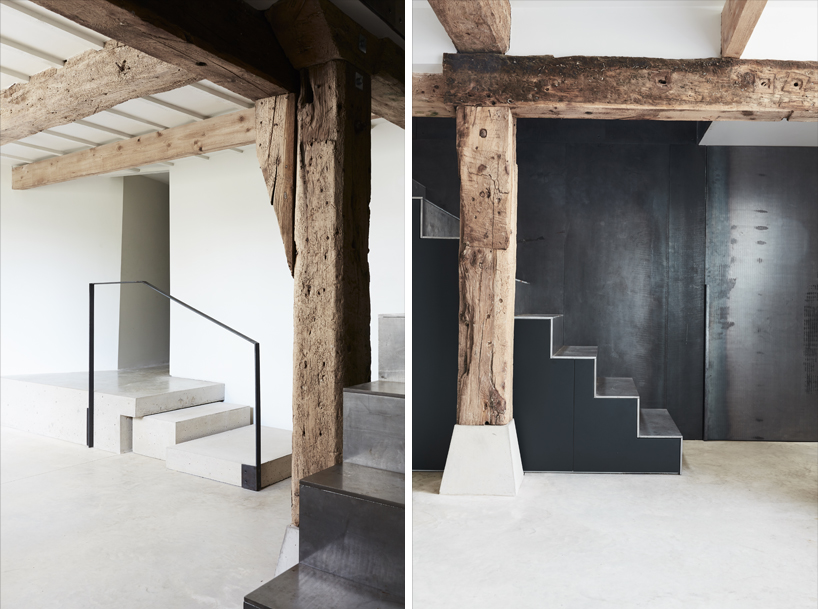 watch the full VOLA video, 'a sustained history – mclaren.excell', at the top of the article.
project info:
series: VOLA on design
film title: a sustained history
film subject: mclaren.excell
photographer: thomas seear-budd
aug 14, 2020
aug 14, 2020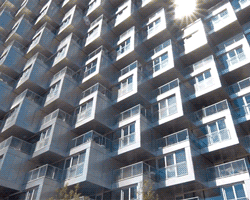 aug 13, 2020
aug 13, 2020
aug 13, 2020
aug 13, 2020
aug 13, 2020
aug 13, 2020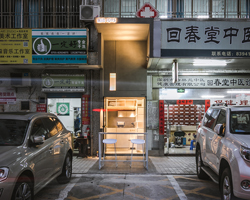 aug 13, 2020
aug 13, 2020
aug 12, 2020
aug 12, 2020
VOLA
(6 articles)
jan 24, 2020
jan 24, 2020
nov 19, 2019
nov 19, 2019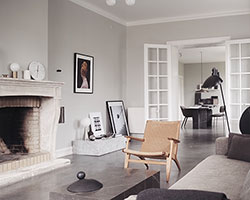 oct 03, 2019
oct 03, 2019
a diverse digital database that acts as a valuable guide in gaining insight and information about a product directly from the manufacturer, and serves as a rich reference point in developing a project or scheme.