wanted design at new york design week 2013BIKEID premium custom-specified bicycle design from sweden image © designboom
founded in 2011 by odile hainaut and claire pijoulat, wanted designhas established a successful reputation as a popular meeting point for designers, manufacturers, artisans, students, design institutions, the media, and design lovers from around the world. this year during new york design week, in addition to a strong presence of U.S.-based manufacturers and designers, wanteddesign welcomed a slough of international participants from countries such as france, sweden, canada, turkey, italy, austria, el salvador, puerto rico, brazil, mexico, chile, guatemala, argentina, australia, quebec and new zealand. starting off as a design forum, wanteddesigns goals are to foster conversations and discovery, establish relationships and new collaborations, and enlighten visitors about the developments in the creative world. 2013 marked the third edition of wanteddesign during new york design week, a three-day event that saw the event triple in size since its inaugural year. as in years past, wanteddesign featured a strong international presence, most notably this year from latin america, with such exhibits as the carrot concept from el salvador, hosted by bernhardt design. in addition, there was a healthy representation of U.S. designers, artisans, and manufacturers including: bernhardt design, bike ID, cappellini, design within reach, joe doucet studio, juniper, kontextür, modko, josh owen and david trubridge.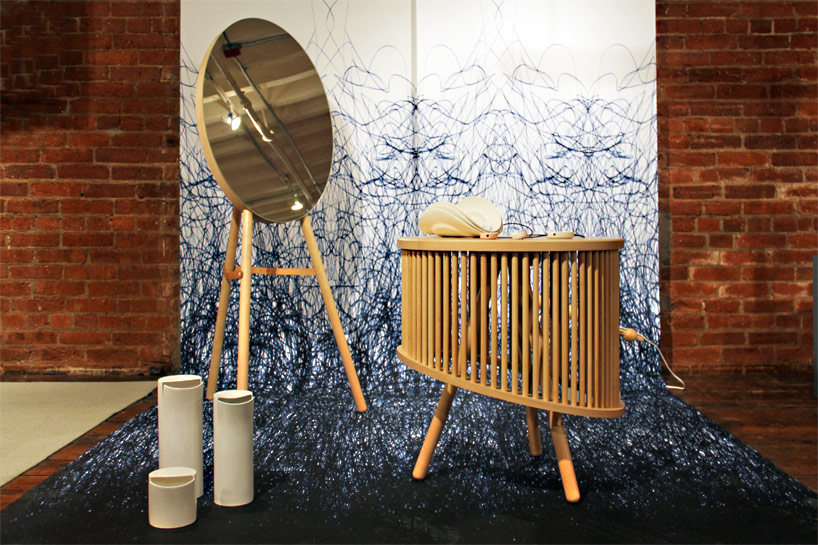 a selection of new furniture works by alissia melka-teichroew were shown at launch padimage © designboom
'launch pad' was a special feature at this year's event, a platform set in place for young emerging talents to publicly present their market-ready ideas to the industry. 28 international design studios and independent participated in search of a manufacturer or distributor for their products.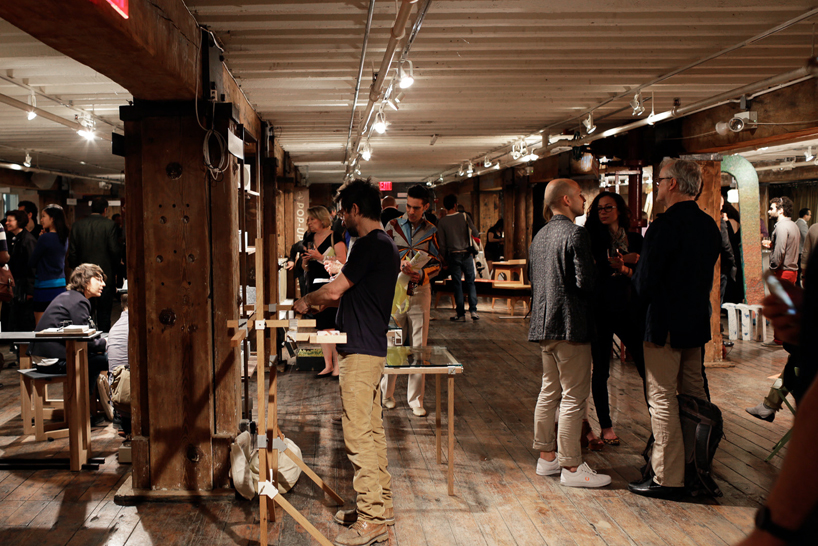 general exhibition view of launch pad at wanteddesignimage © ikonphoto + nudesignstudio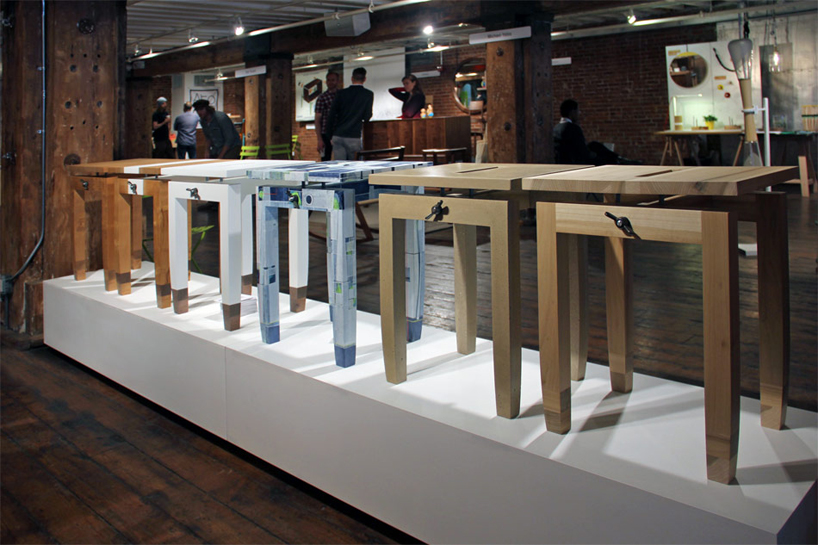 'workshop.chic' side table by daniel moyer shown at launch padimage © designboom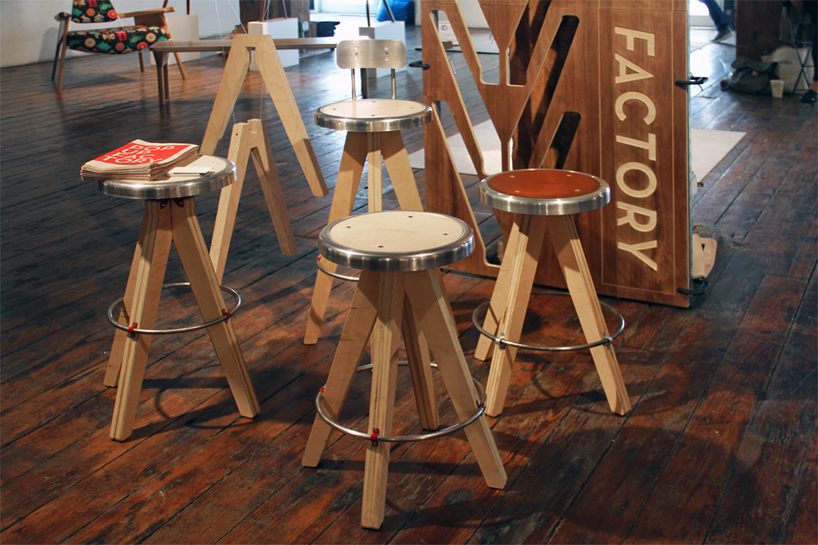 stools by pop-up factory at launch pad exhibitionimage © designboom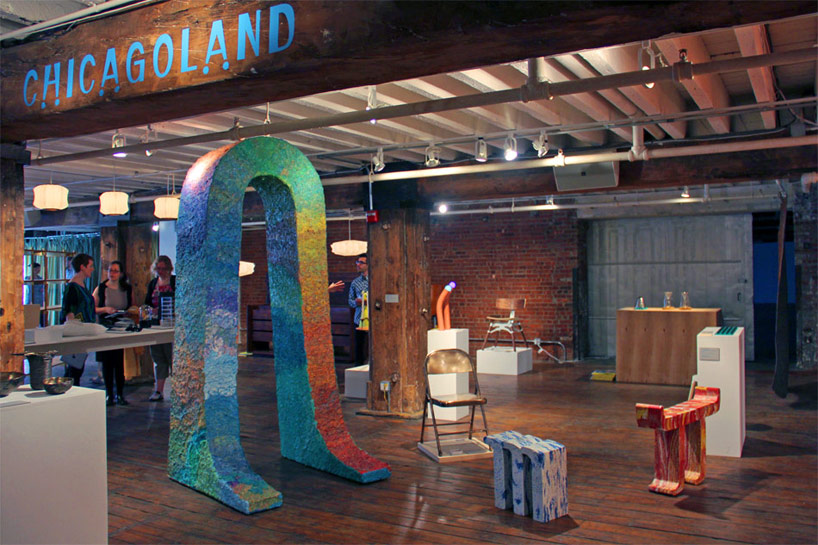 'chicagoland' exhibition installation at wanted designimage © designboom
alongside the well-established manufacturers and companies presenting their products at wanted design, were a few specially curated exhibitions…
at the beginning of the last century, the polluted branches of the chicago river gathered in the forests of the midwest and the massive slaughter of the stockyards supplied the hair, leather, and glue for furniture manufacturing on an unprecedented scale. the transplantation of the new bauhaus to chicagoland seeded a legacy: mies van der rohe, cranbrook, herman miller and knoll, along with wormley and dunbar, robsjohn-gibbings and widdicomb, makers whose vintage productions are chased after in the auctions rooms of new york and london.
'chicagoland' designers are the children of the plastic engineers and toolmakers, inventors of x-ray machines and chewing gum chemists, that powered the american industrial core of the last century. they are the offspring of midwestern manufacturing centers of megapolis and industrial making is their vision of american culture… with a twist. today in chicagoland, the collapse of american domestic furniture manufacturing is leading to the reformulation of creative practices. the 'chicagoland' exhibition is the first, important survey of midwestern studio practices and alternative production at the forefront of a newly engaged, relevant american design culture. the work in 'chicagoland' ranges from small to large scale, from desktop pieces to dining tables and benches.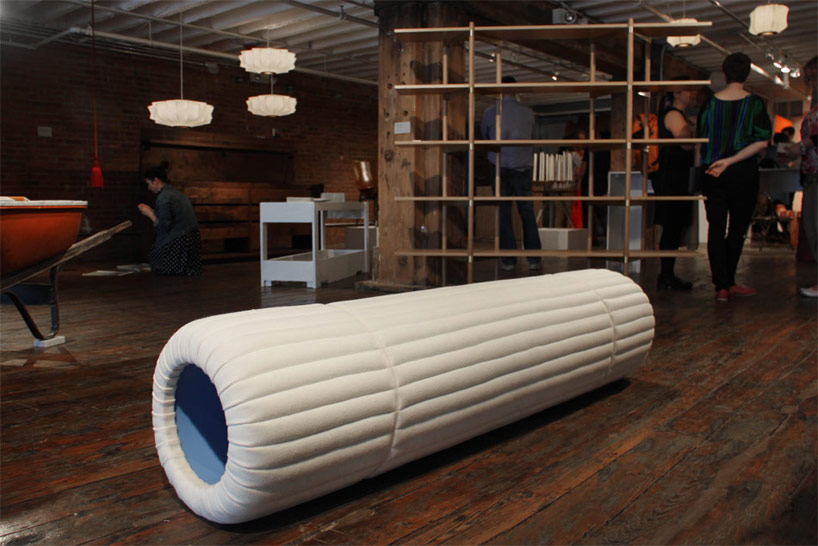 'fallen' bench by materious is part of the 'chicagoland' exhibition
image © designboom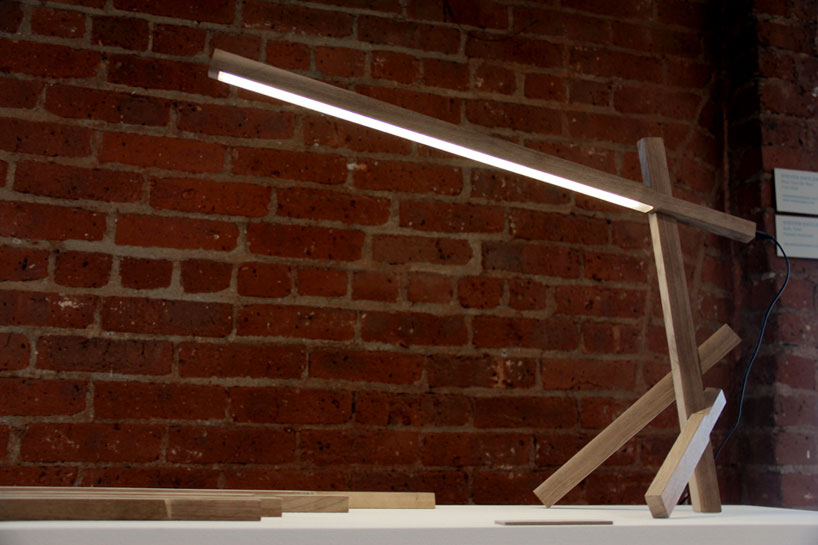 steven haulenbeek's 'APOC' lamp on show at 'chicagoland'image © designboom
the use of honest materials and construction techniques were the principles behind the development of the 'APOC' lamp. designer steven haulenbeek has employed a simple construction of four wooden struts (available in walnut or oak) which have been cut with dovetail joints, allowing the components to effortlessly slide into one another; as well determining the angles at which the parts sit, ensuring structural stability. see more about the 'APOC' lamp on designboom here.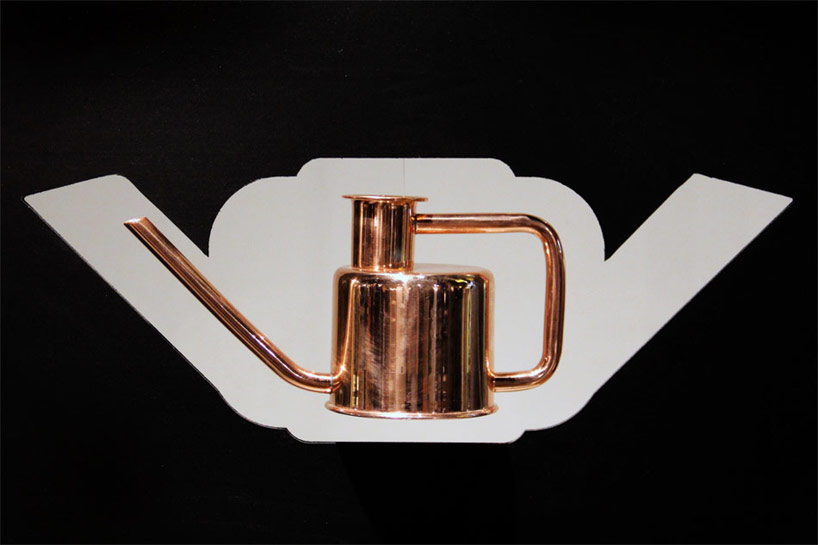 paul loebach's 'x3' watering can (solid copper) for kontextürimage © designboom
the 'x3 watering can' by paul loebach for kontextür derives its name from its simple method of manufacture. the can is made using a single metal tube, bent three times (x-3), to create both the handle and the pour spout. an inlet is positioned on top providing an easy place to pour in water from a kitchen faucet. like traditional watering cans with two handles, the 'x3' handle can to be held in two positions: on top for carrying a full container of water, and at the side of the can for pouring.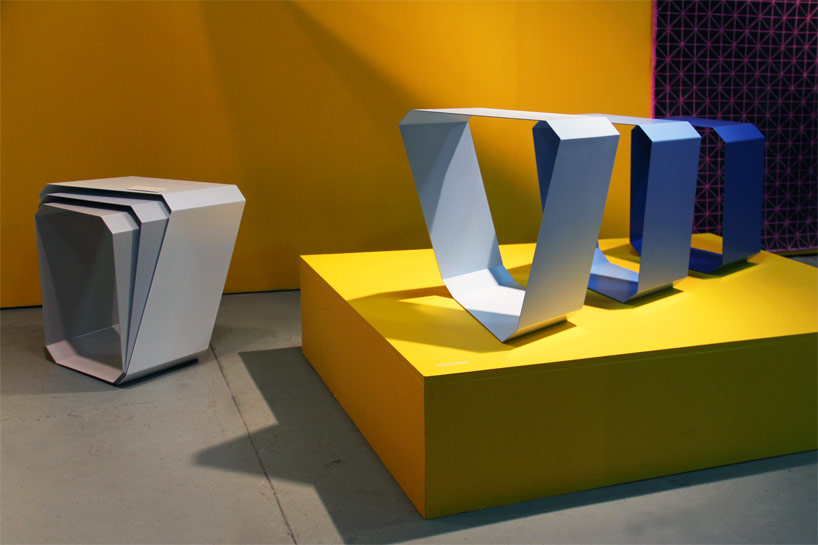 'abscissa' side table by joe doucetimage © designboom
more brain tease than nesting tables, 'abscissa' by joe doucet uses form and perspective to inject new dimension to an otherwise unassuming furniture concept. these tables sequentially torque to reveal the inner tables when stacked together. the tables perspective challenging lines and angles create the illusion that surfaces are not flat even though they're perfectly capable of holding your drink.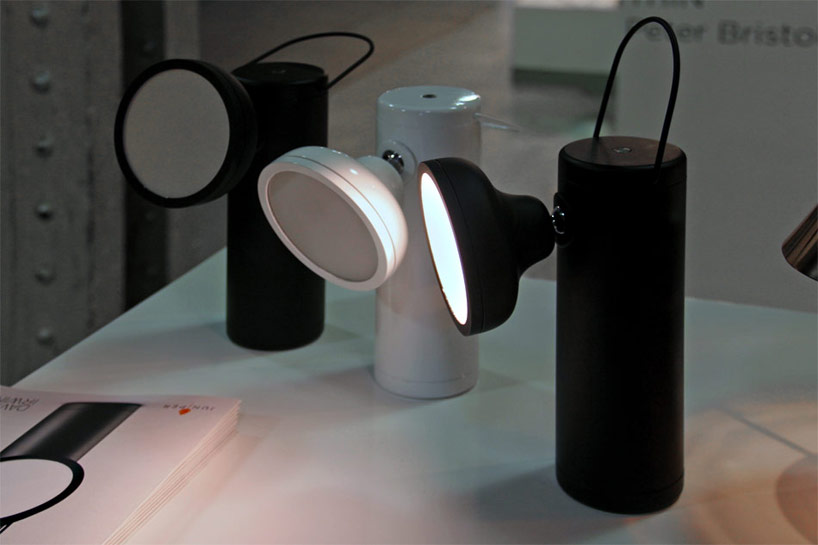 'M lamp' by david irwin for juniper
image © designboom
the 'M lamp' by david irwin for juniper offers a contemporary play on the aesthetics and function of 19th-century english miner's lamps. it is powered by an internal lithium iron phosphate battery which can last up to 18 hours on its standard setting. the M lamp, which stands at 230mm (9"), projects up to 3,000 lux of warm light from its adjustable head. in its standard mode, its dimmable LED will emit 1,000 lux for more than 8 hours on a single charge, which is ample brightness for late-night work or for reading in bed. and in the case of a power cut, the M lamp will automatically illuminate at full power, making it a useful companion in times of need.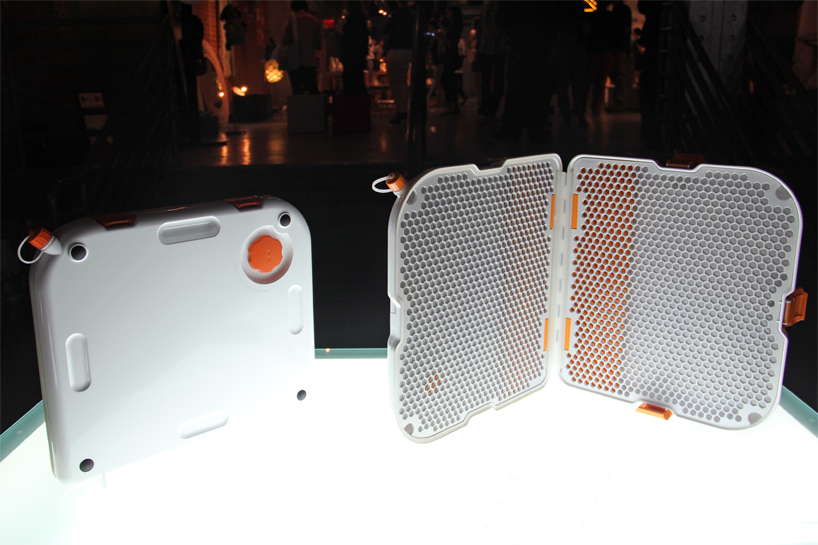 'shake dog potty' by modko
image © designboom
modko's portable 'shake dog potty' garners its name from the unique method used to clean it. the sleek, flat design can easily be folded and carried wherever you go (it has handles), and is ideal for those times when it's just too cold to take your pet out for a walk, or if you know you'll be stuck at work quite late and won't be able to get home in time! see more about the shake dog potty by modko on designboom.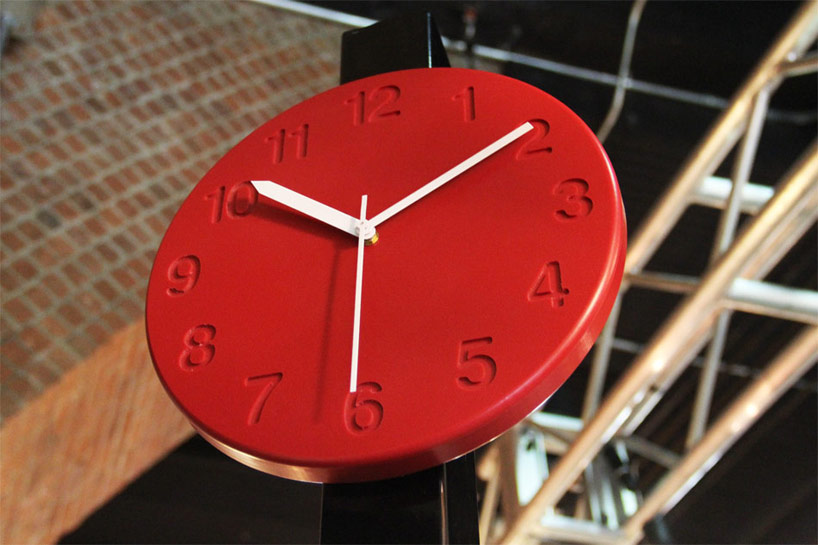 'chiaroscuro' clocks by josh owen for loll designsimage © designboom
'chiaroscuro' (italian 'light-dark'), is also a technical term used by artists and art historians for describing the use of contrasts of light to achieve a sense of volume in modeling three-dimensional forms. the effect of light defines the character of these clocks designed by josh owen for loll designs. the numbers are engraved into the plastic material. depending on the time of day and the way in which ambient light activates the face of the clock, the numbers are more or less prominent, underlining the metaphysical nature of time. these clocks are heavy in weight but purposefully so. utilizing loll's signature recycled material, a large clock (24" DIA) saves about 148 standard milk jugs from the landfill. a small one (12" DIA) saves about 24.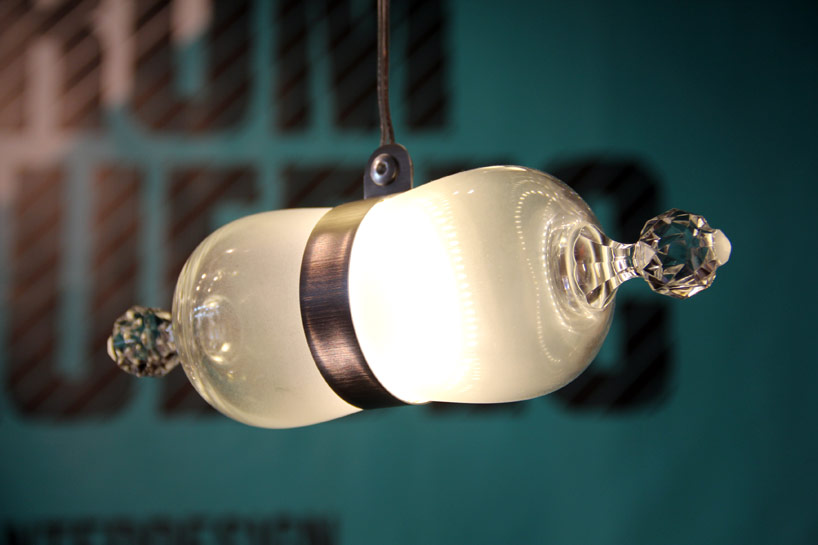 'in vitro' collection by tat chaoimage © designboom
the objects of the 'in vitro' collection by tat chao from quebec are made with up-cycled glassware from donations or second-hand shops. the components are assembled with a special glass adhesive. 'in vitro' is the rebirth of the rejected, the out of style, the damaged.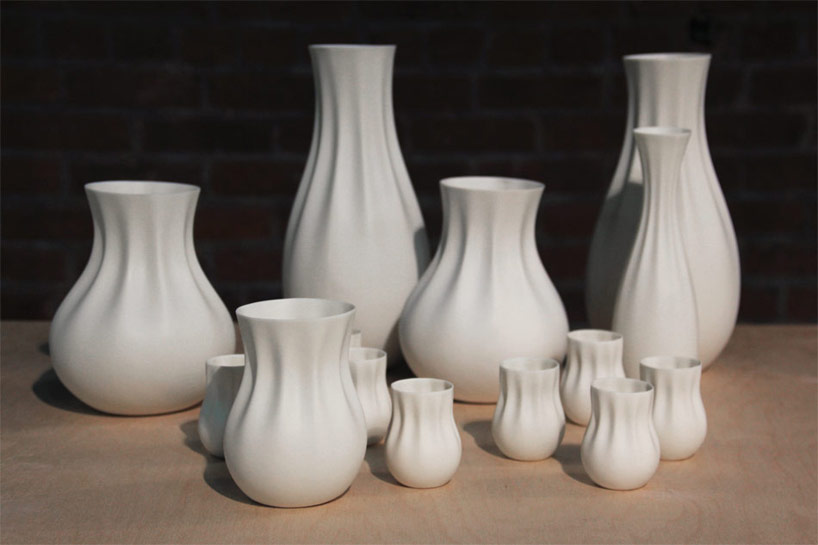 'tarrugao' (está + arrugado = being wrinkled) porcelain by chilean design group 'great things to people'image © designboom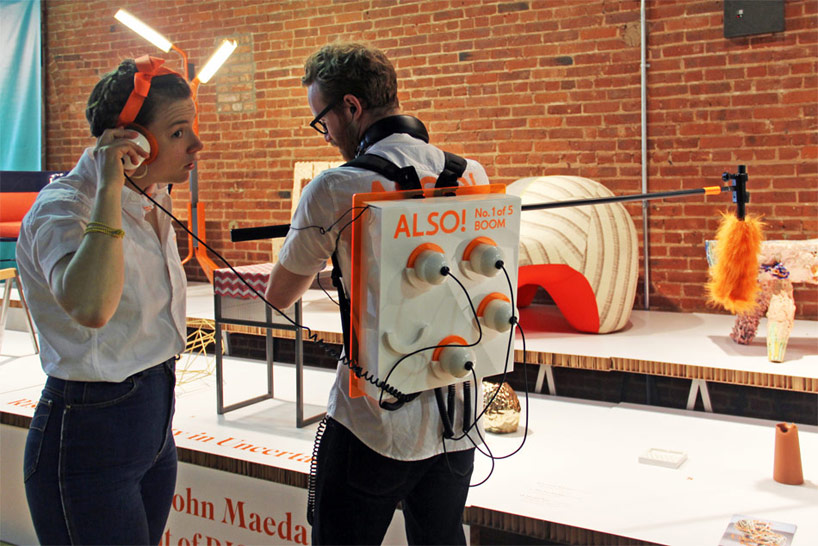 'ALSO' exhibition with interactive experimental projects that involved visitorsimage © designboom
'ALSO' was an exhibition by the students of visual arts' products of design MFA program. the project presented a suite of five+1 interactive stations that explore how we experience new design. the interventions invited visitors to see beyond form, function, and materiality, and to participate in the discourse around value in craft, materials, narrative, digital mediation, and the ubiquity of unassuming but well-designed things. via this series of moving, participatory installations, the work celebrated the exhibition at large, prompting one to see design through a variety of new lenses.
through a roving set of mobile interventions—both cart-based and human-worn—attendees to the show participated in an unfolding narrative around celebration, sustainability, digital mediation, storytelling, and scale, each expanding the conversation around design beyond form, function, and materiality.
a smartphone kaleidoscope and lift apparatus exposes the distortion of constantly consuming experiences through our screens; a set of viewmasters lets us peer into speculations around the unseen, 'un'wanted, and marginalized; a sound crew with microphones and headphones invites visitors to listen in on the untold stories of objects; a digital microscope on a remote cable reveals hidden design details invisible to the naked eye; and a die-cutting station prompts guests to transform their printed materials, ennobling ephemera and inviting people to reflect their experiences to one another.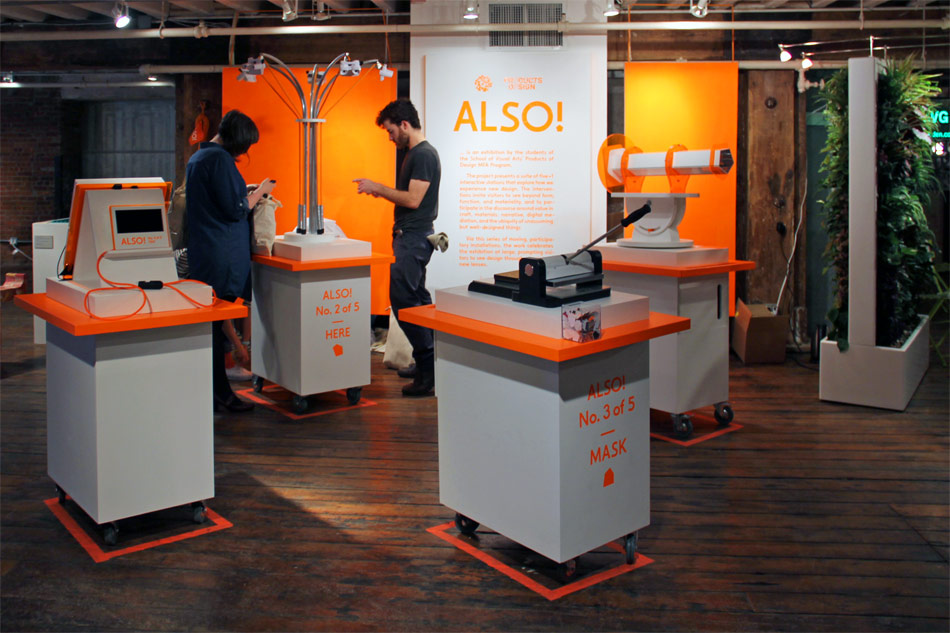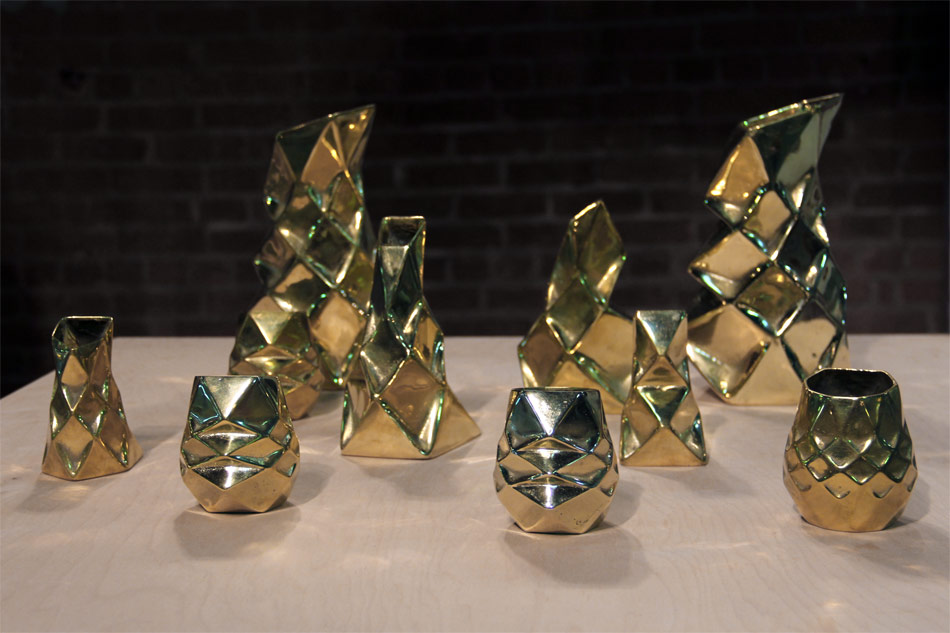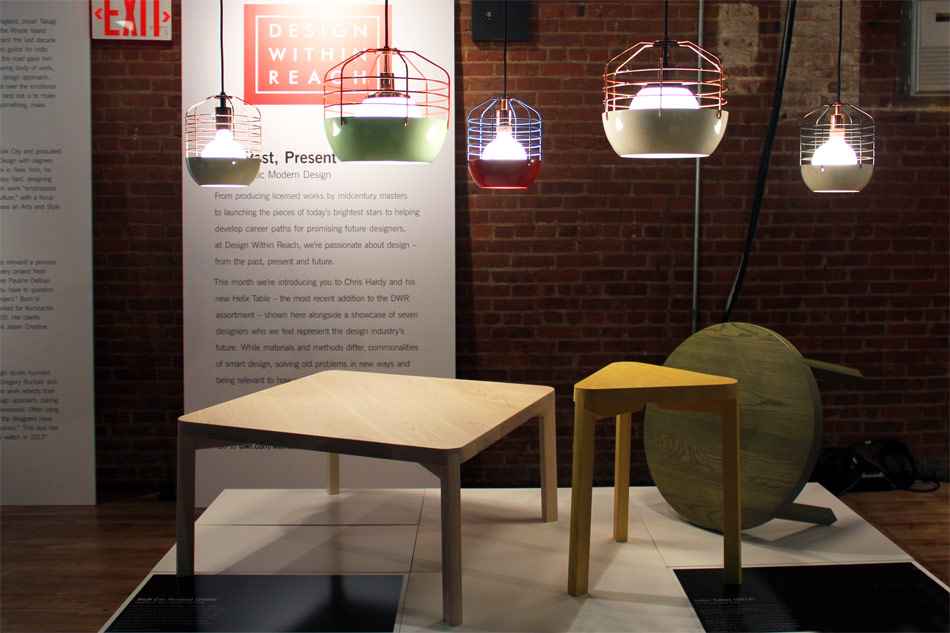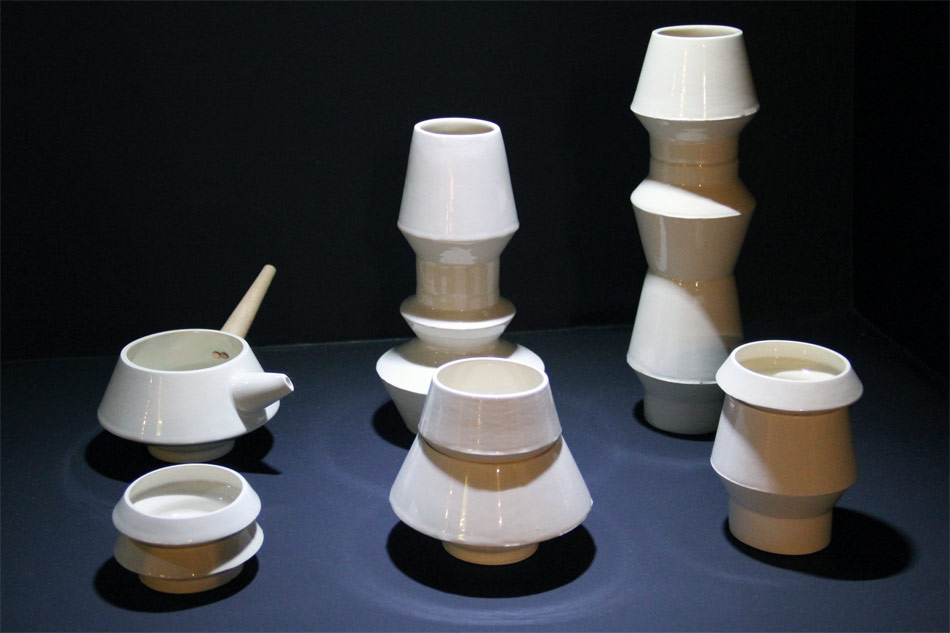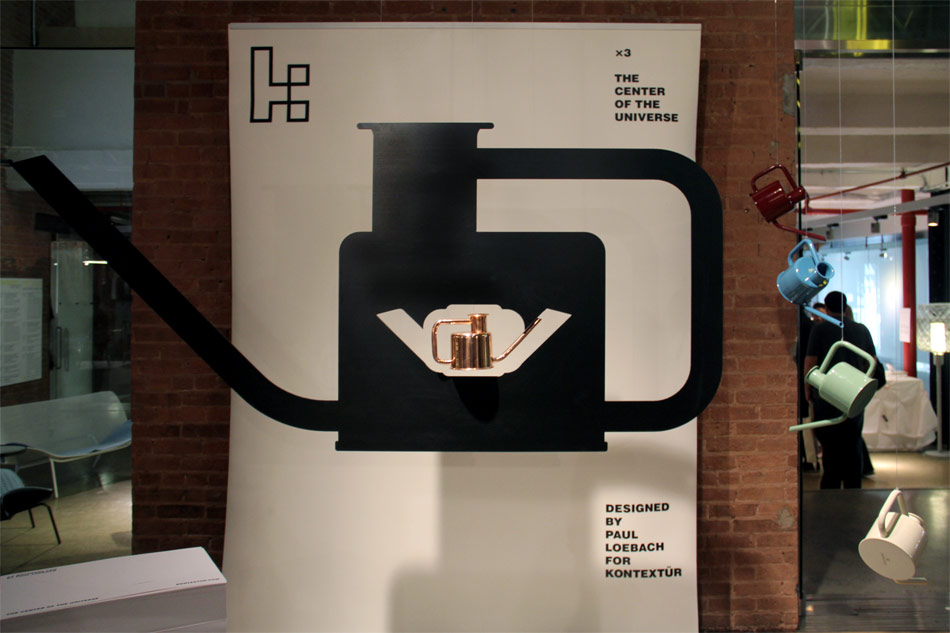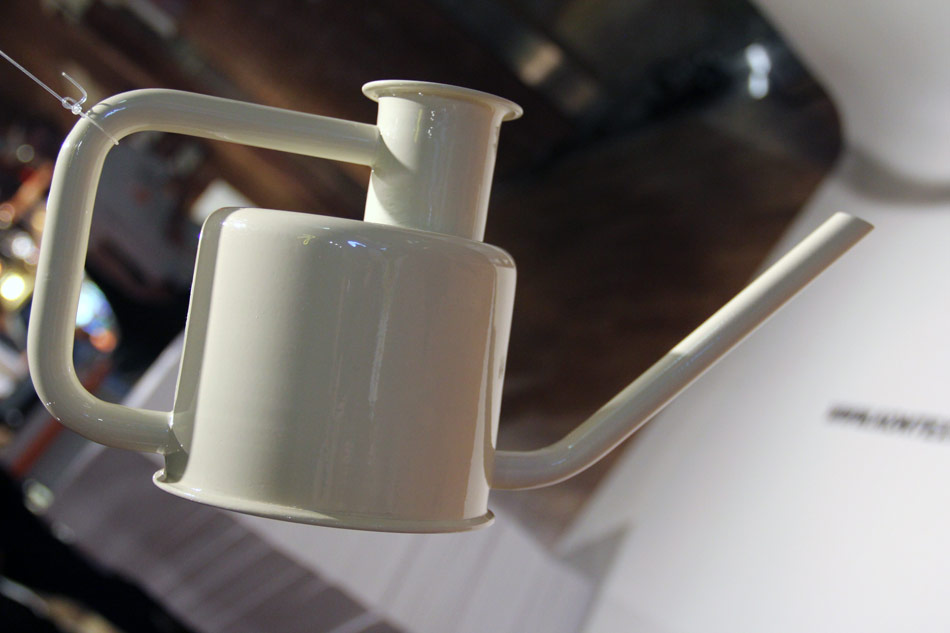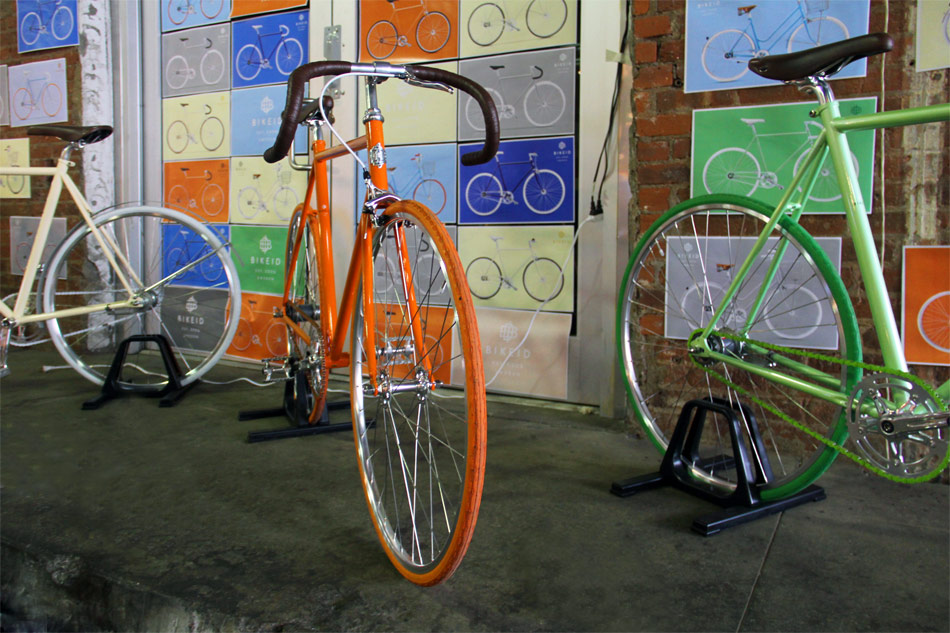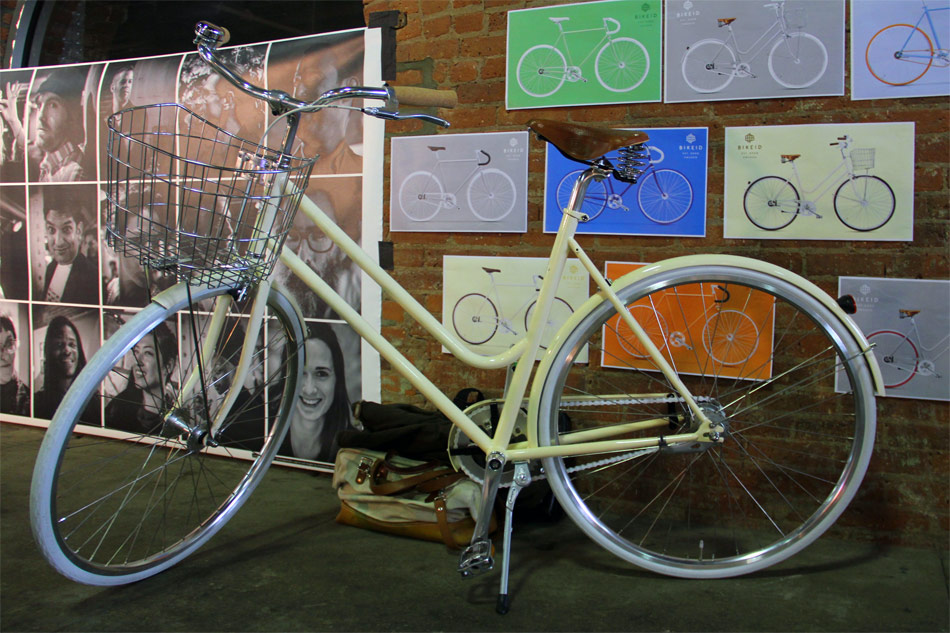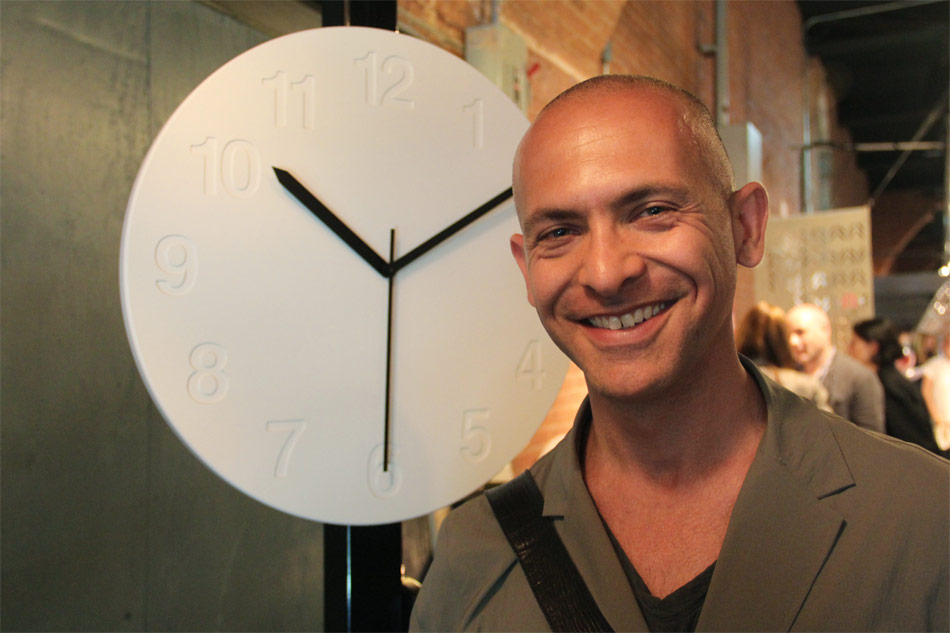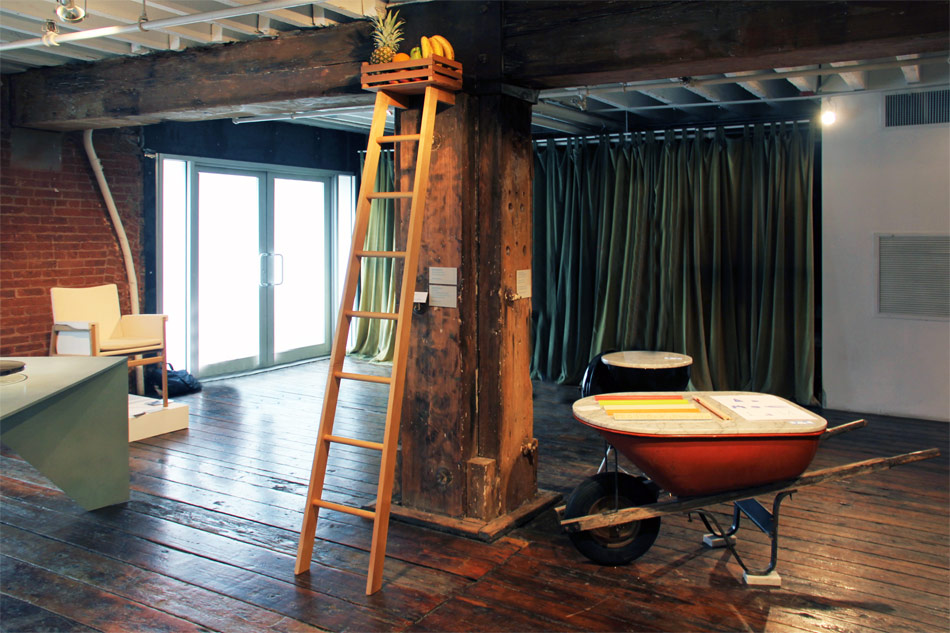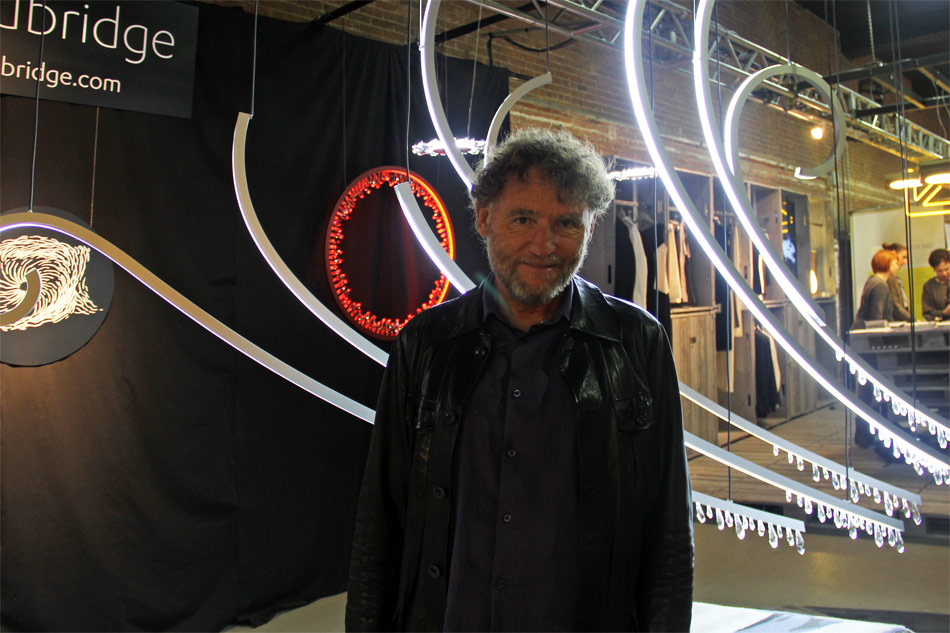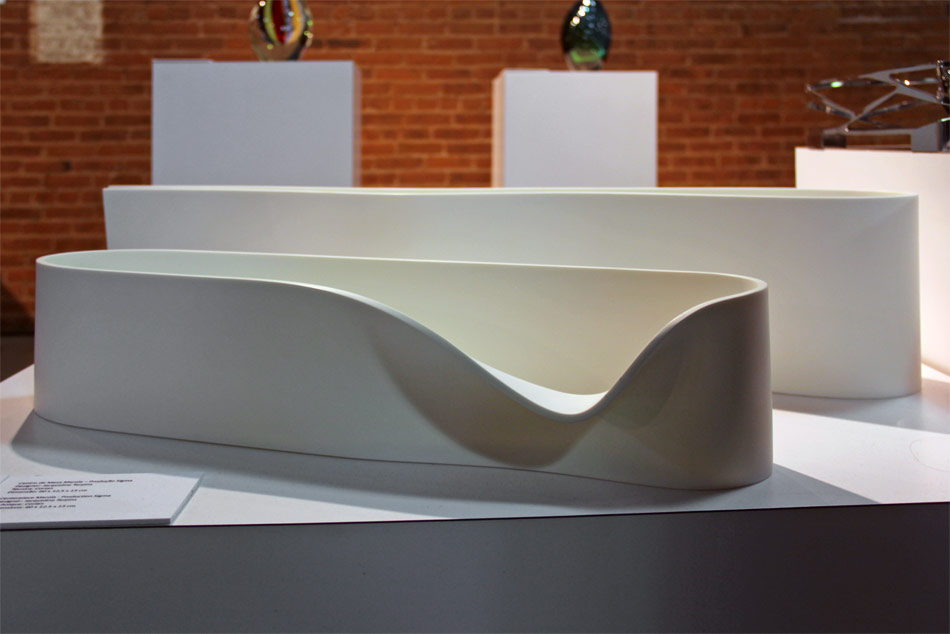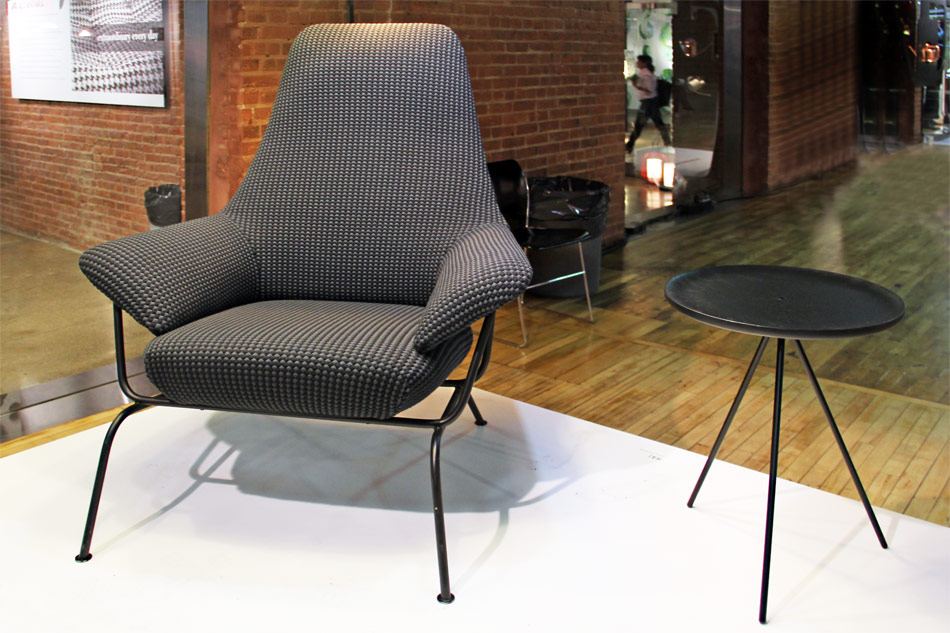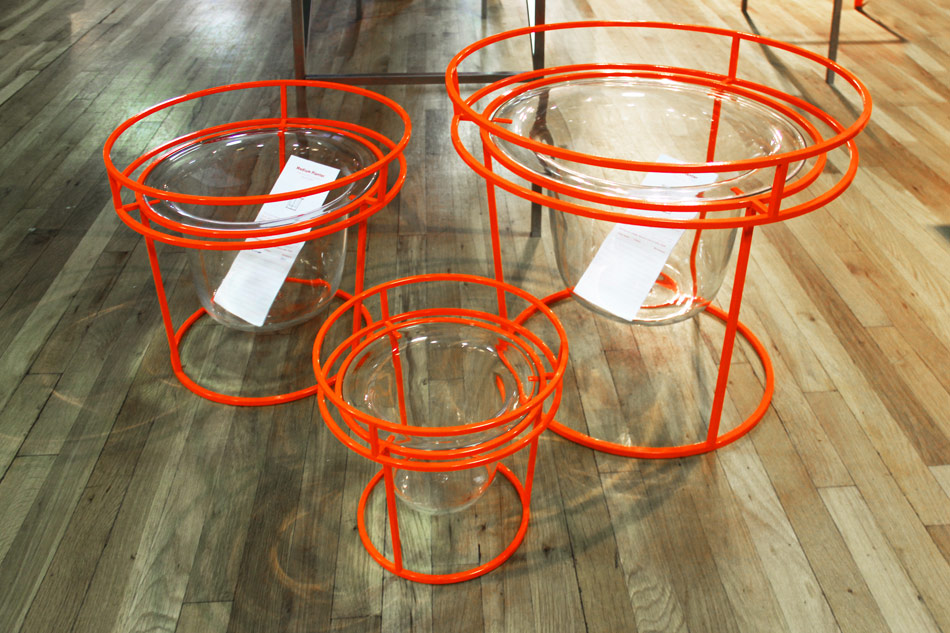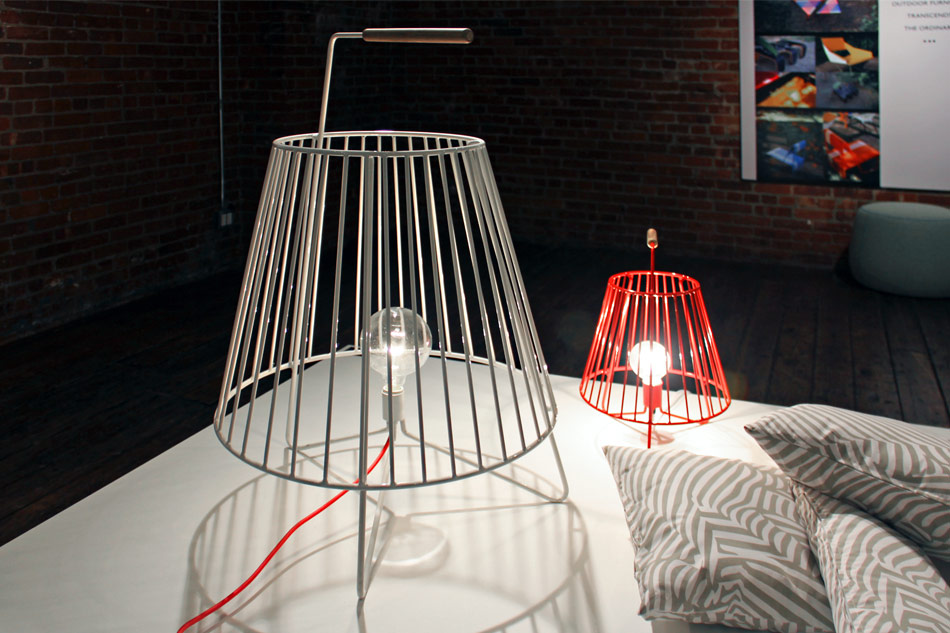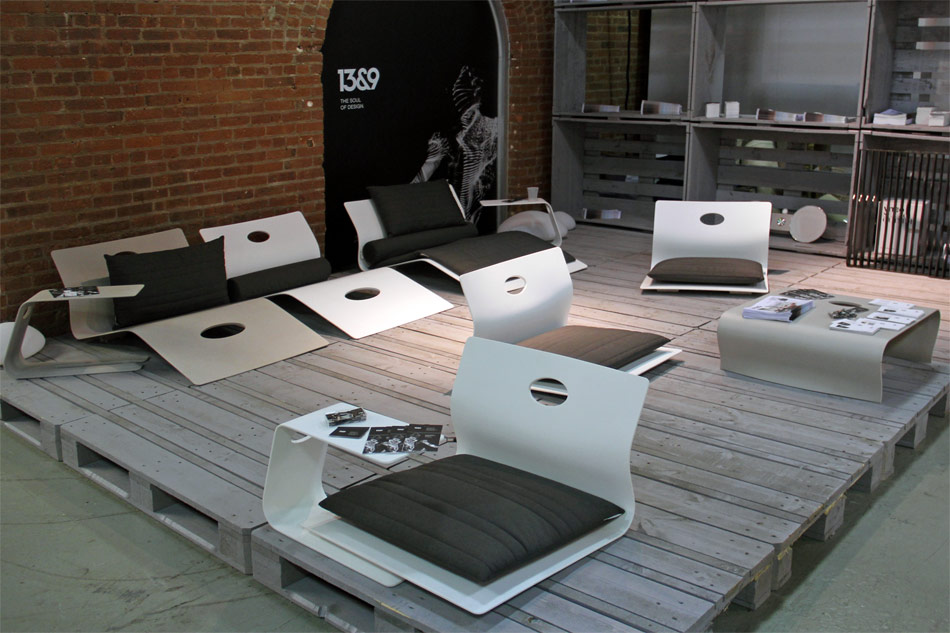 anita hackethal
I designboom
jun 16, 2013
a diverse digital database that acts as a valuable guide in gaining insight and information about a product directly from the manufacturer, and serves as a rich reference point in developing a project or scheme.
designboom will always be there for you
milan, new york, beijing, tokyo

,
since 1999