apr 22, 2013
weifang international kite festival: folklore flying high
the world's most famous kite festival attracts international hobbyistsall images of previous kite festival editions courtesy china photo press
the 30th weifang international kite festival kicks off.
the annual international kite festival in weifang, in shandong province, which always attracts the world's attention just opened on april 20th.weifang is known as the kite capital, where contemporary super-big kites and characteristic free-form kites perform next to traditional ones,that can be traced back to the late 16th century and the early 17th century. it is in this city where one of three main schools in china for kite-making has hosted hosted this international festival since 1984.
dueling kites
as an internationalized event of the proud folk tradition, the weifang international kite festival attracts numerous chinese and foreign kite masters every year. the tantalizing stunts and spectacles of competing kites amuse thousands of visitors, as well as their distinctive models, colors, styles and the particular flying techniques perfected in different countries.
the organizer has elevated the occasion from one of general amusement to a concurrent formal sporting event. this year marks the 9th 'world kite championship', attended by teams from dozens of countries and regions, including the U.S. and great britain. meanwhile, 'world kite misses' from various countries make an appearance in this grand event, promoting friendship among locals, competitors and visitors with their beauty, kindness and charm.
weifang is famed for its handicraft tradition, and its kite making also has a long history. originally, the trade only involved artisans who made kites as a means of livelihood. later, men of letters and artists also developed an interest in the folk art and applied their intelligence and skills to kite designing and painting, adding a tincture of studied elegance and sophistication to the folk craft. changes of dynasties further galvanized the development of kite making, as imperial kite makers of a terminated dynasty fled the capital and started their new lives in weifang, bringing their tastes, standards and expertise to local crafts traditions.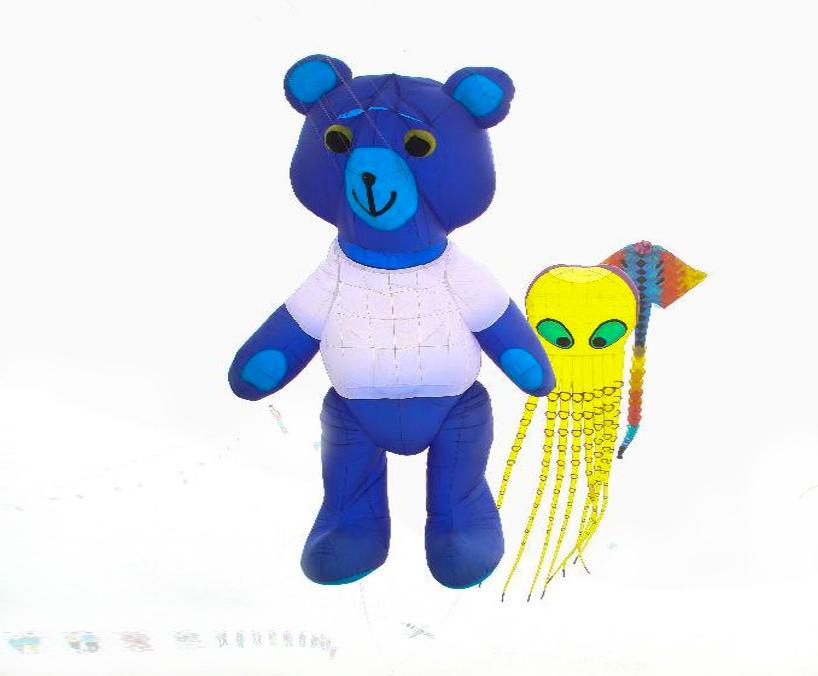 the weifang kite enjoys a reputation for exquisite craftsmanship. artisans use three-year-old mao bamboos that are straight and have smooth veins. the process of splitting, trimming, scraping and heating create structures as straight as arrows and so elastic that they wrap around a finger. kite frames made this way are light, stable and flexible. weifang kites come in several varieties: soft-winged, hard-winged, train and cylindrical kites.
legend has it that kites were invented in china 2000 years ago and introduced to the west by marco polo. true origins of the kite are lost in the mists of time but it is said that the first kite to be made was built by a chinese philosopher called mo-tse who lived 230 BC.  and it is reported that traditionally ites were originally used for military purposes. (it is said in 200 BC a chinese general han hsin used a kite to fly over a castle he was besieging to see how far away it was. he then used the length of the kite line to dig a tunnel so that he could enter the castle). during the cultural revolution kite makers made miniature kites in secret to keep the skills alive.
the kite most symbolic of weifang is a massive train kite with a dragon's head and a centipede's body.as the home of the kite, the weifang kite museum is a must-see for visitors. a huge edifice totaling a floor space of 8,100 square meters, the museum has a collection of over 1,000 masterpieces, judged by both their workmanship and flying skills, in addition to photos or duplicates of antique kites.
jan 01, 2018
jan 01, 2018
dec 06, 2017
dec 06, 2017
nov 30, 2017
nov 30, 2017
nov 21, 2017
nov 21, 2017
aug 29, 2017
aug 29, 2017
aug 24, 2017
aug 24, 2017
kite
(2 articles)
apr 07, 2009
apr 07, 2009
a diverse digital database that acts as a valuable guide in gaining insight and information about a product directly from the manufacturer, and serves as a rich reference point in developing a project or scheme.