you may never need to use a wheelchair in your entire life, but some people use one everyday. the design of this product hasn't changed over many years. however, more and more designers are beginning to understand that the wheelchair could use some good design. here is a round up of some interesting and unusual wheelchairs that intend to improve upon the simple design.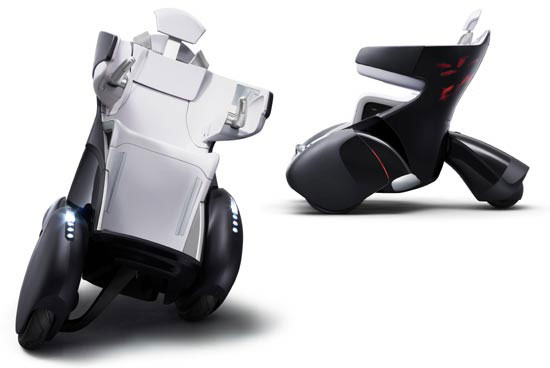 toyota i-real concept the toyota i-real concept is a wheel chair which is designed to wrap around the body allowing users to zip around un encumbered. the vehicle travels at high speed and angles back to increase stability and safety. inside the cockpit of the i-real, a side mounted dashboard features a slew of controls right next to the handle mounted brake and gas. the concept also features an led embed back panel that can display graphics, including signals and other symbols to help navigate in public.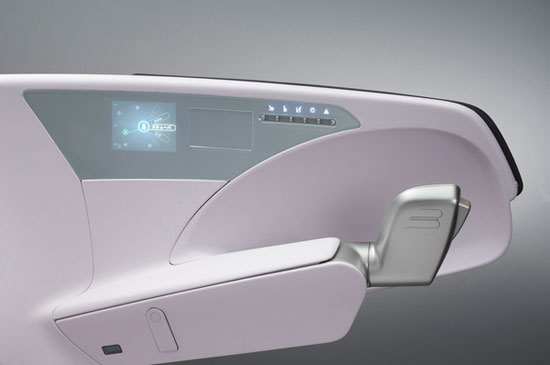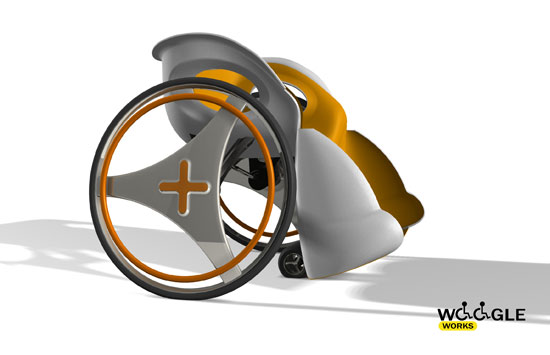 woogle works wheelchairs
designer wai lam wong specializes in designing products to be as inclusive as possible. among his many socially aware products are these two wheelchair designs. the first is the big foot wheelchair which adds more personality to the design with the addition of cartoon like legs on the sides of the chair. the second design is the lime cycle, a wheelchair that can be turned into a hand bike instantly. the design allows user to use their wheel chair as need be and attach the propulsion device when traveling long distances.
http://woogleworks.blogspot.com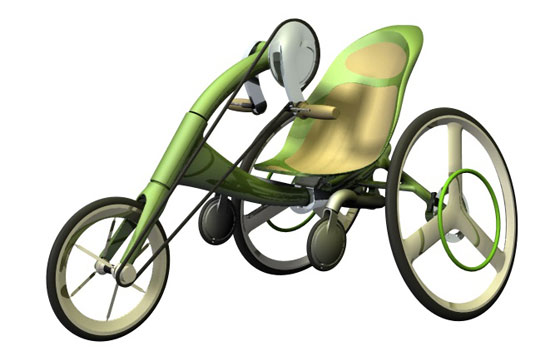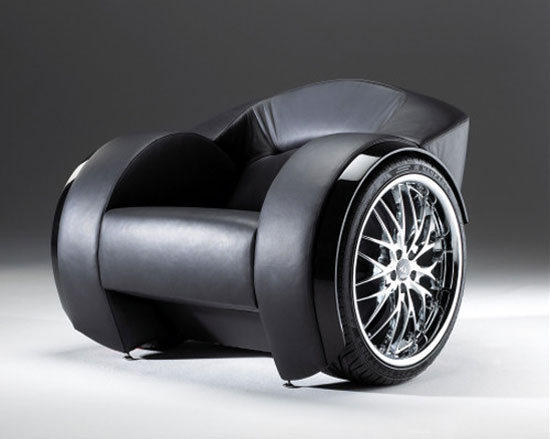 emosign evolution one emosign is a swiss company specializing in producing what are essentially lazy-boys on oversized chrome car rims. the company produces customized leather wheel chairs that come in a variety of colour options and ride on tires outfitted with sparkling rims. unfortunately, the chair doesn't actually roll, the wheels are just for show, but perhaps the concept may take off.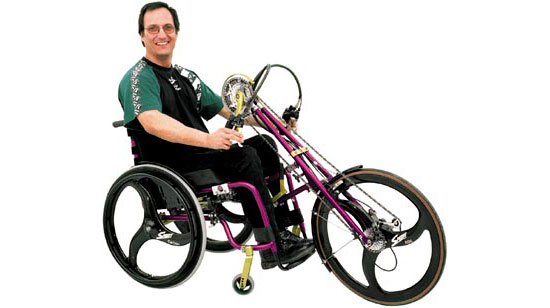 wheelchair bikes speedy bikes produces very special bikes designed to extend the function of wheelchairs. the company offers a range of wheelchair accessories that turn any wheelchair into a bicycle. their designs simply attach onto regular wheelchairs and provide a method to propulsion through either foot pedals or hand pedals. but if pedaling around is too much trouble, they even have a device that transforms the wheelchair into an electric bike. the company also makes a low riding hand bike and an accessory for attaching to a regular bicycle to create a tandem bike.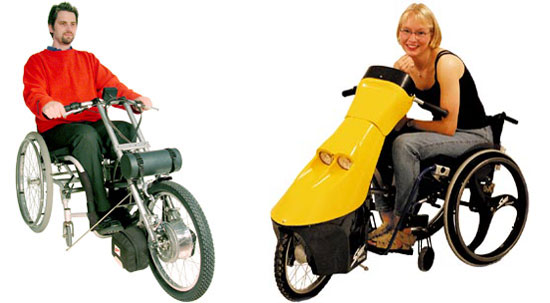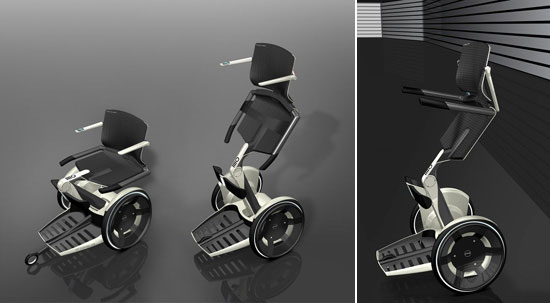 p'gasus the p'gasus is a wheelchair concept created by the porsche design studio. like other concepts presented here, the p'gasus is an adjustable wheelchair that can be used in a sitting or standing position. the design aims to change the images of wheelchair users through its adjustable design and its stylish car-like aesthetics. the design features only three wheels and relies on gyroscopic sensors to balance the user depending on their center of gravity.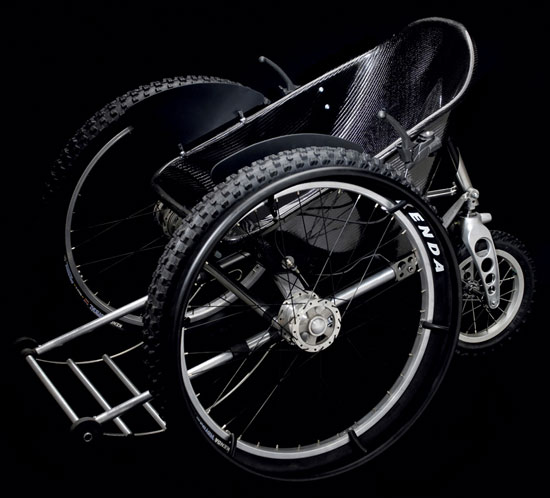 trekinetic the trekinetic is an all-terrain manual wheelchair with a trialing back wheel for added stability. the wheelchair has a carbon fibre bucket seat and hand operated steering and braking systems. the chair can also be made more water proof through an optional umbrella. the design is lightweight, at around 9kg, and has solid tires to grip a variety of surfaces. folding and unfolding the bike takes only 8 seconds and can be easily carried in a car or stored out of the way.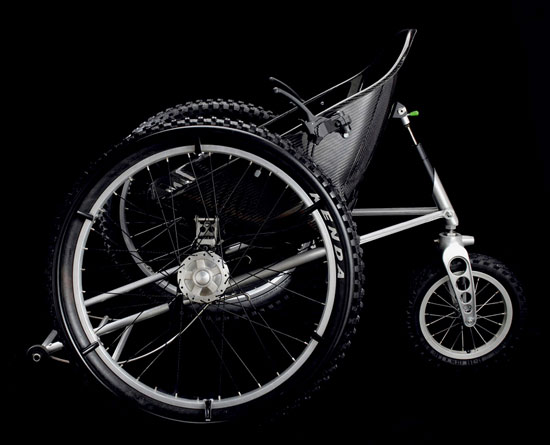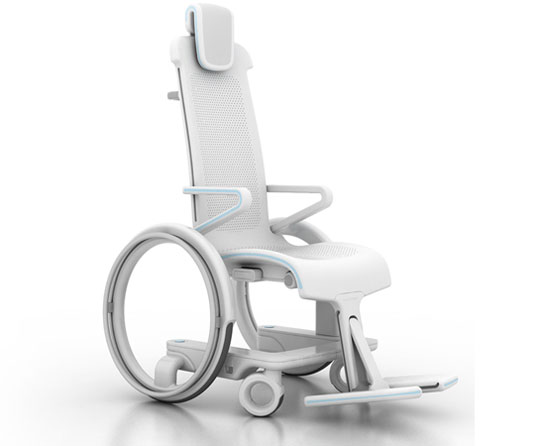 home care chair this versatile wheelchair designed by christen halter adjusts to work in an upright, sitting and lying down position. the chair has a four wheel base and feet rests that fold up into the seat. large wheels with hand grips can be added on to give the user the ability to propel themselves. the chair can be detached form it base and used on a stair-lift to provide even more mobility options. the chair is made using high-tech materials that provide comfort and can be adjusted to suit the user's position.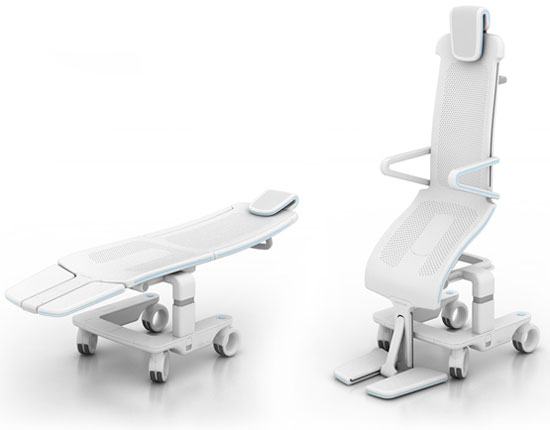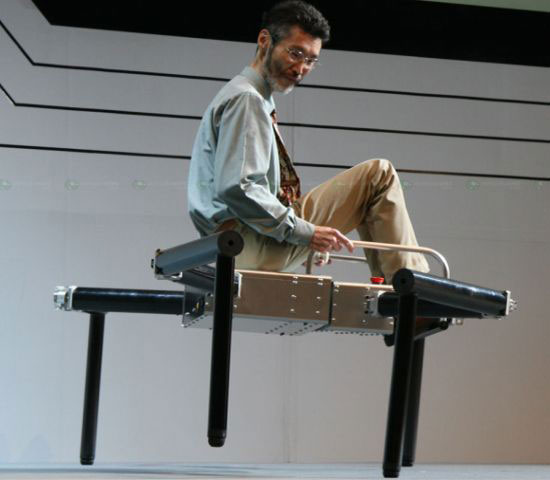 walking robot wheelchair this wheelchair concept aims to blend the walking ability of a spider with some advanced robotics. the design was unveiled at the robo japan fair, where it was demonstrated to the public. the design features a four-legged robot that has ample room for the operator on top. the vehicle walks with its feet, transporting the user around. although it isn't intended for use as a wheelchair, the mechanics could be used for this purpose to great effect.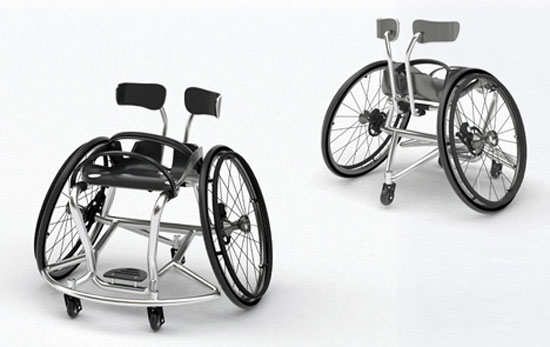 balance sport wheelchair the balance sport wheelchair was designed by the team of eric larson, ricky biddle, ben shao and austin cliffe for use during wheelchair sports like basketball. because players use their hands for propelling themselves, turning, braking and handling the ball, the designers wanted to find a way to give players more opportunities for hands-free operation of their wheelchair. they developed a hands-free braking and turning system that gives players more control over their chair without taking away from ball handling. the design works by responding to the user's leaning, turning or braking accordingly.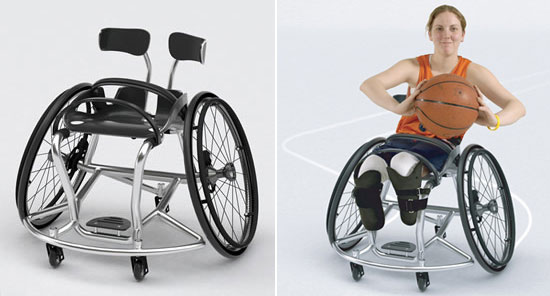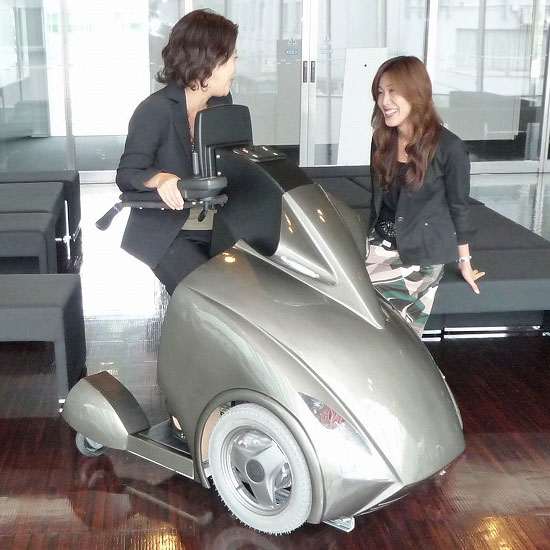 rodem wheelchair the rodem is a new high tech wheelchair created in japan to help the country's growing senior population. the vehicle looks more like a scooter than a wheelchair, but it is designed to allow users to slip on and off with ease. the user rides the device using a saddle seat at the back, controlling it using the handlebars up front or a small joystick. the device is powered with an electric motor located under the front hood. the unusual form may not suit all wheelchair users' needs, but its riding style position and easy accessibility could be integrated into other wheelchair designs.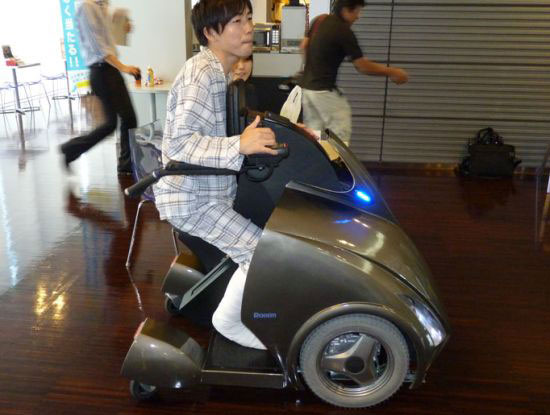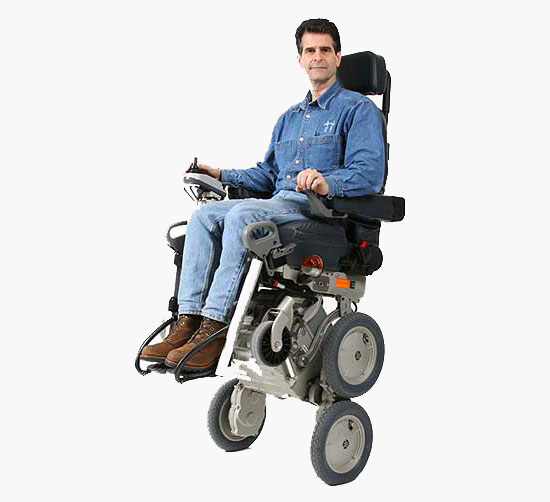 ibot the ibot is the creation of inventor dean kamen who has also developed the segway personal transporter. the ibot wheelchair uses the same self-balancing technology as the segway and also features a second set of wheels, which enable the chair to climb inclines and stairs. wheelchair users don't have to worry about having the right access with the ibot because the chair can climb stairs just like able-body people. the design raises the user up to standing height but can also be used in a sitting position. despite its breakthrough technology, the ibot is unfortunately no longer sold.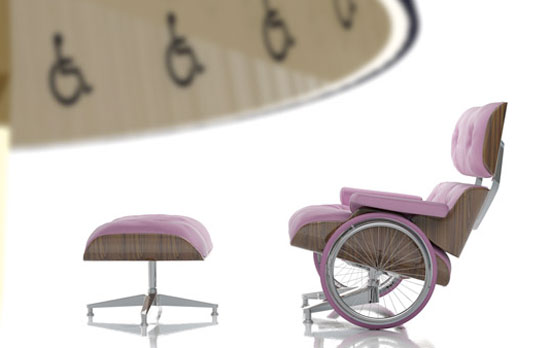 classic design wheelchair designer david pompa created these design classic wheelchair designs for the vassal centre as part of his inclusive objects series. pompa questions why design icons are predominantly for an exclusive range of our society. to tackle this issue he added wheelchair wheels to a number of antiques and design classic like the lounge chair by ray and charles eames. while the design is only a concept, it makes you think about the design of chairs versus that of wheelchairs.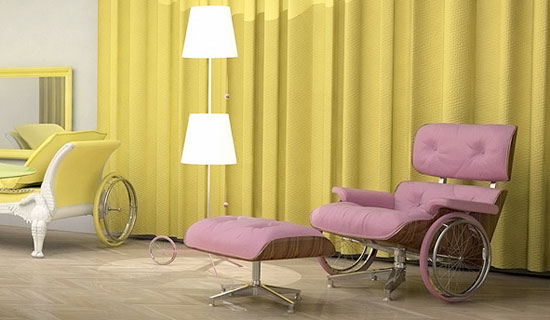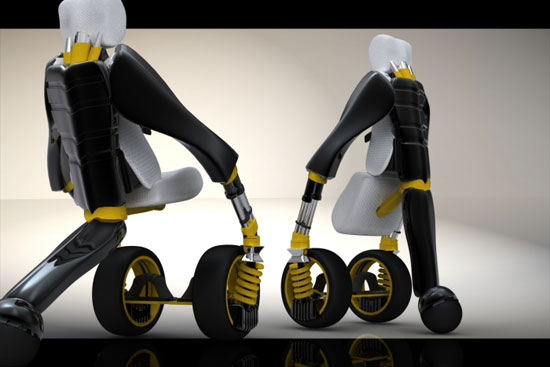 standing wheelchair by jake eadie jake eadie is a design student at monash university in melbourne, australia who is creating a standing wheelchair for his final project. the chair concept is designed so that the user can ride at sitting height and raise up to standing height. eadie aims to challenge the perceptions of wheelchair users by having them meet the eye line of able bodied people. the design of the chair uses heavy duty suspension and a rear support which articulates to raise the user up and down.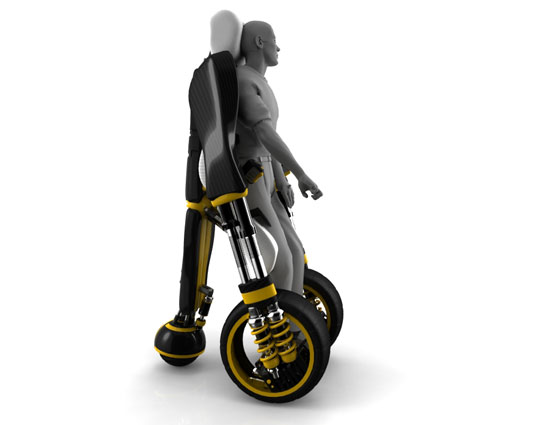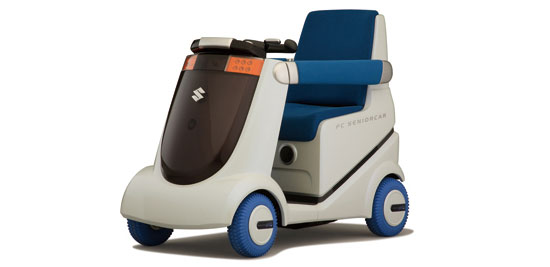 suzuki mio
the suzuki mio is a fuel cell powered electric wheelchair that is user-friendly and boasts a longer travel range than suzuki's previous lead-acid battery model. the chair can travel 40 km on a single recharge. the design features large armrests which also serve as a safety barrier and a seat made from a mesh fabric to improve comfort and air permeability. the dashboard features a large lcd screen to show fuel levels and power generation state. the design remains a prototype like many hydrogen powered car concepts.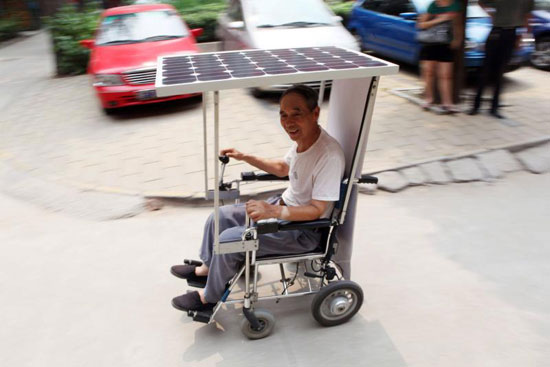 image copyright 2009 wenn.com
solar wheelchairs just because you ride in an electric wheelchair doesn't mean you can't be sustainable at the same time. these solar powered wheelchairs show that a small panel added to a regular electric wheelchair can take you off the grid, adding more mobility to a chair without worrying about running out of power. above is a solar wheelchair invented by zhao tianyun, who invented an add-on solar panel which he hopes to patent and sell around the world. below is a full solar wheelchair created by a disabled british woman and a commercial solar wheelchair developed in taiwan.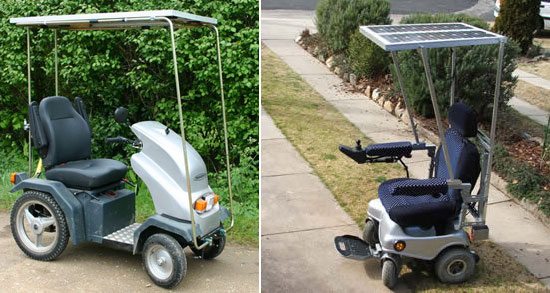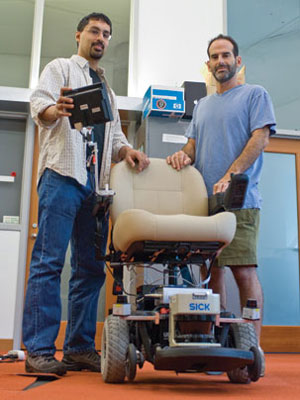 photo: patrick gillooly
MIT thinking wheelchair
researchers at MIT have been working a new high tech wheelchair that can automatically transport users using only voice commands. the device is being developed by nicholas roy and seth teller and is still in development. the chair works by mapping a building in its software and associating certain locations with key voice commands. once commanded to go somewhere the chair slowly moves around being careful not to bump into any walls along the way. because the idea is still under development it requires a lot of preparation to ensure it navigates itself properly. once the bugs are worked out, this technology could be very useful to wheelchair users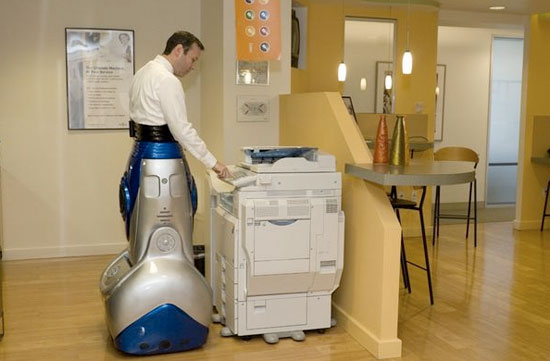 photo by liz roll
chariot wheelchair the chariot wearable transportation device is a new form a wheelchair developed by exmovere holdings inc. the self-balancing device is hand free allowing users to ride around just like an able bodied person walks. the design was created for amputees and others with standing difficulties and is controlled through sensors located near the lower torso and hips. the vehicle requires minimal physical effort and allows users to closely approach and reach objects. the chariot is powered by a battery located in the base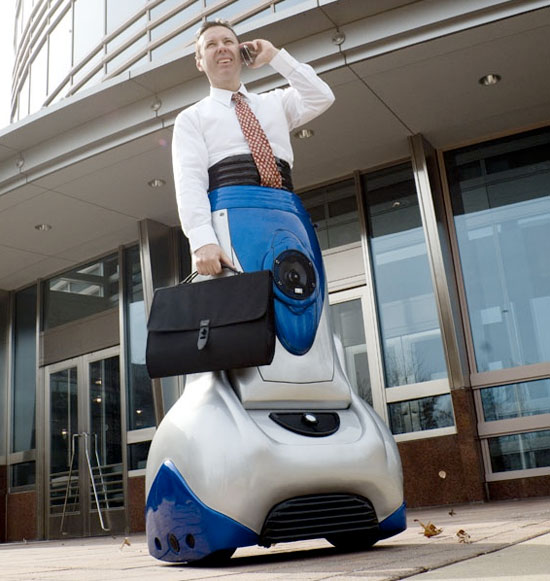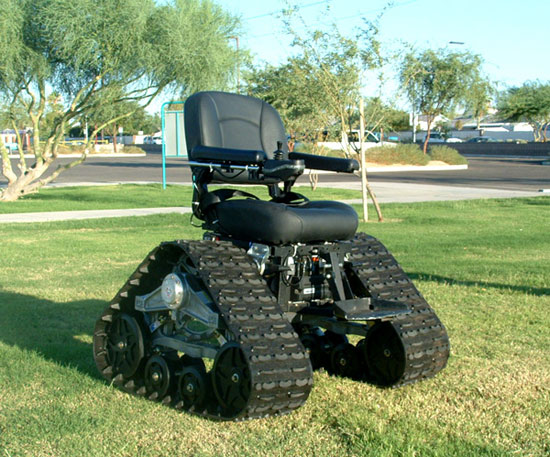 tank chair
a regular wheel chair may be sufficient for rolling down the street, but what about rough and rocky terrain. well the tank chair aims to provide the solution. the design features a high back seat and a set of rolling treads to tackle almost any surface just like a military tank. from snow to sand, the tank chair can handle it all. the company making the tank chair also produces what they call the 'speedster' wheelchair, that comes with a beefed up motor and chrome wheel rims.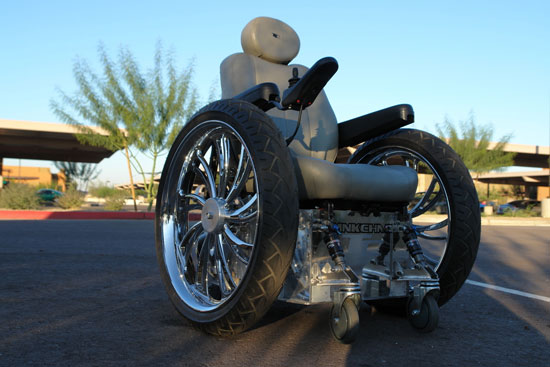 a diverse digital database that acts as a valuable guide in gaining insight and information about a product directly from the manufacturer, and serves as a rich reference point in developing a project or scheme.
designboom will always be there for you
milan, new york, beijing, tokyo

,
since 1999