WHY Wally-Hermès Yachts all images courtesy Hermès
WHY Wally-Hermès Yachts is the new company created by french luxury brand Hermès and monaco based yacht maker Wally, dedicated to a new lifestyle of living on the sea.
designing a boat with a new concept is not an utopia. at every turn the yacht offers maximum space, durability and cutting-edge technologies. the exchange with Wally and Hermès was rooted deeply in terms of know how and sharing the same philosophy of this new concept.
Hermès was involved in every step of the process from concept to realization, considering both the outside and inside were just one of the many things. as always just like with all their designs they paid special attention to detail, developing the overall architecture of the vessel evaluating issues of speed and spaciousness.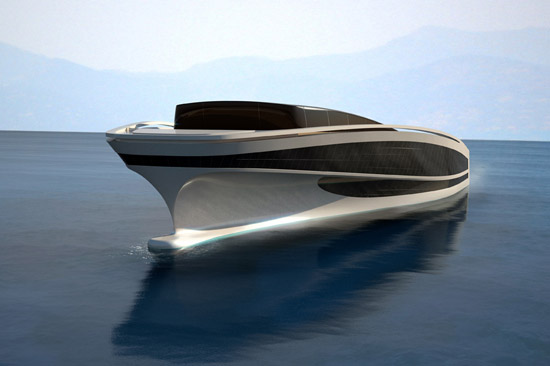 WHY Wally-Hermès Yachts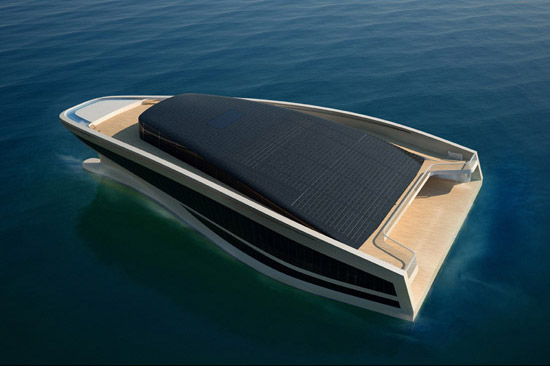 WHY- photovolatic panels which cover the roof surface
the boat is contained in a triangular hull measuring 58m x 38m. there is no superstructure. the initial idea of this hull was confirmed by the ramform hull which they discovered, redesigned and adapted to fit the concept of the wheel house that emerges from the silhouette of the ship. the interior of the yacht is fitted out with water resistant buffalo leather using the calpinage technique.
the yacht which took years in the making has been tested in gotebourg, sweden, in a specialised tank testing facility, to see how it would perform in big seas. the outcome is that, in full swell, the bow moves a tiny bit and the stern stays completely still. anchored, the boat creates a totally flat surface behind it, like an olympic-size pool where you can swim in total peace. on the bow, there's a seawater pool 25 metres long that follows the curve of the bow.
the environmental and ecological advantages are a strong point of the boat WHY. different sources of energy are managed by a central computer.
the yacht is powered using a diesel electric engine. a surface of the photovolatic panels which measure approximately 900 square meters provide the solar electricity generated which covers part of what is needed to subsist the boat.
an encounter, … the concept was developed by president and CEO of Wally luca bassani antivari, artistic director of Hermès, pierre-alexis dumas and design director of Hermès gabriele pezzini.
a special WHY team has been built to reply to any needs.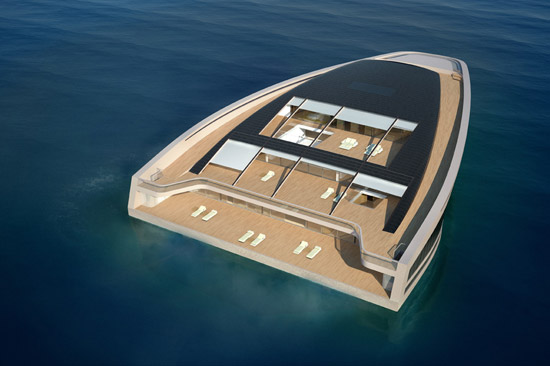 WHY – when sunlight is let in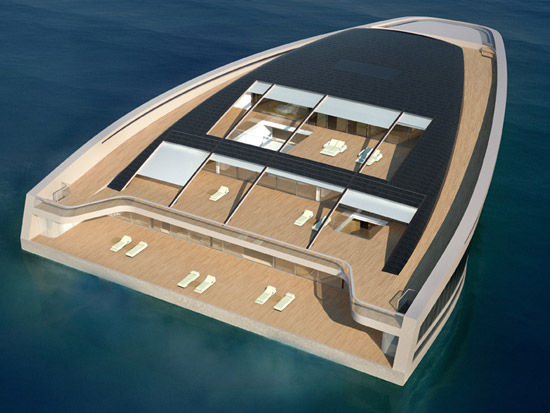 'everybody's dream is to live on an island, in complete freedom, without constraint, with the independence that only self-sufficiency can provide. a piece of land with a beautiful villa partly fulfils this aspiration because it is static. a yacht offers the freedom to move, but does not have the space of a property. WHY has it all: space, stability, movement, independence, peace. WHY goes even further. this revolutionary concept of the moving island is developed with the latest and most advanced sustainable technologies, recycling thermal energy, as well as any organic and inorganic waste. the architecture of the whole project fits perfectly in the environment – there are no excesses, nothing is superfluous, the impact on the sea is minimum. a new and unique way to live on the sea while caring about it, protecting it, and loving it. all this has always been my dream too, and when I met pierre-alexis dumas I realised that this dream could come true thanks to the common values and ethical principles we share.' luca bassani antivari, president and CEO of Wally
'from the invention of the compass to block capitals, from the rudder to the first steps on the moon, man discovers and pursues his dreams. with its feet on the ground and its head in the stars, Hermès, since its creation in 1837, has grown, generation after generation, through innovative projects, executed with high standards and an artisan spirit.I have always thrived on the dreams of great visionaries like magellan, jules verne, saint-exupéry and paul klee. like theirs, the path of Hermès is to pursue its dreams… excelling itself, learning, pushing ever further the quest for excellence and the celebration of beauty in the world. a world we must protect. today, Hermès steps into the marine world with Wally. we quickly recognised our common values, the values of well-made, singular, functional, refined and elegant objects. this encounter was just what we needed to inspire us to brave the open seas. together, with luca bassani antivari, we hope to open a new path, to offera new lifestyle that is different, serene, contemplative and respectful of the environment, moving slowly on the water, combining the pleasure of sailing and absolute comfort. Wally Hermès Yachts – WHY – is the union of our dreams, the green path that carries us away in its wake…' pierre-alexis dumas, artistic director of Hermès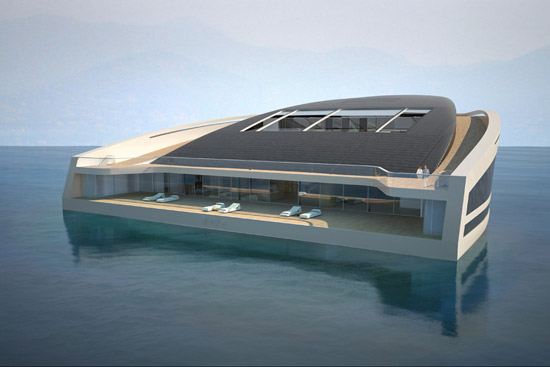 WHY Wally-Hermès Yachts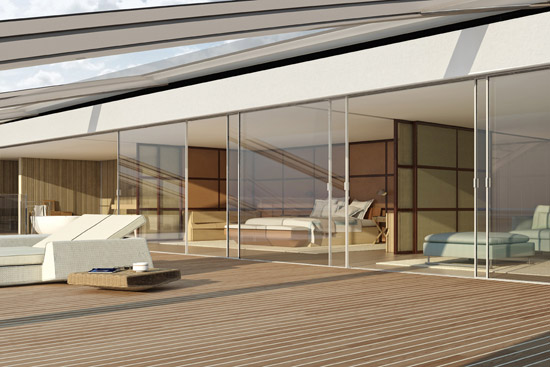 WHY – deck
'over the course of your discussions coasting against the current, how did you come up with the idea of a triangular hull?'
pierre-alexis dumas: my inspiration is still the greek caïque, roomy, generous and slow. this eulogy to slowness is demonstrated in such a magnificent way. a pared-down craft with nothing superfluous about it. we needed a stable hull in order to hold the sea comfortably. the idea of a triangular hull, which doesn't exist in the world of leisure boating, came from the utilitarian merchant marine.
luca bassani antivari: I came across a picture of a supertanker while reading a professional magazine. a cable-handling vessel, used in the geo-mining and seismological industry in the north sea, invented by a norwegian naval engineer, roar ramde, and fully patented. there was nothing new about this ship. it had been in use for twenty-five years. as soon as I saw it, I picked up the phone and called my consultant naval architect, mauro sculli. he looked in the RINA, the italian naval classification registry: never seen or heard of before in the world of yachting! it was perfect. we had our hull. we bought exclusive rights to the concept, patented strictly for yachting.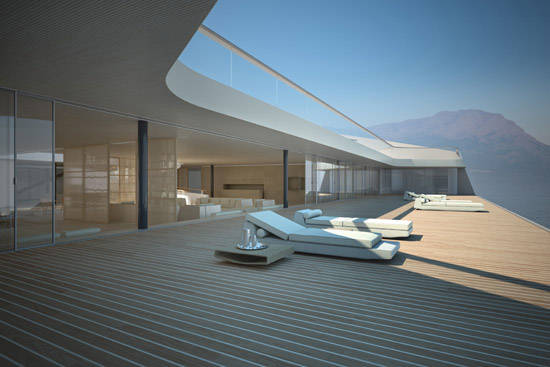 WHY – deck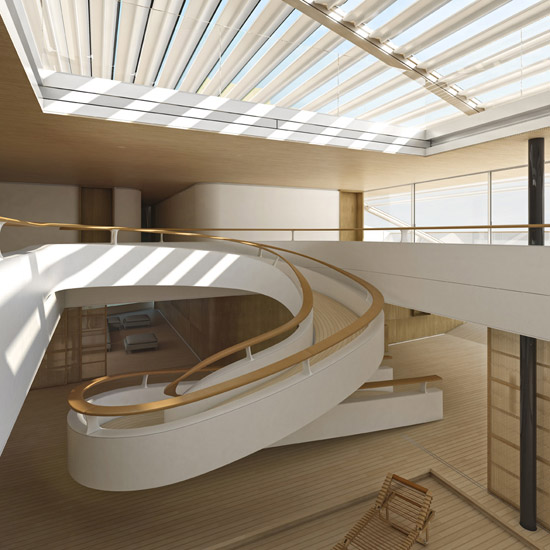 'did this new territory require you to come up with a new way to design a boat ?'
pierre-alexis dumas: WHY addresses the very real problem of consumption, which is today exacerbated by the global context. we provide an answer in a field where clients are responsible for setting an example, embracing a new ethic. what this market needs is a boat designed with the environment in mind. this new way of moving on water must give way to a new way of managing energy, its sources and uses, how to recycle it, etc. the same goes for the choice of materials; we have to limit the effect on the environment.
gabriele pezzini: we didn't design a boat, we gave shape to an idea. the sea is one of the last spaces where people can indulge in absolute freedom. deciding to live on the sea means rethinking everything that's been done before. you need to start from scratch! for example, we provide a real jogging track inspired by coastal paths running around the ship. above all, we had to transpose and translate functions into forms, and vice versa, by merging the viewpoints of Hermès and Wally.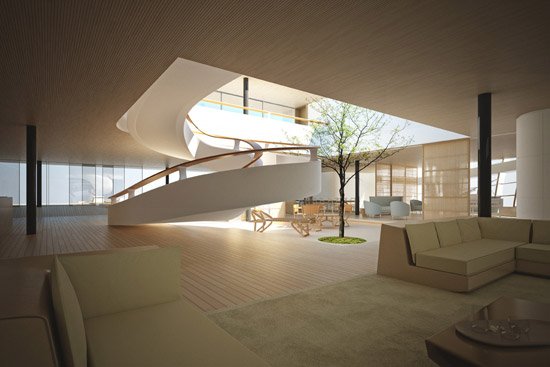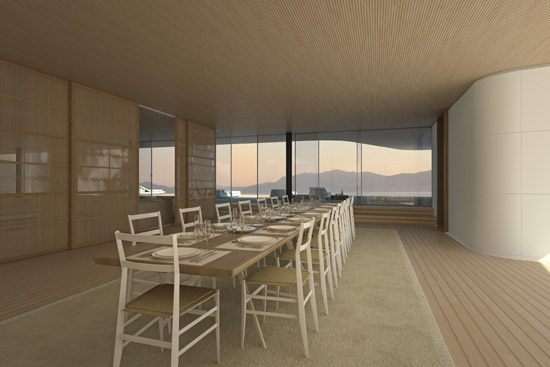 'what are the environmental and ecological advantages of WHY ?'
pierre-alexis dumas: ours requires less power at cruising speed than a boat of equal size. its diesel-electric motorisation is the most efficient motorisation out there today, and the surface of the photovoltaic panels, almost 900 square metres, covers part of what's needed to subsist on the boat! we're also looking into a telescopic wind-turbine system and a retractable mast with a computer-operated sail measuring over 200 square metres that will produce at least 30 % of the energy used to propel the boat.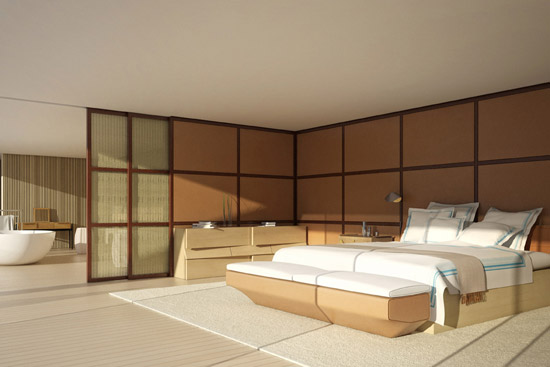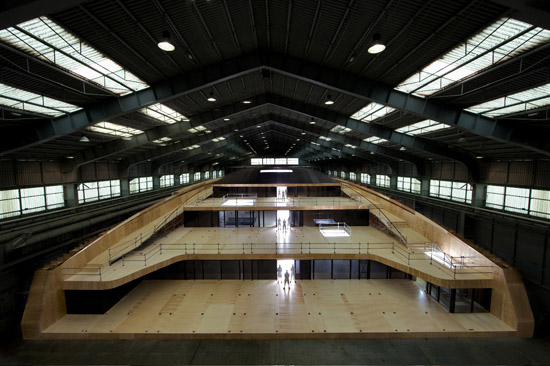 full size scale model rear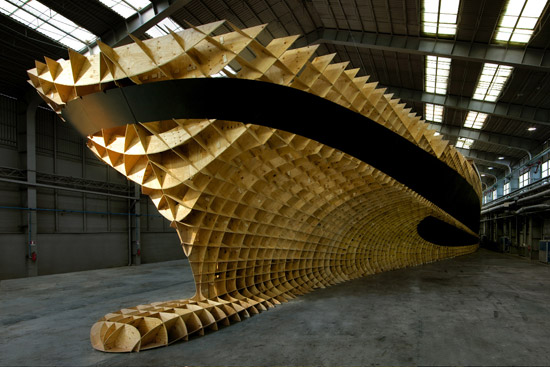 full size scale model front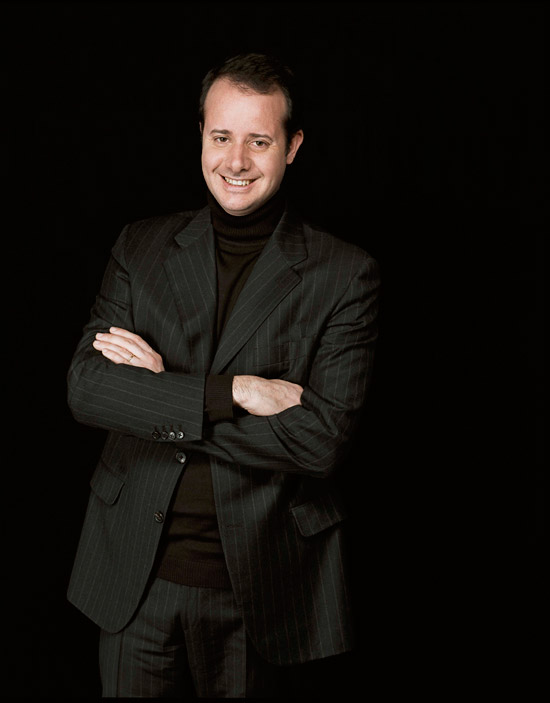 pierre-alexis dumas, artistic director of Hermès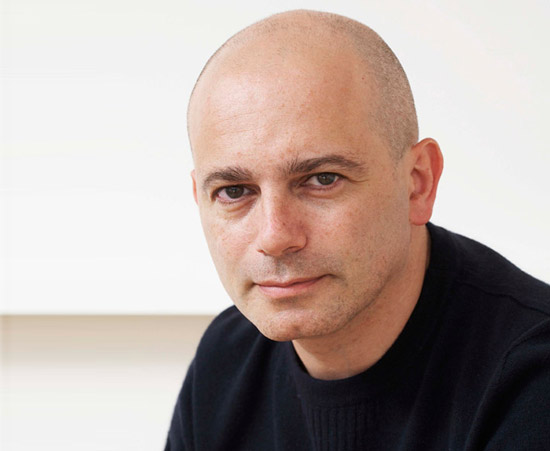 design director of Hermès gabriele pezzini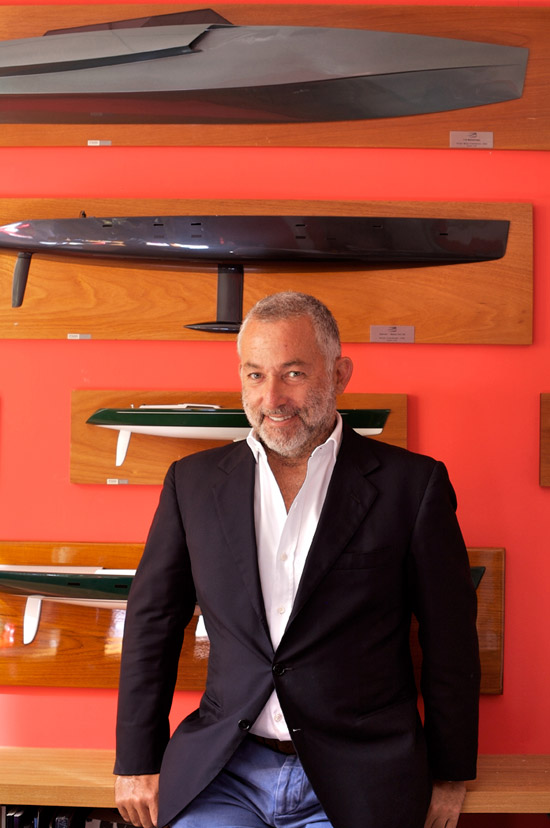 CEO of Wally luca bassani antivari
ridhika naidoo
I designboom
sep 23, 2009
a diverse digital database that acts as a valuable guide in gaining insight and information about a product directly from the manufacturer, and serves as a rich reference point in developing a project or scheme.
designboom will always be there for you
milan, new york, beijing, tokyo

,
since 1999