with 'daily rituals', rotterdam-based design practice studio wieki somers has launched their collaboration with french luxury goods and saddle maker, Hermès. the project is comprised of a set of six window displays located along the benelux region — belgium, the netherlands, and luxembourg — over a period of three months. the concept of the project revolves around the celebration of everyday things that surround, facilitate and shape our lives.

the six window displays are featured in stores in brussels, amsterdam, antwerp, knokke and luxembourg
the 'daily rituals' window shops by wieki somers for Hermès showcase a series of products wrapped with tape that capture concrete memories and transforms them into abstract forms. this way, they enable the viewer to appreciate each object in a different way, while, in turn, equalizing their value. each scene creates a story about our routines, freezing a moment in time: the brussel's double-window setting invites passers-by to imagine a devoted admirer writing letters to his muse; the amsterdam stores see two different intimate moments portrayed: morning and night. the play with anonymity and elevation challenges the viewer's perspective of their own daily reality.

each shop window showcases a still life scene that portrays some of our routines
'this project has been a fascinating challenge for studio wieki somers,' notes wieki somers. 'it is closely connected with the practice of our designers and our own personal vision that re-awakens the hidden qualities in ordinary objects while exploring the significance of rituals, inviting people to look with fresh eyes at their everyday reality.'

the concept of the project revolves around the celebration of everyday things

the objects, although recognizable, are transformed into abstract forms
Hermès
(35 articles)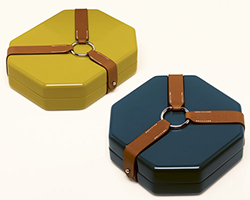 apr 10, 2017
apr 10, 2017
mar 19, 2017
mar 19, 2017
mar 03, 2017
mar 03, 2017
sep 09, 2013
sep 09, 2013
jun 20, 2012
jun 20, 2012
may 20, 2010
may 20, 2010