'wizards and robots' 3D printed comic book encyclopedia by will.i.am + struck
all images courtesy struck
to build momentum towards the release of his new sci-fi comic concept 'wizards and robots', will.i.am and his collaborative partner, intel futurist brian david johnson enlisted american digital creative agency struck to realize his vision of a graphic novel. developed in conjunction with ironhead studio, the team built the concept of the franchise and produced content that outlines the story of a battle between wizards and robots spanning from the 15th to 31st century.
led by brent watts, struck's executive creative director, the team takes a new approach in revealing the physical elements of will.i.am's story by producing 'the hope algorithm', a 3D-printed time capsule that houses four detailed encyclopedias. this unique set of literature explores the different facets of the story through typography and elaborate visuals, detailing the impending threat to the human race from an ongoing battle between 'wizards and robots'. the graphic novels describe the depth and breadth of this fictional world, providing background on key characters, introducing a new language, outlining time travel and wizard spells, and chronicling the history of robotic evolution.
to get insight on the process behind working on 'wizards and robots', designboom spoke to brent watts on the development of the comic book and his collaboration with will.i.am.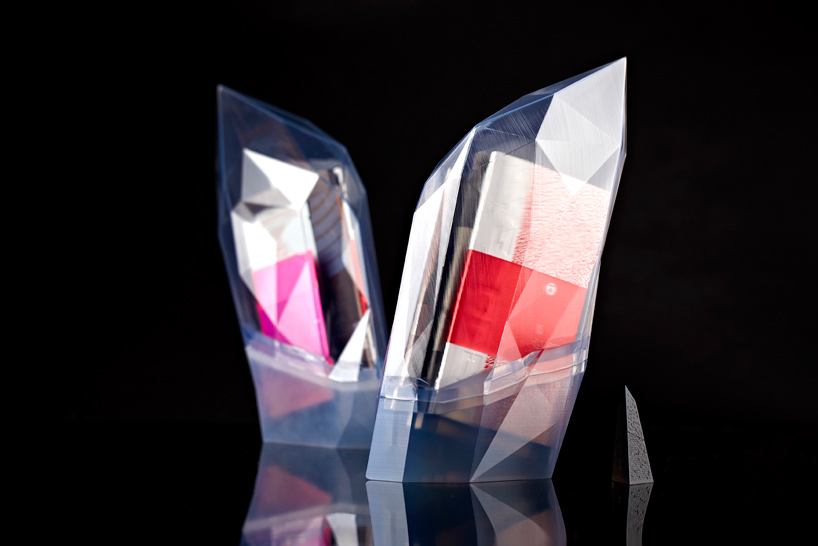 3D-printed time capsules house four different world-building encyclopedias of text and graphics
designboom: could you tell us briefly about your background and the evolution of your work?
brent watts: I received an undergraduate degree in business marketing and then planned to be an architect. after working for a short time at my father's firm, I switched my emphasis to a more creative passion and studied and graduated from the art center college of design in california. over the years, I've owned and run a creative agency on the west coast of the united states. as an executive creative director of the 60-plus person agency, struck, we specialize in design and branding projects for global and domestic brands. specifically, we've worked on branding assignments in the entertainment industry, with clients such as 20th century fox, dreamworks, warner bros., universal pictures, sony pictures, lionsgate, nickelodeon, etc. we've also created dimensional work for free standing retail spaces, furniture, and sculptures, in addition to developing unique designs for the olympic torch and olympic medals.
designboom: how many designers are on the struck team and how do you share the workload?
brent watts: we have six designers on our team and we split the workload based on client needs and project workflow. depending on the size and scope of the project, all of us will occasionally step into the beginning of an assignment to give a broad overview of what different directions are possible. once the client has determined a direction and the strategy is clear, we streamline our team to complete the assignment. there is usually one design lead in addition to a producer and an account director on every project.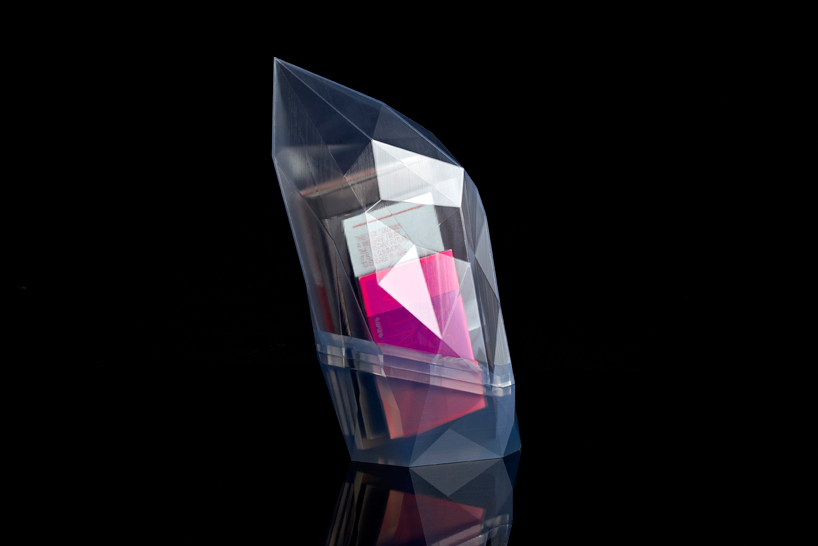 designboom: how did the concept for 'wizards and robots' come to life?
brent watts: will.i.am had the idea to develop a property about the future of robot technology, so he joined up with brian david johnson, a futurist at intel. they met well over two years ago and began developing the foundation of wizards and robots. after conceptualizing the basic story, they decided to turn it into a graphic novel and bring depth to the story by applying history and real science to the core of the world of war. will was a driving force behind the power of the idea. he envisioned that information and knowledge was transmitted through robots in the future, and that they could provide valuable information for his backstory of fighting wizards in the past and present.
designboom: what was it like working with will.i.am throughout the project? how did he influence the final outcome?
brent watts: inspiring. he is a visionary with an impeccable taste for design and pushed us to experiment with new technologies while also encouraging us to create unique designs using traditional printing. will challenged us to disrupt the comic book industry and how new ideas are launched. every meeting we had was collaborative, with the exchange of new ways to push the industry. he placed complete trust in the process of design, which allowed us to explore new directions for story telling and design methods.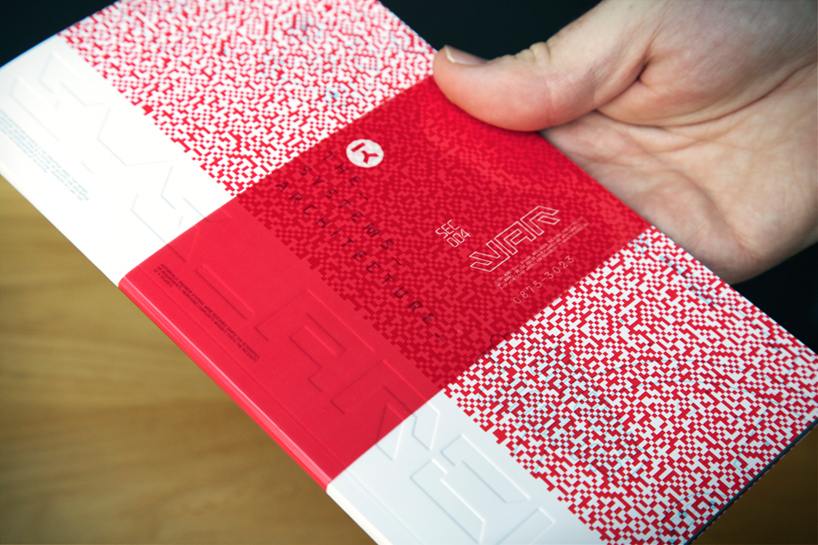 one of the 'wizards and robots' booklets – the systems architecture
designboom: was there a reason for implementing a 3D-printed component to house the four separate books?
brent watts: will wanted to disrupt the comic industry by launching a new graphic novel in a way that has never been done before. he had the foresight to take the fairly new process of 3D printing and weave it into his story of the universe, robots and wizards. because the characters in the story were robots from the future, he wanted to use a process that was created in the future and then send it back to the present as a way to share a life-saving message with humanity. incorporating 3D printing allowed us to push the boundaries on materials, designs and production options.
designboom: could you talk a bit about each of the four volumes and how they have been divided, and the development of each book's visual identity?
brent watts: the four books represent different facets of the world of WaR, covering time and space travel, the history of wizards, robots/robotic technology, and the languages within the world. we wanted to make each book unique to the subject it represents though the design, print finishes, and textures so readers get the feeling that you are flipping though someone's notebook of ideas and sketches. you get a completely different experience with each volume, from the brightly colored book on language to the futuristic feel of the robotic technology volume.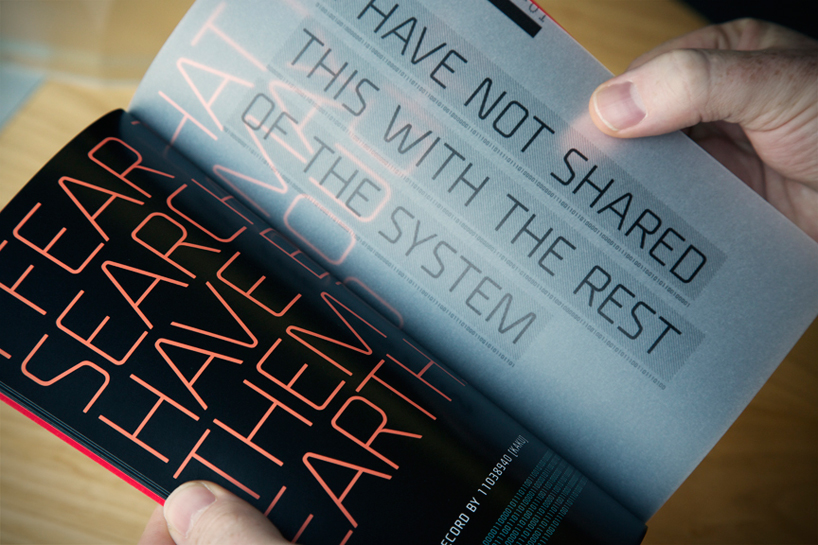 text and graphic details
designboom: you primarily work in two-dimensions. can you describe the integration of 3D printed technologies into the process, and the formal design aspects of the housing for the four books.
brent watts: it was important to incorporate 3D printing to give people a more tangible experience of wizards and robots, especially since everything in the books is 2D. the housing is actually called 'the artifact', and is meant to be a message from the future. because of this, we put a lot of though behind what something from the future may look like and settled on a geometric crystal-like object.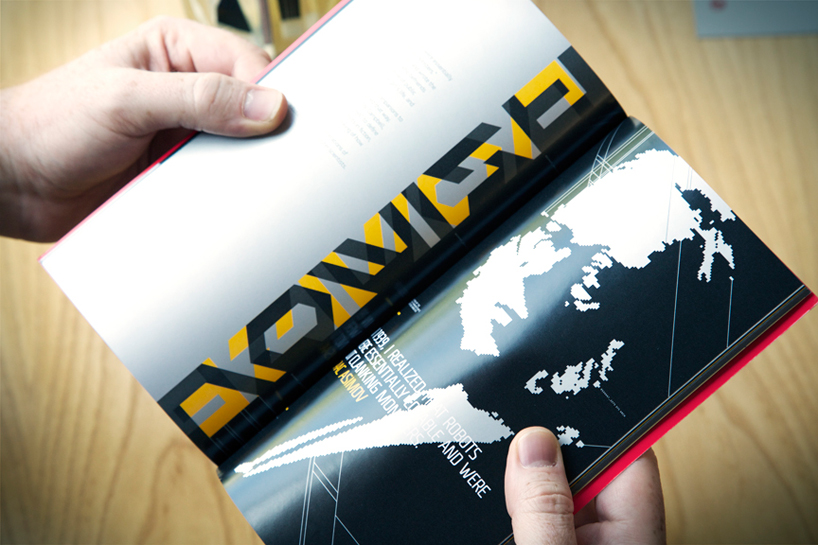 designboom: what were the biggest challenges along the way?
brent watts: one of the biggest challenges was producing something that was scalable, and something that would allow people to understand the story. time, of course, was another challenge. we had a hard deadline and were able to finish up this project in three months, from conception to completion.
designboom: how would you describe struck's work to someone who hasn't seen it before?
brent watts: smart thinking with a passion for design and a sense of style. we push our work to be something that changes the paradigm. from evolution to revolution, we're always pushing our work to be just a bit better each time.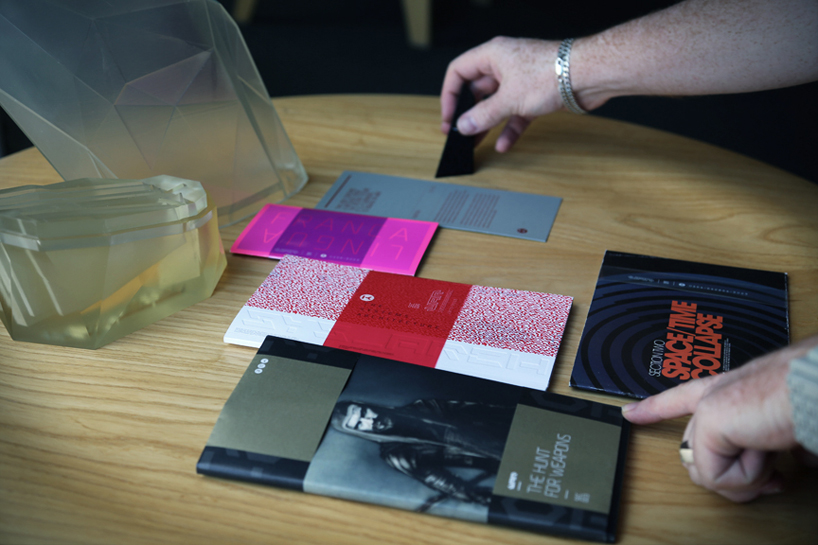 a series of encyclopedia's outside their 3D printed enclosure
designboom: who/what would your ideal client/project be?
brent watts: will.i.am is definitely in the 'ideal client' category — he is a true artist who trusts our relationship and is very passionate about creating beautiful things. make music with your designs. overall, an ideal client for us is someone who is not afraid to disrupt the industry that they're in. someone who has the courage to trust their creative partner. if they don't have a vision or an idea of a business opportunity that will change their business forever — we then can become their catalyst for change. we love to create a strategy that has never been done before and they are willing to fly without a net, or at least until they begin to see that they are creating something very special.
ideal project: we love to make beautiful things that are highly visible for mass consumption.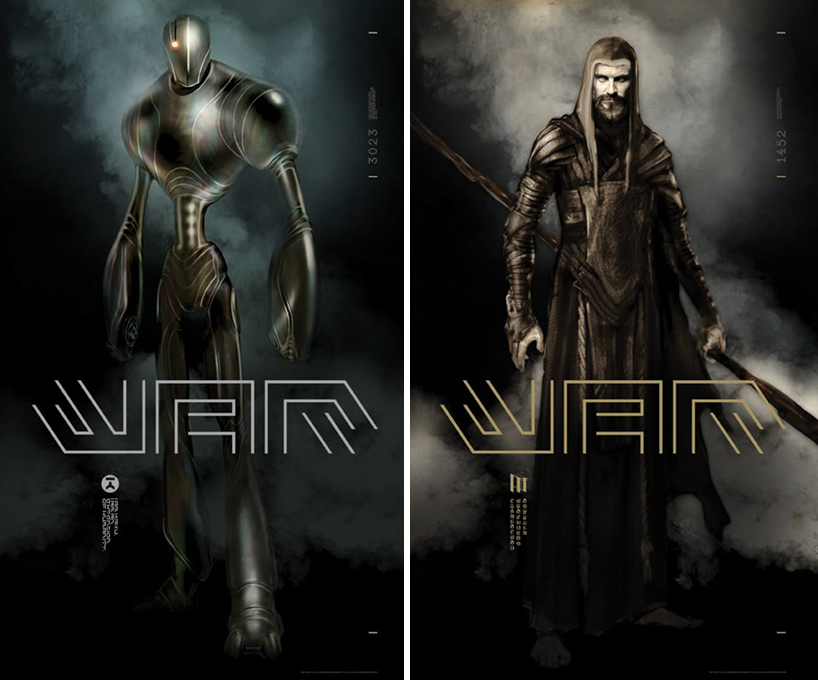 'wizards and robots' posters
designboom: what is the best piece of advice you have ever been given?
brent watts: only work for the love of the game and through your passion for design. everything else will take care of itself.
designboom: what is the worst piece of advice you have ever been given?
brent watts: do it for the money.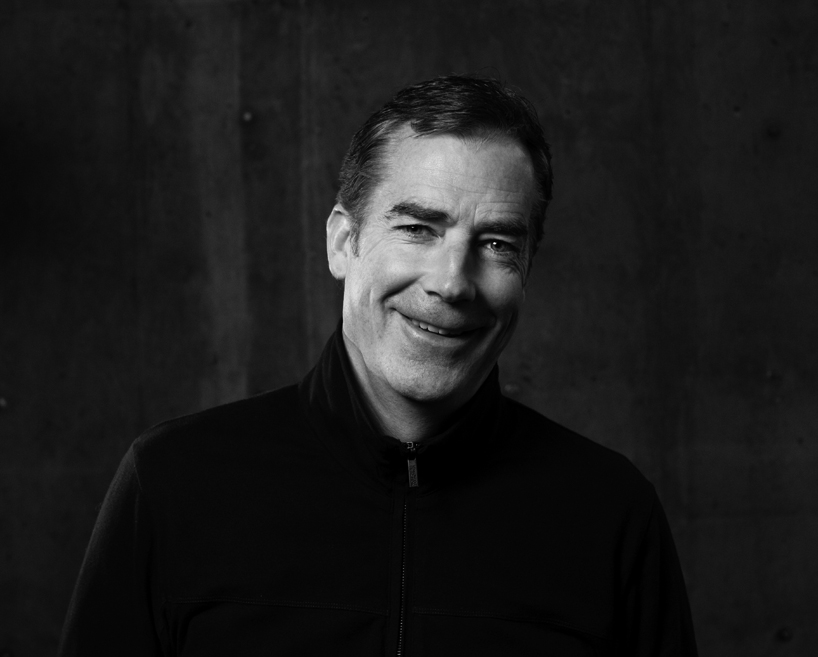 portrait – brent watts, struck executive creative director
about struck
struck is an insight-driven, digital-forward creative agency with offices in los angeles, salt lake city, and portland. struck believes in making brands greater than through forward thinking, breakthrough creativity, and interactive innovation. the agency develops powerful brand solutions and experiences for clients in the travel & tourism, restaurant & franchise, entertainment, active lifestyle/fitness, and luxury industries. clients include universal pictures, nickelodeon, dreamworks animation, jack in the box, asics, sony, probar, warner bros., 20th century fox, mattel, and lionsgate.
rodrigo caula
I designboom
nov 26, 2013
a diverse digital database that acts as a valuable guide in gaining insight and information about a product directly from the manufacturer, and serves as a rich reference point in developing a project or scheme.
designboom will always be there for you
milan, new york, beijing, tokyo

,
since 1999