may 16, 2012
world's slowest ferrari powered by bike
'fahrradi farfalla FFX' is the world's slowest ferrari
the 'fahrradi farfalla FFX' is the world's slowest ferrari, and its name says it all. in german 'fahrrad' means 'bicycle', and that is exactly how it is powered. the car's second name 'farfalla' translates to 'butterfly' in italian and references its built-in butterfly mechanism; an angle gear attached to the rear of the axle moves the wing doors while driving, resulting in them beating in a similar manner to that of the flying insect. this component makes it possible for the 'fahrradi farfalla FFX' to lift slightly off the ground at all times, which results in better ventilation throughout the interior.
the design is developed from the idea of mimicking a sports car and is not a copy of an existing car model. rather, it is the anticipation of a future top model of an actual automobile brand. the overall shell of the vehicle has been sculpted to form based on research of various real and fictive design ideas about what it could look like, incorporated with ideas from its creators han-lan. with its movement capabilities completely based on a 'muscle-powered' pedal driving technique, the 'fahrradi' is even a rival for pedestrians on public streets. despite this intentional sluggishness, it can be driven at any time on roads in austria. night-time use is ensured by a lighting system based on approximately 200 ultra-bright LEDs.
'fahrradi farfalla FFX' is part of the sports team MT RACING which includes the world's slowest porsche 'ferdinanad GT3 RS', and is currently on show at the lentos museum of art in linz, austria until july 4th, 2012 as part of the 'car culture. the car as sculpture' exhibition.
the world's slowest ferrari – fahrradi farfalla FFX
overview of the car and its components
top view
front 3/4 view
back 3/4 view
detail
on the road
'fahrradi farfalla FFX' is permitted to drive on the road in austria
waiting at a crosswalk
getting ready to test out the vehicle
interior view of the bicycles which power the 'supercar'
skeleton shell
view of the structural framework of the car
technical information: year of construction: 2012 horsepower: 1/3 HP gear: 11 speed hub-gearbox engine: human injection: direct fuel injection exhaust system: human extra specifications: butterfly antigravitation management chassis: madernal cycle systems
via auto guide
oct 15, 2017
oct 15, 2017
sep 19, 2017
sep 19, 2017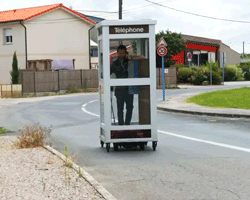 aug 15, 2017
aug 15, 2017
aug 07, 2017
aug 07, 2017
jul 16, 2017
jul 16, 2017
jul 16, 2017
jul 16, 2017
sep 05, 2017
sep 05, 2017
aug 31, 2017
aug 31, 2017
aug 23, 2017
aug 23, 2017