inspired by japonisme and anything but two-dimensional, australian wall-coverings manufacturer WOVEN IMAGE's two new acoustic wall panels – zen and ion – help calm the modern workplace.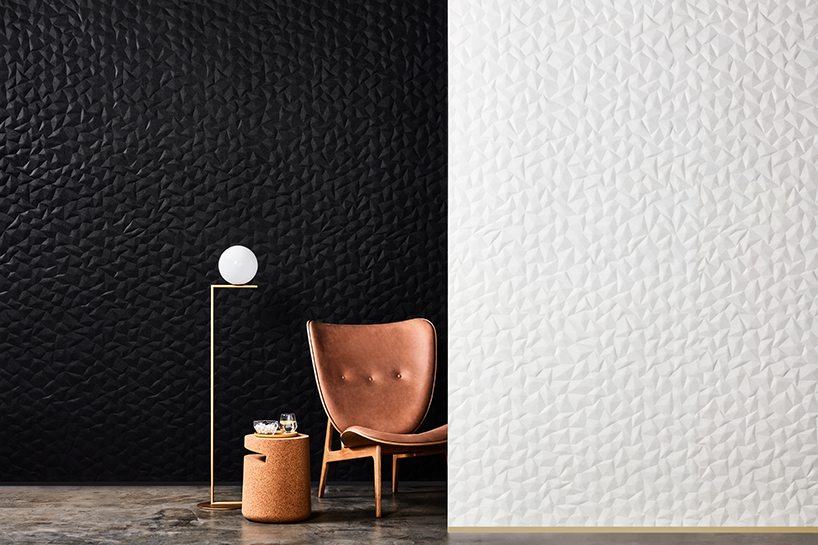 woven image's ion design is a textured acoustic panel that echoes the trend in domestic and hospitality interiors for three-dimensional wall coverings
a combination of modern manufacturing technology and innovative, creative approaches means that designers and architects today can draw from a seemingly limitless range of options when it comes to interior surface design. wall coverings, for example – at one time smooth, flat and lifelessly one-dimensional – are today ingeniously transformed by all manner of materials, including paper, concrete, wood and cork, into tactile, bas-relief patterns.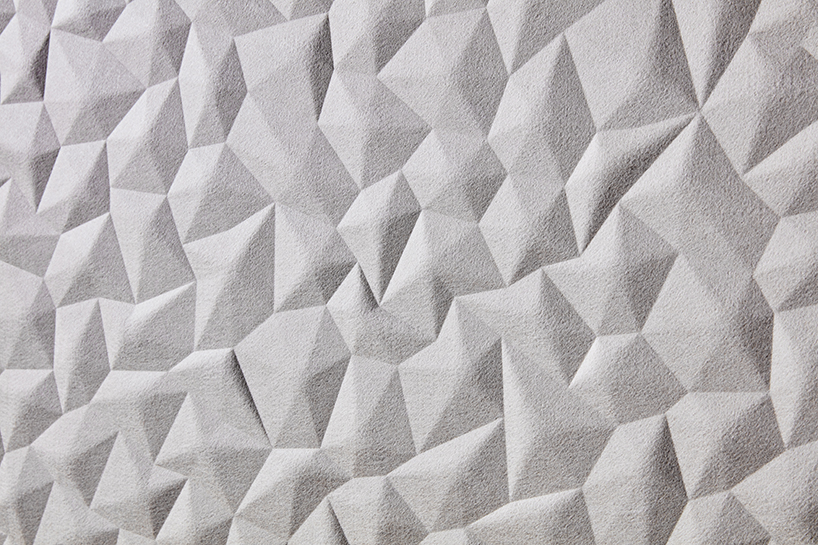 the multifaceted surface of ion, seen here in two contrasting monochrome tones, nods to the japanese craft of origami
and while this trend is sweeping through hotels, bars and homes, australian brand woven image is pioneering the look in workplaces – a timely move given that the traditional gulf between office and domestic interiors is fast narrowing.
founded in 1987 in sydney, woven image started out as a textiles business supplying the furniture industry. one of its landmark ventures was the launch in 2004 of its innovative hero product, EchoPanel® – acoustic panels that meld stylish design, effective acoustics and sustainability. these versatile panels can usually clad an entire interior, lining walls and ceilings or functioning as practical and decorative room dividers.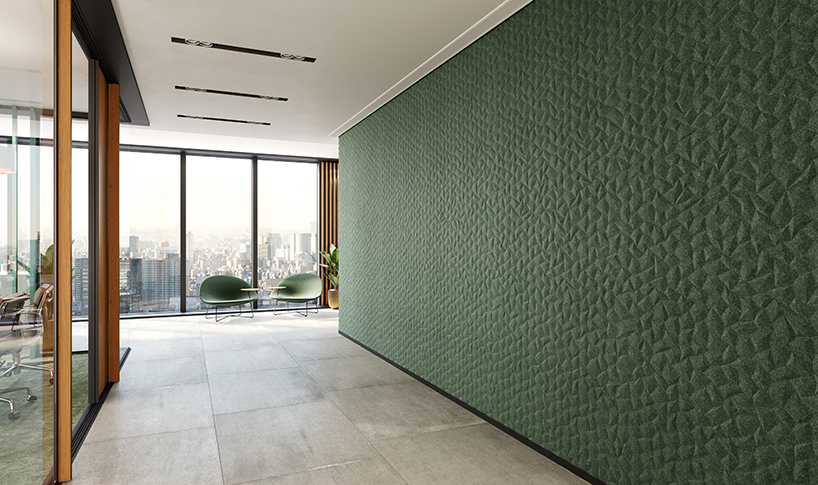 ion panels pattern-match to ensure a continuous design on both single and double-height installations
while its roots are firmly australian, this fast-growing specialist in finishes for the workplace now has a global presence with offices in china, hong kong and singapore, and distributors spread throughout europe, north america and south asia.
woven image has an ever-evolving product range. two new additions are its tactile, acoustic wall-panel collections, zen and ion, both inspired by japonisme – more specifically 'modern japonisme', woven image's contemporary take on the clean-lined, minimal, refined aesthetic long associated with japan.
not that there's anything stereotypical about this interpretation of japanese design, explains amy saunders, woven image's head of design: 'these two exquisite tactile collections are inspired by modern japonisme, which references simplicity in design, asymmetric geometric forms, origami, diamonds, fans and corrugations, evoking a sense of calm.'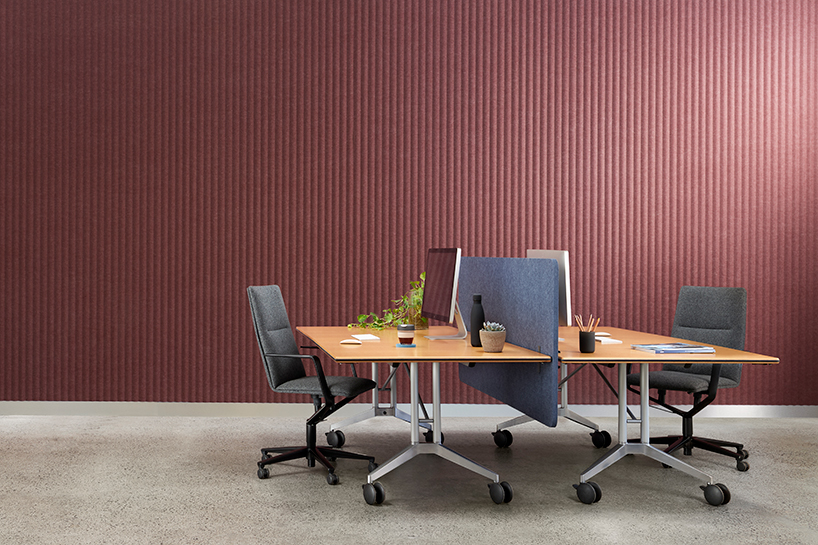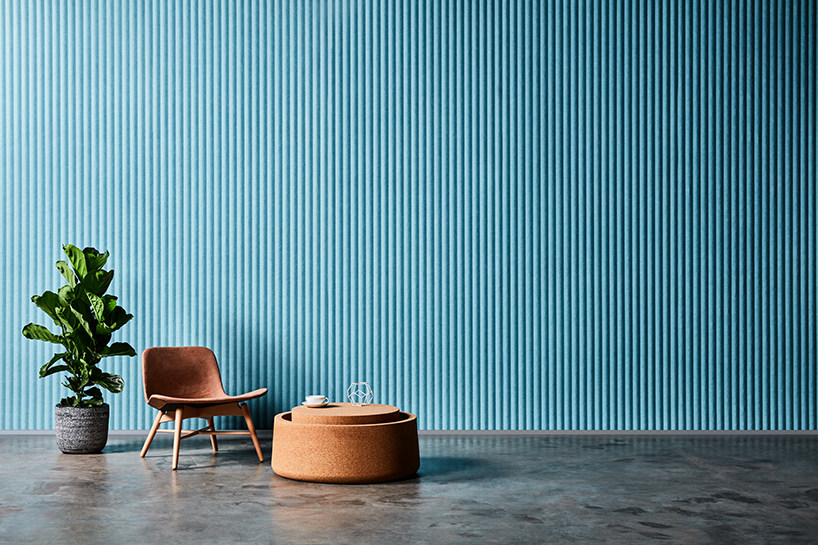 woven image's other new collection, zen, evokes the calming serenity of a japanese zen garden
this variety of textures and forms reflects woven image's nuanced interpretation of japanese design, in turn, embodied by the contrast between these two collections. zen comprises narrow vertical lines redolent of architectural features such as walls clad with vertical timber slats. zen provides any workplace with visual interest yet is understated and calming. and, as the name suggests, it references meditative zen gardens, too – imagine a rake dragged through sand in a steady, controlled manner, tracing an impeccable pattern of parallel ridges or grooves.
this linear panel design is available in nine colours ranging from pale to dark tones, including cream, onyx, a mid-tone blush and richer, moodier hues such as burgundy, indigo and ivy green. in true japanese style, these colours evoke nature, enhancing the sense of tranquillity.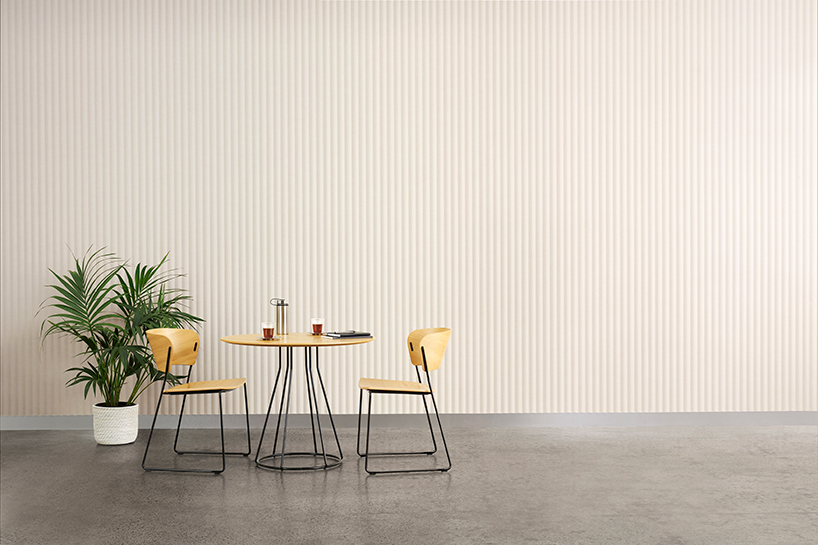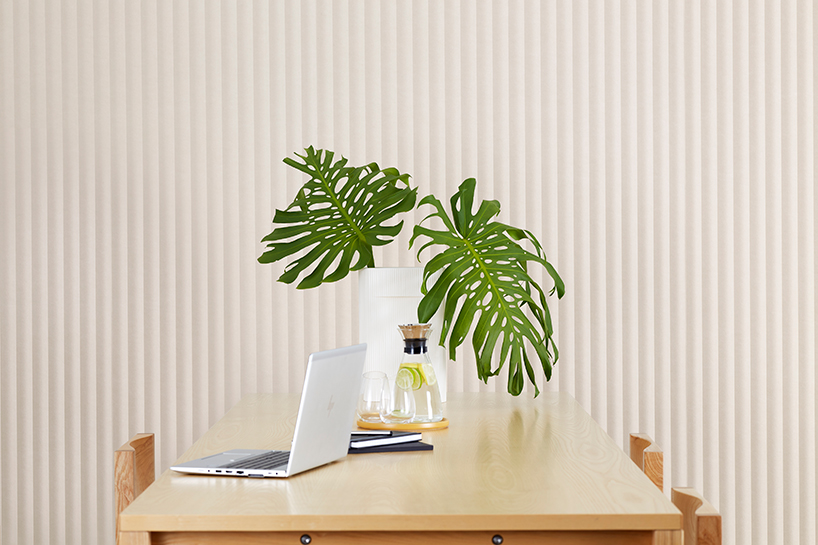 zen comes in a varied palette of colours, including this pale, ethereal cream tone that casts subtle shadows
in subtle contrast, ion is an embossed design with a more organic look, thanks to its crystalline formation. there's an intriguing asymmetric, random-looking quality to its bas-relief pattern, which is animated when light hits its angled facets. consistent with woven image's theme of modern japonisme, the faceted panel evokes the japanese craft of origami. like zen, ion comes in several hues, including a coal-black that's closer to charcoal grey when it catches the light. Ion is also available in paler duck-egg blue, peach, green and several ethereal cream tones.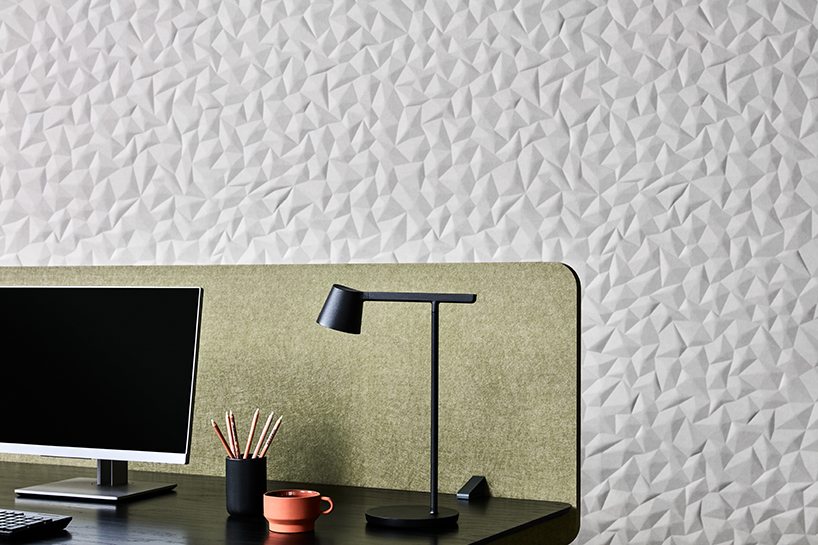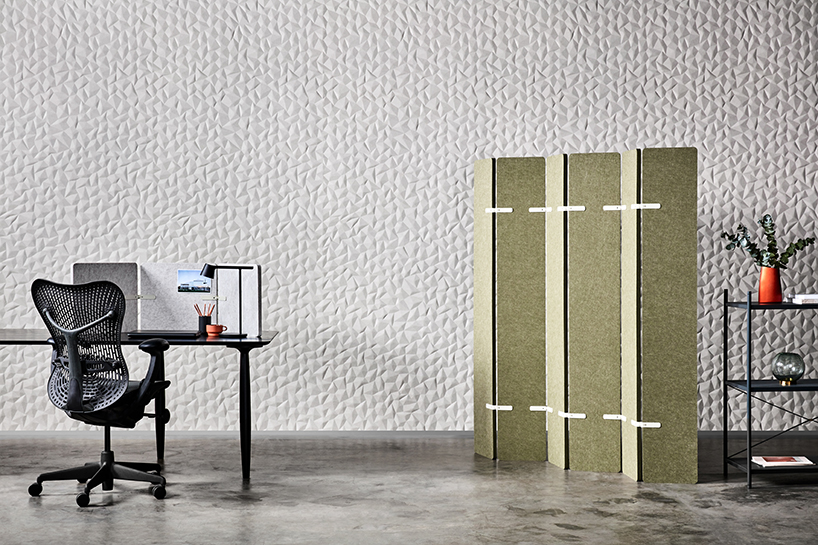 the unusual, asymmetric geometry of ion's surfaces creates visual interest without being imposing
these 2.8 meter-high panels can be easily joined to create a continuous surface design, for single and double-height installations. facilitating this, zen has bevelled edges. ion, meanwhile, has straight edges, allowing for exact pattern-matching and alignment despite its seemingly irregular pattern.
as well as offering highly functional designs, woven image is wholeheartedly committed to sustainability. its EchoPanel products score high on eco-credentials: they come with a global greentag (greenrate level A) certification, release few volatile organic compounds (VOCs), while over 60 per cent of their high-performance acoustic finish is made of recycled PET.
acoustic panels aren't normally renowned for their originality but woven image's versions interweave cutting-edge design with sustainability. and while many acoustic panels might look utilitarian, woven images' designs don't sacrifice aesthetics at the expense of functionality. with its collections that explore creative possibilities with pattern and texture, this australian company is reinventing interior acoustic panels for the modern workplace.
guest feature by dominic lutyens / architonic
a diverse digital database that acts as a valuable guide in gaining insight and information about a product directly from the manufacturer, and serves as a rich reference point in developing a project or scheme.