interior architecture is a prime field of creative exploration and reflection, directly impacting people's everyday lives. it speaks of our homes, and of the domestic spaces in which we spend most of our life — places where we relax, recharge, read, think, sleep, study, eat, entertain and spend time with our families and friends. it is the interior architect who is responsible for conceiving and defining these environments with different colors, moods, passions, shapes, temperatures, filled with details that accommodate and welcome our human diversity. they are ultimately responsible for designing the world around us. but, despite its importance, and the fact that it is a highly practiced trade, over the past 50 years this field has been critically undervalued as a sphere of design; and there have been very few occasions on which this theme and widespread profession has been acknowledged. early exhibitions that explored this area have been: the 'colours and shapes in today's home' exhibition at villa olmo, como, in 1957; and the 'la casa abitata' exhibition at palazzo strozzi, florence, 1965. then there was the seminal, groundbreaking MoMA exhibition, 'italy. the new domestic landscape', new york, 1972, where there was no lack of projects for 'interior environments'; and of course, one must not forget 'the domestic project' exhibition at the triennale di milano, in 1986. so, if you're taking count, it's been twenty years since the last triennale exhibition, and thirty since the last great exhibition on interiors.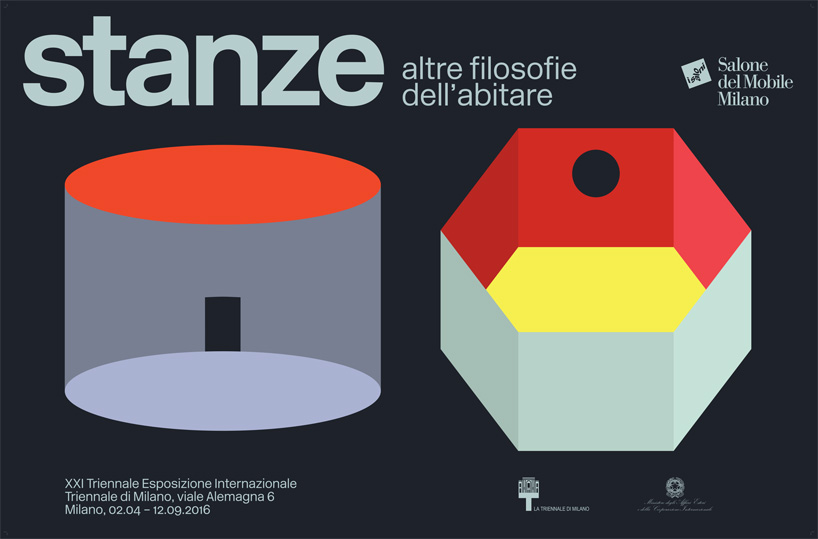 XXI triennale international exhibition – 'STANZE: novel living concepts' at salone del mobile 2016
for the 55th edition of the salone del mobile.milano an event dedicated to the 'state of interior architecture' is being brought forth. it is set to showcase the sophisticated, experimental and original work of a select group of practitioners who have been chosen to put forth their visions of what a room should be, encompass, feel like. curated by beppe finessi, 'STANZE. altre filosofie dell'abitare' ('ROOMS. novel living concepts') is being held at the palazzo dell'arte at the triennale di milano, a protagonist of the larger XXI triennale international exhibition. 'STANZE' is geared at underscoring the particular remit of interior architecture, and providing a vision of home living projected towards the future. it takes the opportunity to reflect on the work carried out by a great many number of architects, those already established and the masters, by means of a great exposition focusing on the state of the art of interior architecture.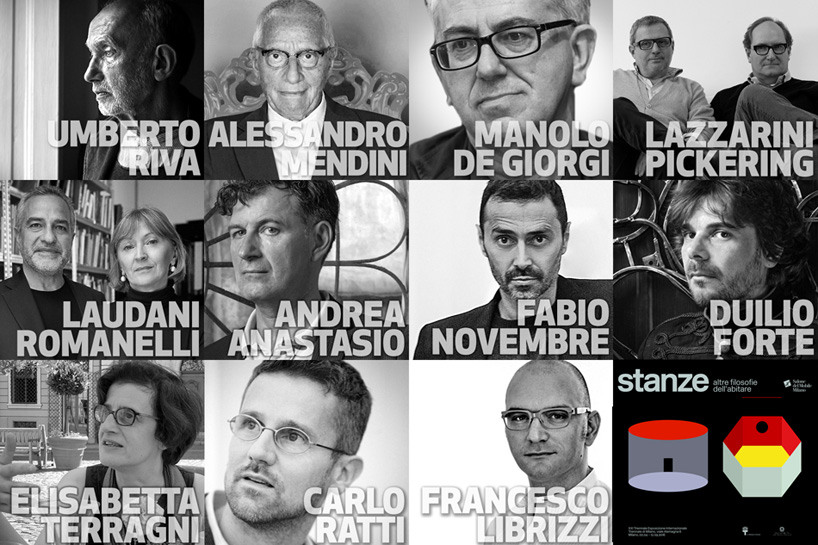 the protagonists of 'STANZE. altre filosopfie dell'abitare' ('ROOMS. novel living concepts')
'STANZE' sets out with an overview of the subject, introducing the topic and historically placing it through stories about great achievements of past great masters, like: franco albini, carlo de carli, carlo mollino, gio ponti, carlo scarpa, vittoriano viganò, ettore sottsass, joe colombo, leonardo savioli, toni cordero etc. — all of which share interior architecture as their first professional sphere. projects by major twentieth century italian cultural players, such as: BBPR, gae aulenti, luigi caccia dominioni, ignazio gardella, vittorio gregotti, vico magistretti, angelo mangiarotti, nanda vigo, marco zanuso, etc.; who, even if just on particular occasions, have conceived and realized housing concepts, will also be presented. alongside them are works by architects who have expressed their thoughts, skills and visions of the world around us through interior architecture, including: michele bonino/coex, antonello boschi, guido canali, maria giuseppina grasso cannizzo, gabriella and massimo carmassi, gianfranco cavaglià, carla ceccariglia, massimo curzi, cherubino gambardella, luciano giorgi, johanna grawunder, decio guardigli, guido morpurgo and annalisa de curtis, calvi merlini moya, francesco pasquali, daniele rossi, italo rota, alessandro scandurra, uda, stefano testa/cliostraat, bruno vaerini, francesco venezia, etc. some of the significant accomplishments of these architects will be selected and exhibited in a large area called the great 'celestial vault' in which photographs, models and drawings will illustrate the history of 20th century italian interior architecture in the form of a vast three-dimensional encyclopedia.
visitors will then walk through a series of rooms, each designed by a different contemporary architect: andrea anastasio, manolo de giorgi, duilio forte, lazzarini and pickering, alessandro mendini, marta laudani and marco romanelli, fabio novembre, carlo ratti, umberto riva, and elisabetta terragni. they have all formulated their own rooms, each one influenced by different theories, philosophies, and literary works, to illustrate their ideas on the concept of living.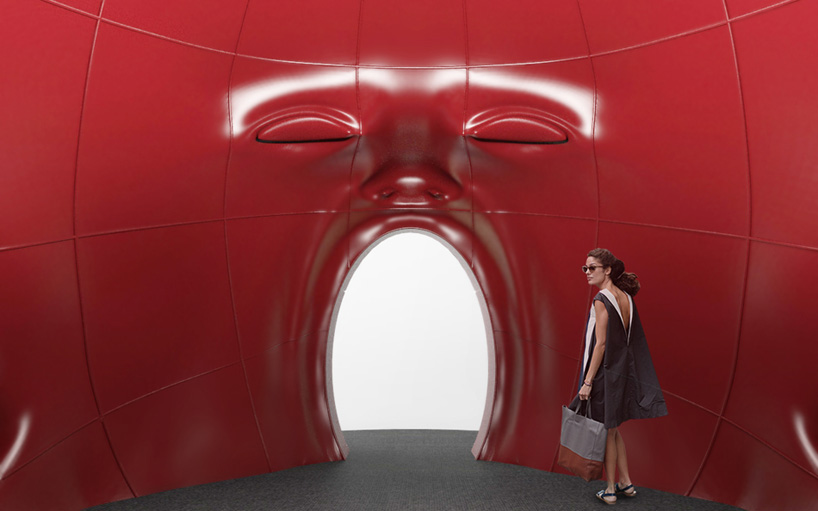 'INTRO' by fabio novembre recalls the first room that we encounter in our lives – the womb
fabio novembre on his living concept – 'INTRO':
'if you think about it, an egg is like a solidified uterus, and the apparent great difference between oviparous and viviparous species is simply a matter of the consistency of the outer membrane. if we then tried to plunder our remotest amniotic memories, it would be easy to show that our earliest perception of space occurred while we were floating about in the warm hollow of an ovoid form and that every concept of domesticity is geared to recreating that condition. however, unlike the gestational sac, the egg retains its formal and aesthetic dignity even after it has carried out its function. perhaps this is why mankind has always been fascinated by its shape, and why all its vital potential has always been associated with the idea of perfection. art has celebrated its iconic value, and architecture – especially in the endeavour to predict the future – has seen its ovoid shape as the perfect formal synthesis. I tried to imagine a bedroom made of leather with high-end saddlery fittings inside a chrome eggshell. the ovoid shape and its reflective power are selling points, and the colour and warmth of the leather literally engulf the visitor, who finds himself inside himself, looking out from within. let us not forget that sleep is the space-time threshold that carries us back to our original amniotic immersion by night, yet compels us to be reborn each day, more human and more sentient than ever.'
in partnership with natuzzi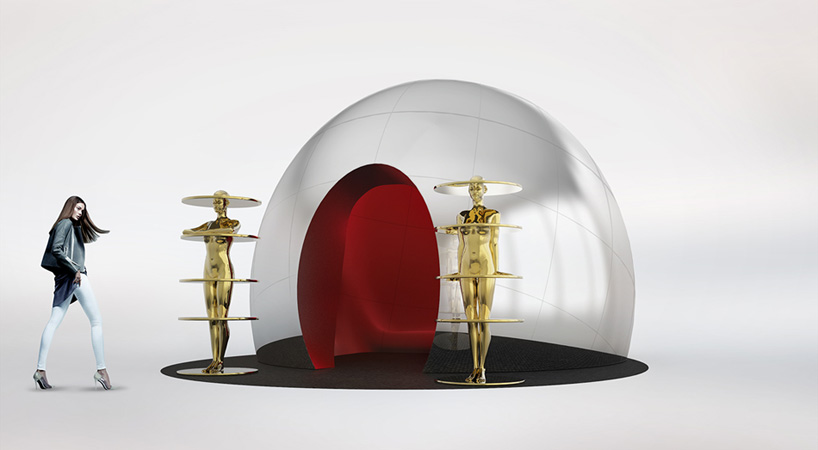 fabio novembre draws on the perfection of the ovoid form as the perfect formal synthesis for a space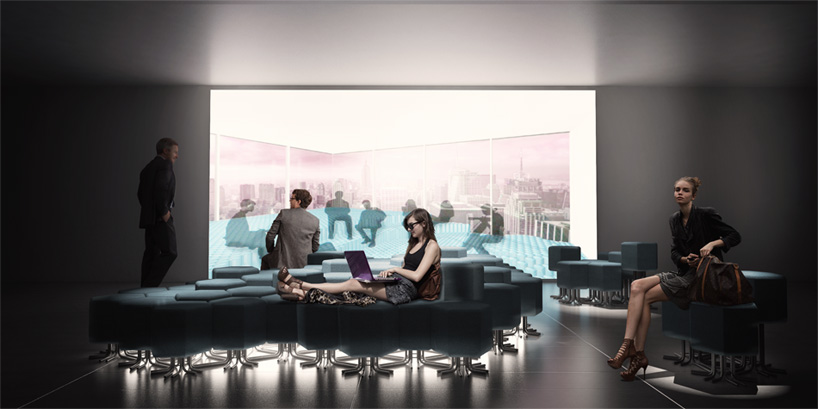 'pin room' by carlo ratti envisions a room that is a personalized working, playing, talking and sleeping space
carlo ratti on his living concept – 'pin room':
''pin room' is a personalized working, playing, talking and sleeping space. a responsive module that changes according to need, becoming an office, a lounge, a bed, an orderly sitting room, a small auditorium or a domestic landscape. the starting point is a flat surface, made up of soft pins, that can rise up in response to a simple hand movement, and reconfigure the space in a potentially infinite number of combinations. each of its components – pixels turned matter – allow us to literally manipulate the physical universe and transform it, each time, into the best of all possible tangible worlds. like mark weisler's ubiquitous computing utopia, we inhabit the spaces – made up of bits and atoms – like habitative interfaces, to which we can give shape through the simplest of interactions.'
carlo ratti associati team: carlo ratti, giovanni de niederhausern, andrea cassi (project leader), ina sefgjini, damiano gui, antonio atripaldi, emanuele protti, gary di silvio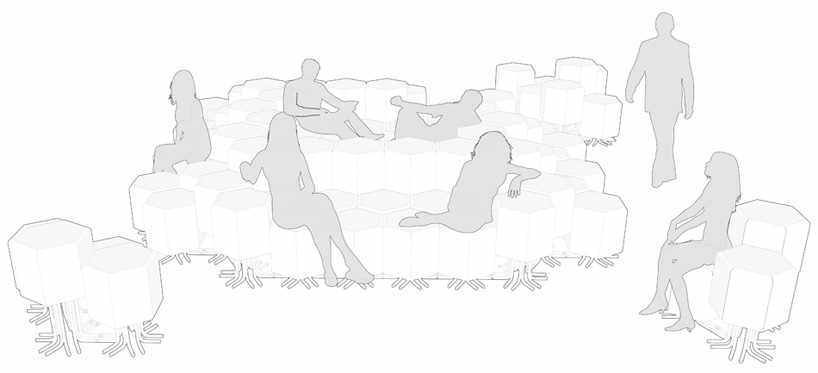 'pin room' is composed of modules that can reconfigure space in an infinite number of combinations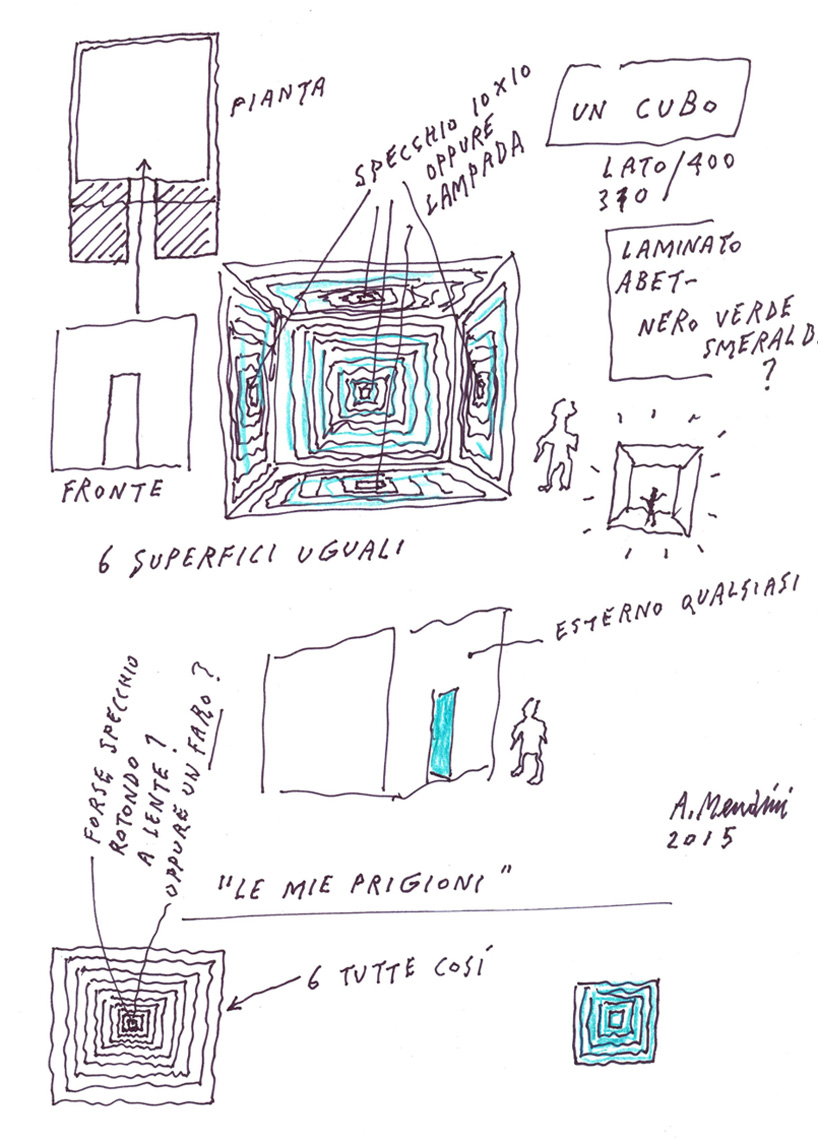 'my prisons' by alessandro mendini addresses his feeling of serving a life sentence for the crime of ornamentation
alessandro mendini on his living concept – 'my prisons':
'for a long time, forever in fact, I have felt as though I were living shut inside a prison. serving a life sentence for the crime of 'ornamentation'. I find myself in an introverted room, a blockaded perimeter, an insurmountable mental space. small yet also enormous, completely confined, in any event. my ideas, my style, my atmosphere, my mirage: everything is in there. it is the isolation cell inside a romantic and privileged alcatraz. imprisoned by nightmares, by torture, by hallucinations, by the abyss of decoration. it's like the methodical self-building of walls and surfaces destined to deny me of my freedom. I often think about abet laminate. it was the first material I fell in love with. cold, flat, high-tech, geometrical, amorphous yet erotic, up for anything, prepared to lose and make me lose our purity. my conventions, my desires have smoothed it, painted it, stroked it, illuminated it, polished it and softened it. laminate seduced me so completely that it must have been the source of the decorative obsession with infinite signs, styles and colours that wrapped me ever more firmly inside the cocoon of my sins, my terrible thirst for ornamentation. if I try to locate the true, distant beginning of my design life sentence, of my prisons, I find it in the emptiness of the drawings produced by hand or on the computer, above the superficiality of the surfaces, not in the depth of space and form.'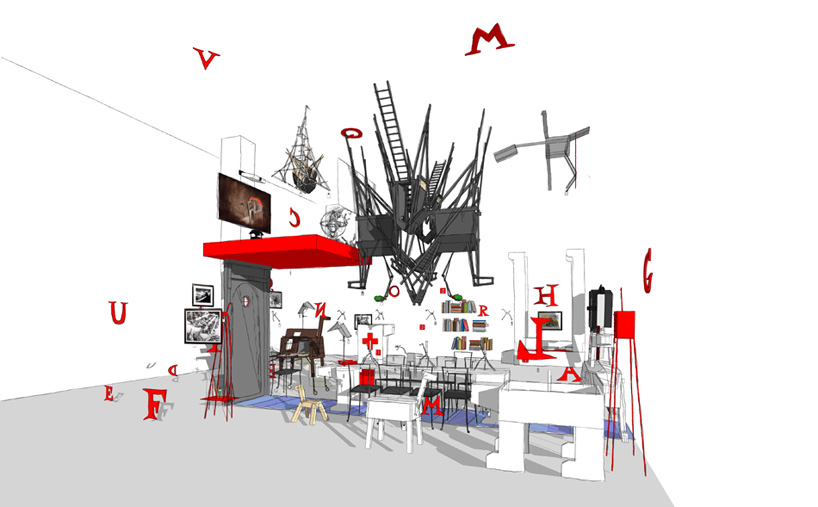 'ursus' by duilio forte draws on the principles of his arkizoic manifesto
duilio forte on his living concept – 'ursus':
'this project comes under the heading of 'domestic landscape' according to the principles of the arkizoic manifesto. 'on 12th february 2009, the 200th anniversary of darwin's birth, atelierforte laid down the principles of arkizoic style in a manifesto based on a set of seven rules inspired by the geological eras, thus underscoring temporal continuity with the phanerozoic era, the aeon in which life on earth was explosively affirmed.'
there are five particular fundamental points:
i. put your soul into your work
ii. use natural and traditional shapes
iii. use drawing as an emotional sketch
iv. adopt heuristic methods
v. leave room for chance, error and the incomplete
the design is a proposal for contemporary living, made possible by the speeding up of communication today. the size of the social group is determined by the ability to maintain personal connections. monkeys, for example, manage to make up groups of up to 30 individuals. language has enabled social groups of up to 150 people to be formed. the computer revolution has now overturned this threshold, obviating the need for proximity, such as the social habits of primates and the traditional verbal language of human beings. it will enable society to break apart and fragment. faced with a rapidly fragmenting society, we have come up with a minimal survival module on which to base our visions of our own future. a centrifugal force to counter the progressive abandonment of the planet, in which 50% of its inhabitants now occupies 1% of the earth.'
in partnership with rimadesio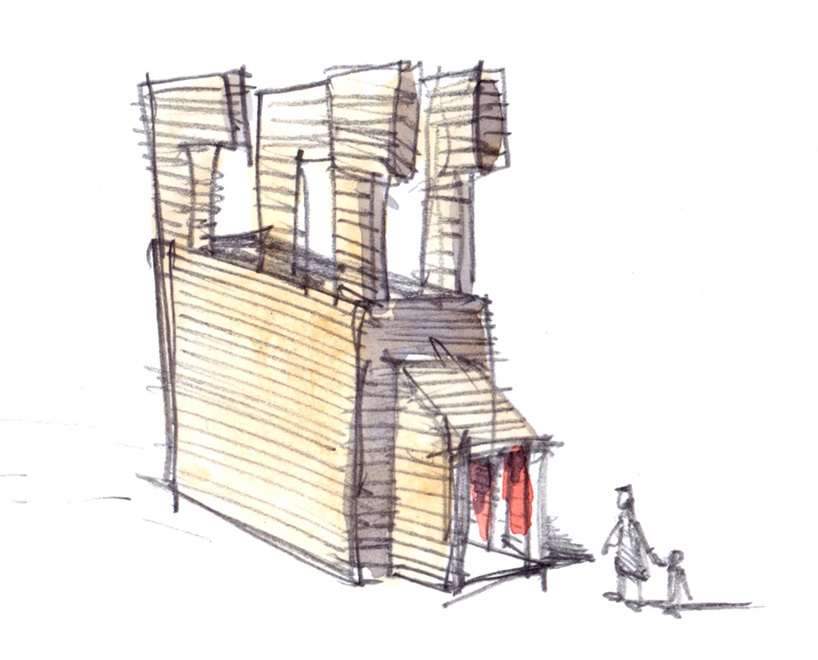 duilio forte's design is a proposal for contemporary living, made possible by the speed of communication today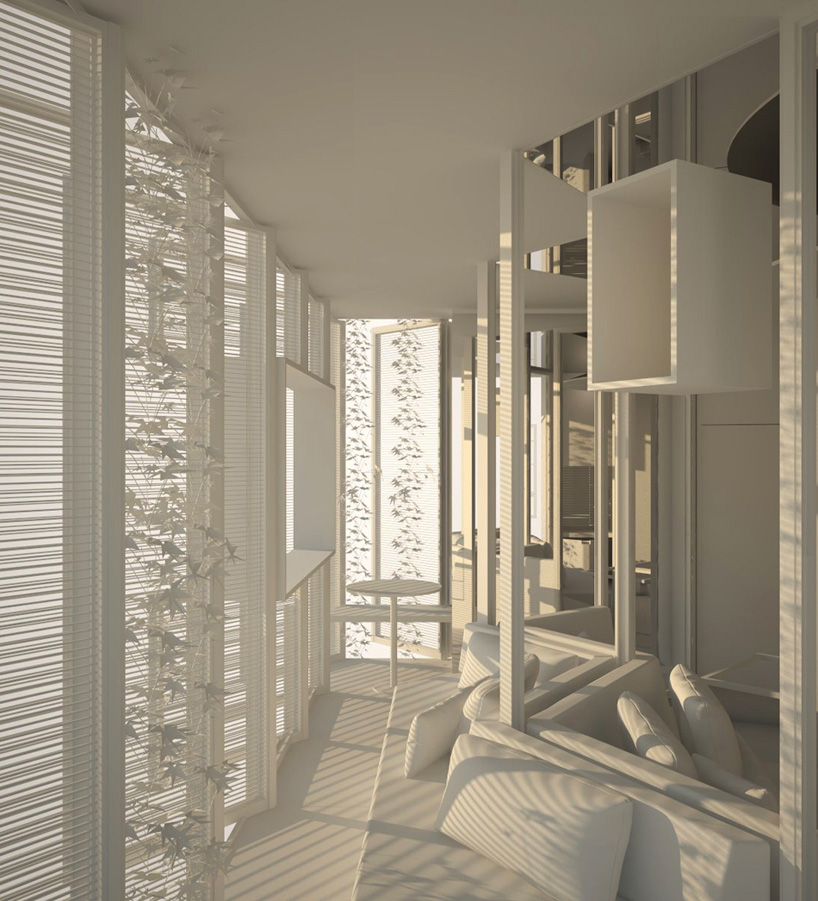 'la vie en rose' by lazzarini & pickering explores the possibilities thrown out by new solar technologies
lazzarini & pickering on their living concept – 'la vie en rose':
'sheets of glass ranging from pink to claret define the walls of a minimalist habitative cell that explores the technical, aesthetic and ethical possibilities thrown up by the new solar technologies. surfaces screen-printed with special pink, organic and hybrid photovoltaic ink produce energy when exposed to direct, indirect and artificial light sources, triggering a virtuous circle of energy consumption and production. thirty-three internal square metres and twelve metres of loggia/greenhouse encompass all the residential functions required by a couple looking from the contemporary to the future, bringing elements of memory with them. the loggia/greenhouse, a mediation space between the interior and exterior, controls the air conditioning and energy production and hosts plants and domestic utilities. a central plan, covered by a vault, is enclosed by a perimeter of server spaces and solar panels, which open as required, altering the space like theatrical scenery. the furnishings meld with the fixtures, the fixtures become furnishings and everything becomes transformed. the habitative cells duplicate and join together to generate architecture and landscapes that aspire to energy self-sufficiency.'
in partnership with florim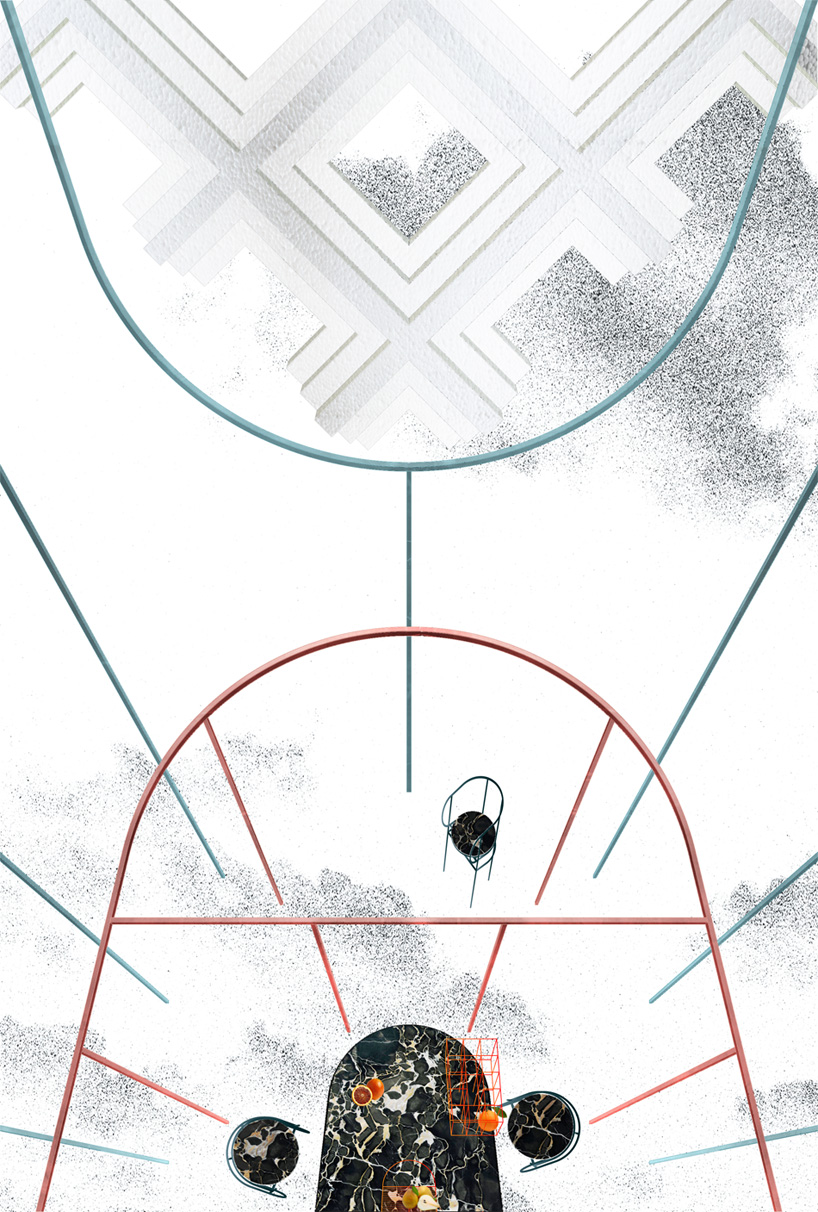 'D1. discovering the domestic space' by francesco librizzi sees the threshold of the interior and exterior as one
francesco librizzi on his living concept – 'D1. discovering the domestic space':
'D1 is a room that spells out the discovery of the domestic space. in an elliptical space formed by concentric rows of coloured narrow metal columns, the viewer gradually sees the threshold between interior and exterior become defined and include the role of the architecture in the mediation between landscape, domestic space and objects. the concept is drawn from a fascinating experience of hospitality in several private interior spaces in beirut and illustrates a timeless way of living, rooted in the collective memory of the entire mediterranean basin. an empty space positioned in the centre that acts as the cornerstone for a series of satellite spaces orbiting around it: the home and the city we can all remember or imagine. 'D1' leverages the mythical imagination of an original moment in which, for the first time, a person has paused because they are fascinated by the quality of a place and decides to stay there. in this sense 'D1' is the 'person's first room', the place we identify with and in which we became conscious that we are nomads no longer; that place at the centre of everything, where we take the things we pick up along the way and around which we build our home. 'D1' is a project that represents the threshold that divides nature, across which the space ceases to be wild and becomes domestic.'
in partnership with de castelli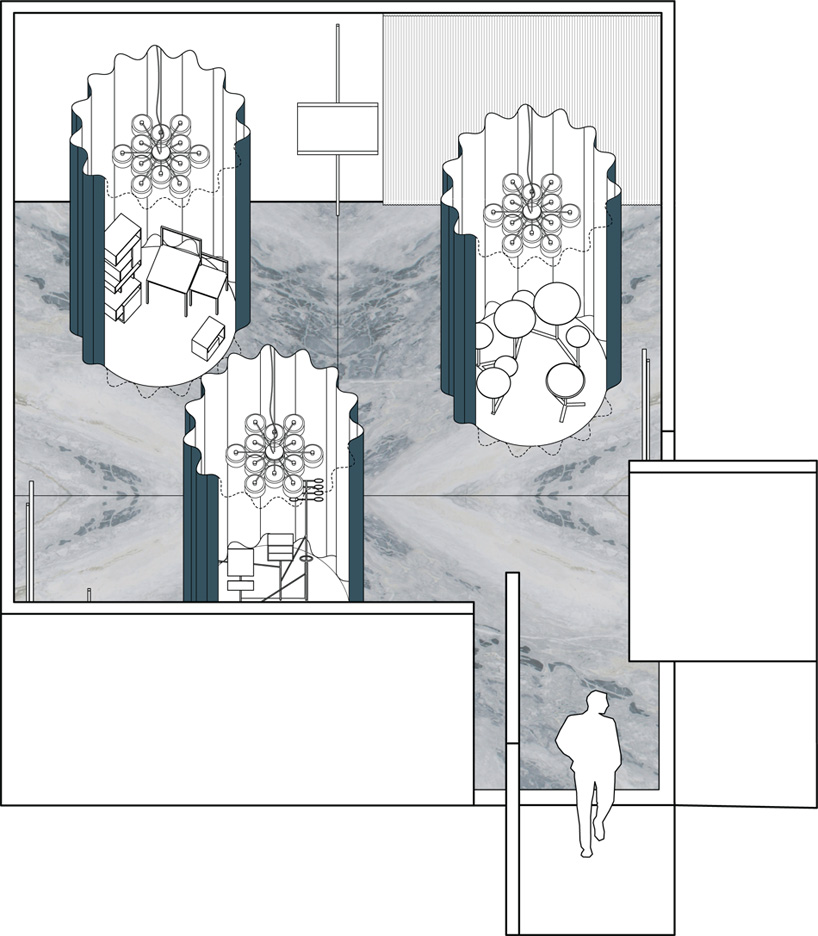 'the absence of presence' by marta laudini & marco romanelli sees home as a stage where daily lives are performed
marta laudini & marco romanelli on their living concept – 'the absence of presence':
'when organizing internal spaces our time is spent debating alternative dichotomies between revealing and concealing, or rather between presence and absence, and between 'gymnasium' and 'stage set'. homes are not merely machines à habiter, but stages on which our daily lives are played out. this duality conceals the 'raw nerve' of twenty-first century design. machines à habiter actually makes for perfect distribution, carefully evaluated climate conditions and generous fixed furnishing systems. 'stages for daily life' serves to show off objects and materials that demonstrate how far we have come financially and culturally: from large screen televisions to original paintings, from large amounts of books to elegant drawing rooms still covered with plastic, from hydromassage tubs to brass-effect finishings, from hyper-technological kitchens to mega sofas. people throughout the ages have attributed specific 'powers of representation' to different and particular objects. this therefore means that when tackling a design for a 'novel living concept, the value of 'absences' needs to be explored. it is no longer simply a matter of modifying the 'presences' in terms of taste and culture, but of building a room to be lived as an 'absence' (an empty space for coming and going and for contemplating works of art). the 'presence' will return, transformed into experiences for "lone" activation within well-defined areas, earmarked for different human activities: reading a book, getting undressed or eating. this is a project that does not simply aesthetically valorize the concept of emptiness, but is driven by different 'contemporary family' structures. families made up of individuals all of whom have reached adulthood but who, out of necessity, continue to live together, or unrelated people required to share a space, for instance. within these nuclei, each person needs to create their own intimacy, their own story, their own 'oneman tent'.'
collaborators: stefano ragazzo and giorgio bonaguro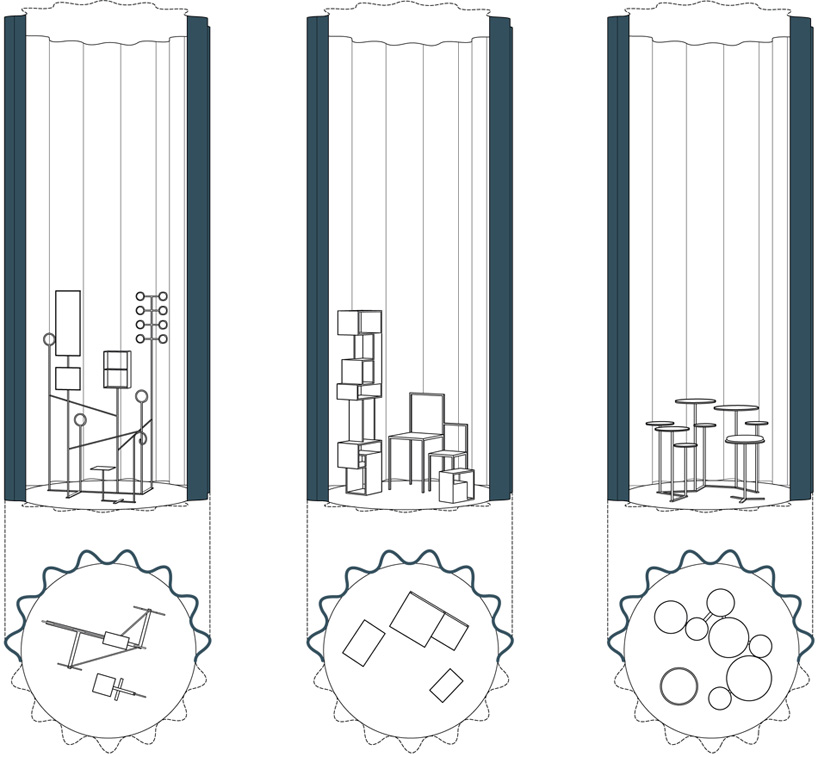 laudini & romanelli looks at the interior as an evaluated set of climate conditions with generous furnishing systems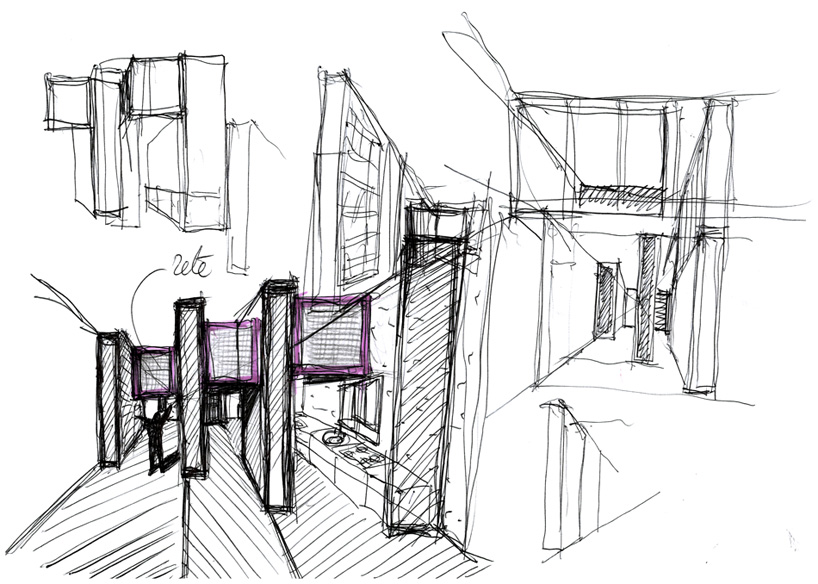 'round and round' by manolo de giorgi looks at the notion of occupying rooms
manolo de giorgi on his living concept – 'round and round':
'room equals occupying, but are we sure about all this occupying? are we still convinced that this occupying should act as a protagonist for inhabiting, over and above any other factor? or would a potential new melange not be more realistic, one that combines occupying+utilizing services+moving about, all in more or less identical proportions? I tried to conceive a habitat guided by spaces dedicated to movement, 80 cm strips lined up against each other to form an environment dictated by 'ongoing operations'. a summation of corridors that ought to result in a continuously flowing space, dispensing with the rigid tile-like juxtaposition of rooms. I thought about the great opportunities offered up by corridors: those indeterminate spaces in which functions are sped up, 'stripped' to some degree, cross-contaminated, short-lived, 'jokes', almost, and then, ultimately, spaces ripe for opportunities and small places of freedom.'
in partnership with poliform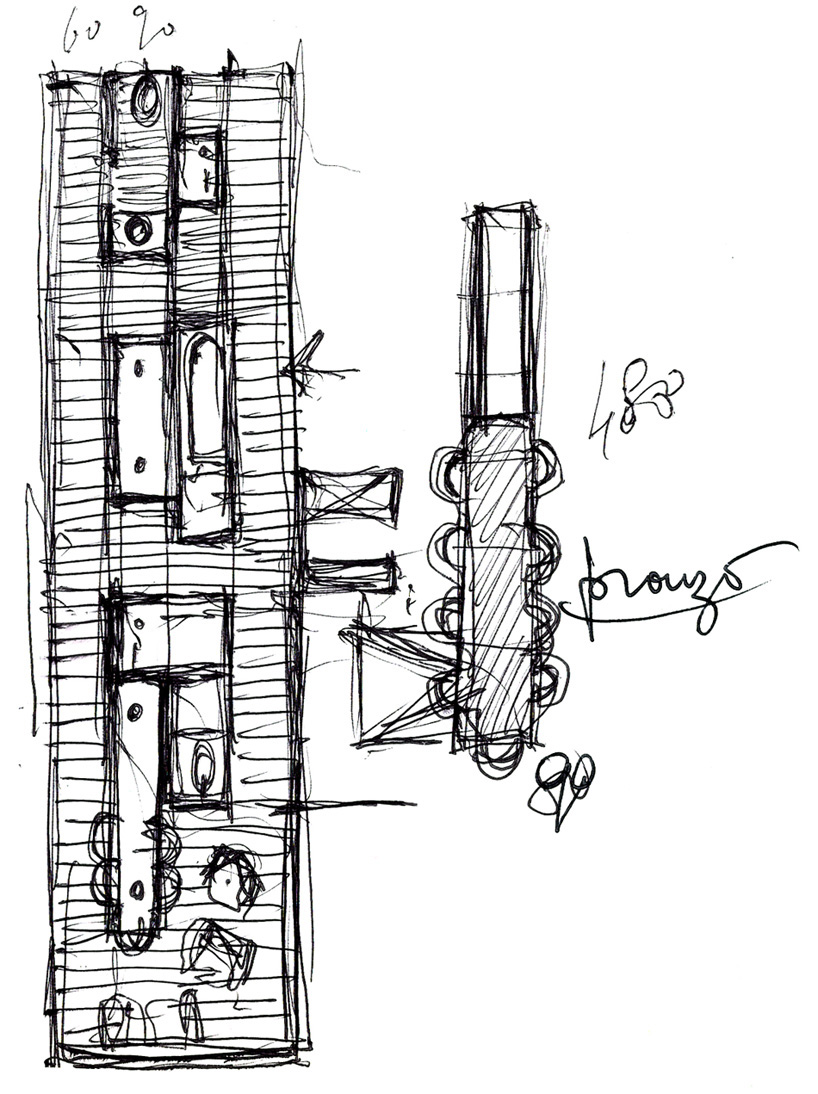 manolo de giorgi conceives a habitat guided by spaces dedicated to movement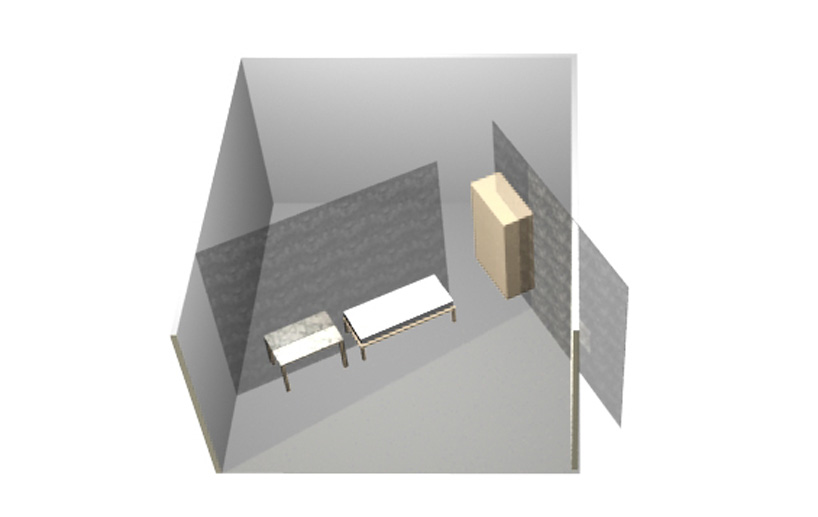 'resonances' by andrea anastasio looks at living space as a place for human beings to co-exist
andrea anastasio on his living concept – 'resonances':
'the design for the room was triggered by reflecting on living spaces as places in which the many relational potentials for human beings coexist on a daily basis – the opportunities to affirm or deny the dimension of listening to oneself, to others and to the world, in particular. the project is intended to give shape to a combination of polarities, identified by this reflection on the domestic space. internal-external; microcosm-macrocosm; isolation-relationship; closed-open; dialogue-indifference; health-illness, etc. the furnishing elements essential to daily life were identified – table-bed-container –, and then arranged inside the room so as to mark out two virtual axes, suggesting the intersection of two rooms. a semi-transparent curtain was hung across them, chopping them in half. while substantially altering the furniture, splitting it did not preclude its functionality, while sharpening its symbolic/narrative properties.'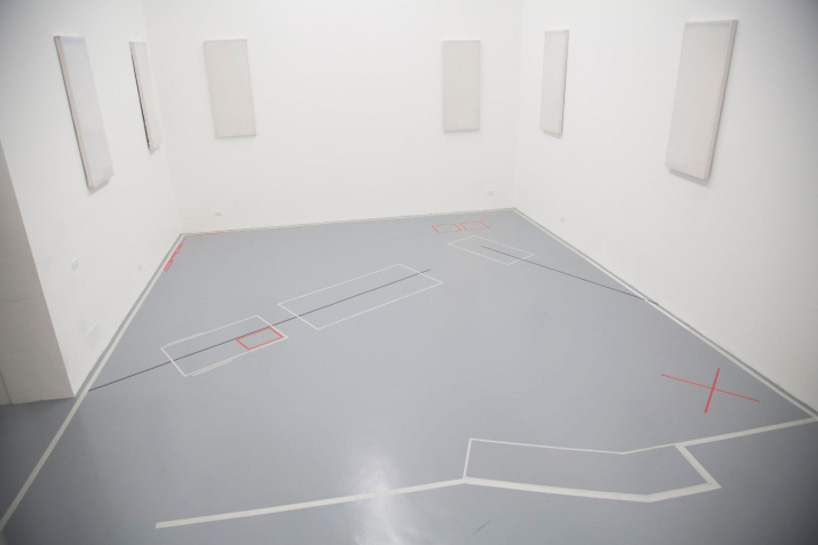 andrea anastasio gives shape to a combination of polarities, identified within the domestic space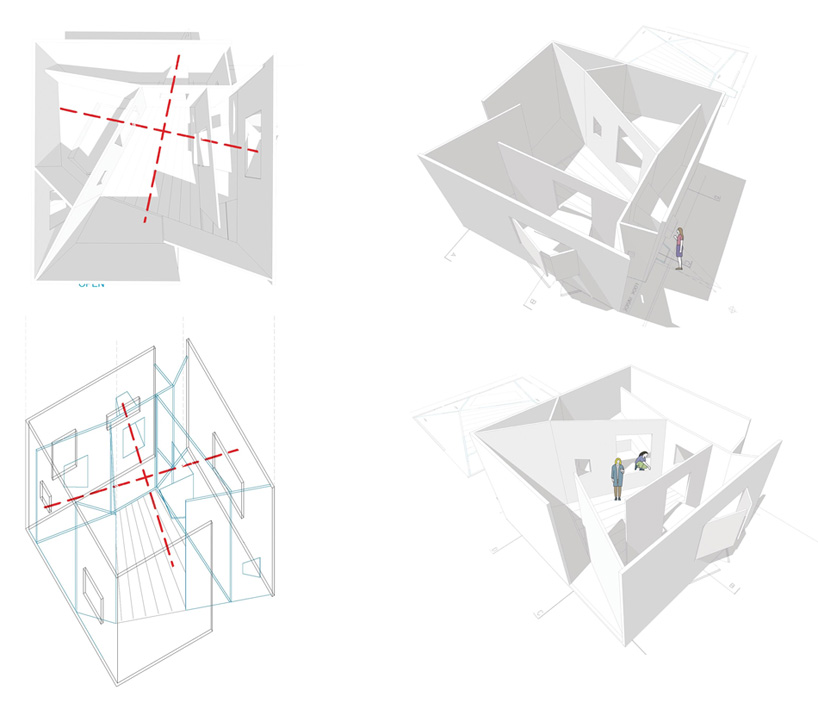 'putting things into perspective' by elisabetta terragni draws the notion of space gently mutating into two
elisabetta terragni on her living concept – 'putting things into perspective':
'taking away rather than adding to means recognizing the essence of things and communicating them in their essentiality.' – bruno munari
'max ernst's watercolour 'das schlafzimmer des meisters – es lohnt sich darin eine nacht zu verbringen' (the master's bedroom, it's worth spending a night there), painted in 1920, draws us into the theme of the room with a deceptive ploy, demanding curiosity and respect. the outside is a closed parallelepiped, inside the spaces hide and gently mutate in two perspectives. the perception of space changes, not by much, but enough to make us think. occupying the resulting spaces between the interior and exterior walls, margins and gaps open and close in a constantly changing perspectival play, generated by light and the movements of the viewer. an ethereal image fragments against the walls and becomes whole again from one single viewpoint that the viewer has to seek out by moving around. two individuals inhabit it, they are close, but can also not see each other, almost miss each other, although they can communicate and hear each other. as in haruki murakami's books, two is the magic number, a double life, an unconscious whole yet split in two, two people and also two moons. a parallel world, just slightly different, in an altered perspective.'
collaborators: architects paola frigerio and mike dolinski and yiwei he; graphics: daniele ledda xycomm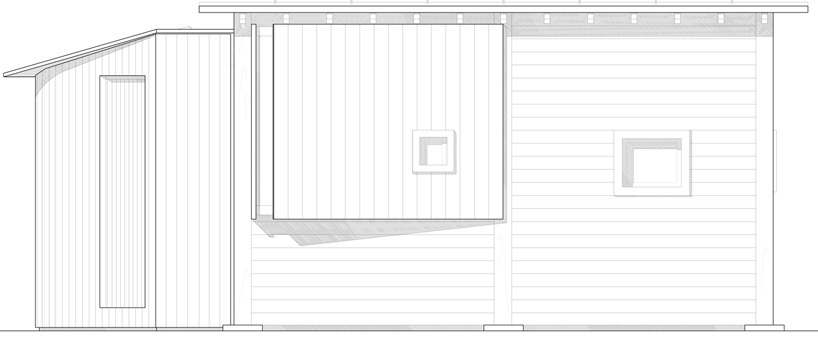 'proposition for a bolt hole' by umberto riva offers a place of isolation
umberto riva on his living concept – 'proposition for a bolt hole':
'this is a proposal for a place in which to isolate oneself. my thoughts immediately flew to the cabanon designed by le corbusier in a pine forest on the cote d'azur where he spent the summer months during the latter part of his life. the project consists of a small completely self-sufficient room (13m2), in which the spaces and utilities have been pared down to a minimum. an exploration of existenz minimum, in which the relationship between the person and the internal space is the most important and delicate consideration of all. a room of monastic rigour, in which the light, the materials and the design of the furnishings assume the most important role.'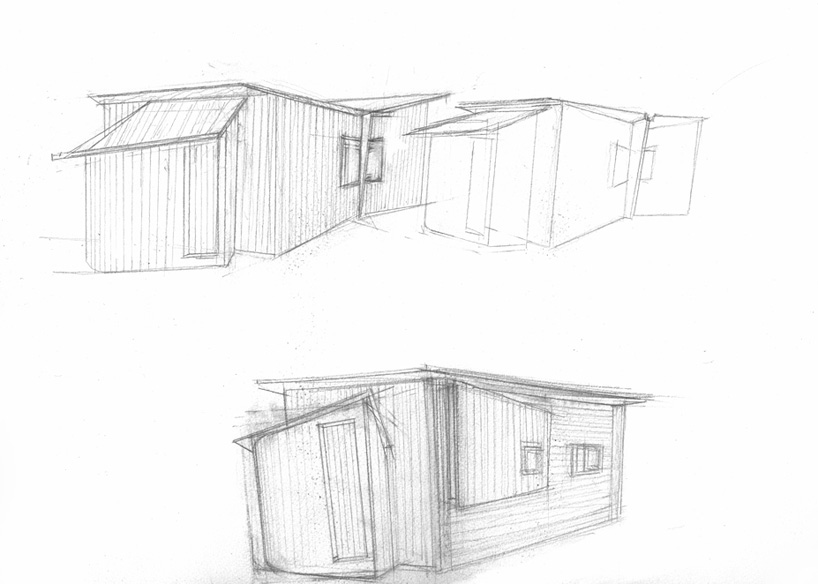 umberto rivapares down the internal space to a minimum
see designboom's instagram coverage @milan.design.week
—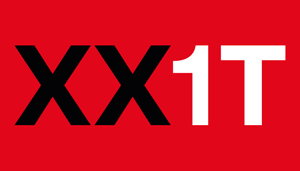 XXI triennale international exhibition: 21st century. design after design
april 2nd – september 12th, 2016
the XXI triennale di milano international exhibition has a vast program of exhibitions, events, competitions, festivals and meetings throughout the city, in venues ranging from la triennale (palazzo della triennale) to the fabbrica del vapore, pirelli hangarbicocca, the politecnico di milano campuses, the IULM campus, MUDEC, the national museum of science and technology 'leonardo da vinci', BASE milano, the palazzo della permanente, the pirelli tower, the ex expo site, the museo diocesano, the pirelli foundation, the university of milan, the accademia di belle arti di brera, the triennale expogate through to the villa reale in monza, the historic site of the first international exhibitions. running under the title '21st century. design after design', it touches on key questions, such as the new dramatic art of design, which consists mainly in its ability to deal with those anthropological issues that classical modernity has excluded from its brief, such as death, the sacred, eros, destiny, traditions, and history; the issue of gender in design; the impact of globalization on design; the transformations brought about by the dawn of the twenty-first century and the crisis of 2008; the relationship between city and design; the relationship between design and the accessibility of new information technologies; and the relationship between design and craftsmanship.
salone del mobile. milano 2016
protagonist at the XXI triennale international exhibition
palazzo dell'arte, milano
april 2nd to september 12th, 2016
Save
KEEP UP WITH OUR DAILY AND WEEKLY NEWSLETTERS
a diverse digital database that acts as a valuable guide in gaining insight and information about a product directly from the manufacturer, and serves as a rich reference point in developing a project or scheme.
designboom will always be there for you
milan, new york, beijing, tokyo

,
since 1999