mar 07, 2011
yves behar / fuseproject: peel
'peel' by yves behar / fuseproject
the way in which we look for content on TV has not changed significantly since its inception. satellite and digital cable guides remain antiquated, but our means of channel surfing has become more complex, with the surplus of hundreds of channels one must go through in find programming which interests them.
the peripherals come in pear, apple or orange shapes
'peel' designed by yves behar / fuseproject is meant to cut away this tedious task of channel surfing. an app which is used via the iPhone connects the device to WiFi. all you have to do is tell 'peel' what interests you and it tells you what's on television. it learns the types of programming you watch and filters out the rest so you don't have to spend time flipping through every single channel.
its aesthetic is a bit varied from that of standard TV equipment. metaphorically, this intuitive universal entertainment control's name, brand and fruit-shaped forms are about peeling away layers of complexity. available in three different peripheral – a pear, apple or orange – each features a lower portion that functions as a large infrared window that relays your phone signal to your television. instead of functioning as another remote with numerous button, 'peel' keeps it simple and easy.
packaging
mar 14, 2017
mar 14, 2017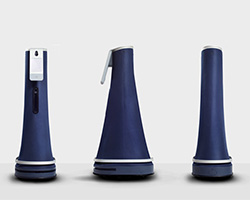 mar 01, 2017
mar 01, 2017
jan 27, 2017
jan 27, 2017