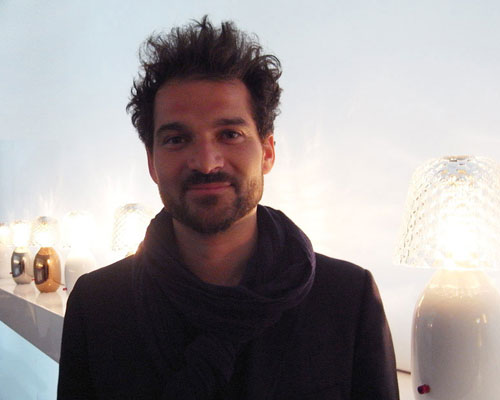 jun 30, 2008
jaime hayon interview
jaime hayonportrait © designboom
designboom met jaime hayon in milan on april 18, 2008.
what is the best moment of the day?breakfast, definitely – and dinner!
what kind of music do you listen to at the moment?its very mixed, but something I have always had in my music library collection is flamenco music.

jamie hayon exhibition at spazio rossana orlandi, milan, 2008image © designboom
do you listen to the radio?quite a lot.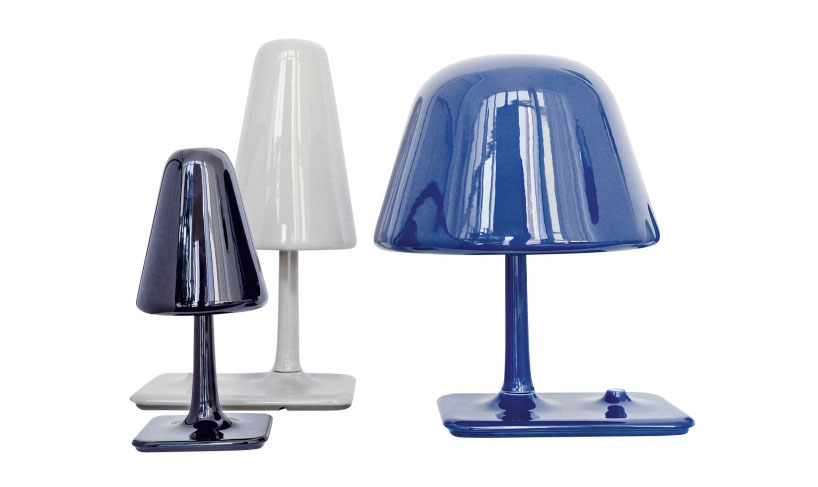 'funghi', table lamps collection, produced by metalarte, 2008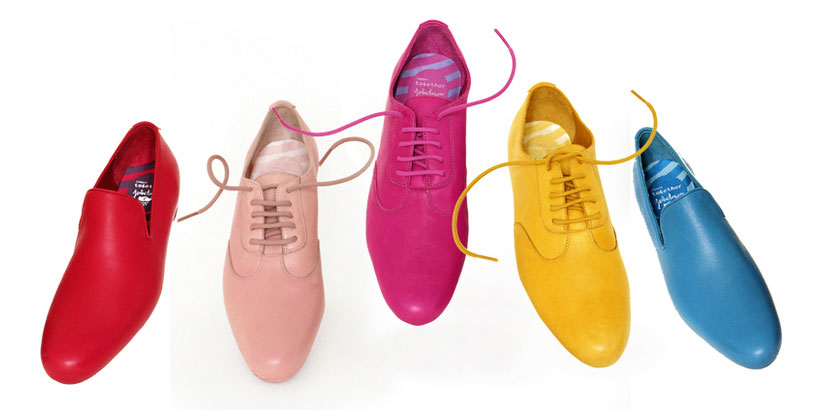 shoes, produced by camper, 2008
what books do you have on your bedside table?that's funny. I don't think I have any books next to my bed. I haven't been reading for a while.there must be somewhere a history book – yes, the history of england.
do you read design and architecture magazines?not really. just when they send them to me.I'm not really interested in design magazines.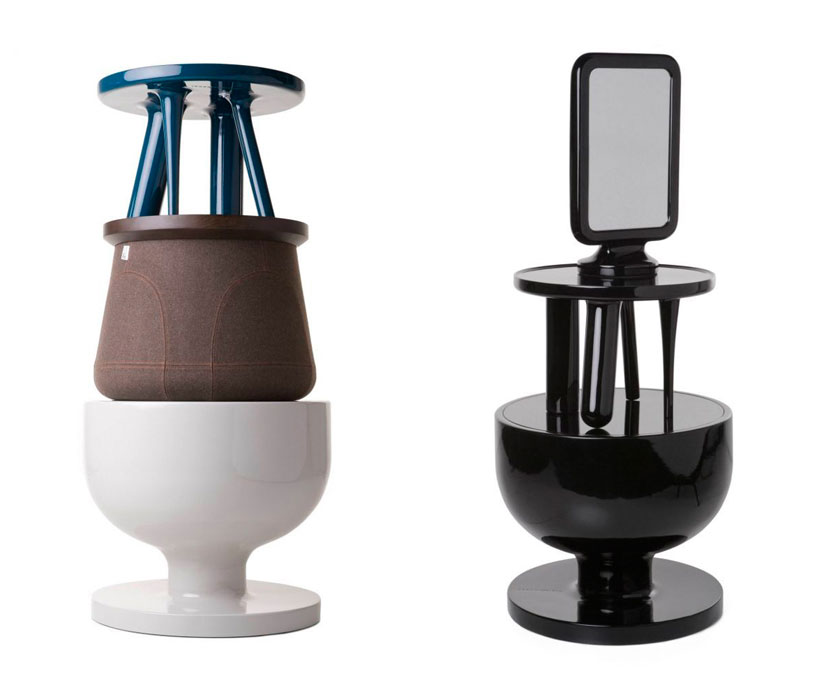 'elements', produced by moooi, 2008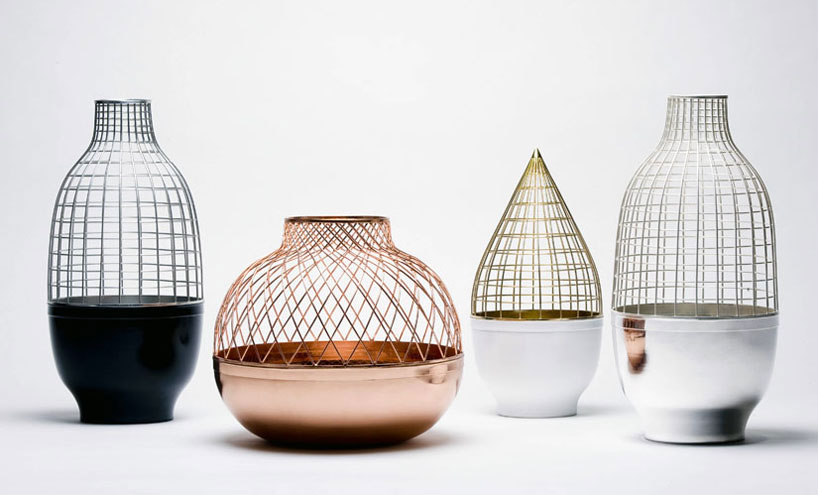 'grid' vases, produced by gaia & gino, 2008
where do you get news from?from the internet. also I like to read newspapers.
I assume you notice how women dress.do you have any preferences?uh, wow. that's quite the question! I like it when women are really sexy! (laughs)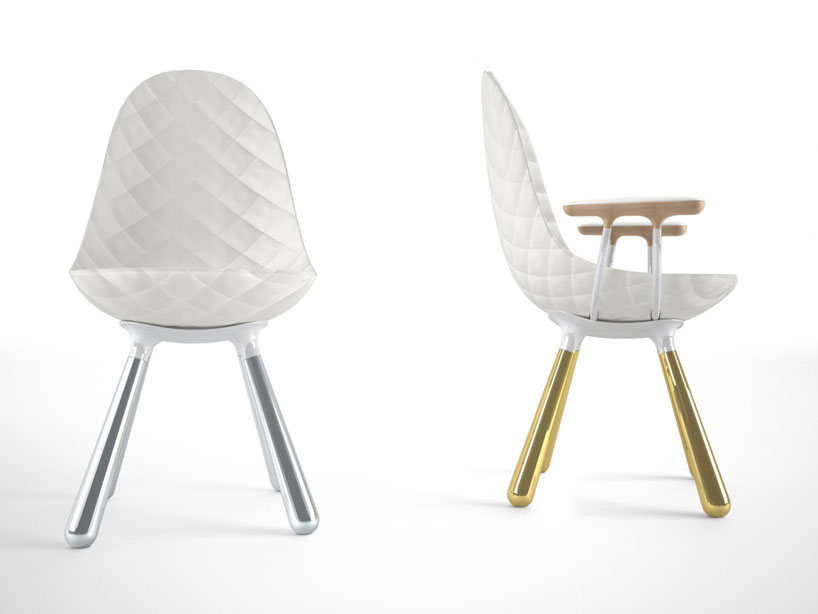 'tudor' chairs, produced by established & sons, 2008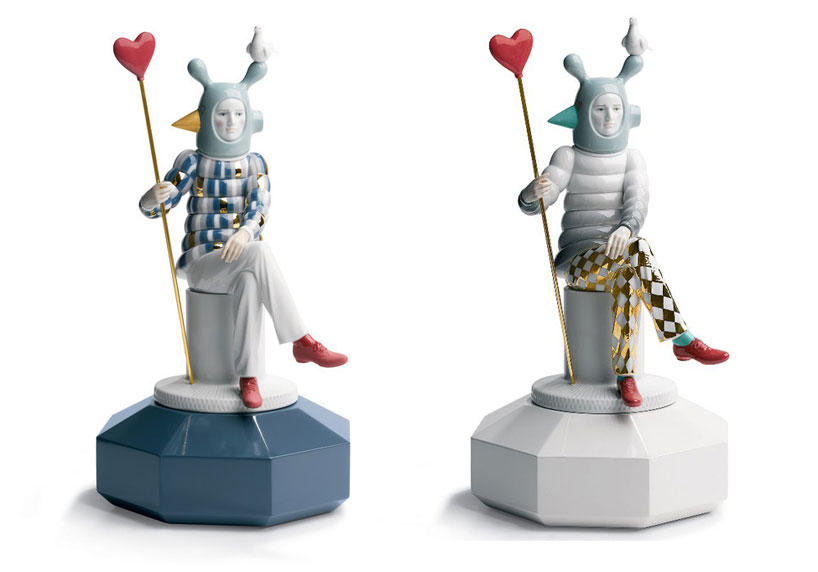 'the fantasy collection', produced by lladró, 2008
what kind of clothes do you avoid wearing?miniskirts – anything too female.
do you have any pets?no, I don't.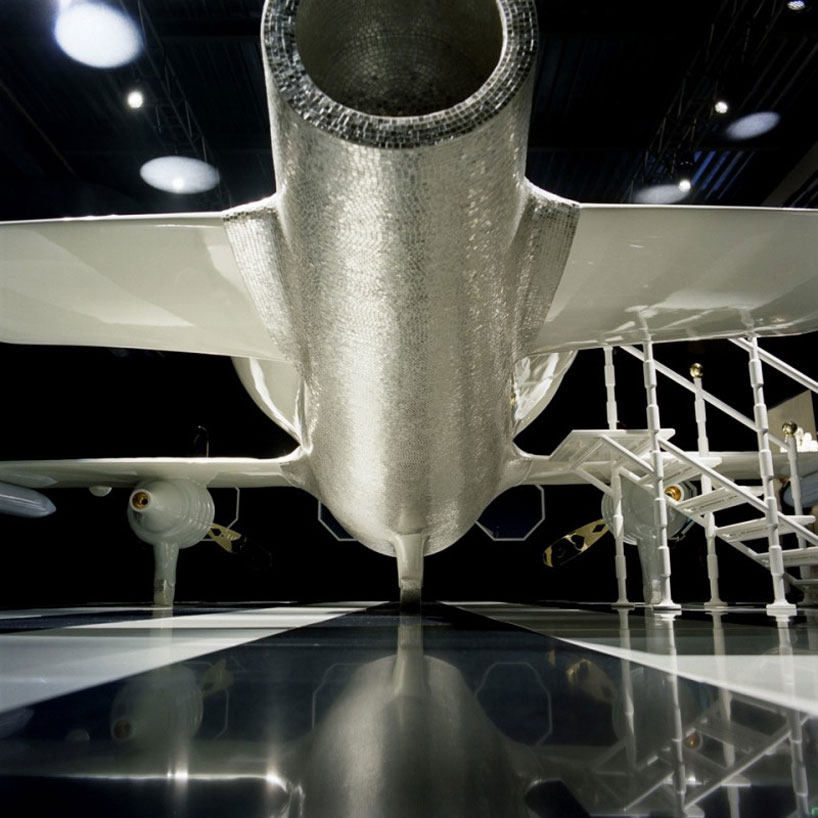 'jet set' installation for bisazza, 2008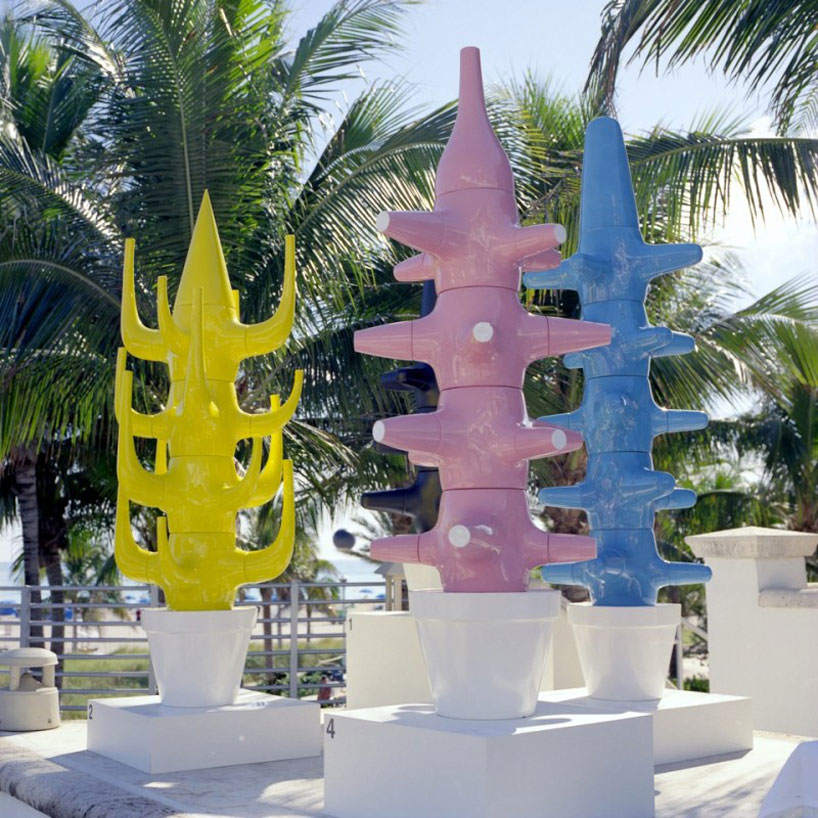 installation at the ritz carlton in south beach, miami, during the design miami 2007
when you were a child, did you wantto become a designer?no. I wanted to be a cook.
where do you work on your designs and projects?at ten thousand feet, because I'm always travelling.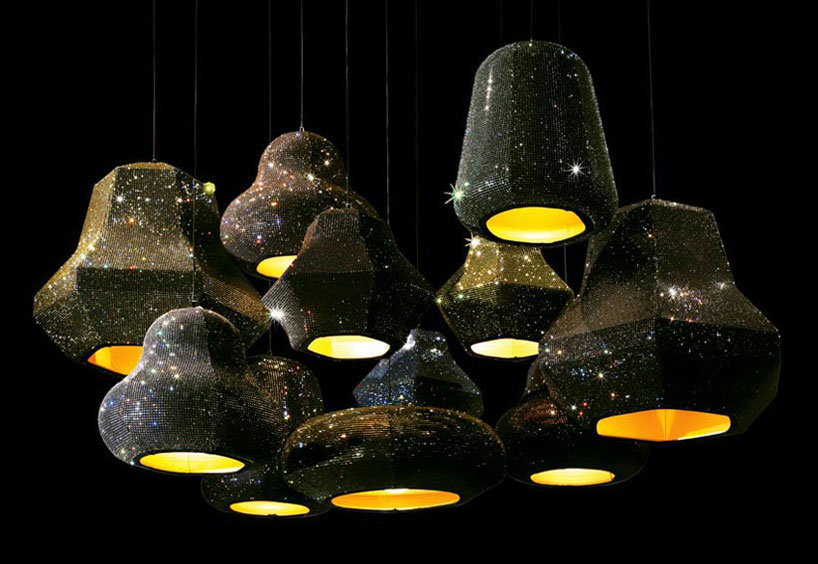 'sparkle shady' for swarovski, 2007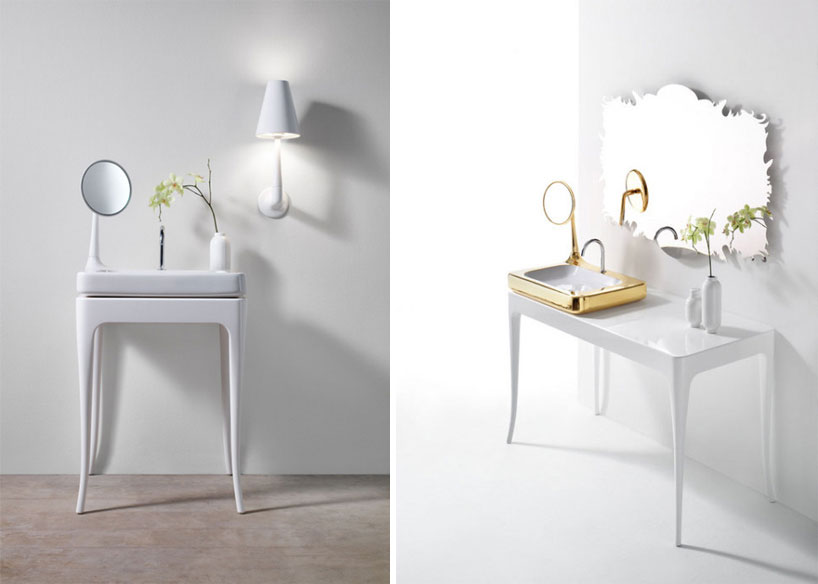 'AQhayoncollection', bathroom furniture for artquitect , 2007
do you discuss your work with other designers?I discuss my work with many people, but I don't havetoo many people around me. I like to ask for people's opinions.
describe your style, like a good friend of yours would describe it.he hates it! (laughs) no, that's not true.I've heard things like…it is humorous, it has a sort of unexpected quality, surprise.
'showtime' collection, produced by BD barcelona, 2006
please describe an evolution in your work, from your first projects to the present day.it has evolved very quickly.it has always been experimental.I'm really happy about the fact that I'm always learning by doing things.
what project has given you the most satisfaction?in a way I think all of them have given me something.it was really nice when I had my first exhibition at david gill gallery. it was the first time I showed my world to other people.
who would you like to design something for?I've done many different things, including shoes.I think it would be interesting to create some clothes,but I don't know for who.
are there any designers or architects from the pastyou appreciate a lot?there are so many. I love the floors of pichioni (an architect which maybe no-one knows). I am even more interested in art.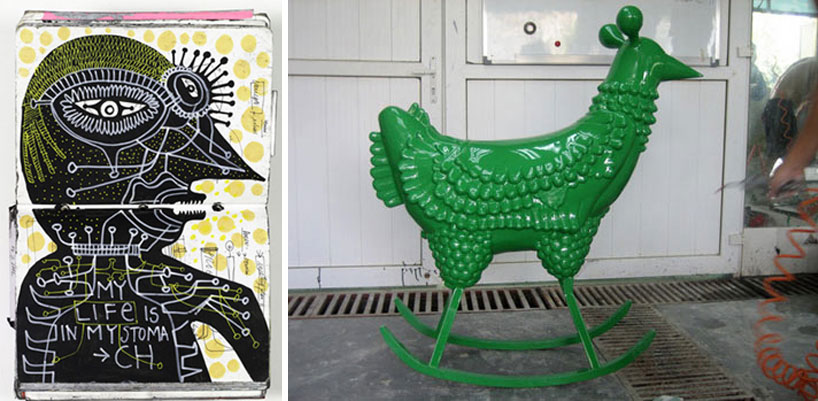 left: sketches from diaries by jaime hayón (2006)
right: 'green chicken', 2005
and those still working / contemporaries?I really like jeff koons work – sophisticated kitsch.and I love the simplicity of donald judd –the perfection of it is really, really exciting.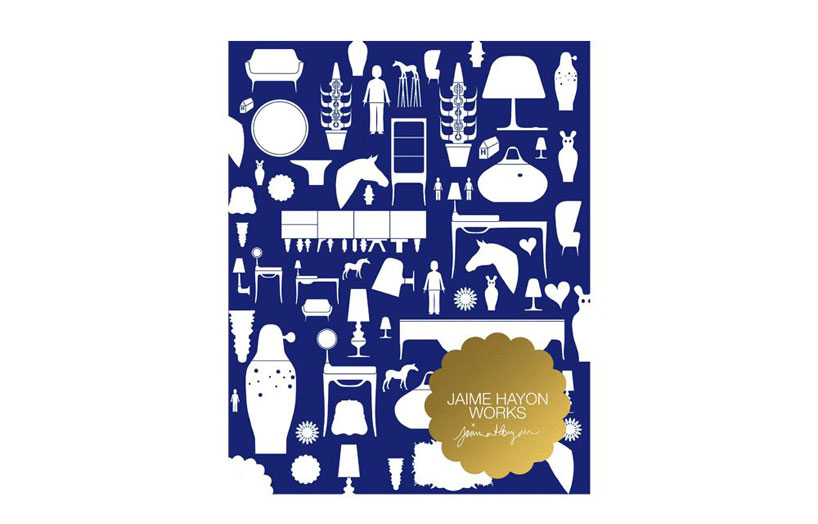 jaime hayón works monograph (2008)published by die gestalten verlag
do you have any advice for the young?to be themselves.not to copy anyone else. every person is unique, if they look at themselves and believe in themselves, then they will make great work.
what are you afraid of regarding the future?I'm afraid of many things. I really enjoy what I'm doing, so what I'm probably most afraid of is not enjoying what I'm doing anymore.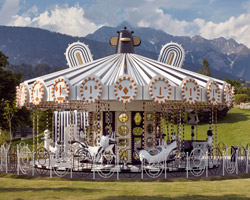 jul 08, 2019
jul 08, 2019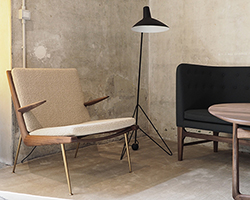 apr 27, 2019
apr 27, 2019
nov 29, 2018
nov 29, 2018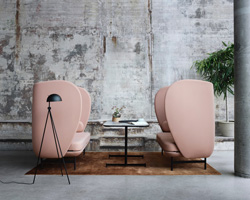 oct 01, 2018
oct 01, 2018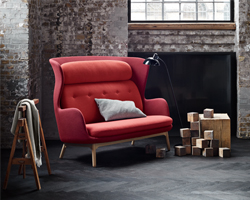 jul 09, 2017
jul 09, 2017
jun 16, 2017
jun 16, 2017
a diverse digital database that acts as a valuable guide in gaining insight and information about a product directly from the manufacturer, and serves as a rich reference point in developing a project or scheme.