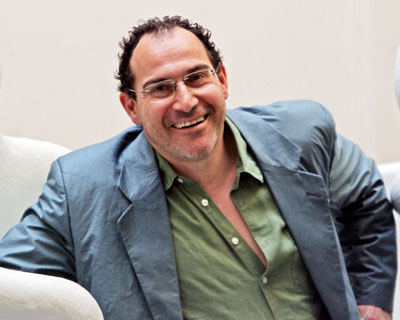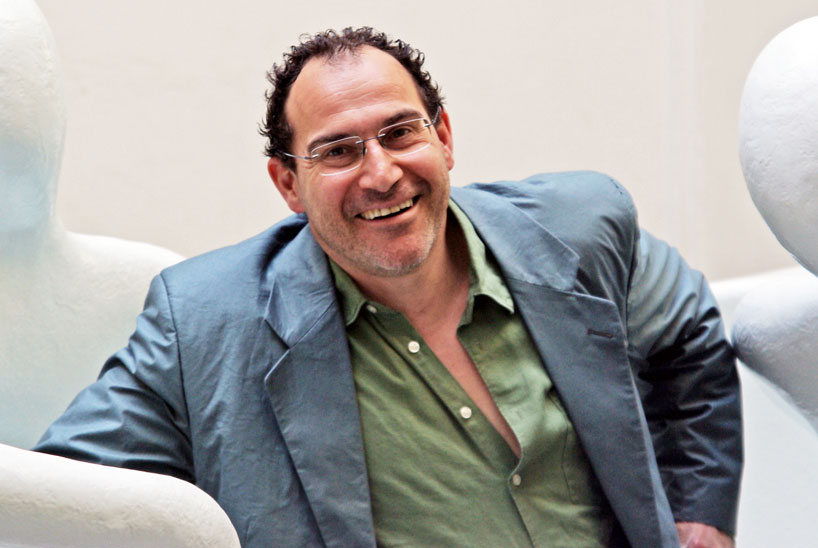 may 18, 2007
joep van lieshout interview
joep van lieshoutportrait © designboom
designboom met joep van lieshout in milan on april 18th, 2007.
what is the best moment of the day?
in the evening when everything is done and youcan begin to relax, drink and then sleep.
what kind of music do you listen to?
I listen to a lot of music from south america,the kind of music that comes from the favelas of argentina.it's the kind of music that you can't buy in the shops -it is very interesting.

left: 'food cart', © atelier van lieshout, 2007fiberglass sculpture,picture © designboom
right: 'happy family', foam and fiberglass, 2005picture © designboomsee more of the 'female slave university' exhibition
do you listen to the radio?
sometimes, not so much.
what books do you have on your bedside table?
they are all books about the third reich! (laughs)

'the heads – claudia', mobile units, © atelier van lieshout, 2005mixed media,courtesy atelier van lieshout
do you read design, art or architecture magazines?
very few, sometimes I look at the advertisements inthe art magazines.
where do you get news from?
I'm not so interested in following the actuality in what'shappening at the moment in the news or in art, design,fashion… I prefer to get my own sources of inspiration,this way I am completely free. if you are takinginspiration from what other people do then you havemany limitations.

'bar rectum'© atelier van lieshout, 2005courtesy atelier van lieshout
I guess that you notice how women dress,
do you have any preferences?
…no clothes!
what type of clothes do you avoid wearing?
anything with a brand, I hate brands.if there is something I like that has a logo on it I wouldtake it off, or I just wouldn't buy it.

'womb house' © atelier van lieshout, 2004courtesy atelier van lieshout
do you have any pets?
no.
when you were a child did you always want to
become an artist?
yes, and to me an artist was a painter.very soon, when I began art school I started to dosculpture and installations which is… more free.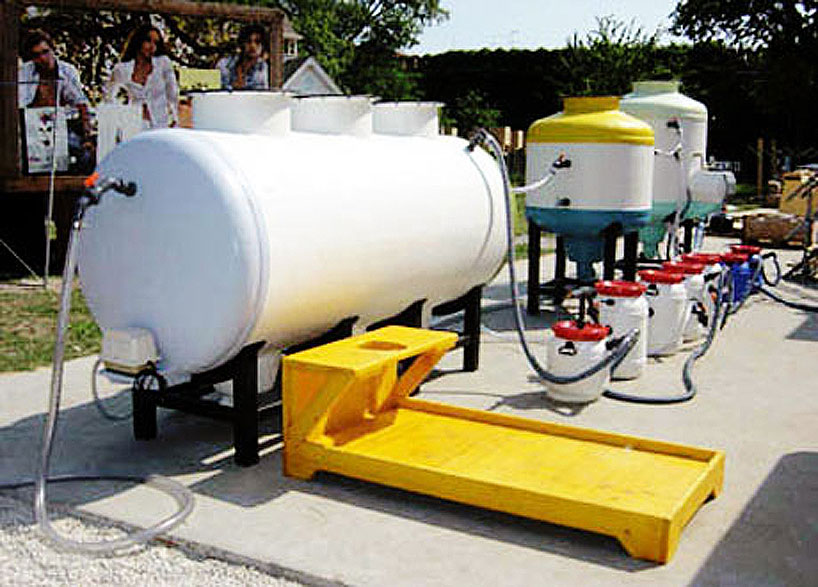 'total faecal solution' © atelier van lieshout, 2003fibreglass, mixed mediacourtesy atelier van lieshout
have you ever doubted the decision to become an artist?
of course, as an artist there is always doubts and hesitationbecause you never know what you should be, but this is thedestiny of an artist – there is always insecurity.this is a good thing though, because it keeps you doingsomething and improves your art.
do you discuss your work with other artists?
no, there are some groups, but I'm definitely notan active participant! (laughs)

'penis', © atelier van lieshout, 2003250 cm lenght, polyurethane foam, fibreglasscourtesy atelier van lieshout
where do you work on your projects?
I have a big studio with twenty people working for me,so the workshop and the office are very busy places,I prefer to work at home by myself, I draw a lot anddevelop ideas.
describe your style as a good friend of
yours would describe it.
there is always a juxtaposition of rational and irrational,good and bad, beautiful and ugly.contradiction is always present in my work.

'AVL-Men', © atelier van lieshout, 2001fibreglass, polyurethane foam,courtesy atelier van lieshout
is there any artists from the past that
has influenced you or that you particularly appreciate
the work of?
there are some artists who are very important to me,leonardo da vinci and many other 'older' artists of course.from modern age I would say joseph beuys and bruce nauman.
which project has given you the most satisfaction?
I don't know… I guess everyone says – the next one!I suppose it's the projects that I do completely by myself,(there are many pieces that are made/produced by myassistants, then there are some that I do alone).they are often very small and tiny but I like them morebecause it is my hands that have touched them.(laughs)

'floating sculpture' © atelier van lieshout, 2000mixed media,courtesy atelier van lieshout
do you think that there is ethics in art?
art should be non moralistic, it should be free and so shouldthe interpretation so the person who is looking at the artshould learn how to interpret the ethic and moral side of it,otherwise art becomes propaganda. art should be personaland volatile.
do you have any advice for the young?
try to go your own way and follow your intuition don't listen too much to what other people say, be stubborn like a horse with blinkers on.
there is a lot of talk around in design regarding 'ecology'
do you have anything to say on this matter?well, I think that ecology is very important and we shouldbe aware of this, but whilst people are thinking about climatechange, there are other people in the background changingthe world for their cause. we should also think about what ishappening to the other areas of life, our freedom and expressionbecause of globalization and capitalism. it's good to care aboutthe environment… but you know… watch your back.

left: 'the good, the bad, and the ugly' mobile unit, © atelier van lieshout, 1998collection walker art center, minneapoliscourtesy atelier van lieshout
right: 'capsule', © atelier van lieshout, 1998fiberglass,picture © designboom
what are you afraid of regarding
the future?that I will be too busy in the future.

jun 23, 2016
jun 23, 2016
nov 27, 2015
nov 27, 2015
aug 19, 2015
aug 19, 2015
jun 11, 2015
jun 11, 2015
jan 16, 2015
jan 16, 2015
jul 01, 2014
jul 01, 2014
a diverse digital database that acts as a valuable guide in gaining insight and information about a product directly from the manufacturer, and serves as a rich reference point in developing a project or scheme.