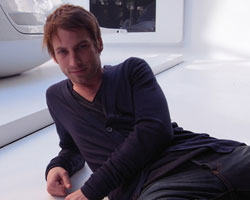 apr 16, 2005
ora ito interview
ora ito interviewimage © designboom
we met ora-ito in milan at the ora-ito museum exhibition, april 16, 2005.
designboom (DB): what is the best moment of the day?
ora ito (OI): I have a lot of pleasure during the whole day, when I fall asleep, when I wake up, when I take my shower, when I go to work when I eat my lunch, when I have breakfast and when I eat my dinner… laughs.
DB: what kind of music do you listen to at the moment?
OI: if I go clubbing, I like to listen to electronic music at home or if I am in the car I listen to hip hop because I feel like a gangster, (puts his arm up as if on the car window and nods his head.) if I am with a girl then it is more quiet, more romantic. it would depend on the mood I am in, that is the power of music.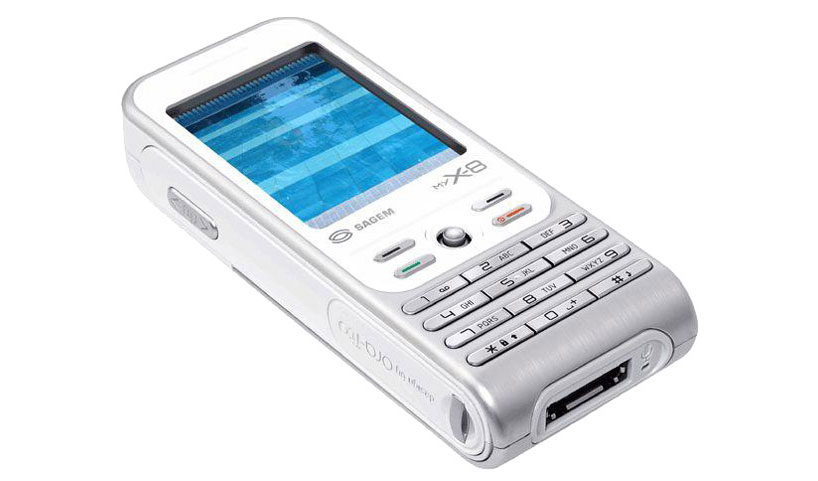 myx – 8' for sagem, 2004
DB: do you listen to the radio?
OI: yes. to music.
DB: what books do you have on your bedside table?
OI: a lot of books on architecture. I don't read the books, I have a big problem, I am more visual.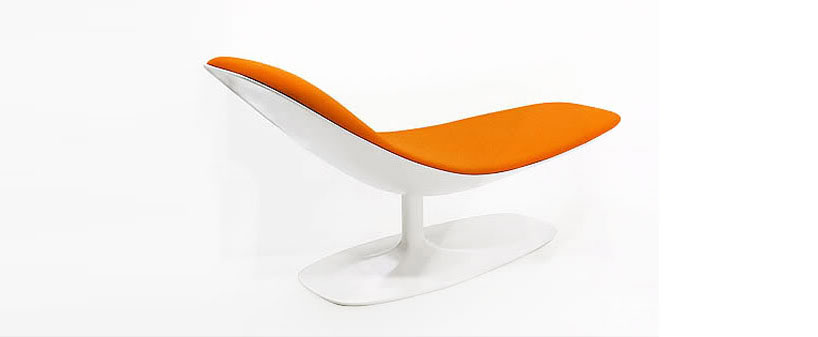 chaise-longue for b&b, 2005
DB: where do you get your news from?
OI: newspapers.
DB: do you have any preferences on how women dress?
OI: yes, I really like these tops that are a little bit transparent. and if it is not my girlfriend who is wearing it…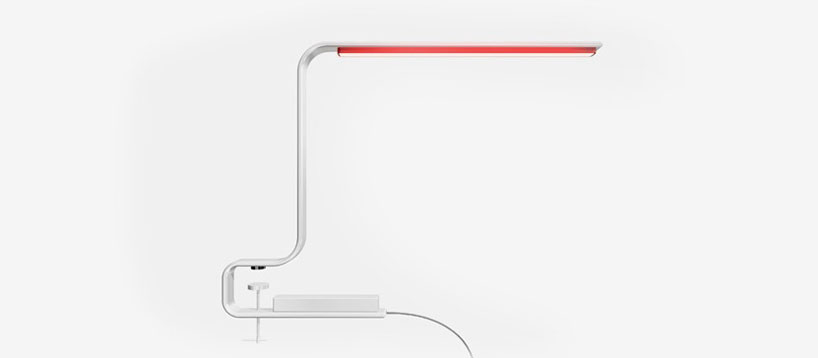 lamp for artemide, 2004
DB: what clothes do you avoid wearing?
OI: I never wear jeans.
DB: do you have any pets?
OI: yes, I have a labrador. called 'ogo' like the bottle of water. because actually I found him on a train. at home I didn't have any toys for him but then he found this bottle of water on the floor and he started to play and I said 'ogo' and his ears popped up and he turned around … so that's his name.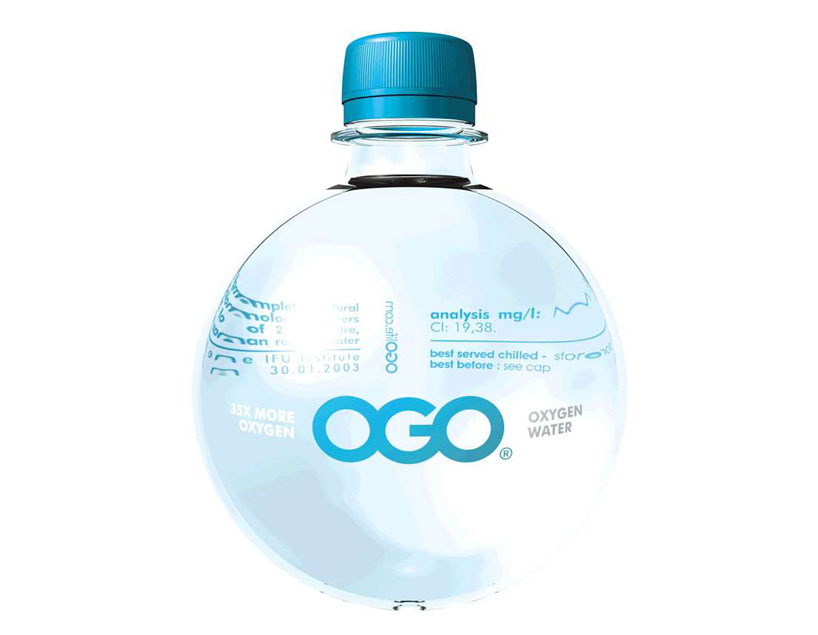 'ogo' bottle, 2003
DB: when you were a child, what did you want to be? did you want to be a designer?
OI: I didn't pass through – you know when you are a child you want to be a policeman, you want to be a … – yes, I always wanted to be a designer, an architect, an artist … I didn't know what exactly, but yes, this.
DB: where do you work on your designs and projects?
OI: on / in my bed. it's true. it is the best place to work… only with a little pillow and some sheets of paper. without my phone and people to talk to. it's a quiet moment and the most comfortable place.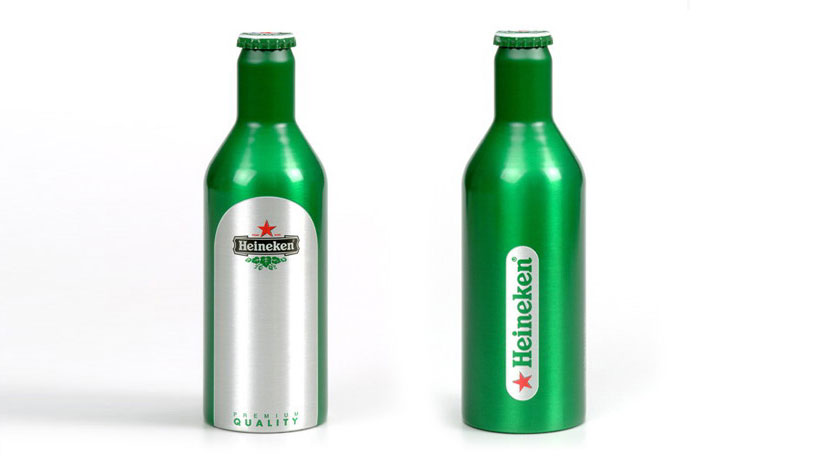 heineken bottle, 2002
DB: why this interest in brands?
OI: when I was young I was fascinated by brands, about their history… at the beginning a brand is a person who has a dream (and it is very difficult to realise the dream). when I began, I tried to project my imagination on brands, the most iconic ones. I proclaimed myself their artistic director. I used their logos in my designs without asking for permission. everybody knows the fake 'branded' products, all the counterfeit vuitton, but actually everyone thought that my work was real…. it made me quite famous. now I am the artistic director of a lot of big brands. my dream came true.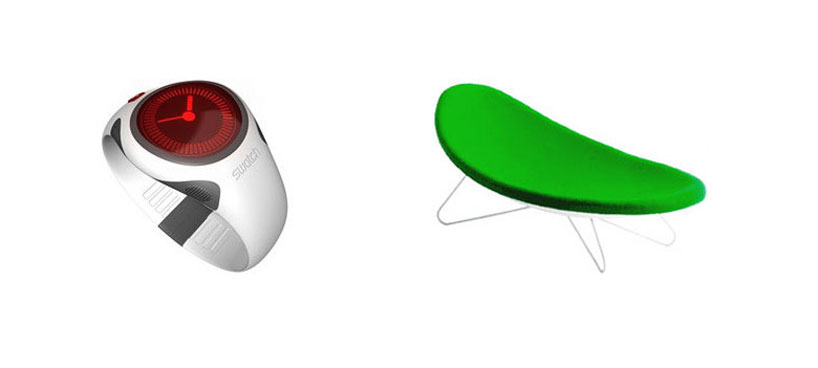 left: wrist watch for swatch, 2002right: 'petal' chaise-longue for cappellini, 2002
DB: who would you like to design something for?
OI: there are so many things I want to design… for ferrari, or a boat company, or sony… I would like to continue to work with big brands.
DB: do you discuss your work with other designers?
OI: yeah, yeah, but only in I my studio. I don't have friends who are designers.

left: promotional set for cappellini, 2002center: G – the gucci villa, 2001right: adidas perfume bottles, 2000
DB: describe your 'style', like a good friend of yours would describe it.
OI: 'simplexity'. because all my designs look very simple, but I can tell you it is very complex to make it happen. for the adidas perfume, I arrived with a very simple drawing, but it took me three years to come to this point. what else can I say? there are a lot of things – futuristic… pure… strong image.
DB: which project has given you the most satisfaction?
OI: actually with most of the products I am very satisfied with…. ross lovegrove told me 'I love your 'ogo' bottle because yours is like this (round) and all the others are like this (vertical)… it stands out. you need to be able to be recognised and positioned in this huge market.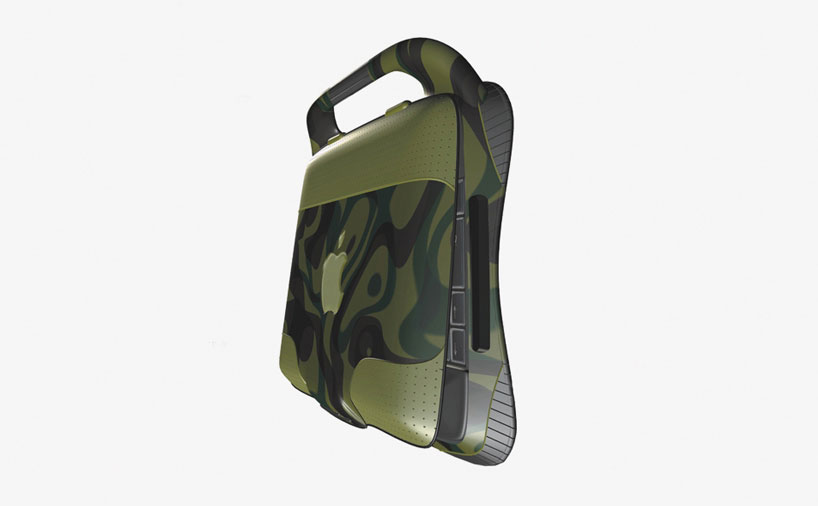 'hack mac' poof design design, 1999
DB: can you describe an evolution in your work from your first projects to the present day?
OI: at the beginning I was not very confident because I didn't really know what I wanted to do, who I was. I didn't even know if I was going to be a designer- at this age (27) you don't know if you want to be this for all your life. with a little bit of experience, I feel more confident now. I have my own vocabulary. the first things I did were a little bit over-designed – show-off. it is interesting to see that even established designers like ron arad or ross lovegrove continue to evolve.
DB: is there any designer and/or architect from the past that you greatly appreciate?
OI: the guy who made me want to be a designer was frank lloyd wright.
louis vuitton bag, poof design, 1999
DB: …and from today's scene?
OI: I don't look much around.
DB: any advice for the young?
OI: I think the advice I would give is – don't complain about yourself, so many people say 'oh I don't have money, I am not famous, oh I don't have this and I don't have this.' like what nike says- 'just do it'. make it exist, if it is nice it will be recognised and people will help you to make it. just do it, make it, even if just on paper, at least it exists…. and also, be a communicator, our generation is a communication generation. use technology – we have the internet, we can travel, we have mobile phones. we can distribute ideas all over the world. I would not say 50, but 30% (of the job) is communication. at first I thought I am losing my time talking to journalists, but in an interview you can explain your designs… and I realise that it is part of the job's process.
DB: what are you afraid of regarding the future?
OI: unemployment for sure, it is cheaper to produce in china than in europe, it is getting quite difficult, now a lot of people don't have work and living costs become too expensive. I am worried that I will not be able to buy an apartment.

apr 21, 2020
apr 21, 2020
apr 14, 2020
apr 14, 2020
apr 07, 2020
apr 07, 2020
jun 19, 2019
jun 19, 2019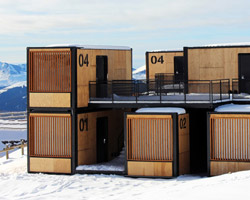 dec 18, 2018
dec 18, 2018
oct 05, 2017
oct 05, 2017
a diverse digital database that acts as a valuable guide in gaining insight and information about a product directly from the manufacturer, and serves as a rich reference point in developing a project or scheme.