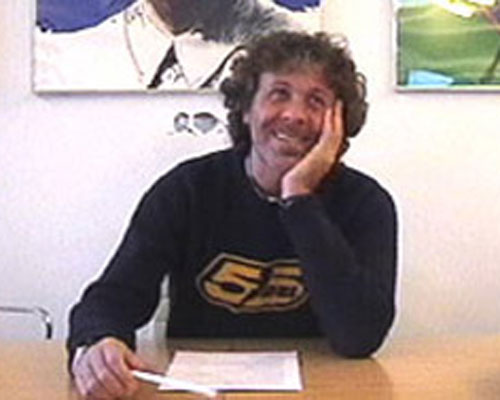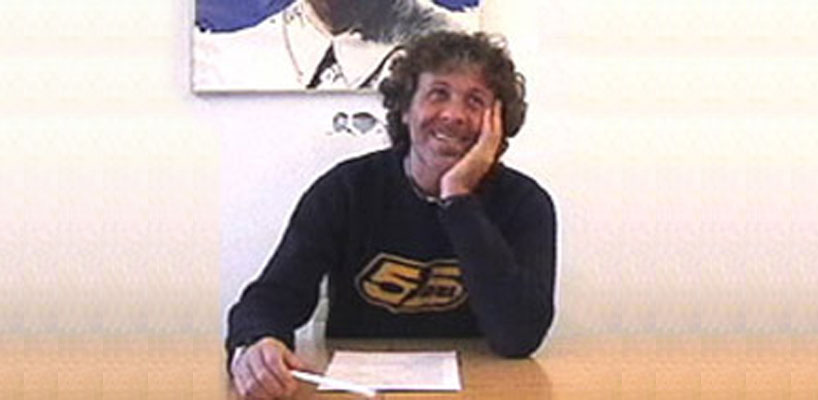 nov 22, 2000
renzo rosso interview
renzo rosso
we met renzo rosso at his studio in diesel's molvena headquarteson november 22, 2000.
what is the best moment of the day?the evening, because I relax and spend time with my family.
what kind of music do you listen to at the moment?I listen to almost any kind of music, it depends on the time of day, during the day morerelaxing music and rock at night.
do you listen to the radio?yes.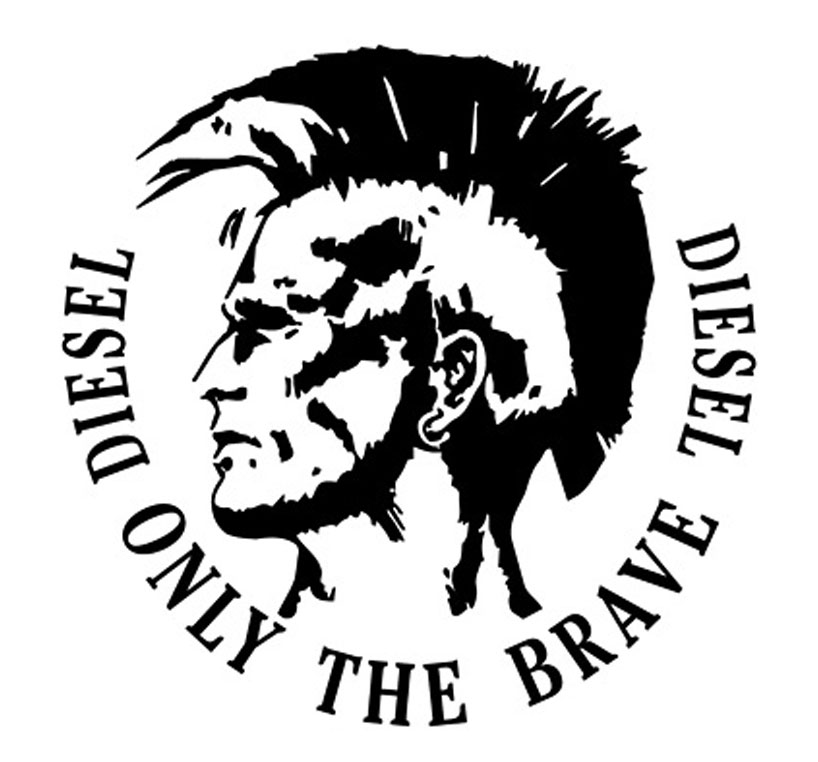 diesel logo
what books do you have on your bedside table?I'm reading a book about the dalai lama
do you read design magazines?yes, I really like the american magazine 'nest'.
where do you get news from?in the morning I watch the news while I work out at the gym, I flip through thenewspaper while I have a coffee and I read milano finanza every day.

diesel advertisement 'hot couture',fall/winter1995
do you notice how women are dressing? do you have any preferences?how women dress? or how women are? i like charming women, dressed in asexy but not in a vulgar way.
what kind of clothes do you avoid wearing?ties.
do you have any pets?yes i have dogs. I don't like stupid house bound dogs who are like knick-knacks,I like real dogs. now I have a sheep dog and two labradors for the children,they are very playful.

left: 'chill out' diesel catalogue image,autumn/winter 1998
center: old for new, autumn/winter 1998
right: new age anorak, autumn/winter 1998
where do you work on your designs and projects?I think of designs everywhere, all the time without really realizing it, but I thinkabout strategies when I'm driving.
describe your style, like a good friend of yours would describe it.my style? I think it is simple, and perfectionist…very precise…and very demanding.
which of your projects has given you the most satisfaction?I get satisfaction from all of my designs. it doesn't matter whether they are bigor small, because I experience them with real intensity.

diesel advertisement 'le look le plus cool I', spring/summer 1995
how did you feel when you heard that diesel had outsold levis in the'couture jeans' sector in the us?let's say that diesel is the coolest brand of jeans right now in the us.this pleases me immensely, because I worked really hard to obtain this result.the american market has always been my dream, that is where is I learned theropes and I brought that experience back to europe.but we certainly don't outsell levis in terms of quantity, and that is not oneof my hopes because I've never thought of being a company that produceslarge volumes. I' ve always wanted to create a cool company.
the use of new materials has opened a new horizon in the manufacturing ofjeans, what is your latest discovery?we are testing the composition of different fibers together, like using steel threadsin the fabric, this is also being done by others.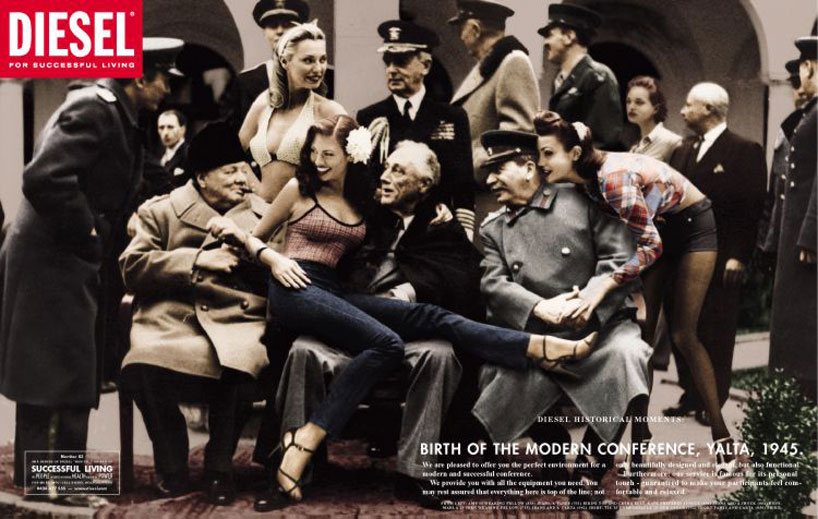 diesel advertisement, historic moment seriesyalta, 1997
you work with many young people and your target is young. what can you tell usabout how young people have changed in the last few years?they have changed a lot. ten years ago they were more like sheep, everyone worethe same things, now they are more individual, more aware, they are bettereducated, they know reality better, ten years ago they were more naive.the fact of having access to a continuous flow of information has enrichedall of us, especially the young.
what fashion designers from the past do you particularly admire?I like to evoke armani, who isn't from the past but he thought up a new wayof making clothing.
and those still active?I'm crazy about issey miyake, he is sort of my idol, he creates things that are reallynew, revolutionary, he always breaks free from the past, his clothes are always likenew, and I admire him a lot.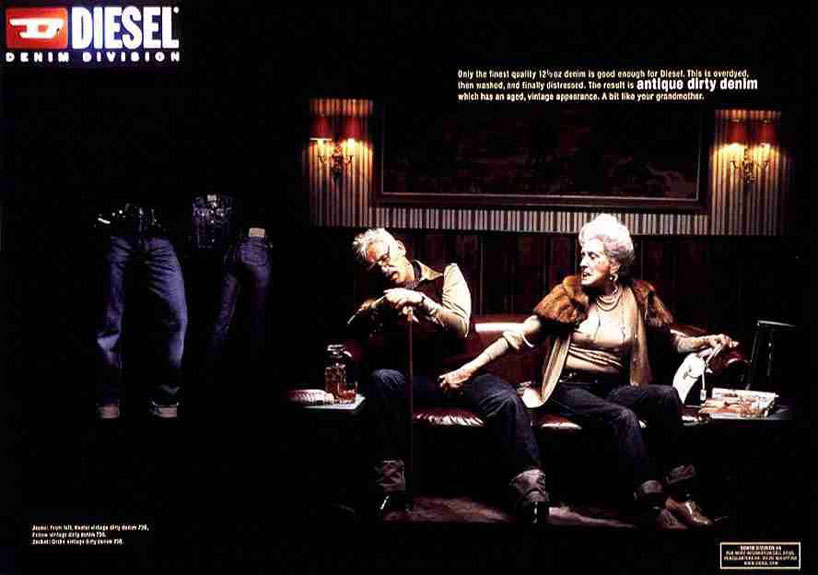 antique dirty denim, press and posteradvertisement 1998
—all images courtesy diesel
is there any architect or designer you appreciate a lot?there are a lot of architects who have designed beautiful things, alessiwith their fanciful knick knacks, renzo piano and the osaka airport.I like things that are innovative and that remain.
your advertising campaigns always have a positive message. once, however,the diesel advertisements caused a lot of public protest, the man who saweda female mannequin in half was reminiscent of a serial killer. what can you tellus about that particular case and about the award-winning diesel campaigns?obviously people protested because the mannequin was recognized assomething much more real, obviously this was not our intention.there are dangers you risk in trying to always be innovative, and we are condemnedto always do something new so it is easy to get to the point where nobodyunderstands you anymore.in general, in the early 90s we were the first to use this type of message, now usedby many other brands which have made it their own, and we were and are the creatorsof this type of message: that is, no more violence towards the final customer sayingto buy this product or that brand, but rather involvement in the life-style, and if you likeit perhaps you can buy those clothes. giving the consumer the chance tochoose something and not to consider him a robot condemned to respondto the advertising message.
on the news broadcast they said that italians are afraid of unemployment, criminality and pollution. what are you afraid of regarding the future?for the future i fear the loss of traditions, things made by hand at home, customs,today's system boycotts all of these things.

diesel
(7 articles)
apr 07, 2017
apr 07, 2017
apr 30, 2012
apr 30, 2012
apr 27, 2011
apr 27, 2011
jan 18, 2010
jan 18, 2010
sep 21, 2009
sep 21, 2009
jan 16, 2009
jan 16, 2009
a diverse digital database that acts as a valuable guide in gaining insight and information about a product directly from the manufacturer, and serves as a rich reference point in developing a project or scheme.