eric own moss portrait © designboom
—
designboom met with american architect eric owen moss at his los angeles, california studio on june 29th, 2011. —
what is the best moment of the day? (laughs raucously) I can surprise you. the one that hasn't come yet. you have a tricky question, so I have a tricky answer.
what music do you listen to at the moment? I could say philip glass opera, but that sounds a little snooty. have you done one of these interviews with wolf prix (of coop himmelb(l)au)? he claimed that he learned english by listening to bob dylan records, some 30 years ago, and his english is actually very good. certainly better than my german. we're reasonably close friends and text back and forth, but the trick is to message using quotations from dylan. so, I guess the answer to the question is that I've been listening to a lot of old bob dylan albums lately.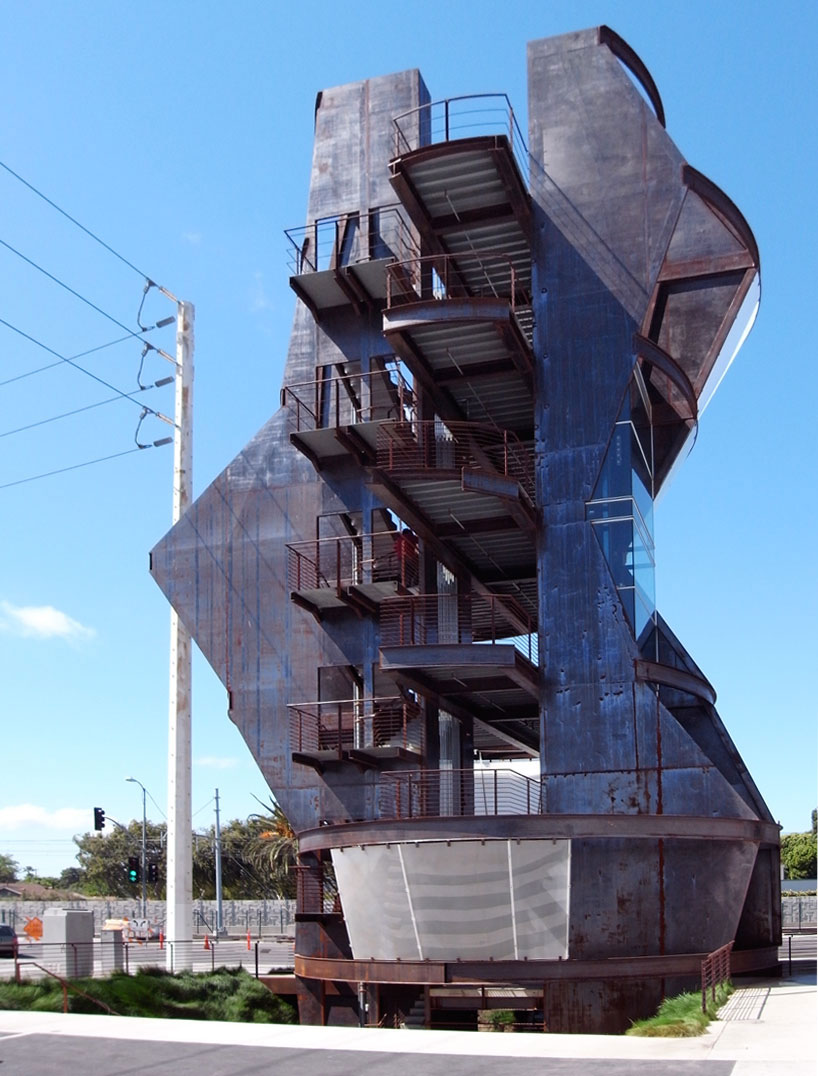 'samitaur tower' in culver city, los angeles, california image © designboom read more about the project here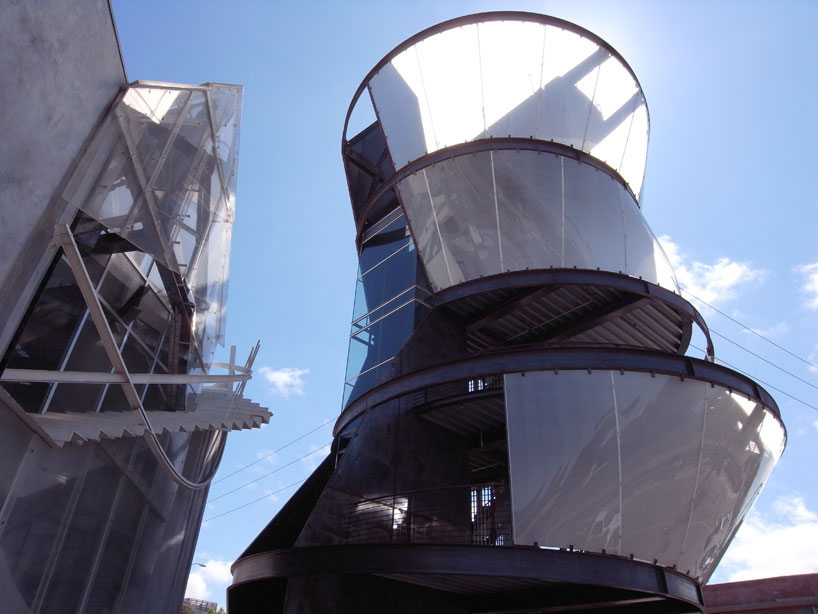 street side elevation image © designboom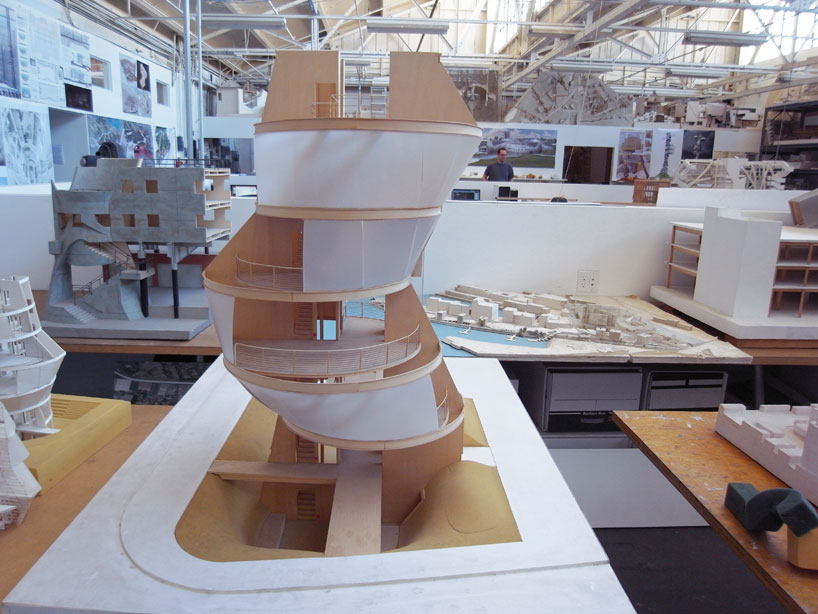 model of the 'samitaur' tower image © designboom
what books are on your bedside table? it's called 'blood money' – I would have to check. I don't know the author, but emily, my wife, and my kids were trying to get me to read something that isn't (elias) canetti or (søren) kierkegaard. recently I finished 'the girl with the dragon tattoo' by stieg larsson, you must have read that. it's one in a series of three and follows the life of a contemporary radical young woman, lisbeth: what does she do, how does she think… she's a mathematical and computer wizard. she has a lot of very peculiar skills– she's a computer hacker etc. and, she has a special tattoo. it has a very complicated plot– politics, art culture, sexuality, a very different version of what it means to be 25 years old in the world for a woman. to me it's just interesting how culture evolves and to see what the definition of a heroine could be. she isn't joan of arc, but she has a kind of ethical side. I think a book like that might be interesting in a hundred years. sometimes you read these things not so much for the story, or its meaning, but what it says about the time and the culture of when it was actually written.
do you read design / architecture / fashion magazines? not so much anymore. there was a time here at the office when we used to get every issue of GA, every abitare, every domus, every a+u… once in a while we still do when there are unusual essays written about the progression of modern architecture from a historical point of view. but we still put up magazines when a project is on the cover, just like many other people do.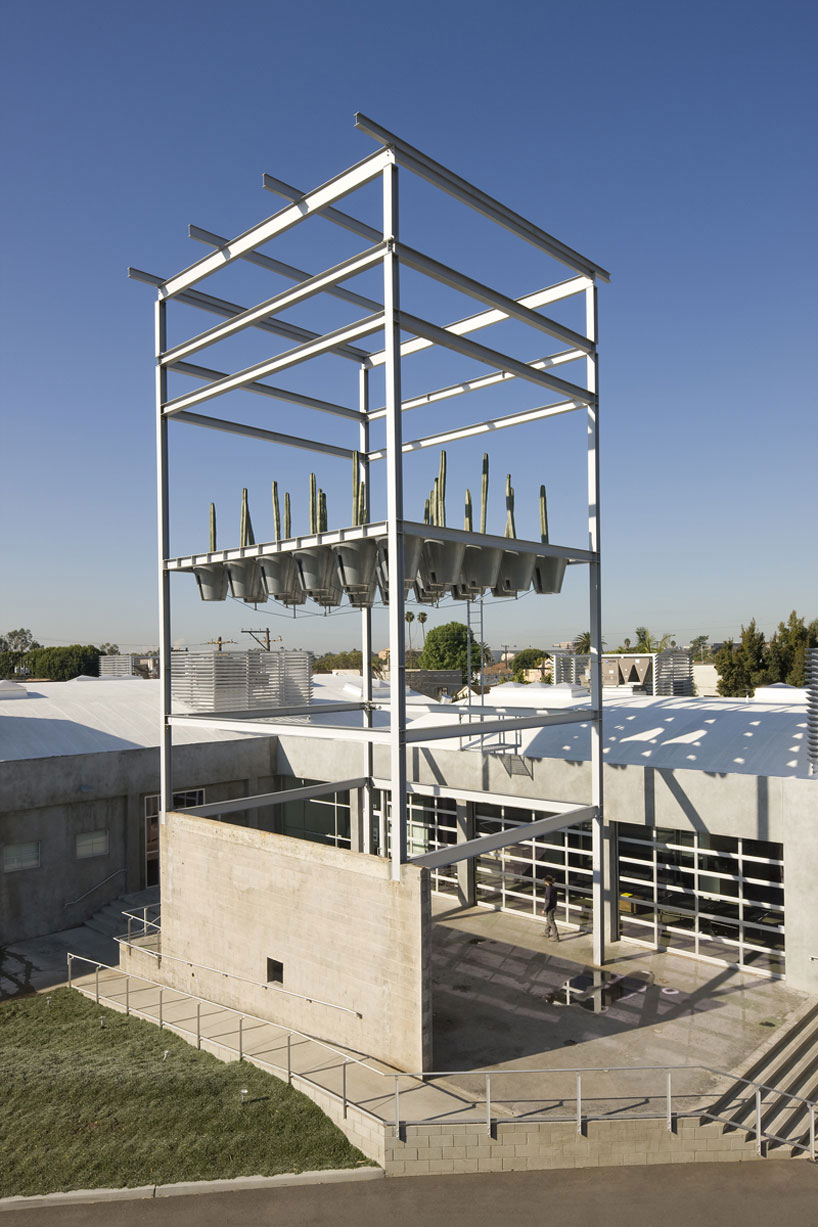 cactus tower, culver city, california image © tom bonner read more about the project here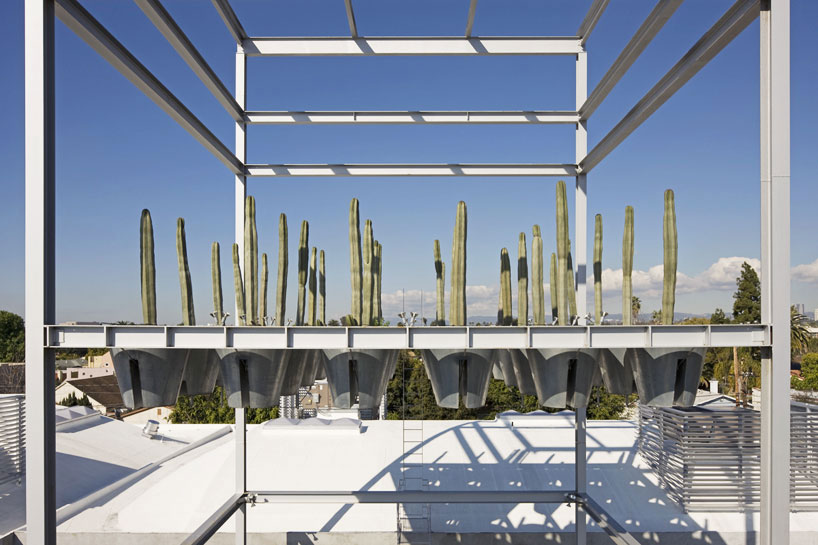 detail of the cactus tower image © tom bonner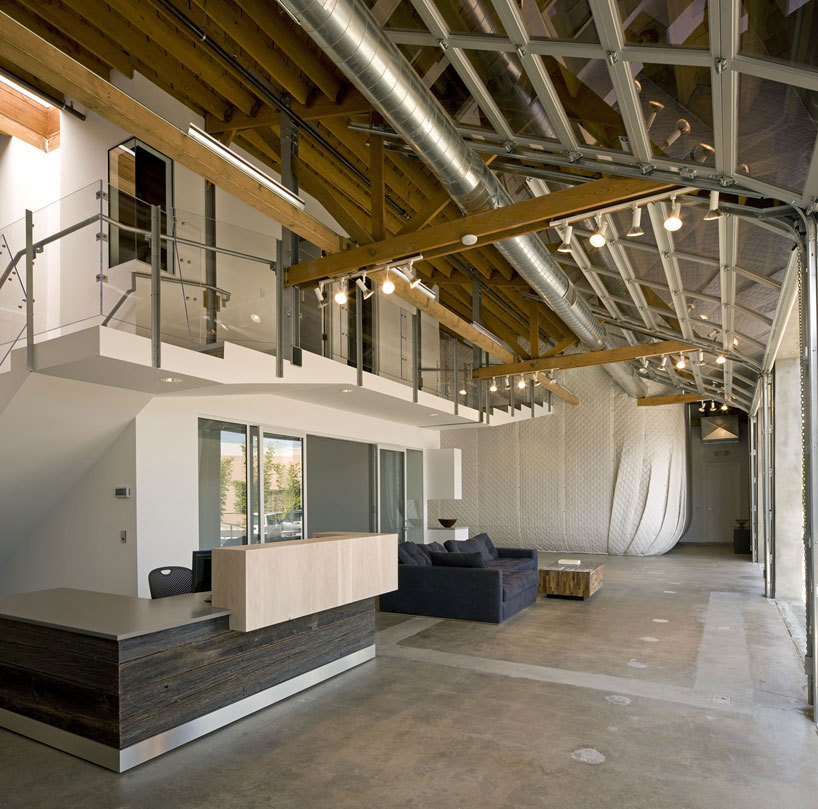 cactus tower reception area image © tom bonner
where do you get news from? I mostly look at things online these days. occasionally the television.
what kind of clothes do you avoid wearing? look at me. I'm a simple guy when it comes to fashion.
when you were a child, did you want to become an architect? I was actually always interested in architecture. my mom was collaborating with the architect (richard) neutra when I was a kid. she worked on a project with him, but I think what you think a profession is, and what it turns out to be, are always different.
where do you work on your designs and projects? mostly in studio and when I'm traveling and something comes to mind, or I have an interesting conversation with someone I'm writing things down.
do you discuss your work with other designers? as I mentioned before wolf prix is a good friend. and the other day zaha hadid's partner patrick schumacher was in town giving a lecture at a symposium at the AIA (american institute of architects) on so-called parametics and we sat down to have a chat… frankie (frank gehry) is down the street and we talk sort of regularly, or irregularly. and thom mayne is close by so we call one another.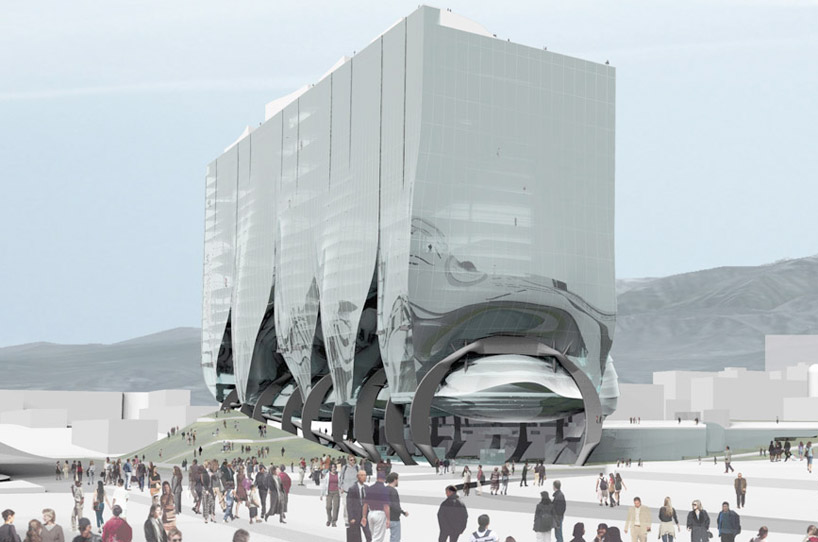 republic square, mixed-use tower in almaty, kazakhstan read more about the project here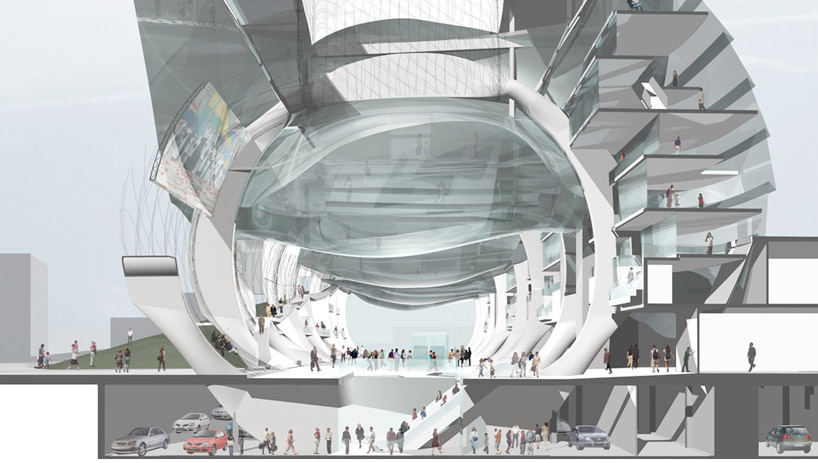 section of republic square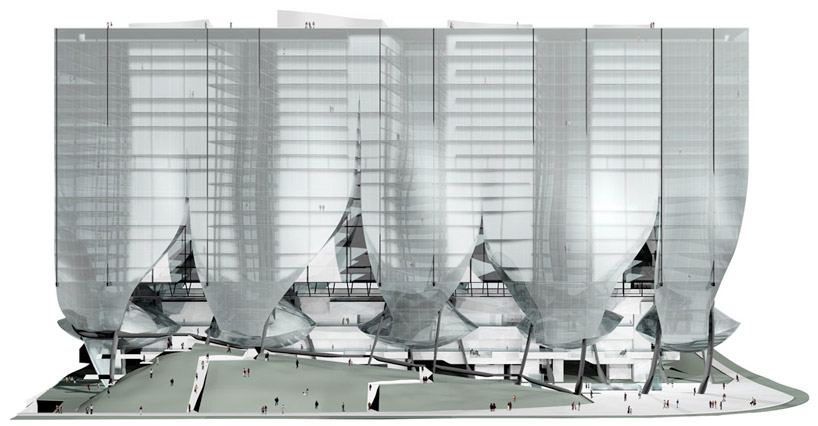 elevation of republic square
describe your style, like a good friend of yours would describe it. that I am comfortable being uncomfortable in a way. that I don't want to set-up a hypothesis for which a certain point in my life is fragile or tentative, or experimental, and then confirm it and sustain it and ratify it, and then do that over and over and over again. I'm always saying there is time for experimentation. that you have to take a point of view, and you have to believe it. at least sufficiently enough to sustain your vision in a project.
please describe an evolution in your work, from your first projects to the present day. I think there are a lot of differences. I think if it goes in the right direction there should be, some variance, and some suspicions of what was before and what is now. the projects we're working on today are bigger, but I hope that doesn't mean we're developing more of the same. I want people to see them as a framework for analysis, that they're visually or experientially different… we learn things because everybody always talks about how you educate yourself and you get better. what they don't talk about is how you unlearn. because you know, almost inevitably, if you sketch, and watch anybody's drawing over a long period, they render the same things. I remember frank (gehry) used to have a student from yale, and we were in london and she was working for (james) stirling. it was three in the morning and we were wandering around. we went through stirling's office to have a look and nobody was around. she had the key because she worked there– and we were looking at all this 'stuff' and I remember observing the drawings, and sketches, and people were churning out the same things. over a long period of time, I don't know. it becomes almost like a signature. in other words, you look at your signature from five years ago and it's the same! I think this is an odd thing to say, but you have to sort of teach yourself. this is something I knew intuitively, whether I'm actually doing it is another story– there are people that argue I am, there are people that argue I'm not, but you have to learn to alter your signature.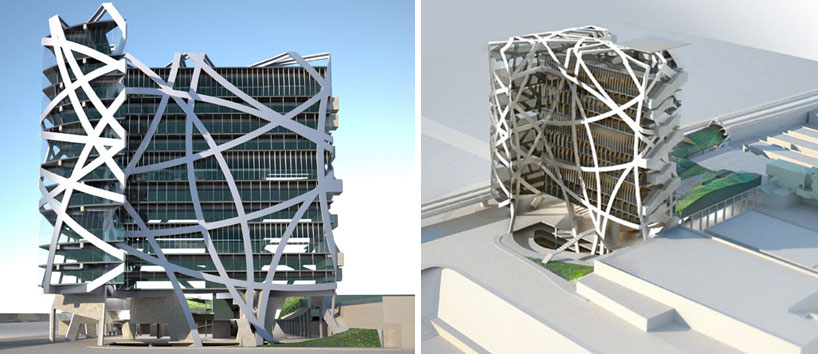 'glass tower' in south central los angeles, california read more about the project here
what project has given you the most satisfaction? I don't have an answer for that. for me, over a period of time, you're more self-conscious, more self-aware. whereas there's probably other periods in time, when the work is more instinctive. you might know something's not right but you don't necessarily have the speech to give, to tell everybody what they should do. you have to see the limits and the 'unlimits' of your own work. having sufficient conviction and sustaining the conviction in the course of a project, but simultaneously having enough of what is either self-effacing, humbling, or suspicious enough, to look at the world and understand all the arguments that are made, and all the arguments that are unmade.
who would you like to design something for? I would have loved to collaborate with archigram. those guys were coming up with some pretty futuristic concepts and projects for their era. there isn't really anyone contemporary who is quite as radical as they were.
is there any designer and/or architect from the past, you appreciate a lot? I have two answers to that. I think (antoni) gaudì and erich mendelsohn were interesting to me. later on, jim stirling, an unusual architect in many ways. there's an compelling relationship between, moses ginsburg, a russian architect from the 20s, or le corbusier, or richard meier, or charlie gwathmey. you know, there is a certain linguistic similarity which wouldn't mean necessarily to me that the right lessons had been learned. I don't think repeating in architecture, although it may be a compliment, and most of the time this happens, is really the way to go.
and those still working / contemporary? frank gehry, not because we are friends, but his work is quite prolific. particularly at the time when he began his practice, it was an era of triangles, parallel rules, circle templates… he took CATIA, an aerospace software, something that was foreign to architecture and experimented by making and drawing things using it. he was almost in a way abusing and misusing it and re-representing what the tool could actually accomplish. he was doing things with the program that didn't exist yet to create his forms. and now, the efficacy of the tool has been established, and now everyone can use it to create the forms that frankie was doing over 10 years ago.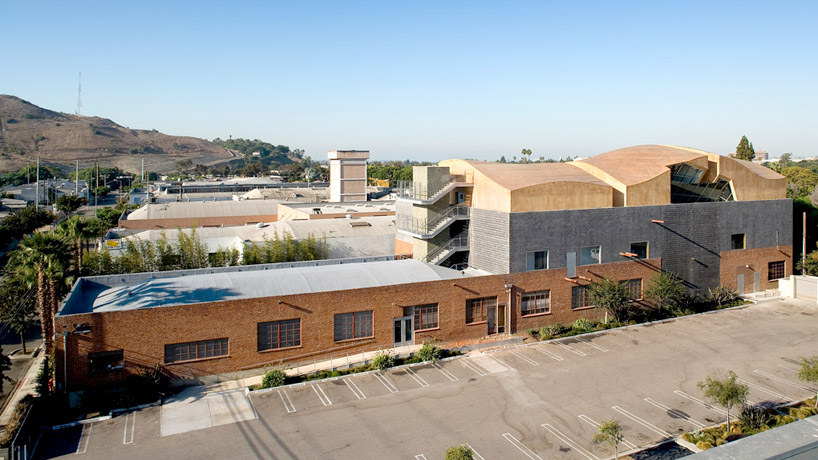 3555 hayden in culver city california image © tom bonner read more about the project here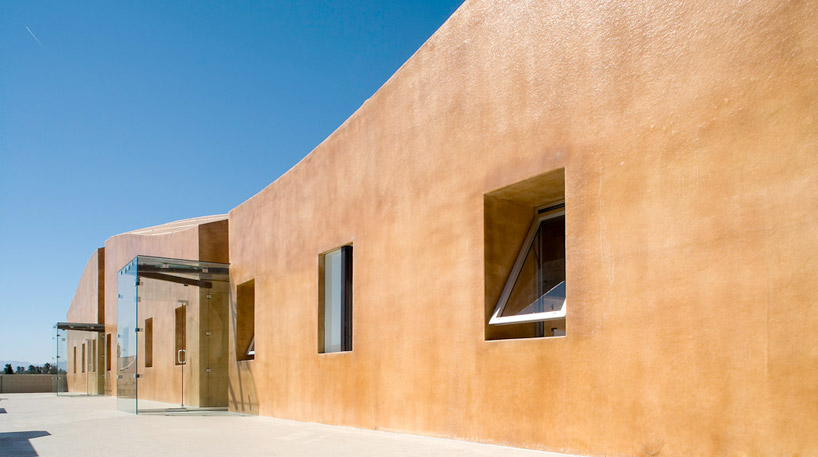 entrances to 3555 hayden image © tom bonner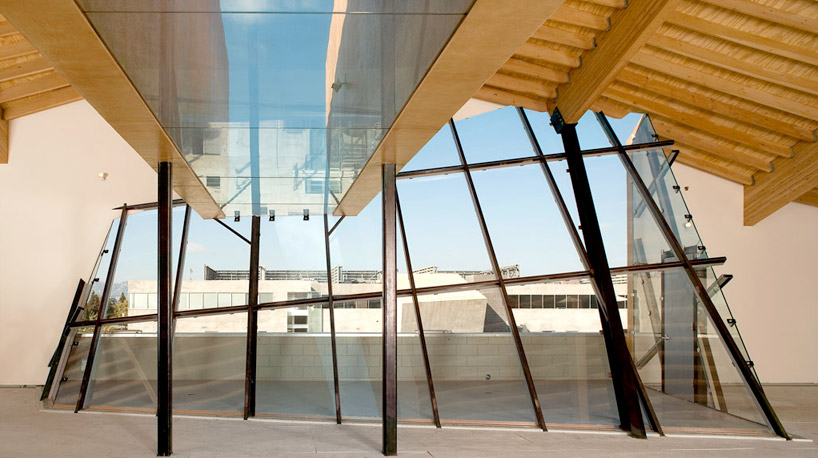 interior of 3555 hayden image © tom bonner
eric owen moss on 'what advice would you give to the young?'
what advice would you give to the young? I find these days a lot of younger people these days are extremely conservative… but I m not so comfortable pontificating. there are a lot of places in the world, probably most schools, that would say, 'okay! you want to be a radical architect? use maya, use rhino, write this script, use this CNC machine, vacuum forming, laser-cutting, plasma-eating…' whatever it is. these tools are fantastic, don't get me wrong. but even though I have taught in a lot of places, and continue to be involved in education–as do a lot of contemporary architects for whatever combination of reasons, I am not sure I would want to tell somebody how to do things, like 'use this software'.
something in my experience is, you get a lot of bright people and if they think your opinion is substantial, they'll stay up 10 nights in a row and make sure they do it, and you like it. I think there are probably other schools, other venues, where in a sense what you need to do is both listen, and see where it works and see where it might not work. 'this is what you say, but this is what I say', and what you're encouraging in people is, a kind of independence, a kind of self-reliance, and a willingness to make personal judgments and to take the consequences of those judgments.
I don't think you move the discussion of architecture if you're so happy, and everything in the world is working. because then, if everything is functioning, then you tend to continue to do what you would do anyway. I think you have to be disappointed or frustrated or angry. you have to see that the world could be something other than it is, different than it is. and that you also have to think you can make it go somewhere else. whether it's better or for worse is a more philosophical discussion, and I think that's what makes people change things, regardless if it's writing something, like you do, or composing an opera, or writing a book or something. it has to be different.
what are you afraid of regarding the future? I think I'm afraid of everything. I mean, I'm not sure exactly what you mean by that, and I'm not even sure what the future means per se. you could talk about it in a personal way, like your kids for example. you want them to have a good education and to be intelligent. you want them to have some kind of social skills. you want them to be able to do gymnastics or play football or whatever. on a personal level, you would like fewer car accidents, fewer disasters, fewer sicknesses, and all of that. I think there are some ways that the world obviously changes for the better. I think this has to do with an increased technical capacity– but I think that discussion has two sides. notwithstanding everybody's thoughts about globalization, which is a lot of crap, I think– it's a much more complicated discussion.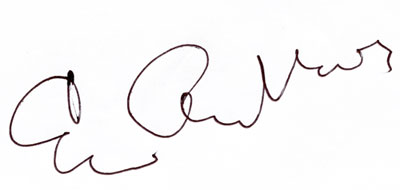 KEEP UP WITH OUR DAILY AND WEEKLY NEWSLETTERS
a diverse digital database that acts as a valuable guide in gaining insight and information about a product directly from the manufacturer, and serves as a rich reference point in developing a project or scheme.
designboom will always be there for you
milan, new york, beijing, tokyo

,
since 1999