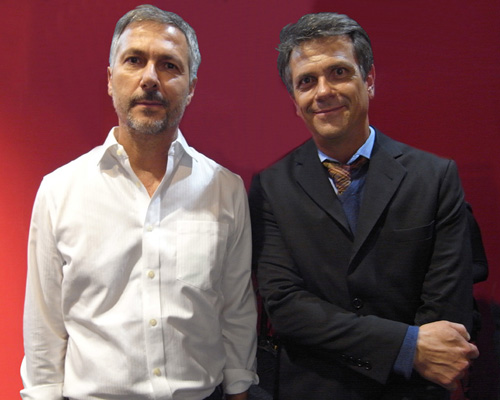 jan 19, 2004
fernando + humberto campana interview
fernando + humberto campana interview
humberto and fernando campana© designboom
we met femando & humberto campana in cologne on january 19, 2004.
femando (F:) & humberto (H:) campana are answering /
what is the best moment of the day?
when we swim in the morning.
what kind of music do you listen to at the moment?
brazillian music.
do you listen to the radio?
no radio… we don't like the pubilicity..
what books do you have on your bedside table?
a bible…

left: humberto and fernando campana© designboomright: campana' s ideal house in cologne 2004
do you read design magazines?
yes.
where do you get news from? newspapers?
newspapers.
do you notice how women are dressing?
do you have any preferences?H: I like women who dress simple, and have a sense of simplicity.
what kind of clothes do you avoid wearing?
H: a tuxedo…F: I don't like to wear exaggerated clothing.

'sushi fruit ' bowl, manufactured by studio campana, 2002photo andrés otero
do you have any pets?
H: I have 3 irish setters…F: a boxer that stays in my mother's house.
when you were a child, did you want to become a designer?
F: me? an astronaut. H: I wanted to be a native indian…
where do you work on your designs and projects?
mostly in our studio, the back part of the studio.
who would you like to design something for?
a garden… to have a possibility to work on an outside project.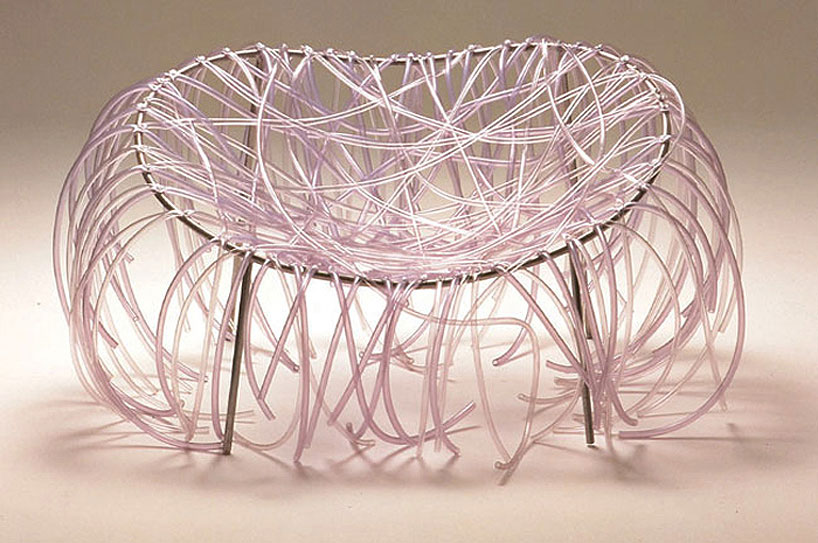 'anemona' chair, manufactured by edra, 2000photo andrés otero
do you discuss your work with architects and designers?
we discuss with some brazilian designers, sometimes we talk about our projects… giving opinions and getting feedbacks.
describe your style, like a good friend of yours would describe it.
very organic,very intensive, and its very emotional… to bring dreams to people, to bring what people have been fed up with daily life, to bring some joys and ironies to people.
can you describe an evolution in your work from your first projects
to the present day?
H: I was a lawyer before, but I gave up and began working with hands… my brother helped and inspired me when I was working with sculpture, metal, and jewellery and so it started to change… F: I had brought functionality into his sculptures, and I think he became more maturein his works… furniture is about function, and comfort and I guess it is interesting to work with the designs, and especially materials which play an important role to us. … I think we need to be contradictive… I don't like to follow the rules, and I think we need to break the rules, to be free/break the boundaries.

left: 'bolas' children chair, manufactured by bozart, 2002
center: 'azul' chair , manufactured by edra, 1993photo andrés otero
right: 'bamboo acrylic' manufactured by studio campana, 2000 photo andrés otero
is there any designer and/or architect ,
you appreciate a lot? oscar niemayer, … he is a visionaire.
and those still working?
shigeru ban, frank gehry, rem koolhaas, renzo piano, so many…
any advice for the young ?
to learn from their mistakes, to get out and investigate.
on the news they said that italians are afraid of unemployment,
criminality and pollution. what are you afraid of regarding
the future?
violence, and afraid of very arrogant people .

mar 21, 2020
mar 21, 2020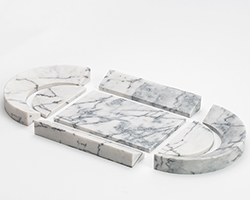 jun 09, 2019
jun 09, 2019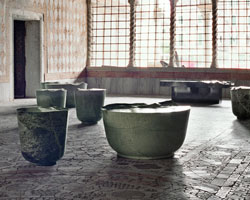 may 06, 2019
may 06, 2019
apr 10, 2019
apr 10, 2019
dec 06, 2018
dec 06, 2018
sep 07, 2017
sep 07, 2017
a diverse digital database that acts as a valuable guide in gaining insight and information about a product directly from the manufacturer, and serves as a rich reference point in developing a project or scheme.