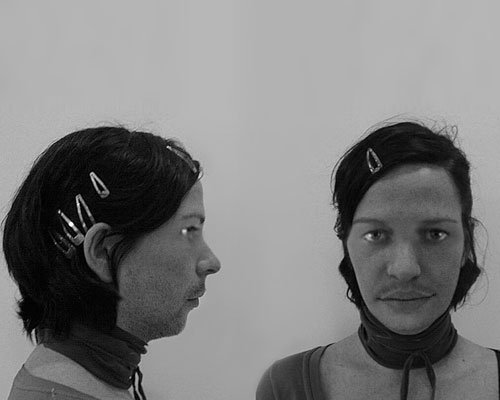 feb 29, 2008
francois roche interview
R&Sie(n)
we met francois roche in milan on january 10, 2008.
what is the best moment of the day?whenever you discover what is behind reality. if you can find a way to open a door, the right door, you see what is inside reality. I really love that.
what kind of music do you listen to at the moment?the last album from radiohead. I always listen to richard james' aphex twin. in electronic music, aphex twin is really important for me. I like the warp label in england. I also listen to a lot of concrète and dodecaphonic music from the 20th century. I lived near the ircam (institut de recherche et coordination acoustique/musique),paris, so I profited a lot from pierre boulez'experiments. györgy ligeti, I also love. I lalso ike the noise music like merzbow.
do you listen to the radio?no, I hate radio. the advertising all the time, I hate radio.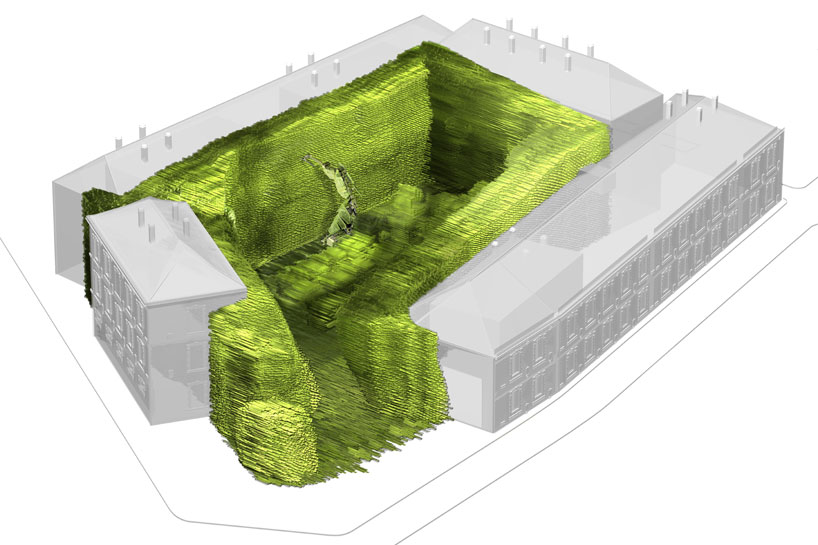 'olzweg' (paris, france), 2006
what books do you have on your bedside table?just now, I'm re-reading 'lost paradise' by john miltonand 'sacher-masoch' by gilles deleuze. it's not such a well-known book about masochism. before his work withfélix guattari and l'anti-oedipe, he wrote a book about sacher-masoch; the writers' developing the contract, the protocol of masochism. in it deleuze analyzed the differences between sadism and masochism, very, very sharply.
do you read design / architecture / fashion magazines?no, never, I hate them. fashion magazines are for thosewith a feminine addiction. I hate that.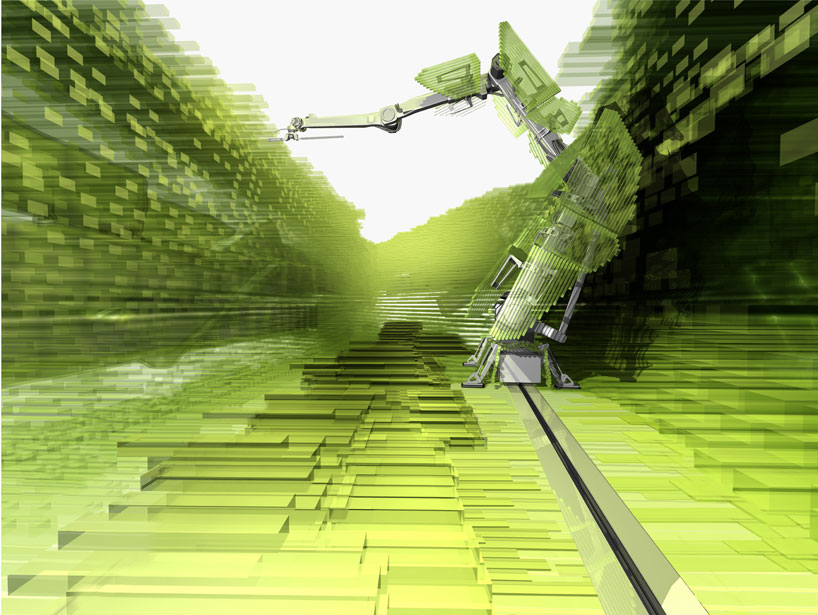 'olzweg' (paris, france), 2006
where do you get news from?I watch TV, with a lot of zapping. I also read newspapers – and like everybody I suspect the news to be wrong or to be orientated. honestly, if I really want to know something, I google. google is king.
I assume you notice how women dress.do you have any preferences?it's a very sexual question. honestly, I never think about this kind of thing; never, never. of course I care, but I never focus on something like this, but I love to be surprised, I love to feel that something could be vulgar. I love this kind of vulgarity, a negotiation with the grotesque and vulgarity.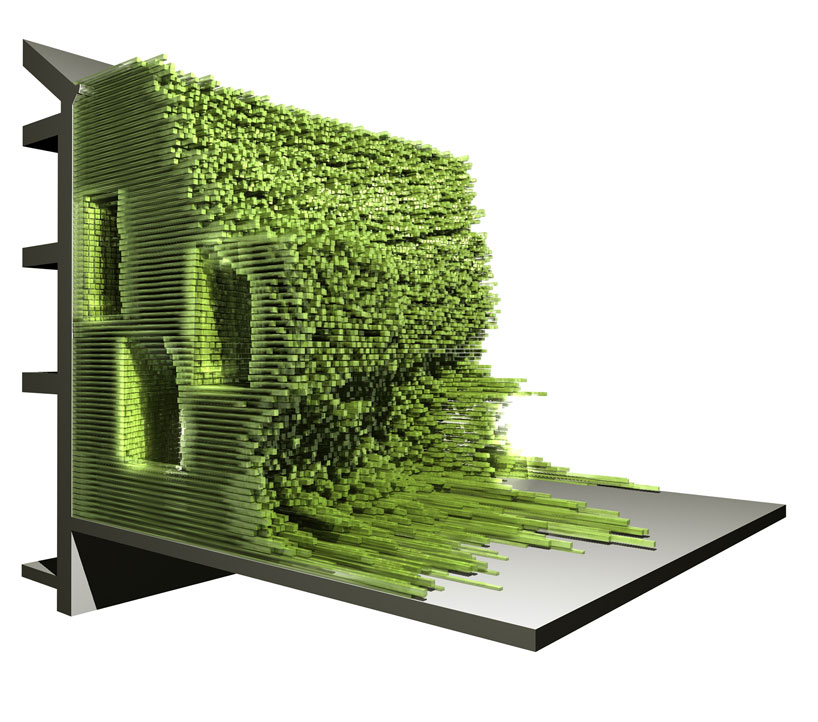 'olzweg' (paris, france), 2006
what kind of clothes do you avoid wearing?nothing, honestly. stretch t-shirts, because I am becoming fat. so stretch t-shirts are a no. I'm 45 and have become a little bit too terrifying in the mirror.
do you have any pets?I have two little red fish and I had dogs and cats in the past. but no snake, no lions, no elephant, no nothing, just red fish in an aquarium. actually, the red fish are swimming inside a casserole dish – not really a fishbowl!
when you were a child, did you want to become an architect?of course not, it's not a vocation. I hate that.
where do you work on your designs and projects?I work day after day at the studio, it's like I do obsessional work, without any genius. just repeating the work, repeating and repeating, day and after day. it's the only way.
do you discuss your work with other designers?yes of course. with my friends, we share a lot. we discuss the notion of sense, notions of tactics, notions of strategy,notions of the reason for what we are doing, from where weare using territories,to justify what we are doing and for who. it's a post-lacanian edict.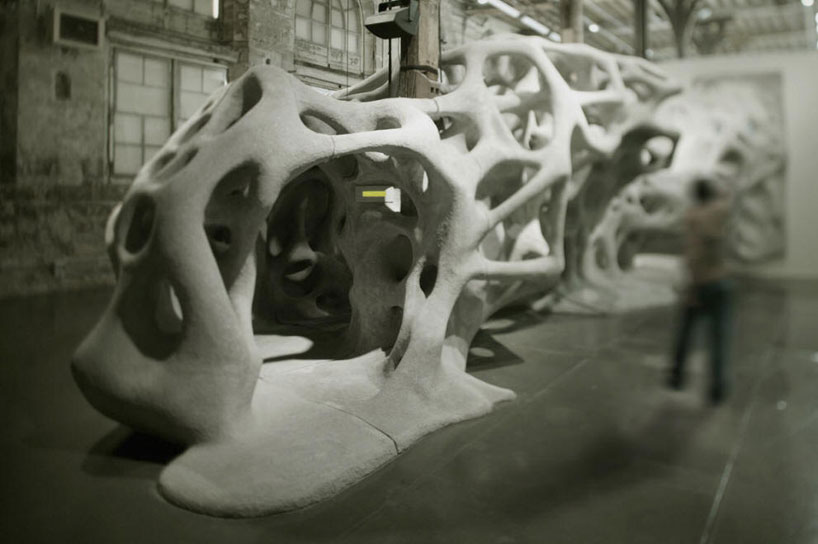 'hypnosis room' (installation at the modern art museum in paris), 2005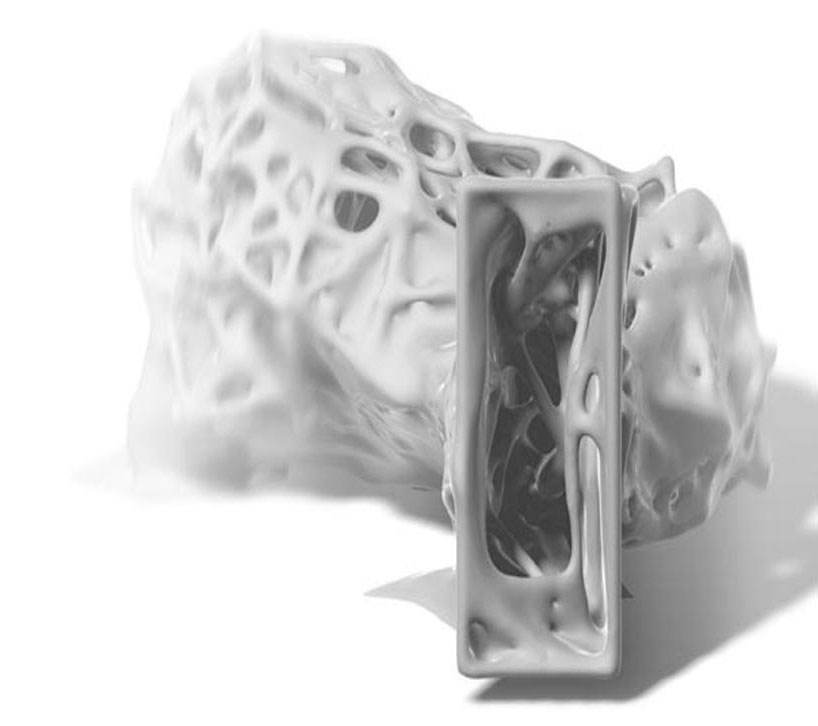 'hypnosis room' (installation at the modern art museum in paris), 2005
describe your style, like a good friend of yours would describe it.I think style is a very interesting notion; for a writer. the style of flaubert is fantastic, it's something like a research. it's a research to find and to develop behind the style,something more important than the style itself. so style is a vector. in architecture, I'm afraid of people using style, just to be recognized by their pattern and to brand themselves. so I hope to avoid being stylish and just to define and answer something specific. in my work, each project develops its own specific answer. I hate style. for example, we change the name of our studio every two years to desacrilize the brand name of the studio, its the same for style.
please describe an evolution in your work, from your first projects to the present day.in the beginning, we were thinking to integrate nature as a substance and now we integrate nature as a protocol, as an algorithm. protocols and scripting protocols. so we re-discovered mathematics, because I wasa mathematician before. I stopped mathematics to become an architect. I hated maths for the ten years I did it.I rediscovered that we could define some scripting for the evolution of plants, to understand the growing systembehind the geometry of the plants. so it's interesting now, because at the beginning we used nature to mimic its substances and now we are trying to understand whatkind of geometry, what kind of unpredictable geometry, we could develop from it. so it's an evolution, for sure.

'hybrid muscle' (chang mai, thailand), 2003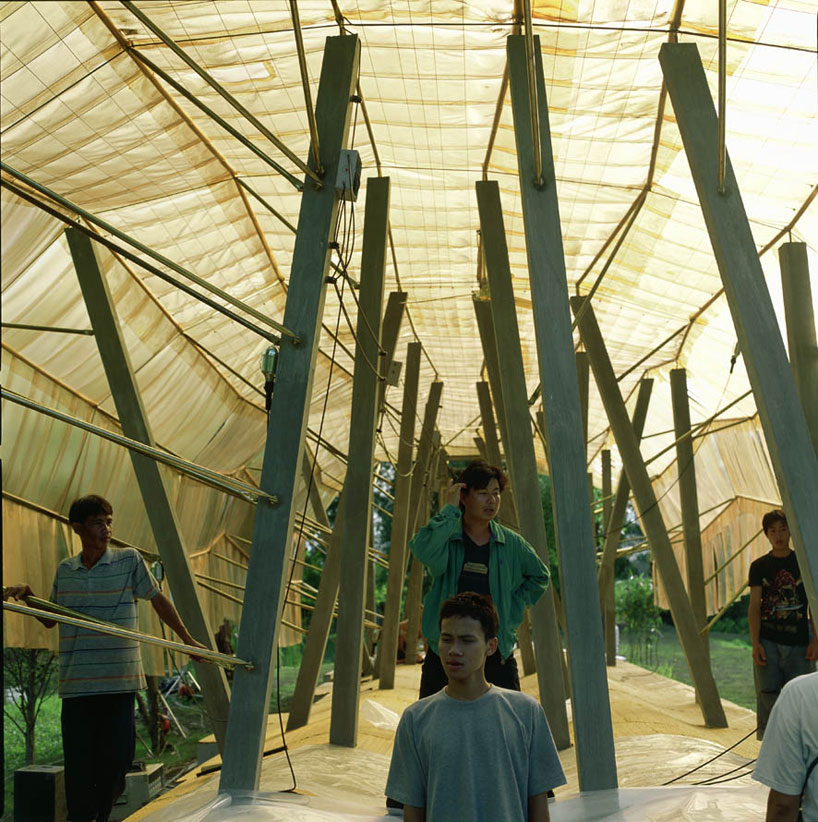 'hybrid muscle' (chang mai, thailand), 2003
what project has given you the most satisfaction?any project where I can tell a story.
who would you like to design something for?no there is no-one. I don't know, I can't answer this questionclearly because it is very naive to wait for your perfect clients. it's very romantic in a way; I'm already romantic enough. I couldn't stoop to this level.
is there any designer and/or architect from the past, you appreciate a lot?villard de honnecourt, he was an architect of cathedrals. he never fully designed a cathedral before construction began. so he just drafted and sketched, like the sagrada familia of gaudi. he is an architect of the middle ages, from the gothic period where everything was shared with the hand workers. they never knew exactly which point they were going to construct; they accepted these kind of experiments of the process. so the design of the architect was a process design, not an achievement design like brunelleschi did with the status of the architect on the santa maria del fiore in florence. so it was before the notion of the architect.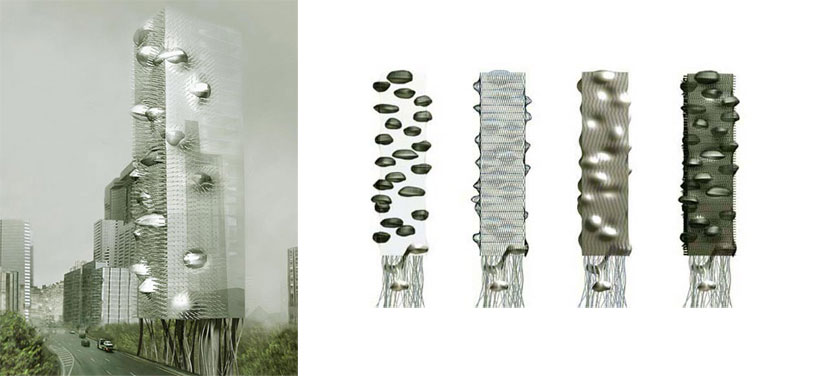 '(un)plug' (paris, france)
and those still working / contemporaries?yes, I love (kazuo) shinohara, but he died several years ago.shinohara in japan, was using the concept of 'zero-degree' shape. he was the first architect, for me, that was trying to escape from post-modernism. trying to escape from the idea of citation, the pleasure of the citation from something you know. he worked a lot to eviscerate the references and to produce something that you can't imagine where it comes from. I love this. he was the first one trying to escape from this addiction of citation, which is very important now.
do you believe in ethics in architecture?ethics, it is very strange. in the spinoza sense, yes. the ethics of spinoza, not ethics in the way we use ethics now: just to avoid using morals. this is because ethics became a kind of fake brother of morals. the ethics of spinoza is something about the rewriting of freewill, recomposing the freewill. I think we have to be very, very suspicious about the notion of freewill in the ethical way.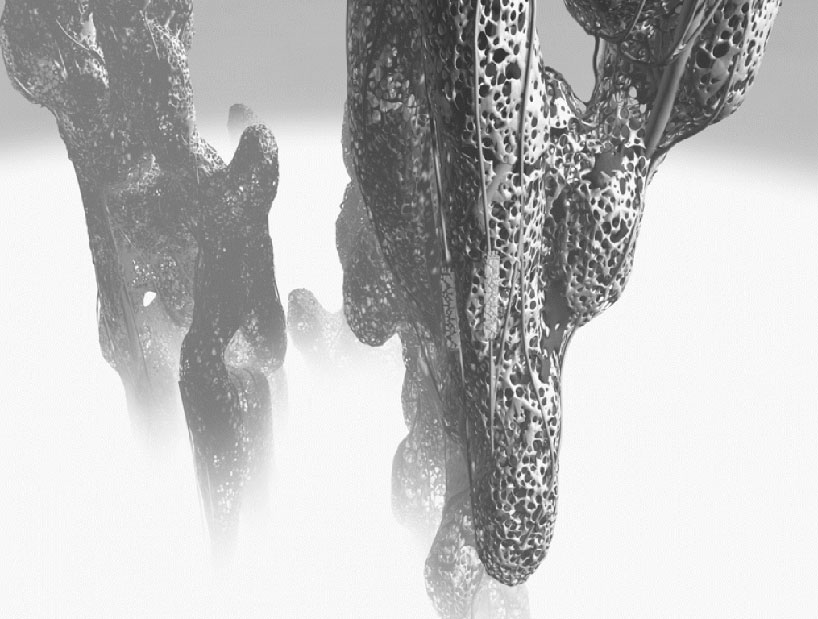 ''i've heard about' (concept)
''i've heard about' (concept)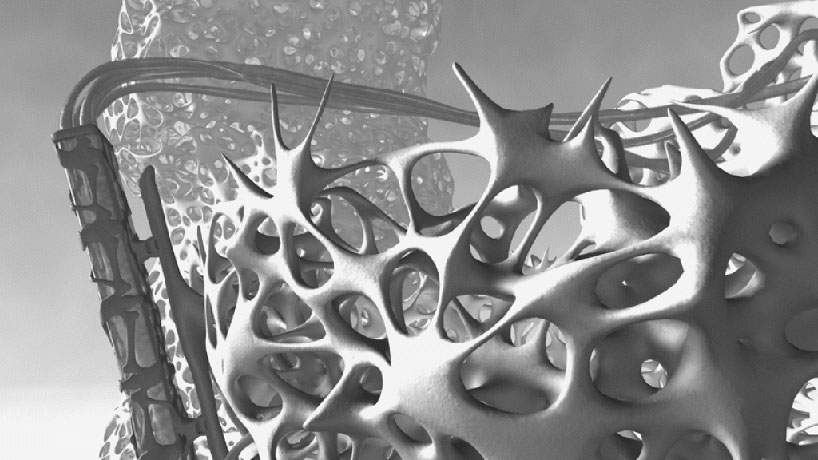 ''i've heard about' (concept)
what advice would you give to the young?to take time and to prepare themselves for a kind of resistance. a sweet resistance, because life is unique.a very kind resistance.

'asphalt spot' (tokamashi, japan)
what are you afraid of regarding the future?looking at the past. looking at the past, form the future; I'm afraid of that. because the past defines the future, the future cannot be. so we have to avoid that. the 'future' is a vintage notion. the 'future' is like when you say modern, modern is a period and 'future' is a period. just remember that the 'future' has been designed in the sixties. so when you talk about the 'future', it's the sixties. so we have to create a new word to define the future, because you cannotbe modern now, you cannot use the 'future' as a key to develop and define the future.

sep 10, 2010
sep 10, 2010
sep 07, 2010
sep 07, 2010
sep 02, 2010
sep 02, 2010
sep 30, 2008
sep 30, 2008
a diverse digital database that acts as a valuable guide in gaining insight and information about a product directly from the manufacturer, and serves as a rich reference point in developing a project or scheme.