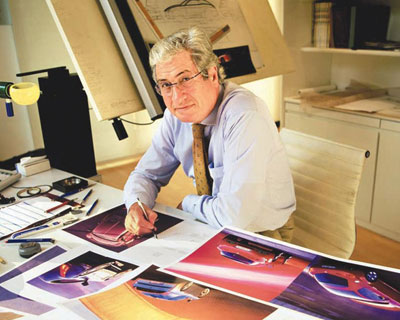 jan 25, 2001
giorgetto giugiaro interview
giorgetto giugiaro image courtesy giorgetto giugiaro
we met giorgetto giugiaro in italdesign's moncalieri (turin) headquarters the 25.01.2001
what is your best moment of the day?
the morning or the evening when everyone has left and I can take stock of the day in peace.
what kind of music do you listen to at the moment?
I come from a family of musicians. everyone played an instrument. but my father decided I should draw, in the end I have neglected music, even if I enjoy investigating its secrets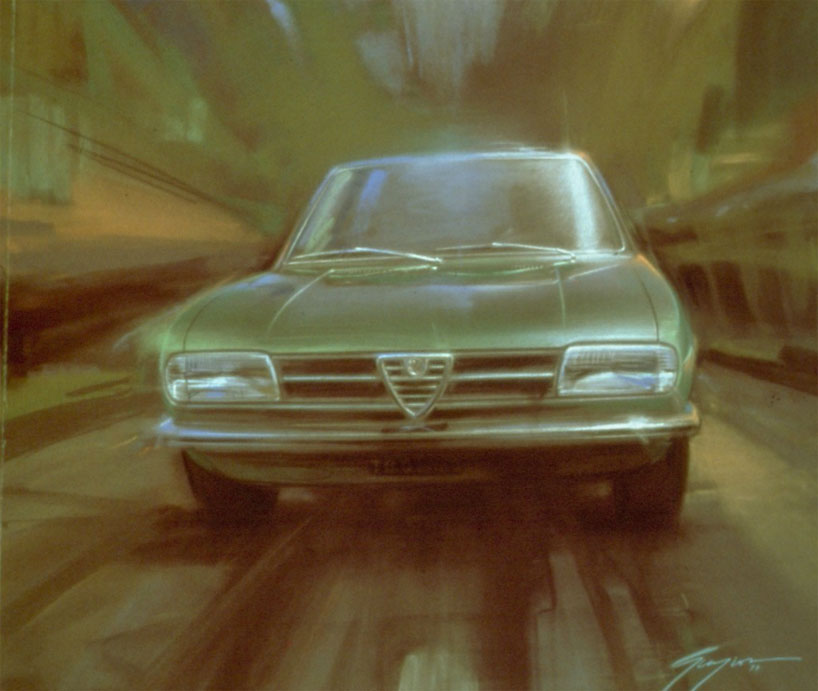 alfa romeo alfa sud, 1971: original drawing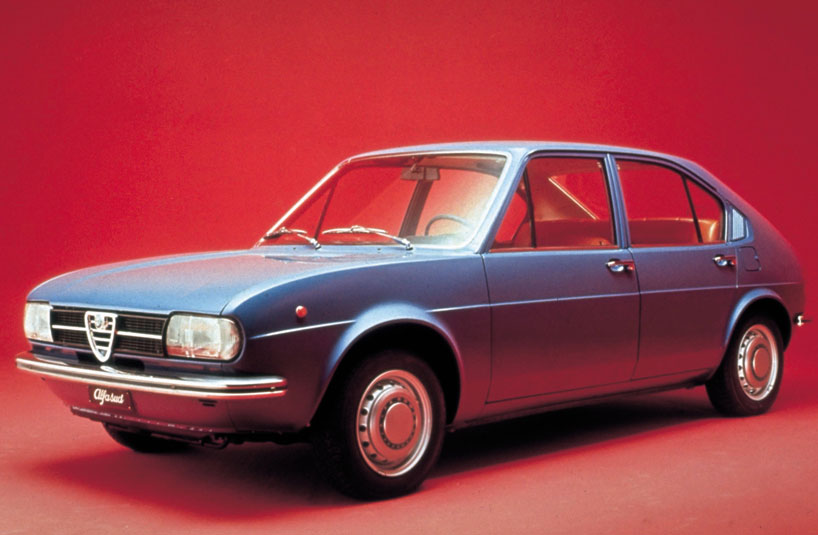 alfa romeo alfa sud, 1971
do you listen to the radio?
no. when I am driving I turn everything off. I have everything in my car: a computer, a navigator, a cd player… but I turn everything off and just think. the only station that you can listen to in all of italy without losing it on the tuner is 'radio maria'. you can tune in from anywhere.
what books do you have on your bedside table?
I like to read the ancient greek philosophers. plato, aristotle,…I do it every now and then in the sense that I have reread them over and over. it is a wonderful way to sharpen your capacity to analyze. or I read books about our time: by giorgio bocca, enzo biagi…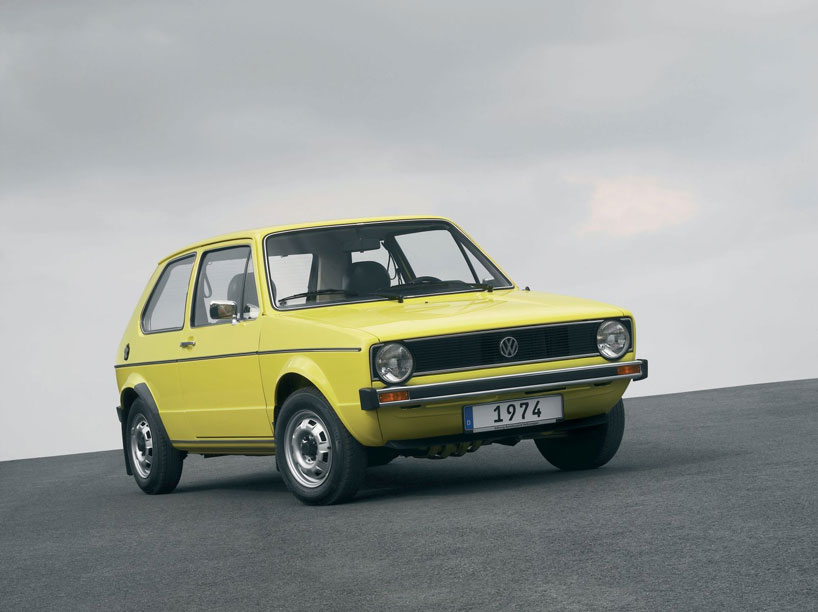 volkswagen golf, 1974
do you read design magazines?
I flip through them, like everyone else… and that is the best way, because you can remember feelings from images without the need for a text that can influence your perception of those images.
newspapers?
where do you get news from? I read la stampa (a daily paper from turin) and weekly magazines.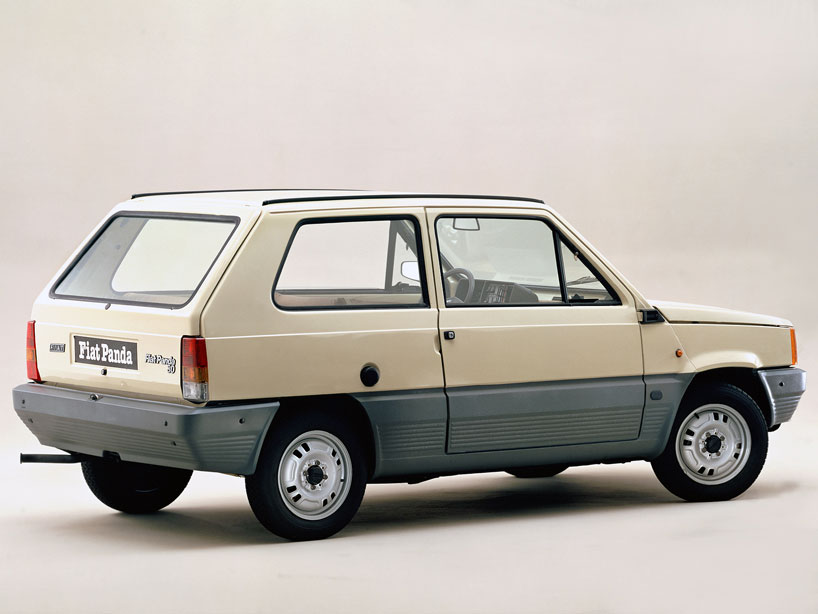 fiat panda, 1980
do you notice how women are dressing? do you have any preferences?
its not like the past when women followed fashion trends, only suits or miniskirts… now there is emancipation in the way women dress, and it is a pleasure to see how a woman creates her own look and then afterwards transforms it.
what kind of clothes do you avoid wearing?
extravagant clothes that get noticed. I don't like the idea in the art world that if you don't dress in a certain way, you're not a good artist. I work in a very serious environment, so I try to put the people I talk to at ease by dressing simply.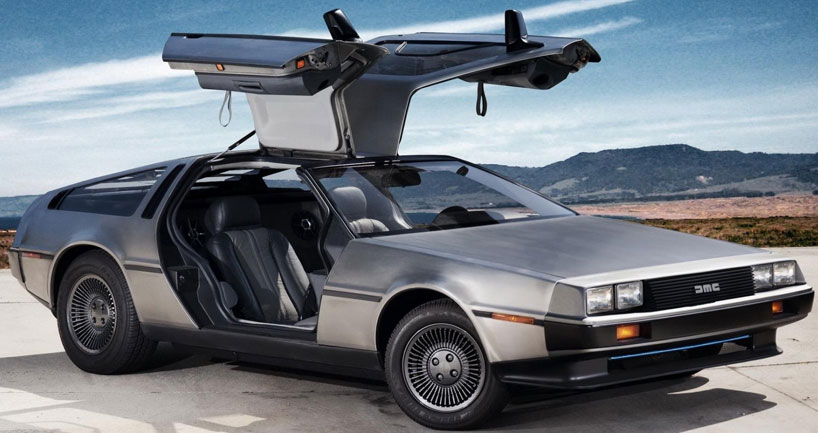 de lorean DMC 12, 1981 star of the movie 'back to the future'
do you have any pets?
yes, a cat. I like cats because they are independent.
when you were a child, what did you want to be?
a painter, I wanted to be a painter and so did my family, who encouraged me to study and paint. one day a professor said to me: being an artist is hard, you starve, use your talent for drawing in other disciplines. I decided to take the job at fiat to have a steady salary. there I discovered the world of creativity. but I still dreamed about becoming a painter.
where do you work on your designs and projects?
here in my office, I start thinking about cars, when I am in this room.
describe your style, like a good friend of yours would describe it.
I don't know if I have a particular style, in order to get at the form of a car or another object I don't look for decorative justifications. it wasn't an architect or a designer who invented objects, but an artisan. his intent wasn't to create a beautiful form, but a functional one. the hammer, the pliers were invented that way. look at these scissors. … those who say that everything needs to be redesigned also design spoons with a curved handle, forgetting that a spoon with a curved handle spills. my philosophy in cars and objects is that the form should be honest, we could say that I try to remove the superfluous and be harmonious, I strive for harmony in complexity. I know that I have to decorate the product, give it a characteristic and an emotion, so that it is not rejected by the market.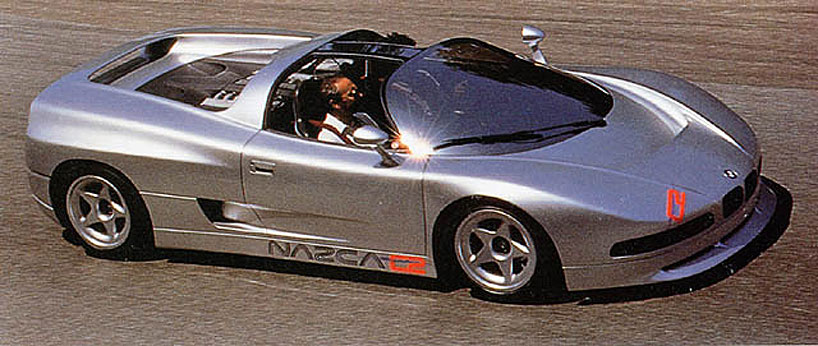 bmw nazca, research prototype, 1991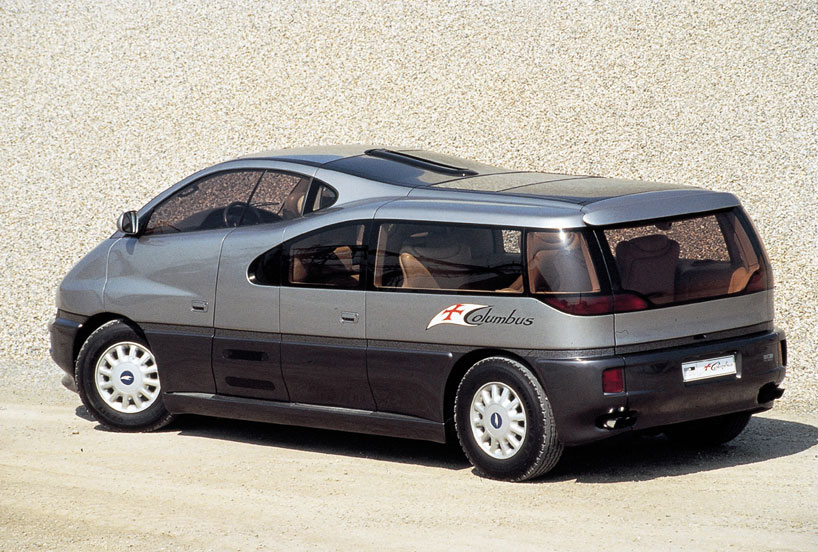 columbus, research prototype, 1992
which of your projects has given you the most satisfaction? and which do you like the most?
many have given me satisfaction, some more and some less. there is not one in particular. I could say that the golf program happened in a delicate moment of my career and its success opened a lot of doors for me.
are concept cars the future vision of designers and car manufacturers
or are they the response to the public's need for new things?
the public doesn't ask for anything. you are the one offering them something. f concept cars are all similar to each other it is because we designers can be influenced. I can influence but also be influenced. in the world there are some incredibly talented designers and there is an infinite number of forms and trends. when I design I imagine that I the first buyer, even for a utilitarian vehicle. when they say that the public demands this or that evolution in style, that's not true. marketing people, as organized and expert as they are, are not able to pass a brief that guarantees success.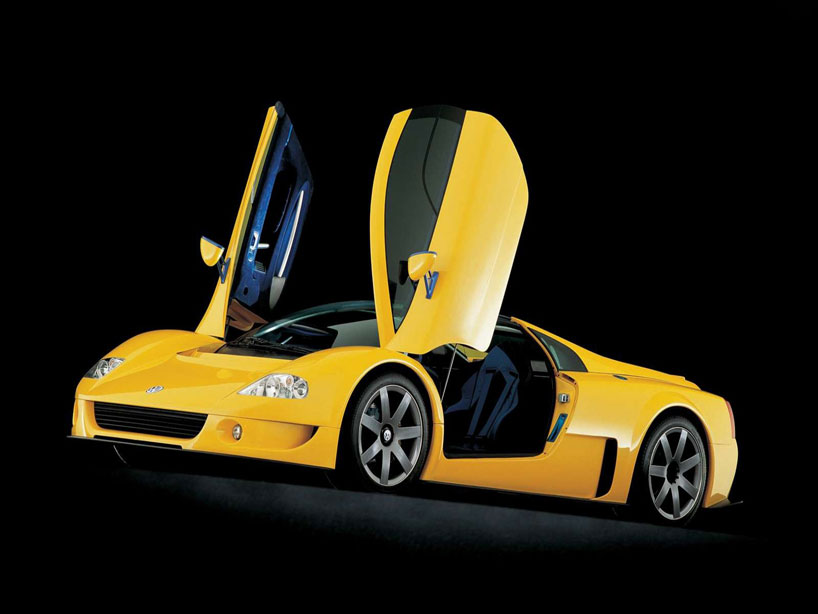 vw w12 syncro, 1997
what kind of relationship do you have with marketing consultants?
often turbulent. the consumer's decision to buy is often instinctive, subliminal. I am not convinced that an aspiring wizard just out of bocconi should dictate the decalogue to the car people. except in exceptional cases, which might exist…
research for new materials, testing them, sensitivity towards the environment
and pollution have opened new horizons in car manufacturing.
what do you think it will be like 10 years from now?
at italdesign we are 'spoiled' by researchers who share the latest materials, patents, systems with us. it is vital to keep up with this fast development because innovations make everything that existed before obsolete.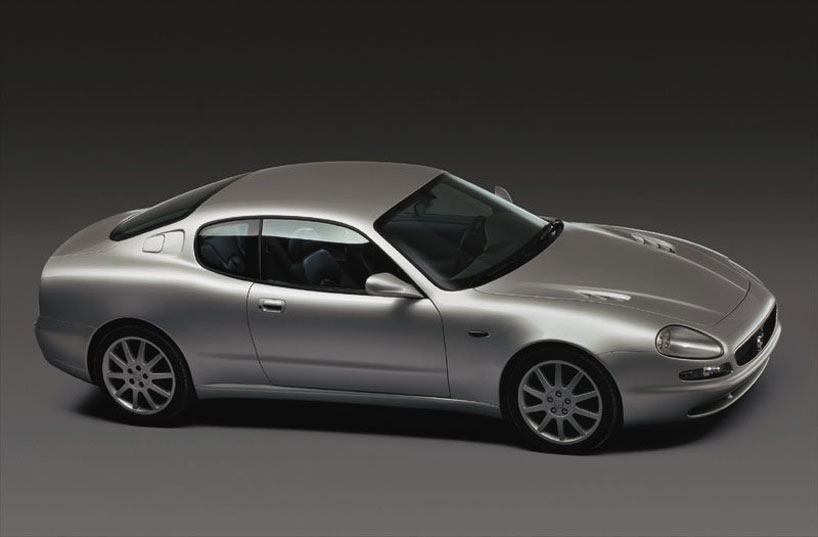 maserati 3200 GT 1998
who would you like to design something for?
I would like to design for the space industry, a world of high-tech objects: space stations, where luckily marketing has little or no influence on the product
when you are working, do you discuss or exchange ideas with your colleagues?
in companies with an infinity of experiences and technical capabilities it often happens that there are discussions. rather we never seem to find the time to dedicate more days (after the press conferences) to salons to have the opportunity to discuss the new tendencies together.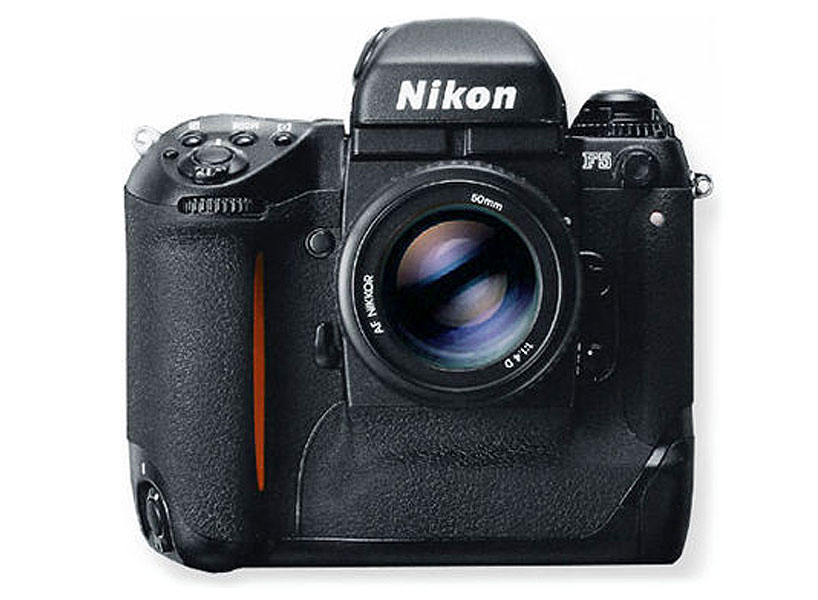 nikon F5, 1996
is there any architect or designer from past you appreciate a lot?
they are many: bruno sacco at mercedes. renzo piano in architecture.
what do you think about the spreading of knowledge via internet?
do you consider it as a tool for sharing knowledge,
or do you think it is a sort of 'big brother'?
it is a tool. it has infinite possibilities. a huge amount of information, before unimaginable, is available. but it is too totalitarian, you can spend all of your time in it, not getting anything else done.
on the news they said that italians are afraid of unemployment, criminality and
pollution. what are you afraid of regarding the future?
what i fear the most is impersonalization through mediating instruments. I dialogue with you but I don't look you in the eye. I don't know if you are lying… in a small town you go into a shop and you dialogue with the shop-keeper, in whom you place your trust in choosing products. if you go to a supermarket, who do you dialogue with? this process of reducing human relationships for economic profit worries me.
nov 28, 2018
nov 28, 2018
jul 01, 2018
jul 01, 2018
jun 04, 2018
jun 04, 2018
mar 06, 2018
mar 06, 2018
feb 23, 2018
feb 23, 2018
aug 07, 2017
aug 07, 2017
a diverse digital database that acts as a valuable guide in gaining insight and information about a product directly from the manufacturer, and serves as a rich reference point in developing a project or scheme.