gwenael nicolas portrait © designboom
— designboom met french designer gwenael nicolas of curiosity at his studio in tokyo. —
what is the best moment of the day? when my daughter comes and wakes me up in the morning.
what kind of music do you listen to at the moment? I have no idea. this! (laughs and motions to the music playing in the background) what I listen to is totally random. I want to be surprised and discover new things. it's japanese music on this side (points to his left). it's international music on this side (points to the right). sometimes I go to the other side and ask 'who is this artist?' japanese or whoever it might be.
do you listen to the radio? usually I listen to french radio from paris and british radio from london because I attended the RCA (royal college of art). I really enjoy english music. when I hear something I like, I immediately write the artist down and try to find out who they are. on my computer, I have all notes of musicians whose music I want to find and listen more of.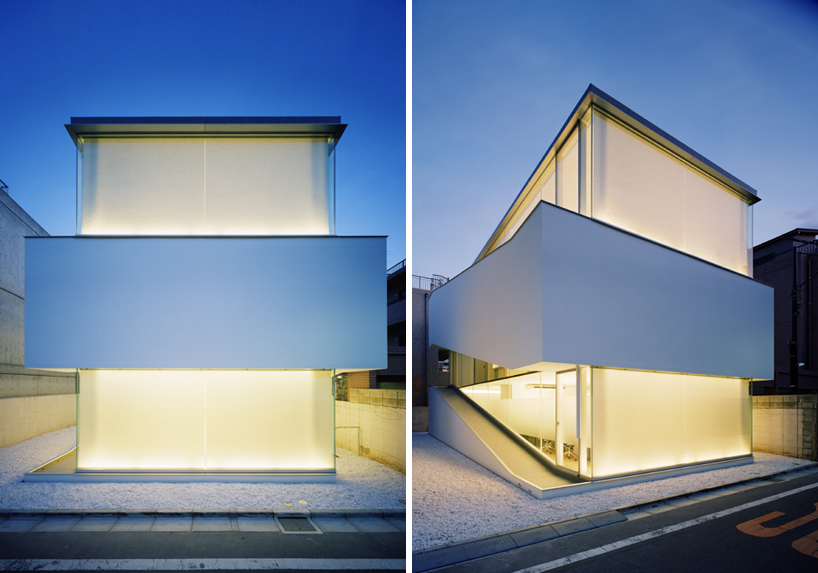 'C-1 house', tokyo
what books do you have on your bedside table? a book of (david) chipperfield, the british architect; and photographer jean louis sieff. he just wrote a french poem, because I am learning the language now because I have to work with french people. I forgot the pleasure of the language. it's like a game, kind of like ping pong, going back and forth. I've been here in japan for twenty years so it's been that long since I've been speaking french everyday. I force myself to speak it with my daughters, english with my boss and japanese with all the staff, so it's kind of confusing!
do you read design / architecture / fashion magazines? a lot of books. not really magazines.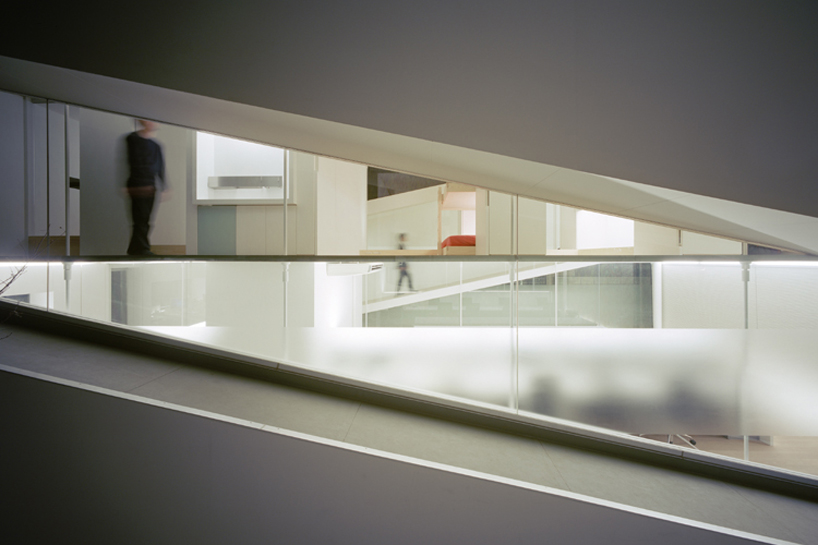 'C-1 house' interior with view of internal ramps guiding people through the dwelling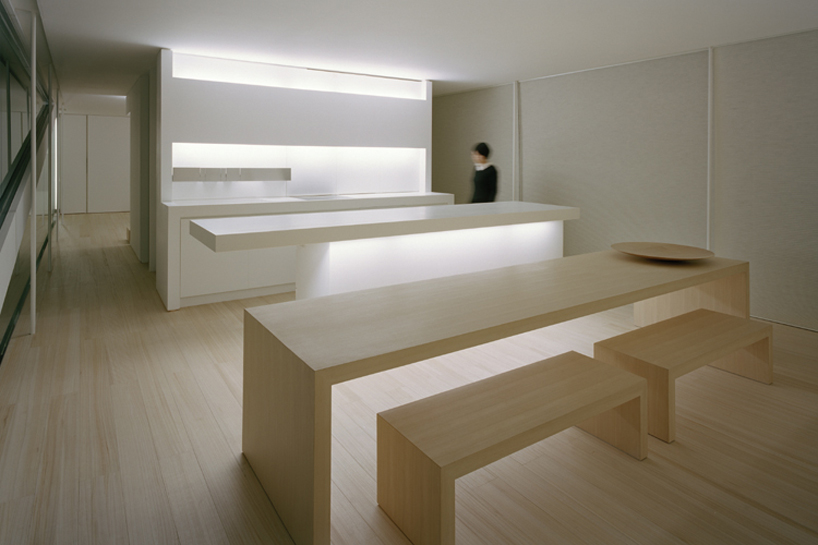 kitchen area
where do you get news from? I don't actively get news much because it is everywhere. you cannot escape from it in a way. I ask my staff to tell me things I don't know because I don't read japanese. every week, we have a meeting on wednesday morning and everybody comes around the table and shares some news. we ask 'what did you discover last week?' anything's okay. whether they went to an exhibition, they cooked a new dish… we just share whatever it is that we have learned in the past week, and it can have nothing to do with design. I want to know what people are doing and why they are doing it, so in terms of information for me, this is most important. I think the news should be like this. this happened, why did this happen, who did it and what were the thoughts behind it. that's interesting and encourages me to move in my own directions.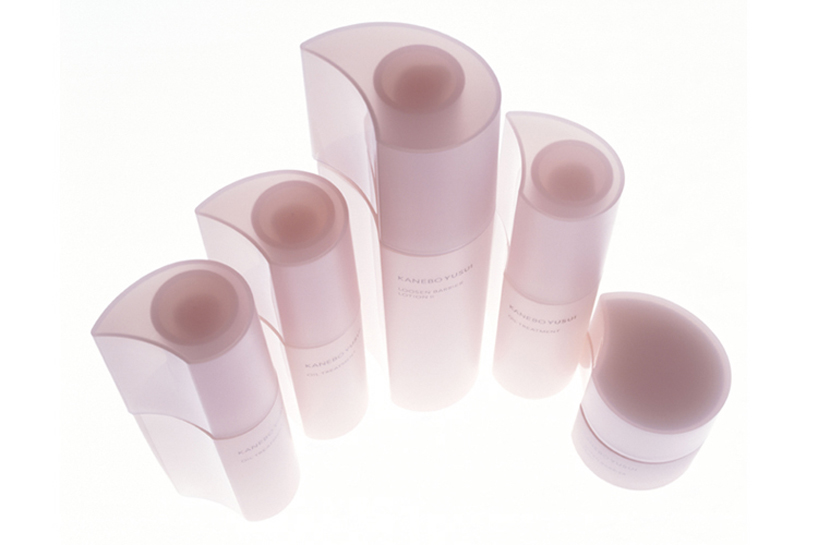 yusui, kanebo skincare packaging
you said fashion interests you a lot, I assume you notice how women dress… it's the same. men's fashion is significant to me. it's very simple, defined with codes which you can shift a little bit. women's fashion is important for its complexity and organic nature, always stimulating. they're crossing each other all the time so that's interesting.
what kind of clothes do you avoid wearing? women's clothes. (smiles and laughs) I used to buy women's clothes actually because the trend for men's garments was really wide cuts and I didn't like it, so I would just buy women's clothes which were wide for them, but just right for me.
observing women, do you have any preferences? no. but the way a woman dresses tells something about her which is nice. you cannot fool someone.
no favorite designer? no. everybody has the potential for greatness.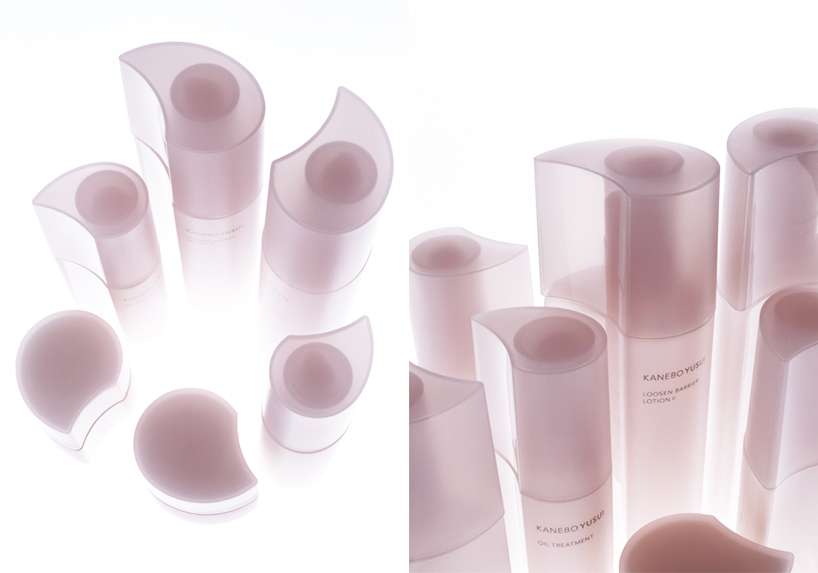 details of the cosmetic bottles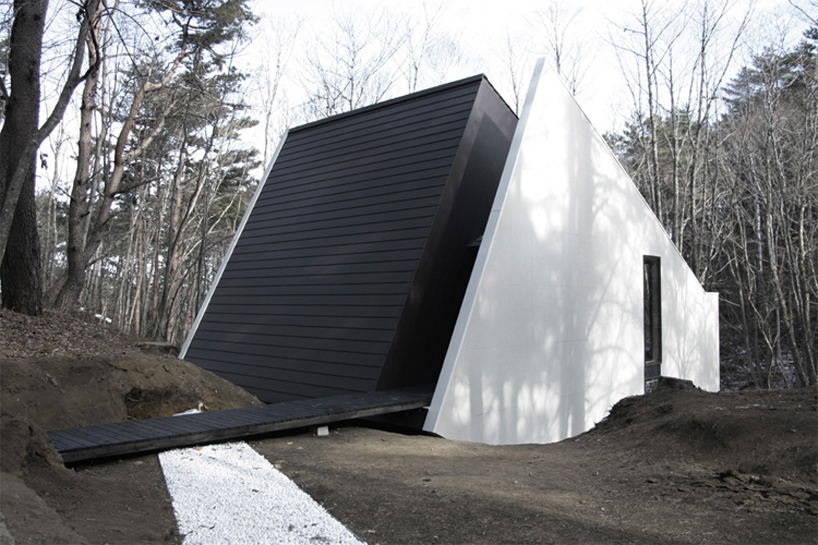 'C-2 house', yamanashi
do you have any pets? no. I have two monsters at home so that's enough (smiles). two angels too. two angels and two monsters.
when you were a child, did you want to become a designer? I didn't know what designer meant at the time. my one brother is an architect, the other is a movie director who works for george lucas and has been involved in movies like 'transformers'. the day I became a designer, he brought me to see the first 'star wars'. it sounds very cliché, but this was when I realized that we can create anything. we can create a world if we wanted to. everything can be imagined and thought out. this was a fantastic realization. that's why I came to japan, because here, that's possible. nobody asks me what kind of designer I am. it doesn't matter. I've never been asked in my 20 years here. everybody comes up with an idea and asks 'have you done this before?' 'not really.' 'what's your opinion about it?' and then they ask me to design something.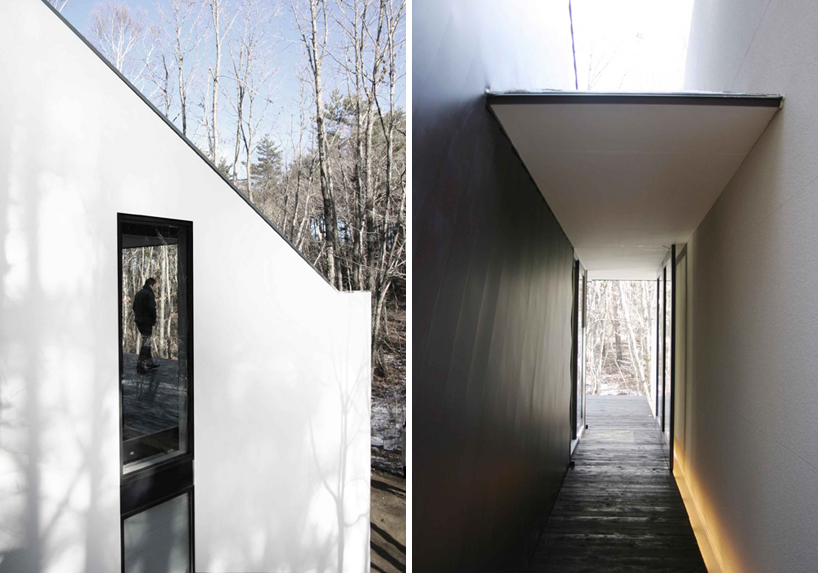 surrounding landscape and outdoor walkway of the house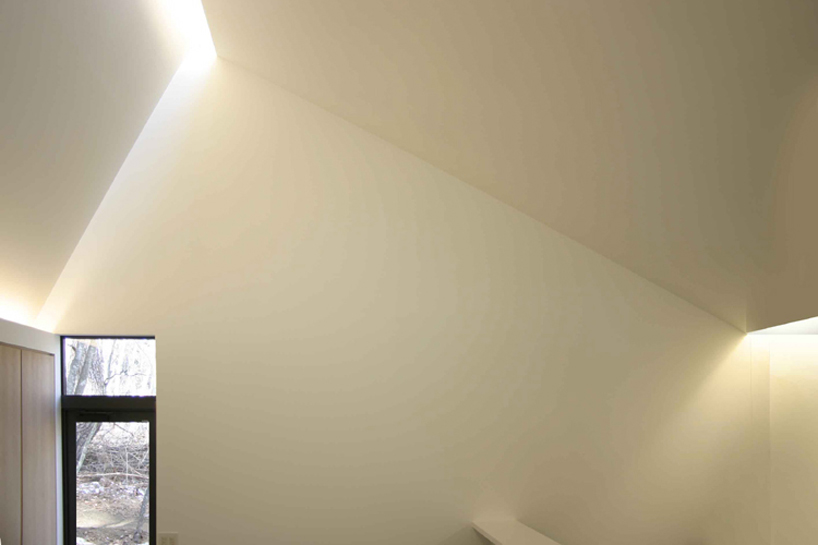 pitched ceiling detail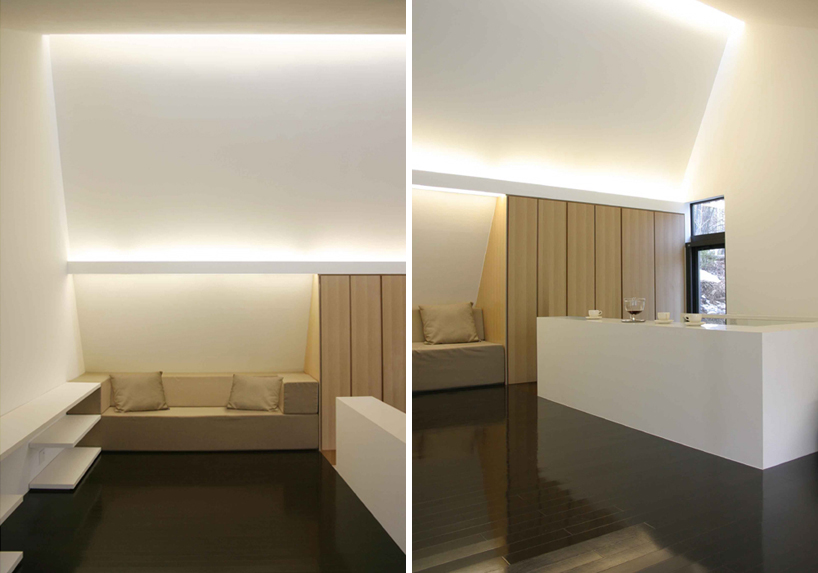 general view of the living area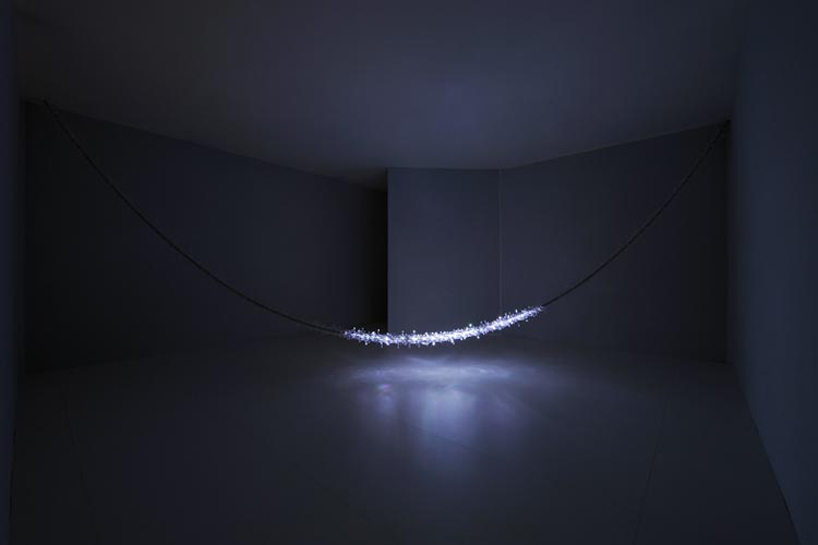 'sparks' for swarovski crystal palace see more on the project here
where do you work on your designs and projects? anywhere. I don't work with research and I don't care about concept. I think it's a good excuse for bad design. 'this was a great concept, but had such a fucked up result,' I have heard that so many times. I have always worked with intention, 'that's my intention. that's what I want to see. that's what I want to create.' you have to discover all the possibilities that will allow you to realize a project. don't try to keep the concept to the end, it doesn't work. things change. you have a vision, you see the light at the end of the tunnel, you have to reach this point… and working with issey miyake, I love that this happens. the design process is really one of discovery. you can change your mind completely, but at the end of the day you realize that your intention always remains the same. that's why I don't try to do things I already know how to do. try things you don't know how to do, you don't know how to make, you don't know how to build. you will always find someone smarter than you who can help you make it possible. 75% of the presentations I do I have no idea how to make it. sometimes it's kind of risky, but I always think 'yes, I know how to do it,' because I know I will find a person who will help me execute it. the more difficult something is, the more people will join you because people are waiting for a challenge, you know? they really have so much power, so much energy and that's the job of designer. metaphorically speaking we are kind of like magnets, we bring people, intelligence and ideas together.
so rather than an individual work, you see it as a collaboration? the idea comes out of many minds? absolutely. the idea is unique, but the process is really a group effort. you know when I started the project 'sparks' for the swarovski crystal palace at milan design week, it took two years to do it. when I presented the idea, it was technically impossible. what became huge and totally irrelevant, the light floating, took two years to realize. you just project yourself in the future and wait for technology to follow. someone will cross your way and make it possible.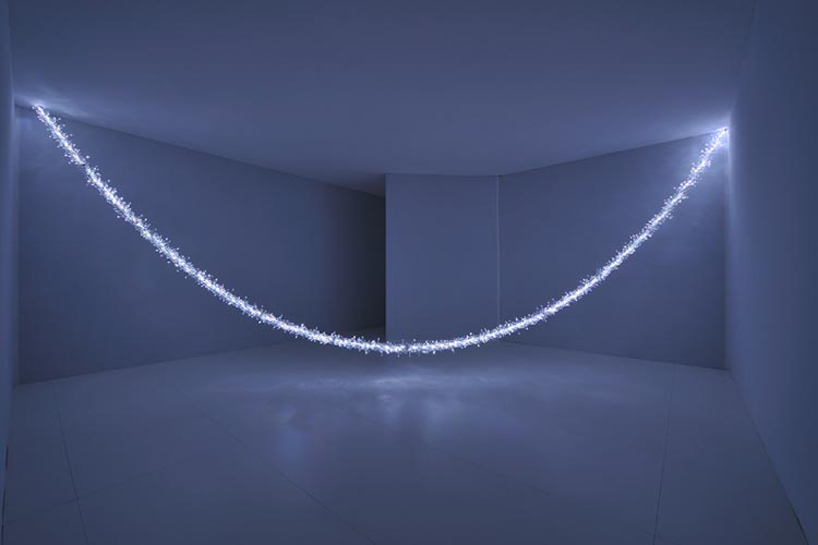 light passes from one end of the crystal line to the other like a comet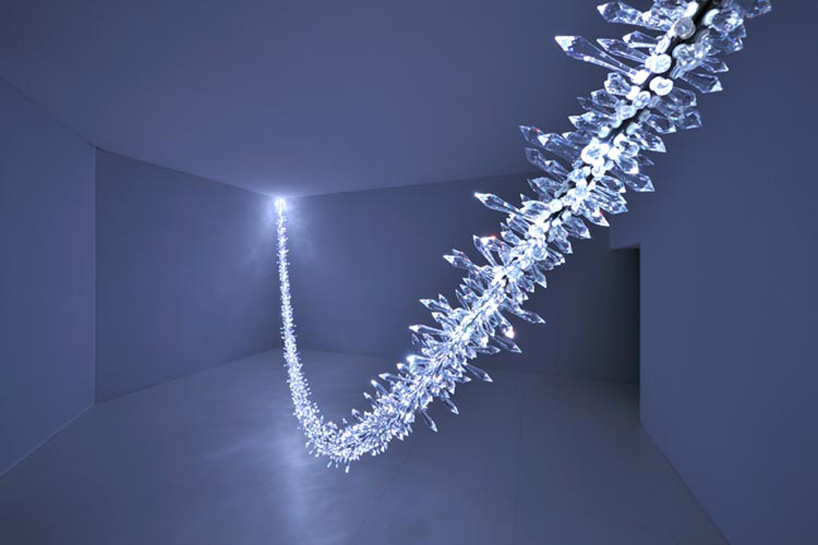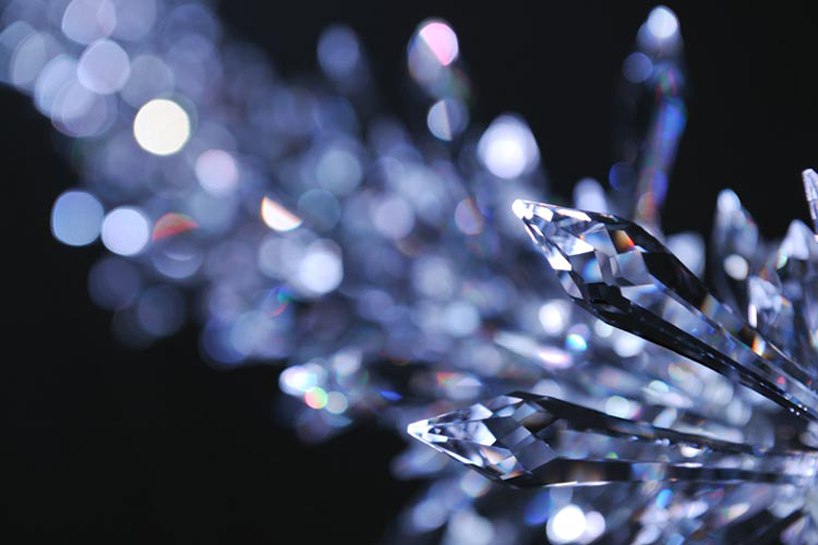 detail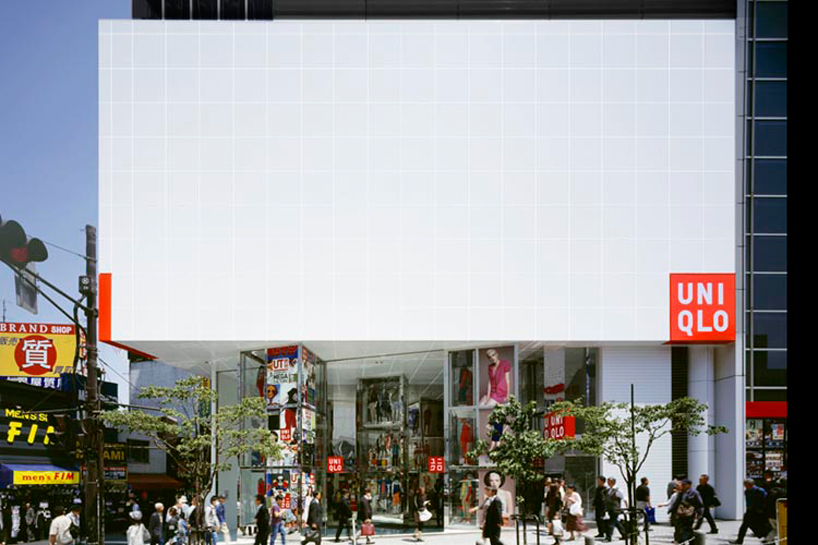 uniqlo megastore, shinjyuku-nishiguchi, tokyo see more on the project here
do you discuss your work with other designers? to maybe verify, hear some critics. is there some kind of cultural discussion not really. I like having a critique with someone who doesn't know the context of my work, otherwise we would share the same information and have the same references. I like to show projects to people who have no clue of the context, because give really straight advice and comments, which kind of might be surprising and sometimes painful, but you probably won't get that same discussion with a designer.
describe your style, like a good friend of yours would describe it, could you? no. impossible. when people ask me what I am, what I do as a job, if I meet a normal person I say a designer, because it's really easy. when a professional asks me I say I am a choreographer of space. so I make space (motions hands), but the notion of movement is important. I don't just make walls. choreography involves people, and that's what I do. when I design something there's always an experience aspect to the project which is very important. even this house (motions to space), you move a slope, there's something going on. it's not just walls andshapes. the notion of choreography – if I just said to normal person I am a choreographer of space, they would answer 'oh, you're a dancer?'. in a way the same you know, maybe I just want to be a choreographer.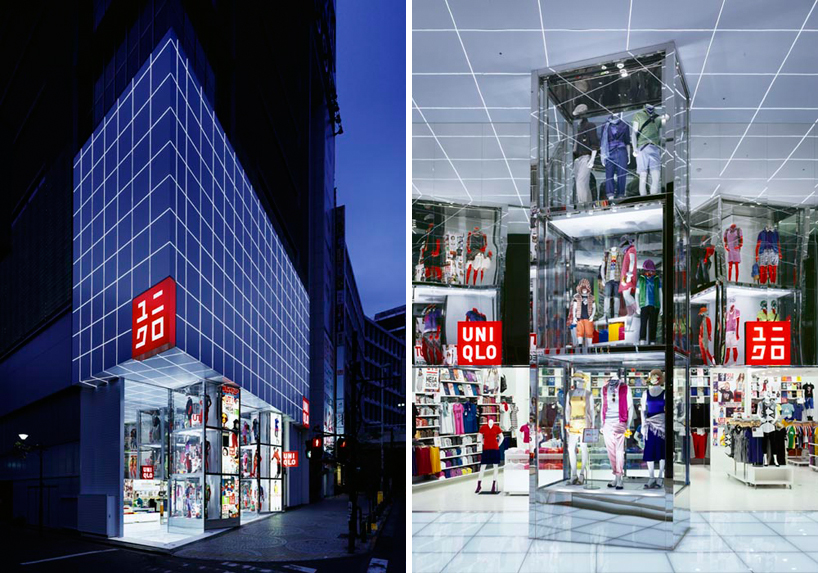 the retail stores facade changes character from day to night, adjusting to the urban ambiance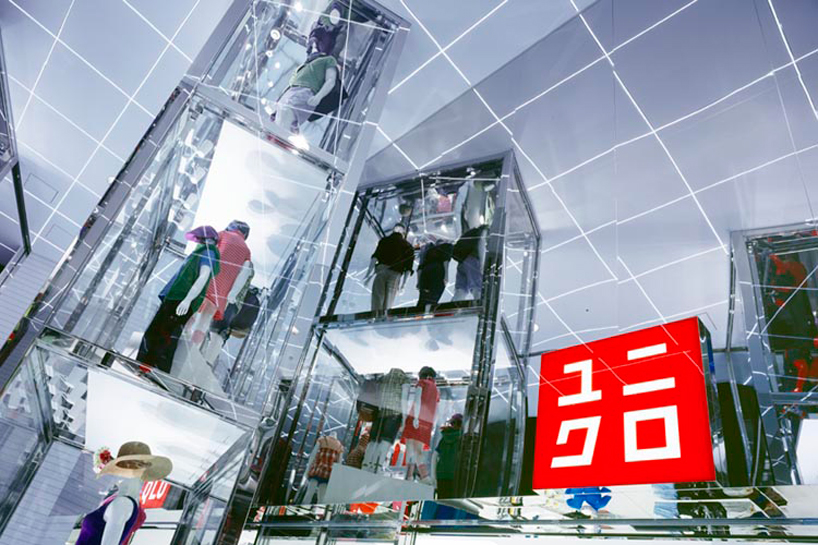 product displays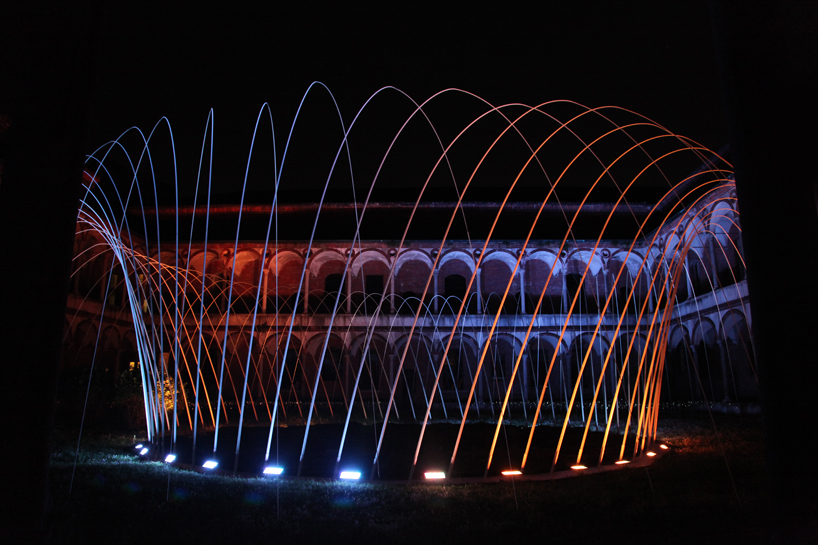 'suspended colors' for interni mutant architecture image © designboom
please describe an evolution in your work, from your first projects to the present day. I was very lucky when I started to work with the best client. my first interior design job was for issey miyake. my first perfume product was for issey miyake. all my first projects were actually with people one would dream to work with. so after that beginning, it's really difficult because people ask you to work with you, but a design project is really working together. people asking to work with designers think they will do a great project which is not necessarily true. you need a great client to do a great design.
so from the beginning I actually didn't work with clients. I always look for clients I can learn something from. eventually if I can pay for it it's great. every project is a challenge. every project is like a first job, and that's what's really great you know? I never do the same thing twice. as I mentioned I don't have a style because I want to exceed expectation. people come to see me, and it's really uncomfortable because they don't know what they will get, you see what I mean? the budget doesn't necessarily get bigger, but I have more freedom, however people want to have great things with no budget, you know? 'can you do this? but that's all (the budget) we have.' ya, if you give me freedom. and I get the freedom. not necessarily the budget yet, but I get more the freedom. maybe the next step will be low budget and the freedom. in terms of an evolution before when I started – and maybe it's my culture being european – as a designer I wanted to make things, build things you know? shapes, color, material and everything. and being in japan, my first reaction when I have a project is, 'do I really need to make something? could I have the same result not building anything?' it's kind of this mentality you know of making it more relevant with the minimum of means. my work is more than making things and materials. with lighting, the light and movement are the most important. so at the end of the day I just use light and people as elements to create a space, event, installation, product, everything… I don't think I can get more minimal than that you know? so the means is reduced and hopefully the budget will be more important in the future.
what project has given you the most satisfaction? you know my dream was to be an architect and make this house (points to space around him). I wanted to have a house project, but when people see this, it doesn't look like anything. it doesn't look like a house, it doesn't look like an office, it doesn't look like a building so nobody asks me to design houses. I'm so disappointed (puts hand over heart and smiles), but I still think it's a great space.
who would you like to design something for? my dream is that one day a guy will come in and ask me something I don't know exists yet. I want to be surprised. he would arrive and say, 'you know we can do this. can you, can you make it? wow, is this possible?' and then we start a future. I'm not a re-designer. I'm a designer. I don't want to re-design a chair. maybe we need new chairs, but why do I want someone to ask me to make a chair? I tried to make a chair in italy because this is the culture. it never worked because I was in an atelier of a famous furniture maker and the guy was telling me, 'your approach is so different you know?'. so obviously, they see some interest, but they're not ready to go in my direction because they follow a kind of a typology you know? when you design furniture in italy, everything is developed by typology, by product type because the customer identifies products in this way. I say 'yes, it's fine, but why don't we create new typology?' you know, it's like when I was born I used to eat with a fork, okay? and one day I start eating with chopsticks and I say okay it's a different culture, but can we not imagine something else besides forks or chopsticks with our intelligence? we can! we can imagine a certain way of eating. that's a different typology. I'm interested in this train of thought.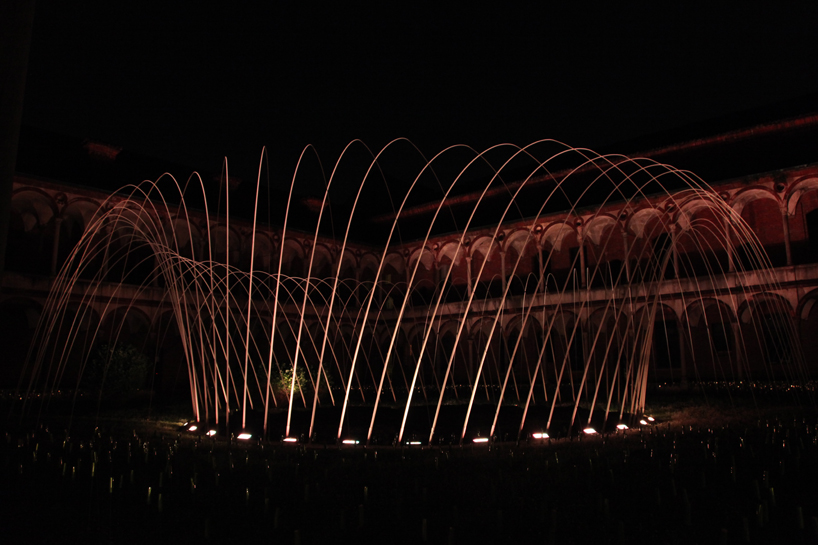 the installation constantly changes color image © designboom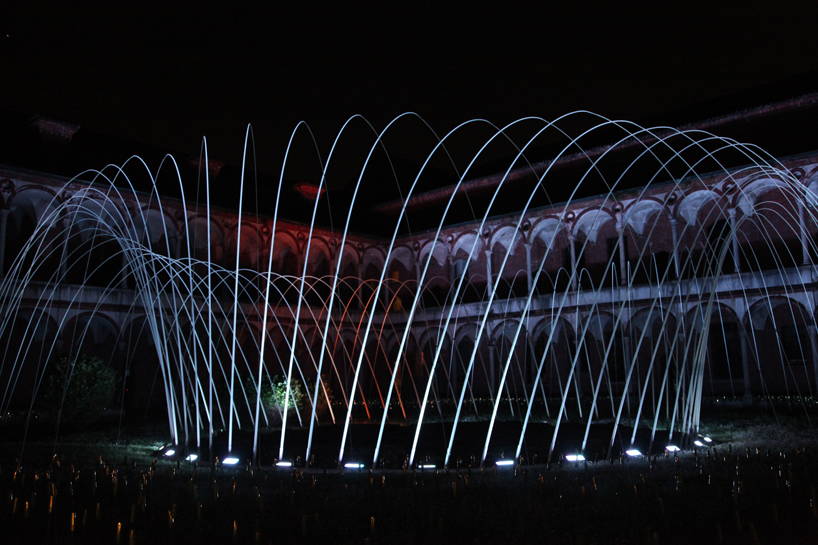 image © designboom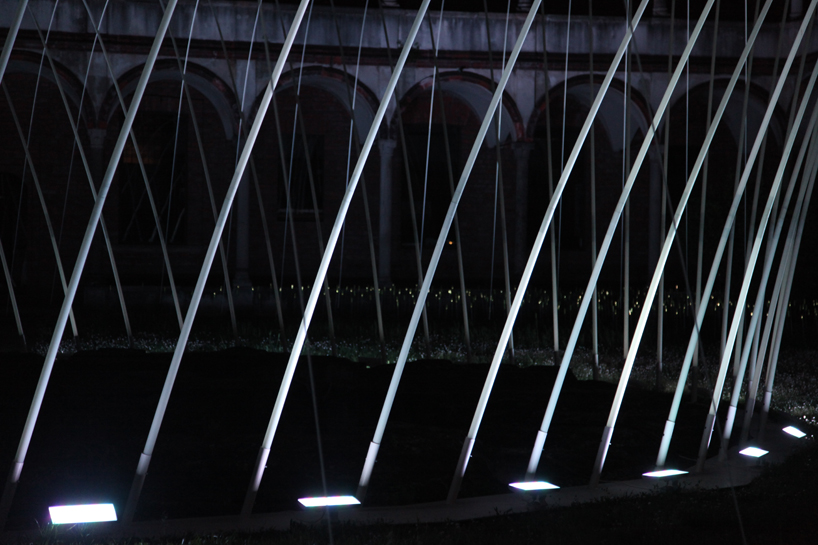 image © designboom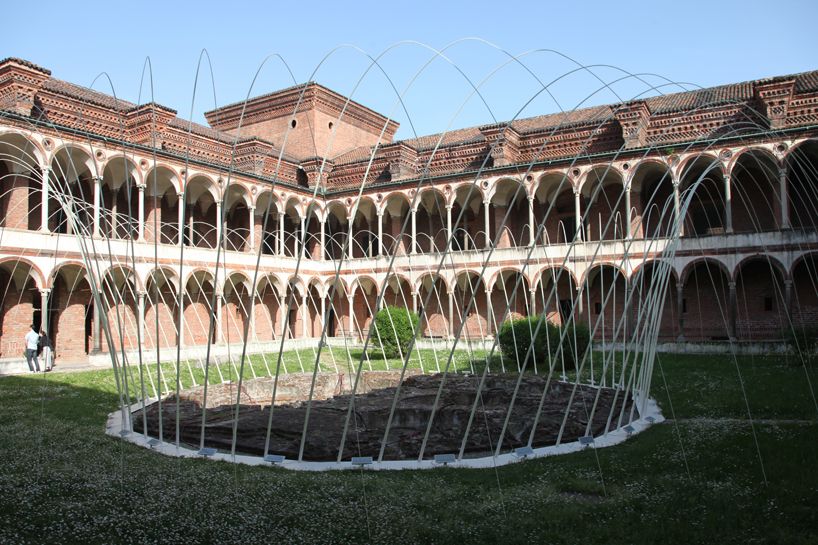 day time view image © designboom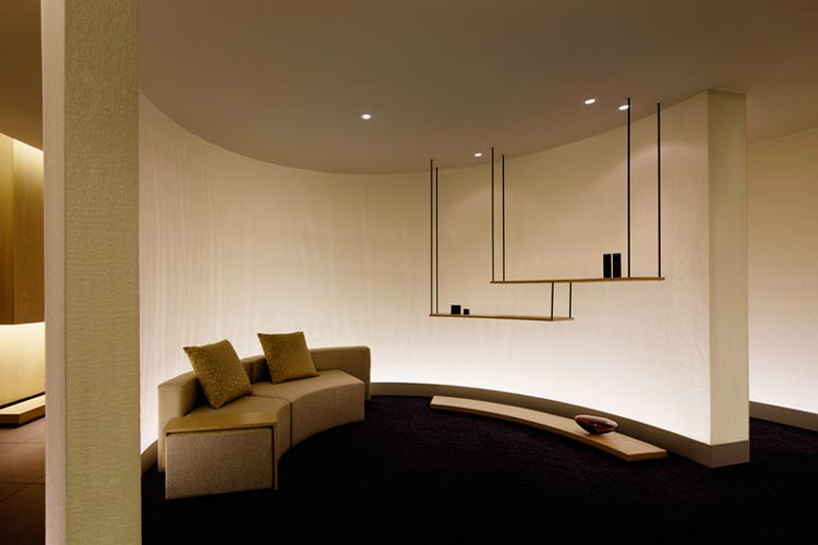 kanebo sensai select spa see more on the project here
is there any designer and/or architect from the past, you appreciate a lot? geoffrey bawa is a sri lankan architect – more architect and movie maker than designer. of course, mies van der rohe, le corbusier were great in their time, but there are no strong references for me of their work because everything is, including their work, influenced by something else. it's just continuity. at that time they identified some interesting elements, but everybody does. every design has influences from some other people's work and I think we can find some interesting things… because for example, when you go into a cassina shop (italian furniture manufacturer) we have le corbusier furniture. where are the young designers? why does he have the power to influence to make great products now? and they're still making le corbusier furniture, why? we have to make things moving on, you know? but at that time, why it works is because some people have a great idea and some makers have the great power to see this possibility. that's really important for the context of why product became interesting. not just the idea… I've seen (gerrit) rietveld exhibition and this guy is great. still not so known for all the qualities he had, he had a certain mentality to designing that could be very contemporary, and the needs he dealt with are still the same today. so, in a way saying I like rietveld does not mean that I am attached to the past, because his work is still relevant. so maybe you can see some kind of reference… some people may have influenced you a little bit because you are interested in the work they were doing.
and those still working / contemporary? they're all great. you know what, that's really amazing, design is really good in this moment, don't you think? of course you have crap stuff all the time, but I think we have reached a level of designer intelligence whereby some ideas are amazing you know?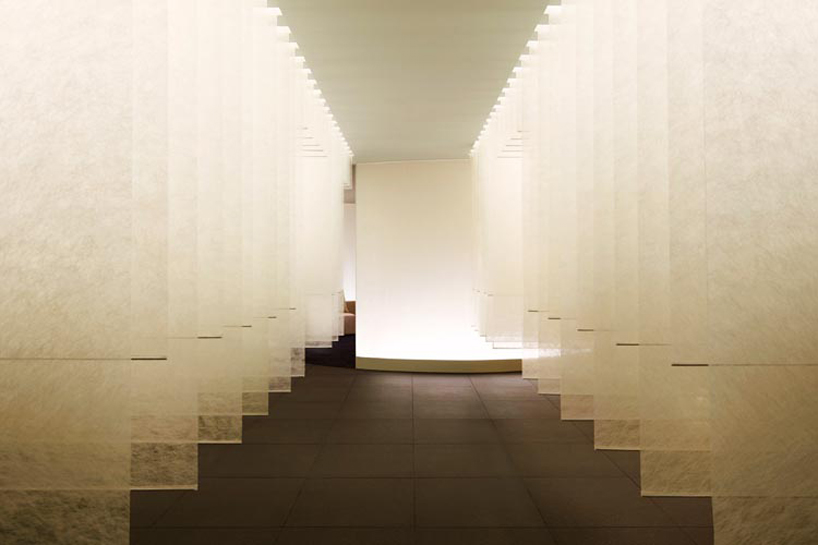 transparent panels hang down dividing the spa interior while still maintaining an openness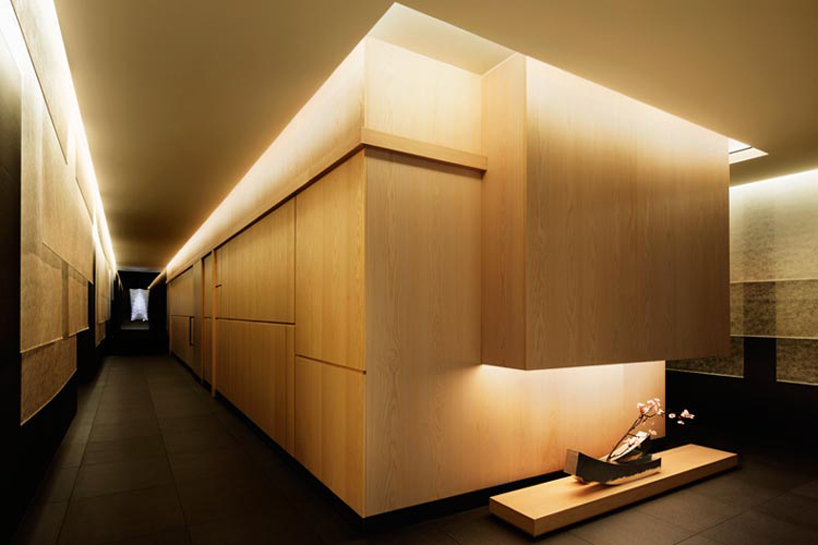 hallways and communal areas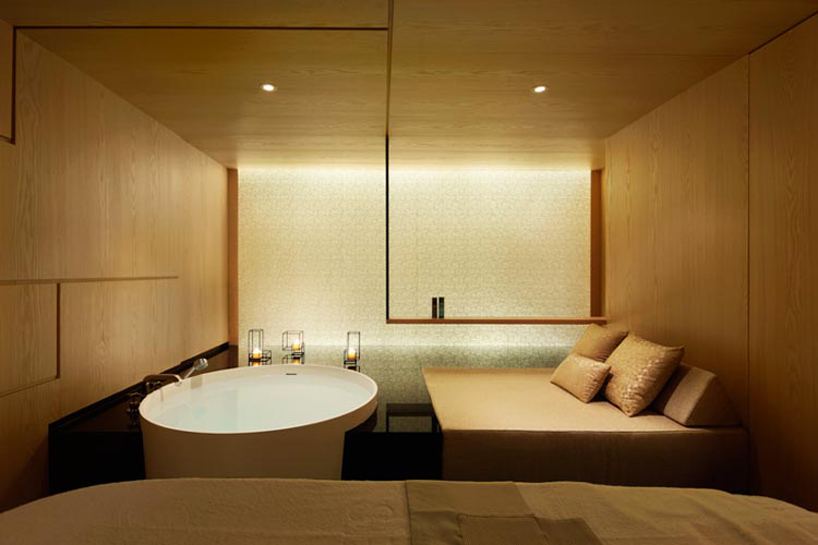 one of the treatment rooms
designboom asks gwenael nicholas: what advice would you give to the young? video © designboom
what advice would you give to the young? ok, when you're at school, you feel that you can do everything you want, but you have this image that when you start to work, it's going to be really tough. you have to make real things and then the fun is finished. but it's totally the opposite. in the real world, what you do is real, and this has much more power than a dream. you realize that actually when you start to work there is no limit. only your imagination is the limit, because you have infinite possibilities. you always find people to help you make things, and bring your ideas to reality. design is just a start. you get the ball rolling and then someone has to build it, to make it, to sell it, and to realize it and you realize the sky's the limit… and people say that when you have more experience you became more careful and everything. that's super bullshit. the more you do, the more you see the possibilities. the only problem is that in one day there is only 24 hours. that's the only problem.
what are you afraid of regarding the future? the problem is I am a really positive person (laughs). so honestly nothing.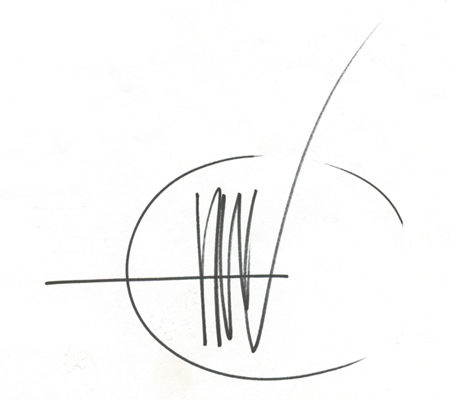 a diverse digital database that acts as a valuable guide in gaining insight and information about a product directly from the manufacturer, and serves as a rich reference point in developing a project or scheme.
designboom will always be there for you
milan, new york, beijing, tokyo

,
since 1999